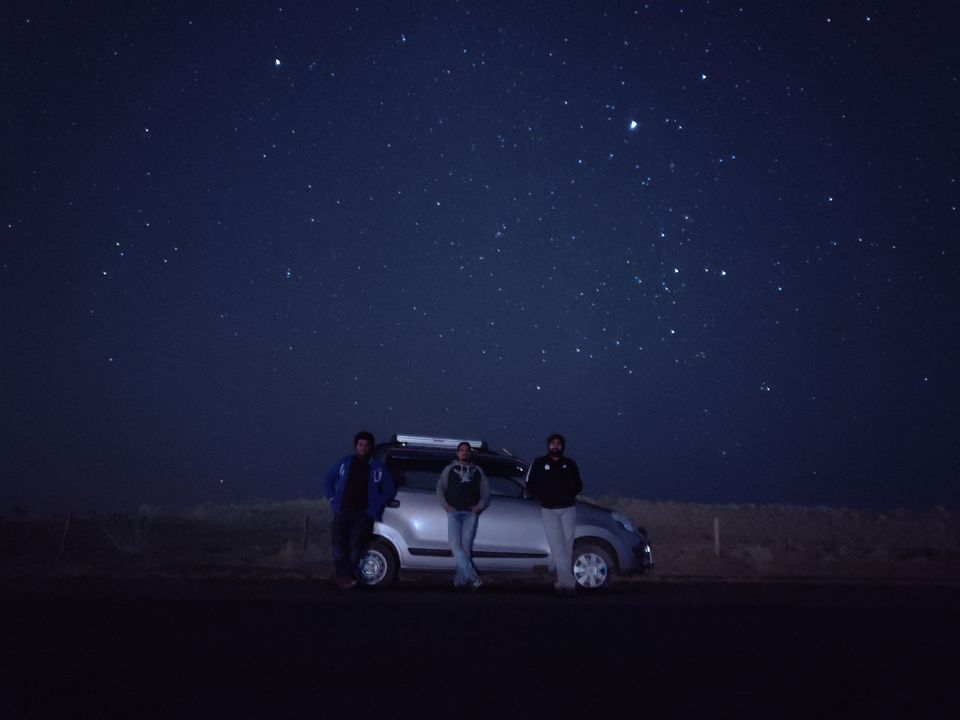 Well, before I start telling you more about my trip, let me tell you that this trip was not with my siblings. I have one elder sister and I think she doesn't like all the adventurous stuff that I try and hence we have never gone on a trip together. But in India - 'Har dost apna Bhai hota hai' (Every friend is like a brother) so in a way, I did this trip along with my Siblings.
Let me introduce you to 'Chandan' & 'Chitvan' of this trip - in Real Ankit & Premal.
We were missing the oomph factor for this trip i.e. we were missing 'Chanchal' - and since we committed the crime of getting married early in our life, we had 2 Chanchals for this trip.
This trip was loooonngggg pending and we decided to tick it off from our list on immediate basis. So in 2 days, we packed our bags, hoped into my car and we were all set for an PERPLEXING road trip. We felt like Chitvan when we heard this word - Chakachaund hogaye the :)
We started early morning from Mumbai to avoid traffic and before even we know we had crossed Mumbai border in no time. Our first stop was Udaipur and with all means we were determined to cover 760 kms on our first day.
The best part of this trip were the good roads. Even though it was a long trip for the first day, we never felt tired and this was mostly because of the roads.
We reached Udaipur around 8 p.m. and the one thing that we were worried was about the place we will be staying in. We had booked the place at the last minute and we were not able to do any research about it. But when we reached there we were taken by a surprise. It is by far one of the best home stays I have ever stayed in. If you are planning a trip to Udaipur I would highly recommend to choose Hotel Shiv Villa for your Stay. The rooms were big and the walls were hand painted to give it a royal look.
We decided to explore Udaipur the next day and I can say, Udaipur is the most Royal city I have ever been to in India. It is a different culture. The houses are big, people are welcoming and you will be treated with Respect by locals in Udaipur.
There are many things to see in Udaipur and the streets are full with antique gifts which won't put a hole in your pocket. We decided to take a walk around and we noticed that most of the palaces have been converted into hotels with the Royal families still residing there. One of the palaces that we went to was Ambrai Palace. You can see the Royal family doing their regular errands while you are exploring the palace. I was quite fascinated to see that.
Ambrai Palace offers the most magnificent view of Taj Lake Palace. The Taj looks like a shining jewel right in the middle of lake Pichola. Well, I wish to stay there someday - But as of now, I decided to take a picture to fulfill my soul :)
We only had half a day to explore Udaipur and by all means it is not enough to explore the beauty of this city. Before living Udaipur we decided to come back and explore this city again for at least 4 days if not less.

We then headed to Jaiselmer, the destination for which we were all excited about. We wanted to see the Jaiselmer fort (which is one of the few living forts that are there in the world), we wanted to stay in tents right in the middle of the desert, we wanted to do jeep safari and so much more.
There we were, right in front of Jaiselmer fort and just by looking at it we were in Awwww.
There are around 500 families who are still staying at Jaiselmer fort as they served Maharaja Jaisal back in the day when he was ruling the kingdom. If you want to know real stories for Jaiselmer you need to meet them and they can tell things that happened in real.
And we did just that. We found a person who currently stays in the fort and he agreed to took us through the fort. He is the most knowledgeable person you can find in the entire city of Jaiselmer. He actually told us how the name of all cities in India came up.
There is a reason why all cities in India has Mer, Pur & Ahbad at the end of its name. All cities which had mountains around it will have Mer at the end of it. For instance, the place was ruled by Maharaja Jaisel and it had mountains around it and that is why it was name 'Jaiselmer. Similarly, places which were ruled by Hindu rulers were named as 'Pur' i.e. Jaipur & Udaipur. And the places which were ruled by Mughals were named as 'Ahbad' i.e. Allahbad, Secundrabad, etc. If you are going to Jaiselmer, ask for Mr. Gopa. He is the best person to tell you the real & rich history of this city. Do not get the guide right at the start of the fort. Go to the gate of the fort and that is where you will find Mr. Gopa.
Before we left from the fort, we had to take some pictures which are now on my wall and it has created memories of a lifetime.
And this is how you are welcomed in Rajasthan - The most popular song when you are in Rajasthan
We were done exploring the fort so we decided to explore the local market and BOY we found some amazing hidden gems. If you are a big fan of leather bags, Jaiselmer market is the place to be.
Once all the characters of our trip were done shopping we were then headed to the most exciting part of the trip - Staying at the Sand Dunes. We wanted to get there before sunset and we started chasing the sun. But as always, the sunset offers you an opportunity to click some of the most amazing pictures, all the photogenic characters of our team jumped out of the car to take pictures for which they had every intention to put on Instagram :)
We were welcomed to our camp in traditional Rajasthani way which just set up the mood for the evening.
All the camps in Jaiselmer will arrange for a performance in evening to entertain their guests and you can actually get a flavor of true Rajasthani tradition. You will get a chance to listen to original Rajasthani folk songs and also you will come across some unbelievable artists that we have in India.
We decided to stay in Jaiselmer for 2 days as we also wanted to explore the magnificent 'Thar Desert' and also go to the India border where India won 1961 war against Pakistan at Longewala.
So we decided to relax for the night and try and take some pictures which will last in our memory. Cold winds, clear sky and the moon shining bright gave us the perfect ambiance to rediscover our school days.
But, let me tell you that we are all enthu cutlets and we couldn't go to sleep. We had to go and explore the desert at night. So there we were, right in the middle of nowhere, exploring the rawness that nature has to offer. Since it was pitch dark, we thought why not take some pictures. On my last trip to Spiti, I learned few photography skills from fellow travelers which really came handy on this trip. So here is a picture which I adore the most.
I love stars and I love capturing pictures with star in the background and it is much more special when you have your own 2 stars besides you.
Next day we were off to Longewala and the patriotism kicked in. We met Indian army soldiers and the experience was surreal. We watched a documentary of how a small team of merely 120 Indian soldiers defeated entire batallion of Pakistani army. A moment we were all proud to be Indian. We also felt that none of the army wants to fight each other and both the countries can leave in peace without any tension. However, few things that are not in your control and you just have to live with it. During the war, Pakistan did leave back few of its assets and Indian army has kept it as memento.
We actually re cherished all the memories we had while watching 'Border' movie and we can now relate more to all the characters.
As I told you earlier we wanted to drive through the 'Thar' desert and that is what we did. While heading back to Jaiselmer we went through Thar and it was a beautiful experience for us.
It was time for us to say goodbye to Jaiselmer but before I tell you more about the next phase of our trip let me pause here for a moment and tell you one important thing - DO NOT MISS OUT ON THE FOOD IN JAISELMER! You will commit a crime if you do so and your trip wouldn't be complete without it.
Excitement kicked in and we then headed to the haunted village of India - 'KULDHARA'. It is said that the last king of Jaiselmer wanted to get married to a girl who was just 13 years old and to go against the will of the king the entire community left the village overnight and they cursed this place before they left. Since then the village has been declared haunted and you can also find interesting videos on YouTube.
We were headed to Pushkar which was the last stop of our journey. But before that we had to pay a visit to the City of Blue - Jodhpur. As most of you would know that most of the houses in Jodhpur is painted with Blue colors and the view from Mehrangarh fort is beautiful. We decided to see the sunset here as the view was breathtaking.

By the end of the day we reached Pushkar and we were absolutely excited to stay at Zostel. Zostel has turned out to be one of my favorite chain of hostels to stay while traveling in India.
If I have to describe Pushkar, I would say, Pushkar is the city of Colors. The shade of colors in Pushkar was absolutely amazing. You will have an artistic vibe when you stay at Zostel, Pushkar. The walls of Zostel has different types of Graffiti and I had to click the pictures.
We also had few artists who were travelling with us - Ankit & Dhruvi are improv artists and that's why we did a gig at Zostel which was an ice-breaker for us and we did made some good friends. We were not the only one who had skills. Paula from Poland was traveling to India and she played some amazing tunes with her Guitar. One of the other fellow traveler joined in and they started entertaining us.
I just love when I make new friends on every trip that I go and this is the kind of friendship which will last forever without any expectations.
Morning walks in Pushkar was peaceful. We all set on a bench without talking to each other as we knew that we were heading back and the trip was coming to an end. We had amazing 10 days without worrying about anything, no work, some real good food and most of all the best company we can ever have.
As we started heading home we had a happy feeling. We were ready to take on the corporate life with all our spirits and we all had positive vibes. It is just amazing what a small trip with your friends can do to you. I am now sure that no other thing can give me the same joy.
I will be sharing more stories about my other trips in few weeks time, Till than,
Keep traveling like a Tripster.