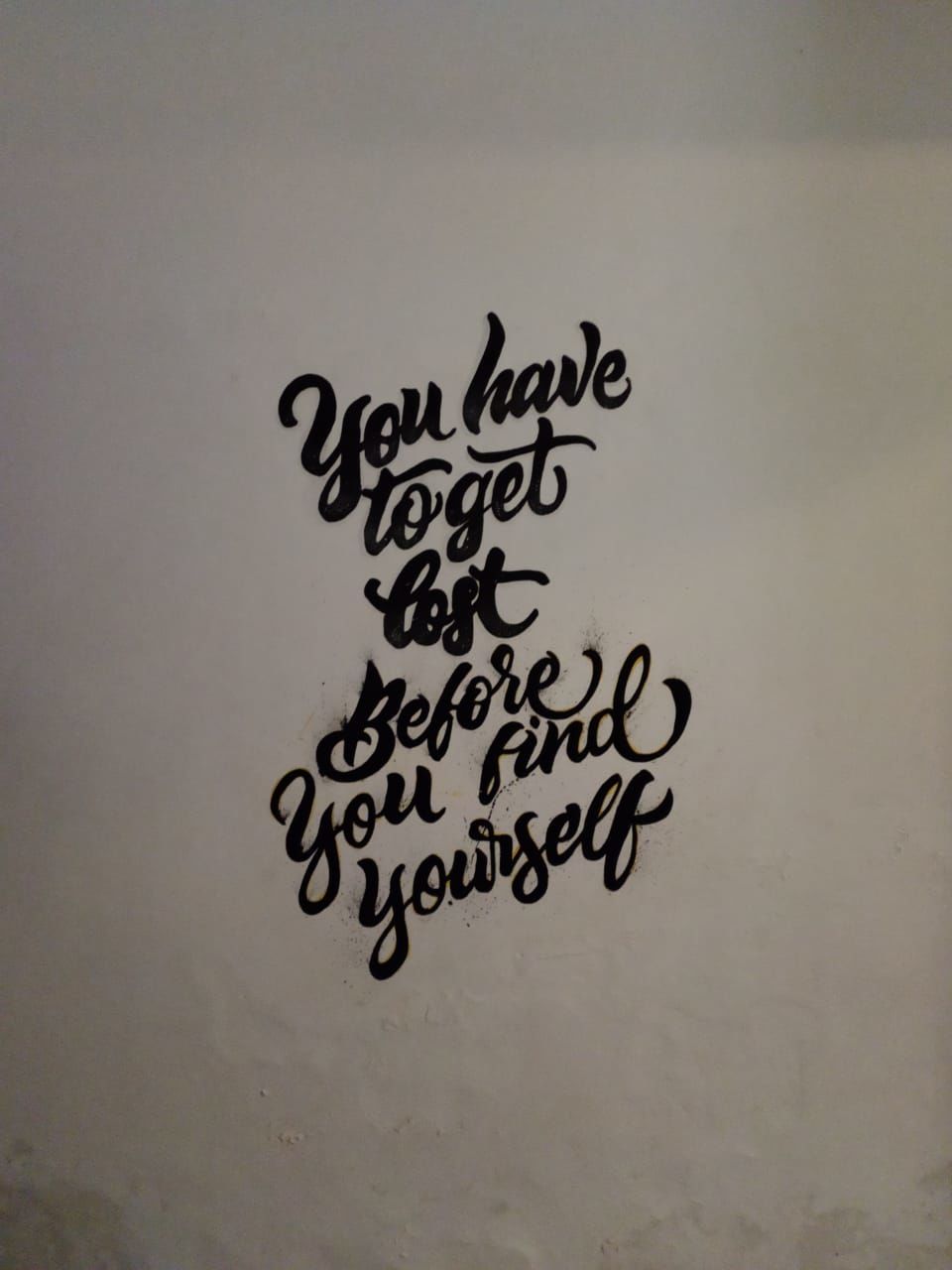 So the first day of the trip started around 5.30 pm on the 17th evening. We took a bus from Chembur, Mumbai for Udaipur. There was the option of going by train also but we decided to go by bus to get a different experience because I like traveling on the bus, like the in-between stops where we eat food in local Dhaba and restaurants. The same things happened on this bus too, around midnight we stopped at some local restaurant and it is always a nice experience to get out of the bus and eat at these places.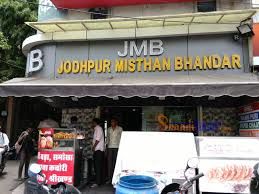 Finally, we reached Udaipur at around 11 am. So 'officially' we can call it the first day of our trip. As we had dinner at midnight, we were little hungry so we thought we should eat something also we wanted to try Kachori of Udaipur first thing, so we went to Jodhpur Misthan Bhandar (JMB) in Udaipur and ate some kachoris which gave us some taste in real sense that finally, we have arrived in the City of Lakes.
We had already planned that we will try to avoid going to known places like City palace etc and would try to explore nearby unknown places, like villages, temples, etc. As I had been to Udaipur earlier (worked for one year in Sewa Mandir, a local NGO who works with tribal villages) I knew one village named Shishvi that is 40 km away from Udaipur city. So we decided to go there. I asked a friend to give his bike for two days so that we can travel around in less time. Around 3 pm we left Udaipur towards this village. The journey on the bike was beautiful, first traveling through the main market of Udaipur then the highway, then separate road towards the village among small mountains. During that around one hour ride, we also stopped at a tea stall for a cup of tea and some snacks. For me, it was like revealing the memories of the past as I had drunk tea at the same small tea shop much time around four years before. Then around 4.30 pm we reached that village and met Pawan (a young friend of mine for the last four years when I used to work in the same village). We went to his home, he offered us water, tea, and some snacks. Then we went to nearby fields and local roads. It was a different kind of peace that we experienced while going to the field. It was so peaceful that we could hear and experience the sound and music of air flowing nearby us. After that, we also met his father and mother who were working in one of the fields. It was nice to see them again after four years. I still remember that I had a drink with his father one day in his home (most probably when I was leaving the job). After that Pawan invited us for dinner at his home. We were getting late as its always not easy to ride in the night on those roads but still we decided to taste the food. Before dinner, we also went to see the village a but until the food is being prepared. So we went to the home of Radhyshayam (one more friend of mine from the same village who gave us a bike for two days), I was really happy to see his parents, they were having dinner, they offered us tea but we said thanks as we just had tea at Pawan house. After inviting them to come to Mumbai we went to a local tea shop where I had many lunches (shavebhujiya and chai) during my work of one year. So even we said no to the tea at Radhyshayam home we decided to have tea here. It was again the same reliving experience for me. The shopkeeper did not take money from us despite our many requests. Then we came back to Pawan's house for dinner. It was already dark, at around 7 pm. We finished our dinner at his house, the tastiest thing about this dinner was 'Halwa', it was really tasty. Then quickly we started our bike ride back to Udaipur. It was dark but the air was very cold so it was a very relieving ride back. While coming back to Zostel, Udaipur we stopped in the Udaipur market to buy some stuff. Then we went to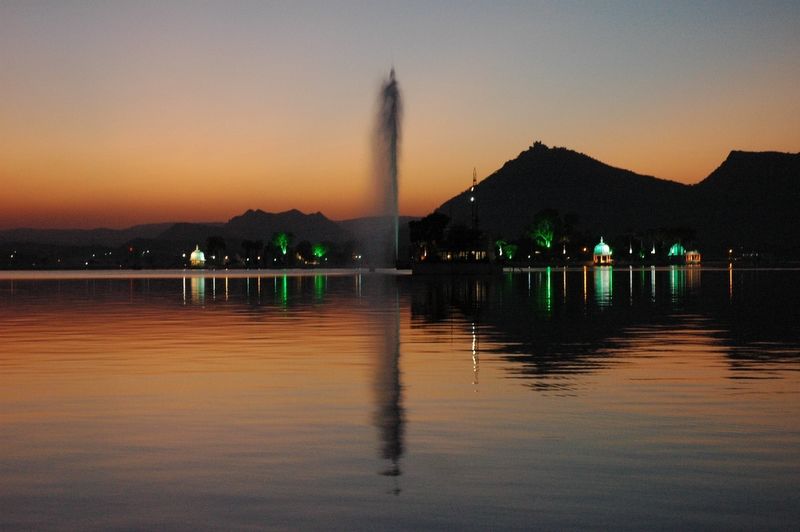 Fatehsagar lake and ate Maggie and kullarh wali chai. It was already around 10 pm so we came back to the Zostel and had some beer on the rooftop cafe of the Zostel and enjoyed the view of the lake.
We woke up little late as we spent an hour or two at the rooftop cafe of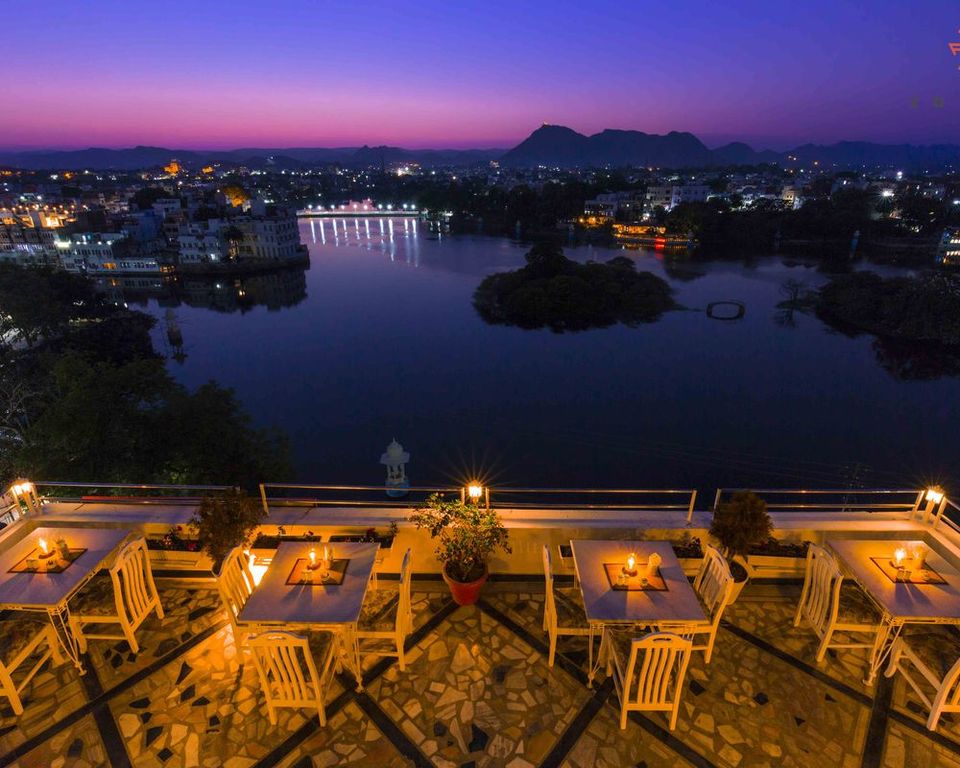 Zostel, Udaipur. Kumbhalgarh fort is around 80km from Udaipur. The direct bus was there but we decided to go by bike. It was a heavy toll on us by riding this long first time but at the same time, it was quite a journey consisting of many ups and downs. Well if I talk about downs first, it was around 3 pm we were halfway through and our bike got a puncture in the middle of a remote place, so I had to push bike for around 45 minutes to find a shop in a nearby market place. But it was fun. Then after stopping two times for tea and some stretching of legs we reached the fort around 4 pm.We woke up little late as we spent an hour or two at the rooftop cafe of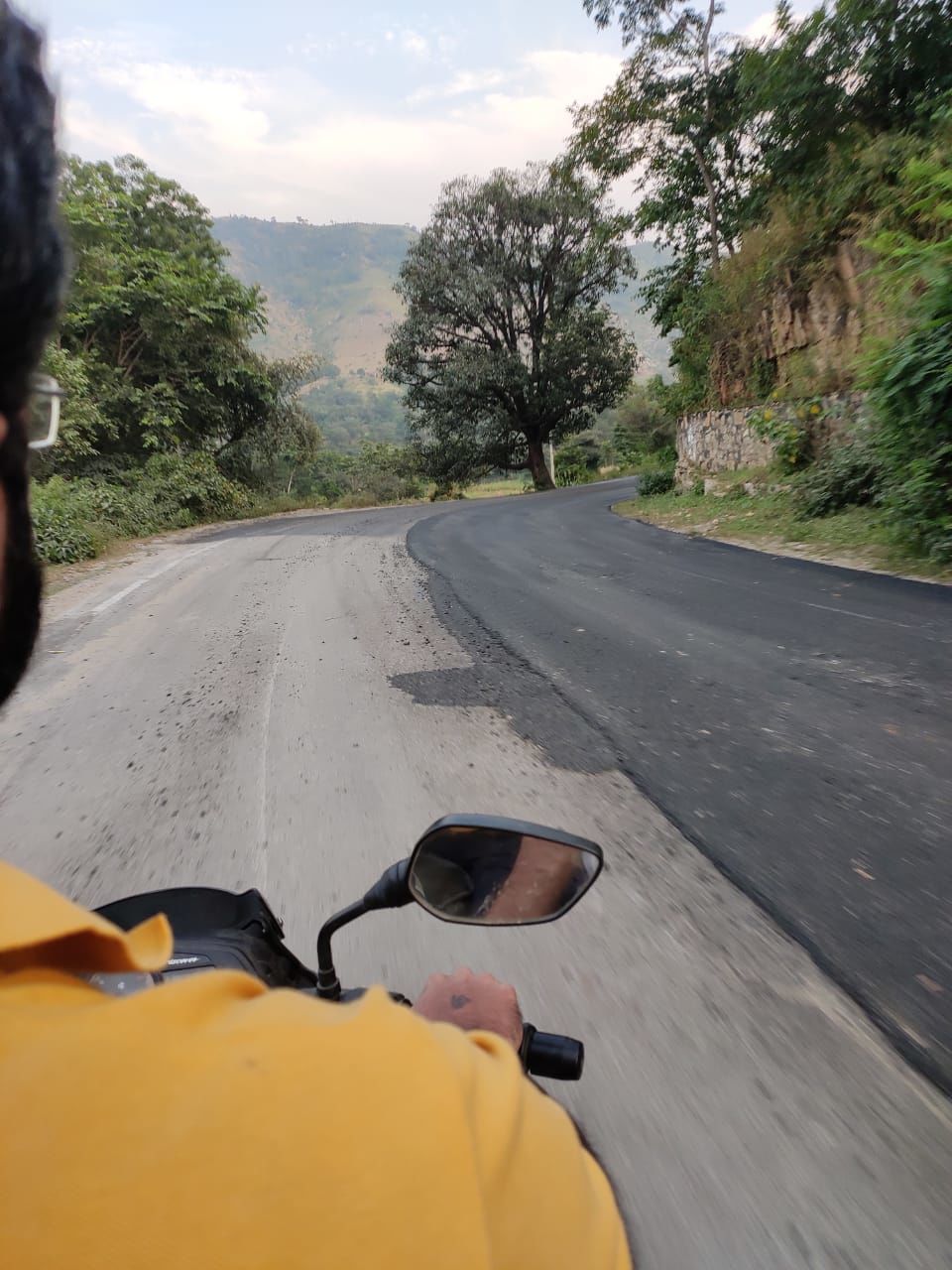 As we had already experienced this hard road trip to the fort we were certain that it is going to be very difficult in the night especially because roads are very narrow and also very dark in the forest areas, so we decided to leave as soon as possible. Also, we had a bus to Jaisalmer at around 8.30 pm and it took us around three hours to reach the fort. So we left the fort around 4.45 pm. While coming back it was a ride which will be very difficult to forget. First it was too long, second it was a very dark, narrow road, I have to stop every time a big vehicle was coming from the front but finally, somehow we reached around 8 pm back to the Zostel. As our bus at 8.30, we didn't waste any time and quickly packed our bags and went to the bus stand. Fortunately, we reached on time.
Around 8 am we reached the Jaisalmer and it was the same morning chilled air that I had experienced four years before. Earlier we were not sure where we should stay as we had two days for the place. Also, we had planned to stay in the desert for a night for sure so we were not looking for a long term stay in the Jaisalmer city. As always in these buses at the last stop, some guys and taxi drivers will take to some shops where they will share their packages of staying and desert safari so we also went to one of these places but didn't like the offer. So we went to the Zostel, Jaisalmer and believe me this is one of the right decisions we made on this trip.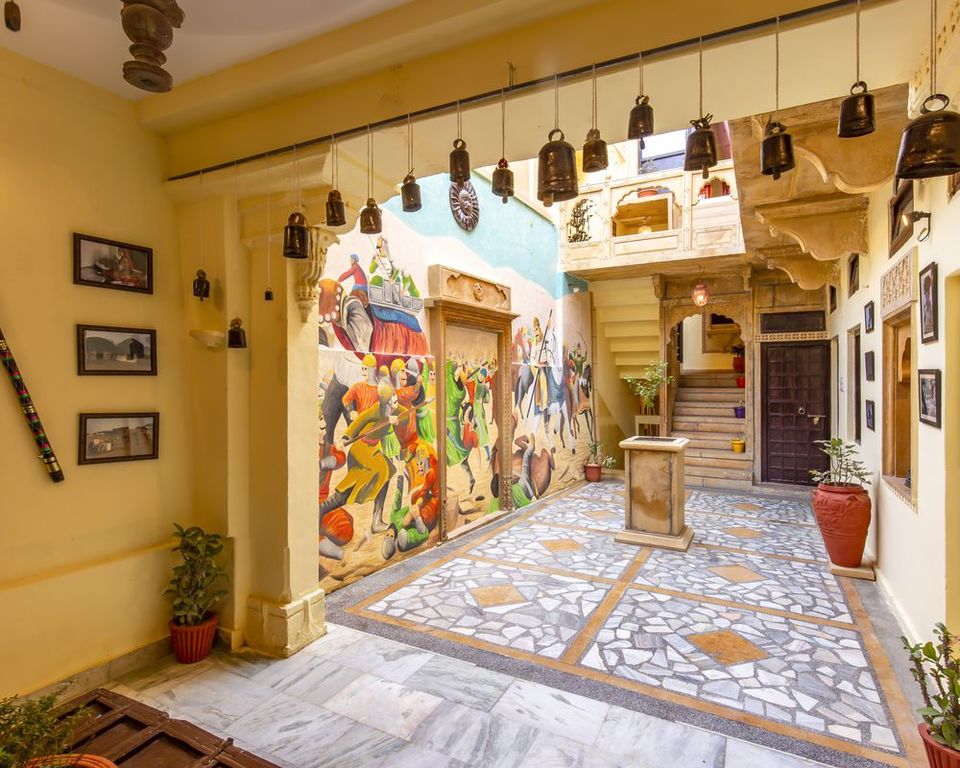 The Zostel was inside Jaisalmer fort and the overall environment was nice and giving real feel that we are staying in the fort. When we entered the Zostel we saw a package for the night stay in the desert, it was around 1800 per person, including desert stay and other stuff related to it, what we liked most about this package is that it was not a typical desert stay in tents. It was planned at some remote location, without any tent, no kitchen, bathrooms, no lights, etc. to give a local and real experience so we took this deal.
After eating Kachori and a special mithai (and of course a glass of Bhaang with lassi) in the market we were off to the desert at around 3 pm. After going to the Kuldhera village and lake we reached our first halt where we were supposed to take Camel for the next one hour ride. In the beginning, it seemed very nice riding on the camel in the evening but after fifteen minutes it was very difficult for our thighs and when we share with our local riders who were helping they said a Camel message that we are getting. After around one and half hours of this interesting camel ride, we reached a very remote desert where nobody was there. There were some Khats and snacks. We relaxed in the desert, experiences sunset with hot tea cooked by the same people who came with us (drivers, camel riders, etc). Sitting quietly in the desert was itself an experience that cant is expressed in any appropriate words and this experience gets more beautiful when you are with your friends and loved ones. In the night we had our dinner in front of the bonfire. During this period we also talked with different people, one I remember is an Israeli couple who had come to India for their honeymoon. It was a very enriching interaction with them, both were quite young, we discussed life in Israel, their marriage system, culture and society, and many other things. After dinner, we had some beer brought out by the same local people and then we sat in the desert for a while, experienced the silence and chilled air. When we slept around midnight it was dark but around 3 am there was so much light and when we saw this we found it was because the Moon was just above us and it was showering the light just like a bit deeper. It was quite an experience to see all this in one night.
When we got up the desert around 7 pm it was morning which we always desire in our rooms in the cities where we live. After getting up it was total silent, we didn't talk to each other for a while, just sat there and experience that morning which we knew we are not going to get next morning, so we just wanted to save this feeling in our memory so strongly so that whenever we feel sad and alone and have some existential question of life we can go back in our long term memory and feel the same experience. After morning breakfast (Maggie, banana, bread, papaya) we were off to our again one an hour camel ride to our jeep stand. After this Camel massage, we rode in our jeeps and came back to the Zostel. In the next hour, we got fresh and went to the market for some shopping. We have our bus to Udaipur at 5 pm so in around two-three hours of market life and some Havelis visit we came back and took our bus to Udaipur for the last day of this wonderful trip.
We reached back to the Udaipur city at 5.30 am, had our tea near Fateh Sagar lakh, got fresh at Zostel, Udaipur (people are really nice there, you should visit, they did not charge us anything for getting fresh and keeping our bags in the storeroom) and off to Delwara for a 'Heritage and Community walk'.
We met Dinesh (one of Guide of the walk). He took to the village and showed various local water storage places, temples, historical house and socio-cultural profile of the village. After visiting some Jain temples in Delwara we also stopped for Eklingji temple that is also very near to Delwara and a very historical shiv temple.
After that, we came back to the Udaipur market and had a very nice lunch at Sun N Moon Rooftop cafe and Restaurant. Then after some shopping, we were off to Mumbai with some happiness that we were able to experiences all this and some sadness that we again have to go into our same lives where we will keep missing something like this daily.