Last august one of my friend from Nagpur came to Jaipur. So like every other person who come to Jaipur, the only thing they wanted to see is big palaces/forts, wear Rajasthani clothing specially those colorful turbans known as 'saafa' and to have 'Churma, Bati and Daal' the world famous Rajasthani cuisine.
So in the morning i took him to 'Rawat Sweets' which is quit famous in jaipur for its 'pyaaz kachori', and as always it was delicious. After having breakfast we started the trip from Motidungari Ganesh Temple. Motidungari is a hill who's name is 'Moti', in Rajasthani dungari means 'hill'. So as the name simplifies this centuries old temple is situated at the base of a hill 'Moti'. Taking a dig at history, This Temple was constructed by the wife of former king of Jaipur 'Shri Madho Singhji'.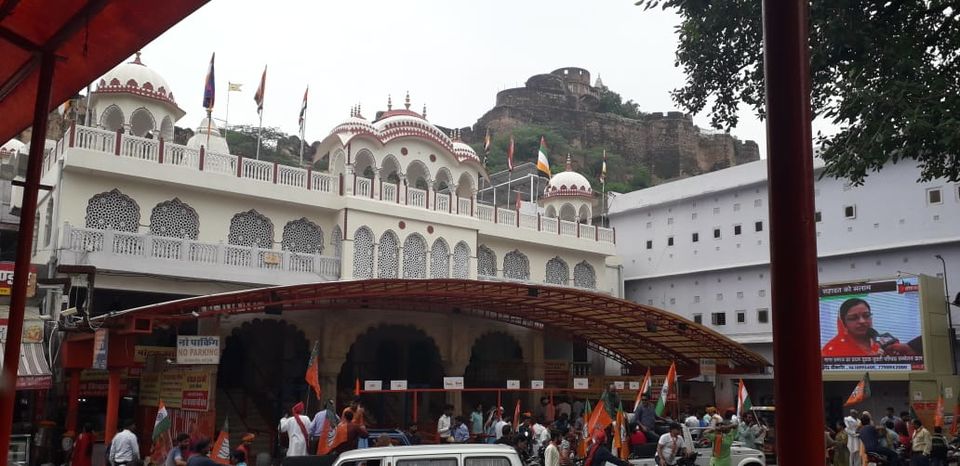 Next to Motidungari Temple is 'Birla Mandir' which is completely constructed of white marble with a beautiful garden along with it.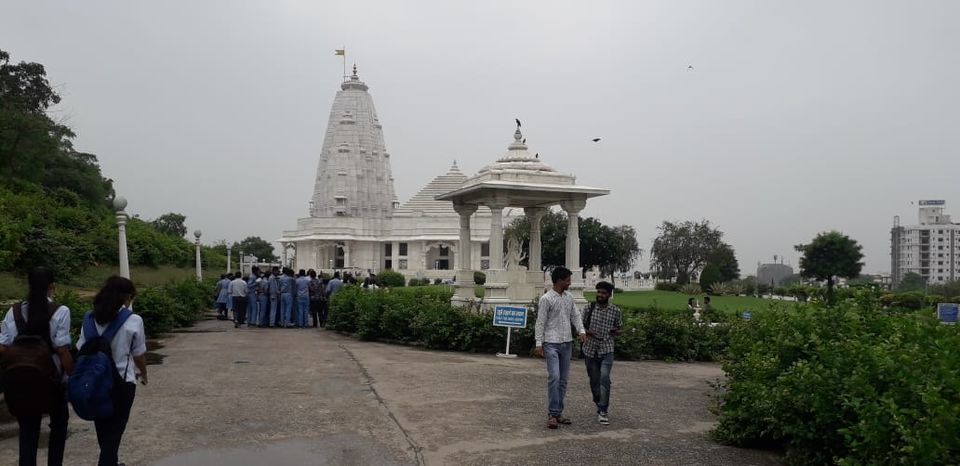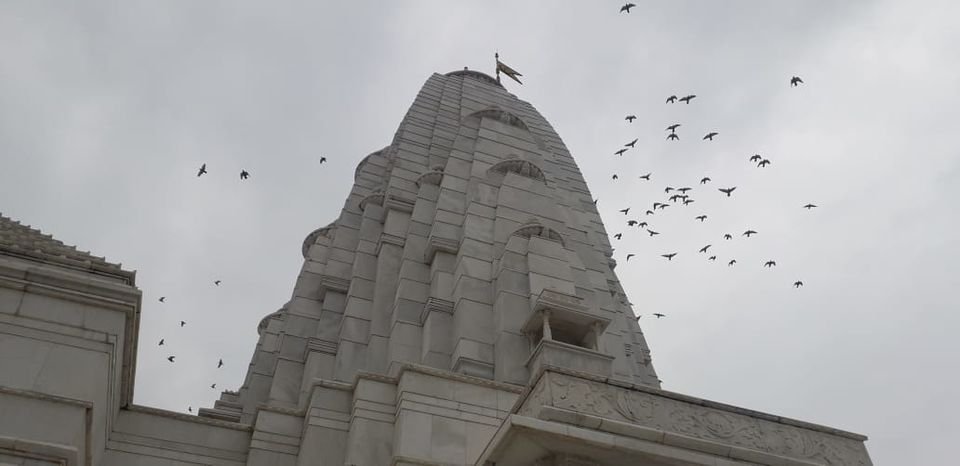 After all the blessings we aimed to go to historical palaces, so if you are an outsider coming for the first time in jaipur or has plan to visit all this palaces on their own without any guide than from Railway station take a took-took aka e-rikshaw which will charge you a mere sum of 20Rs. upto 'Ajmeri Gate', then they has to change to Ac5 low-floor bus. From Airport one can easily get cabs but if they wanted to travel with public transport than they can take 3/3a no. low-floor Bus upto 'Ajmeri Gate' or can take Ac5 low-floor bus directly from 'Sanganer'. The advantage of taking Ac5 bus is that all the three famous forts/palaces namely Hawa Mahal, Jal Mahal and Amber Fort are on the same route. So anyone can easily go to each of this forts on their own.
Now after the travel guide its time to describe you about the beauty of Hawa Mahal.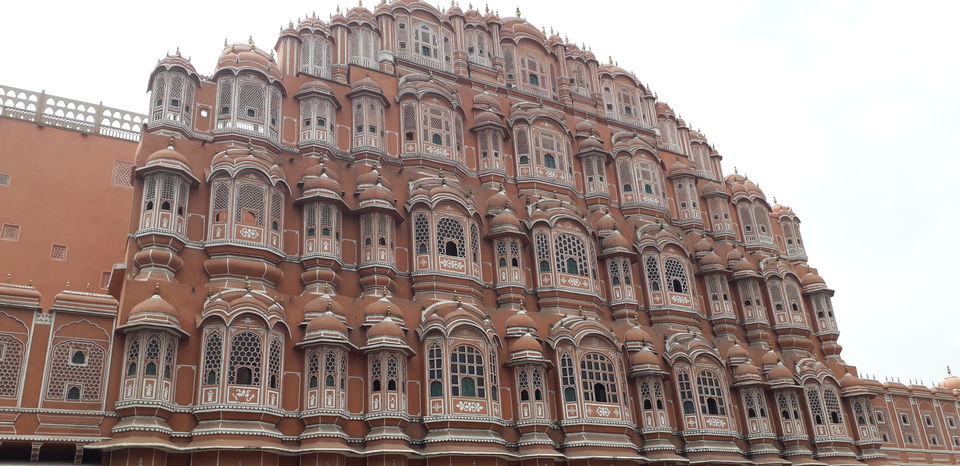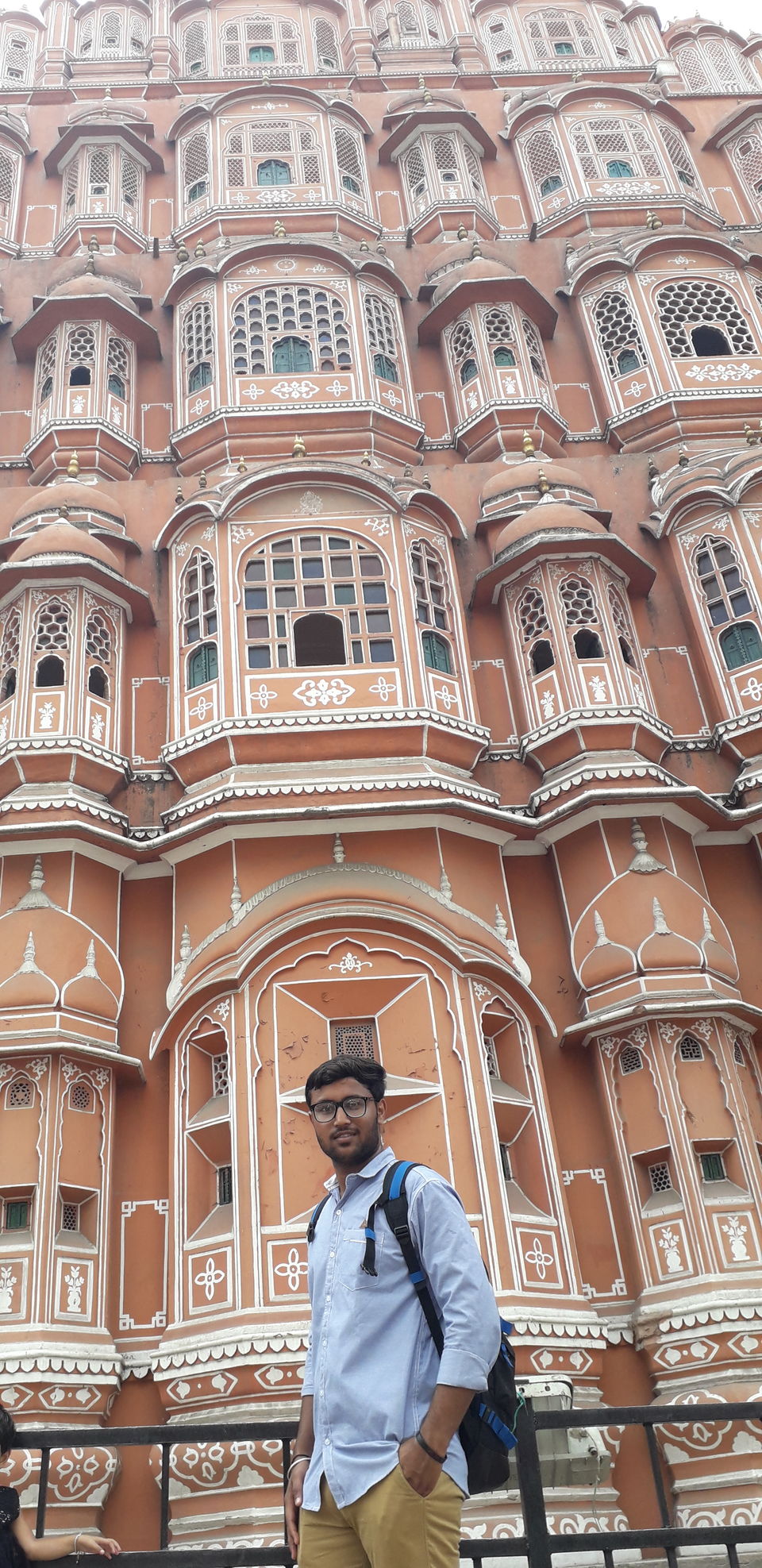 Hawa Mahal was constructed by Maharaja Sawai Pratap Singh it is constructed of red and pink sandstones. Hawa Mahal has become a trademark of Jaipur around the world.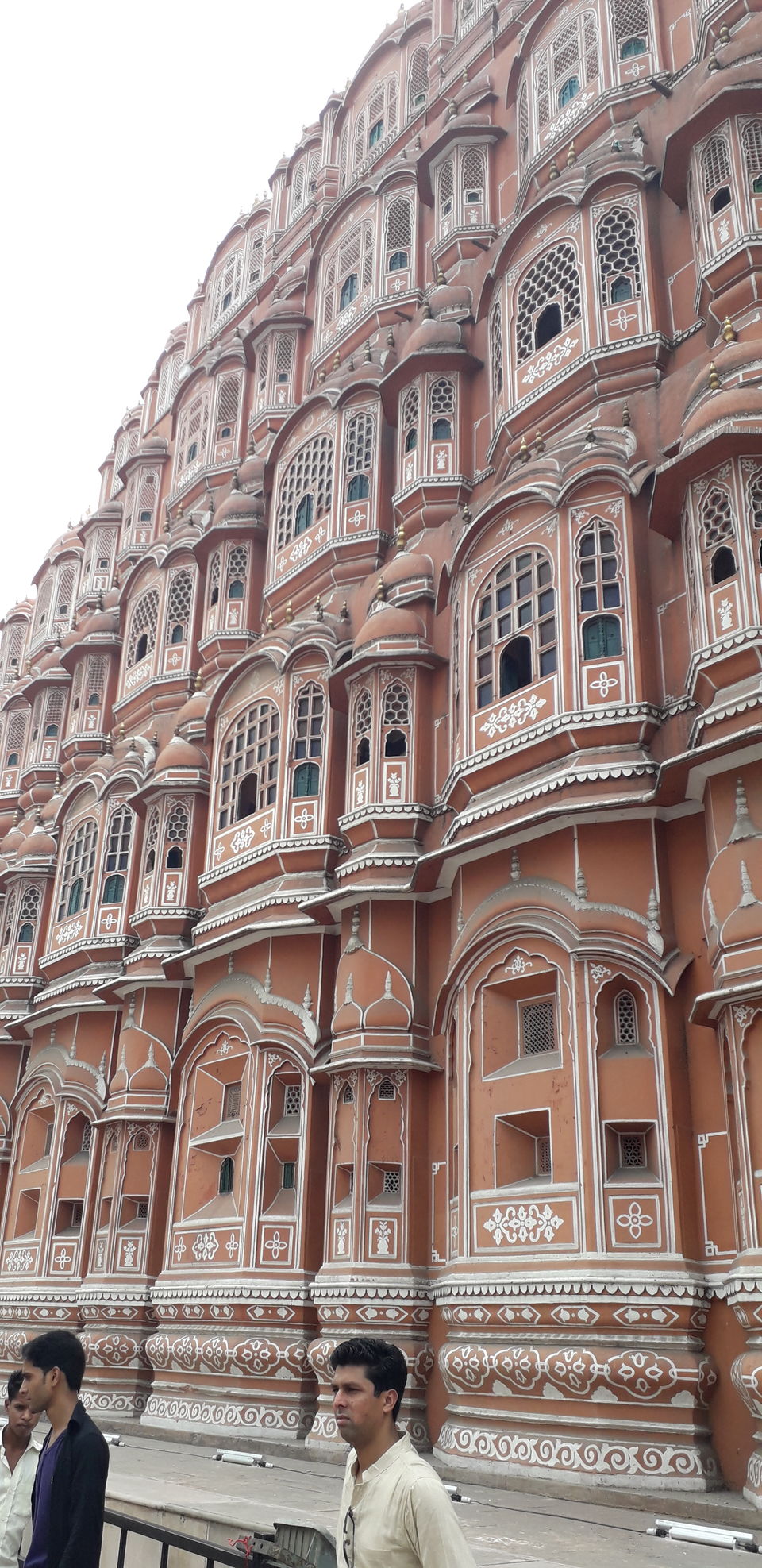 After Hawa Mahal the next one is Jal Mahal which is another architectural wonder of the ancient india. As the name suggests it is constructed in between a lake and is a wonderful sight to eyes. Yes! there comes a question in everyone's mind that why Hawa Mahal, i mean Jal Mahal is constructed in between a lake but Hawa Mahal is not in air, the thing is Hawa Mahal has so many windows in it that the is always 'hawadar' aka 'airy' so thats why it is called Hawa Mahal. Talking about Jal Mahal as it is a Beautiful place to visit to apart from that if you want to get yourself clicked in Rajasthani Attire than there you can easily do so.
After Jal Mahal the next and the biggest of this three is Amber Fort aka 'Aamer kila' which was used to be the Residence for the former Royal family of 'Aamer darbar'. As other forts Amber fort is also constructed of Red sandstone. It is famous for its large ramparts and cobbled gates. There is also a lake at the base of Amber fort known as 'Maota lake'. The construction work of Amber fort was started at the time of Raja Man singh and than carried by Raja Jai singh. Amber fort also has a garden which has beautiful flowers in it.
On the top after entering the fort you will see canons on the other side of gigantic gates.
Amber fort shows the complete tradition and culture of Rajasthan shows its Artistic heritage with beautiful architecture and painting.
So this is all from Jaipur Darshan and about Dal, Baati and Churma. We had it at my home made by my mother and it was as delicious as always.
I hope you liked it.
See you soon, cheers!!
Frequent Searches Leading To This Page:-
honeymoon destination near jaipur, jaipur trip in december, jaipur 3 nights itinerary, jaisalmer rajasthan honeymoon package, places to visit in jaipur with friends, places to visit in jaipur for fun, places to visit in jaipur chokhi dhani