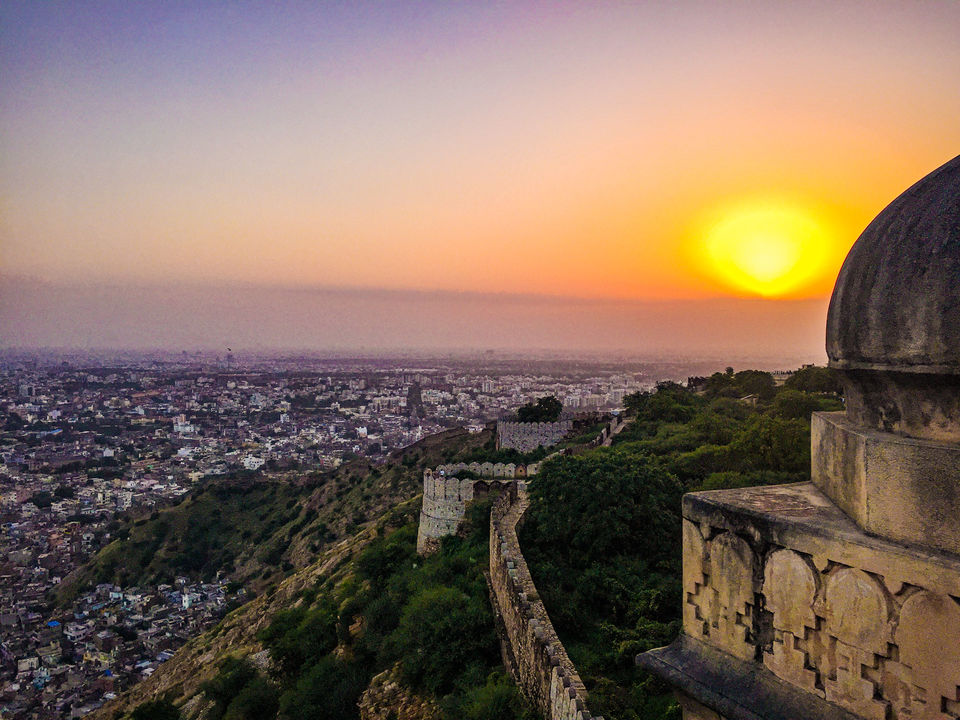 In one day only in Jaipur, we were in awe of the city. We wanted to explore it even more. This colourful, vibrant, flamboyant city has a lot more to give. So for our second day, we started with a few of the oldest and beautiful locations in Jaipur.
Places to visit
1. Sisodiya Rani Bagh
It is a royal garden built in the premises of Sisodiya Palace. The garden consists of numerous fountains and beautiful plants.
Entry fee : ₹10 per person
Timings : 8:00 am to 8:00pm
Note : Prefer to visit in the morning when there is less crowd.
2. Galtaji Temple
Galtaji is an ancient Hindu Temple. It is surrounded by beautiful Aravalli Hills.
Entry fee : Free
Timings : Sunrise to Sunset, on all weekdays
Note : Beware of monkeys.
3. Jaigarh Fort
Jaigarh Fort is located on the Cheel ka Teela of the Aravalli range. The fort features a cannon called "Jaivana" which is the world's largest cannon on wheels. It also offers a magnificent view of the city.
Entry fee : ₹25 per person
Timings : 8:00 am to 8:00pm
4. Nahargarh Fort
Nahargarh Fort is also one of the beautiful historic architecture that reveals the majestic history of the city. It offers the most striking view of Jaipur's scenic landscape. There is a wax museum and sheesh mahal situated at the entrance of the fort and both are worth a visit.
Entry fee : ₹50 per person
Timings : 10am to 5.30pm
Note: Visit the Fort in late afternoon as the sunset from this location is beautiful and offers beautiful city view.
5. Chokhi Dhani
Chokhi Dhani is a popular tourist attraction and is a prestigious village ethnic resort. It is famous for showcasing the vibrant Rajasthani culture and heritage. It is away from the city amidst refreshing nature.
Entry fee : ₹750 / person Standard package.
₹950 / person Royal package
₹1200 / person for multi cuisine restaurant.
Timings : 5:30 pm to 11 pm
After exploring the garden, we went straight to Galtaji Temple. There were lots of monkey in the temple premises. The temple was quite old but beautiful.
We had our lunch outside the Fort. We went to Jaigarh fort. It is famous for the world's largest cannon on wheels. This Fort is well structured and offers great views of Amer Fort.
Its been a tiring day but we still have one more Fort on our list so we went to Nahargarh Fort. The sun was about to set and it was beautiful to watch the sun going down from the Fort with the spectacular view of the Jaipur city.
The Fort complex is large and needs 2 to 3 hours so plan your visit accordingly. Fort and the Palace are beautiful and have a significant history. There are various authentic shops for shopping inside Fort. We did some shopping from the Fort.
Where to Eat?
1. Rawat Restaurant - For Pyaz Kachori
2. Chokhi Dhani - For authentic Rajasthani Food
So this was the plan for day 2. Still some major spots left to explored. Coming up in next days.
Click here to read part 1.
Stay tuned for day3.
Love, Laugh, Live and Travel!!
Also follow us on instagram
https://www.instagram.com/trawheeling
We started around 9:00 AM to visit some of the places early in the morning when the crowd is less. The first place we visited was a beautiful garden. Sisodiya Rani Ka Bagh is a beautiful morning place. It was serene and calm to start a day in such a beautiful place. The paintings on the walls are intriguing.
We missed getting our Kachoris from the famous restaurant, so we had our breakfast somewhere else, but you should try pyaz kachoris at famous Rawat restaurant. After eating our breakfast, we went to Amer Fort and Palace. We had our guide with us. He told us the history of the Fort and showed us all the intricate details in the design of the Fort, which would not have been possible to notice without him.
We spent the evening enjoying the sunset from the Nahargarh Fort. For dinner, we decided to go to experience Chokhi Dhani. We went there after sunset. Chokhi Dhani is not just a place for food but a full-fledged experience of Rajasthani culture. Its a village set up and there are lots of activities to do apart from just eating food. You can shop, watch local dance forms, get Mehndi tattoo, play local games and experience the architecture of different states all in a single place. Chokhi Dhani is a must-visit place if you want to experience the Rajasthani culture.