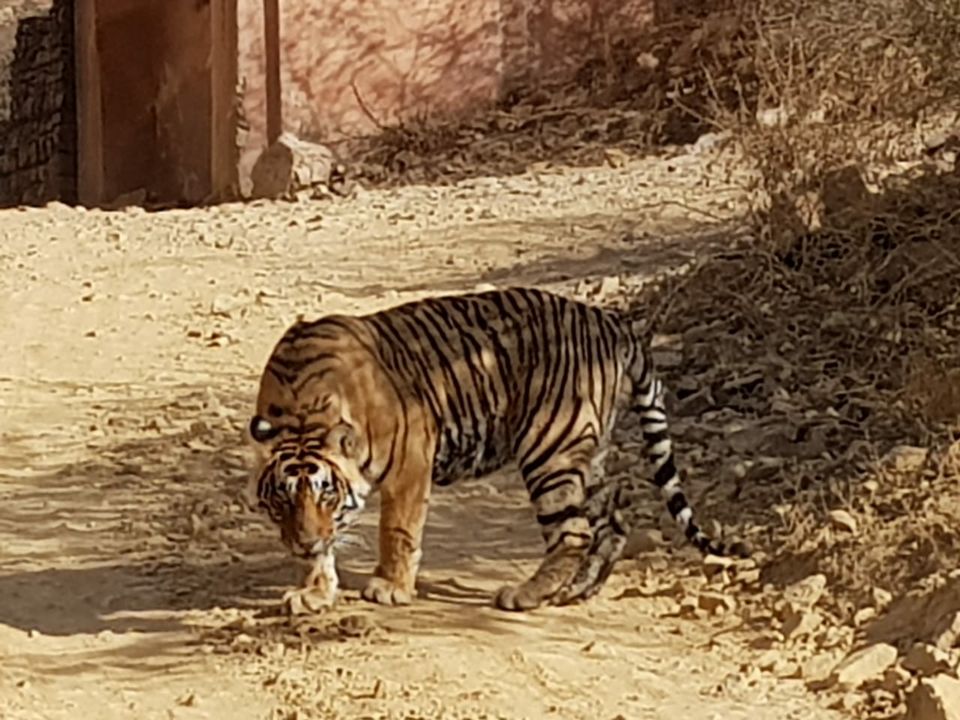 After a disappointing trip in Corbett, I was really hoping that Ranthambore would change my luck. But the trip was planned too late, and the gypsies for the core zones of 1-6 were no longer available. Which left me with two alternatives, canter in the core zone or gypsy in 7-10 zones. While most online reviews suggested gypsies, we chose to increase our chances by choosing two safaris on the canter. The zones we chose we're zone 2 and zone 6. On arriving at the hotel, and handing them our booking details, we were told that canters are not allowed in zone 2 and we would be reallocated. Turns out we got zone 5 in the afternoon safari and zone 6 in the morning safari. The challenges with a canter are, it is not too comfortable, there are 20 people, so it can get really noisy, also since each person is picked up from his/her hotel, there will be delays. Benefits are, it is cheap, a single booking was for around Rs 600 plus taxes, and in case of a sighting, you can see much further than those in a gypsy. When we spotted a tiger, almost all of us were on top our seats, trying to get the best view. As we entered zone 6, for the morning safari, in a few minutes, the guide stopped the canter, hearing the warning calls from a Sambhar deer. As we looked around, we spotted a leopard taking a leisurely stroll across the road. As the beautiful cat made its way across, our eyes followed its every moment, till it disappeared into the wilderness. The canter continued along its path, with the guide stopping at every intersection, figuring out the best route to take by trying to listen to any animal calls. As he explained to us, there are only two ways to track the tigers across this vast landscape, the pugmarks and the warning sounds from deers and monkeys. Every gypsy or canter we passed, the drivers would exchange information on whether they sighted anything. In one such exchange, the guide was told of a spotting, he drove like a man possessed. The next few minutes made me realise, that a vehicle as bulky as a canter can also be driven at such speeds. When we reached the spot, a few vehicles had already gathered, two tigers Jai and Veeru, brothers had been spotted. Some canters parked around the first, while we parked near the second. This was a clear sighting, the strange bit was, I have seen tigers in zoos before, but seeing them here, made me realise the sheer size of the beautiful cat. They gave us a bored look, as if our antics failed to amuse them. While we excitedly tried to capture as many pictures and videos as we could. Eventually our collective enthusiasm must have exhausted their patience, as one got up to leave, and the other followed. It crossed the road before the vehicles giving many of us memories to last for a lifetime. After an exciting morning, we hardly had any expectations from the second safari. But turns out luck was in our favor, this time we sighted lightning, a female tiger lazing out in the grass. But we had to really stress to get a good view. Another one was busy eating his kill, a Sambhar deer from the previous day. After a few vehicles left, we finally got a good view of the tiger tearing apart his lunch. As our canter approached, the stench of the decaying Sambhar deer wafted through the air. After his snack, he dragged the remaining portion of the deer out of view and walked to a spot closer to our vehicle, and began licking his face and arms. The long grooming and cleaning session kept us entertained. Eventually he felt thirsty, so he walked across the road, to drink some water. It was time for the safari to end, after spotting 4 of them over one weekend, it was definitely a value for money trip.
Stay
We took a two nights package with Vivanta Sawai Madhopur. It is a hunting lodge converted into a hotel, so the look and feel is different from other Taj properties. But the property makes up for it, with its has immaculate lawns, organic gardens, hundreds of fruit bats and many different species of birds to be spotted. Being a foodie, I would say, the buffet was not extensive, but food was tasty. Getting fresh bajra and makka rotis made by local women, and a tandoor outside nearby to serve you hot delicious parathas does make up for the simpler offerings. Also the amazing service that Taj is known for is charming. To keep guests entertained they have cultural performances, magic show and even a talk by a naturalist.
Eat
I wanted to try some local restaurant, so we visited Kanha's, close to the city center. Brimming with excitement, I ordered the Dal Baati Churma, what arrived was beyond my consumption capabilities. Two huge balls of churma and baati, and big serving of dal, the city person in me struggled on how to tackle this plate. The waiter stared at me, wondering if I would ever figure it out. Eventually like the true desi in me, I put aside the cutlery, broke apart the baati and churma with my bare hands, creating the most tasty mix of dal, baati and churma for a really heavy but scrumptious meal. This one far exceeded all the dal, baati churma meals I have had in restaurants in Delhi and Mumbai.