Rajasthan is known for its Indian traditional art form. Known worldwide for its traditional craft and culture, Rajasthan gave birth to another art form known as pichvai paintings. These pichvai paintings are known all round the world for its equisite and traditional technique. These paintings are mostly found in found in Nathdwara temple located on the banks of Banas River in Rajsamand district of Rajasthan.
This major pilgrimage destination is the home to Shrinathji which represent Lord Krishna as a child lifting the Mount Govardhana like an umbrella to protect the inhabitants from the wrath of Indra, the lord of rains. There has always been a particular set of audience who has been a devoted fan base of the art form. Pichvai tradition and beyond, an initiative by Pooja Singhal to revive the art of pichwai paintings is another step concentrated towards.
The word Pichhwai has evolved from Sanskrit words –'pichh' meaning 'back' and 'wais' implying the word 'hanging'. The Indian traditional art of Pichvai paintings are an intricate art that depicts distinctive moods of Lord Krishna, his body postures, and attire. Originally, the pichvai painitngs were made using starched handspun clothes with natural colors. The brushes used were either made of horsehair or goat hair or squirrel hair. These older methods have now been replaced with less expensive material.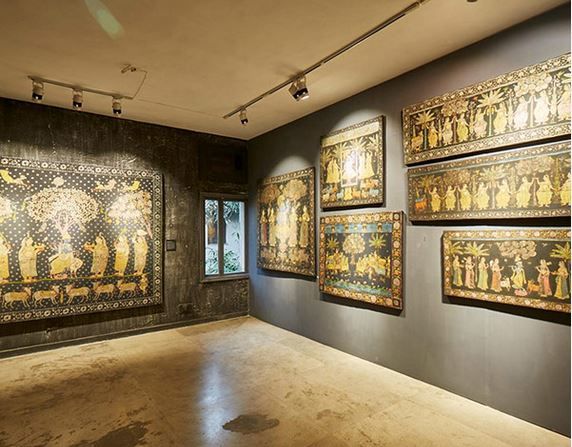 The art form has been passed on from one generation to another. The older painting techniques are time consuming therefore the newer generations of the Pichhwai painters have taken embossed paintings for survival. For a good quality Pichhwai painting, it takes around 3 to 9 months to get finished.
The paintings were earlier considered as an offering to the deity and are used to adorn the walls of the temple behind the idol of Shrinathji. Pichvai tradition and beyond has made the art available to pichvai art devotees by introducing intervention of scales and material. Miniature paintings on different materials while keeping the essence of the art form intact have been an ultimate goal of Pichvai tradition and beyond. These miniature paintings represent the idol of Shrinathji in the same style for the devotees who want to capture an image of their lord. This also provides business to the painters.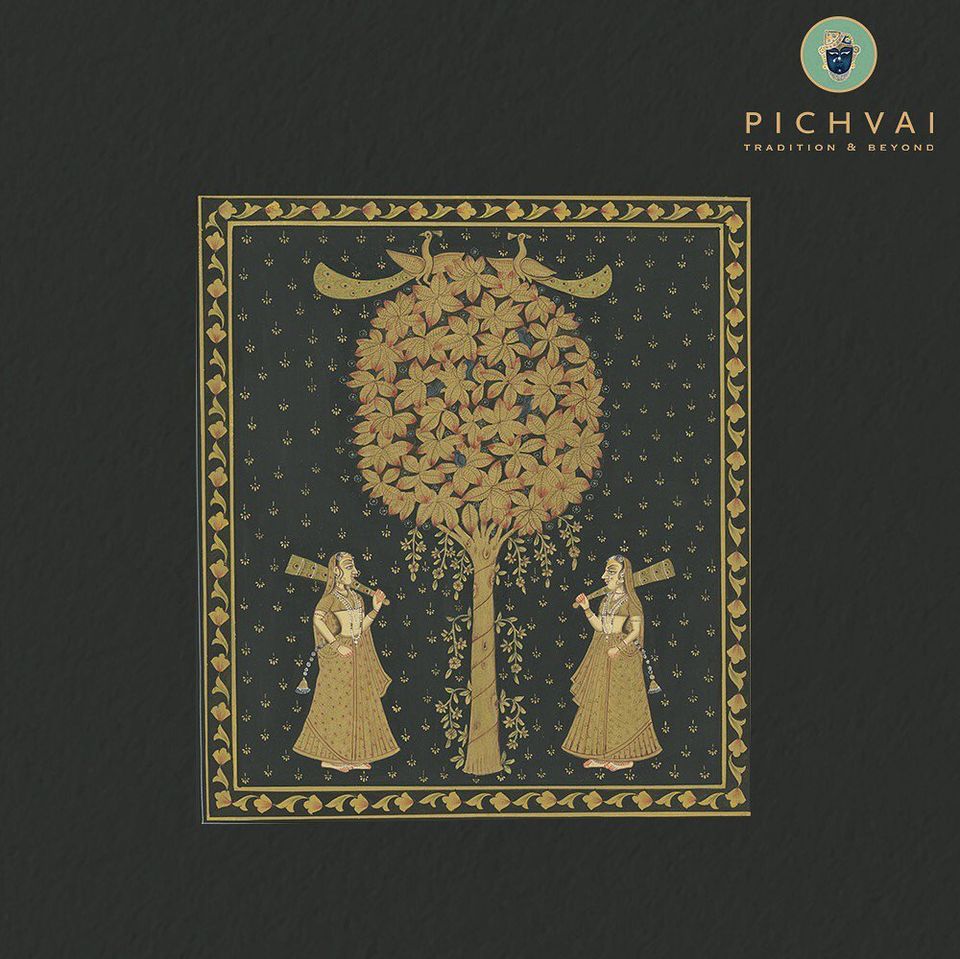 Pichhwai paintings are also made depending upon the occasion, season or festival. The paintings in summer have pink lotuses while the winter paintings depict a complex jamawar pattern representing the warmth required in the season. Themes such as Raas Leela, Holi, Annakut (Govardhan Puja) are also seen in their relevant occasions. The paintings for Sharad Purnima shows bright full moon in the night while the art representing Annakut presents the deity in a silver outfit, decorated with pearls and zardori work.
Pichhwai paintings have become the main export from Nathdwara as they are in much demand among foreign visitors due to which customized Pichhwai paintings are also available.