Rajasthan has been on my wishlist for years! I have always found myself drawn to the land of sand, thorn trees, camels and forts, perhaps because of my love for history or perhaps, I have an inextricable connection with it.
When I met a fellow Tripoto family member who belongs to the state I so love, my Rajasthan trip finally seemed to fall into place as I sat asking her to help me plan a visit to her home state. When the day finally came and I arrived at Kishangarh airport in Ajmer, I was exhausted. My long-awaited trip to Rajasthan had my stress, anxiety and fatigue following me like a shadow, but the minute I reached the property where I was to spend my next 2 days, all my worries melted away.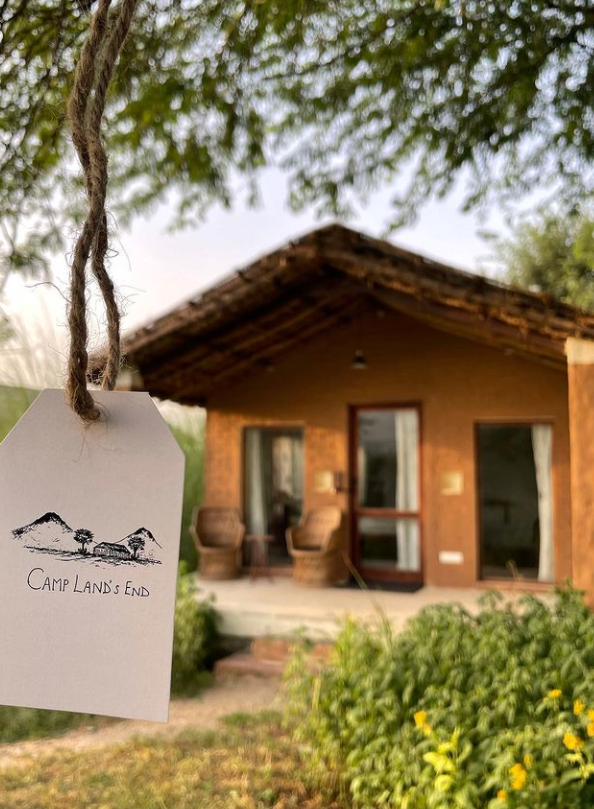 Aptly described as a wilderness boutique hotel, Camp Land's End, is a true blend of luxury within a budget and a rustic feel of being outdoors.
Why this place is perfect for solo women travelers, you ask? Well, the hosts of the property are so considerate and understand the challenges of traveling alone that they do not allow any 'stag' entry at the property. I have never found a hotel, homestay or even Airbnb that takes that level of guarantee, and as a woman traveler, I cannot express how much such this gesture is appreciated.
But that's not all folks, listing below some of my favourite points of the property:
♡Away from the city's hustle and bustle: specially when alone, you want a quiet corner to yourself to work and relax, specially in these times where you want to avoid crowds
♡Located amidst unspoiled nature
♡Spacious and comfortable rooms: And beds that give you a restful sleep
♡Inviting bathrooms: that become any woman's favourite part of any stay
♡A luxurious pool
♡Friendly hosts: Who said you cannot meet people and make friends when traveling alone?
♡Home cooked food and an opportunity to taste local Rajasthani delicacies
Camp Land's End also has dedicated practices when it comes to sustainability. They try to operate the place with free of single-use plastics. Local materials are used wherever possible, even when it comes to the roofs of the beautiful cottages, and everything resonates with the environment.
The place especially stood out to me for the fields of wild sunflowers growing all over standing bright and yellow and the little weaver birds nesting all over the property with the same bright color on their heads.
How much more picturesque can it get?
This place was perfect for me, and designed to get rid of all my usual anxiety- whether it's the yellow flowers I was obsessed with, or the beautiful Aravallis in the background, the occasional babool trees on the roads, the little birds chirping in the morning or that pool deck that has an amazing view. Every element was a treat for a traveler's spirit.
Watch a mini property tour here:

If you are looking for a safe yet enriching travel experience alone or with your girl gang, I highly recommend a stay at Camp Land's End!
Want to share your travel experiences with the world? Create a blog on Tripoto and get your stories read by millions of travel enthusiasts!