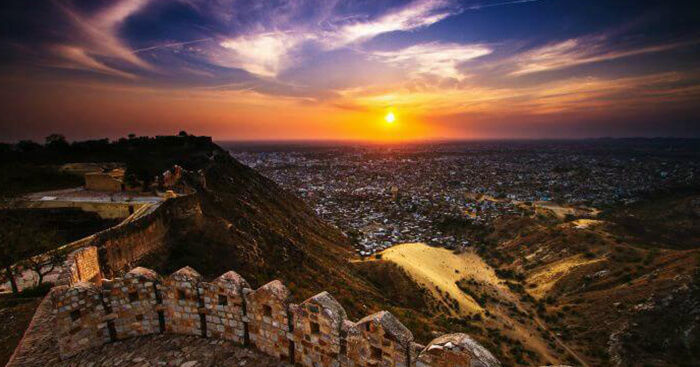 "With every weekend, comes another weekend getaway."
April seemed like a great time to visit Jaipur. The dirt cheap flight tickets (Rs 3,000 per person for a round trip) felt like a good start to the journey.
After flying for less than an hour and with no hotel bookings at hand, I landed early morning at the Jaipur airport. Having read quite a few popular itineraries on Tripoto, I was sure I knew my way around the Pink City. Or, so I thought!
Here is what I had planned:
Day 1: Saturday
City Palace, Jantar Mantar, Hawa Mahal/Palace of Winds, watch the sunset at the Moti Dungri and a night show at Rajmandir cinema.
Day 2: Sunday
Around Jaipur - Amer fort, Jal Mahal/Water Palace, the Monkey Temple and shopping before I catch my return flight late at night.
Everything is set. I step out of the airport and take a cab to Bani Park – the heart of Jaipur.
A 30-minute drive took me to the centre of the city. However, to my horror, no rooms were available in any of the selected hotels.
Stuck in a pickle, I decided to try a homestay through Airbnb! I've never tried living with locals before and my excitement is low.
Stepping inside the homestay, I experienced a warm welcome. The vibe was homely and the place neat.
I start discussing my plans with this family over breakfast, but they told me that all markets are closed on Sunday! Moreover, my supposed itinerary was missing the flavours of Jaipur and was rather boring.
Skeptical initially, I let the local hosts plan my trip and the results were astounding.
Day 1: Saturday
11 am:
Heading back to the shopping streets, we stopped at the Tattoo Café. The rooftop cafe offers sweeping views of Nahargarh, Jaigarh and Amer forts. The majestic Hawa Mahal stands tall right in front. Watching a shimmering sunset over the Jaipur was an experience like no other.
6:30 pm: Rebound shopping
Whatever was left of our burning desires was finally dropped in our bags.
8:30 pm: A peek inside...
This was an airy affair with a pleasant view.
11:45 am: Shopping like a local
The Aunty from the home-stay accompanied me and bagged unreal discounts and bargains through the virtually endless Bapu Bazar and Johri Bazar.
4 pm: Munching at...
Tired and hungry, we then headed towards Masala Chowk in an auto. This is primarily a food court that caters the best dishes of Jaipur, including Rajasthani cuisine in one place. From chatpati chaat to the uber delicious dal bati choorma, everything on our plates was exquisitely flavoursome! But we skipped the evening coffee for something special.
6 pm: Evening coffee in front of Hawa Mahal
I was planning to buy film tickets to Raj Mandir only for the hype surrounding the place, not for actually watching a movie. This lady saved me some bucks and a couple of hours. She was quite persuasive with the male guard there and convinced him to let us in for barely 10 minutes. We paid him ₹10 per person. We even went into the screen to look at the beautiful curtain fall. Now, that's some experience!
8:50 pm: Back to the basics
We return to the home stay to freshen up. After resting for a while, we head to a local place called Atithya for dinner. This was a chilled out experience. It's not every day that you see a tree standing in the centre of a restaurant, protruding through the ceiling and being used as prop. The food was delectable and the bill was surprisingly easy on our pockets. We dive into our comfy beds at 11:00 pm after a day well spent.
Day 2: Sunday
This day was all about activities, so aunty guided me beforehand and decided to stay back.
6:30 am – 3-hour cycling tour starts at M.I. Road
This one requires booking in advance, so I managed to grab a good deal on Saturday. I reached the starting point by renting an auto. This tour included witnessing an enchanting sunrise at Jal Mahal, accompanied by food tasting at some of the oldest food joints in Jaipur, aarti at the Palace Temple and a walk through the market rooftops. The tour has a lot to offer and covers narrow streets of the city, passing through vintage havelis and several other architectural marvels.
9.30 am – The tour ends at the starting point
I realized it's cheaper to travel by cycles. So I rented a bicycle for a day and headed back home for some rest.
11 am: The Hidden Treasure
Next stop, a hidden gem near Amer fort – Panna Meena ka Kund. This historical step-well was once used as a bath by the princess and is an architectural beauty.
2 pm: Lunch in the presence of royalty
With a plethora of options to choose from, my choice was entirely based on the view that I got from The Stag Rooftop Restro. Amazing food and the cinematic view of Amer Fort was a splendid combo.
3.30 pm: Closing It At The Sunset
Last stop for my Jaipur itinerary was watching the sunset at the legendary Nahargarh Fort. On the way, I relished and relived some Rang De Basanti moments. The sunset over the Jaipur skyline seemed like the perfect conclusion to this Jaipur trip.
6:45 pm: Time To Bid Farewell
I head over to my homestay in Bani Park, returning the cycle along the way. I pack my bags, rest for a while and leave for the airport at 8:30 pm.
With bags full of Jaipuri flavours and my heart filled with fond memories, this beautiful and unplanned journey comes to a happy close.
Share your unplanned travel stories here.
Check out Tripoto on Youtube!
Get travel inspiration from us daily! Save and send a message at 9599147110 on Whatsapp to start.
Frequent Searches Leading To This Page:-
rajasthan tours jaipur, jaipur tour package from delhi for 3 days, jaipur local sightseeing, one day trip to jaipur, hotel sangam jaipur, best places near jaipur for weekend, major attractions in jaipur, must go places in jaipur