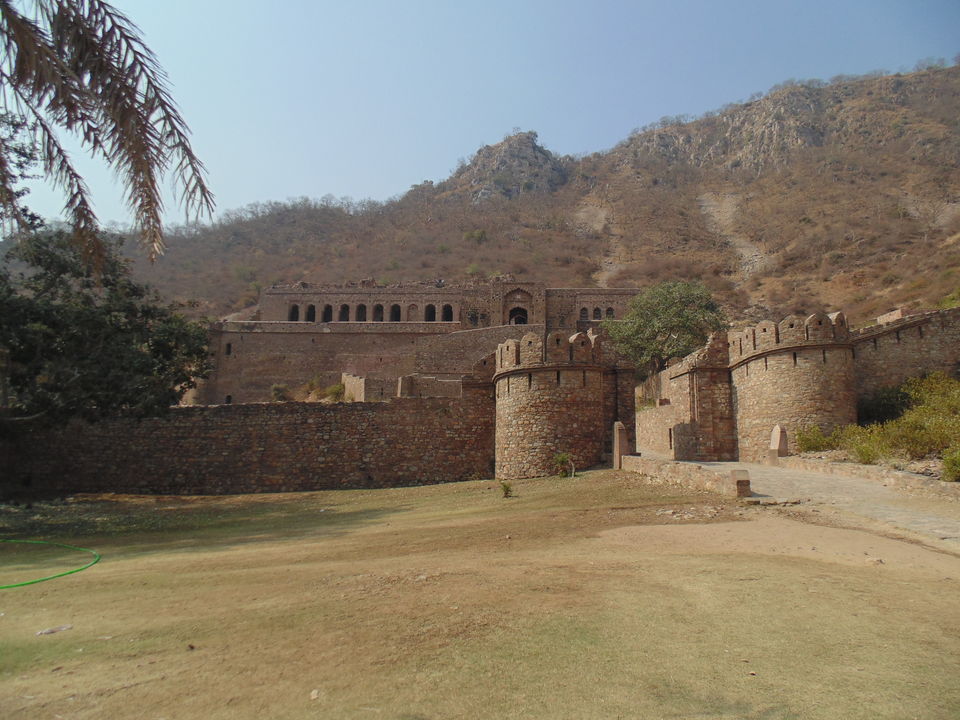 It was around 11PM on a Tuesday, that we decided - kahi chalte hai yaar (Lets go some where) !! Previously also there had been instances that we decided but couldn't continue with the plan but this time we were stubborn.
So after confirmation, it was time of " kaha jaye (where to go)?" After searching for various options we decided on Ranthambore - land of tigers.
Now on dates, without any doubts it had to be weekend.
Friday it is, excited were we, a day to go, all work completed in time. Diesel filled up in car, general checks done,packing done.
We started early at 5:30, in morning from Faridabad.
Around 8, we stopped for breakfast. Going through Google Maps, we realized by going few extra KM and changing route we can visit Bhangarh as well. Though it will be a few extra hours but a worthy one, I believe.
So after breakfast and a healthy discussion we were now on the way to Bhangarh, most haunted place in India.
The Bangarh Fort
So here we are at the parking, there's certain excitement and a fear in each one of us, because of stories heard about the place. We are welcomed by group of monkeys on the main gate, whom we saw snatching eatables from people around (point to be noted for travelers), seeing this we humbly kept the chips packet aside.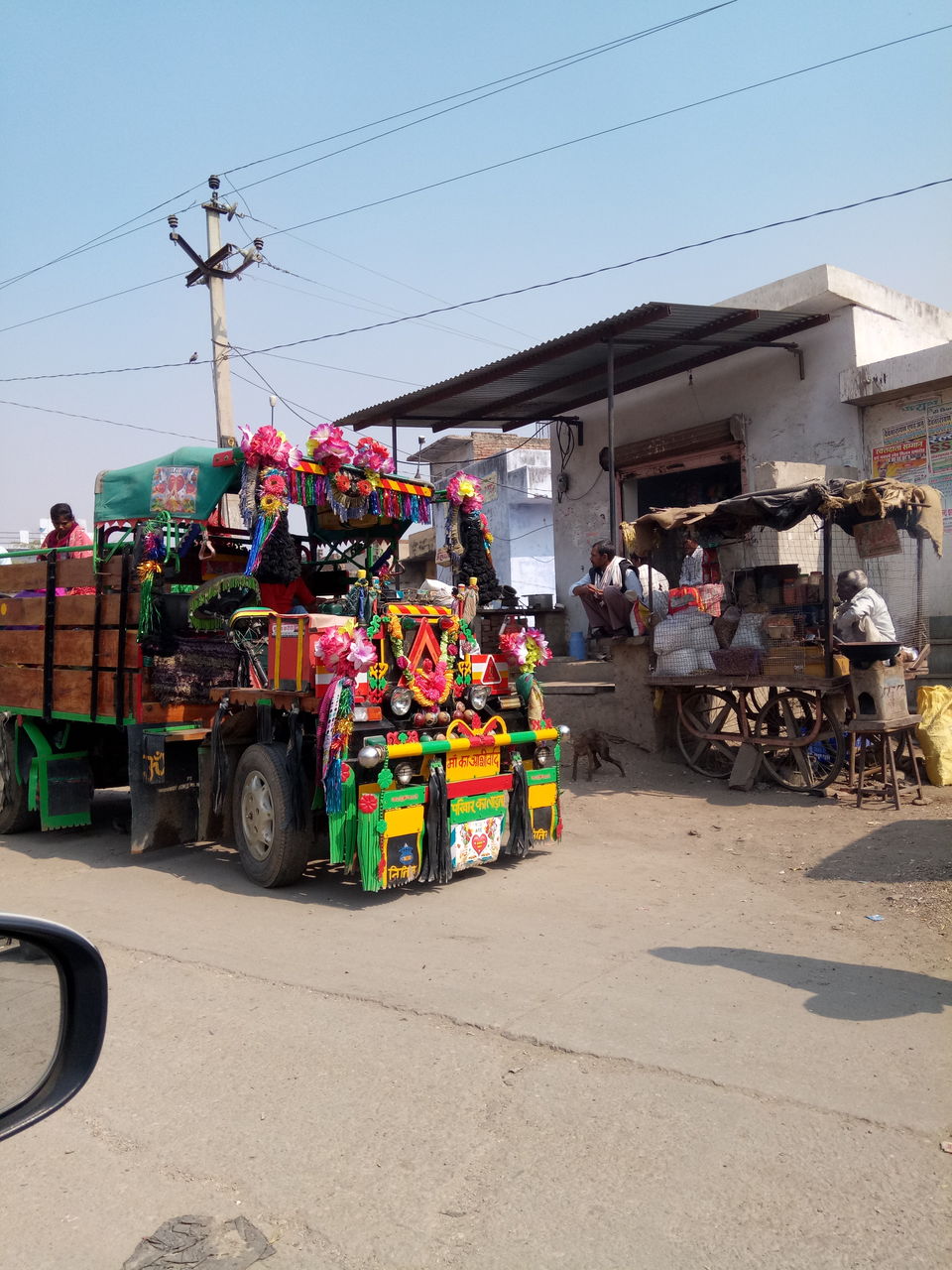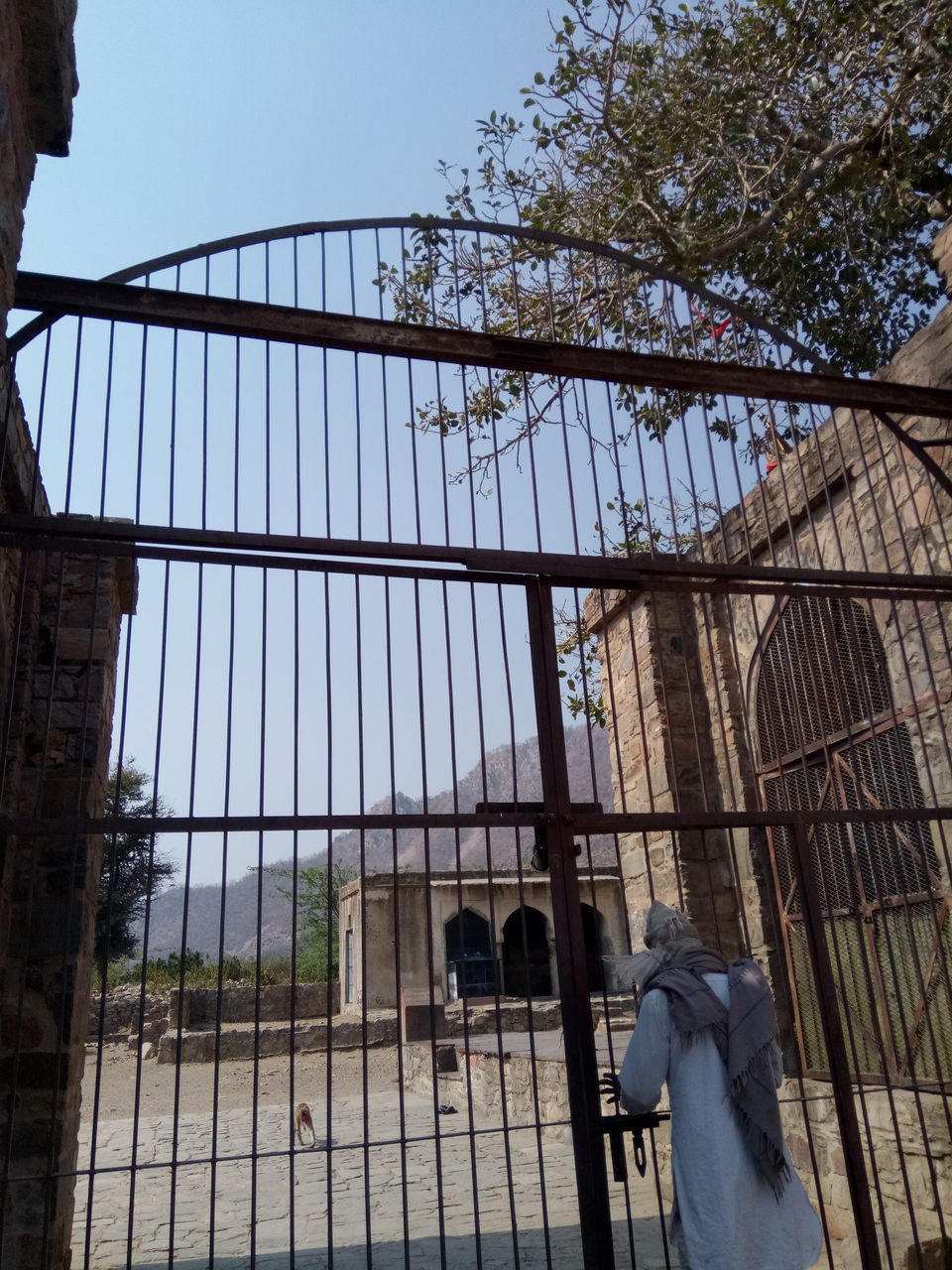 As we were walking down the way, we saw many ruined building (old market) of which stories are heard. Suddenly an old man joins us and started explaining about the place, history, people and surrounding. He wasn't a guide but a local, he didn't asked for any money, then we realized he wanted more tourist to come to this place and explore the monument just like any other in the state.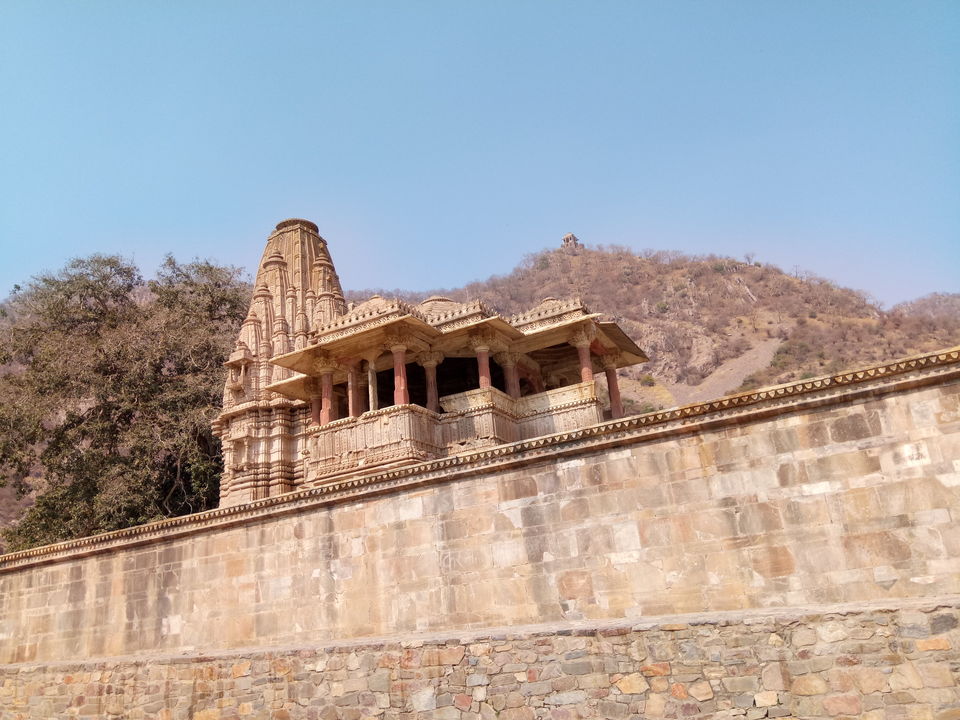 As we moved ahead, we reached another gate, this was the main gate to fort (there are 3 more gates of entrance, currently only one is accessible). As we entered the man showed us a temple, movie KARAN ARJUN , was shot here the Kali Maa mandir - mere Karan Arjun aynge ;)
In front was THE FORT - BHANGARH FORT, we could see that, yes, the fort has been some what destroyed. Also, sadly not maintained well.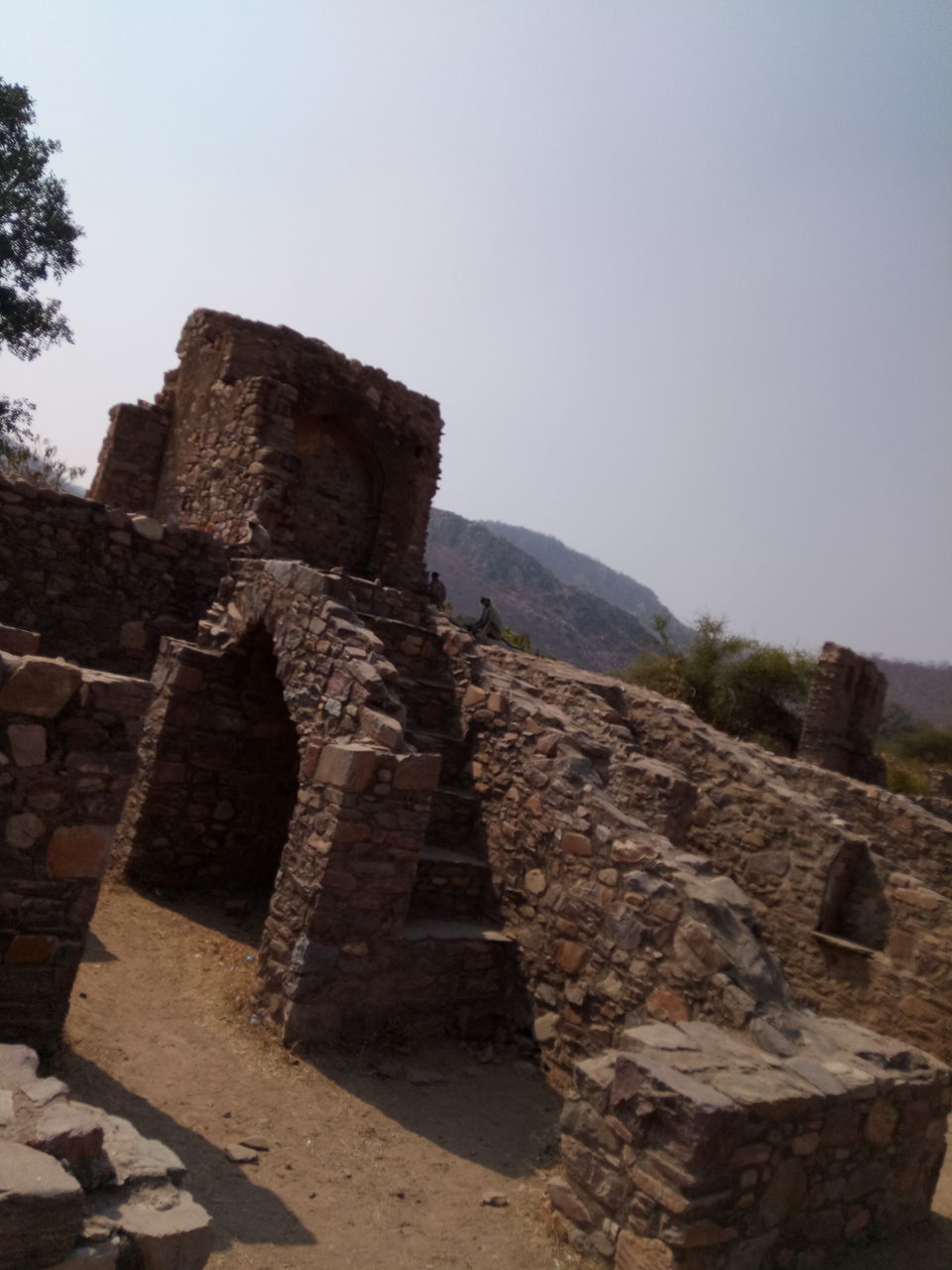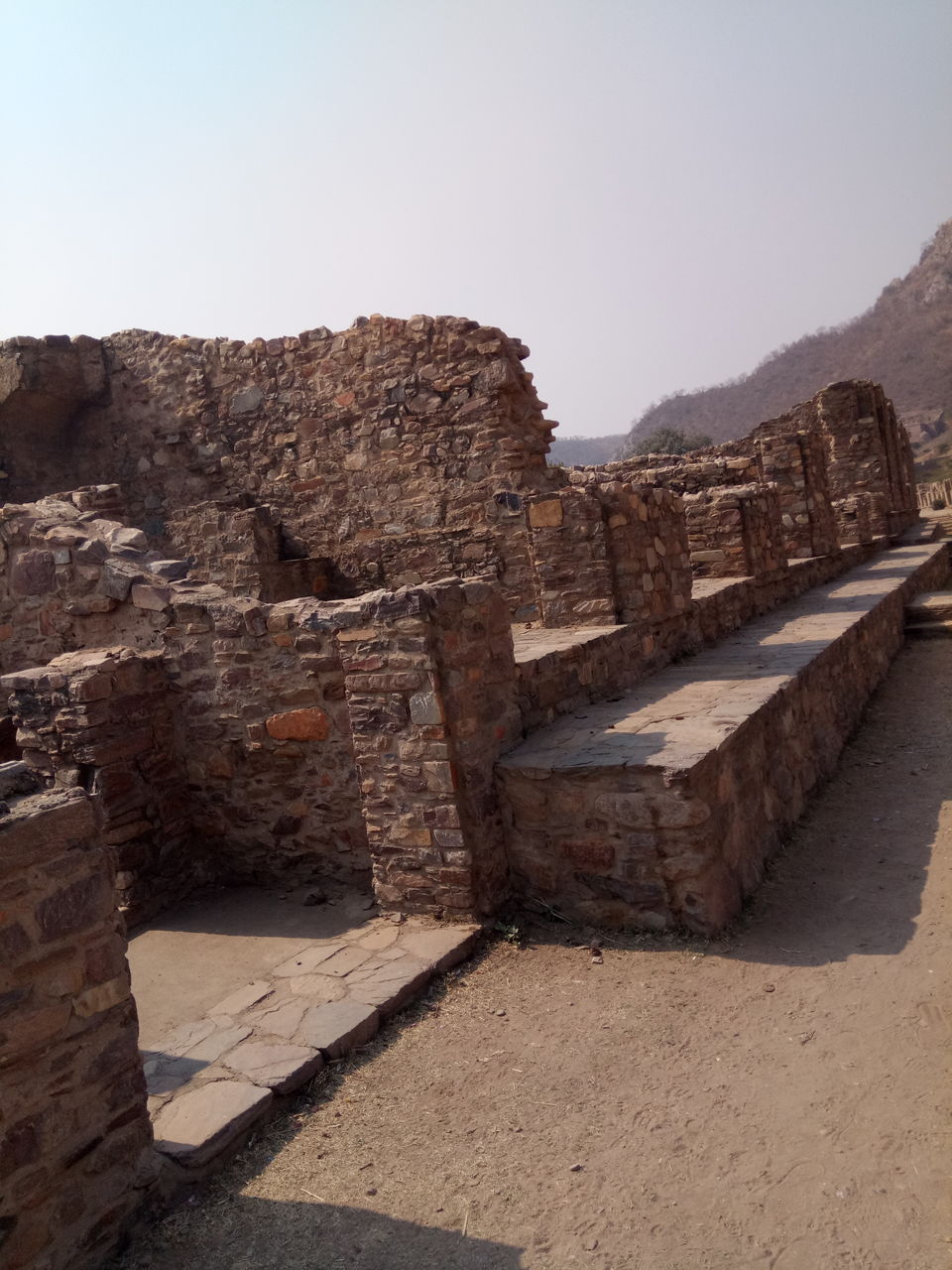 From here we hired an official guide to know about the place exactly, as the old man had left after we crossed the temple.
The structure is similar to any any ancient Indian palace, we had to walk up to two floor to reach the exact palace entrance. There are multiple stairs and also secret chambers on the way, which has been either closed or destroyed (as explained by the guide).
We were at the Fort, most of the structure is destroyed and you can find the ruins. A room with the art of the ancient time was shown to us along with the temple where Princess use to pray. The view around from the palace enchanting, some kind of enthusiasm was in all, to know more n more about the place. All this because of the stories heard.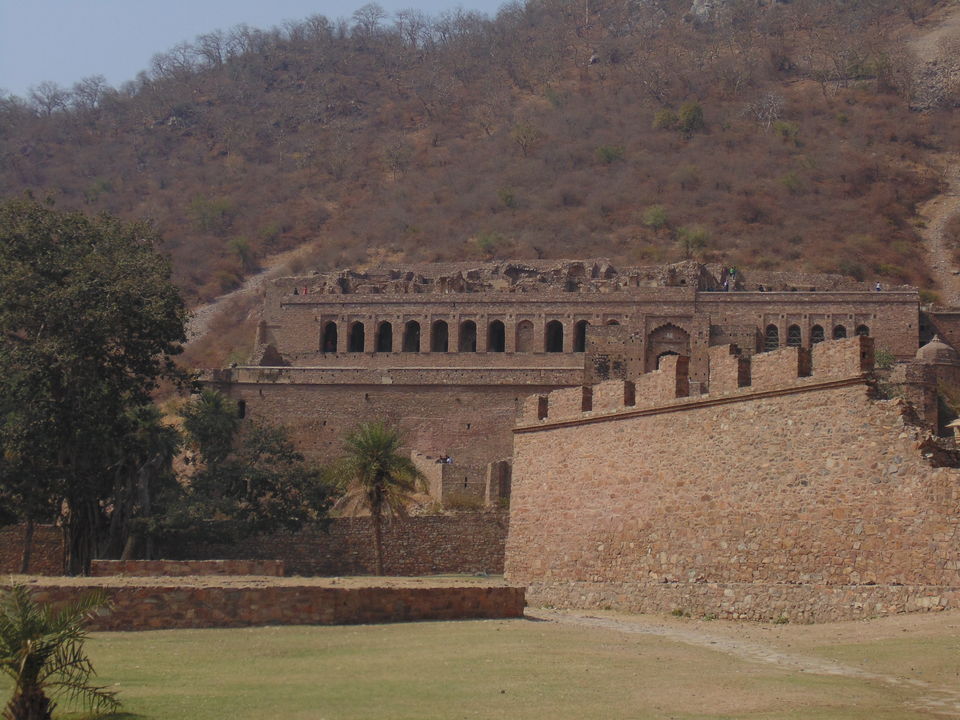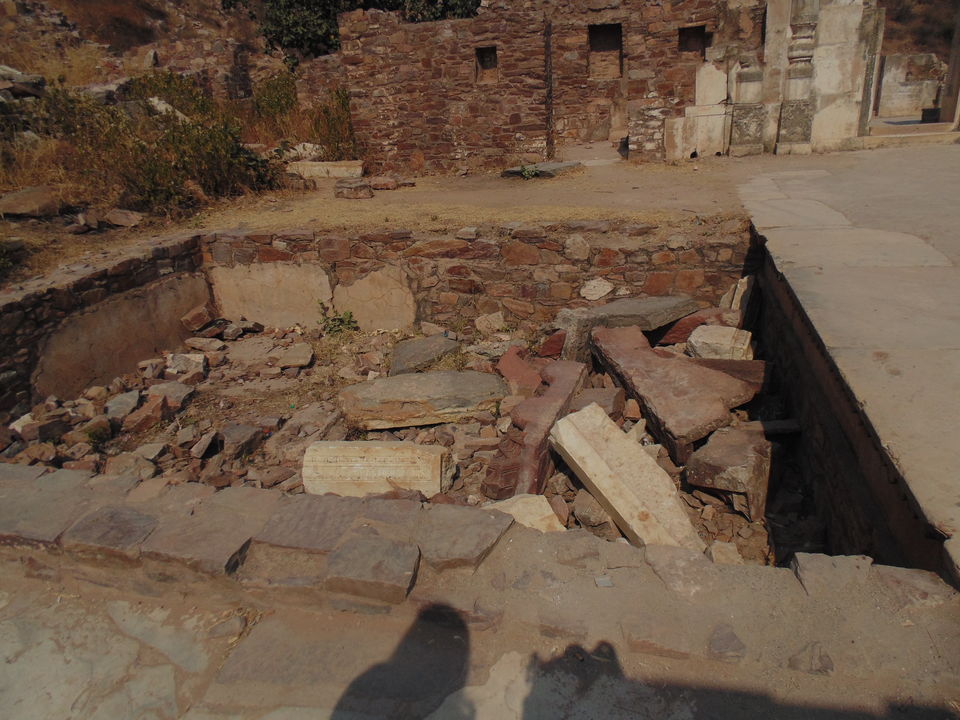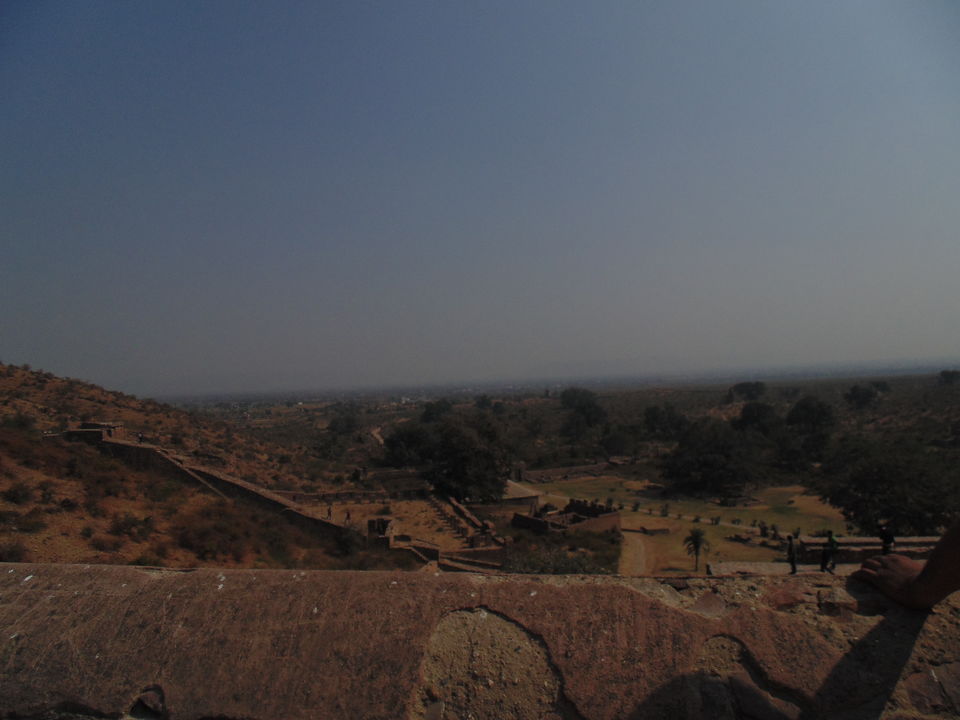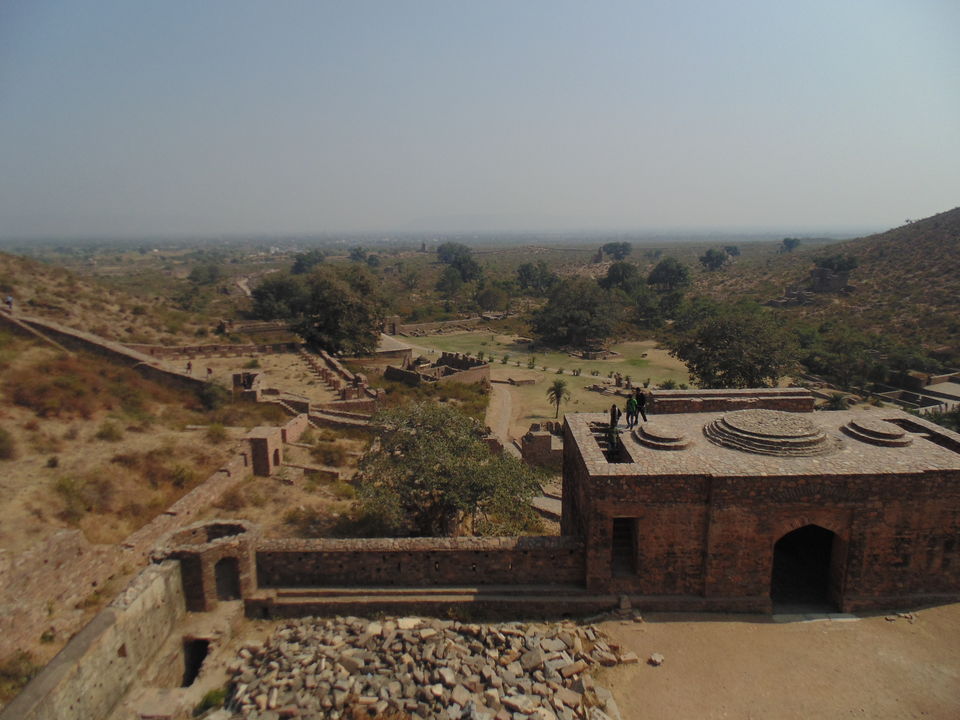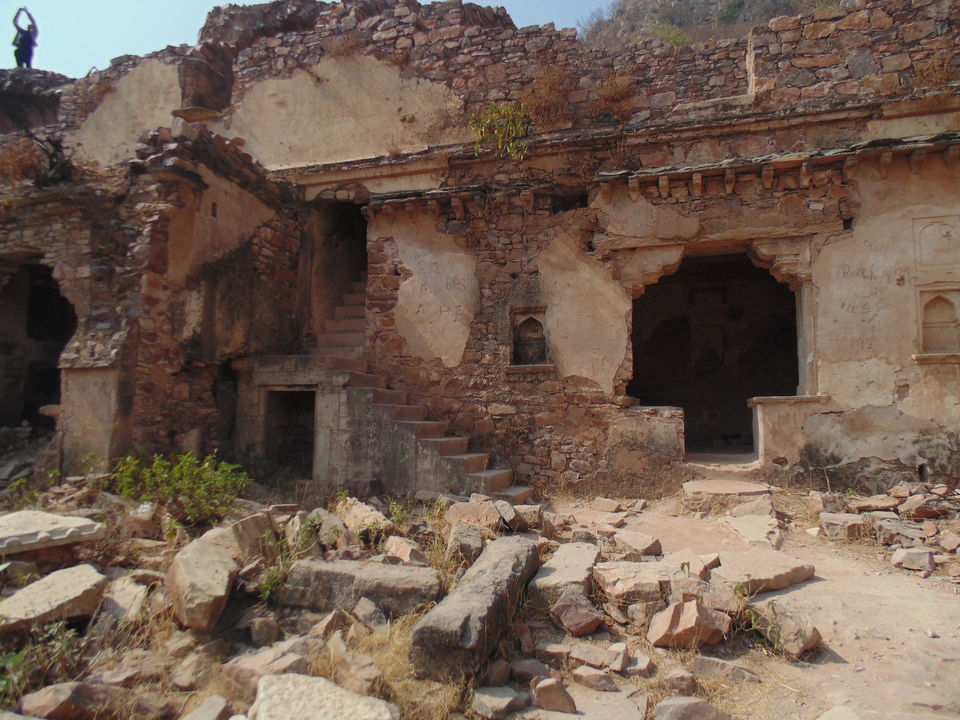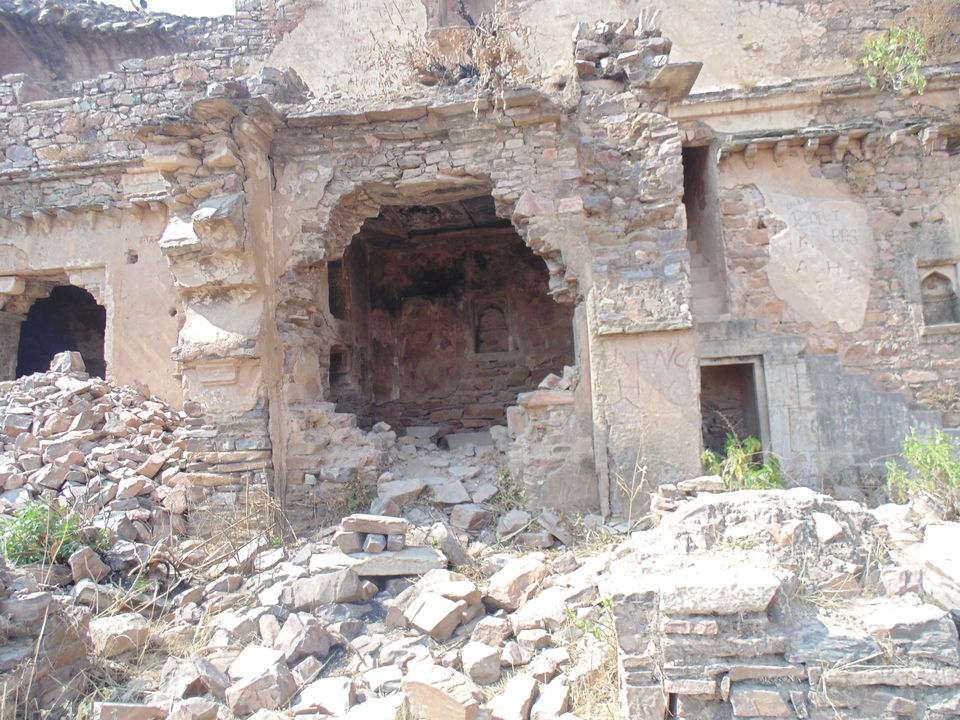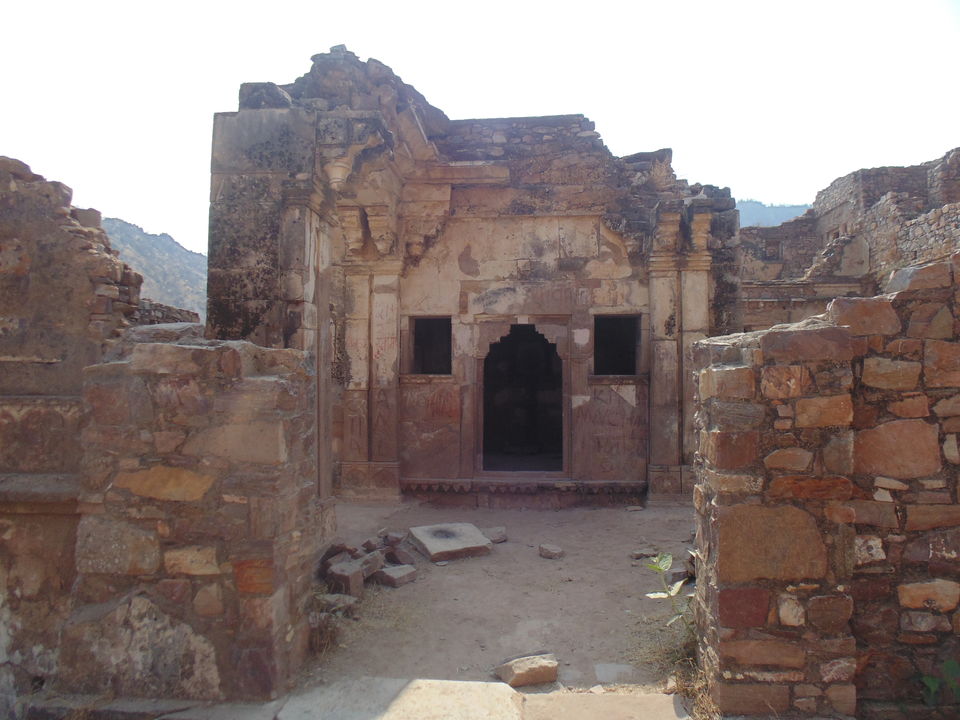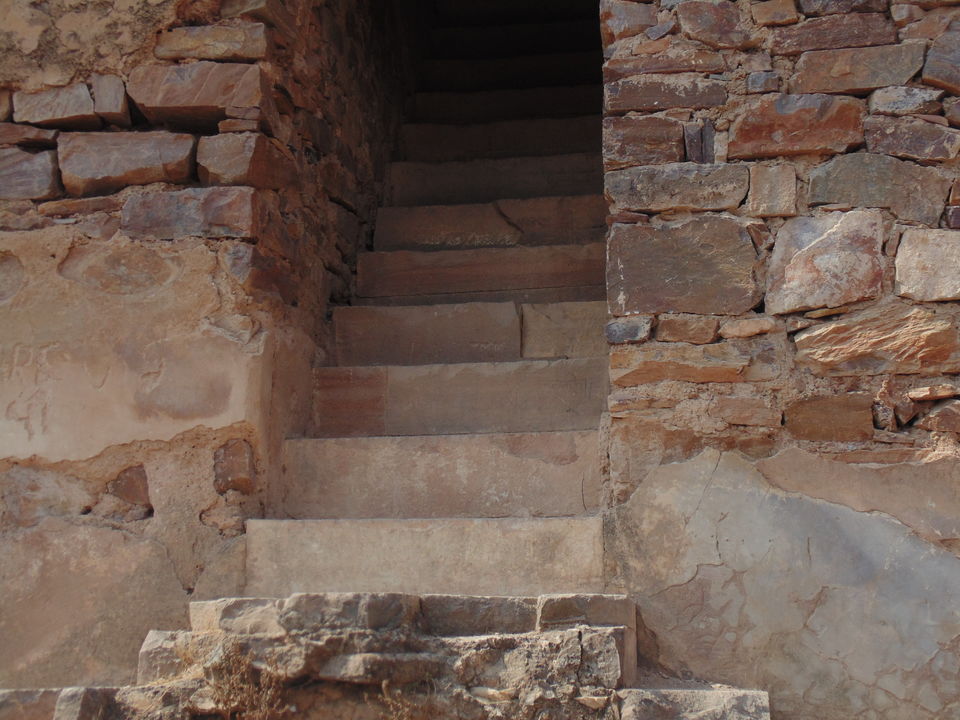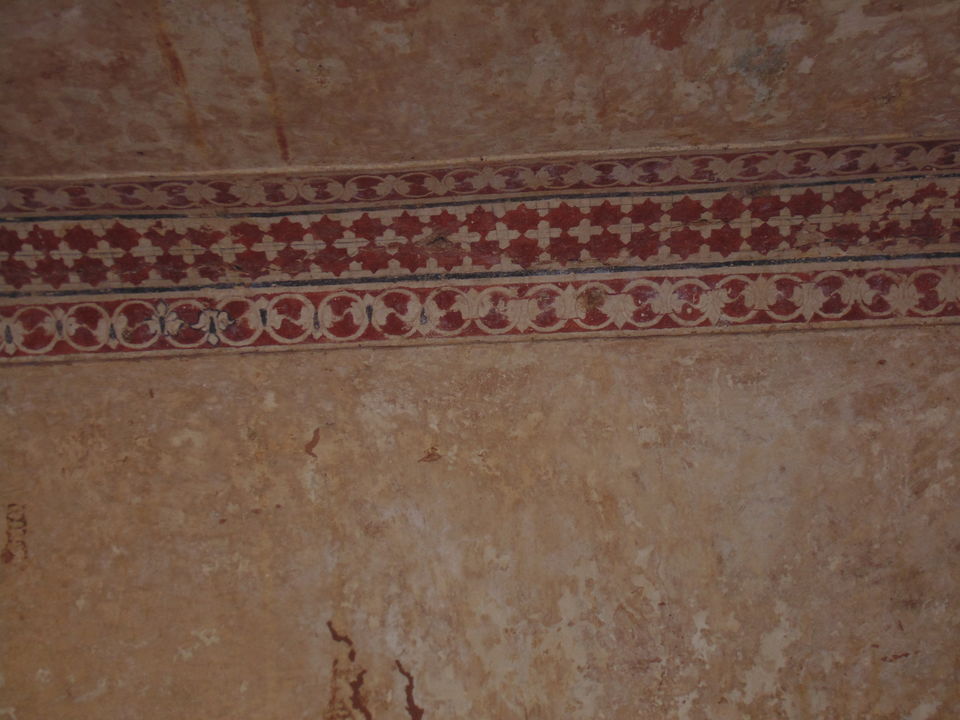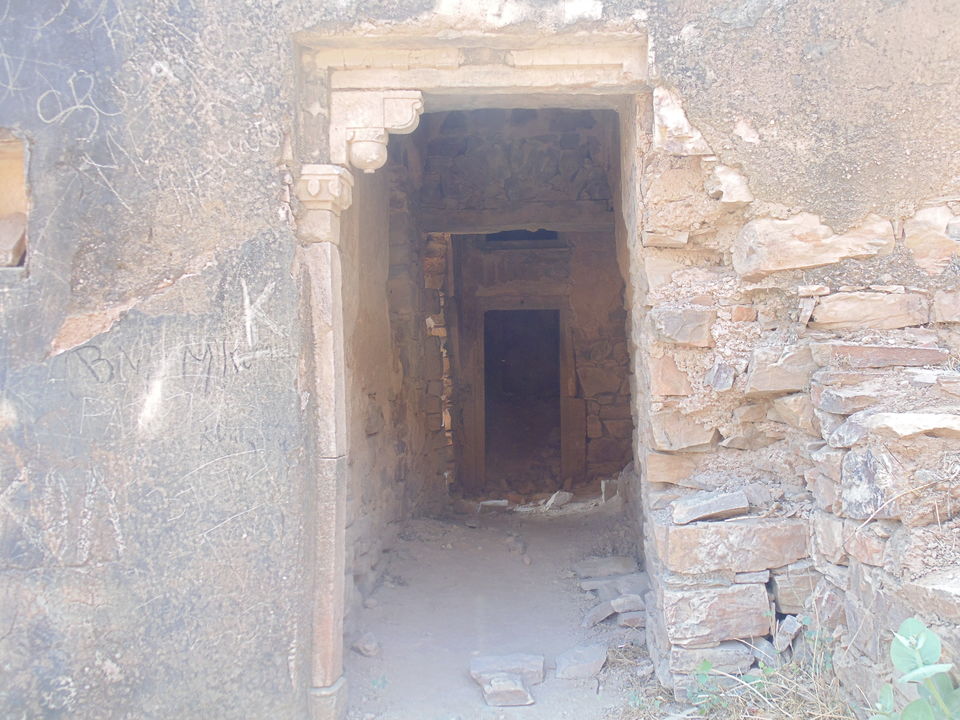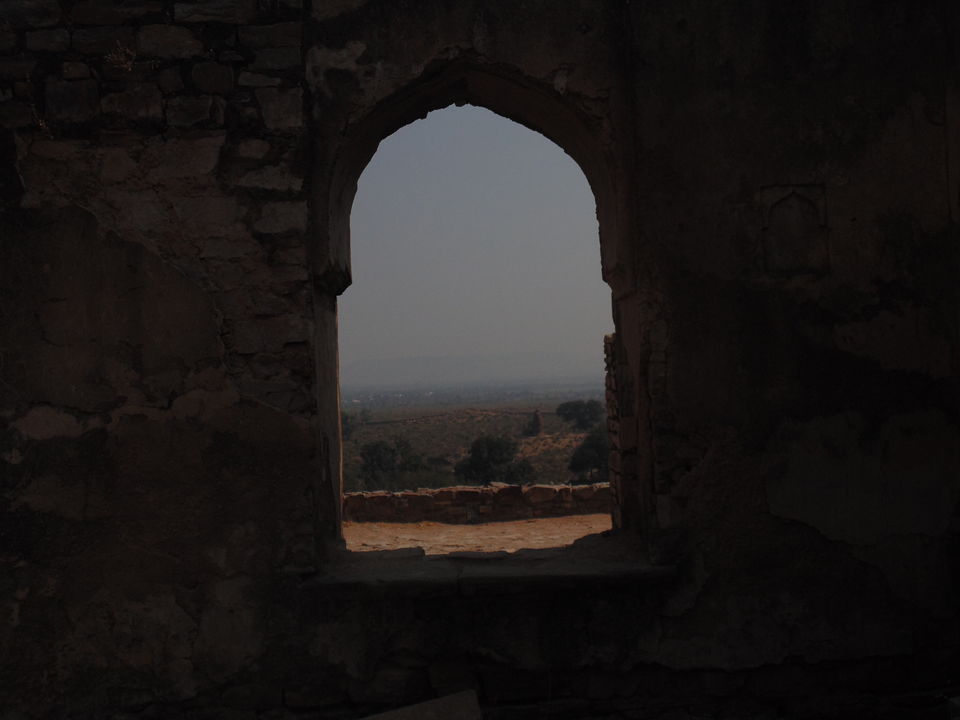 A structure was seen on hill top which was not easily accessible, one has to go via rough jungle route. Thus we dropped the plan, we had children with us.Next we moved down the palace and went to a pool area.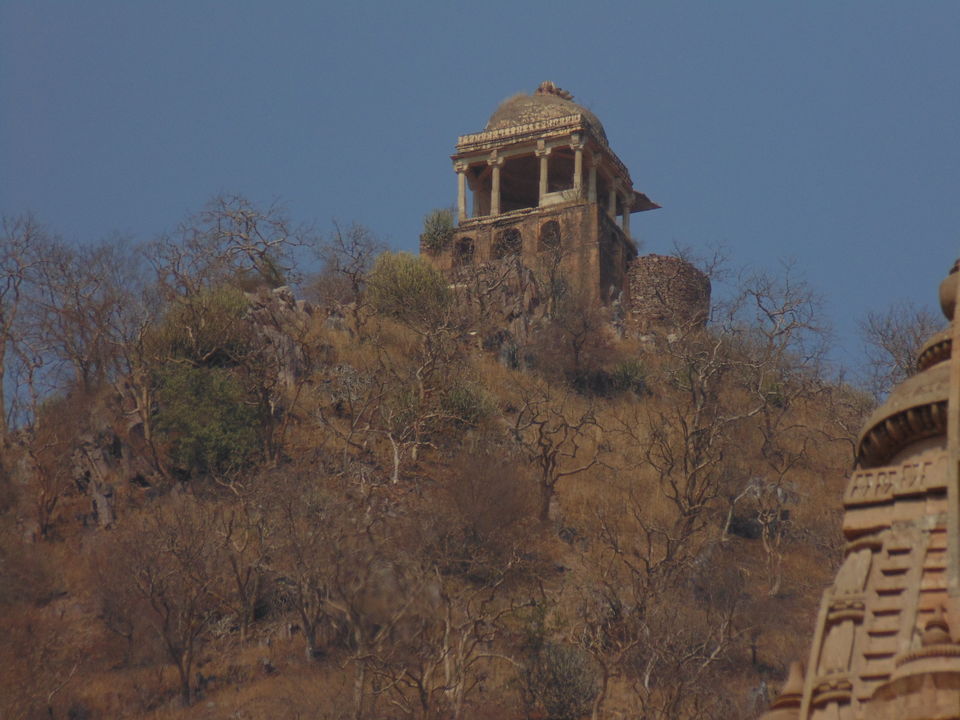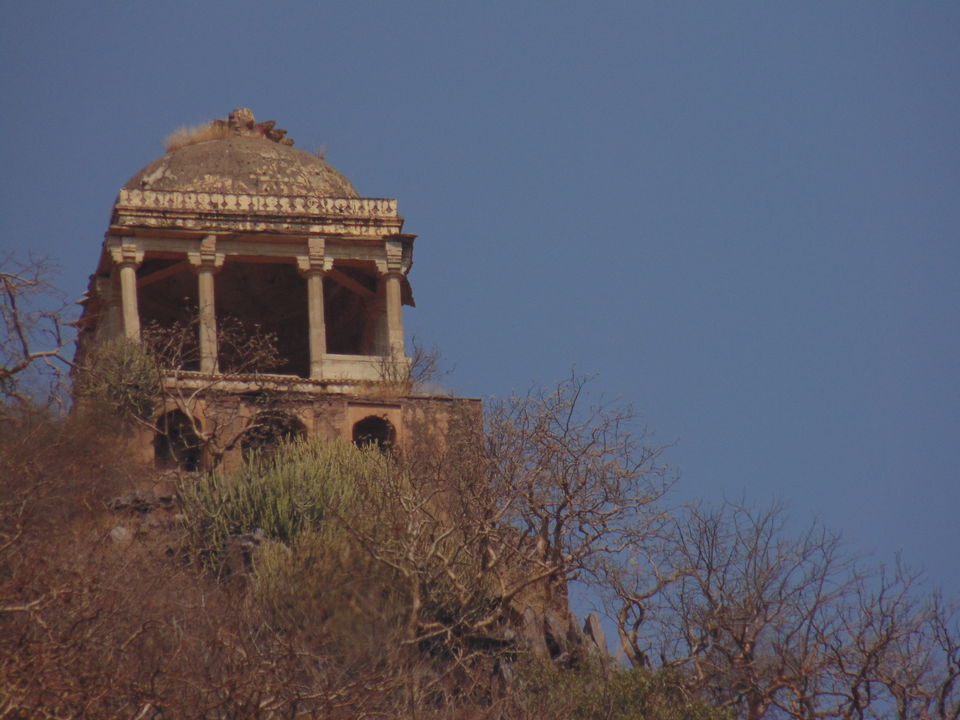 There are sign boards mentioning stories about the place. Which one must visit and see, my motive is to describe the area, let people know about the places, inspire people to travel and not to disclose the secrets to all.
The place is beautiful and also has a good history. One must pay visit to the palace, which will be an exceptional experience and also help the locals out there. An increase in tourist, may also lead to maintenance of the ancient structure.
The guide, asked us not to shoot his video, while he explained that history of the place has been created to gather attention. If people spend money on the development of the place, the tourism will anyway increase. A negative publicity, in some way has restricted tourist footfall.
How to reach - Nearest railway station is Dausa @22km from Bhangarh | Nearest airport is Santander airport in Jaipur @56km from Bhangarh. Multiple public buses also available.
Delhi to Bhangarh is approx. 300km | Opening hour is 6 AM to 6 PM - no entrance fee | Undoubtedly, winters is the best time to visit, suggested Oct to March | This can be clubbed as a day tour along with Jaipur package, no special visit to be planned.
We spend appox. 3hrs at the fort. The journey from Bhangarh continued to its original destination as per plan, Ranthambore - land of tigers. That is another story and will be shared in the next blog.