Rajasthan! This trip to Rajasthan was my daughter Swanandi's first trip out of our homecity Pune. We planned to visit Rajasthan on her first birthday. Many doubts came to my mind for my little one with regard to how comfortable she will be on the trip and enjoy the experience. Finally, we decided to make it to Rajasthan and soak ourselves in the amazing culture and heritage of this beautiful state.
The state of Rajasthan is the north western desert region of India and an interesting tourist destination. Padharo Maro des !!!! Didiji, Bhaisa Mharao des !!!! The people of Rajasthan sing these lines to welcome people to their land. We first reached Rajasthan's capital Jaipur.
The city's has different identity because of many monuments. Being the capital of Rajasthan, Jaipur is a more populated place. Two to three days are enough to cover Jaipur city monuments and forts. For travelers who want to explore thoroughly, they can stay on in Jaipur for more days. All tourist places are situated within 2-5 kilometers of the city, so we enjoyed the experience of local transport here.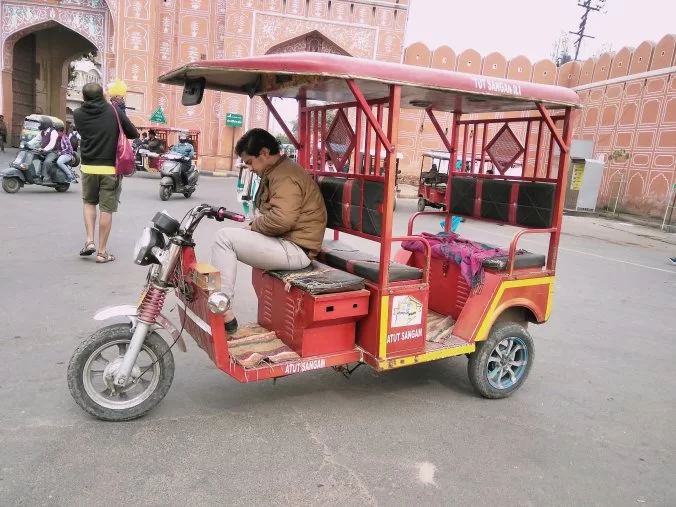 Small and colorful electric rickshaws are very attractive and affordable. They will charge you 5-10 rupees for transport.
First, we visited the Govind Devaji temple which is dedicated to Lord Krishna. In 1735 Maharaj Sawai Pratap Singh built the City Palace fort. As the fort is built in the city center hence it's called 'City Palace'. The statue of Krishna is placed such that the day should start with Krishna's darshan. There is no pillar in the temple.Thus, the presence of idols is easily accessible to all the devotees visiting here. Building such a temple is a challenge to architecture.
Then we visited "Jantar Mantar". King Sawai Jai Singh constructed these architectures in the 17th century. Jantar means science and mantar means instrument - this means that we can see different devices based on science. These instruments were used to study astronomy, astrology, horoscopes, etc.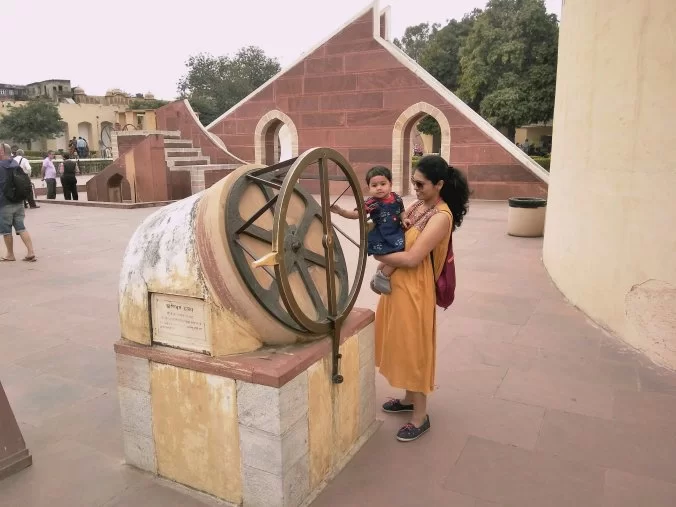 Here we hired a guide(200Rs). He shown us the technique behind the instruments and shown us how to operate it. In afternoon time, we can see how exactly these instruments (Need bright sun light). We visited the word's largest clock which is also addressed by Guinness book of World Record.
Hawa Mahal - This is another interesting monument in the city. This monument is just like it's name. The windows looks beautiful because of latticework. The windows here are an the best example of intricate valed carving. The ladies from the royal family were not allowed to venture out into the streets or be seen by public.
Hence, this house was established with the intention for the royal family's women to see all around. The windows and doors in interior of palace looks spectacular due to colorful glasses.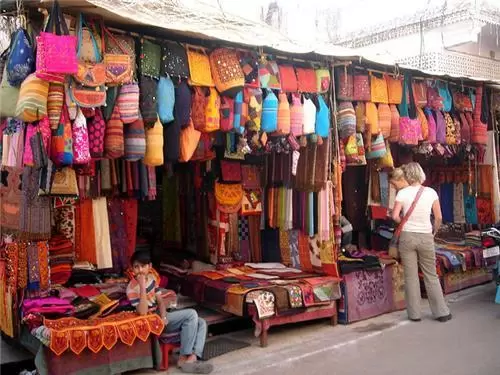 All these places are located in city center and all are close to each other. Due to tourism, there are many local markets can be seen nearby, such as Hawa Mahal Bazar, Rajiv Gandhi Bazaar and Indira Bazaar.
Jaipur is famous for various types of jackets, mojadi (foorware), sarees and bangles.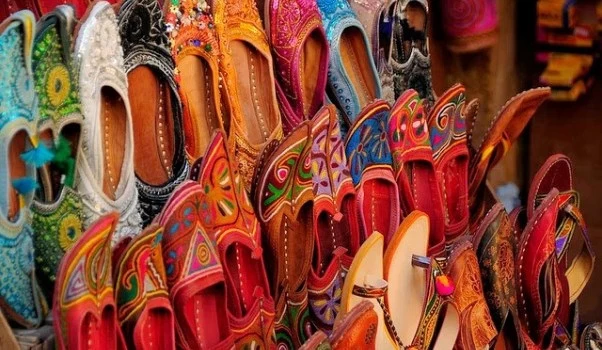 Apart from this, 100 gram weight Rajai is the special buy options which are starting from Rs. 500 to Rs. 3000. On the same day, we also visited to places like Birla Mandir, Kanak Vrindavan and Moti Dungari Ganpati.
The next day we visited the Albert Hall Museum. We can see well displayed various types of weapons like shields made from various metals. Also, you can see a shield on which the Ramayana story is carved.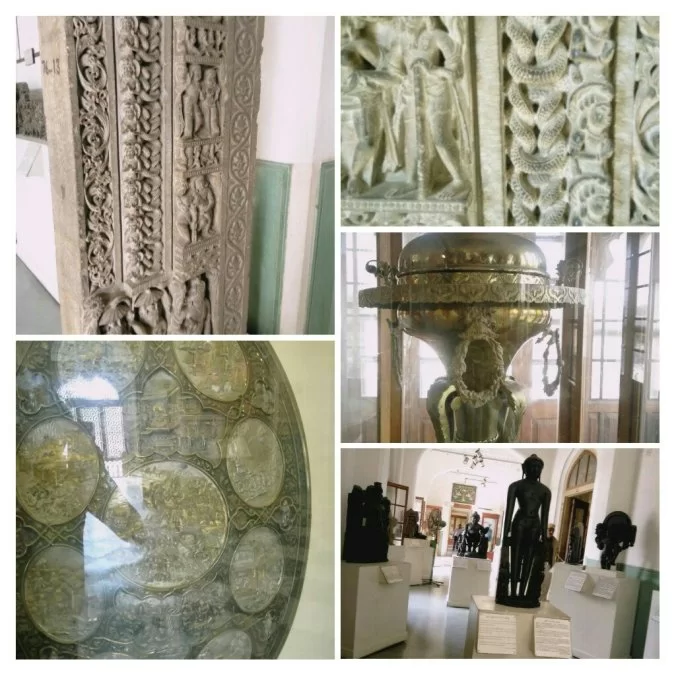 Apart from this, it has good collection of royal family cloths, ornaments, precious metal pots, many paintings painted in natural colours and different statues. The main tourist attraction in the museum is the 'Mummy'. Here you can find information about how to preserve a Mummy. Therefore, if you are interested in seeing a mummy then the Albert Hall museum is worth it.
In the afternoon, we enjoyed the delicious 'Dalbatti' a signature dish of Rajasthan.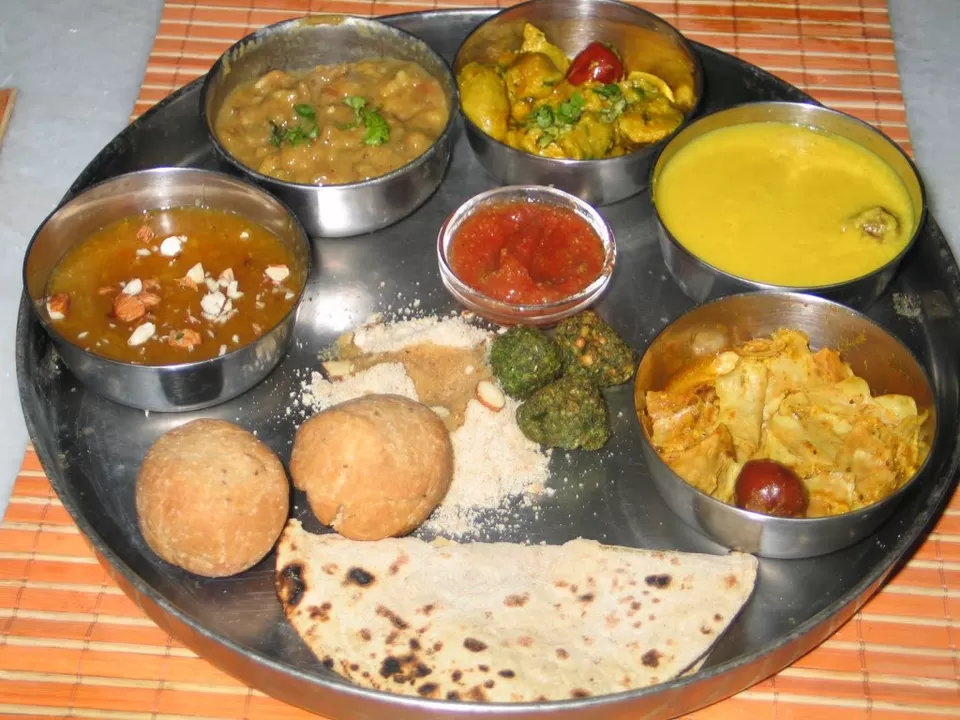 After the food we roam nearby bazzars and had some colorful shopping for our family and then came back to room.
On day 3, Then we headed towards 'Amer fort'. This fort became well-known to most of the people after the Hindi film Jodha-Akbar. The fort is located at distance 10-11 km from Jaipur city and can be reach easily by bus or rickshaw (Rs. 15 to Rs. 20).There are 3 ways to approach the fort. They offer a ride in Royal car (Electric car) which charge 50 Rs. It's worth to hire guide which make us understand the history, logic behind the architecture etc. (guide fees 200 rupees).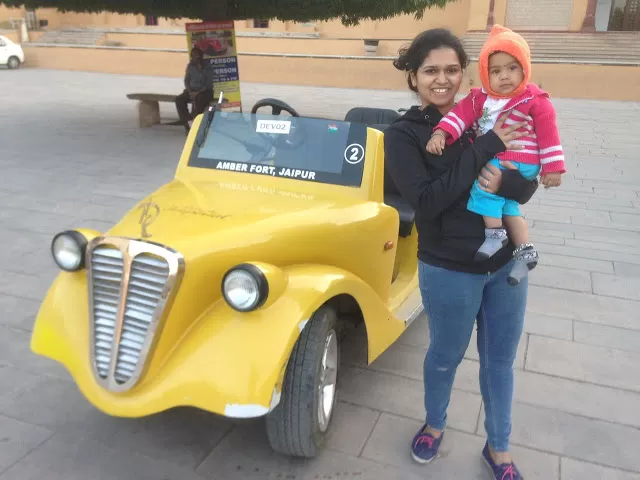 'Sheesh Mahal' is the most beautiful part of the fort. The king had imported glass from a country Belgium and used the silver-coated glasses for entire monument construction. The pieces of glass glitter bright even under the slightest tinge of light at night.
Kesar Bag is also beautiful. The King had planted saffron here, which did not grow due to the unfavorable weather conditions. However, this garden is still known as the saffron garden. On the ceiling, we can find designs in golden paint which is the symbol of wealthiness.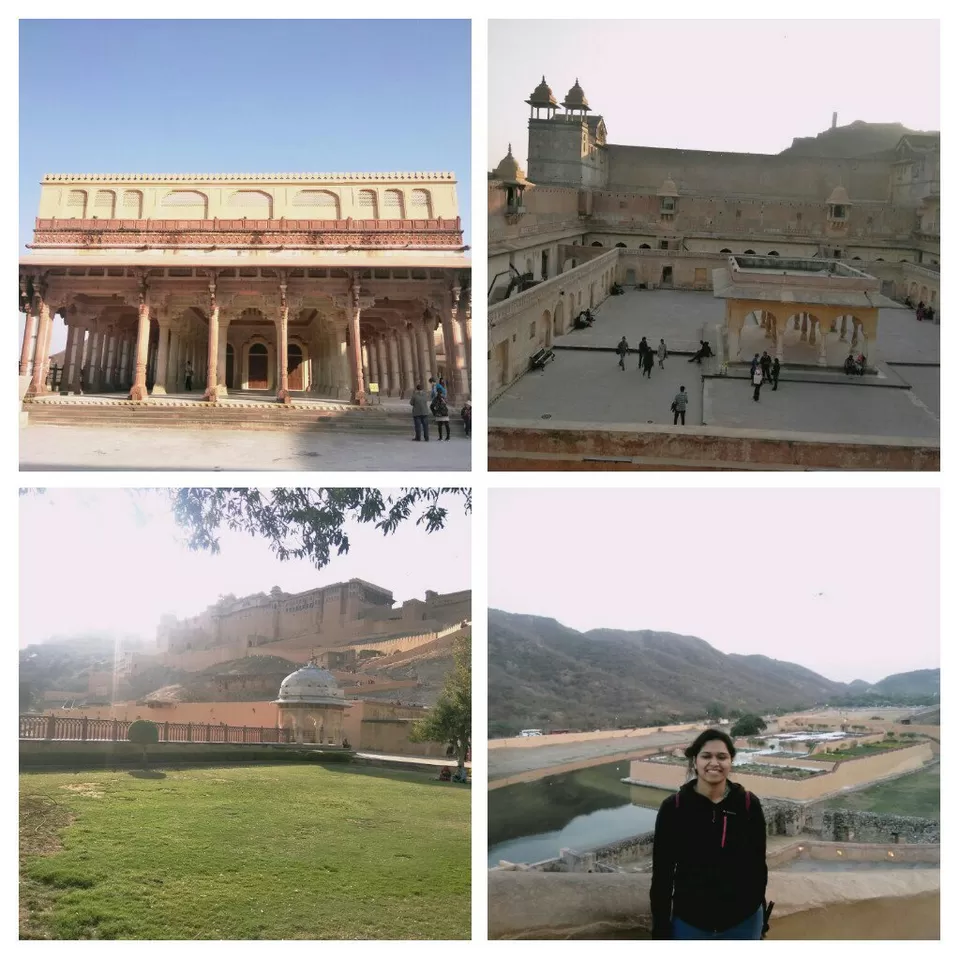 Other places in the fort like Dahan-e-Aam, Diwan-e-Khas, Ganesh Pol, Jaleb Chowk, Singhal Pol, Jai Temple, Yash Mandir, Sukhmani Temple, Suhag Mandir, Shila Devi Mandir, Bhul Bhulaya has very exciting stories. This is only the place in Jaipur where you can enjoy an elephant ride between (time 7AM to 10AM, Rs 1100/person).
To promote night tourism government has started a light show on the fort from 6.30 PM to 9.30 PM. At the same time, the fort is also open to tourists.
We expected to complete the fort tour in a few hours. However, the whole tour with the light show took almost five hours. The sun had started to set for the day. As the light diminished to end the beautiful day, we said our byes to the majestic Amer fort to return back to the main City with memories of a lovely trip filled with stories of the royal era gone by.
1 or 2 days to visit monuments in the city. 1 day to visit forts - Amer, Raigarh and Jaigarh (11-12 km from city) How to reach Jaipur - Flights and trains are available from all major cities to Jaipur international airport and railway station respectively Public transport- Electric autos, government buses, private buses are available to reach all destinations. The traveling cost is not more than Rs.100; Car rental charges - Rs 1000-1500/Day Stay Options - Accommodation of varied price ranges and comfort levels is available. Prefer to stay in city center or heritage hotels to enjoy authentic the Rajasthani experience. Where to eat - Snacks-Must enjoy fresh mawa Kachori, malpuha (deep fried pancake filled with condensed sugar syrup) Halwa, gulab jamun in famous shops Ram chat Bhandar and Ramdev sweets. Try Lassi at Shreenath Lassiwala.Coffee/Bakery - The Tattoo Café - Opposite to Hawa Mahal.For lunch and dinner must eat dal batti churma, gatte ki sabji. Note - All the monuments are open from 9AM to 5.30 PM
Frequent Searches Leading To This Page:-
best jaipur tour packages, jaipur sightseeing tour by car, jaipur darshan package, jaipur vacation packages, jaipur holiday packages cost, jaipur tour package for family, 1 night 2 days jaipur package, jaipur 1 day tour package