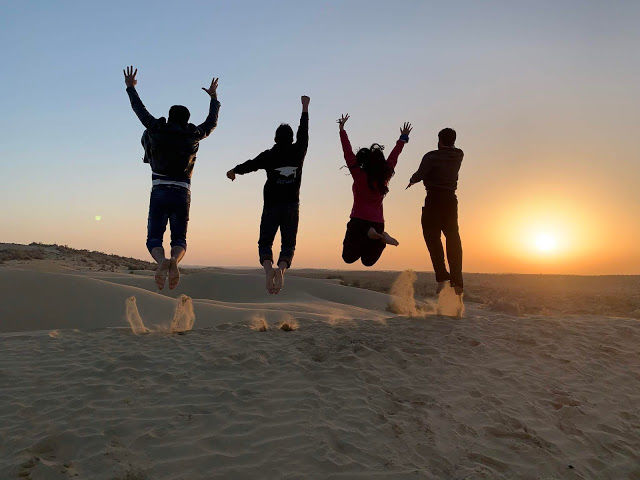 After sulking during Christmas and the new year's holidays (everything being insanely expensive ), I planned for this trip which was on my list for so long and boy, it was totally worth. My trip began from Bangalore and I reached the first destination of the trip, Jaipur on 19th Jan'19. Jaipur has a lot of places to offer to all kinds of travelers but it mostly revolves around the forts and palaces the city has. My favorite part of Jaipur was Hawa Mahal (Palace of winds). It has thousands of windows and it looked so damn beautiful. The view is the best at night when you can just laze around nearby cafes in front of it. I went to these cafes each day I spent in Jaipur just to look at the magnificent view in front of us. It was a feast for the eyes. Truly captivating. Nearby Hawa Mahal, there is this market called Badi choupad which is heaven for shopping enthusiasts. I would suggest everyone visit this pink city and just explore the forts and feast upon some lip-smacking food.
23rd Jan 2019
The next place in my itinerary was Ajmer where I was supposed to meet my friends as well. Upon reaching the city, we visited the very famous Ajmer dargah. The place was very peaceful and we spent a good hour there though reaching there was a bit chaotic. After that, we left for Pushkar which is just 15-20 mins drive and the road to Pushkar is between the mountains making the drive very scenic. Pushkar has one of the world's very few Brahma temples which is a must visit. We went to another temple called Savitri temple which was on the hilltop. There is a cable car which goes to the top, though you can choose to trek for an hour. For obvious reasons, we decided to go with the former. From the top of that temple, you can see the entire town. Pushkar is also famous for its annual fair which is held around the Kartik Purnima that typically overlaps between October and November. If you are there, you should not miss the sunset by the ghat. It's one of the amazing sunsets and the vibe of that place is different. You can hear the prayers from the temples as the sun sets. It felt like a celebration with people singing dancing and playing drums. It was a surreal experience. I wanted to spend more time at Pushkar, but my next destination was waiting for me. So, in the night we took the bus for Jaisalmer.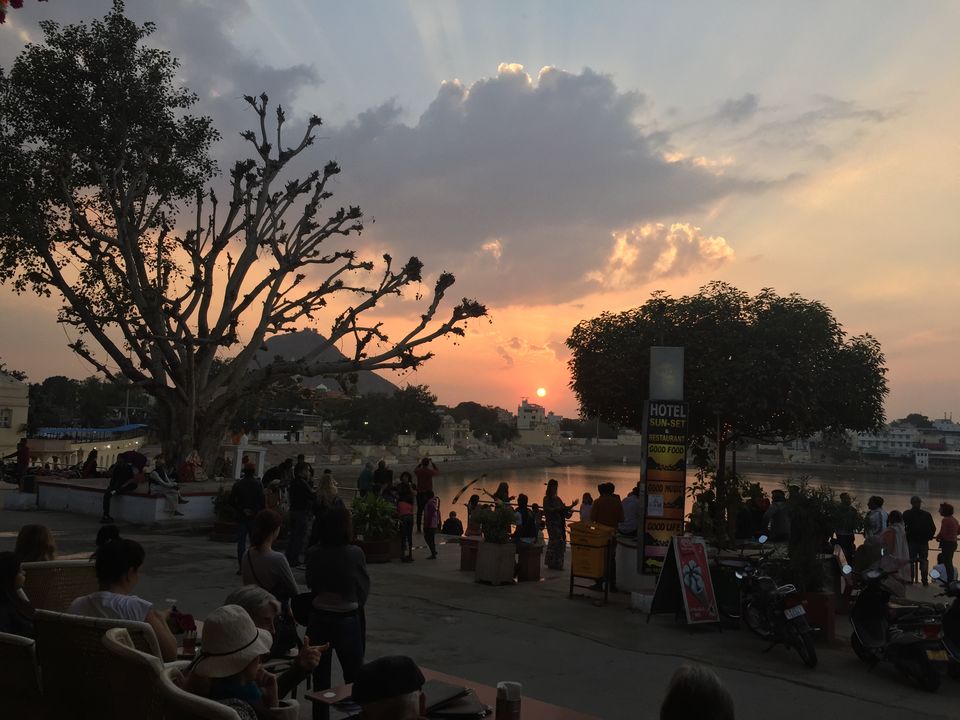 The moment you reach Jaisalmer you'll know why it's called the golden city. Now, I have been to Jaipur also known as a pink city, Jodhpur known as a blue city, maybe in the past they were, but nothing justifies their name like Jaisalmer, "the golden city". The Jaisalmer fort is a living fort, some people have their houses inside the fort. We too lived inside the fort in a hostel. We left for the famous desert safari in the afternoon via jeep. It was almost an hour long journey from where we had to start our camel ride. In between, we stopped at kuldhara.
This place is also known as the ghost town. Apparently, all the people in this village were dead and it's assumed haunted. This place reminded me of this recent Bollywood movie "stree".
We started our camel ride. Do not believe if somebody tells you its easy. It was one hour ride to the place we were camping for the night and the entire ride I was praying to god, sitting with all my attention so that I don't fall.
Btw, this was not my first time to this state and apparently, I had stayed here for over a year. But I never got a chance to see the majestic dunes. (The type they show in movies with all the sad songs). I had always imagined what would it be like, where you don't see anything but sand dunes. Well, I saw a mirage in front of me and I was ecstatic. We reached the place where we had to camp. They prepared tea and some snacks for us and we sat there watching the perfect sunset. I'm not saying "perfect" because it was beautiful, (sunsets are always beautiful) it was perfect technically, you know the kind you see the sun actually going inside the horizon not blocked by fog or some mountains or tall buildings.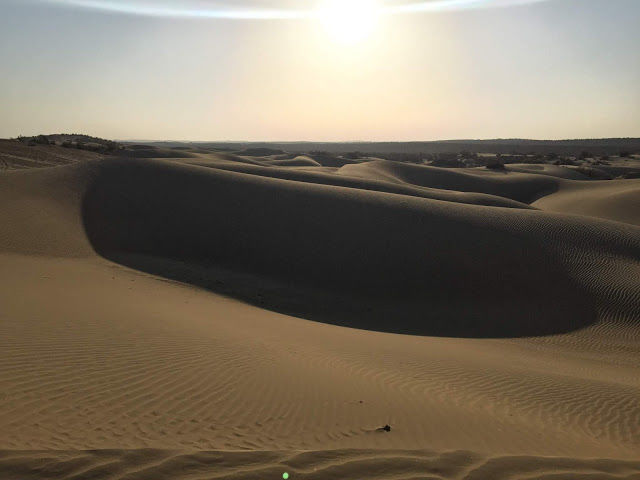 Someone has correctly said, you should never go long without seeing sunsets.
Once the sun was set, the stars started to glow and after some time, the sky was filled with stars. We laid there on the cold sand watching the stars and 'a shooting star'. When the cold got unbearable, we decided to go near the campfire to have our dinner and then went to sleep.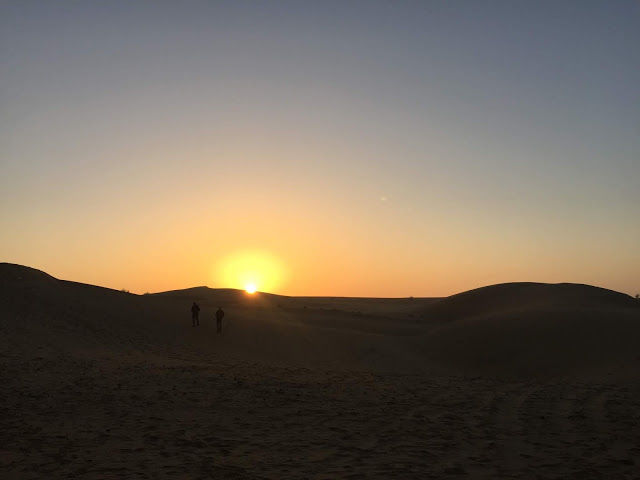 The next morning after seeing the sunrise, we decided to go for a morning walk as far as we can go to see the edge of these dunes. We had our breakfast and then the time had come to say goodbye to these dunes. The return journey was again on the camels but by now I felt that I have mastered the art of how to ride one and asked the owner of the camel to let them run. As everybody knows there's a thin line between confidence and overconfidence and that was overconfidence talking. Anyways, somehow we managed to reach Jaisalmer alive.
So, Jaisalmer is very near to the India Pak border and to visit, you need permission one day before from the office. As we did not have much time, we couldn't get permission for that. Also, near the border, there is a very famous temple known as the Tanot temple where only Indians can visit. During the 1971 war, the enemy country had thrown bombs on this temple however none of them exploded, therefore BSF men have huge belief in this temple and every evening they do the prayer. The energy with which they sing the prayers in something you should not miss.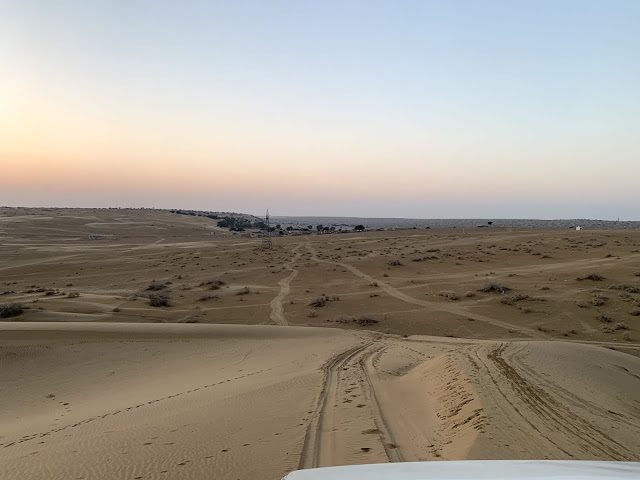 On the way to that temple, there is a village called ranauthgarh, where we did jeep safari on the desert. It was a thrilling experience at one point of time it was an almost 80-degree slant and the jeep was just sliding. It gave chills and momentarily, I felt I was in a fast and furious movie.
26th Jan 2019
In the morning we left for Jodhpur. We took a scooter there and since I didn't have much time to explore the place, I just went for "must go" places. One of them being Umed Bhawan palace; also famous for the palace where Priyanka Chopra got married. So, half of the palace is a museum which is open for everybody and half of it is a hotel managed by Taj hotels.
After this, we went to Mehrangarh Fort. Of all the palaces or forts I have visited in my life, this one tops the list. From the top of the fort, you can see many buildings painted in the city's iconic shade of blue. In spite of it being a very big place the best part of this place was that it was well managed.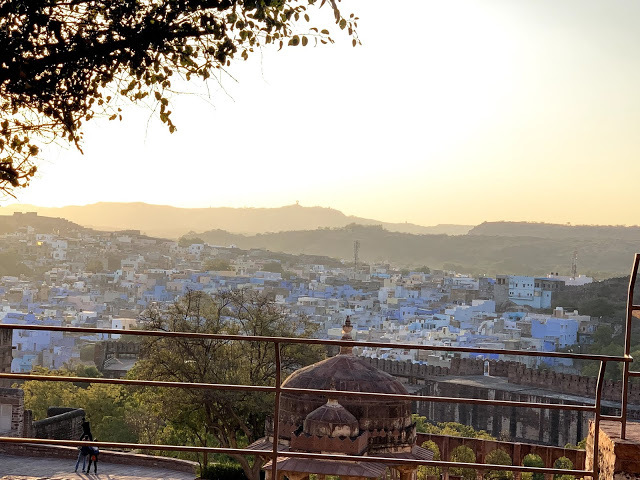 Well it was my time to leave this place and on my return journey I was thinking, my native place is Rajasthan, I mean my grandfather is from this state and after 27 years, irrespective of how many times I have come here this was the first time I was actually seeing its rich culture, the vibe, the feel of this place. Well its better to be late than sorry. So, what are you waiting for?