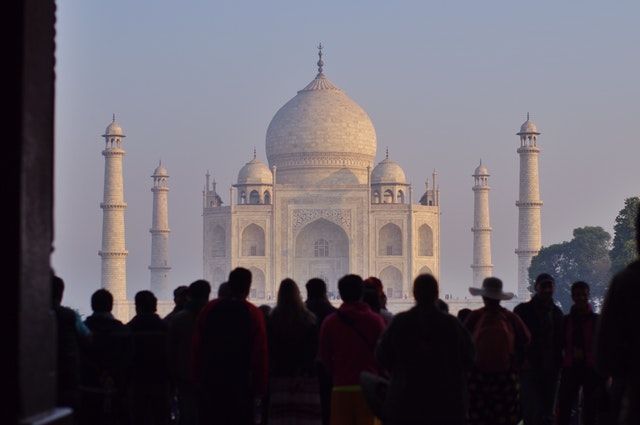 There are things to do or see anywhere in India that you may have never done or seen before. No matter where you are, there is a wealth of experiences throughout the day, whether it be fascinating, astounding, appreciative, confusing, educational or frustrating.
My first two weeks in the country involved camping in a pristine lake in a remote tribal area, hiking in the Himalayas, visiting Tibetan villages and monasteries, drinking mangoes for the first time spending time at a market stall in Calcutta, playing cricket with a group of Indians I met at a Hindu temple, and spending an evening with the family of a cab driver who invited me to his home for dinner.
1. Gali Paranthe Wali (Delhi)
A famous food lane in the middle of Chandni Chowk market in the heart of Old Delhi. On this lane are a number of famous restaurants, all serving the same dish: the unique Delhi-style stuffed paratash bread, a large loaf of bread made from wheat dough and lightly fried in oil on both sides.
Although the usual filling is potatoes, on this street you can stuff them with things like potatoes, cheese, pumpkin, raisins, mint, mixed vegetables, cashews and more. Some places have been around for over 100 years, and it's quickly apparent why these wall-to-wall restaurants are almost always filled with Indians enjoying this delicious meal.
2. Akshardham (Delhi)
In my opinion, this cultural complex near the Yamuna River is one of the most impressive buildings in all of India, with its massive temples carved by thousands of Indian artisans. When you first see it, it will blow you away with its unique appearance and seemingly out-of-this-world architecture - and that's before you get inside.
Inside, you'll find yourself in the middle of an absurdly detailed design scene, from the columns to the walls to the high domed ceilings, all of which tell the story of Hinduism. Arriving an hour or so before sunset, you'll also be illuminated by all the beautiful temples, which will help you remember further.
3. Raj Mandir Cinema (Jaipur)
It is one of the most famous cinemas in India. Opened in 1976, this large art deco building is my favorite place in the country to shoot Bollywood movies. The soft interior design, the efficient suit-wearing staff, the spacious theater and its comfortable seats and the lively atmosphere brought by hundreds of Indian film fans all make you feel as if you are attending a big movie premiere.
4. Ranakpur Jain Temple (Ranakpur)
The village of Ranakpur is located along the main route from Jodhpur to Udaipur and is a very quiet place. Apart from a few hotels and a couple of restaurants, the only other building is the Ranakapur Jain Temple, one of the most important Jain temples in the world, which dates back to the 15th century.
Nestled in the forest, this temple is supported by over 1,400 intricately carved pillars, no two of which are alike, creating an almost creepy atmosphere as you stroll through the courtyard as if you were in a never-ending maze of ancient ruins.
I highly recommend purchasing the audio guide that comes with your ticket, as the regular guide is not allowed inside. The narrator tells the story of how the temple was created, the period of its abandonment and its resurrection as a major place of worship. Compared to other destinations, not many people visit Ranakpur and even fewer spend the night in the countryside.
5. Buy some small gifts
India has much special things that you generally do not see in other places, you travel this time, do not worry about your wallet, do not care too much about your wallet when you travel, you go to the point of goods to choose some souvenir gifts to take home, you do not like to carry a lot of things, of course, you can go to the site Abcflor to choose, courier to your home, prepare a gift for your friend to him.
6. Animal Aid Unlimited (Udaipur)
Udaipur has a lot to do and therefore attracts many visitors, but one of the lesser known activities is to spend a day or two volunteering at Animal Aid Unlimited. The organization acts as a "rescue center, hospital and shelter for injured and sick street animals," which are rarely seen in India, despite the ubiquity of animals in the country.
If you visit, you will find cows, donkeys, dogs, pigs, goats and other animals well cared for with the dedication of volunteers, veterinarians and paid staff from the local community. I have visited Animal Aid four times and I always head to the enclosure where the partially paralyzed dogs are kept. I can sit in that enclosure for hours and spend time with these energetic dogs who seem really excited to be in this special place.
Animal Aid is a great place to visit, whether one of the staff members (who are happy to do it) takes a tour, or volunteers. Short and long term volunteers are always welcome.
7. Natraj Dining Hall (Udaipur)
Well known among the locals of Udaipur, this is a chance to enjoy the traditional Indian tali experience in a place where foreigners are rarely seen. A tali is a meal consisting of a variety of foods, usually served on a large circular metal plate. natraj is located in the Bapu Bazaar area, about a 30 minute walk from City Palace. If you're lucky, there won't be a line, but once you get a table, things can happen quickly.
There's no menu-you just eat what they cook: a variety of vegetables, rice, fresh pancakes, chutneys and lots of other goodies. Some of the dishes can be very spicy, so be sure to ask before you take a bite! Eat all you want, they will keep throwing out food until you force a "no more!" The cost per person is about 120 rupees ($1.85).