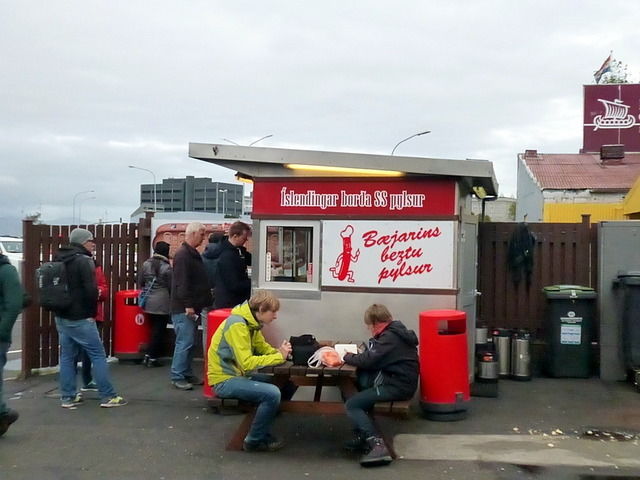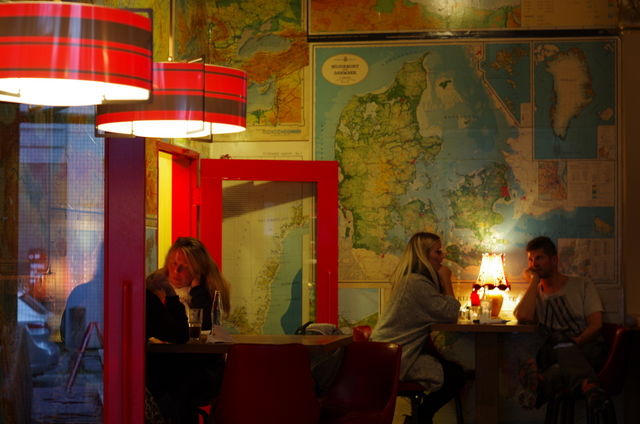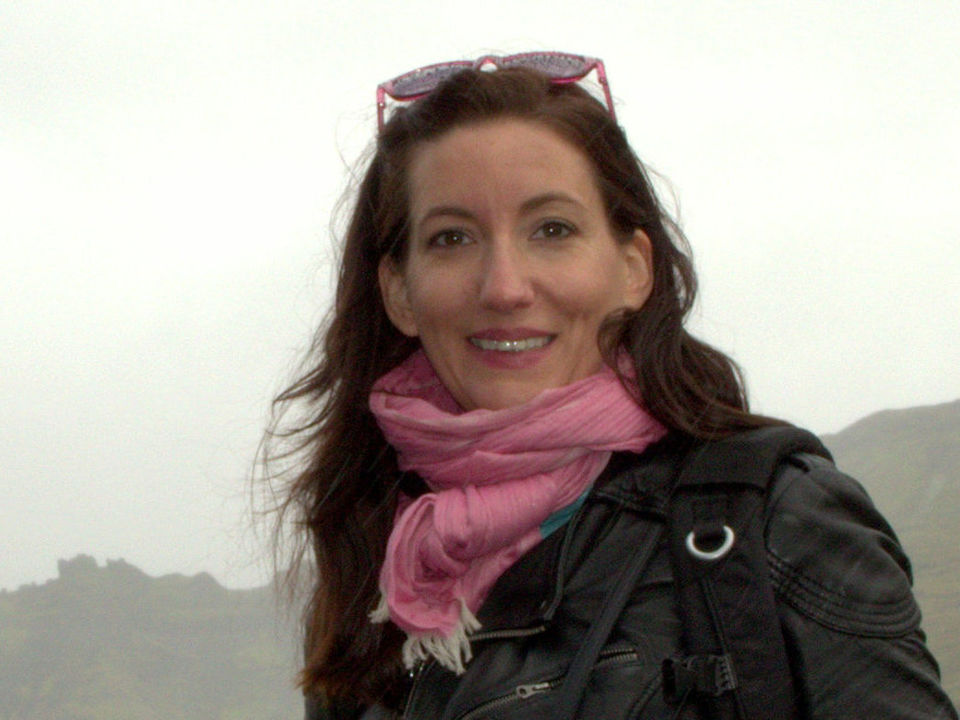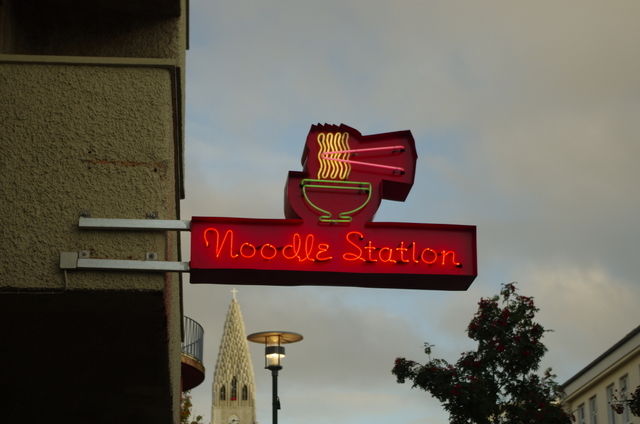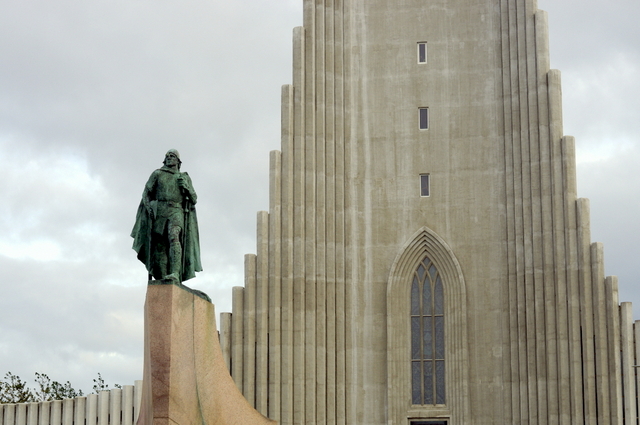 It's been a while since I've written about my travels so hopefully this will be a welcome post. In September my long awaited trip (it had been 3 years since my last visit!) home to Halifax, Nova Scotia arrived. For this trip I was happy to see Iceland Air were flying to Halifax and they also had the best price (£400 round trip). I'd wanted for many years to visit Iceland and since they allow a stopover for free Nathan and I decided to make the most of it. We planned a 2 night stopover on the way to Canada giving us just over 2 days to explore.
This post is part 1 of 3 about exploring Reykjavik where we were based and spent most of our time eating and so this post will be very food orientated. Part 2 will be about the day long road trip and part 3 will be about the Blue Lagoon.
Arrival into Iceland (Keflavík International)
After a short 3 hour flight from London we arrived to a the beautiful Keflavík International airport, headed to pick up our rental car and hit the road to the capital Reykjavik. Reykjavik about an hour drive from the airport and what a drive it was. The landscape of Iceland can be very barren and due to the volcanic activity is black making it look much like another planet. So we had barren landscape on one side of the car and the seaside and occasional clusters of houses huddled together on the other. A stunning start.
Hot Dog!
Once we found our hotel (Radisson Blu 1919 Hotel ) and checked in we headed over to the Baejarins Beztu Pylsur hotdog stand we'd read so much about. We were glad it was so close to the hotel (across the road) because we were pretty hungry. The hotdogs were very satisfactory and at £3 a hotdog our fears of how expensive Iceland was going to be were eased. The hotdog stand lived up to it's reputation in popularity, we could see it from our room and I saw people at the stand from first thing in the morning until late into the night.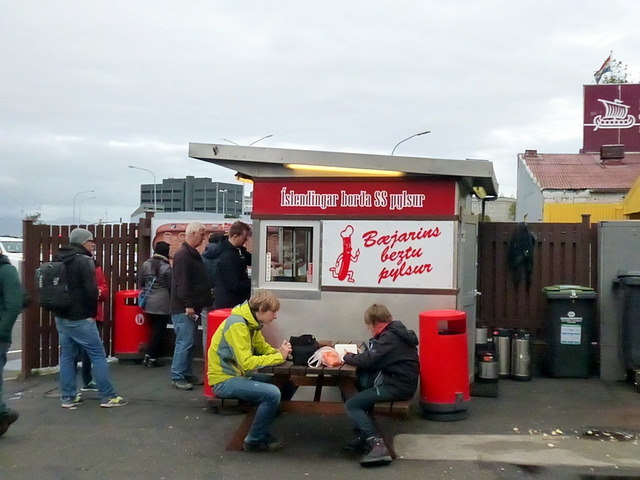 Downtown Reykjavik
After filling up on hot dogs we went for a wander around Reykjavik's downtown, making sure to layer up because it was a bit chilly (around 12C) and with the wind from the harbour it was brisk. The downtown area is very manageable by foot and has many lovely shops, restaurants and bars to check out. Being a knitter I really loved the knitwear and wool offerings but restrained from buying more than a few skeins of yarn due to our upcoming trip to Australia. Next time!
After the sun went down and the temperature dropped some more we headed to the Laundromat restaurant, a cosy restaurant with good food (I recommend the nachos). This restaurant like most all of the cafes and restaurants in Reykjavik had jugs of water and cups for their patrons. I mention it because Iceland has THE BEST water in the world (and I have tasted a fair few countries water). It was thirst quenching, refreshing and tasted like absolutely nothing, the way water should.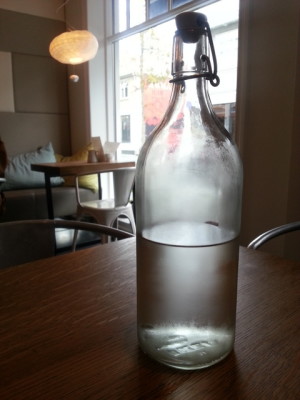 We learned a little too late that alcohol (like in Canada) is only sold in special liquor stores with the exception of light beer. We did manage to buy an Icelandic drink at duty free in the airport, it's called Brennivín, or (as we were told after we paid) black death and is 80 proof. It's currently hidden away at my fathers cottage in the secret stash awaiting its first victim.
I was happy, being the coffee snob I am, to find that Reykjavik has a decent coffee scene and I was able to get some good coffee before hitting the road for our road trip.
Dinner Time at Noodle Station
On the second day after our day long road trip we arrived back into Reykjavik hungry and took a walk to see what we could find. We came across Noodle Station a pretty nondescript looking place but it was heaving with what appeared to be locals (always a good sign) so we dove into the chaos. At about £6 a portion for a huge bowl of hot noodles we thought we were on to something. I wrangled some seats while Nathan put in the order. For reference, from someone who likes their food with a kick, there's no need to order extra spice it was very spicy as is.
The bowl of noodles was large, very filling, really tasty and did I mention spicy. We left Noodle Station and went for a wander to try and walk off our Noodle babies feeling smug that we found a great bargain in what was supposed to be an expensive place to travel.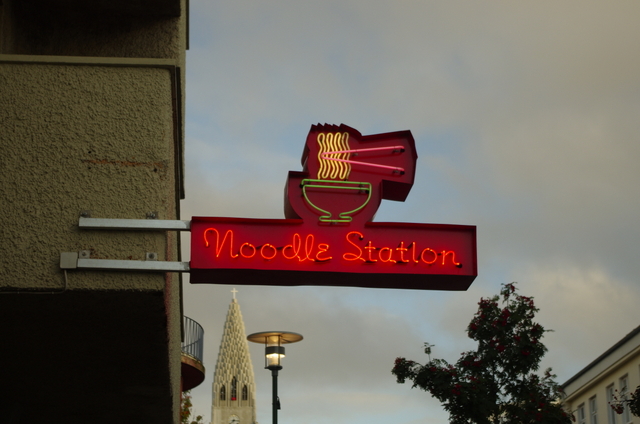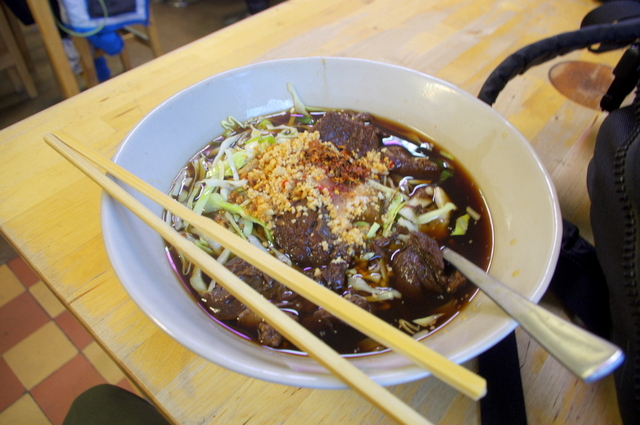 Bakery – Sandholt Bakery and Coffee House
In our first wander around Reykjavik's downtown we came across the Sandholt Bakery and Coffee House. After drooling over the yummy goods on offer in the window we made a mental note of where it was located and went back the next two mornings for breakfast. Our first visit was for take away including an amazing blueberry tarte of gooey goodness and a cookie meets cake mashup that was oh so good. Luckily later that day we hiked up about 500 steps to the top of a waterfall and managed to burn it all off.
The second visit was for as an eat in breakfast in. I had the chance to try their fresh jam, yummy butter and Nathan swears he had the best granola cereal he has ever had. The prices were great (the bakery takeaway was a bargain) especially for the quality of the food on offer.
In the end our fears of Reykjavik being expensive were unfounded. I'm sure you could empty your pockets faster than we did if you tried however we were able to stumbleupon good food at reasonable prices with very little effort and we had a great time.