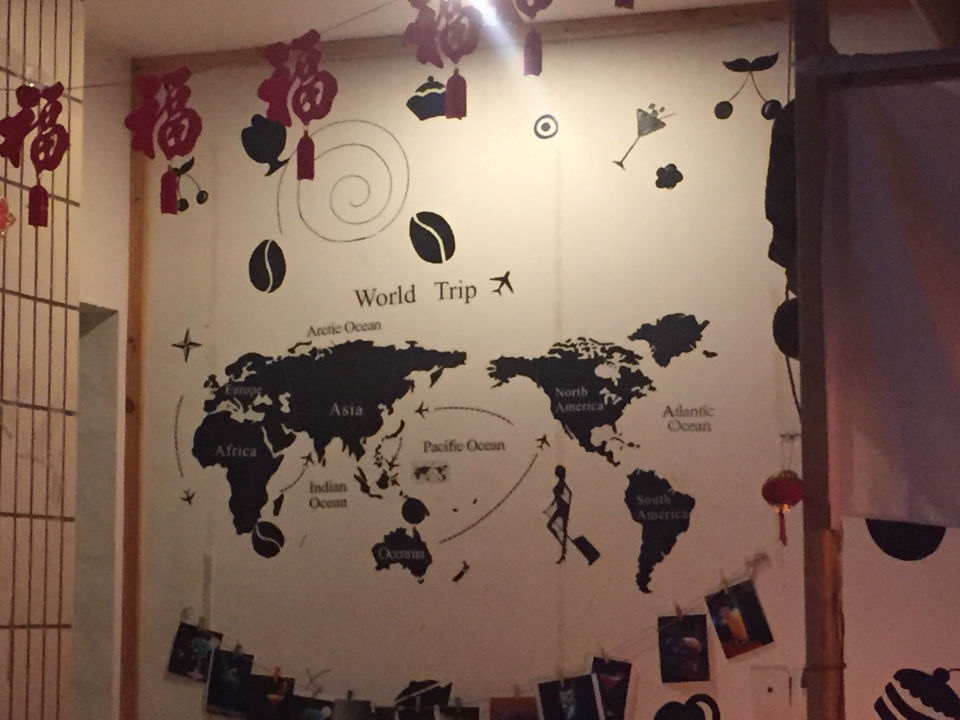 In India, although the concept of solo travel is gathering momentum, it hasn't reached a place that it'll avoid reactions ranging from shocked to not believing you till you actually take that flight. When I told my friends and family that I'll be travelling solo to the People's Republic of China, I got reactions none different. Don't get the title wrong. Yes, I was lost at times trying to find my way around but it was an amazing experience.
Travelling solo can be intimidating and even more so in a country where less than 1% of the population speaks English. When I decided to travel to China on a solo trip, the inevitable questions regarding food(vegetarian), language came up. Even after quite a few troubles, these 9 days have been one of the most special and invaluable days of my life!

Day 1
Even before the start of the trip, it was quite eventful. Firstly, I ran into some visa trouble (not for the Chinese visa) and when I was all set for trip, typhoon Haima had other plans and my flight was cancelled. Fortunately, I got a flight for one day later cutting my stay in Beijing by one day. Travelling from the 2nd most populated country to the most populated country, you know what to expect and I got a taste of it when I saw the line for immigration. After almost being scammed by the cabbie (asked for 3x the amount), I took the ever so convenient metro and reached the hotel, after walking a km with the luggage, beleaguered. I had chosen a hotel which was centrally located and was pleasantly surprised to find out that it was very close to the famous Tiananmen Square. The hotel was a lot more gloomy than I had expected and slowly this adventure was turning out be a sinking ship. I ventured out in the night to explore whatever was near. The city was quiet but pleasant. Beijing primarily has 2 nightlife areas : the Houhai Lake area and the Sanlitun bar street. The approach road to reach the Houhai lake was dark and borderline scary. But once you enter the road surrounding the lake, it is buzzing with around 180-200 restaurants and bars. Just the vibe that I needed to end a long and dreary day.
Day 2
The big day. It is not everyday that you get a chance to visit a wonder of the world. The advantage of travelling solo is that you can plan whatever itinerary you want without being questioned. I left my hotel before 7am to reach the bus stand to take me to the Badaling entrance of the Great Wall which was around 60-70kms from Beijing. I was the only foreigner in the bus filled with Chinese tourists but I didn't mind. After figuring out the entrance to walk it up (you can also take a cable car), I commenced my journey to view something breathtaking. There are two entrances : North and South. North, being steeper attracts lesser tourists so I preferred to take that one. There was a lot of crowd, local primarily, for a Monday. Being solo, you need to ensure that you have captured everything you see and hence my overloaded camera gallery not leaving out a single mesmerizing view that was there on offer.
I was back in the city by 11am (advantages of starting early). This gave me a chance to catch up on lost time due to my flight cancellation. I headed to the holy Lama Temple. It was built during the 17th century and the building and artwork of the temple is a combination of Han Chinese and Tibetan styles.
Post that, I went to the Bird's nest stadium, which was built for the 2008 Olympics. My sightseeing ended with visiting the Forbidden City. With the night to myself, I went to the Sanlitun area. This area is the modern face of Beijing.
Day 3
Decently satisfied with covering most of the sightseeing worthy places in Beijing, it was time to travel to Shanghai. I was particularly excited for Shanghai since I had no itinerary as such and it was going to be all impromptu. Also, I was eager for my first bullet train experience, and it did not let me down. Close to 1200kms in 4hr 48mins! Shanghai has the largest metro network in the world and this helped me reach my hotel easily. The thing about Shanghai is that every part of the city seems like the central area. Even though my hotel was a bit off the centre, I could venture out at late night, just to get a feel.
Day 4
Since I had 3 full days in Shanghai, I did not hurry to see the places I had in mind and instead took time to get the feel of the city. I took the metro to the Xintiandi area. It is also known as the old French concession and it is everything European. Right from the pavements, to the trees, to the restaurants and the people, you'd be forgiven to think that you're in Europe. Quite a few vegetarian and vegan options in this area. Shanghai has official fake markets and one such was the Han City mall. It is a 4 storey mall with several shops, all selling fake and lucrative items. Bargaining can go up to the extent of 70-80%. In an hour, I was done with most of my shopping agenda. Post this, it was time to visit The Bund. It is what defines Shanghai. Although rainy and windy, the view there was something else. Being a vegetarian, the subway outlets were a saviour for me more than once.
Day 5
It was time to check out of the hotel and move to a hostel. Since it would be my first hostel stay I had planned only 2 nights. Reaching there, I realized it should've been more. Easily the highlight of my trip. I stayed at the Blue Mountain Bund Youth Hostel, the best in Shanghai as per hostel world. After checking in, I moved to the other side of the city across the Huangpu river to get a closer view of the Oriental Pearl TV tower and the other surrounding mighty structures. This area was fancy beyond words. There is also a Super Brand mall which is apt for the location. The only disappointing thing about Shanghai while I was there was the weather. It was rainy and windy. The fog prevented me from going to the observation desk of one of these tall towers (probably a reason to visit again). Staying in a youth hostel gives you an amazing opportunity to talk to other travelers and listen to their stories. Being my first solo trip, it was very exciting to hear about stories from other travelers and make a few friends. The hostel was only a 10 mins walk from The Bund view so I headed there again.
Day 6
I never got tired of The Bund. Went for a long morning walk on the promenade at The Bund. Near the end was the Yuyuan garden, a marvel of ancient Chinese architecture. A talk with fellow travellers the previous night made me realize that I should see a few places relating to the Chinese culture. Even though Shanghai reflects the modern commercialized China, there are certain parts of the city which speak of Chinese culture. I headed for Qibao, an old water town, well connected with the extensive metro. The irony is that as soon as I got out of the station, there was this huge mall. Probably the ancient Shanghai is losing face. Nevertheless, Qibao was a beauty. Bridges to go on the other side with water flowing below and cafés on either side provided some pleasant viewing. I walked around a bit to soak in the atmosphere. Back from Qibao to the other extreme, the Nanjing road street. Huge malls with luxury brands and buzzing cafés all around, reminiscent of Manhattan. I paused a bit of get some hot chocolate and also catch a breath (tough to get in Shanghai). Before heading out late at night again for one last time in Shanghai, I chilled a bit in the hostel (you could spend hours at the hostel doing nothing).
Day 7
It was time to say goodbye to China (the mainland) and move to Hong Kong. At the start of the trip, I was kind of hoping for Hong Kong to come sooner since it was familiar territory but while leaving I wished I had some more time in China. Having seen Hong Kong before it was a mere 2 day stop mainly for shopping (or so I thought). Very bluntly, Hong Kong was disappointing. Shanghai has everything that Hong Kong has plus a lot more. Right from the taxis to a bottle of water, everything is atleast 3 times expensive in Hong Kong. I headed to the Temple Street night market for shopping. It's best to going by 9 so that it's really set up. Post that I went to the Wan Chai area to catch a football match at a sports bar. There are bars lined up one after the other in this expat filled area.
Day 8
The penultimate day of my trip. I had no planned itinerary so I went in search of lesser known places in Hong Kong. Climbed up the Ten Thousand Buddha Monastery, which was a bit far off the centre. Lesser tourists and serene. Grabbed some lunch at the pure vegetarian restaurant there but I guess Chinese food or rather food in china is not for the Indian palette. There's this street called the Sneaker street, primarily for buying sneakers. Much cheaper compared to the Temple Street , mainly because there's more local crowd here. The only sightseeing I had planned was to visit the Victoria Peak. Not surprisingly when I reached at 4pm on Sunday, there was a 2 hour line. So I decided to skip it and went walking to the SOHO area. It was very impressive. Multiple streets on an elevated level with numerous cafés, bars and small shops. Again, an expat filled area. I'm glad I checked it out, had never heard of it. Next,I went to catch the night view from the Tsim Sha Tsui promenade. A new addition to the last time I visited was the Avenue of stars. A small park type area with some statues and handprints of famous stars. I was fortunate enough to grab a Chinese vegetarian meal on my last night.
Day 9
I had a flight at 8pm so made good of my opportunity and visited the Victoria Peak in the morning. Slightly lesser crowd (1 hour). Totally worth it though. Nothing beats the view from the top in any city. I was glad I signed off my trip on a high note. It had been a magical journey and especially, Shanghai will be missed.