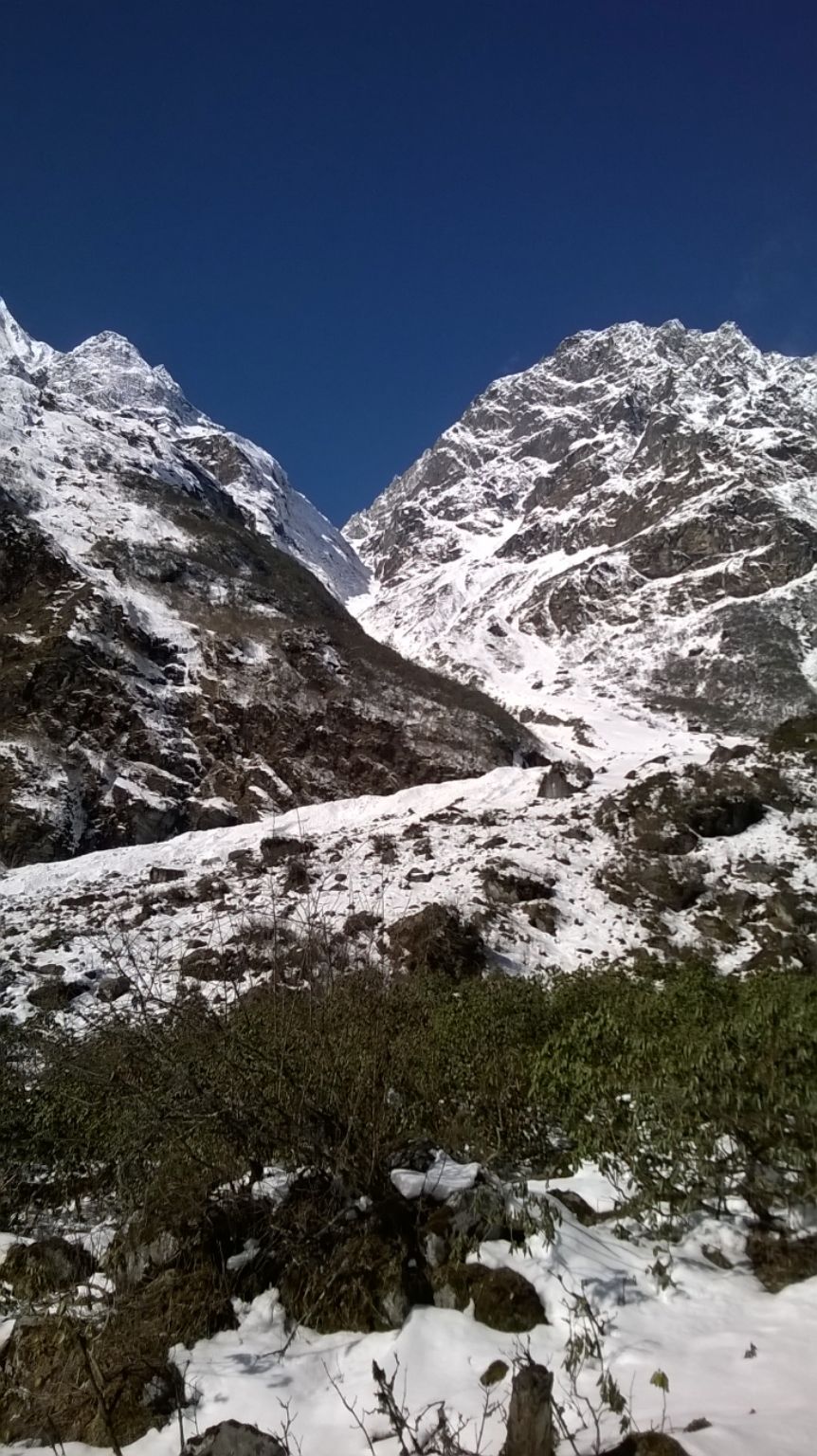 Sikkim, the 22nd state of India, is a beautiful gift of nature with magnificent mountains and divine vibes.The mesmerizing prismatic beauty and the beautiful winding hill roads are even more breathtaking if seen from a bird's eye view in a cable car.The spectacular view of snow-covered Mt.Kanchenjunga always attracts the mountain lovers to enjoy the place covered by three international border- Nepal,China & Bhutan.
Established as a Buddhist pilgrimage site in the 1840s, Gangtok became capital of an independent monarchy after British rule ended,but joined India in 1975.Today,it remains a Tibetan Buddhist center & a base for hikers organizing permits & transport for treks through Sikkim's Himalayan mountain ranges.
I visited the Gangtok city along with its' surrounding charming places at the very beginning of March in the year of 2015 with my family & some of my relatives.Though there is a long list of places to produce someone to give a glimpse of Gangtok tourism such as Ravangla, Rumtek Monastery, Nathula Pass, Namchi, Changu Lake, Yungthang Valley, Lachen, Lachung, Baba- mandir, Hanuman Tok & many more, we travelled a few among these due to the Snow-blockaded roads & having a private job, my father couldn't manage more than seven days(including holidays) for this tour.In spite of having a hungry heart for Sikkim,undoubtedly I can say that it is the best travel experience of mine upto this stage of life.As a mountain lover, I am grateful to the peak of Mt. Kanchenjunga,that lies in the state, for it quenches my thrist & hunger to see a snow-covered hill for the first time.
Best time to visit Gangtok:-
The best time to visit Gangtok,is in the months of October to mid-November & late-March to April.The views of the Himalayan peaks & Mt. Kanchenjunga can be clearly seen in between October to November.During the time of late March to April,rare Himalayan flowers & especially Rhododendron are in bloom.January,February & the beginning of March mean snow in the higher altitudes & visiting many of the tourist spots are not possible,as roads remain closed.June to September bring heavy rains making travelling dangerous due to landslides.
The best time to visit Gangtok depends on your reason to visit,making plans accordingly.Summer is good for sightseeing,adventures & relaxation.Snow lovers appreciate the cold months.
How To Reach Gangtok:-
Our seat reservation in train was confirmed before one month of our tour.We started our journey by Uttarbanga Express which was departed at 7:35 p.m. from Sealdah station and the train was arrived at New Jalpaiguri station at 7:13 a.m. It is the closest Railway station to reach Gangtok in Siliguri which is around 117 km. from Gangtok.We hired a taxi from the station in order to reach Gangtok.It takes around 5 hrs. to reach Gangtok from New Jalpaiguri station.
Note:- If one wish to travel Gangtok by Flight,Bagdogra Airport is the nearest airport at 125 km. One can book a taxi in advance to take his/her up to Gangtok.Helicopter services are also available from Bagdogra to Gangtok.
Local Transport in Gangtok:-
Since there are a lot of sightseeing places in Gangtok,taxis are the most convenient modes of transport within the city.There are also state-run buses with very nominal fares which facilitate internal commuting.One can also look for shared buses/jeeps to cover all local sightseeing places with relatively economical charges.
We hired a taxi for our travel without sharing it with any unknown person for our personal easiness & comfort.
Gangtok Diaries:-
After a long 5 hrs. drive along the river Teesta,we reached our hotel which we had pre-booked.
As it was noon and we were hungry enough,we had our lunch in that hotel after getting fresh.Though the rooms of the hotel were not upto our expectations as per the price we had paid for it, we managed it somehow.Naturally we were tired after a long journey but after a short nap we were again on our toes & got ready to visit the nearest M.G.Market. But one thing to be mentioned that we couldn't see the peak of the mountain which was visible from our rooms of the hotel due to the misty weather & that was a big dissapoinment to us.
As my father had been working in Gangtok throughout 25 years,he became nostalgic when reached the M.G.Market & was sharing some blissful memories with us.Unfortunately most of the shops were closed because the very next day would be Holi- the festival of colours.Cars are not allowed in this area and smoking is prohibited making it a very friendly zone for everyone.I loved the cleanliness of the area unlike other parts of India & was surprised to know polythene bags are banned in the area.With its cobbled streets,flowers,Victorian street lamps and ornate benches,the M.G.Market can easily pass off as a European street.
Changu Expedition:-
On the very next day we started our journey for Changu Lake after having our breakfast with puri,curry & dry sweet.It's located 40 kms. from Gangtok town & on the steep route known as Jawaharlal Neheru Road which leads all the way to Nathula Pass & the lake has been a part of every tourist's itinerary as it is one of the few high-altitude lakes in India(12400 ft. above sea level). Changu Lake alias Tsomgo Lake is a glacial lake that derives its water from the melting snows of the mountains around it & it is famous for its colour changing waters.
The road from Gangtok to Changu seemed to be very much narrow for the first time mountain visitors & that's why our taxi-driver was playing jhinkac songs to remove the fear of accident of our mind.On the way our taxi was stopped for sometime & the serenity of the place and the glimpse of the snow on the mountain-top would bound you to feel heaven everywhere. Finally when we reached there, the applause of my compeers enforced my fascination & I could feel that Lord shiva may be the guard of such a divine place.Even I heard that,considered as a sacred lake by the Sikkimese,Changu Lake is associated with many myths.
Tip:-
1) Make sure to wear/carry boots when travelling to the lake as it tends to be very slippery.Plastic boots are also available for rent near the lake for approximately INR 50. Also,rent an overcoat & a pair of hand-gloves for playing with the snow & to save him/her from the quaint coldness of the lake.
2) Try to visit the lake during the early hours of the morning as there are some slide-prone areas on the way & you don't want to be stuck there during the late evening.
Major attractions:-
1) Yak and Mule rides along the lake
2) tea & pipping hot instant noodles in small eateries
3) Ice skating
Note:-
It is important to note that the air at such altitudes is very thin that makes breathing difficult for infants,Senior citizens & people with any heart or breathing problems.
Seven Sisters Waterfalls:-
Seven sisters waterfall,a must see picturesque waterfall,is only 32 kms. from Gangtok,making it one of the centers for capturing the beautiful scenery.
The best time to visit the seven sisters waterfall is the rainy season because after a little rain,the area seems to freshen up & one can even spot a cheery rainbow then.
Lachung:-
Lachung is located at the junction of Lachen & Lachung rivers- at an altitude of 9,600 ft. Lachung means small pass & the place can be called the gateway to Yungthang Valley- the valley of flowers.After the incessant drive throughout 7 hrs. from Gangtok to Lachung, we are bound to book a hotel for the night & we were welcomed into the hotel by a cute baby.
The torrent Lachung river was visible from a little distance of our hotel & that's why we took a visit to the river & the charming nature worked for our refreshment of mind & body.I noticed a quaint thing here,that is,the mountains are decorated with the colourful flags by the local people.
The Lachung Monastery is one of the major attractions to the tourists because of its' apple orchards & many mountaineering adventures amidst of an amazingly tranquil aura.The place has a base of Indian army.
Yungthang Valley:-
Situated in North Sikkim & 13,800 ft. above the sea- level,Yungthang Valley,also known as the valley of flowers,is heaven on earth & a home of zillion flowers,especially of Rhododendron.Being full of natural wonder & picturesque beauty,the magical place becomes excelled than most of the tourist spots of Sikkim.The serene river adds more charm to it.The blend of mountain & its snow-clad ranges,waterfall,river,valley,flowers make it a must visit place for the tourists.
On the way from Lachung to Yungthang,the snow on the mountain-top,seems to be a piece of diamond which made the journey thought-provoking.We were strolling around for sometime & were enjoying the vicinity of such a heavenly place with our heart & soul.
The valley is generally compared to the valleys of Switzerland & if one is in India,it will be such a shame to never visit this place.
Permits:-
The whole area is under Army control due to the proximity to the China border.To visit Yungthang,One need to take special permit from Gangtok Tourism office or at Chungthang Sub-Divisional Magistrate's office.However,it is advised to leave it to the tour operator's office to make your trip hassle-free & easy.
What To Carry:-
Carry enough woolen clothes & rent an overcoat,gloves & snow boots from a local vendor.One must carry medicines for allergy,common cold & motion sickness,if needed.Last,but not the least,one has to carry cash as there is no ATM at all.
As a first mountain-traveller,I wanted to be witnessed of such a place that is a perfect combination of mountain,snow,gushing mountain river,waterfall,valley,special mountain flowers & may be many more which is enchanting & exhilarating.Fortunately I could be the lucky person & the Sikkim tour was obviously a surreal experience to me.