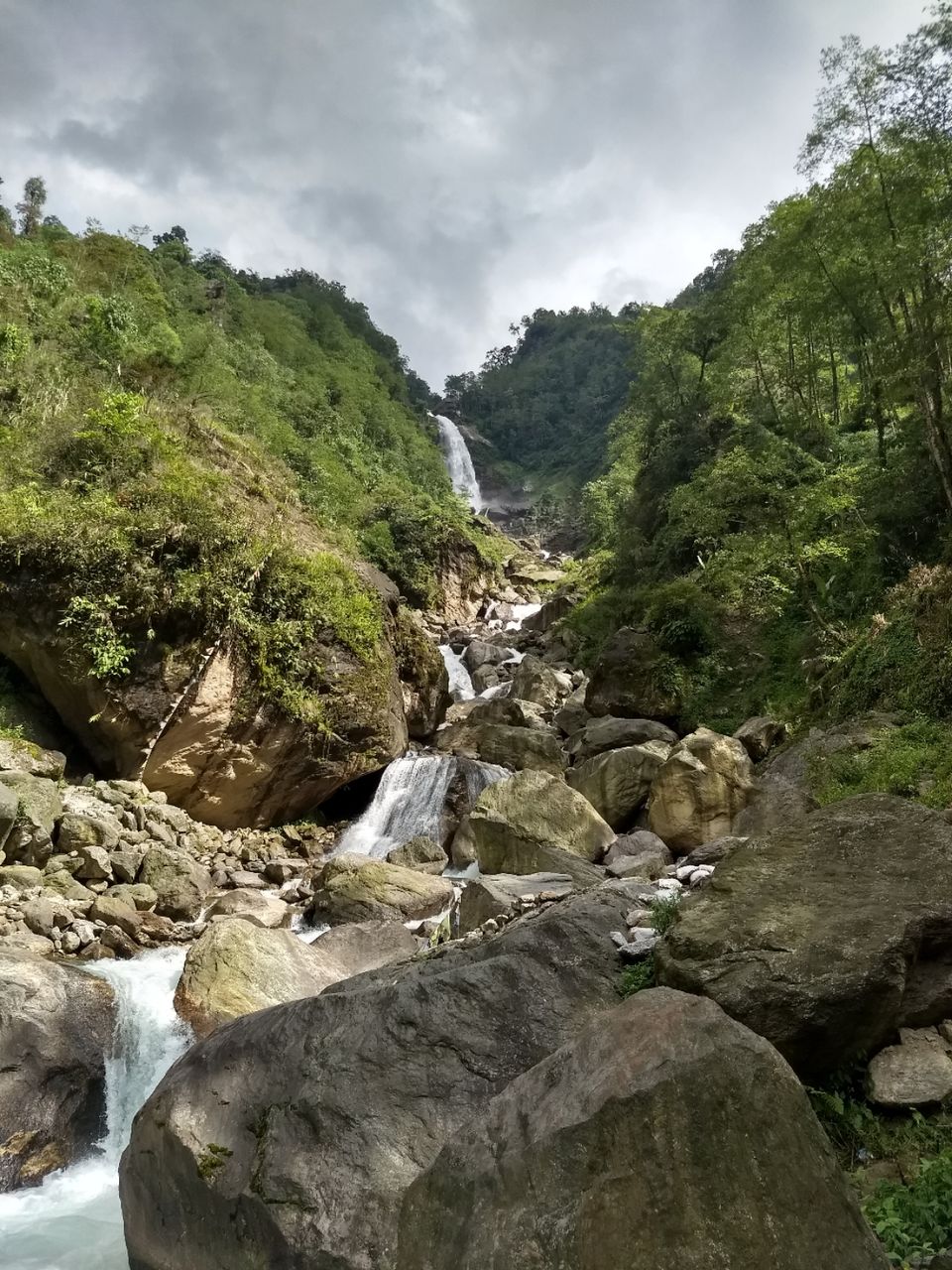 It is not often that you and your cousins plan a tour; especially when two of them are independent working women, living away from home, one a PhD student, and the least educated among them, me a graduation student. Trust me it is quite impossible for their holiday list to match; but ours did. It was my third tour in the same year after Digha and Bankura, Digha being a sea beach and Bankura being a historical district of West Ben gal.
One fine day I wake up to this WhatsApp group of mine called "Born to Travel" created by my eldest cousin Subhashree Di where the first message she sends is four tickets to the land of gorgeous mountains and waterfalls, Sikkim ❤️ Yes! Finally it was happening; our "All Cousins Tour to Sikkim". My adrenaline level was way higher than the mountains of Sikkim. So we started off from the Howrah Railway Junction on 3rd May at 5:30 pm on the Kamrup Express and reached New Jalpaiguri Station at around 6:30 am in the next morning.Our plan was to cover Gangtok, Lachen, Gurudongmar Lake. It was a little misty and was drizzling when we got down from the train; in spite of which we managed to get a foggy view of the mountains surrounding the station. We already knew we were about to enter the heavens.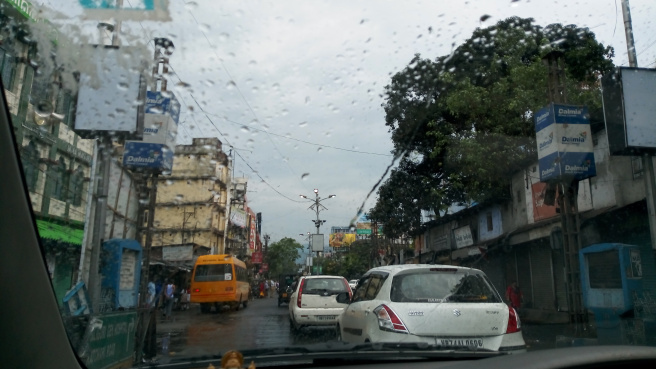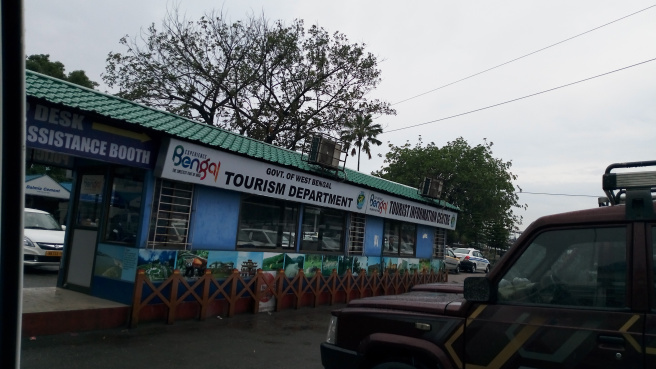 Picture location: New Jalpaiguri Station
Vehicles could be either hired or shared from Jalpaiguri to Gangtok and since we decided to start immediately we hired a car and started immediately. We started off for Gangtok which is about 150 kms away.
If you have ever been to mountains, you know exactly what mountain roads look like. It looks like a never ending snake which just goes meandering upwards. There are roads encircling the mountains on all sides, mountains which can tell you that there could be thousand shades of green; and clouds hovering above them. For girls living in busy metropolitan cities, the mountain roads were wonders.
Picture location: En route to Gangtok
We stopped for breakfast at around 9:30am in a local shop and managed to get a window seat there. The shop was located at the tip end of a cliff and it seemed as if we were hanging in the abyss.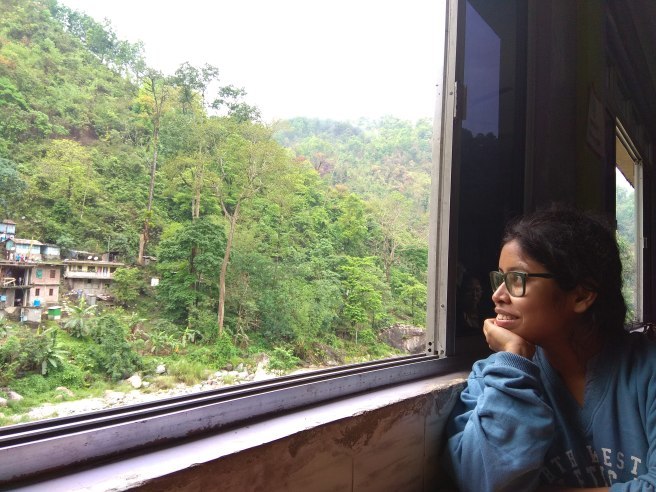 Picture location: Local shop on our way to Gangtok
As we moved upwards the temperature began to lower, and the views were getting better with every passing second. The road seemed neverending and honestly we did not want it to end. After a while the majestic Teesta River came into our view and we stopped at its bank and decided to enjoy it for some time. It seemed that the Teesta was playing hide and seek with us by hiding among the lush green mountains. And we were literally above the white clouds.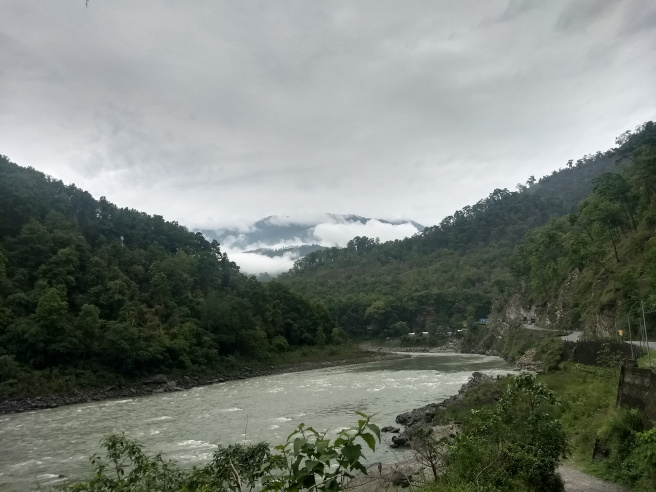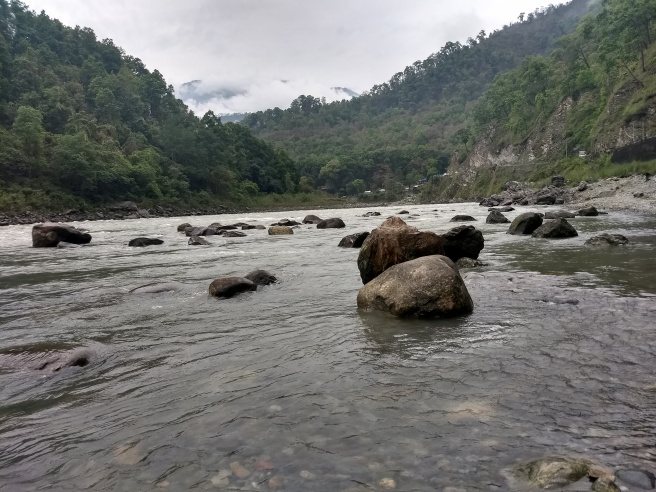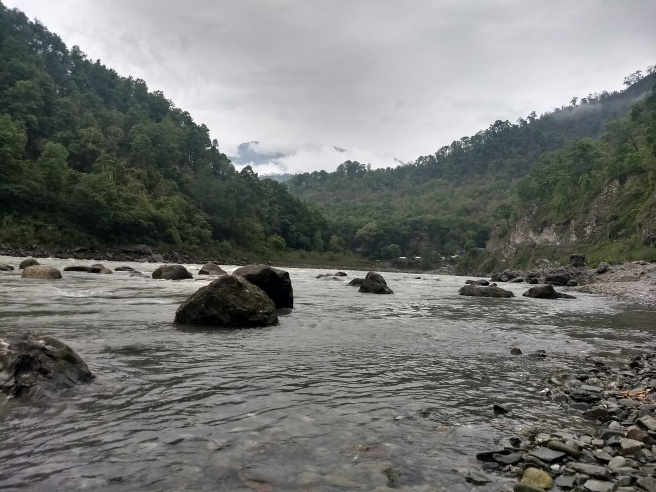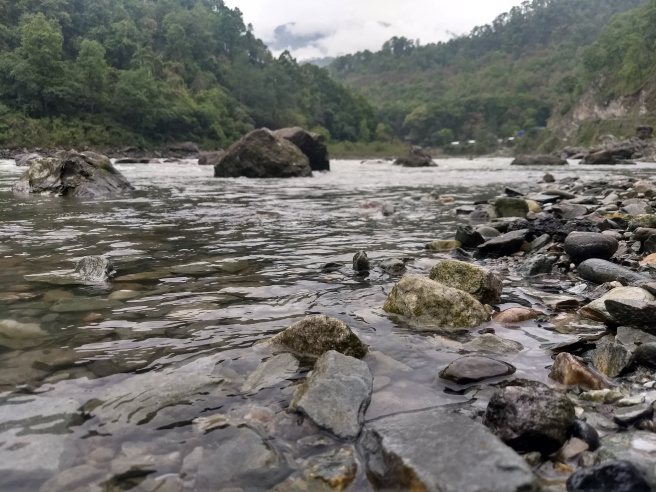 Picture location: Teesta River on the way to Gangtok
We reached Gangtok at around 2pm in the afternoon because of slight traffic and our craze for taking photographs. Our hotels had been pre booked so we directly went for a bath and at around 3pm we went out for lunch to the M.G.Marg or commonly called the Mall Road of Gangtok. Walking in the mountain roads are a little difficult if you are not accustomed to it. Our previous research compelled us to order a local dish called "Thukpa" which is soupy noodles cooked with vegetables and meat, it is a must eat if you are in Sikkim.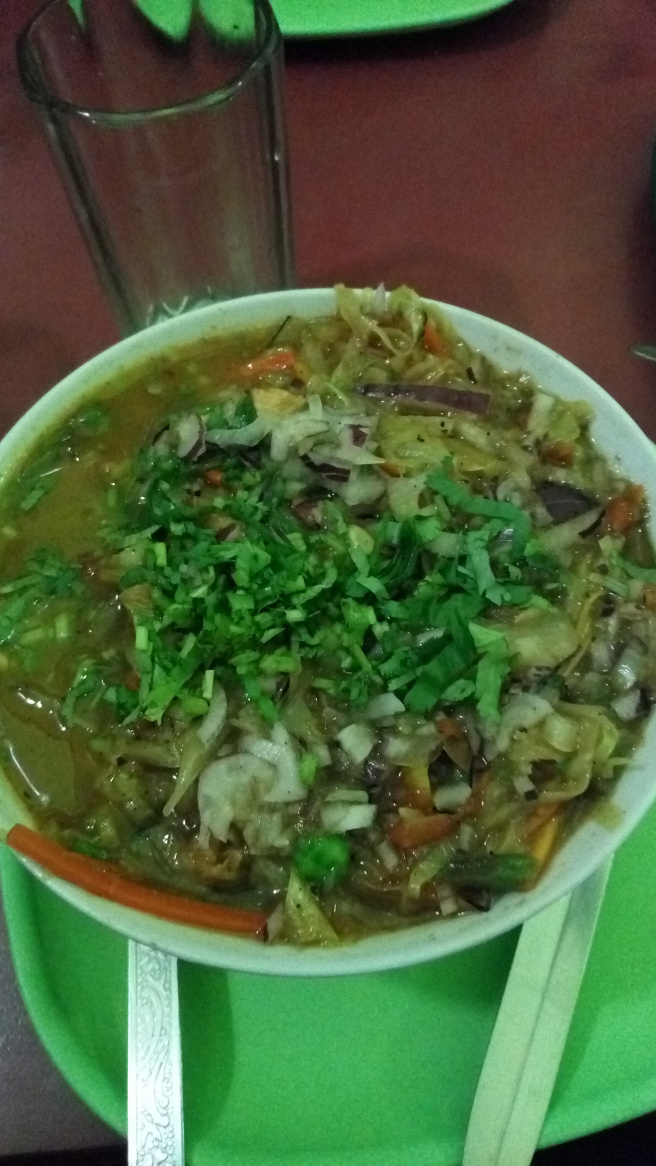 Picture location: Sherpa Hotel in Gangtok
"Korsi Morsi" is a local dish which is made from the stomach of the chicken. It is a little spicy and deep fried.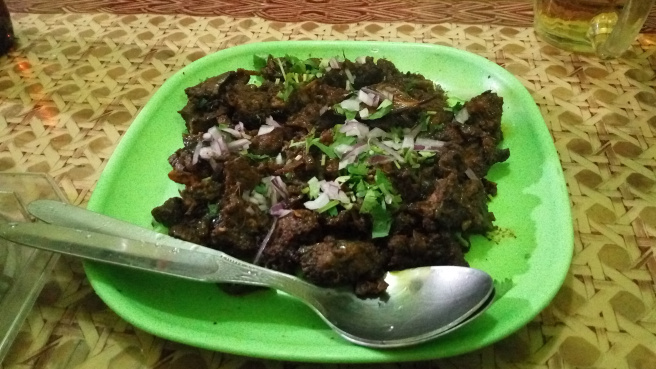 Picture location: Sherpa Hotel in Gangtok
We also ordered Egg Fried Rice, Pork Momos, Chilli Pork. All these dishes were damn good and quite affordable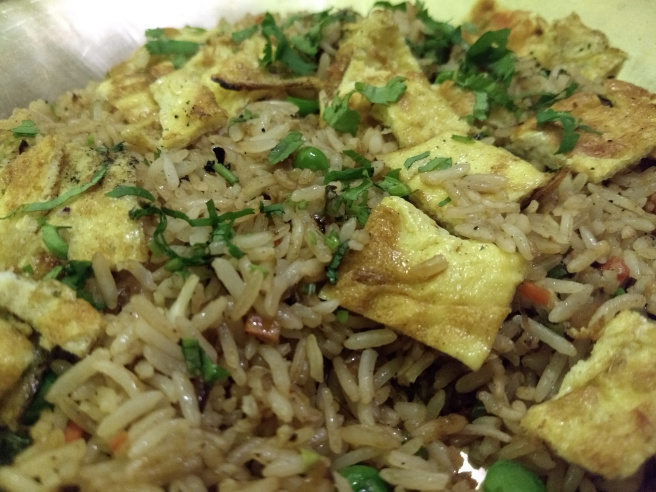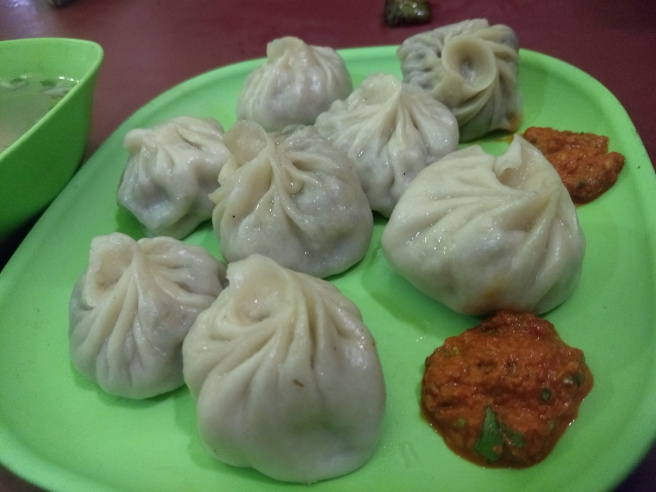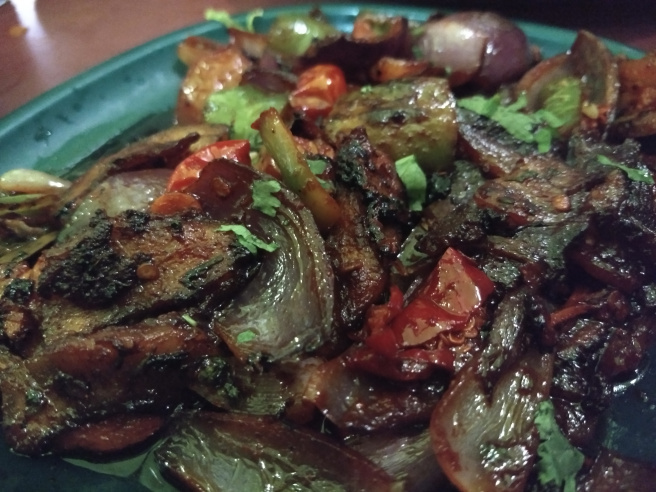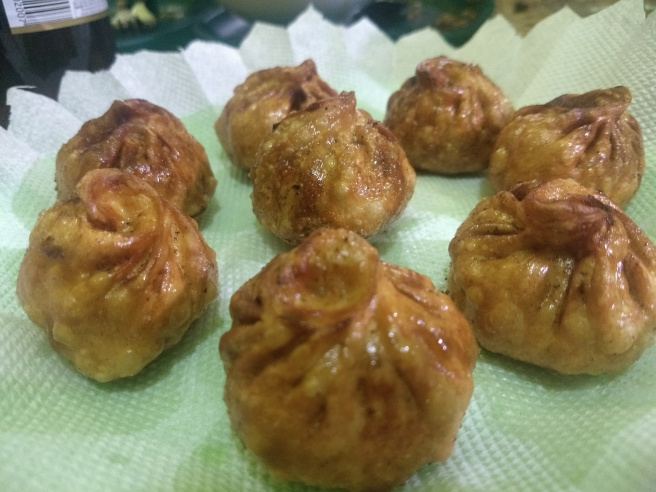 Picture location: Sherpa Hotel in Gangtok
After lunch we decided to take the cable car in Gangtok and I haven't seen a view like this anywhere on earth. The entire city could be viewed which was surrounded by mountains on all sides with waterfalls and small houses clung on the slopes. The houses looked like colorful gift boxes from atop with clouds engulfing them. The colorful boxes within the lush green forest really looked like a beautiful project model from 3000 feet above . It seemed as if the mountains were guarding the city.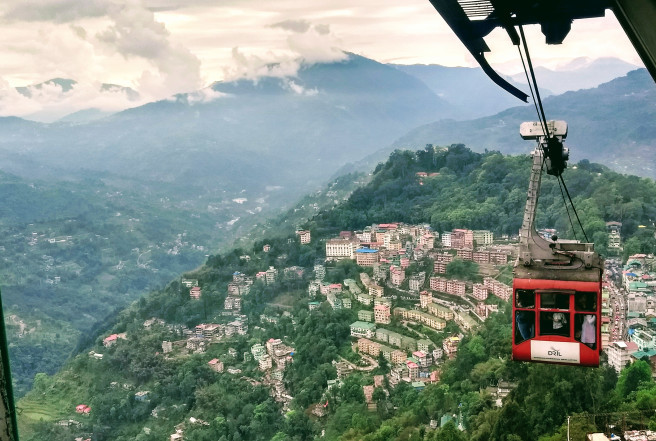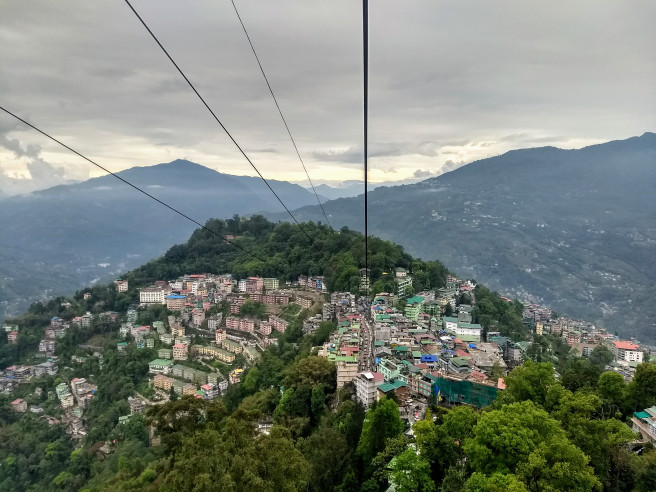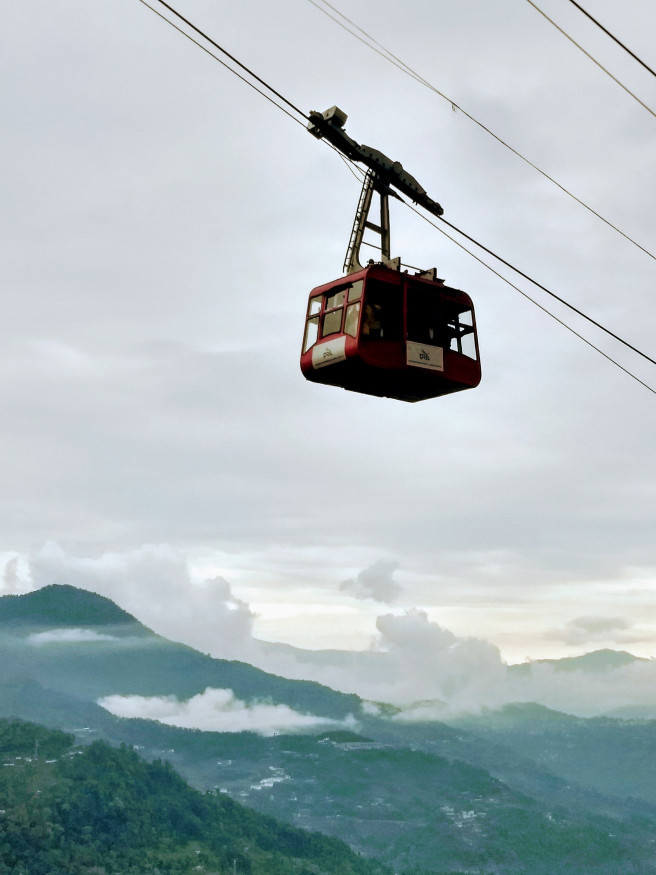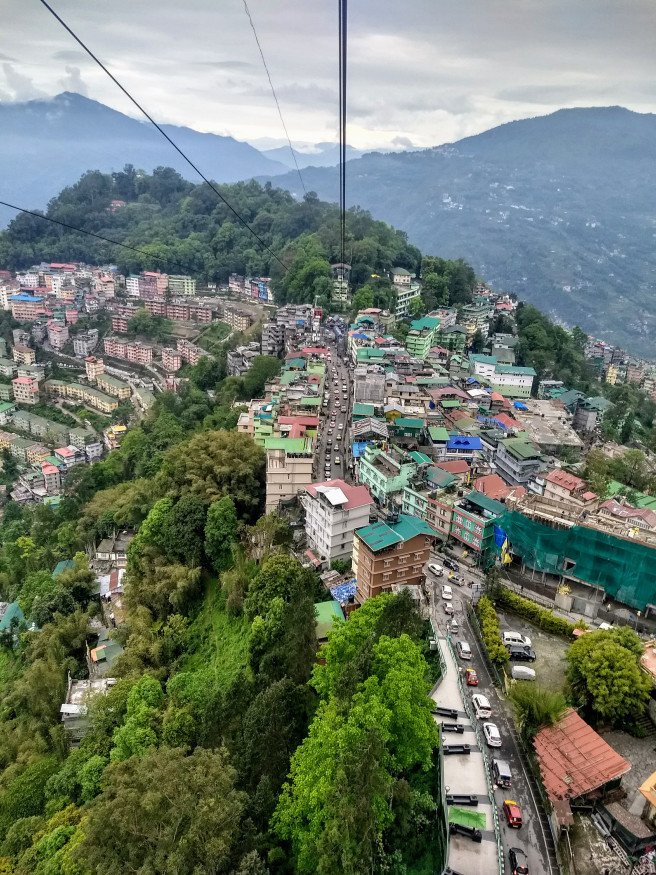 Picture location: Cable car in Gangtok
Our next stop was the "Choten Gompa Monastery" around 3km away, and we being the explorers decided to walk. It was one of the toughest walks ever. But the Monastery was a beauty. This walk made me realize how difficult survival is for the mountain people.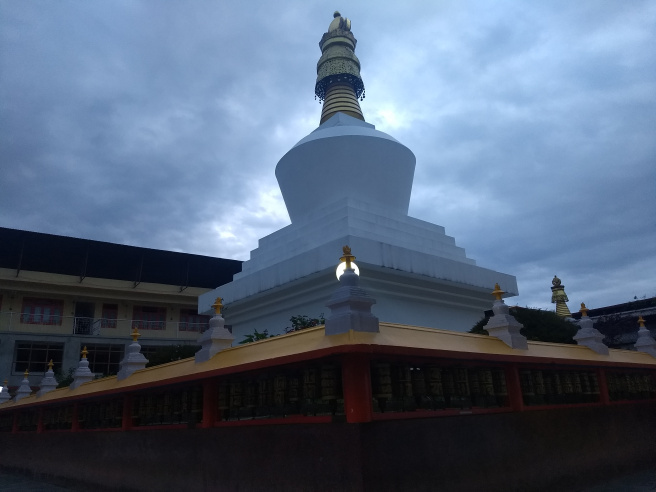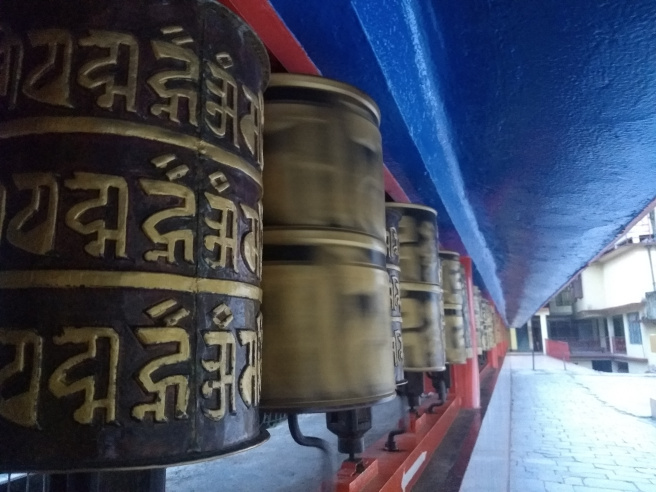 Picture location: Choten Gompa Monastery in Gangtok
The Mall Road of Gangtok is a place of utmost beauty. A wide lane lined by colourful shops and street lamps on both sides, it is a hub for all tourists. Things like woollen sweaters, muffler, caps, shawls, were available here at an affordable price. Sikkimese souvenir to decorate homes were available in a wide variety which includes Wind chime, small statues of Lord Buddha, dream catchers, Buddhist bells, and colourful Buddhist flags. All of these compelled us to do a lot of shopping.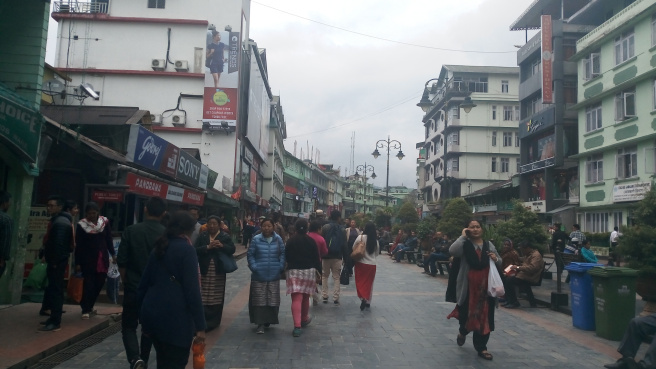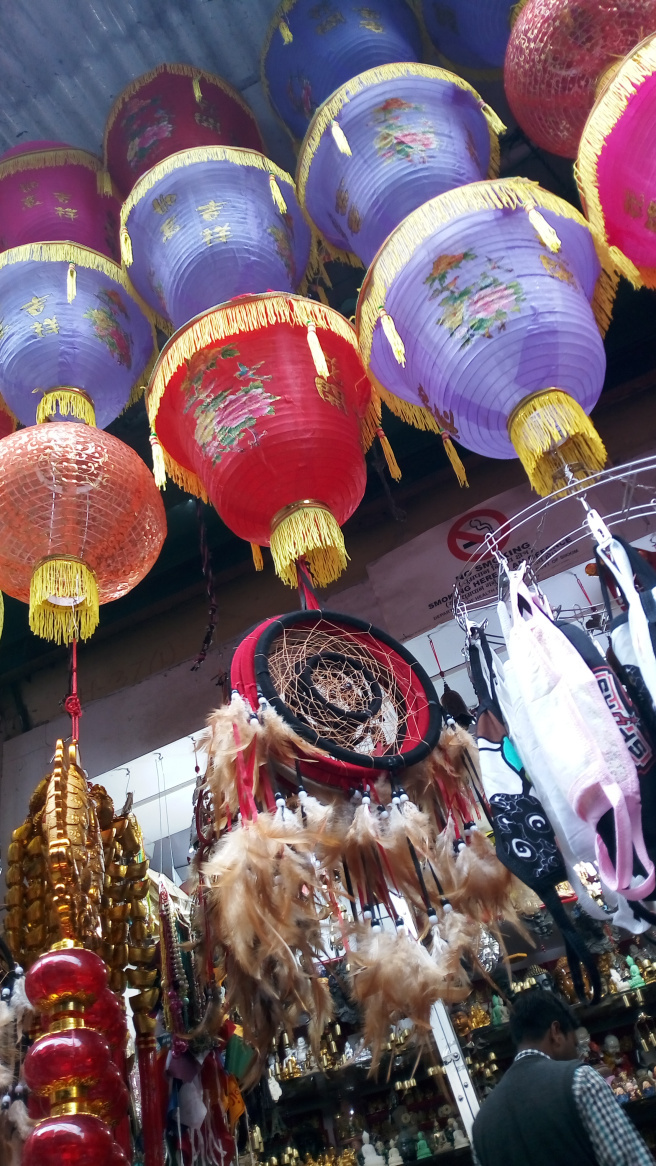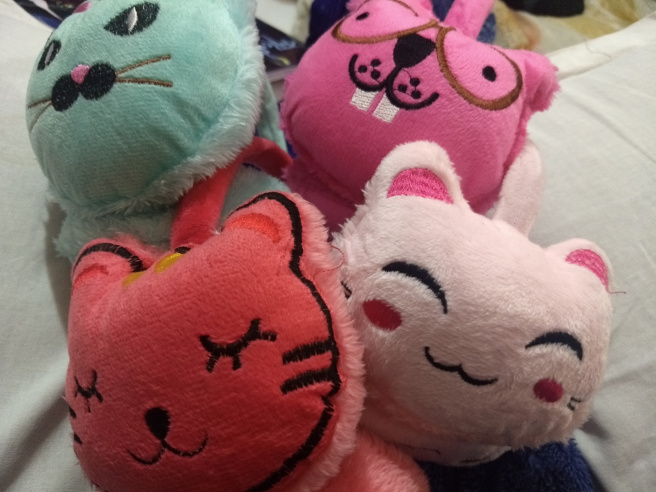 Picture location: Mall Road of Gangtok
Our final stop for the day was a place 25kms away from Gangtok called the Rumtek Monastery. The Rumtek Monastery is one of the oldest monasteries of Sikkim. We hired a local cab and went there, the cab had to be parked at the gate and we had to walk almost a kilometer uphill to reach the Monastery. It was a beautiful sight to see children of all ages playing and studying there.
Now here's the story. We reached the Monastery a little late, when the gates had already closed. Disappointed we were about to return when an old Buddhist Monk reopened the gates for us. We were shocked. When asked he said he was nobody to deprive us of our pleasures. Not only did he open the gates but also he started showing us everything inside the Monastery and its importance. He said he came there when he was a child and he has no intentions of going back. He said he was really happy in spite of the sacrifices he has to make. He also told us something which made a huge impact on me and I quote " When we cook food at home we think of the choices of the other members; human lives should be like that. Think of others' happiness and you will find happines s."
Inside photography of this Monastery is not allowed and thus I could not take his photograph. But if I ever get a chance to go back to Sikkim I will definitely meet him.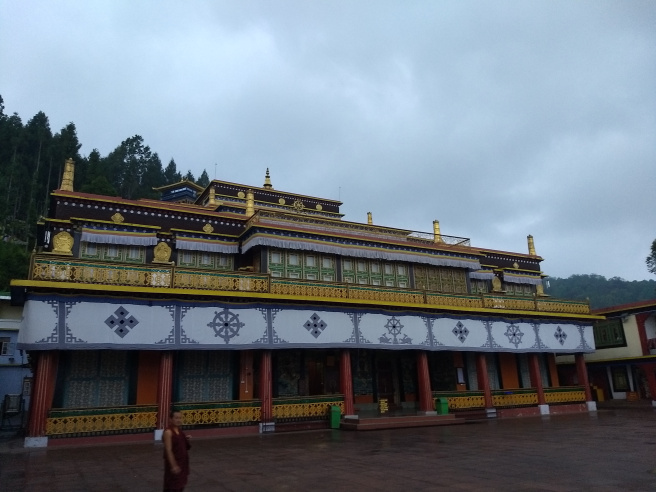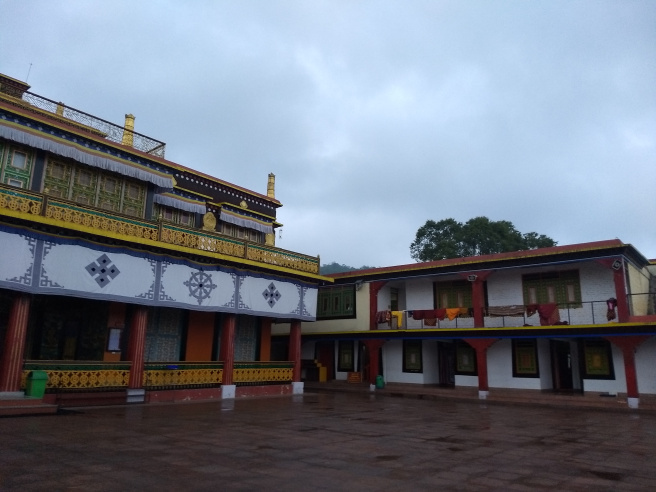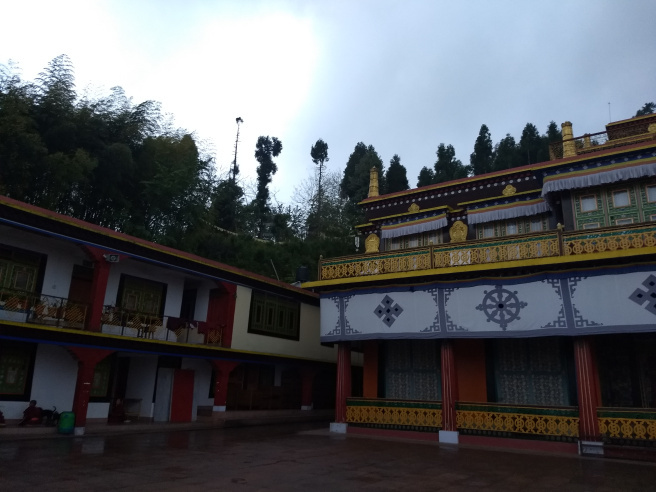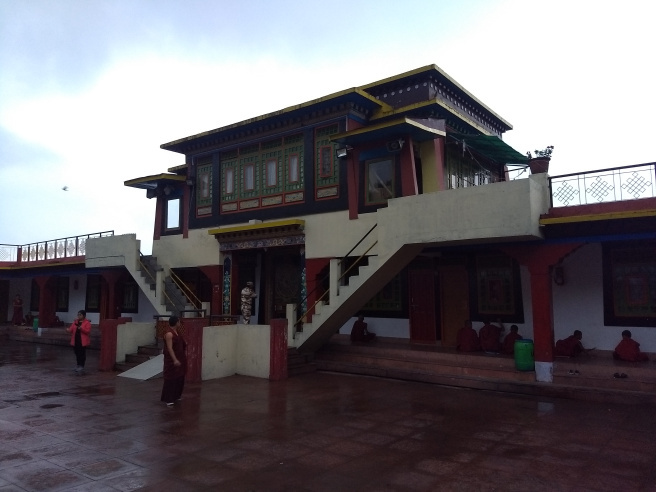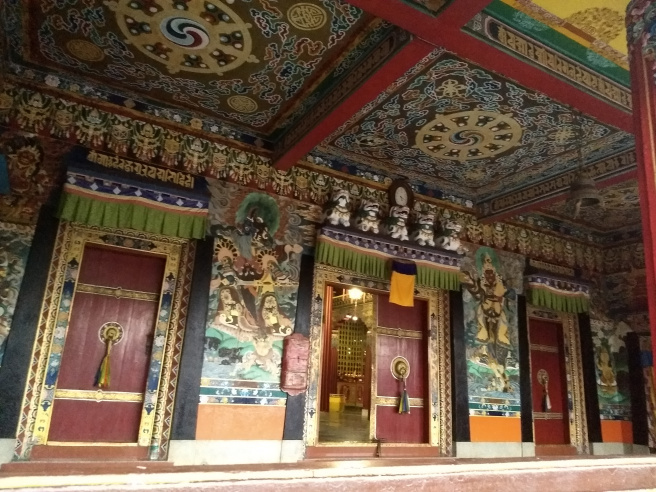 Picture location: Rumtek Monastery in Gangtok
And that's how our day in Gangtok ended. But the best was about to come the next day. Lachen, one of the most beautiful towns of India was waiting for us. Stay tuned for my next post on Lachen.... To be continued.