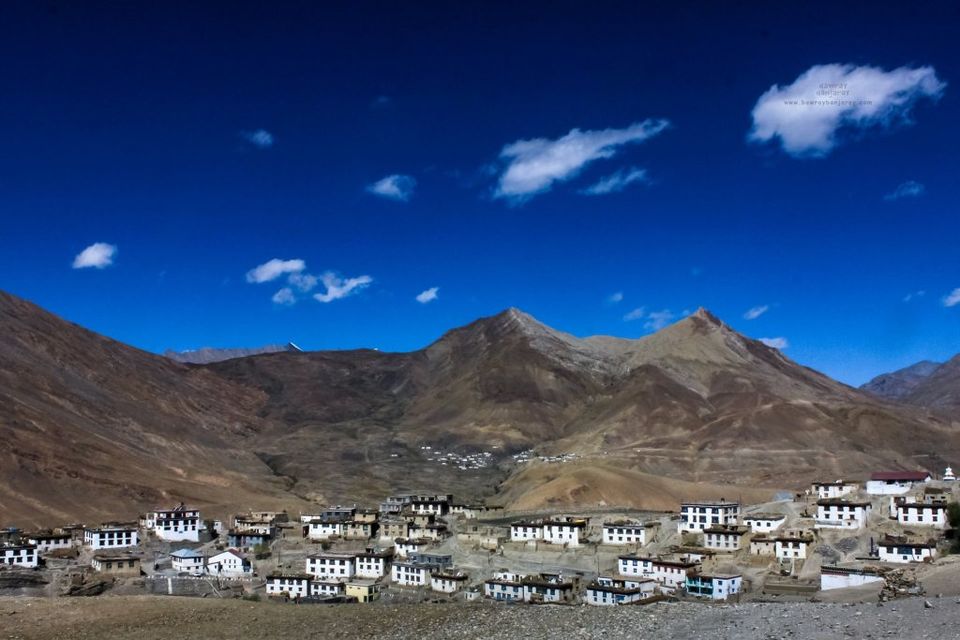 Once hailed as the Highest motorable village in world, Kibber, originally known as Kyber, is unarguably not only one of the most beautiful but most famous villages of Spiti Valley. Perched in the narrow valley of Parilungbo Canyon at an altitude of 4270 meter above mean sea level, Kibber is the base for Kibber Wildlife sanctuary. The sanctuary covers around 1400 square kms in the cold deserts of Spiti valley and in it reside the Ibex, Blue Sheep, Red Fox, Tibetan Woolly Hare, Himalayan wolf, Lynx, Pika, Tibetan Wild Ass and the most famous of all – the Snow Leopard. Kibber is located on the outer limits of the sanctuary and becomes a base in winters for people interested in spotting this rare, shy and beautiful large cat. Kibber is also the starting point for Parang La and Kanamo Peak trek.
To understand the significance of Kibber as a village or of Kibber monastery, we must take into account that HH Dalai Lama wishes to retire in Kibber someday. The Kibber Monastery was established by Serkong Rinpoche, the teacher of the current Dalai Lama who died in Kibber in late 80s.
How to reach Kibber:
Kibber is about 15 kms from Kaza and can be reached by private taxis from Kaza easily. and then of course there is this daily evening bus which goes to Kibber and comes back to Kaza the same day.
Best time to visit Kibber Village:
Kibber village has got its special Peas hence, I recommend the pea harvest season during the months of August and September. Although, anytime is during July to September is a pretty good option to visit Kibber. During winters, Kibber works as a base camp for people who want to see and document the snow leopard.
Stay Options in Kibber: The village has plenty of homestays to choose from.