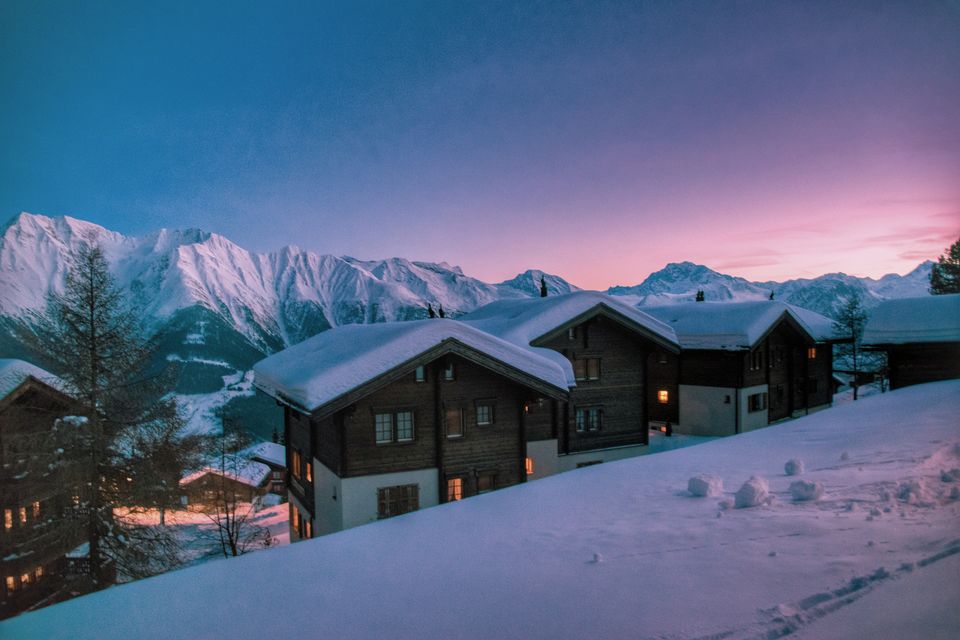 Switzerland is called Winter Wonderland for a reason. On a quest to explore this amazing country, we came across this incredible hike in the Aletsch Arena of the Canton of Valais. This area is particularly famous because of the Aletsch Glacier, which is the largest glacier in the Alps. Also being a popular winter-sport destination, the whole area is a favourite for the Swiss locals.
We planned the whole hike with the help of the website https://www.aletscharena.ch/en/
It's amazing how detailed this site is. They have provided all the information that you would need to plan any activity in this area including current chances of avalanche, snow reports, and the current state of hiking trails.
Among the many hiking options that are available in Winter, we chose to do a hike covering three villages.
The villages named Fiescheralp, Bettemerlap, and Riederalp - are all located high in the Alps. From any Swiss town, there are trains going to Brig, a low lying valley town. From Brig, a mountain train takes you through the towns of Mörel, Betten until Fiesch. These three towns serve as the base to the cable car connection to the three villages. Mörel - Riederalp, Betten- Bettmeralp, Fiesch - Fiescheralp. From Brig, it takes 10, 20 and 40 minutes approximately to reach the correspondingly Mörel, Betten and Fiesch. You can customise the hikes by starting and ending at any of these three villages. Fiescheralp being the highest among the three, we chose to take the cable car from Fiesch to Fiescheralp and take the hiking route Fiescheralp => Bettmeralp => Riederalp. From Riederalp we took the cable car to come down at the end of the hike. The total distance was around 10 KM and could be done in 2.5 hours. You will definitely take more enjoying the out-of-the-world panorama. We also walked around the villages, took a lunch break and had may photo stops hence took around 6 hours.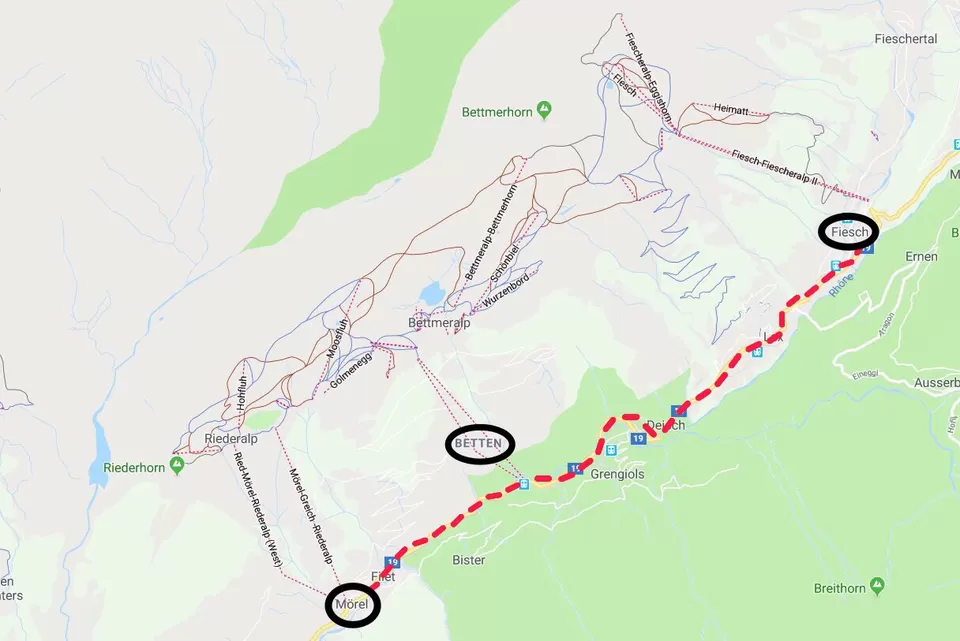 These villages are car-free. People were skiing or sledging to their houses. Also there are some snow mobiles operating as taxis taking people between these villages.
Tips :
1. Find deals from the Swiss Railways (SBB) - We try to travel cheap. However the word cheap doesn't go so well with Switzerland. Hence we try to find all the offers and make our trips as affordable as possible. We took an offer from the Swiss railways where they were selling day pass for two for 75 CHF. To take this pass at least one person should be having a Swiss half fare card. In the span of our 6 months in Swiss, this was the second time we saw this offer. Having already purchased the Half fare card, this was a no-brainer to take this deal. In case if you don't have a Swiss pass, there is something called Saver day pass if purchased in advance from SBB, you can get it for as cheap as 49 CHF per person. So this pass is particularly useful to make you flexible as well as to efficiently use this wonderful Swiss transportation system. These day passes usually allows you to take any train, bus or boat in the country. Also in some cases, Cable cars are covered. In this particular region, all the cable cars - Mörel - Riederalp, Betten- Bettmeralp and Fiesch - Fiescheralp are covered. So our entire trip from Geneva got covered in this day pass.
2. To see the Aletsch glacier you will have to take another cable car further up to the mountains from any of these villages. We decided to not do it in winter since we assumed everything being covered in Snow, the Glacier wouldn't be very contrasting and not that appreciable. Save the visit to the glacier for a warmer season.
3. Though there are couple of restaurants and a supermarket, we had taken our own food which obviously was a big relief for the pocket.
4. The water we took in our metal bottle got froze and hence we had to eat ice at the end. So take warm water in insulated flasks.
5. We took maps from the tourist office in Fiesch for the hike which was really not a must since the path is well marked and quite easy, however, was very informative. Printed maps are always useful since you phone battery drain much faster in the cold.
6. The sun is extremely bright at the altitudes and the reflection from the snow adds to the intensity. Apply sunscreen generously. Even our relatively tolerant skin got burned around the neck where we overlooked to apply it sufficiently. A nice lady from the tourist office specially asked us to take care of the sun and even gave us some sachets for free.
7. It is impossible to do the hike without sunglasses as you will be literally blinded from the sun and its reflection.
8. The panorama way from Fiescheralp is truly remarkable which make it another strong reason to start the hike from here. Except for small stretches the trail is mostly downhill in this direction and hence quite easy to do.
9. These villages seemed to be slightly cheaper than Zermatt which is the most popular destination in Valais for skiing due to the Matterhorn. Hence could be an alternate option to try out. Also, it looked like we were the only tourists/non-swiss people in the area and hence was not at all crowded like the typical locations like Interlaken/ Grindelwald. The trails were hence much more serene, peaceful and enjoyable.
Follow us on https://www.instagram.com/wetravelmiles/ for more pics
We had seen this typical pictures with Swiss cabins with snow-covered roofs and were hoping to see some of those. The valley towns gave us a sense of disappointment as they didn't had as much snow as we expected and we even thought if we should change the plans and visit Zermatt instead. However we continued and took the cable car from Fiesch. As we reached the village at 7,257 ft , the scene changed dramatically and we couldn't believe our eyes. It was a paradise. A small village with many tiny chalets and people engaged in all kinds of winter activities.