On my recent visit to Heaven on Earth, Switzerland, I wanted to see it all – the cities, the countryside, places that were popular among tourists, and of course its best kept secrets. In this pursuit, every single day spent in Switzerland surpassed the previous one in terms of beauty and the experience that it offered. However, the place that I found most enchanting was a quaint town called Kandersteg.
This beautiful town was not originally on my itinerary, but a last minute plan took me there. So off I headed to Kandersteg, with zero research and almost no planning. I was simply told to visit a lake that I didn't even know how to pronounce. But something kept me going nonetheless.
Trust me when I say this, Kandersteg was like a tiny piece of land that God himself had spent days carefully chiselling out of the Alps. It was indeed a slice of heaven itself. So if you're heading to Switzerland, forget the mighty expensive Jungfraujoch and the crowded Geneva and Zurich, Kandersteg is what you definitely should not miss!
The Kander Valley
Kandersteg is located about 40km from Interlaken, the main junction in the Bernese Oberland region of Central Switzerland. What makes Kandersteg breathtakingly beautiful are the snow-clad Alps that sit like a crown over the town. No matter where you look, you'll be greeted with stunning views. This valley town, which is neither highly populated nor overflowing with tourists is stupendous to say the least.
Spending a memorable day at Kandersteg
The main attraction of the town is the Oeschinensee or the Oeschinen Lake, a glacial lake formed at an elevation of 1578 m. This lake is one of Switzerland's best kept secrets and even hailed as the most beautiful lake of the country. You can spend an entire day visiting the lake, enjoying a picnic and of course, boating in its turquoise blue waters. The fascinating bit about visiting the pristine Oeschinen Lake is that you don't simply get into a car and reach the lake. You take a gondola lift to the top of the mountain and then a comfortable 30 minute hike brings you to the enchanting lake. If you're visiting between December and May, you'll find the lake completely frozen so you can even try out ice-skating or ice-fishing.
The adventure begins with a Gondola Ride and gets better with every step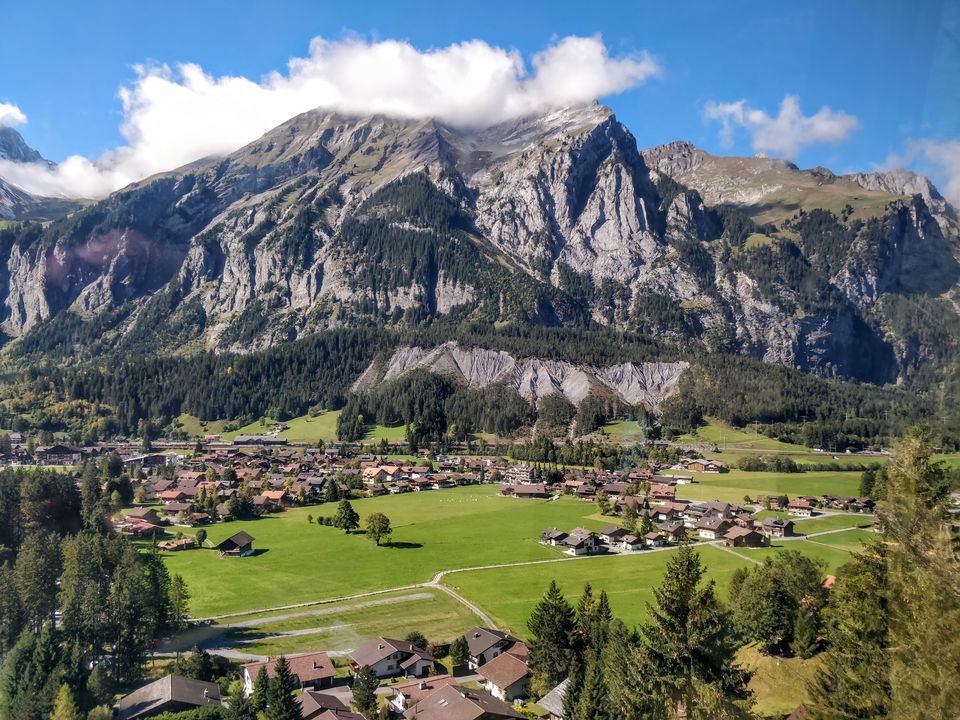 The day that I had chosen to visit Oeschinen Lake was one of those perfect, dreamy days that Switzerland is known for. The sun was shining bright and crisp. The azure sky enveloped us like a taut blue bed-sheet and the scent of the approaching winter captivated us as we parked our car near the station and walked through the magnificent valley. I knew in my heart that this would be a day I wouldn't forget, at least not in this lifetime. We hopped onto the Gondola and the view of Kander Valley left me completely mesmerised. Each moment, I was in disbelief of how a place this beautiful could exist in the world. The 20-minute Gondola Ride brought us to the very top of the mountain which meant that the Alps were right in front of us – looking more majestic than ever before.
To my utter delight I found that the famed mountain coaster of Switzerland was located here! I had only seen pictures of people riding the mountain coaster and it was quite high up on the unending list of things that I wanted to try in life. The universe had really listened and I had unknowingly made my way here! The coaster track has been laid out right at the edge of the mountain, with fantastic views of the Alps. As you zoom your way through, you will be taken to different gradients and speeding down will give you the exhilarating illusion that you're going to take off the cliff edge only to come to a safe halt. There were no phones allowed on the coaster, so I don't have pictures to describe how exciting the experience was, but take my word for it, do not miss that coaster if you're in Kandersteg.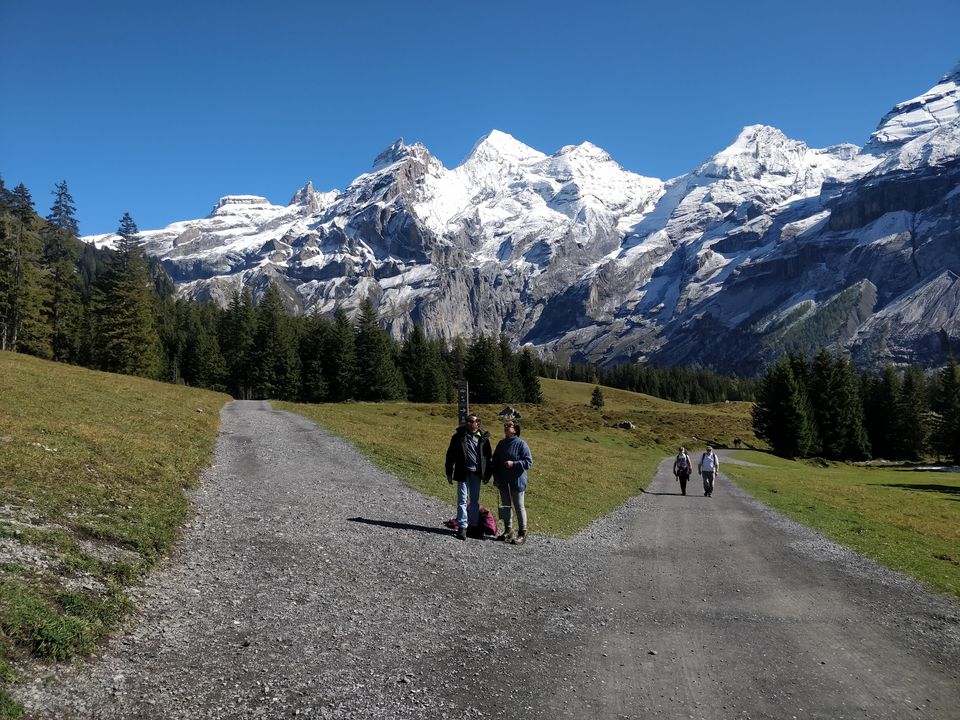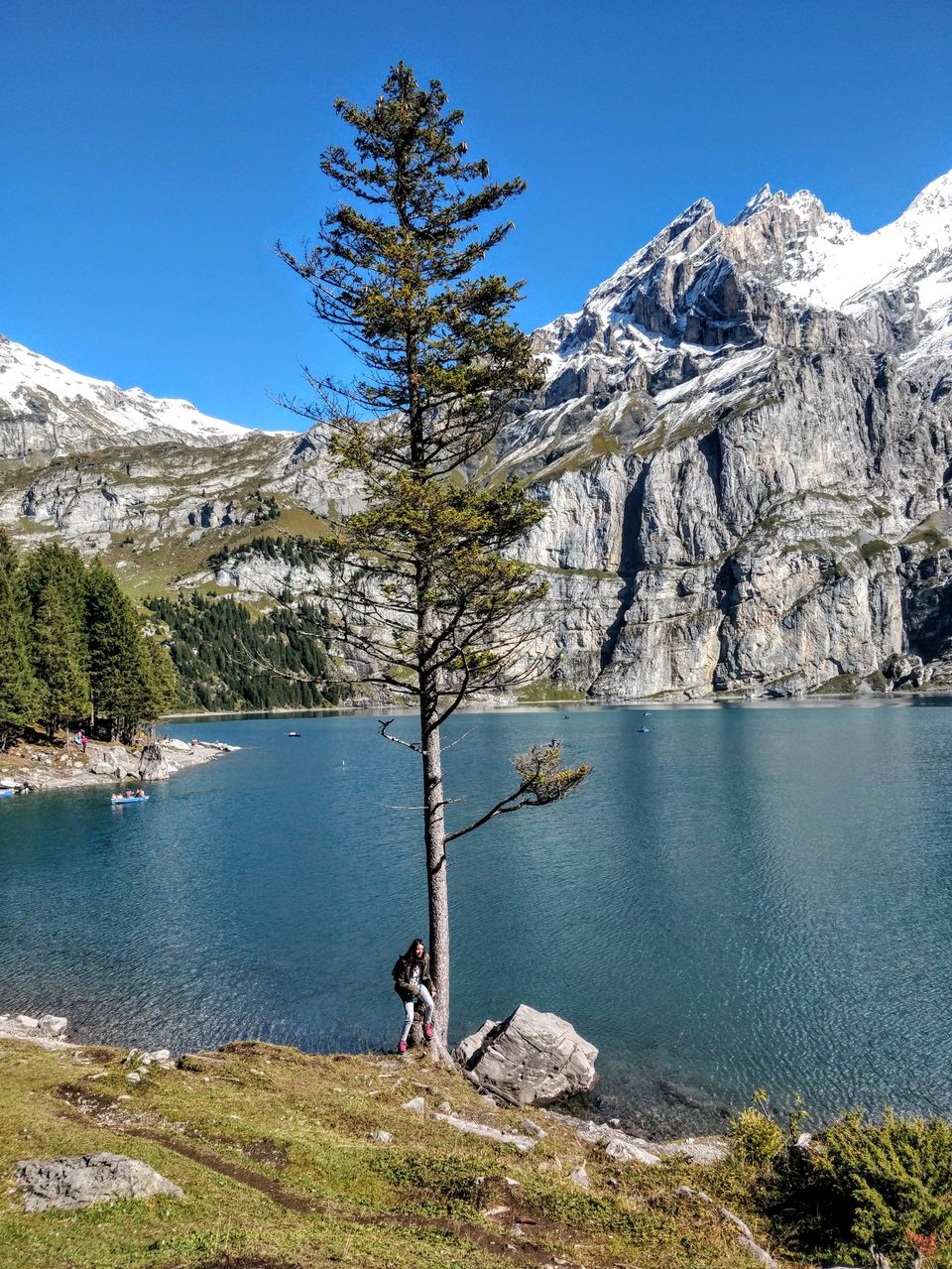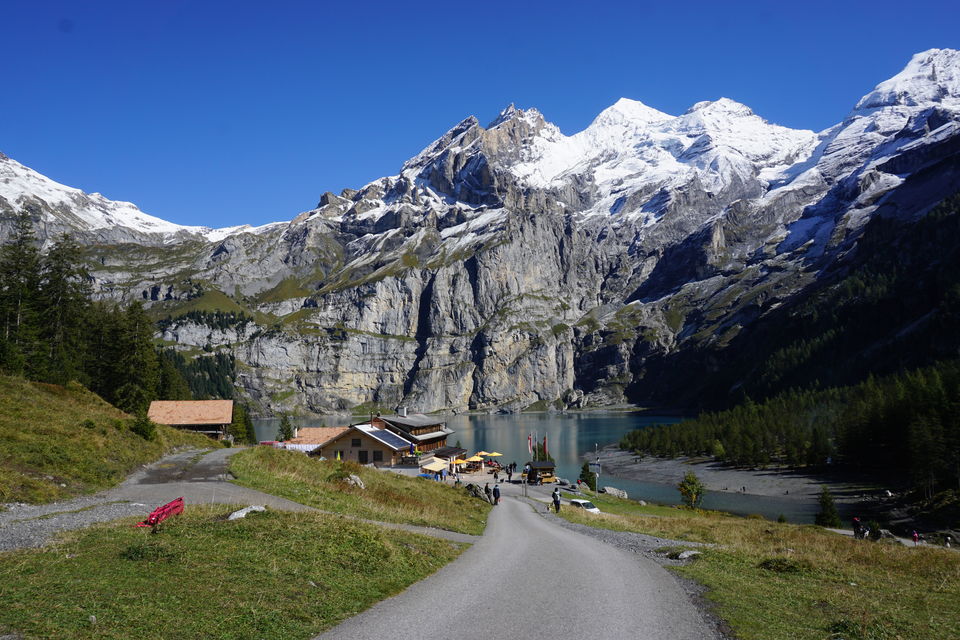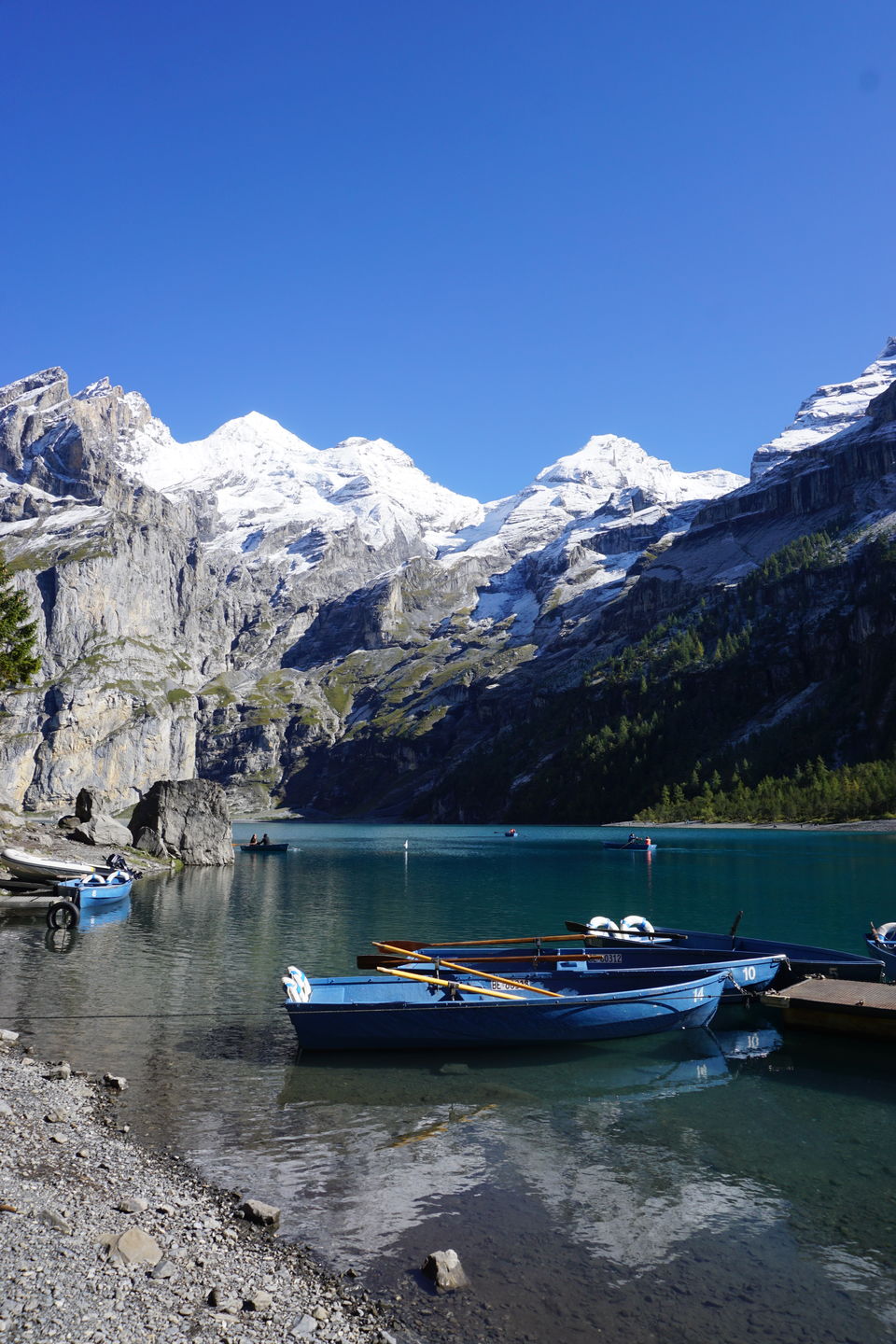 Next up, was the hike to the glorious Oeschinen Lake – Kandersteg's star attraction. The hike is a beautiful one that goes through an alpine forest. The mighty Alps and snow sprinkled all around made it a thoroughly enjoyable walk. If you're unable to walk due to medical reasons, you can avail the shuttle that runs from the Gondola station to the lake.
If you're fit and able, I would suggest you to not miss the experience of taking this walk. I was still recovering from the fantastic views when I spotted a glistening blotch of blue from afar. I wasn't sure of what I had seen until I walked closer, and beheld the stark blue lake with my eyes. The Oeschinen Lake was of the clearest blue I had ever seen. Its water was so translucent that it seemed as if someone had laid out a massive tinted ultramarine glass! To add to the beauty, there were a number of waterfalls plunging into the lake straight from the mighty Alps. A dense forest surrounded the lake as if nature itself was camouflaging this exquisite gem.
We enjoyed a small picnic by the lake. There were a number of tourists from across the world – some fishing, others reading and most soaking in the warm, therapeutic Swiss sun. A boat ride in the lake could definitely not be missed, so we spent a dreamy hour leisurely cruising over the Oeschinen Lake. I really wished I could camp and spend the night there, however, as the sun started to set, it became unbearably cold, which was the only cue that the summer-baby in me needed to call it a day. We decided to chuck the gondola ride, and chose to walk down instead.
In case you're wondering about the costs, here's a breakdown:
1. Train from Interlaken to Kandersteg (roundtrip): CHF 32 onwards i.e. Rs 2286 onward.
2. Gondola Lift (one way): CHF 22 ie. Rs 1,572
3. Mountain Coaster: CHF 6 ie. Rs 427
4. Boat ride: CHF 15 ie. Rs 1,076 for 30 minutes
I was left amazed at how well Kandersteg has been developed as a tourist destination. There were activities for every kind of traveller, whether you're a hiking enthusiast, a water baby who can spend hours lounging by a lake, or a traveller looking for something off-beat to do, Kandersteg has it all! Even though Switzerland has been marketed as essentially, a paradise for romance, I realised that it has so much more on offer for all kinds of travellers! I returned from the Oeschinen Lake, but I think my heart's going to stay there forever.
All pictures belong to the author, unless otherwise specified and cannot be used without permission.
Have you travelled to a destination that took your breath away? Share your thoughts, suggestions and experiences by creating a blog on Tripoto here.