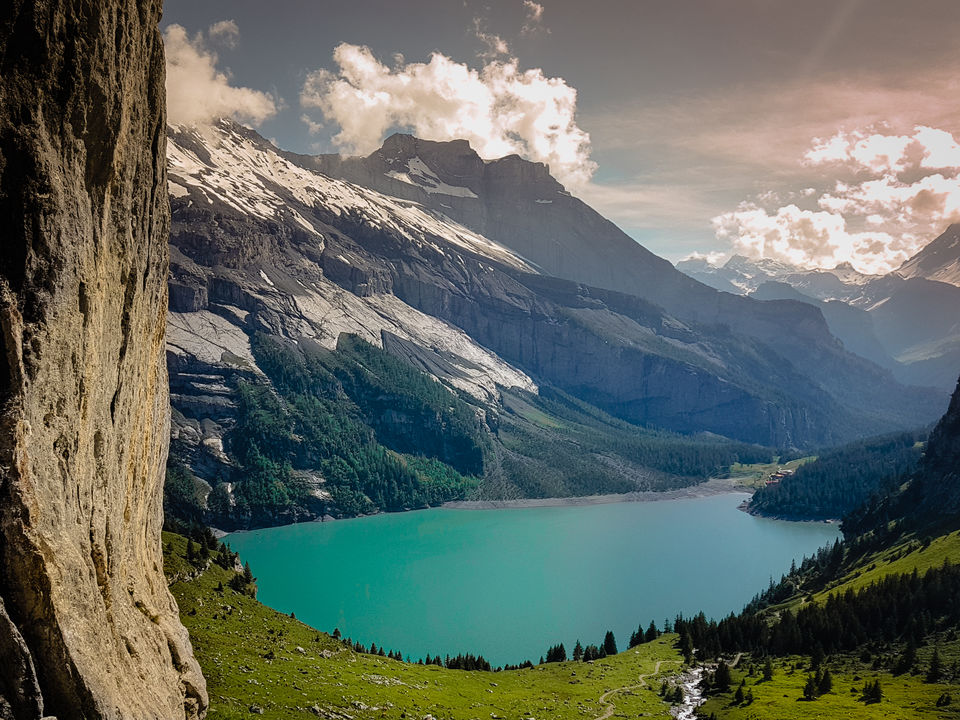 Have you ever wondered which is the favourite place in Switzerland for Swiss residents or citizens? When Indian tourists flock to Interlaken area and Chinese groups swamps Lucerne, Swiss make it peacefully to the Kandersteg region. There is no doubt that every region in Switzerland is beautiful, but Kandersteg has its unique charm. The twin lakes of Blausee and Oeschinensee located in this region are literally two gems that make this place heavenly.
We would like to bring to you the beauty of Oeschinensee through some photos that we captured. Kandersteg railway station could be easily reached by train from anywhere in Switzerland. The railway station welcomes you with an amazing alpine view that hints you the magic that is yet to unfold.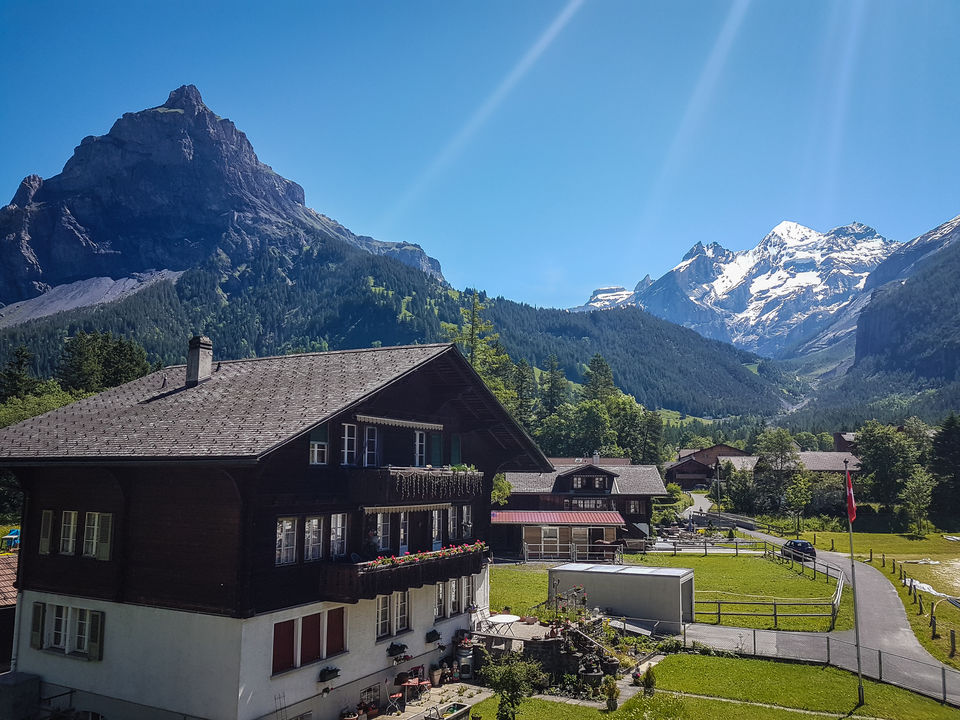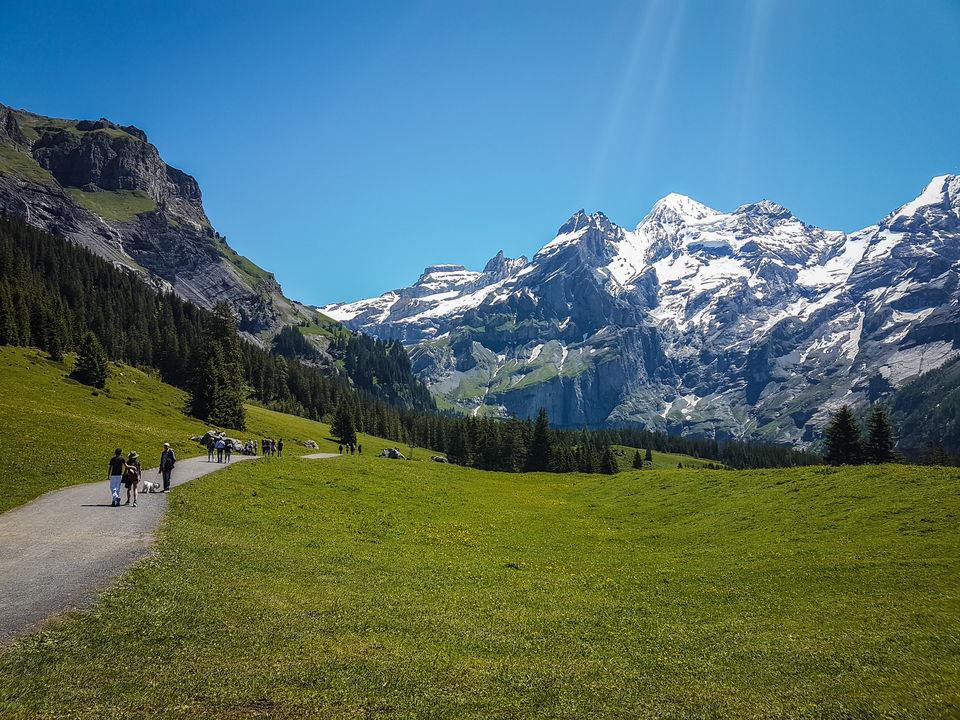 It is a 15 minutes walk from the railway station to the cable car station from which you can take the gondola to go up to the lake. As you walk along this path, you will literally feel that the mountains are calling you.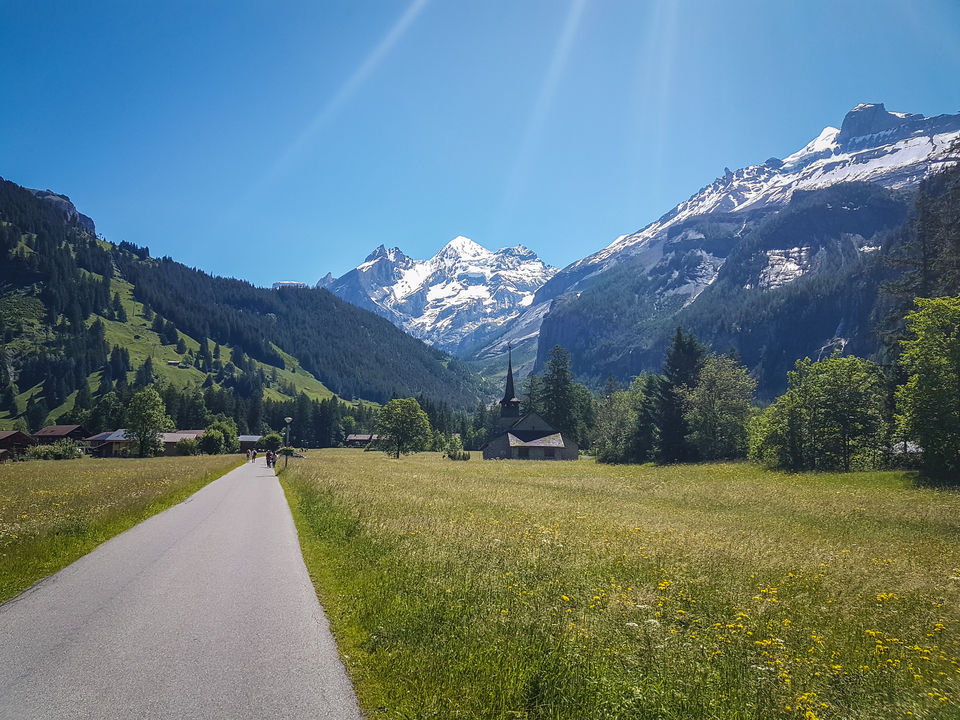 The cable car ride is about 7 minutes and the view gets even better as you leave the valley to the mountains. The walk from the upper cable car station to the Lake will take around 30 minutes with the shortest path.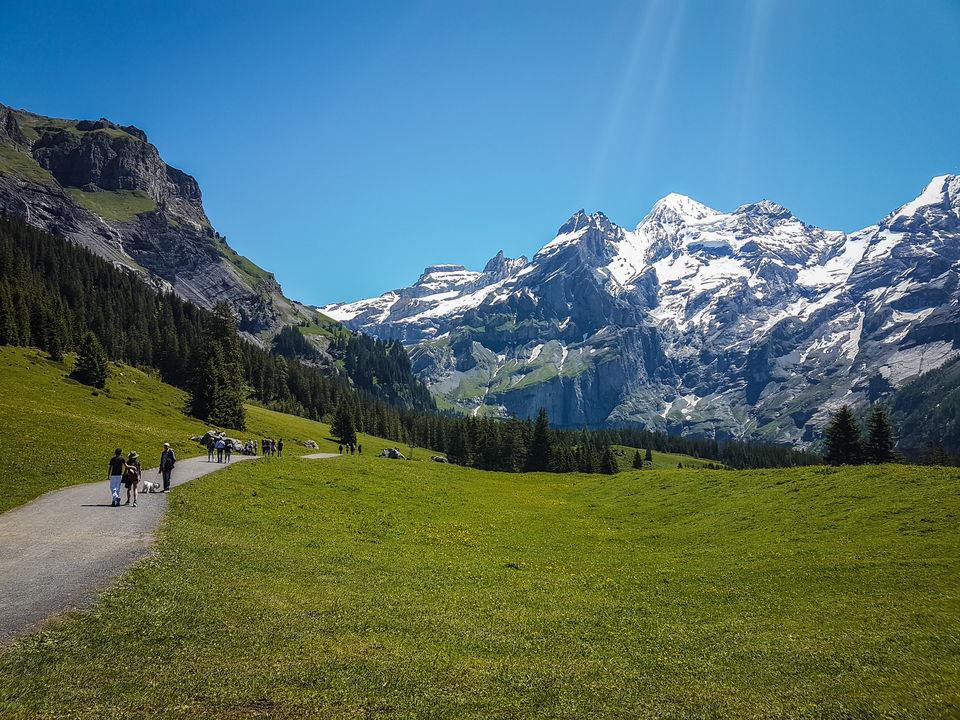 The typical Swiss frames that you would have imagined with the cows and the alps will keep you thrilled throughout the walk.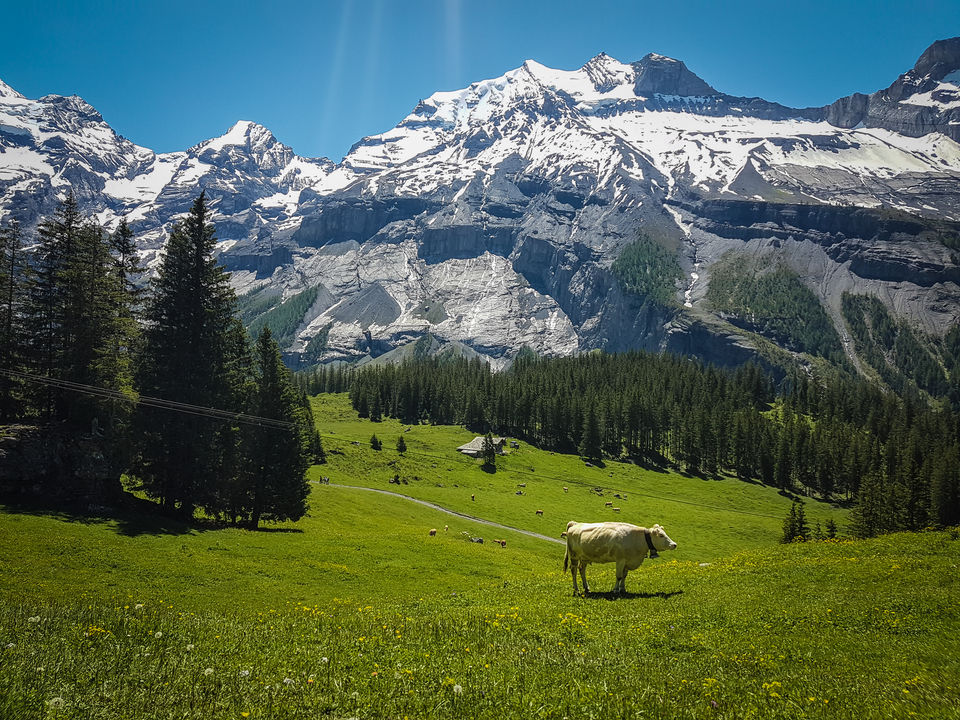 When you reach a point where there are two paths, take the one to the left. It is more beautiful.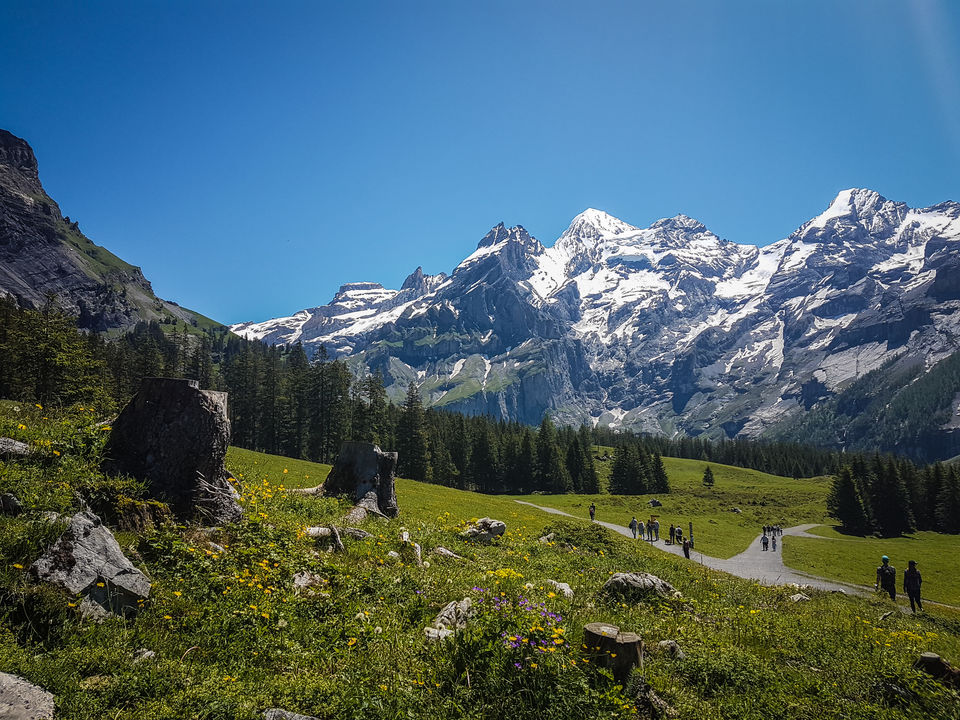 If you are adventurous and want to do a longer hike, then there is an option to go up even higher and get an aerial view of the lake. This hike however is not easy and you will need proper hiking shoes. We did this hike at the beginning of July and there were still some snow fields to cross which were quite tricky.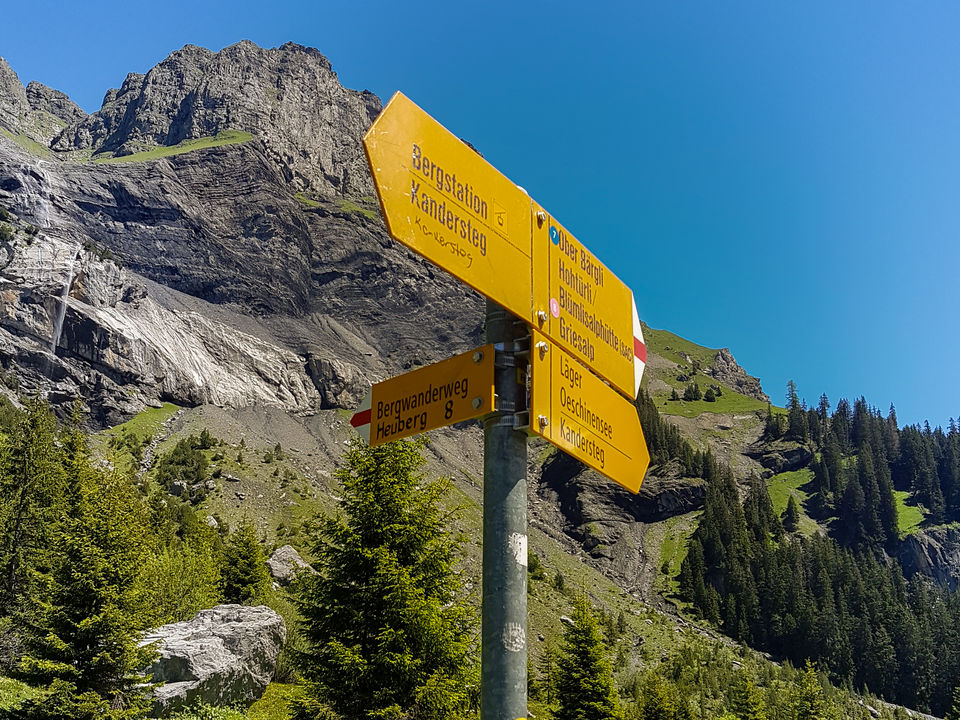 So when you see this board, if you want to do the longer route, go left in the direction marked by Bergwanderweg. It is a small path and could be missed, so keep an eye for this sign board. In case you don't have sufficient time or if you are not prepared, then go straight and you will reach the lake in a few minutes. In Switzerland, the signboard showing the path with white-red-white mark indicates it is a mountainous terrain and one requires good shoes and preparedness to embark. The normal walking paths are indicated by the yellow arrow board.
We decided to take the longer route as we had seen some amazing pictures from above. As we got up high a bit, we immediately got the first glimpse of the lake and it was pure bliss.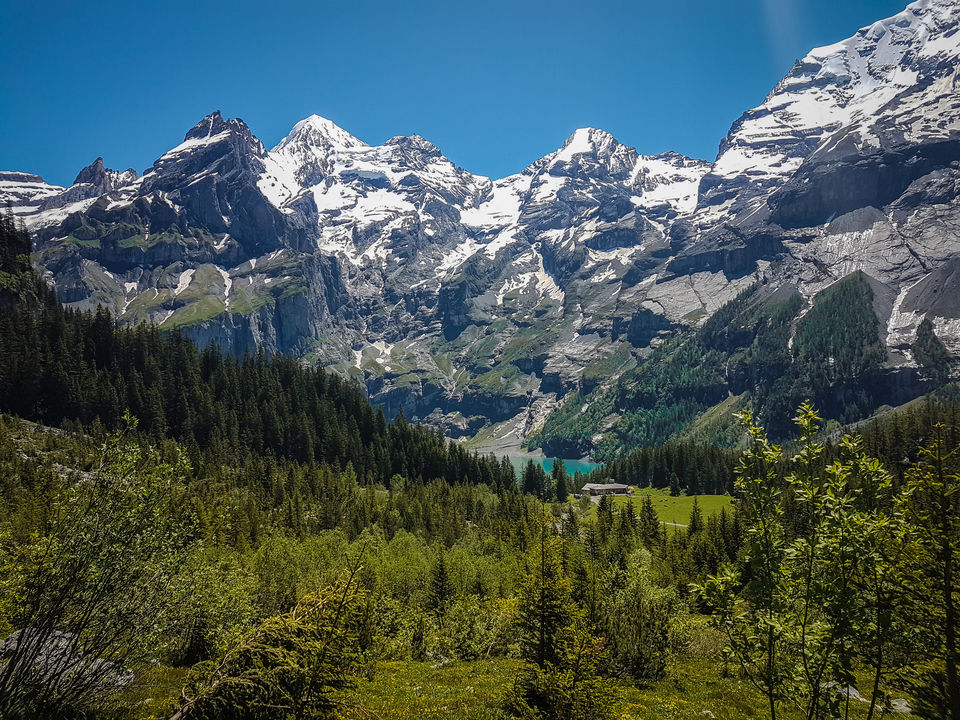 The path got narrower and more rocky as we climbed up further. There were many small waterfalls on the way and it was quite refreshing to walk under them. There were many viewpoints which offered wonderful views of the lake.
You will pass small meadows with alpine flowers and can walk admiring the beauty of the lake.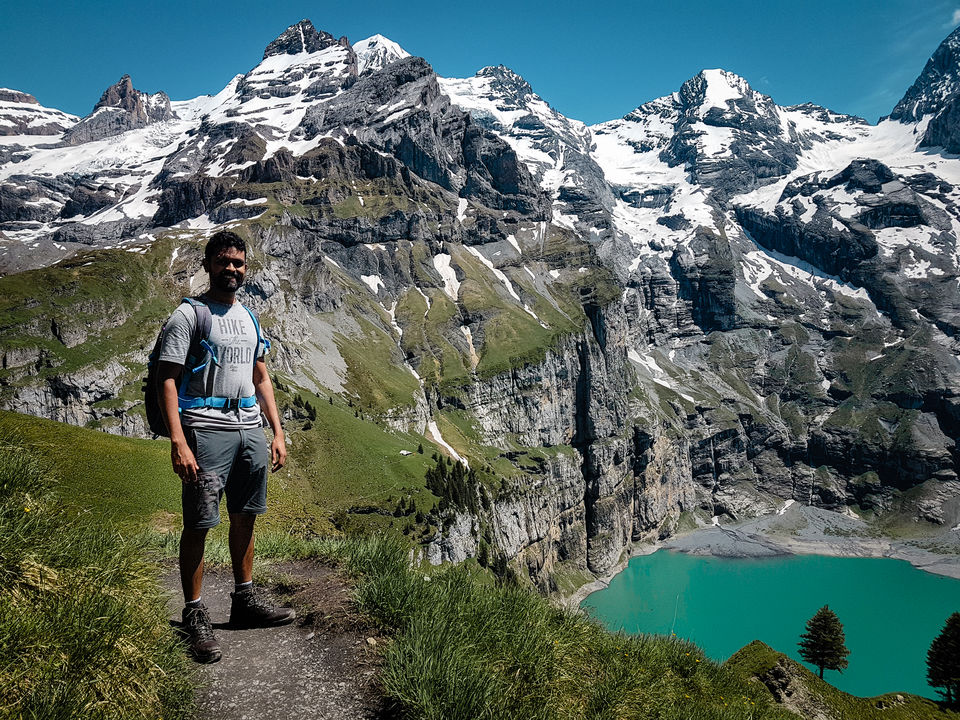 On sunny days, you see the pure turquoise colour of the lake, for which it is famed, from this altitude. We took a couple of breaks to click numerous pics. There was also a bench at one point, again with a wonderful view which was a perfect spot for our lunch break.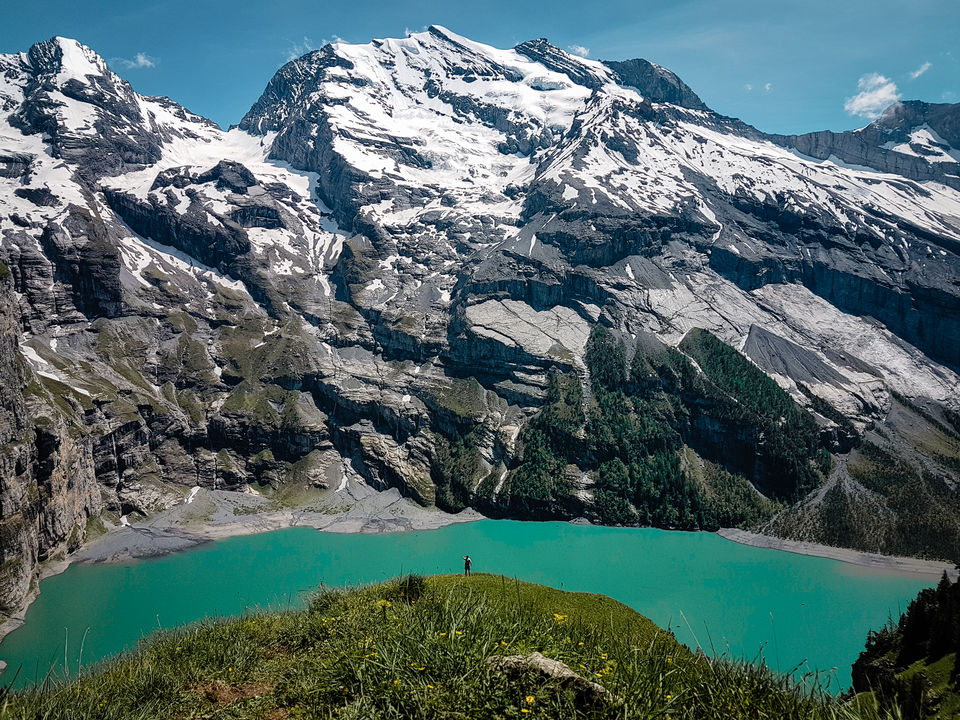 We reached a mountain hut where we refilled our bottles and continued. Soon after we slowly started to descend down towards the lake.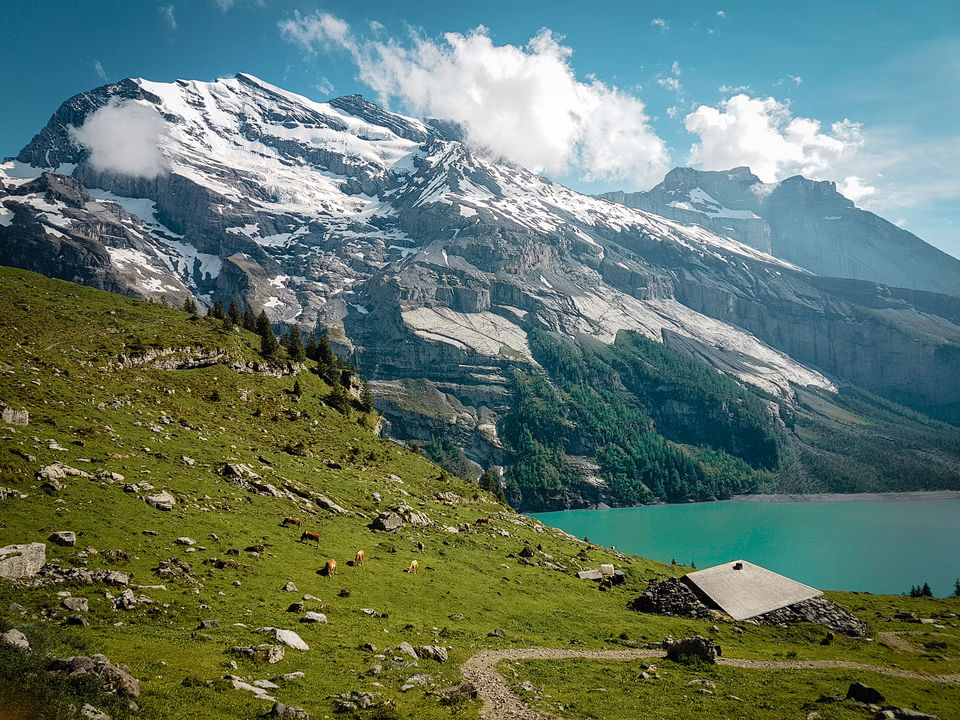 This hike took us around 4 hours. In case you had not made this route and had walked straight to the lake, I would suggest to walk along the left side of the lake towards the end of it and walk up a bit along the path shown in the above picture. The lake's colour becomes more apparent as one goes higher up. This would be a fairly easy walk.
One can enjoy boating in the lake and you will also see many people fishing, swimming or just relaxing by the lake. There is also a restaurant near the lake if you want to grab some Swiss specialities.
Be informed about the timings of the cable car as the last ride down is at 5 pm or 6 pm depending on the month in which you are visiting. Check the updated status here : https://www.kandersteg.ch/en/s/timetable-oeschinensee .
We obviously got enticed in the magic of the lake and missed the last cable car. So we walked down which took almost an hour. But we were so glad that we did this because we ran into this beautiful view on the way.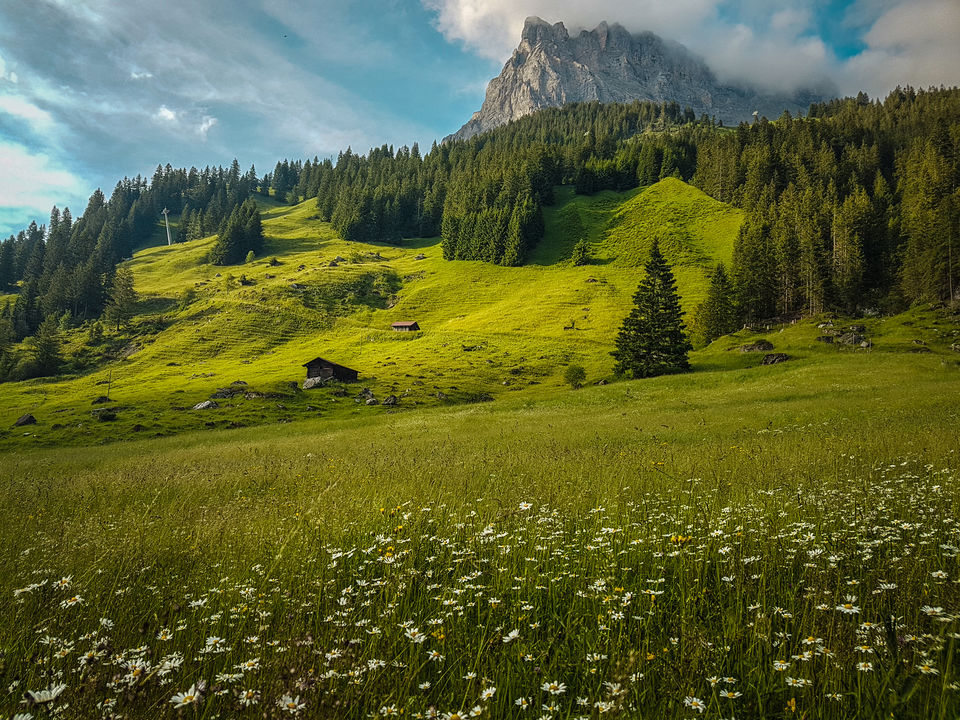 This place is getting more and more popular as it is easily reachable by train or car and offers everything that you would want on your Switzerland trip. Forgot to mention there is also an exciting mountain coaster from the cable car station to pump up your adrenaline. You can find more information here: https://www.oeschinensee.ch/en/
I have more pictures and want to share them with you. Have a look in our profile for a Photoblog from the place. Also, check out the photoblog of Blausee which is just an hour away from Oeschinensee with public transport. Though the lakes deserve themselves a day, if on a tight schedule, could be squeezed into a single day.
Also, follow us on instagram @ wetravelmiles for more stories from Switzerland.