When I get to know that I have to be Shift Chennai for some time, The feeling was like how the typical Vada Pav addict Mumbai Girl can be adjusted in Chennai. But the journey was quite interesting than imagine. The moment you Drop down at Chennai Airport,Get your Phone & book a cab. And start exploring the road till you reach your destination. You don't left any other option beyond this, because language takes the biggest part in Chennai. If you don't know Tamil, better learn it or better learn how to act to describe your needs.
Day by day, you will get habitual with these languages and even you do not even find when you started talking the word like ''ila, Ama.. Ma. Sound Superrrrrrrrrrr..! Strange But True ????
Places to Explore : (Specialty ) Chennai is the Sign of Colorful and simplicity. This is the city where you get all things to see, from devotion to adventures, all places are grabbed in entire City. Your concentration vanish within a second when you just looks Temples. If you want to explore the real magic of Colors,you must need to visit Chennai Temple. The way they worship and believe in god just splendid.
In Chennai,people are quite simple but yet they carried their tradition way in amazing manner. Education level is quite good. Anyways even if you don't know Tamil,they will either try to teach you or else they speak with you in English
IDLI CHATNI OR DOSA CHATNI +FILTER COFFEE, The best combination you can see anytime ,anywhere and in every Home.I Remember whenever I used to go to our neighbor whather at morning or evening ,whatever the time is, they only ask me one question, Hey had some dosai or coffee. So the point is Dosa and coffee you will get anytime in Chennai.
If you get a tamilian office-mates or neighbor ,you ask only one question.hey what's today in your Tiffin? the answer comes,sambar rice, curd rice, or lemon rice .That time you will get the feeling like you are playing KBC along with the 4 options ( obvious 4 different rice)
Chennai is the form of traditions. The miraculous sarees are the specialty of Chennai. T.Nagar is the best destination for shopping hub, along with that cotton road, puraswakam are quite popular spot for Shopping. You can try for street shopping at pondy bazaar (only If you know Tamil very well for bargaining).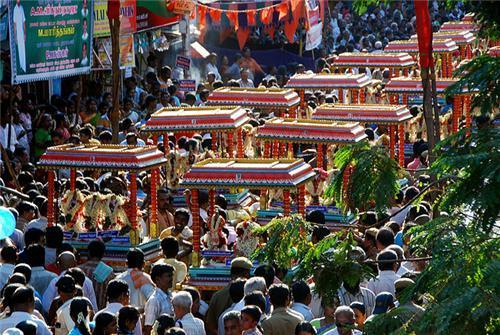 Pongal is the main festival celebrated in Chennai.Along with that Gokulashtmi, Dashera also celebrated with nice way. Rangolies are one of those factor which touch your soul,No matter whether you are entering a five star hotel or tiny hut you can see the rangoli outside without any-fail and that is quite impressing.
I think these are some quite enough guideline I share with you about Chennai.After all it's up to us on how to look on certain situation. If you started loving Chennai, even you don't understand when you will fall in love with this tradition.
So All the best and start exploring the things with your vision.