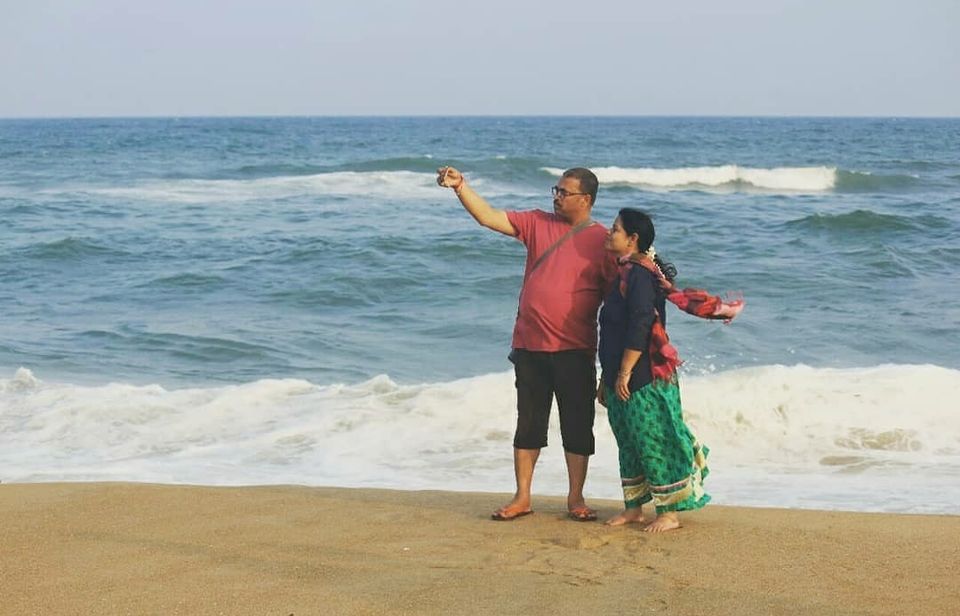 Nothing soothes the soul, like a walk on the beach. And Chennai is all about beaches, where I would love to spend my whole life because the ocean breeze puts my mind at ease. Life is so better at the beach. The cool breeze, salty air, sun-kissed hair makes you wonder more about your life. Beach is a place where you can keep all your problems aside and just relax.
I planned a trip to Tamil Nadu, to explore some of the major cities of southern India. The first destination was Chennai, where I had two days to roam and explore the city to its fullest. Because I am a beach person, I found out the 2 most popular beaches in Chennai: Marina beach and Elliot beach.
The first day of the trip started with the famous filter coffee of Chennai. I am a tea lover, but the coffee from that particular shop (sorry, I forgot the name) which is near to the Post office in T Nagar was awesome. Then we had an amazing south Indian lunch at Hotel Saravana Bhavan, near Egmore railway station. After having the lunch we asked waiter that how far is Marina beach and how can we reach there? He said its 5 km from here but don't go by autorickshaw, they will charge you around Rs. 200 unnecessarily. Instead, go by bus, it will drop you in just front of Marina beach, so he went inside and confirmed the bus no. We thought for a while and then decided to go by bus. So we took the bus no. 27C from bus stand, and believe me it was so comfortable and on the way, we saw many other things.
The Marina Beach is situated at the heart of the city and it is the main beach of Chennai. It is world's second longest beach and has many landmarks of Chennai. You will love the cool breeze once you reach the beach. There is a huge market of food especially seafood. And a lane full of shops with things made of shells which usually is always crowded. Mirrors, bags, show pieces, jewellery, etc are so alluring that you would stop at every shop to buy some or the other thing.
But it was quite hard to get a cab back from the beach to my hotel since it has many entries and the road outside the beach is so crowded that it gets difficult to direct the cab driver. And the biggest problem that we faced was the language. They couldn't understand Hindi or English properly and it was very challenging for us to understand Tamil. So, in that case, we used sign language.
Ohh! And don't forget to visit the Saravana Stores in T Nagar. It's a huge store with a wide variety of anything and everything you want in life. Be it clothes, footwear, cosmetics, general item, decoration item, fruits, veggies, etc. For women, it's a heaven where they can find everything they have ever dreamt of. My mom ended up buying 8 saris on the first day of our trip. We even had to buy a new bag to carry all of them back home. Also try Chennai's famous sweet, Mysore Pak and Pal Theretipal at Krishna Sweets.
Marina beach is beautiful but I personally liked the Elliot beach more. It is quite small as compared to Marina beach but is very calm and relaxing, away from unnecessary clamor. It was 13-14 km away from our hotel, so the first thought came to our mind was of a bus. Bingo! We had to wait for some time at the bus stand, as the bus no. 23C was of the long route, so it took time to reach our stop. But again the journey was pleasant.
We had so much fun on the beach. Also, I found a unique beverage, any guesses? No? So, as usual, a man was roaming on the beach with coffee. I called him and said give 2 coffees. He said madam its ginger coffee. I was awestruck when I heard that. I thought is it me who heard wrong or he mistakenly said wrong. I confirmed, is it ginger tea or coffee? He said no madam it's ginger coffee. I bought that out of curiosity to see what it tastes like. But it was no bad.
I actually enjoyed the Elliot beach because it was less crowded and we had our own space to play, walk, run and jump. Also, we saw the mesmerizing sunset. We had a real fun of enjoying on the beach.
I just wanted to lie down on the wet sand and feel the waves over my body. Ya, that's my way of relaxing. Beach looks more beautiful in the evening when cool breeze starts to flow when you are done with all your work and when there is less of noise on the beach. I wish if I could live near the sea to help my body to get the required vitamin sea. Cheers to beach hair, tan skin, flip-flop and sandy toes.
Chennai you are awesome will be back soon!
Frequent Searches Leading To This Page:-
tourist places in chennai around 100 kms, picnic spot in chennai, weekend getaways from coimbatore, things to do in chennai for kids, taj connemara chennai