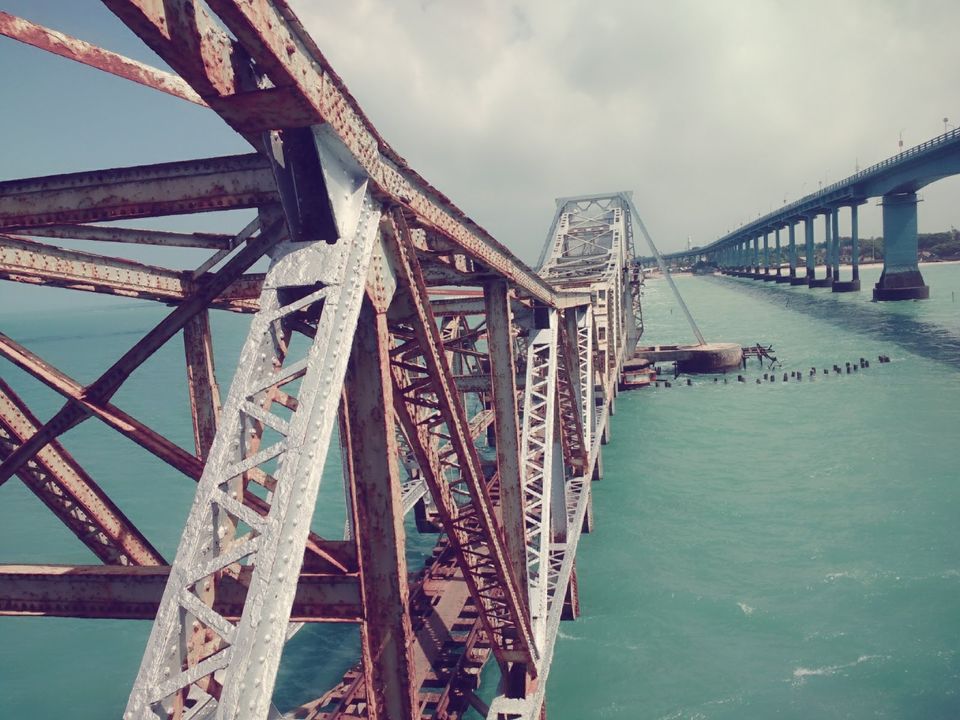 "Dare to live the life you have always wanted".
For the recent times, I have been designing my destiny in accordance to this phrase. I have been to many places and awaiting more of it.
Dhanushkodi is a small coastal village at the Gulf of Mannar, that was shattered by a cyclone in the year 1964. There has been a desire in me to visit this place for many days. It was during December when we were returning from Munnar via Madurai to Chennai. We booked our tickets in Vaigai Express. My friends left to catch up their Christmas Celebrations, I was into my next plan. It was almost 2.30 in the early morning, I then decided to make my trip to Dhanushkodi that was situated nearby.
That long awaited day arrived. I took bath at Madurai Railway Station and visited the Divine Madurai Meenakshi Amman Temple and had my breakfast after which I reached the M.G.R Bus Stand so called Mattuthavani Bus Stand , I then boarded the 1 to 1 bus towards Ramanathapuram from Madurai. I was fortunate to get a seat one next to the driver, which I always crave for. The journey started with atmost excitement. I initially planned to take a bus from Ramanathapuram to Rameswaram. As the bus was trotting over the bridge, the architectural beauty of it arrested my attention and drove me down in the next stop.That was Pamban, the beginning of Rameswaram Island where our former President Dr.A.P.J.Abdul Kalam was born.
The idea of building a bridge over Rameswaram Sea from Mandapam to Pamban was initiated during the British Rule that stretched along a distance of 2.3 km. It is credited as one of the most beautiful railway route in India. I did walk a distance over the Pamban Road Bridge and reached a small village of the fishermen community nearby.
There stood the Pamban Railway Bridge so majestically carrying the traces of happiness and sorrows. I could see children playing nearby the bridge and people moving over it. Just then, there came a rambling rail from the rail shed. I then had a selfie with it , after which I noticed a few native fishermen rushing towards the bridge. I asked one of those fishermen why they were running?
Our conversation goes this way,
"Enga Anna Poreenga?", I questioned.
"Paalam Thooka Pogudhu Thambi !", he answered.
"Naa Varlama Adha Pakka?" , again I questioned.
"Sari! Vaa da thambi", he said.
It was almost two exchanges that we had. He said that the bridge was about to lift. I asked if I could accompany him and "Yes" he said.
I felt myself floating on the handleless bridge over the turbulent waves. We reached the Pamban Bascule Bridge after a walk of over 200 m from one end of the bridge.
I who was initially under the assumption that they would lift the bridge with some kind of machine, got astouned to see the fishermen manually lifting the bridge by steering the iron rod strenously from side to side. Just then one of those brothers asked me to step up leaving my bags after which I had a casual chat with the people over there.
It was more than twenty fishermen lifting the bridge who came to work on contract basis for a pay of Rs.200. Its something similar to a part time job. The boats and ships crossing this bridge ought to pay for it.
There stood a "young" old man cheering the workers. The youngsters thus started the work as per the command of a higher officer. I caught those moments in my mobile till the memory got exhausted. It was such a fascinating view to see the parade of the boats on one side of the bridge. It was a stunning sight to see the boats galloping towards the Pamban Fishing Harbour.
There were people including some police officials standing on the road bridge witnessing the passing boats. Whereas I was admiring its motion standing above the Rail bridge itself. Some moments are not meant for all, experiencing such moments are out of expression. It was such an unforgettable encounter. I'm not sure if someone else, even got a chance to go through such an experience. But I have one that I can share with my friends. I then had a casual chat with the officer and left the place after thanking the brother who took me there. I then started my travel towards Dhanushkodi, that was termed unfit to be a human habitat.
"Life is either a daring adventure or nothing at all".
For more travel articles, visit http://dineshsdkkumar.blogspot.com/?m=1