Misadventures are the greatest adventures
- You know who
Day 0 - Mode Change
For a change I was to take bus this time, I don't know when was the last time I traveled by bus first up to start a trip. I don't think, I haven't whenever it was with friends. May be with family, that too only in dire urgency and only to home town. So in a way it was a different experience. Not that I was looking forward to. Trains are the best. Period. But still new is awesome, so wasn't a problem.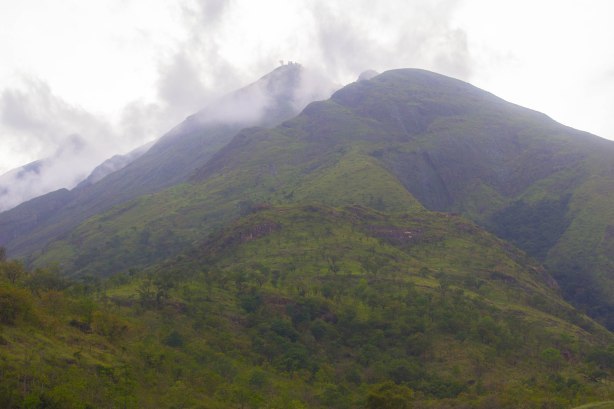 So the great game of leaving early, cajoling clients etc. happened throughout the day. Trust me, it's tougher than making Cersei accept to be your ally. But I've become a pro at that so it wasn't a thing to worry.
After getting to know that 3'o clock bus would go to CMBT, got there half an hour before, still it was crowded, it's a regular affair during long weekends and worst is when the driver refused to keep my big bag in front. So had to toggle around with it.
It took a good 2.5 hours to reach CMBT from office. Not that I complain. My bus is at 18:30 so to spend one hour wasn't a big deal. I thought of going late to CMBT by taking train but in the end this looked to be the best option.
My friend, Pandi called when I was in bus, we were supposed to meet. As usual he was late and it was a big mess around CMBT, each calling each other a number of times to locate. All thanks to him. By that time Siva had come and located where the bus would stop. For few moments sitting inside CMBT felt good as it was near my previous residence and I used to change bus frequently during my college times.
Once the mandatory tea was over with Pandi, I went inside and met with Siva who asked about my tonsured head. Then I had to change to trekking costume as the plan was to start trekking the very next day. Now, that was a herculean task. No, not trekking, but changing dress. If anyone had changed their dress in public toilet you'd know what I mean. That required certain specific skill like that of magician. The floor is wet, there would not be any holders, you won't have enough hands to hold everything and further you can't lean on even a single side of wall. So to come out of it, I felt exasperated.
Post that it wasn't a big deal, when we got on the bus, the driver asked where we were as he was calling our names, seems the bus was behind other buses. Anyways it's not because of us that the bus got late. The bus waited a good twenty minutes even after we boarded in which time I had a sweet savory from Tea Kadai. Don't know what's it called? Guess mutagose.
The 18:30 bus started at 19:00, not bad. The bus was quite comfortable and there wasn't as much traffic as I expected. But annoying thing was to go through the same route again. I was okay with the highway but Perungulathur to Mahindra City was annoying. Only happiness was seeing IT women waiting for bus. Also the smell of parotta, vadai, curry etc. was awesome. We asked the conductor whether they'd stop for dinner, as they acknowledged we didn't eat anything in the middle.
To pass time I watched Guardians of Galaxy Vol. 2 which was horrible, I haven't watched the first, which made it even worse. It was around 23:30 and they showed no signs of stopping so I slept and immediately at midnight they stopped in the worst restaurant in the stretch. Everything other than that were looking good. We were scared so we resorted to plain milk that too for twenty rupees per cup. Chips was thirty five rupees so we didn't feel like paying that much for it too. Everything else was scary. We slept immediately post that.
Day 1 - Misadventures, minute by minute
If only one could think that so many things could go wrong on a single day. Thinking back it looks like a long day. It sure was, I'm sure my friends would agree.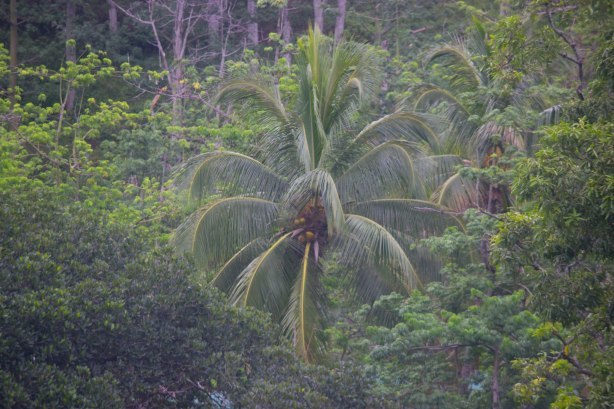 I got up at Theni and it was just half an hour drive from there to Bodi. Roads were awesome, so was the weather. The place was beautiful. We got down at Bodi and got to know that it'd take more than an hour for Mohan to come. He was coming from Bangalore to Theni. So we were lazing around, having tea, finding the best toilets etc. Then we decided to take a walk. We found a Saravana Bhavan which serves non veg. Irony with a capital I. Then we went along the Bazaar Street and found a good Veg Restaurant in the name of Raj Bhavan. We waited opposite to that restaurant for Mohan. In the meantime I inquired where we can have good non veg food from the flower seller opposite the restaurant. He recommended Karuna Hotel. 'Arumaya Seivanga' was his comment.
Once Mohan came we had a feast at Raj Bhavan. We all were very hungry so everyone had two rounds of food. It was amazing. South is the best place to travel as the food would be amazing and to my taste. While eating Mohan told an interesting story. He seemed to have boarded a running bus from Theni to Bodi with huge luggage (Both of us were carrying tents in our bag). One person in bus seemed to have asked him why he was getting on running bus and after inquiring his whereabouts he seemed to have given seat. "Oh Chennai ah... ukarunga..." After sitting Mohan had noticed that person had a Billhook (Arival*) inside his shirt. That story was hilarious.
Post breakfast we filled our water bottles, Mohan bought a water bottle, I don't know why, and we went to Bodi to take bus to Kurangani. We got to know that for bus we need to wait a good 1.5 hours so decided for auto. One guy said it's the same twenty rupees for share auto. So we decided we'd go in that. Meanwhile Mohan who so intently was searching only for Kissan jam bought Lion Dates jam.
When we inquired auto to Kurangani, he said two hundred rupees, we asked another one, and he said fifty extra. We thought we were cheated and settled for two hundred rupees. In auto it was good to catch up with travel and other stories of other mates. But Mohan was providing too much details and talking about money. That's a bad thing to do in an Auto. The auto went on and on, only then it felt like the two hundred was worth it.
Ok, so this is where the tables turn. As soon as we got down, we asked the auto driver and another person sitting in driver's seat about the way to Kolukkumalai. They both showed a way in which we went and there was a security guard sitting there who inquired our whereabouts and said it was two hundred ticket per head which I thought we could have bargained as he gave only two tickets in the end. That thought didn't occur to me. After getting the money his whole persona got changed, he was very sweet and showed us the start of way. In the meantime Mohan met his old college mate and they exchanged pleasantries.
We started off in the way he said, and like he said there was a water catchment area, from there he asked us to go straight up to a Jack Fruit tree and Old Building. That straight up wasn't clear, we initially went through some path which was steep and not well trodden. Siva even at the hint of non-green area said that he had seen a trail. Seeing the peak we went in that direction for some time. But the path only got worse and risky after a point of time. Mohan got fed up and said he lost confidence. We went down and asked an old lady about the way, she told something and when I asked whether there is a road there, she said yes, then I told her we wanted to go through forest and mentioned what the forest officer told us. Then her husband asked us to proceed in the way we knew. I think he was fed up.
We went to the same point and this time we went to a place where there was a gate and the trail was clear. We went a long way along that point. The forest officer had told that there would be a depleted building along the way. There was a house there, we thought that was it and we were in correct path but only after going certain distance we saw another house from where a watchman shooed us away.
He asked where were we from, what brought us here, why do we want to climb jungle, people of forests might come hunt us, security dogs will come for us etc. etc. So disappointed we returned back. We thought we'd go tell the forest officer, what happened, but on return we didn't find him so we went further down for lunch. Only one place was open which served the last of Lemon Rice they had. The Chutney was amazing. To have any food after a trek is amazing. We also bargained a 900 rupee room for 700 and stayed in it. It was a reasonable accommodation.
Once we checked in, we went for a bath in the catchment area which felt great and refreshing, I washed my quick dry's as well, one big advantage of it. Back to the room, Mohan slept and Siva started watching series, I didn't want to sleep so I didn't have anything else to do other than to shoot pictures so shot some decent pictures from terrace.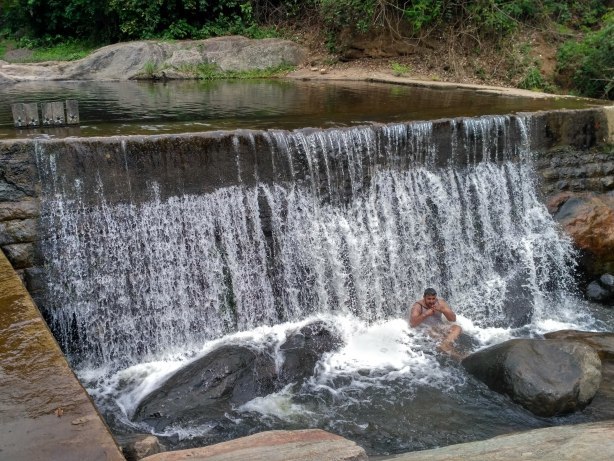 Once it was evening we went for tea and in some time for dinner. Dinner was not yet prepared by them at 7 PM. We waited there. As it was Vinayakar Chaturthi we got Pori and Kadalai as starters and then gobbled up dosas and omelets in frenzy.
It was a disastrous day alright but that's what adventure is all about. Going by an organization, everything getting done by them, nothing to explore and nothing to learn. What's the thrill in that. We failed but it was fun failing.
Day 2 - Of Sun, Air and Unexpected Luxury
We started the day early. I got up at 5:30 AM for Siva's alarm even though mine ringed late at 6 AM. This is the routine. I wake up to the first alarm that rings but it'd definitely not be mine. I tell people not to set up alarm before mine but it doesn't happen. Immediately after getting up, we went to tea shop so that we can carry forward with the morning ablutions with ease, if you know what I mean. That was quite a success. We followed it up with breakfast of Idly, Vada and Onion Chutney prepared live in front of us, helped by us and served in lotus leaf. Now that was a first. Don't think it'd have happened if we had come with an organization.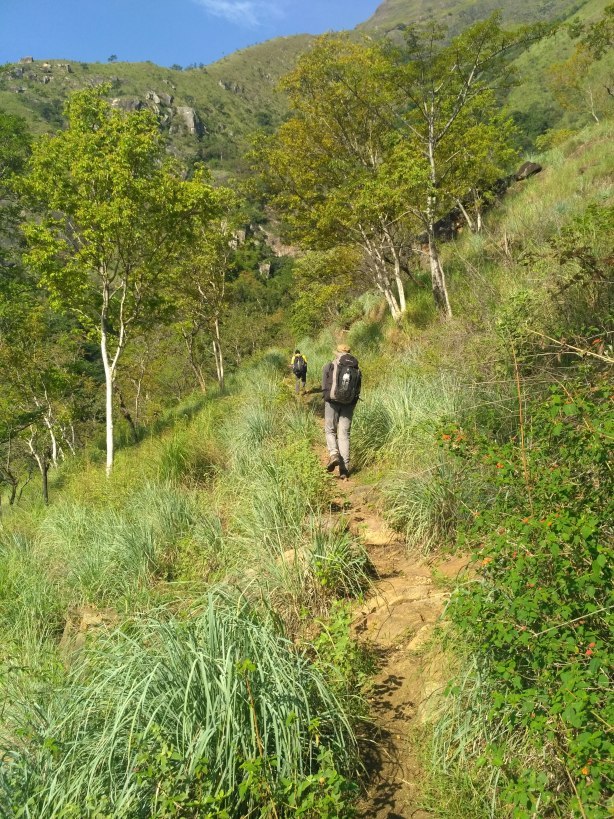 Post settling bill, morning ablutions part two happened and there was a sense of fulfillment in all of our faces. We started off and went in the path everyone suggested. First identification was a water tank, post that we had locals walking with us for some time till a rock, we were asked to go right from that but there was no real path on right. We learnt out lessons. We followed the straight path up where the trail was clear. Everyone who had gone with guide are going to tell that there is only one path because we don't see anything other than what we are asked to walk along, but when you go on your own you never know which is right and wrong.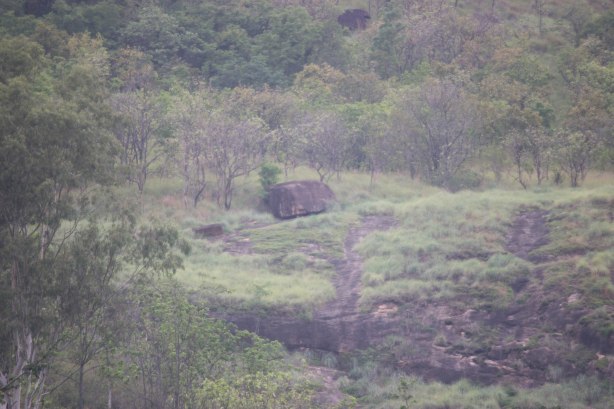 My bag was too heavy and I felt it that way this time. Sun was scorching, the previous day would have been better to trek but some things are not meant to happen. We thought the zig zag path was only for an hour or so but almost the entire path was a zig zag one till Kolukkumalai. Someone in blog had posted a wrong photo of another zig zag path that lead to the whole confusion. If you're not providing the right details its fine but don't spread the wrong ones.
After few hours we reached the lone tree (othae maram), that was a great place to rest. We got few good photos as well. To finalize the trail we went on the right hand side once but it wasn't the correct one so we took the one going up. Sun was getting harsh so even to wait we were not getting any shade. I loved the moment where in a small shade we three sat and looked at mountains without talking anything. If someone sees, how funny it'd have looked. We spotted an eagle and waited there for some time looking at that.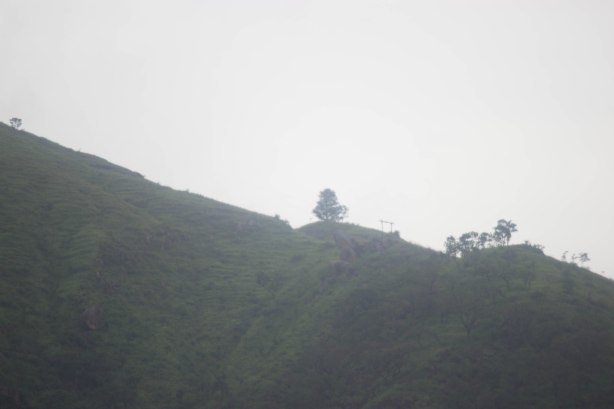 Post this, the breaks became frequent but we somehow entered the forest area and when I was about to feel relived I saw a forest pig cross me quickly. That was scary. It was really fast. I didn't tell about it to others and want them to panic. But that was the exact moment Mohan was stopping for some reason. Somehow we hurried and went for some distance. Siva got a cramp. We started having Glucose from then which felt good. Post that the pain was annoying him for some time. Luckily it didn't last long and he was able to speed up, in fact sped up faster than any of us in the last stretch. Less baggage also being an added advantage.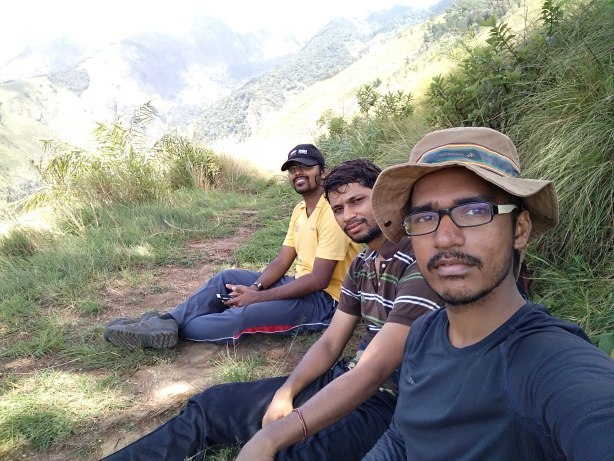 Post the forest stretch two village temples of Iyyanar and Kali welcomed us. It was a great place for the gods and us. We saw the tea estate and tents in few minutes after we got freshened up there. We went to have tea. Had the first of the many amazing teas. Felt great. We were asking about where to pitch tents. The tea maker told there is a place.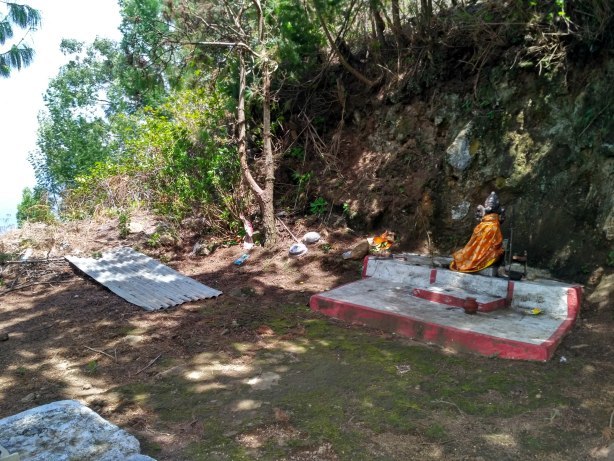 Our happiness lasted only few minutes, before the caretaker of the estate said that no camping was allowed. The only option was to opt for food plus stay for rupees Rs. 1600. We couldn't bargain much. We settled for Rs. 1400 per head as we didn't have any option.
I was pissed for a long time. We were fed great. Rice, sambar, rasam, beef curry, chicken fry, cabbage, papad and pickle. And all the while we were thinking where we were going to eat our bread and cheese. Now how's that for lunch. I was still regretting to have paid so much even though we were treated well because it's not that we wanted.
It started getting windy and cold then. For the first time I wore thermal wear for a trek in South India. Tents took a long time to materialize. We opted for a three man tent for us so that it'd be warm and a two man tent to keep the bags. The guy who came with tents went away after setting up the three man tent.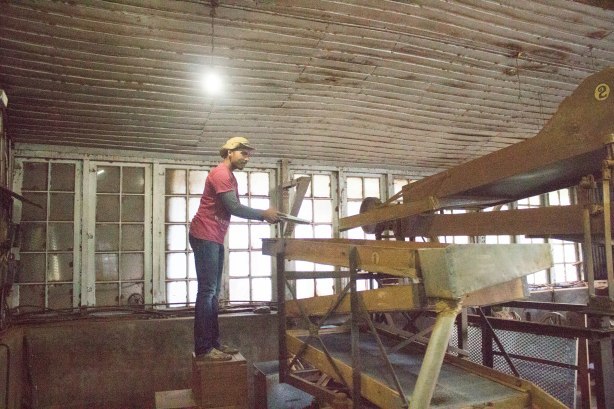 After waiting for a couple of hours we went to have tea who didn't take money from us as we were staying there and then tea factory, which was a good experience. Staffs there were happy to explain and very humble. No one were after money. We clicked a few good photos and watched what Kodaikanal peak was. It was a good evening.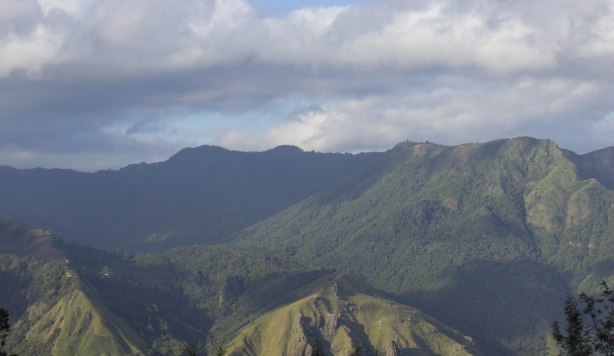 After we returned to room we saw that the two man tent was still not set up. Mohan and Siva set it up. We got Gobi Pakoda and Bajji with Coconut Chutney as snack. For the next couple of hours we rested there talking about various trips and stuffs and then went for camp fire which again was amazing. By this time I started loving the place and didn't feel bad about spending Rs. 1400. Part of it was due the fact we got sleeping mat and sleeping bag around that time. For dinner we had Chapatti with Egg Curry and fruit custard as desert. I asked whether they had any beef remaining. The kitchen staff was shocked. Only then I got to know what we ate was mutton and not beef. But I'm sure it was not mutton. I've never had such hard mutton, if it's one. It was amazing.
We had a sound sleep even though it drizzled and winds were heavy all through the night.
Day 3 - Task Incomplete
We got up at 5 AM and started for the trek. Siva wanted to go from the path behind tent. It was not visible and we didn't want to risk. So we took the road and started walking. Had a black tea in the 'hotel' above. It was windy and misty all throughout. It got bright in sometime. There were few ascents but it was walkable. We had doubts about the path every now and then.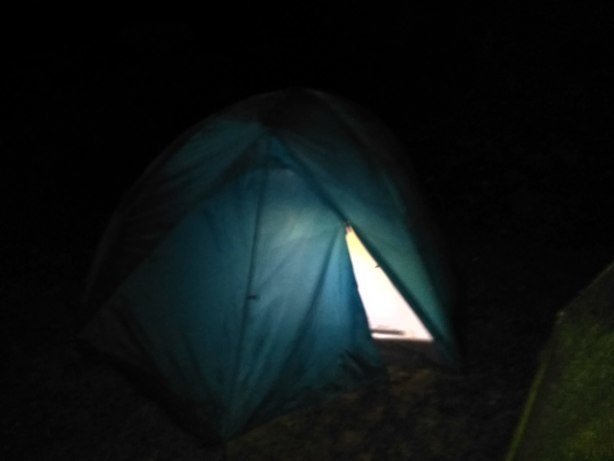 We then reached a point where there was absolutely no visibility and winds were heavy. So we returned back to a point where we saw another gang going that way. We told the way is not goable and they went in another path. We went in that path for a while and returned back thinking it'd not be the right way.
Mohan and I had heated arguments about the right path. Map showed a different path. I was saying it'd be the path around the mountains, he was saying otherwise. He was also telling that he had seen videos with so much mist and wind. I haven't. I don't generally watch videos. In whatever blog I read, nowhere it was written about the winds or mist.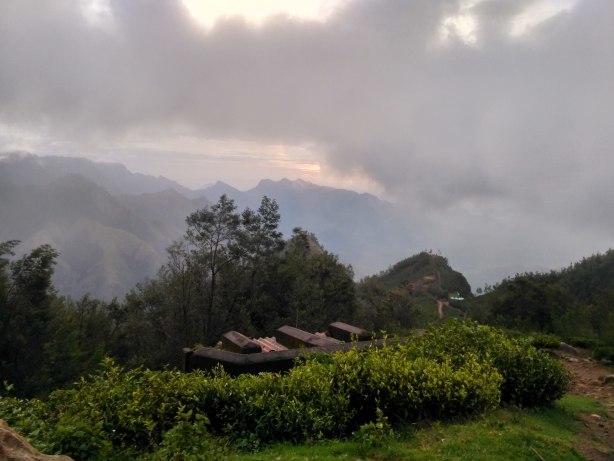 So while coming down dejectedly we saw another group climbing. Two travelers and their driver. He was a charming man. He told that the path we went was right. Prasobh who was using tripod as walking stick called us to accompany him. When we told about our plans to walk back to Kolukkumalai, he discussed with their driver that we could join in their jeep. I got really happy.
We accompanied them again to the peak to see if it was possible to climb. We went to the same point and few steps beyond that but the wind was unbearable. Prasobh and co too realized that. We went till the Tamil Nadu - Kerala border, Durai, the jeep driver told that stepping beyond that could end up fatal so we had to return back without even seeing the Meesapulimala peak. But at least now I was not that depressed. I knew at least that what we did till then was right. So I can plan properly when I go the next time. By the time I came back to the border I decided that I'd be doing this again during Dec 30 - 31 weekend, later this year.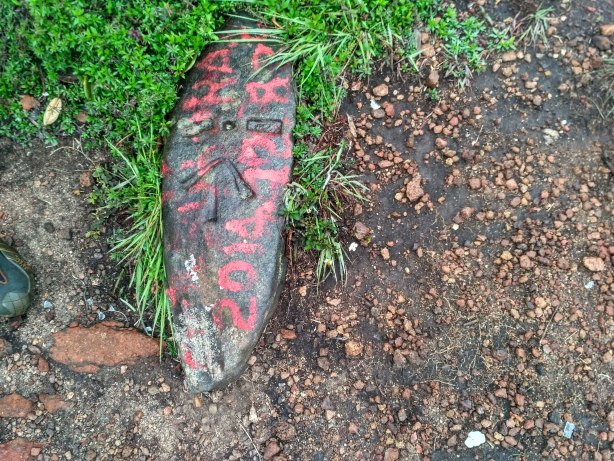 We raced back to our place so that we can finish packing and have breakfast. We had Kal Dosa, Puttu, Pazam and Kadalai Curry. Everything was so freaking awesome. Pazam especially. Keralities have the knack of making it. We gobbled up and headed back to tea shop with our bags to meet with them but we couldn't spot them. Luckily we got Durai's no. and called them from someone's mobile there. We were asked to come to another tea shop, called the 'restaurant'. That was quite far so were disappointed but luckily we met them after one short hike, which felt great.
We got on the jeep and went on for a long journey discussing Nivin Pauly, DQ, Fahad Fazil, Sivakarthikeyan, Velaikaran, Premam, Angamaly Diaries, Monsoon Mangoes etc. One good thing about watching other language movies is this. It'd be an easy ice breaker. The driver first dropped them at their place, which was great and then to a Power House, where we'd get bus. Nice of them to have given us free ride. We only had to pay two hundred rupees to the driver for the last stretch.
It started raining, the place was heavenly with mist. A bus to Theni came but we missed because of wrong information from the people standing there. We then shifted to the bus stop opposite it where we could get shade. We got a Kerala bus. We had to wait for a good one hour to get that bus but locals said that to be the most comfortable one. Tamil Nadu bus according to them are not comfortable.
In the meantime... there was a person who was knowing everyone in that area and talking multiple languages and knowing when what bus would be coming. He also told how that part was converted to Kerala during some government. It was fun listening to him. Perks of going in public bus.
We finally got the bus which was super crowded. I went to the last row and stood. Others were in front. After struggling for about an hour I got a seat and even slept till they stopped for tea break. I was so damn hungry and I had Sweet Bonda, Salt Bonda and Tea. All was great.
From there to Theni it was still a long journey. Unluckily Mohan and Siva hadn't got a seat. Siva could sleep while standing. Mohan was struggling more. Both got seats only during Bodi. From there it was just half an hour journey. I inquired for good non veg restaurant from a local who was standing near me. He suggested 'Hotel Vaigai' near Old Bus stand - Theni but we couldn't go there as our bus was from new bus stand. That bus stand was the worst bus stand I've ever been to.
After getting down I asked about the option to go back to Vaigai Hotel but Siva said, "No more travel" and Mohan was tired and hungry. I could see it in the way he galloped food in the restaurant. I too could have had then but I didn't want to feel hungry till later part of the day. So waited till 7 PM for dinner. Thanks to Siva for hotspot which kept me engaged with last three days messages till 7 PM. Mohan had to go to Old Bus Stand for his private bus. We parted ways. Siva and I went back to same restaurant.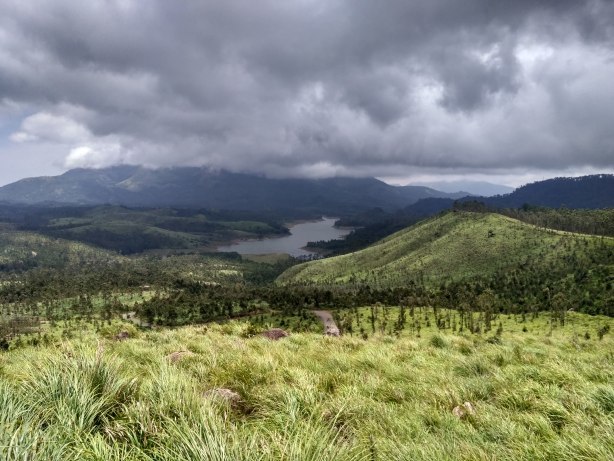 I had Mushroom Parotta, in Tamil it sounds lot more tangy, Kaalan Parotta. Siva had Idiyappam first and Ghee Roast next as per my suggestion. Kaalan Parotta was actually a mistake. I shouldn't have had something with so much masala but this again was a trip which went without drinks so at least this much.
The bus took a long time to come. Again hotspot. Mohan went to the Old Bus Stand by walk. It was the right thing to do to kill time. After he boarded the bus, within minutes I slept off. In fact both of us were controlling our sleep so that we could sleep sound in bus.
Day 4 - Monday Morning Blues
If that day being a Monday was not bad enough, being a Monday after long holiday was even worse. The bus guy was loading passengers. He even took people at Tindivanam so there was no place to even stand. But it wasn't as tough to get down as I imagined. I luckily had two more people getting down at Mahindra City and none anywhere near. I was skeptical whether he'd stop there but nowadays everyone knows Mahindra City. I got free bus to office and logged in early avoiding the huge traffic jam which was post Mahindra City. Luck me!
*P.S: There is an English word called Arival for our Aruva. Never new before. Got it while trying to google for the right English word for Aruva.