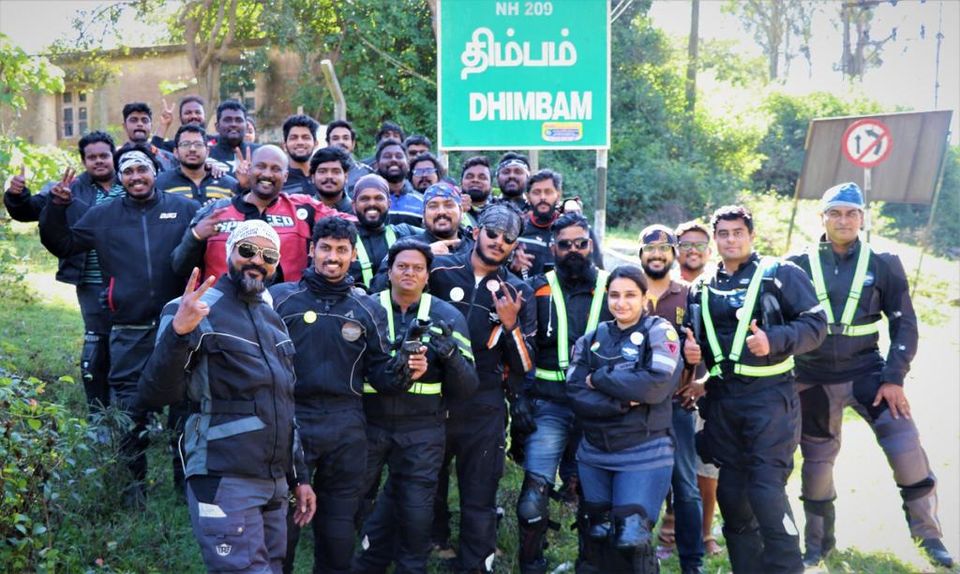 Dhimbam hills is a 14km ghat road located close to Eastern Ghats extends from Bannari Amman temple to Dhimbam is a part of NH948 cutting across Satyamangalam Wildlife Sancutuary. There are 27 hair pin bends.
Yes! This time this amazing place is chosen as our ride destination by
Chennai Royal Riders Motorcycle Club(CRR)
26 RE Riders & 3 families were all set to make Dhimbam memories with CRR.
The trip was well planned ahead and since there was Nivar storm at Chennai, climatic conditions throughout our path ahead was well monitored and notified before starting the trip. Thankfully climatic situations are favourable and we were ready to start the trip.
Waering all safety gears are must before every ride as safety measures are at first place and thats the best part of any ride with CRR team.
Thu, November 26, 2020 - Day#1 Night Ride
Personally I enjoy night rides a lot because they are much peaceful.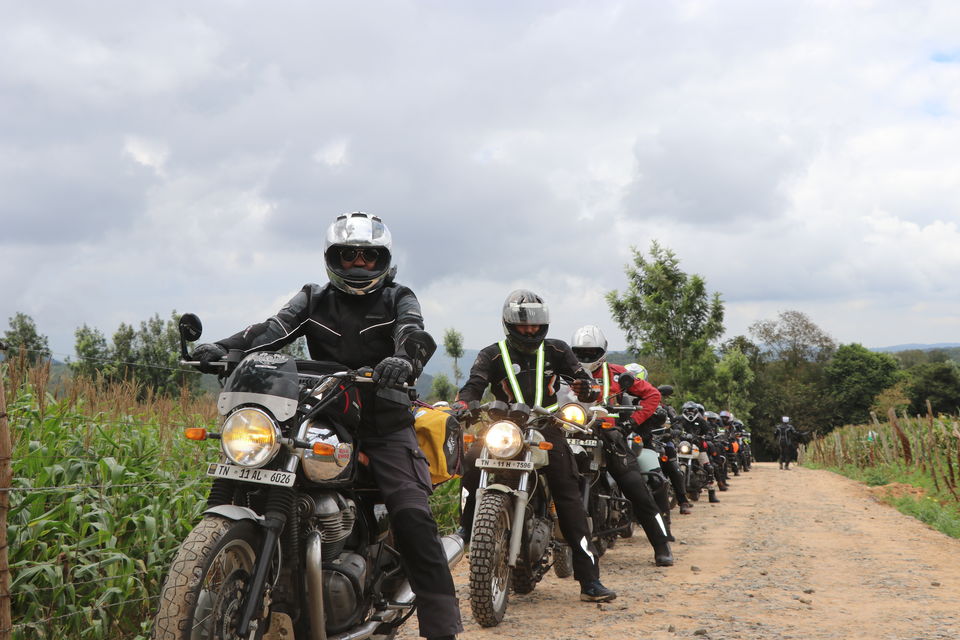 6:30 PM Kick off - Started my RE beast to experience the much awaited Dhimbam trip with my favourite CRR team! Now wear your helmets and fasten your gears to experience the CRR ride with Yuvi !
7:00 PM Assembly Point - I reached the assembly point - Sangeetha Hotel, Perungulathur. Assembly point location information and route map will be shared ahead of the ride. For me assembly points are special because that is where I get new buddies. Happy to meet everyone!
8:00 PM Send off - Send off is a regular CRR ceremony where many riders visit us to give a warm bye bye! One special person to mention is @Jose Antony Bro. I met him during my first long ride and he shared lots of riding tips since I was first time rider . Today I'm happy to meet him for second time. He is a experienced senior rider and shared safety tips on driving during rain. Thanks Bro. @Vijay Bro came for our send off this time. Thanks bro. Also many thanks to @Krishna Kumar Bro for bringing sweet surprise cakes & snacks to send us off!
9:00 PM Ride Starts… - After having a light dinner @Sangeetha Hotel we are ready to start the ride. Before starting every ride Captain Moses Bro shares the safety guidelines to be followed throughout the ride and announces sweep and tail. If you wonder what is sweep and tail, let me explain you, Every CRR ride follows a special pattern to ensure maximum safety. Captain Moses Bro will be in front , the Navigator( @Dinesh Bro) to show us the path, the sweep ( @Dinesh Bro & @ Krish Bro ) at middle to ensure all riders are at proper line and no overtaking is done. Also in case of any emergency you can notify to Sweep. The Tail (Me) is the last rider in every ride and ensures no one is let behind and everyone ahead is safe going.
This is the second time I'm being Tail Rider in CRR and feeling highly privileged and responsible of having got a chance to take care of fellow rider's safety! Thanks to Captain for entrusting me with this role.
10:00 PM Chengalpattu Joiners - Few riders joined us from Chengalpattu toll and the ride continues…
2:30 AM Natpu joining at Kallakurichi - @Sakthi Bro and @Velu Bro joined the ride at Kallakurichi ! Welcome Natpe :)
3:30 AM Salem break - Paused for another tea break after riding 110km. The highway roads are pretty smooth and no impacts due to rain which made the ride enjoyable!
__________________________________________________________________
Fri, November 27, 2020 - Day#2 Reaching Dhimbam
Petrol Bunk Sambhavam - Early morning we reached Erode and stopped for filling petrol. That is when suddenly @Vinoth Bro shouted that diesel is being filled in Rodney Samuel bro's bike accidentally instead of petrol by bunk person. That moment was so crucial and I was suprised by the immediate action taken by CRR team. Captain Moses Bro, Vinoth Bro, Krish Bro, Vijay Bro drained the diesel from tank and disassembled the tank from bike. After complete draining, petrol is filled back and bike was test drived. This incident clearly proves that we are prepared for the unexpected! #wearecrr

After which we relaxed in a tea break!
Reaching Dhimbam - By morning 10 clock we reached our destination. Checked in to Eastern Ghats Resort @Satyamangalam, Hasanur Village. Pretty tired after the long ride and also felt hungry. The aroma of Idli, Dosai, Omlette, Goat Boti gravy & fry was inviting us for a tight breakfast and after which I took a short nap to refresh myself. Thanks to Moses Bro bro for his special care on each and everyone. He always ensures the comfort of riders.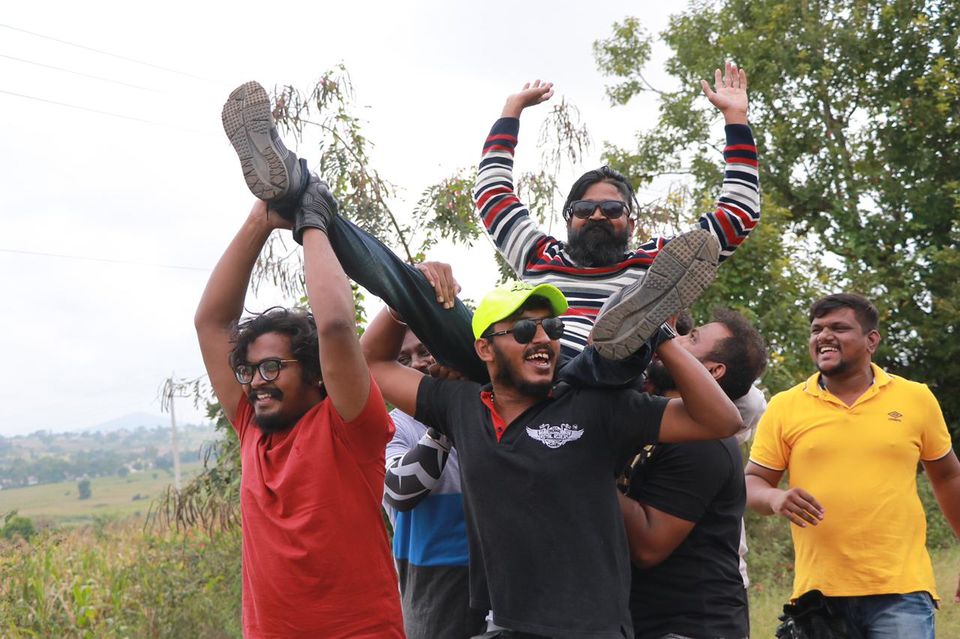 If your day is smooth like this, then I would say you don't have people called "FRIENDS" in your life :) My Natpu Sakthi Bro created a sambhavam at checkin which turned my eyes red that time and now while writing, memories makes me smile :) He kept a red chilli in my mouth saying it was a sweet .. an I believed him! That's it.. couldn't stop tears in my eyes :) Aanandha Kanneer. Thanks Natpe. Wait for my revenge in next trip :) !!
Street Cricket - By mid noon Sudhar Bro & me started the idea of playing cricket. And soon many of them joined us. We didn't know that this is going to be so much fun. 1 pitch catch, no runing for runs, not accepting out.. we totally become kids once again. No strict cricket rules followed but it was total fun time. That was a perfect Street cricket I played with lots of happiness after a very long time in my life!! Thanks CRR.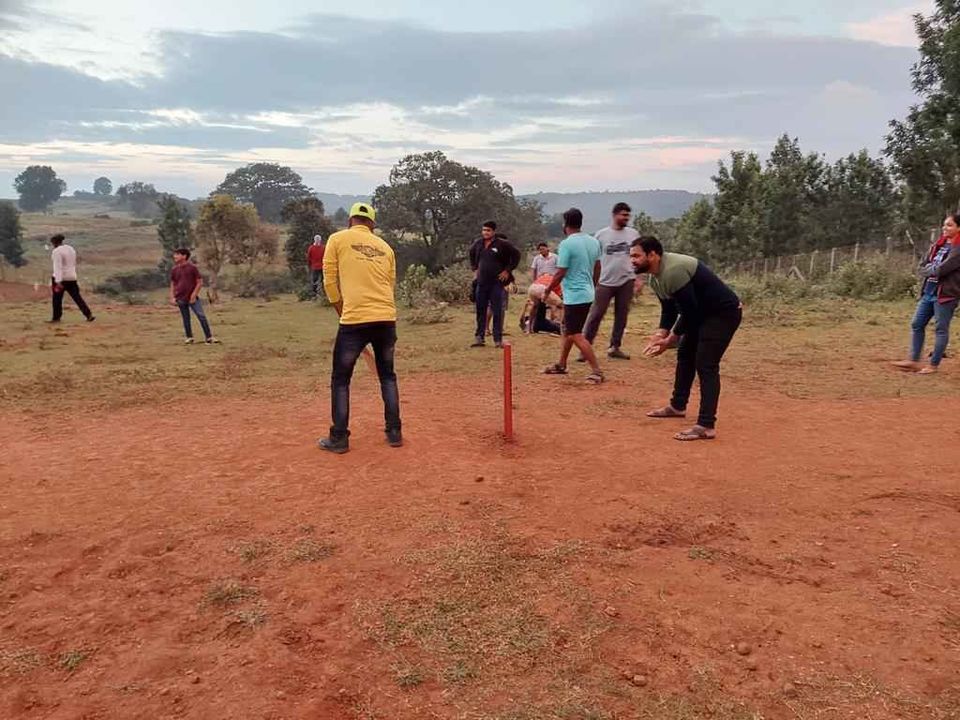 Adevnture Ride - The most favourite part of my trip is the 30km adventurous drive in wildlife sanctuary road. This area is protected Tiger Reserve. Imagine driving in a 10 feet road in a chill(11 deg C) evening with Tigers & Leopards around. It was 4:30 evening when we started this ride and though we didn't spot any wildlife during our ride, it was extremely thrilling experience!! Photographs and site seeing are not allowed in this road. We stopped at Karnataka Checkpost and had a chai break before returning.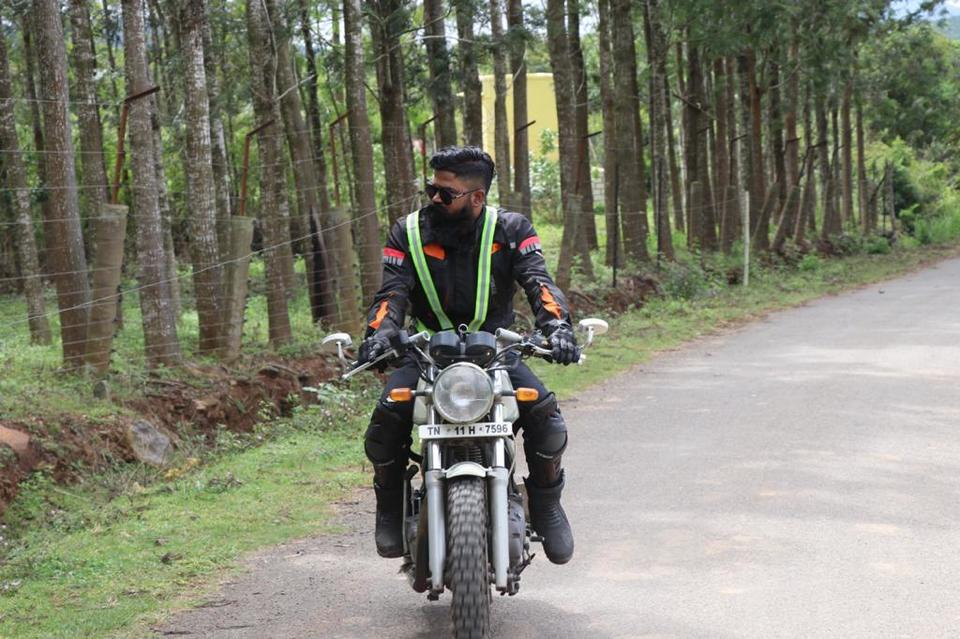 Camp fire - On a 12 degree celcius chill night at Dhimbam hills, camp fire is a default requirement. But what makes the camp fire moments special is CRR team and fun we had! @Velu Bro joined me to start a lungi dance :) and very soon all buddies started mingling with us for dancing. Thanks to DJ @Vijay Bro. And as usual asweome singing by @Vinoth Bro. Chill night..camp fire…Singing..dancing..lots of smiles..lots of happiness..priceless memories! In life, everyone needs to experience some refreshing happy trip like this !!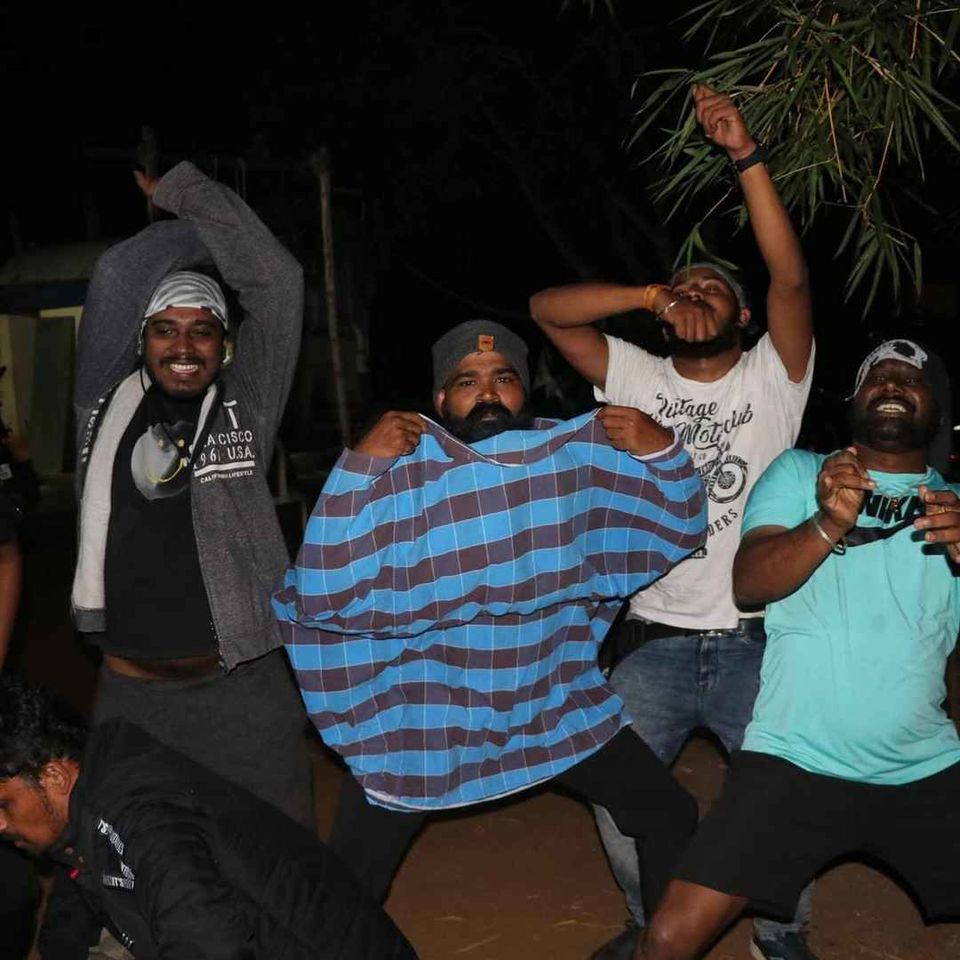 And I should not forget to mention the tasty dinner provided at resort, Dosai and Chicken gravy (I am an non-veggie person. Veg option was also available)
Hut House - After the camp fire few of us didn't feel like sleeping, so we walked to explore the nearby farmland inside the resort limit. We found a hut house in mid of farmland. We decided to spend few moments there. It was thrilling experience. If someone heard "Thendral vanthu theedum bothu enna vannamo…" at midnight from a farmland.. yess it's us :) we were happily singing… @Vinoth Bro, @Uday Bro, @Arvind Bro, @Rajkamal Bro, @Arun Bro!! Amazing time spent with my CRR Bro's.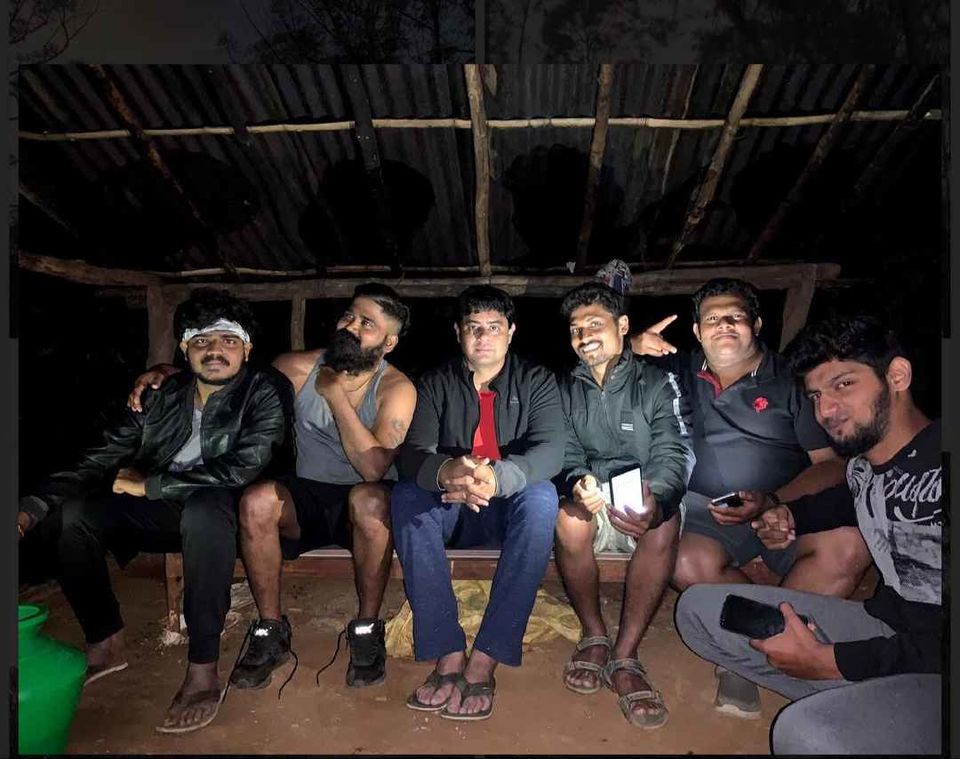 _________________________________________________________________
Sat, November 28, 2020 - Day#3 Tibetian Village
Bylakuppe is an area in Karnataka which is one of the Tibetan Settlement in India. We can know th Tibetian Culture by visiting this place. Golden Temple (Namdroling Monastery) is a main tourist attraction. But due to COVID situations this temple is not open for tourist visit now.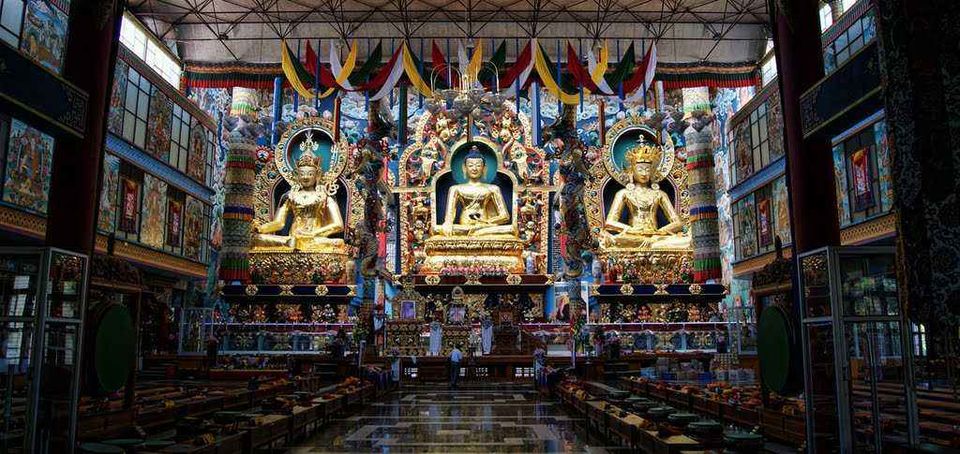 Waking by watching the beautiful hill view from Eastern Ghats Resort we started our serene day 3 @Dhimbam.
Tasty Poori & Kitchadi were ready for breakfast and after completing we started our ride to Bylakuppe Tibetian Monastry Golden Temple. But unfortunately tourist are not allowed due to covid and so we turned the road into our photoshoot spot!
Back to our resort, fish gravy & fish fry meal was so satisfying and we started our cricket time!
Today's camp fire moments were also too special because we had families dancing today! Krish Bro prepared tawa beef for us and resort chef had barbeque chicken!
What more is needed ?!! Tummy filling yummy pre-dinner crunchies we had and danced for few DJ songs. This time we made Captain Moses Bro dance with us!
Even today we walked to the same hut house in middle of farmland and had a nice singing experience. But this time after we returned we got to know that the hut house is not only our favourite spot but also favourite spot for leopards. Thank god we are alive :)
We are nearly at end of our trip and need to have a good sleep before our return ride.
________________________________________________________________
Sun, November 29, 2020 - Day#4 Bye Bye Dhimbham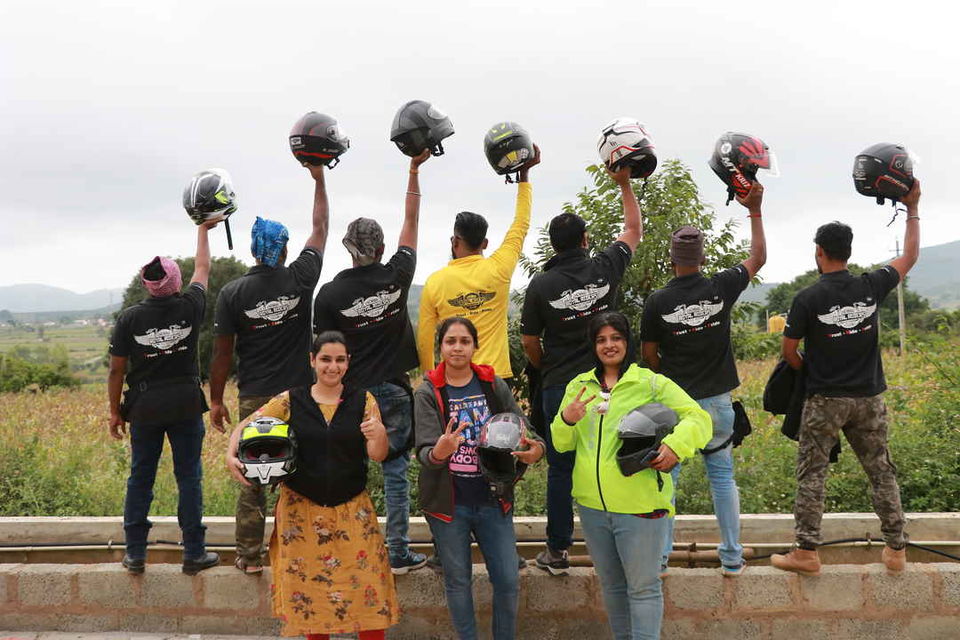 Chill climate and warm blanket made us oversleep until @Anto Bro woke us up for checkout. We had a tasty Lemon rice & chappathi/Tomato chutney for breakfast and started packing things.
Also, checked my bike for the return ride. Around 12 PM noon we checked out resort and started our return ride.
Here at Dhabba we had a relaxing evening and new comers to CRR were explaining their experience! By this time I dont feel anyone as new because already we made lots of memories together in trip. #crrgang
2:00 PM Gopichettipalayam RE service center - few bikes who needed assistance were sent for a quick service in RE service center and others were having a tea break.
4:00PM Salem Dhabba - Return ride lunch was awesome at a highway dhabba hotel in Salem where we had chicken rice, Mutta Keema, Garlic butter naan, Special Chichken gravy, curd rice.
10:00 PM Aathur tea break - we took a small break at Aathur and had our tea. At Kallakuruchi, Sakthi Bro departed.
12:00 AM Vizhupuram break- Riding at an average speed of 100kmph we paused for our first tea break after 100km ride. Nice refreshing break it was !!
1:30 AM Vizhupuram Puncture - Suddenly while riding I realised that my bike is wobbling in road..uff its a puncture :( I didnt carry any spare or tools with me and I am the last person in the ride. For a minute I felt lost with punctured bike at 2 Am in a highway with no team member. Immediately I called Captain Moses bro and informed about my breakdown. He asked me not to panic and sent Uday Bro and Vinoth Bro for my help. Meanwhile Anto Bro reached my location and stayed near me. Uday Bro tried to pump some air in my bike tyre but of no help so he found a local puncture shop in google and went to the shop location to get some help.
Meanwhile Captain Moses Bro and Krish Bro arrived with tubes and tools.Also Uday Bro arrived with bike mechanic person @3AM. Fastly puncture is corrected and we are ready to resume ride at around 4AM.
This incident is very toucing one for me because besides being tired themselves in a long ride everyone helped me to reach home. Special thanks to all those who helped me in my most needy time.
7AM Reached home.
Special Mentions:
Eastern Ghat Resort owners (Muthu & his wife)
Eastern Ghat Resort Chef (Saami Master & his team for the tasty food and kind serving)
Women Rider - Ashwini Sister is a perfect inspiration to all girls out there who are passionate about driving. Her passion was so evident in her ride and happy to see her husband's support and care.
Send off riders - Joe Anthony ,Krishna kumar, Vijay. Thanks for your sweet tips & cake.
Photographs - Anto Vijinth, Sakthi, Arun, Vinoth
Captain Moses - special thanks for choosing this beautiful location and organising this trip with lots of care on each and every rider
Special thanks to Sweep (Dinesh, Krish)
Tons of thanks to Moses Bro,Uday Bro, Vinoth Bro, Anto Bro, Krish Bro for being with me during the unexpected breakdown.
Making memories with CRR . With lots of love, Yuvi. #weareCRR