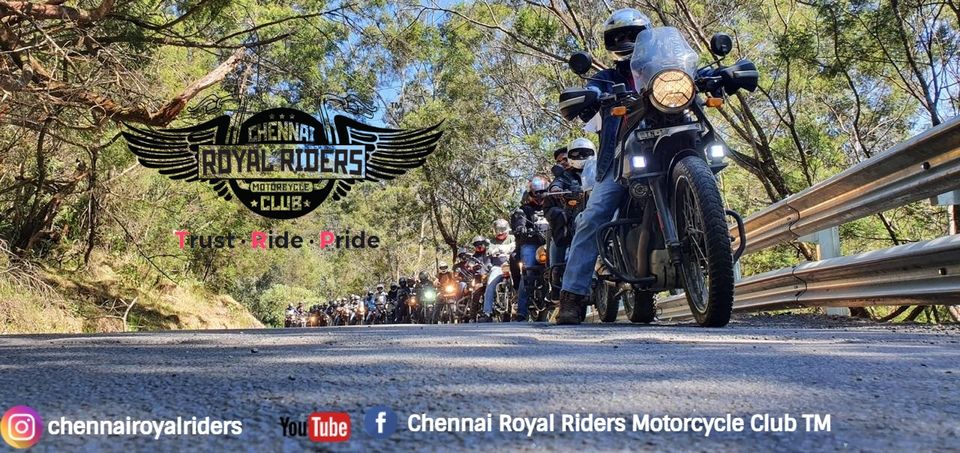 Joining in CRR
"THE WORLD IS A BOOK AND THOSE WHO DO NOT TRAVEL READ ONLY A PAGE."
Chennai Royal Riders Motorcycle Club™ (CRR-Mc™) was founded by Royal Enfield enthusiasts in Chennai, Tamilnadu, India.
I am a travel enthusiast and often go for long distance solo/team motorcycle rides to natural locations. Motorcycle rides are one of those exciting things I do and I find peace in it. I have never missed a trip with my buddies. Traveling has been part of my life. And now I found my dream team of riders at http://chennairoyalridersmc.com/ popularly known as Chennai Royal Riders and going to share my long ride experience with them. #wearecrr #yuvi_crrride_experience #ridewithpride
"Pallangi is a small Village in Kodaikanal,Dindigul District of Tamil Nadu, India.It is located 67 KM towards west from District head quarters Dindigul. 8 KM from Kodaikanal with an altitude of 296m above sea level and average temperature of about 13 degree Celcius"
@kodai_valleyofhappiness, a famous camp site spot near Kodaikanal located at about 495km from Chennai is the scenic ride location chosen by CRR!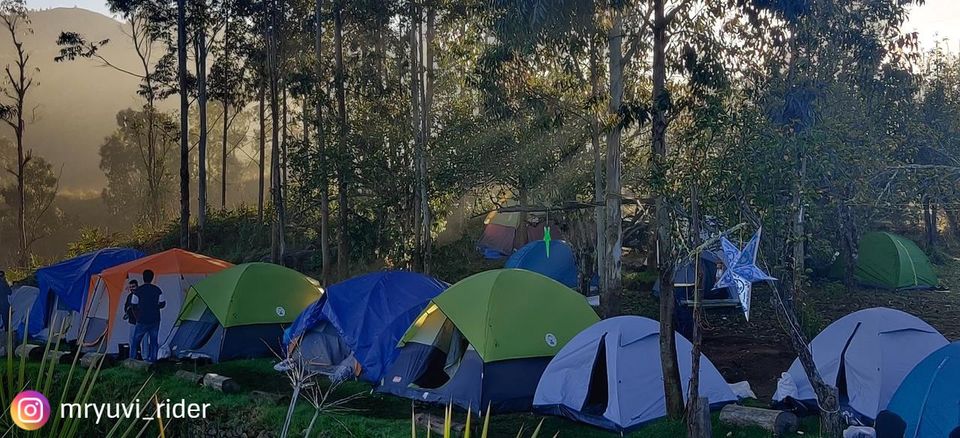 36 Royal Enfield CRR Riders & 3 Families in Car were part of this beautiful ride experience.
We have a habit of naming our rides and this time it is "Ride la forêt de l'été" a French Name which means "Ride to the summer forest"
Ride Packing - I enjoyed this packing!!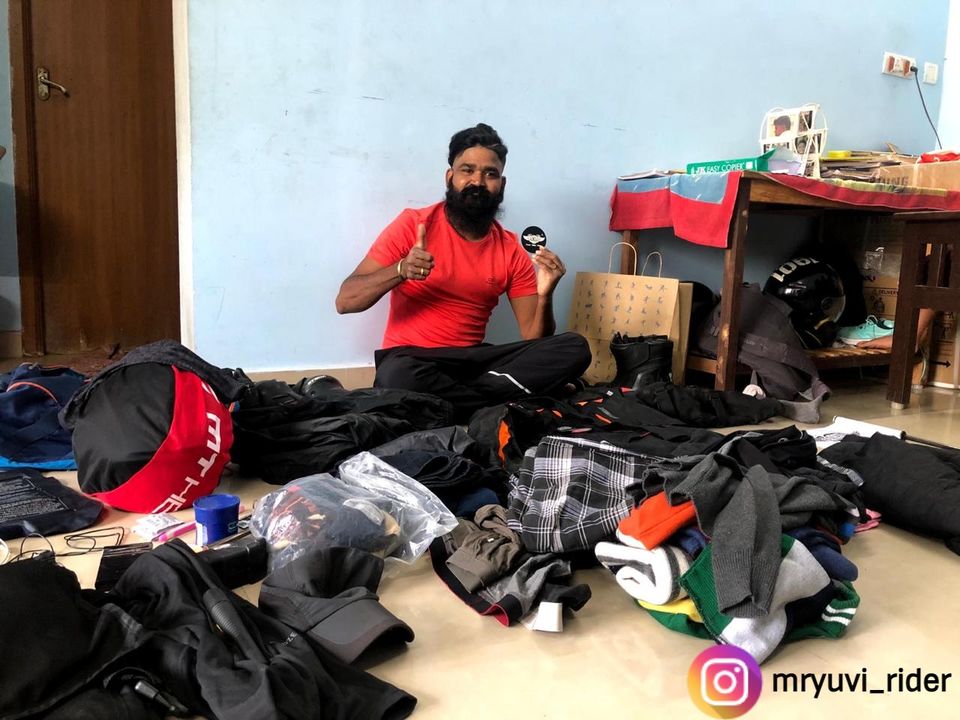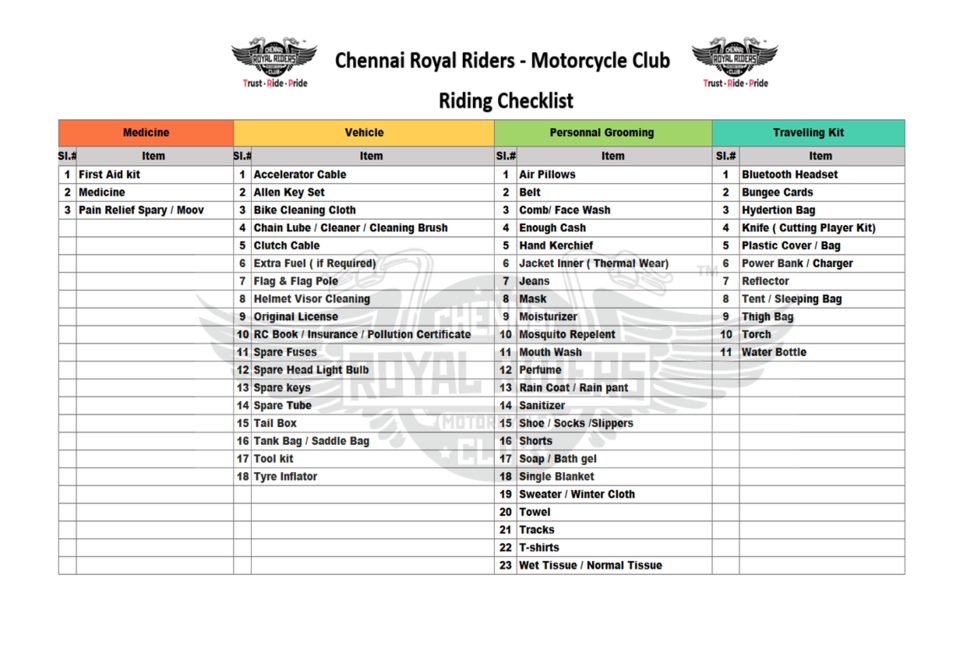 Mandatory Gears for every ride:
Full face helmet , Armored Safety jackets, Safety riding gloves, Riding Pant/Knee guard, Tough Boots
Ride Experience
CRR Team conducts bike rides frequently which includes one day breakfast rides and long ride to scenic spots.I have never missed one so far... This is my 3rd long ride travelogue with CRR Team and I have also been part of 3 one day breakfast rides. One special thing is, every ride with CRR has always been as exciting as my first ride!!
Thu, December 24, 2020 - Day#1 Early Morning Ride...
2:30AM Kick off - The feeling of fresh morning air on my face, empty roads, fills my heart with happiness. Started my Royal Enfield - Classic 500 Stealth Black beast to experience the much awaited Kodai trip with my favourite CRR team! Now wear your helmets and fasten your gears to experience the Royal CRR ride with Yuvi!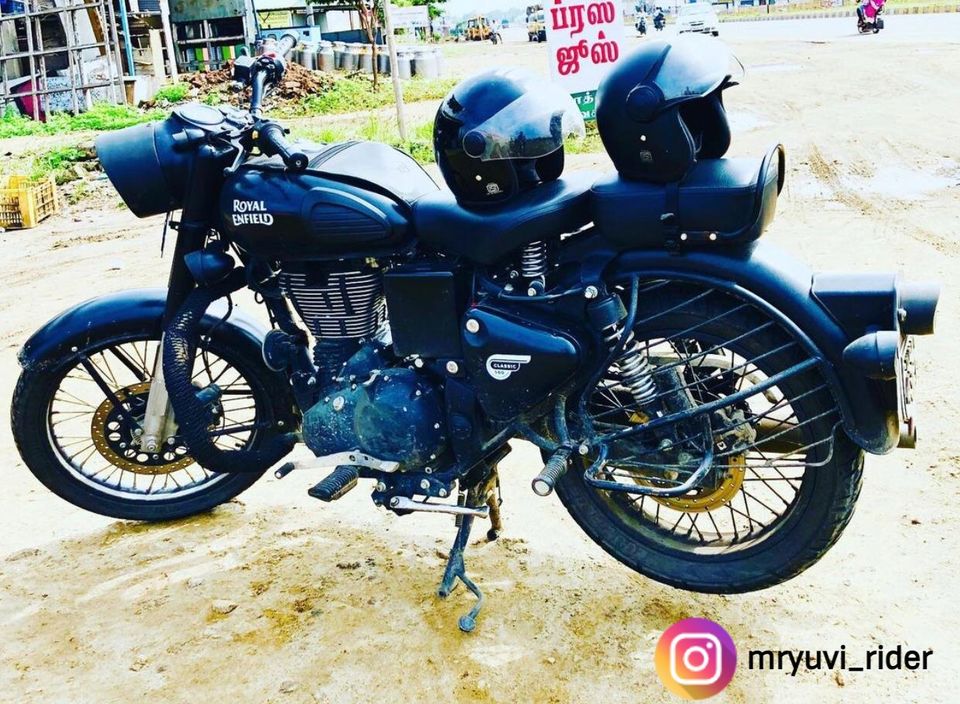 Assembly point - I reached the assembly point Sangeetha Hotel, Perungulathur at around 3AM. Assembly point location information and route map will be shared well ahead of the ride to every CRR rider. For me assembly points are special because that is where I get new buddies. Happy to meet everyone!
CRR Convoy - Every CRR ride follows a special pattern to ensure maximum safety. Before starting every ride CRR Team Captain Paul Moses shares the safety guidelines to be followed throughout the ride and announces Sweep rider, Tail rider, Ride Navigator & the escort riders for women riders.
Captain Moses Bro will lead the convoy.
The Ride Navigator( @Naresh Bro& @Abhi Bro) to guide the convoy in right route.
The Sweep Rider ( @Dinesh Bro ) are at middle of convoy to ensure all riders are at proper line and no overtaking is done. Also, in case of any emergency rider can notify to Sweep.
The Tail Rider ( @Goutham Bro(main tail), @Yuvraj Gautham(tail 1) ) is the last rider in every ride and ensures no one is let behind and everyone ahead is safe going.
Escort Riders ( @Mitrah Bro & @Vinoth Bro) are nominated for special support to women riders in addition to usual convoy.
Convoy Lead, Ride Navigator, Sweep and Tail Riders are equiped with Bluetooth Intercom to communicate with each other during ride to ensure safety & status of convoy and it surely gives me a royal riding experience which is a very unique feel.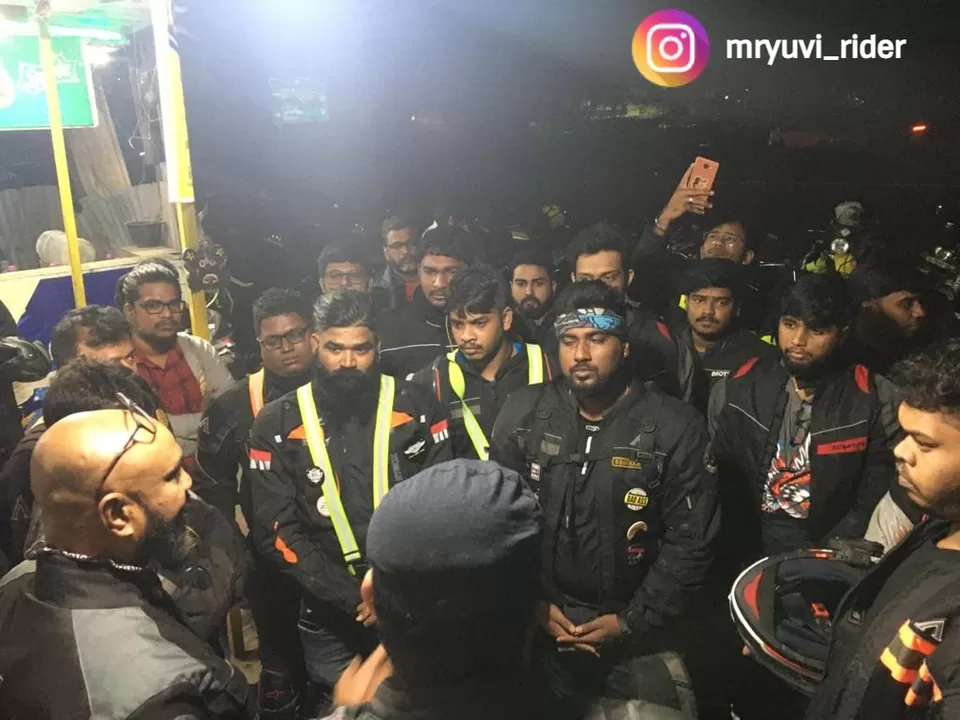 This is the third time I'm being Tail Rider in CRR and feeling highly privileged and responsible of having got a chance to take care of fellow CRR Rider's safety! Thanks to Captain Moses Bro for entrusting me with this role.
Meet & Greet - After having tea & light snacks @street side small tea shop we are ready to start the ride. Send off is a regular CRR ceremony where many experienced CRR riders visit us to give a warm bye bye! This time we had @Vijay Krishna Bro, @Sathish Bro, @Krishna Kumar Bro with us. Sathish Bro, my Courtallam ride buddy was in a new avatar without his beard now :) The moment he saw me,he suddenly hugged me from back and welcomed me surprisingly. We were so happy to meet here at this point after our last long ride, Courtallam. Also met my Mannar Military Hotel Kanchipuram -Briyani Breakfast Ride friend Krishna Kumar Bro & Dhimbham hills long ride friend Vijay Krishna Bro.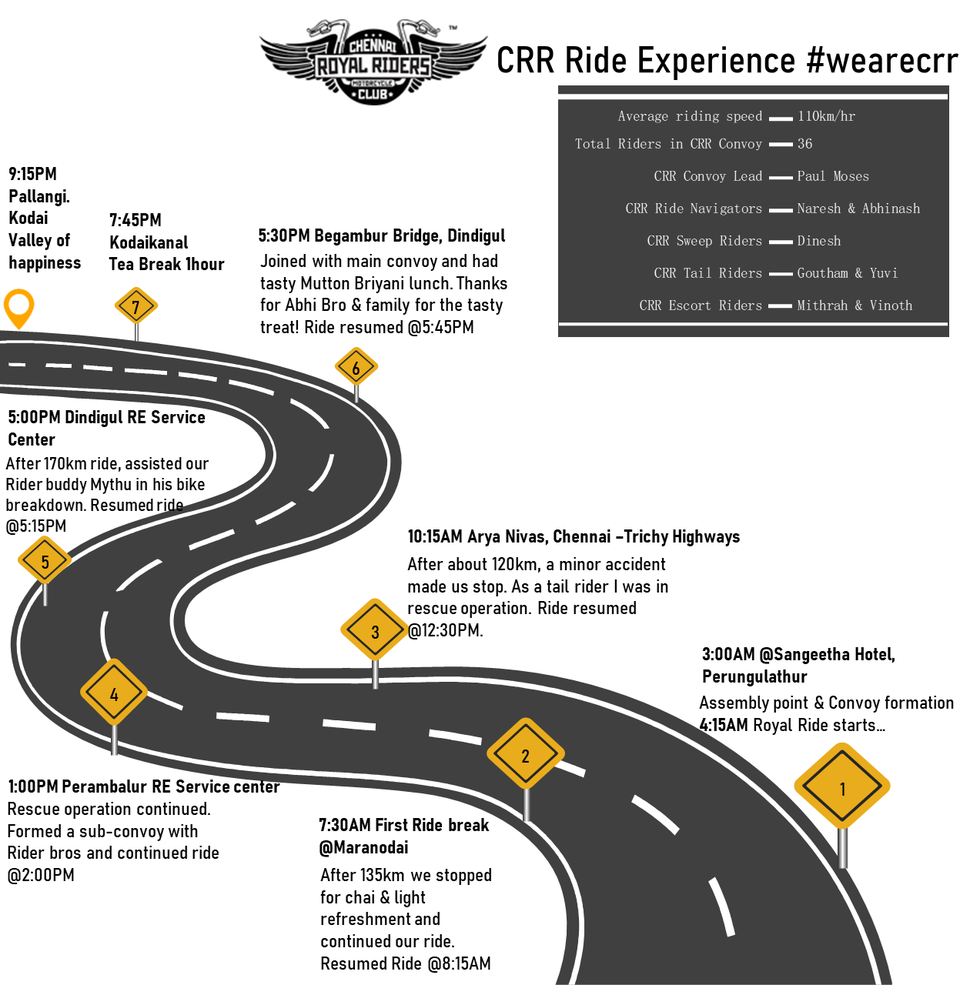 I have been riding as a solo rider for many trips and one highly noticeable difference I experienced with team riding is the spirit of teamship & brotherhood. The challenges crossed are always achievements.
The level of satisfaction on helping each other during ride is extremly happy for me and every challenge is a learning in this ride.
Unexpected happening this time was a minor accident.A car accidentally slow hit one of our rider bro and the following convoy stopped to his immediate help. It was a minor one and quickly he was able to continue ride with medical assistance and his bike was corrected at nearest RE service center. Team is our strength.#wearecrr
Special thanks to Goutham Bro, Naresh Bro, Vijay Bro, Moses Bro, Thangamani Bro and Kannan Bro, Srinivasalu Bro for quickly acting in an emergency situation and help resuming the normal ride rhythm.
Checkin @Kodai Valley of Happiness
Fatigue & tiredness is a big enemy of long rides. After 500km(approx.) of riding my body seriously wanted a rest and that rest was pitched on top of clouds in a dream camp tent with fire camp!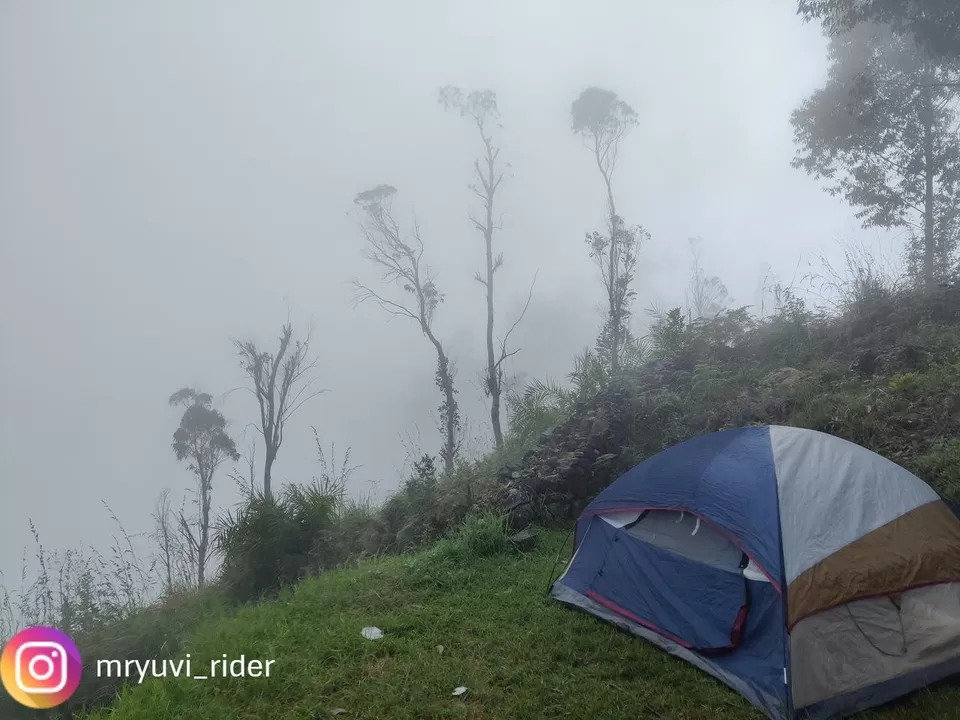 Dinner with camp fire was an amazing experience and I feel that more than me explaining it in words, everyone should experience this feel atleast once in their lifetime. Being close with nature brings peace to soul!!!
Fri, December 25, 2020 - Day#2 Valley of happiness...
Waking up on top of clouds and finding a surprise birthday cake infront of me is a whole new level of happiness!! Thank you so much CRR family for arranging this surprise!!!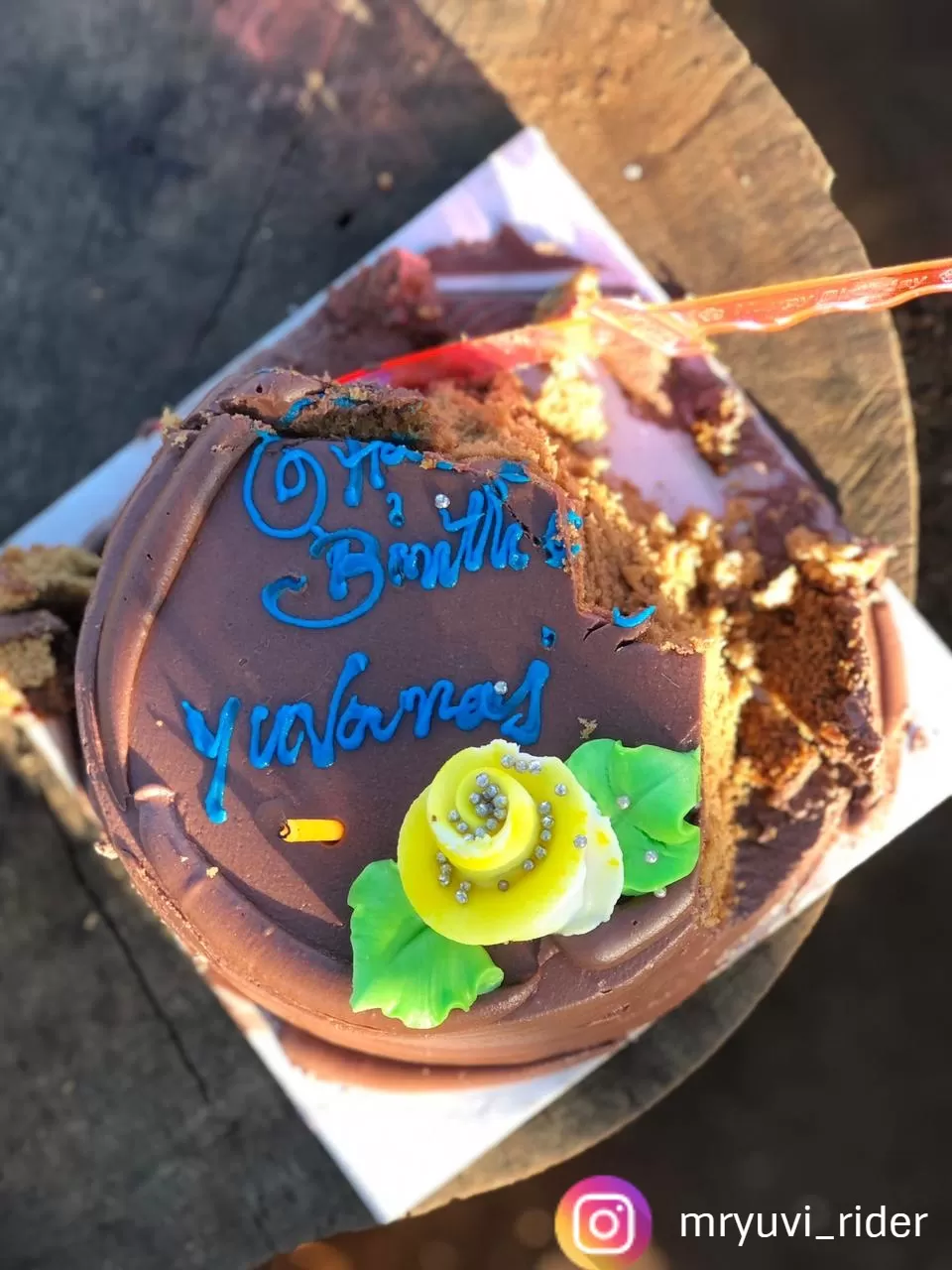 No camera can capture the beauty of this place better than my eyes.. I was lost in beauty of this scenic place. Some of our team brothers were enjoying the scenery by clicking photos and making videos. Started my day at this perfect location with a perfect tea.
Had a satisfying breakfast from resort and headed towards the water experience. At around 12km ride we reached Pallangi river and had a masth time with my buddies. One more exciting thing about this river drive was that we planned to have our lunch from this location! Mutton briyani, chicken 65 amidst of this forest river along with my buddies is the much needed break in my life.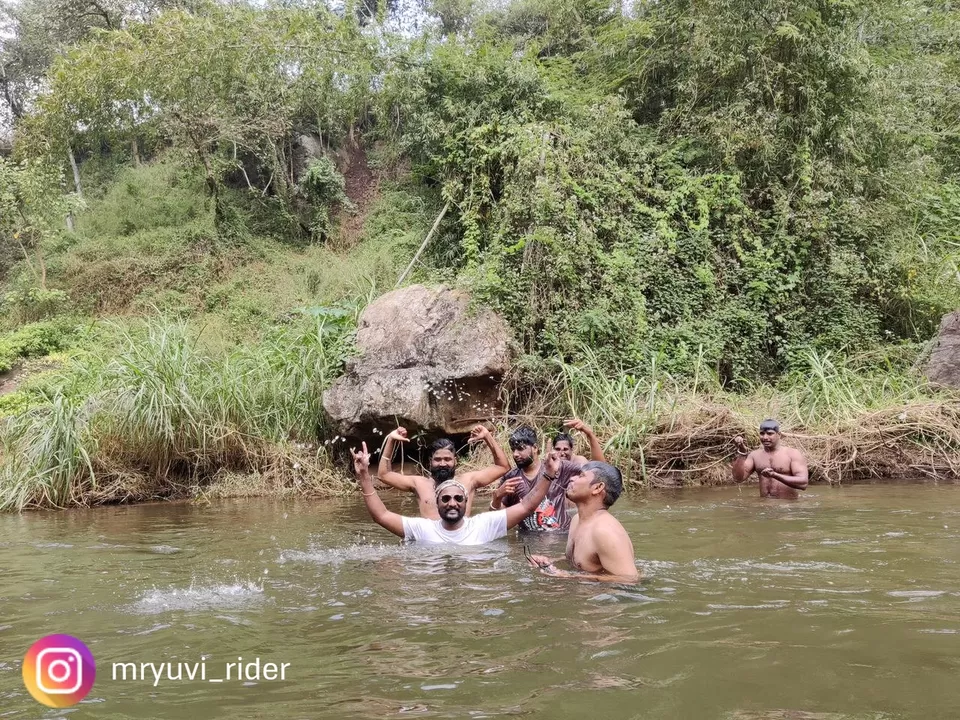 Camp fire is a just a word unless you experience its joy with friends once! Making moments with my machis @Sakthi Bro, @Arun Bro, @Rajkamal Bro, @Kannan Bro, @Vinoth Bro. The feel of brotherhood is the best thing I felt and danced my heart out.
Our Super Singers @Vinoth Bro, @Thangamani Bro & @Dinesh Bro sang many songs. My favourite number is "Thendral vanthu theendum bothu enna vannamo".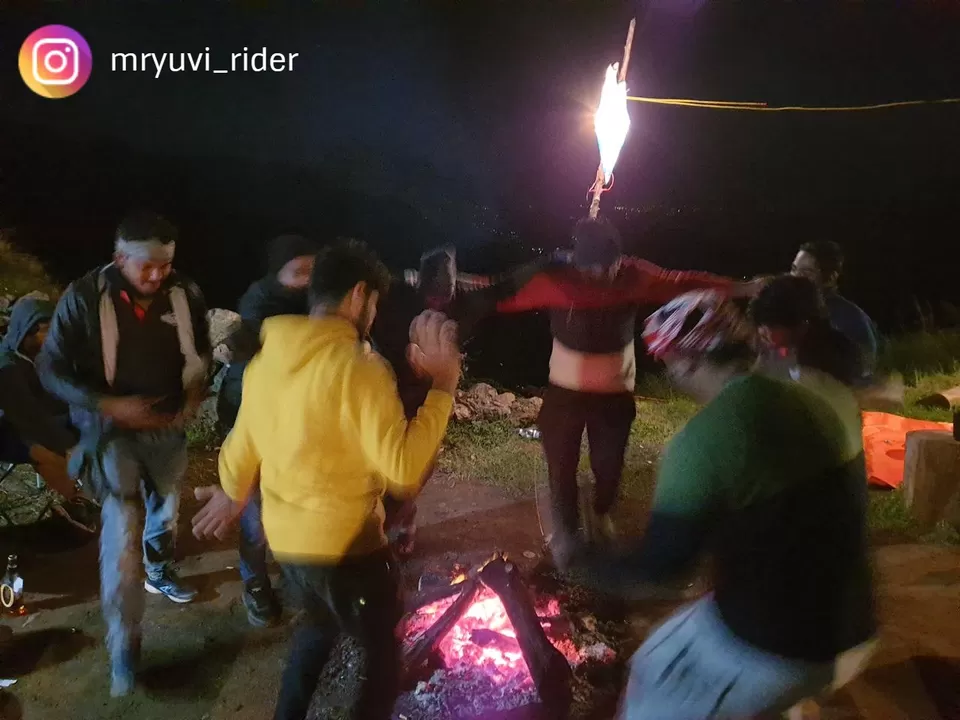 And I should not forget to mention the tasty dinner provided at resort, Dosai/idli/parotta and Chicken gravy,chicken barbeque, tawa beef, omlette (I am an non-veggie person. Veg option was also available)
Krish Bro & Vijay Bro prepared tasty tandoori paneer for us. Thanks to master chefs!!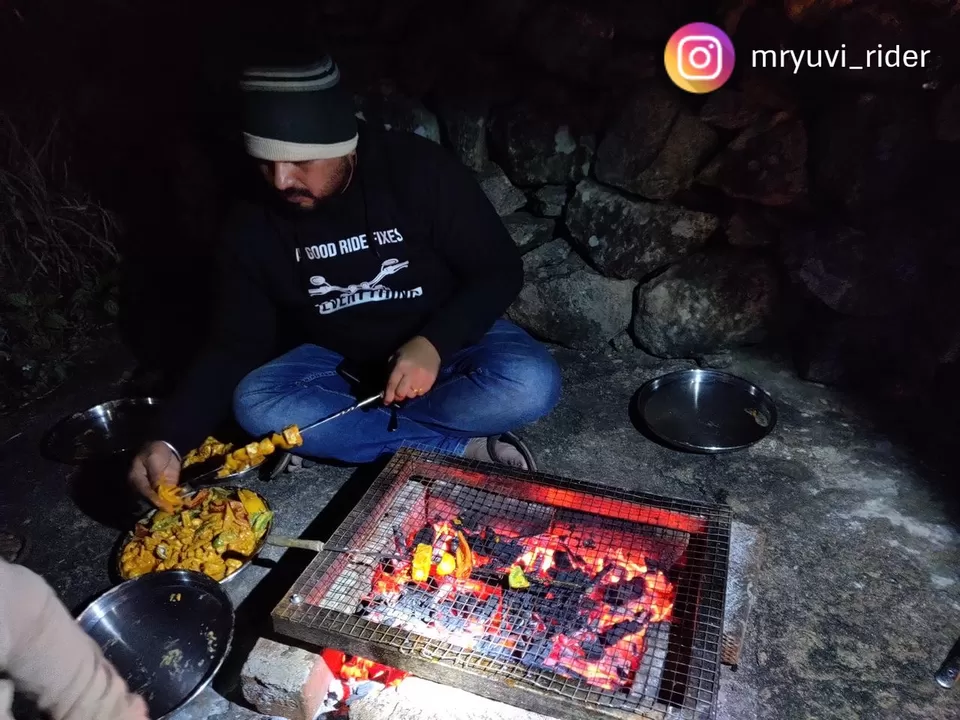 This night I listened to lots of ride experience shared by passionate Rider Brothers @Naresh Bro & @Dinesh Bro. It inspires me to explore more and face challenges in a new dimension. It was a freezing night (9 degree) and our tent was filled with echoes of our happy chit chats @Vijay Bro, @Abhi Bro, @Srinivasalu Bro, @Goutham Bro, @Sakthi Bro. It was chill & thrill camping experience!!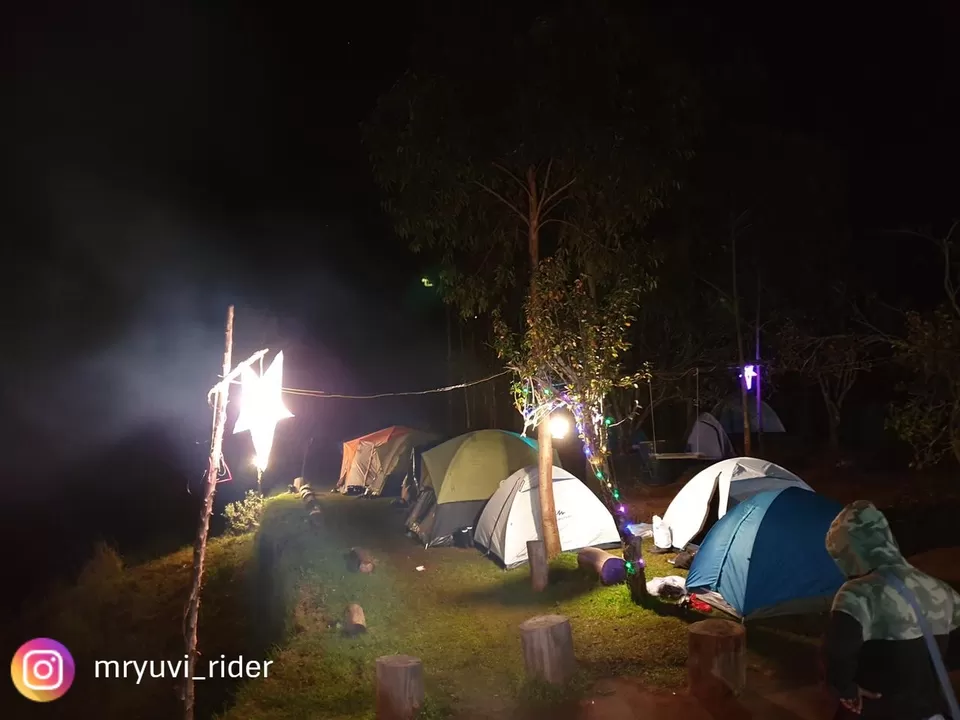 Sat, December 26, 2020 - Day#3 Kookal Nature Ride...
This day we woke up early, had our breakfast at resort and geared up to enjoy a nature ride to lesser explored trekking to a village called Kukkal, near Kodaikanal. This ride to Kukkal amidst of mist was absolutely close to my heart and my favoruite part of the trip.
We had our Lunch in Hotel Bala at Poombarai road and loved the lunch served in banana leaf. Resumed our ride from here to Kukkal Eco Farm.
The step farming view and lake view was fascinating and loved the scenic views. Had a photoshoot session and enjoyed nature at Eco farms spot.
Did a little shopping at Kodaikanal and returned back by 9pm to our tent spot.
We had our campfire..dancing..singing and made many more happy memories. That day 3 in camp "Tentu kulla pullaingo" moment :) #wearecrr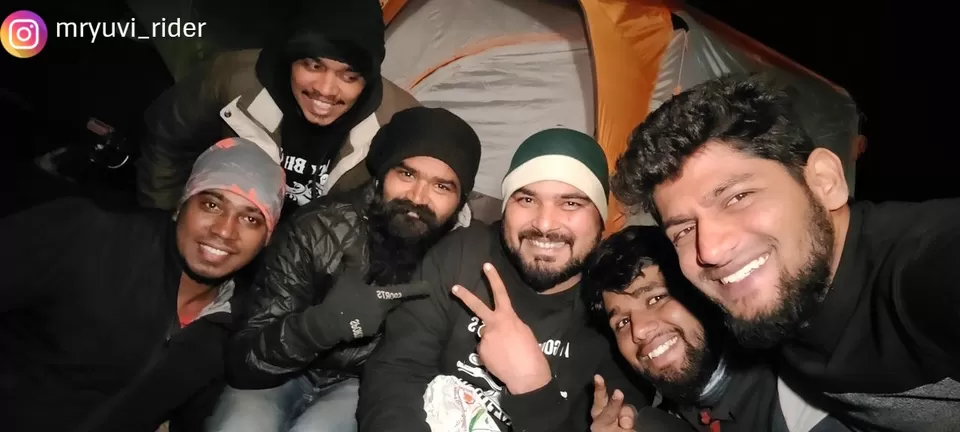 Sun, December 27, 2020 - Day#4 Bye Bye Kodai...
Is three days this short? 72 hours ran fastly without me remembering anything about my daily life... now going to return back to normal life from this dreamland. It was indeed a hard bye bye..
11:00AM Return ride starts -> 12:30PM Tea Break at Kodai hills -> 6:00PM Hotel Gowri Parvathi Bhavan refreshment -> 1:00AM Villupuram Break -> 4:00AM Tindivanam-> 6:30AM Reached Home sweet home :)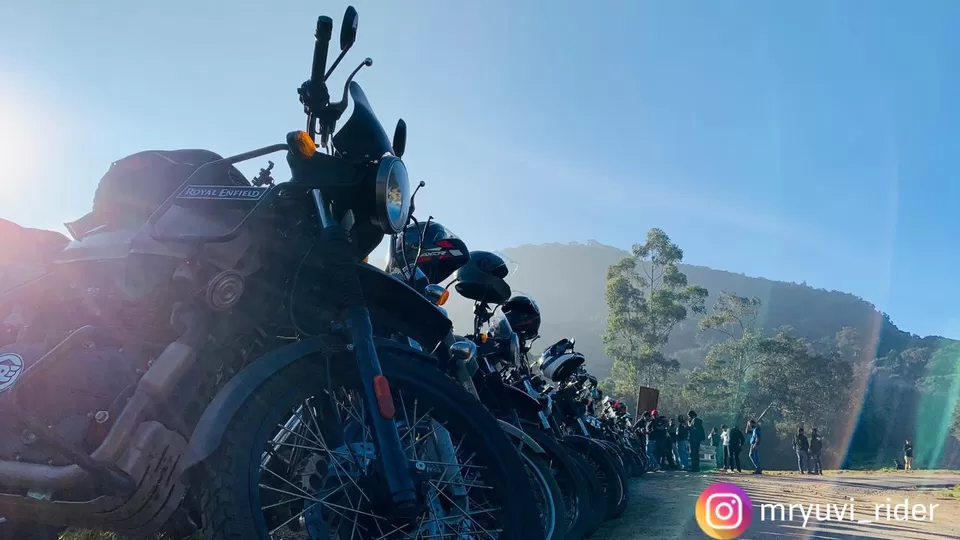 Travelling allows you to explore yourself.. so I travel more! My experience with CRR is to be cherished forever and let this blog stand as an evidence to it! Thanks for reading and I hope you enjoyed reading about this experience as much as I enjoyed the experience itself.
Special Mentions:
A very nice tent experience provided by @kodai_valleyofhappiness
Women Riders - @Miriam @Anu is a great inspiration to all girls out there who are passionate about driving.
Lots of love to send off riders - @Vijay Krishna, @Sathish, @Krishna Kumar
Special thanks for the suprise cake cutting to CRR Team!!
Photograph Credits- Aadhil, AravindRaj, Arun, Naresh, Rajaram
Captain Moses - special thanks for choosing this beautiful location and organising this trip with lots of care on each and every rider.
Special thanks to Sweep (Dinesh), Navigator (Naresh, Abhi), Tail(Goutham),Escort riders (Mitrah, Vinoth)
Tons of thanks to Moses Bro, Goutham Bro, Naresh Bro, Vijay Bro, Moses Bro, Thangamani Bro and Kannan Bro, Srinivasalu Browho helped during the unexpected accident.
Making memories with CRR . With lots of love, Yuvi. #wearecrr
Ready to meet me in your next ride? CRR Facebook page !!!