Difficult roads leads us to beautiful destination.
That we all know. But to those destinations where there are no roads, its magical, hypnotic, et all.
That's how I would explain our journey to this mystical valley in Ladakh. The wide screen HD images of clear blue skies featuring Monks, Gompas, stupas, and bikes of course would be stored in your brain's HD drive forever. One perhaps has to take some pain while crossing the treacherous roads to witness this magical place called Zanskar Valley.
My rider- Rajendra along with his partners in crime Manu & Varun (owners of Royal Bikers), his ex-colleague Amit and 12 fellow riders kicked their machines on the morning of 7th June from Kargil towards Padum, our stay for next 2 nights, in the Valley. All were excited to visit a land which they had heard of as one enthralling place in Ladakh region. It was a long 220 kms ride which didn't appear to be tough as they discussed it last night with the hotel manager in Kargil. Only they didn't know that the route had only ~25kms metal roads and rest was everything else viz, rocks, gravel, streams, river crossings, and yes adventurous to the core.
The Journey begins
As we moved ahead of Kargil after refuelling our bellies with petrol, we got a glimpse of the twin peak Nun & Kun where my rider couldn't stop himself from taking an early break. He was at the tail so his responsibility to ensure that all riders were taken along, unless they wanted to be left alone. Bright sun on the peaks of the snow clad peaks could have left most of us wait there & ponder how lucky we were to ride & enjoy this beautiful valley. We moved ahead and riders kept taking several short breaks, as roads went missing. Needless to mention how tough the ride was getting. Nevertheless the valley didn't stop surprising us. At regular intervals we were greeted by the rocky mountains, frozen river, streams on our path, mud, slush and everything else that kept the riders on their toes & tested our torque every now & then.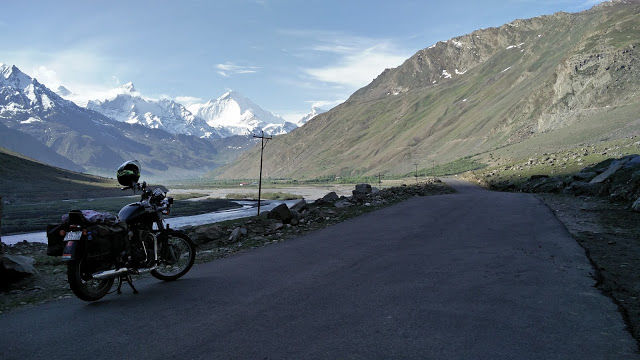 We got a huge sigh when the riders took a break at Parakchik for breakfast and of course selfies in abundance & we rested for the next leg uptill Rangdum in Suru Valley. As we moved ahead, it was next to impossible to stop by & admire the surroundings. Snow clad peaks, glaciers, the game between sun & clouds were just irresistible. As usual my rider stopped to capture every such precious moment and so did his fellow rider Amit who was captivated by his Go-Pro and never left any opportunity capturing amazing images. By the time we reached Rangdum, I was already out of breath and riders were already strained.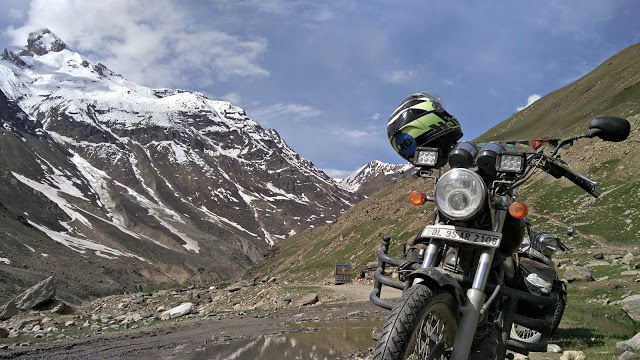 The moment we halted at a small hamlet for food, strong winds, followed by dusty storm & then rain welcomed us and made us wait there for next 1.5 hours. My rider met a French adventure enthusiast who is a scuba diving instructor and was enroute to Padum on his Royal Enfield. He was surprised to know that our riders were going to cover the entire stretch to Padum in one day. The bell in the mind of the riders rang and they started discussing if staying back at Padum was an option. Since it was a first ride for many riders, this perfidious route came as a big surprise & was beyond their imagination. However on becoming aware that there weren't any beds available at Rangdum, everyone enjoyed Maggi & other food stuff that was available at that small dhaba.
After the tiring ride on this stretch, resulting in sore bums, even Maggi tasted as good as Kolkata biriyani for my rider. Since we had to extend our halt there, my rider had to give the Randgum Monastery a miss, which was on his must do list. The 18th century monastery is famous one in the region which is also the home for over 40 monks. The location of the monastery is unique with colourful hills on one side and snow clad glaciers on the other side. Owing to its remoteness from inhabited parts such as Suru Valley and Zanskar, the Monastery is draped with wilderness, which is quite poignant. With a though that it could be covered on the way back the rider moved on.
Moving ahead, we stopped by at Panzi La, a pass at 14000 feet above the sea level and the highest point on the Kargil-Padum Road. The view of the surrounding was breath taking and the music of fluttering prayer flag took the experience to the next level. The Stupas, green grass lands, and snow clad hills at the back, mesmerised every rider and they captured every bit of it in their camera (phones). I was given special coverage when my rider clicked his shots and was happy to reach another milestone (another Pass) in our riding career.

Moving on, we intended to reach Padum before sunset, which was a challenge as our speed was reduced to ~15 kms. per hour for some at some stretches. We were thankful for not getting deep water crossings as that would have made it even tougher for the riders & us and our quota of adventure was already full by the time we were just half-way through.
Due to the frequent stops enroute, it got dark by the time we were about 15 kms. short of our guest house in Padum. So Manu, who was leading the entourage, decided to hurry up & not to stop until they reach the Padum. Thankfully my newly acquired possession, additional power lights, came to best use to enhance visibility on those dark roads when one of the machine's headline faltered. Finally we reached Padum at around 7.30pm and the much happening ride came to an end for the day with sore bums & much more.
Out hotel (Rigyal) was located at the foothills and allowed the riders a brilliant view of the small town below and Karsha Gompa located at a distance. The food & hospitality served by the owner, an ex-Army man helped the riders to overcome the pain to a certain extent. Knowing that next day was at leisure every one chilled out over their pegs of Rum.
Day at Padum
The next morning was one of the most beautiful mornings that we both had woken up to. Watching the Gompa at a distance & several stupas mid-way was an ideal sight for my rider who chose to get submerged in this magical moment while sipping his cup of tea. After finishing off with their breakfast some of the riders headed towards the Gompa which was about 10 kms away from the Padum town.
There were two ways to reach the Karsha Monastery, one- you climb about 100 steps to reach, two- take your bikes there. Without knowing the 2nd option, my rider, Amit & couple of other riders started climbing up and as expected my rider lost his breath mid-way. Thanks to Amit, who held him & helped him to reach atop. It was the altitude which was making breathing difficult and walking/any physical activity tougher. After reaching the Gompa, they met the head Lama who was busy cleaning the shrine like a commoner along with others and some of the talented lamas were busy renovating & painting the scriptures. The Gompa was house to about 100 lamas and a notorious puppy who was playful & ferocious at the same time. After hearing the legend of the monastery, which is the biggest one in the region, the gang pooled in & donated some money for the redevelopment of the holy place which remains covered under snow for 4-5 months and requires huge funds every year to restore it once the snow melts.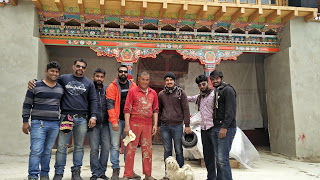 The pain of climbing up the place has a special reward, as it allows you to see the valley from the top and the view is superlative. Clouds playing around the snow covered hills, several new species of birds flying around, green pastures below and rocky mountains on the other side makes it a must visit place for all photography fanatics & nature lovers. The view mesmerises you & makes you feel so special to have been able to reach there bearing some pain and hardships.
As we headed back towards our hotel, my rider had started feeling heavy & perhaps fallen prey to the mountain sickness. He shivered as he was lying on the ice and scared the hell out of Amit. Thankfully the boy gave him medicines & his condition stabled next day before the ride. That evening Sonu our doctor for the trip checked us thoroughly to ensure a safe ride back to Kargil next day and riders enjoyed their last night at over a few (bottles) of drinks. His ill-health altered our plan to roam around the town during the day. The Padum town is well known among the trekkers as it's the last destination of the famous Chaddar Trekking, which is conducted during the winters over the frozen rivers. Also it's the last bigger town for trekkers heading towards the famous Phugtal Monastery, another mystical destination that my rider wishes co trek someday. The Padum market also have some restaurants & cafes that appeared interesting and the warm, receptive locals always ready to help, makes it an even more interesting place to explore.

Next morning as they geared I & my rider were wondering how blessed we were to have covered this awesome place in the wilderness that very few dare to reach & those who arrive are aptly rewarded with its beauty, tranquillity and much more than one could ever expect. We were lucky to have done that without much hassles & my rider who was feeling low through the return trip, tried to keep it simple. Unfortunately one of the fellow rider lost his balance & hit the rocks that resulted in hurting his ankle badly and ending his ride there itself. He got into the backup van that Varun was driving and reached Kargil to be treated by the doctor. The way back to Kargil was as exciting as it was couple of days earlier, as every twist & turn brought a new surprise for the traveller which one has to relish & enjoy.
As we reached Kargil, Manu, Varun & my rider decided to not to make the ride tougher for the remaining days as alternate route plan to cover Hanle would had been a real tough one for some of the fellow riders who were riding for the first time and the incident enroute wasn't a good indication either. So in the interest of all, it was decided to follow the route that was planned initially & was less treacherous than the revised one.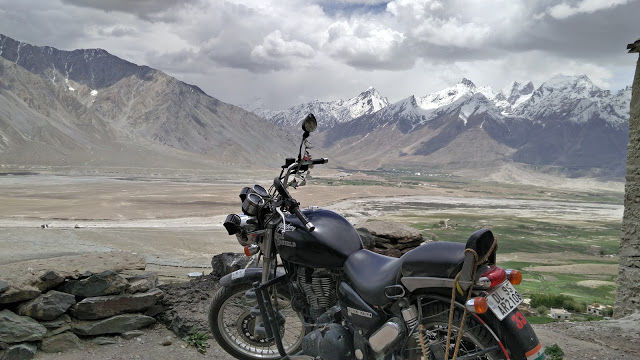 Though this decision made my rider upset for a moment as he wanted to cover the remaining places of the region in this trip itself so that he could have ventured into some other direction next year. But destiny has something else for him which he accepted & was happy to come back next year and complete the unexplored destinations. We went on to complete the journey on the route that was covered during earlier trips & it wasn't much different this time but was even more enchanting & rejuvenating. The pain & hardships that the riders had undergone to accomplish this journey was totally worth it as the wilderness of Zanskar & its serenity was no less than any reward. And the gain here was much more than the pain.
The Journey
4th June 2016- Delhi to Pathankot
5th – Patahankot to Srinagar
6th – Srinagar to Kargil
7th – Kargil to Padum
8th – Rest you bums at Padum
9th – Padum to Kargil
10th – Kargil to Leh
11th – Leh
12th – Leh to Nubra Valley
13th – Nubra Valley to Leh
14th – Leh to Pangong
15th – Pangong to Leh
16th – Leh to Sarchu
17th Sarchu to Sissu
18th Sissu to Bilaspur
19th Bilaspur to Delhi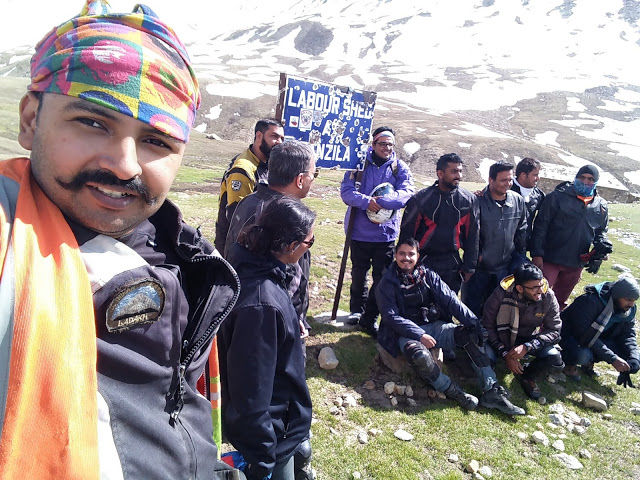 Acknowledgements:
I & my rider had to thank Manu & Varun for making a last minute alteration to their trip itinerary and including Zanskar, Hanle in the plan, which made it an irresistible ride to miss. Amit Mathai, my rider's ex-colleague, who gave him company all the time & especially when needed the most..trust your trunk load of questions & mending Go-pro angles didn't bother him much & thanks for some amazing clicks. Wg. Cdr. Rajeev & his daring better half pillion- Bugs, for sharing defence stories & the guidance on the road. Ajit, Suri,Shrikant, Ajitesh, Adarsh, Aman, Pankhil, Kshitij & Sonu .. we were blessed to have you around and your guys were 'F se rocking'. My rider's pillion needs a big pat on her back & kiss on her cheek for allowing him on his 3rd Ladakh trip. He missed you this time as well & wants you riding along next time :)

This blog was originally published on 'Jajabor Rid/tes'