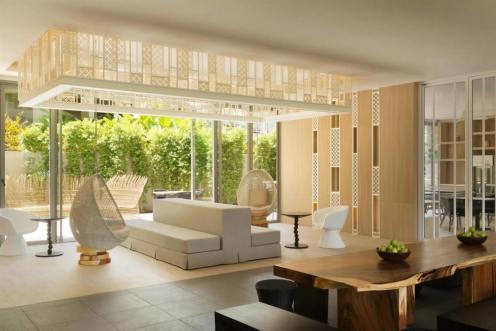 I was in Phuket, Thailand, to celebrate a whirlwind of a year in 2018 with a friend of mine. We'd arrived the day after my 24 th Birthday and stayed at the magnificent Hyatt Place Patong Beach Hotel. I'd like to believe and call myself a frequent flyer, but although recently occasional, I'm super nosey and explore everything and anything I can to milk my money's worth. If you listen carefully to the wind, you can already hear my friends saying "Ain't that some truth" haha!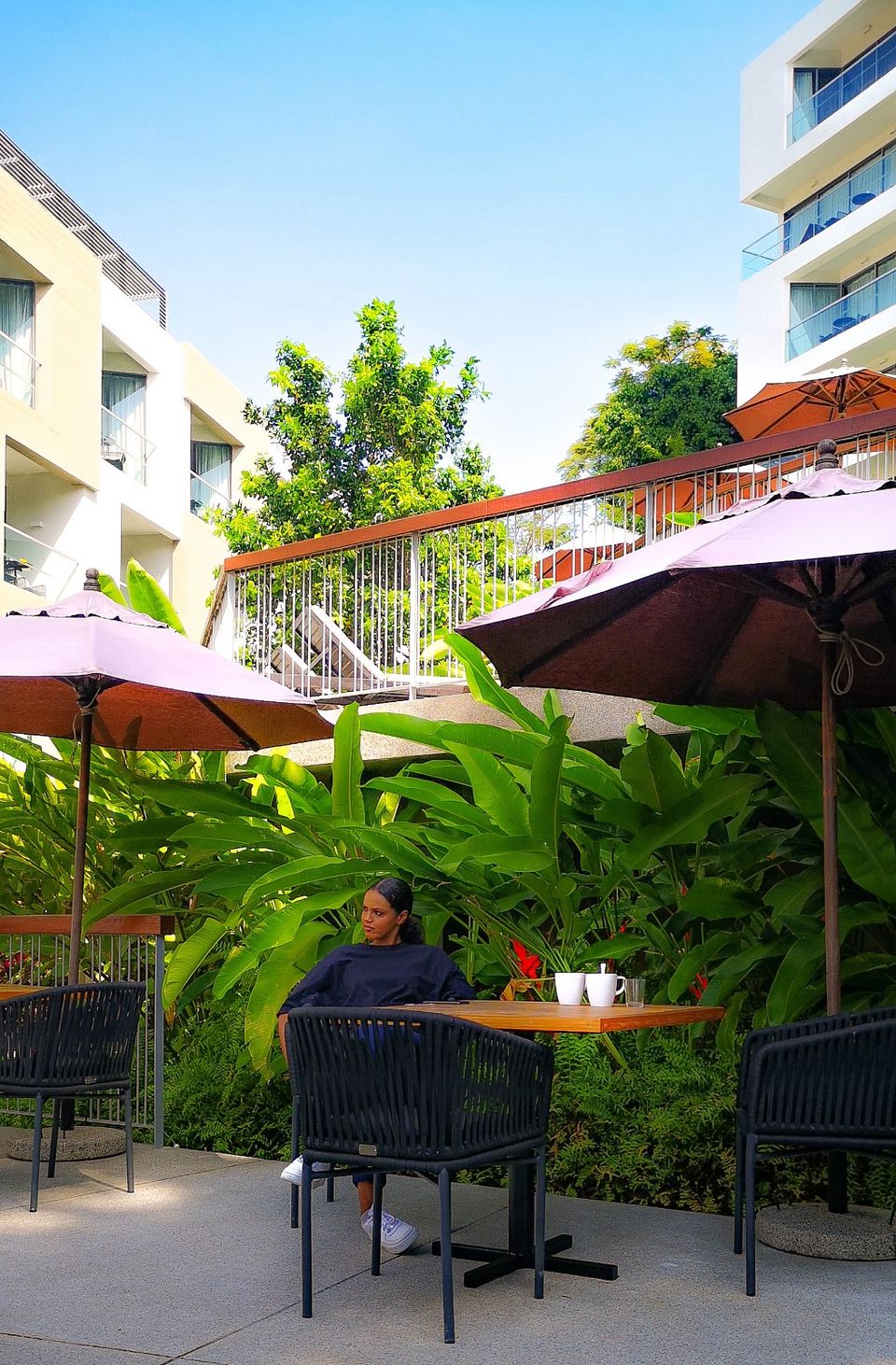 We booked a Superior Twin Room with Ocean Views at a hugely discounted (I mean, chunk change) rate through a friend of mine. It was recommended as one of the best rooms in the hotel, aside of the Royal Specialty King Room which to be fair, we didn't really need the whole separate living area. This put us on the highest floor of the hotel, in room 2552, with the most scenic panoramic views I've ever seen of an ocean, in all the hotels I've ever stayed at.
The windows are all floor-to-ceiling glass sliding doors, the flat screen is a 42" HDTV and we have our own snug cosy corner to melt into should we choose. The room is roughly 26 sqm, and I cannot lie to you, it was a lot smaller and a little packed in for the star rating the hotel has. Should we have been very messy and untidy people, the room would have very quickly looked like something out of a pigsty or George Butts American rendition of Hoarders.
The room is big, but because of the size of the bed ( not complaining!) and the storage and bathroom space ( again, not complaining!), the walkway becomes one-way. Not the end of the world, but definitely a noticeable red flag for me and so different from Carlton Downtown in Dubai that we had just left.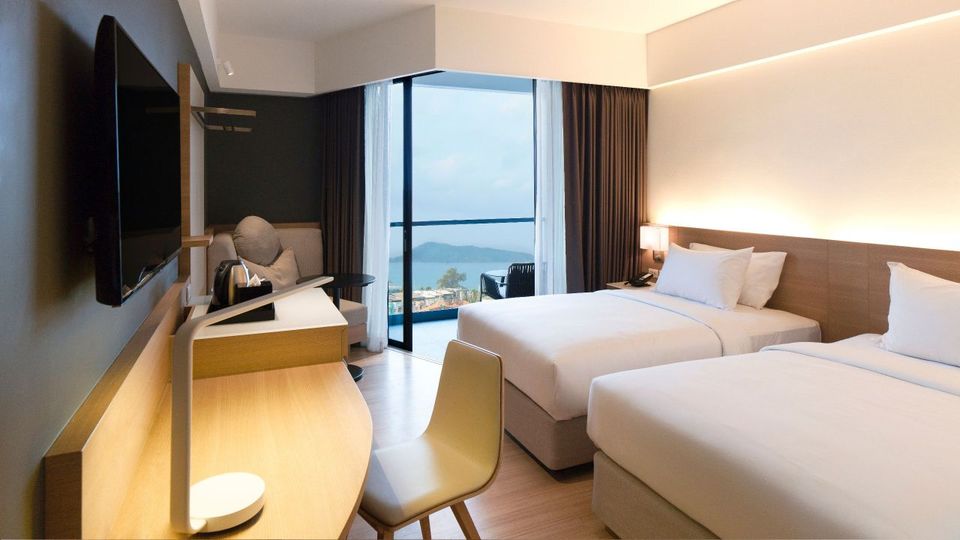 To make up for it, Hyatt Place offers impressive angled sliding doors that entirely open up the room to the most enviable view of the Andaman Sea. If you look over the balcony, the room overlooks the outdoor swimming pool and the greenery planted abundantly everywhere in the hotel.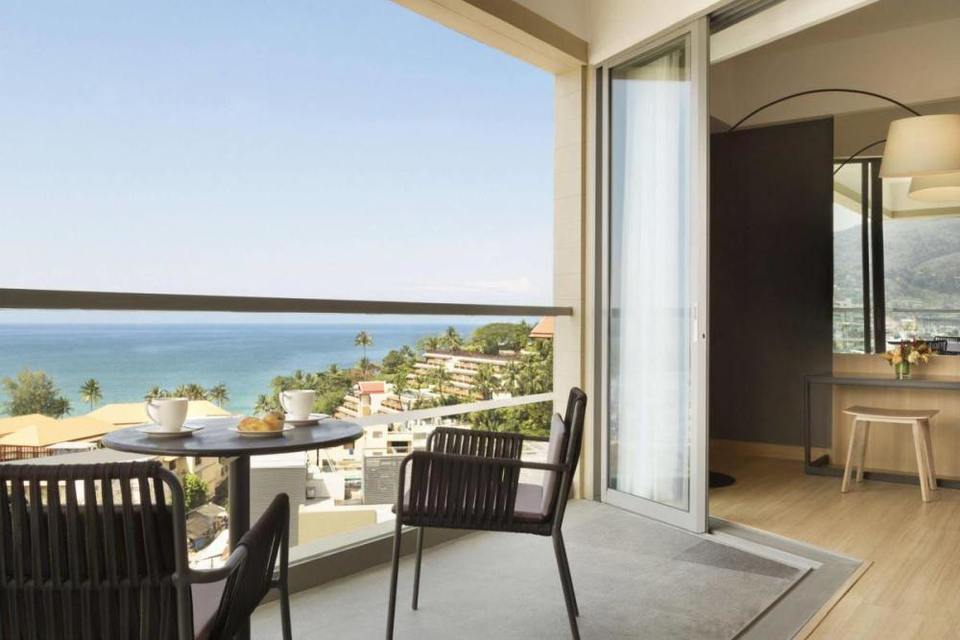 We can also see the breakfast bar in the distance down below, but not close enough to see what people are eating or who they are. Pro's to this is that your well away from the main road, so you're not disturbed by noise of busy streets and local bars. In fact, the hotel itself, if you choose to drive, is almost certainly somewhere you'll miss if a local doesn't show you where it is.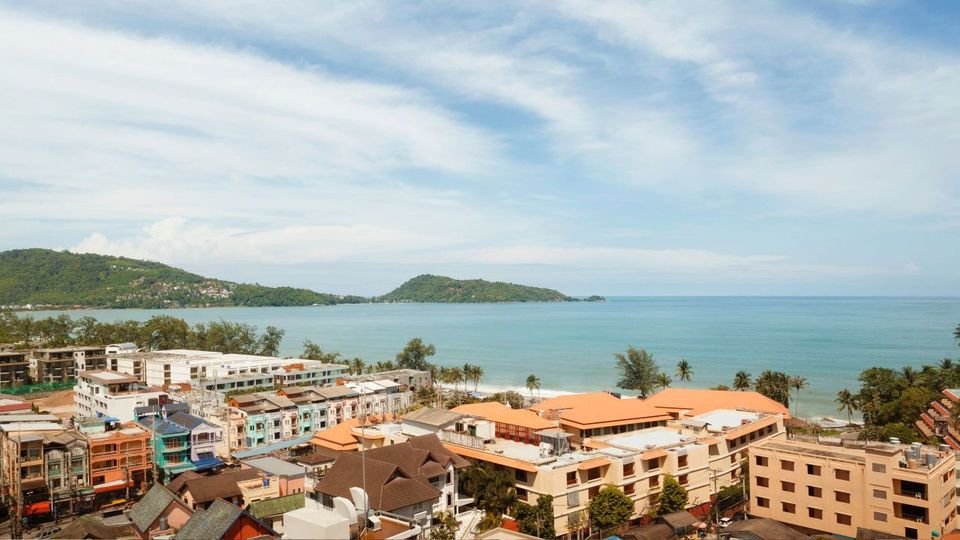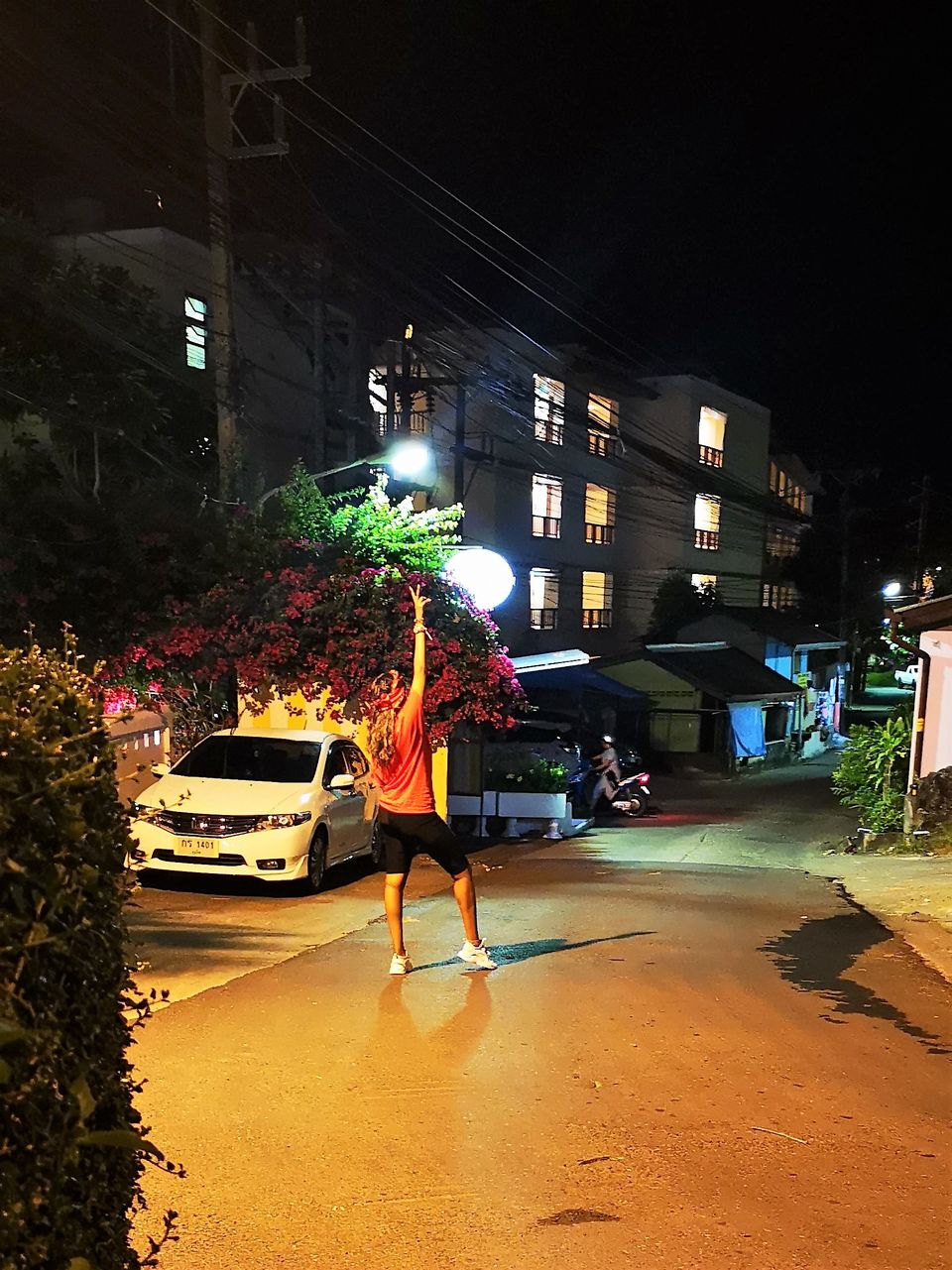 Hidden between cobbled streets of local laundry shops and dry cleaners, the very grand and contemporary hotel is on a hilltop, constructed amongst buildings made of dusty bricks and dated design. Dare I say, it's even in a poverty neighbourhood. It did look quite odd to have a stylish building in the midst of such contradictory milieu, to anyone else it would.
It was cool for us to see though, it meant we got to see the lifestyle of natives at our doorsteps, without having to trek too far to find them. You should've seen the friendly smiles on their faces, watching us stroll up and down from a totally different life, and yet they're still waving with passion and authentic beams. They looked happy- sitting on brick balconies at late hours in the heat; men in cotton shorts and soot-covered vests conversing with women sitting at sowing machines, talking, laughing wholeheartedly. They looked genuinely happy. Enviously happy.
Back to the point. The hotel was the only modish thing nearby. If you're after immersing yourself in abit of rich Thai culture, this hotel is the one. Its not so much in a secluded location that you can't walk down the hill to the main road. Perhaps 5 minutes from leaving your hotel, you come to a roundabout with a gigantic sculpture, leading you to the entrance of Patong Beach. The roundabout has three exits, follow the road round in towards the city and you'll find massage parlours, restaurants, spas, art exhibits, currency exchanges and masjids. So, no fear- you've got everything at your fingertips. The hotel is secluded enough for privacy but in the most perfect location to have everything at your fingertips.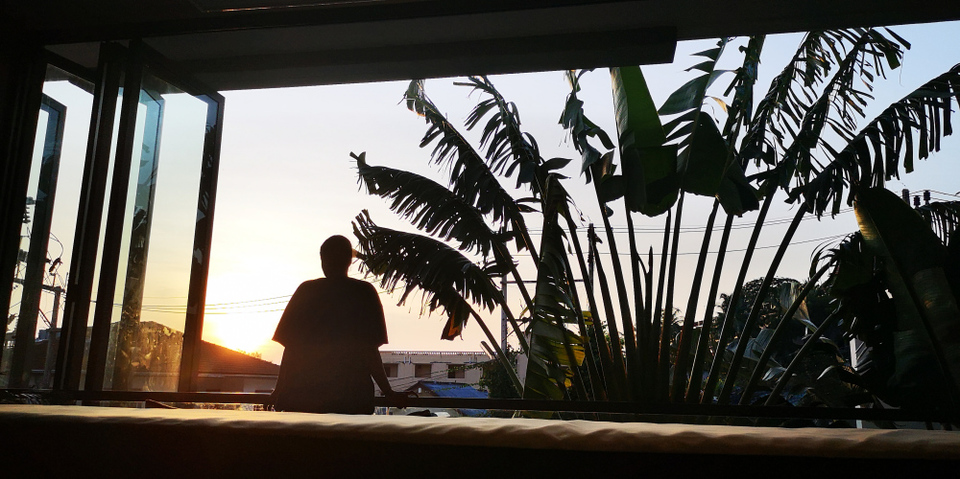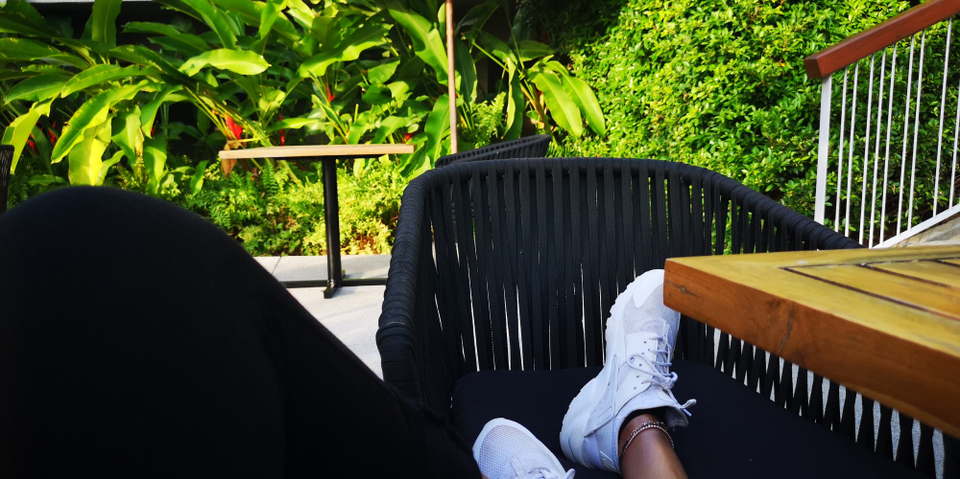 We ate breakfast at the hotel- an array of colourful options every morning. We had dinner and lunch outside every day, and there is no shortage of halal restaurants and diners. We ate somewhere different every night, and all within walking distance too. Dinner is also available here but we only ate here when on our last day. Make sure to let the chef know your only eating halal- the waiter forgot to mention it and they made the mistake of adding bacon to my order without seeing who i was. Simon saved the day.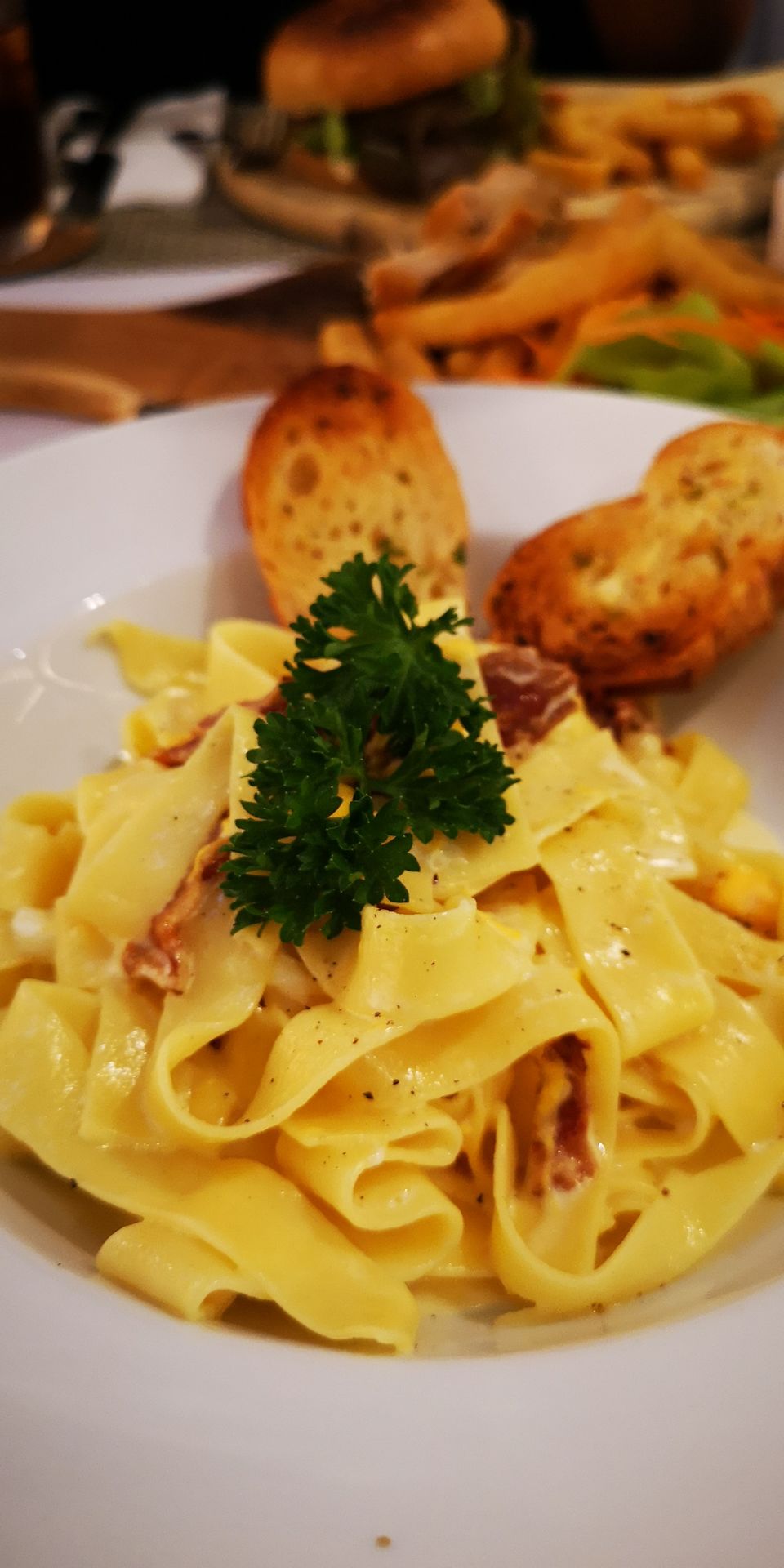 We met an expat called Simon, who as soon as we walked in, gave us the "d-low" on the best places to get halal food, directed us to places we didn't know about and advised on how to get about the safest and best way. Totally unprovoked, we didn't even need to ask. He made sure we had a good room, our bags were taken upstairs before we got there, arranged for portable chargers when reception staff refused to give us some.
Knowing you have an ally in a hotel, in a foreign country, who knows the city well and can understand the Thai language, is one of the most gratifying feelings in the world. A lot of the time, he really went over and beyond and made sure our stay was without issue. He'd spend some time with us during breakfast and ask us about our colourful night out, give us tips, places to try before he moved onto another table. He'd be the first to sort any request we had and drop everything until it was done. He was a legend. Turns out this whole time, he was also the General Manager and never mentioned it once or made it a big deal. He was hands on, stuck in and available to everything we needed- a perfect example of putting us first.
Another honourable mention is my homeboy, my favourite driver and the nicest bellhop ever- Bank. Ask for him, ask about him. Just a legend.
The distance from the airport to the hotel is gruelling though. I wish someone had told us beforehand. Already extremely hot and sweaty, we landed during the cities peakiest hour and got into a cab from the airport. We'd booked a few excursions from the airport for the next day, which additionally offered free rides to our hotel as a benefit. Once we got in, the driver, understanding no English at all, started driving. The journey, which should've been 32 minutes, took 1 hour and 12 minutes to get to our hotel- a road distance of 32.8km. No motorway, no dual carriageway, no freeways. Just weaving in and out the busy city streets on a Thursday afternoon.
They would've charged us around 800 baht, which translates to roughly £20. The private transfer car was spacious & had a clean and fresh cream leather interior with white crosshatch stitching. Looked good in all honesty. As we drove, listening to some foreign language with the bass up high, we went up and down what seemed like mountains, narrowly showing us glimpses of the sunset on the Andaman Sea.
We noticed other luxury resorts pretty close by, and market stalls of rich Asian cuisine. Bangla Road is a short 6-minute ride away and the north entrance to Patong Beach is at your doorstep. Taxi journeys for the whole stay to get from or to the hotel from anywhere averaged to 250 baht, translating to 6 British pounds. All in all, good location and fairly cheap.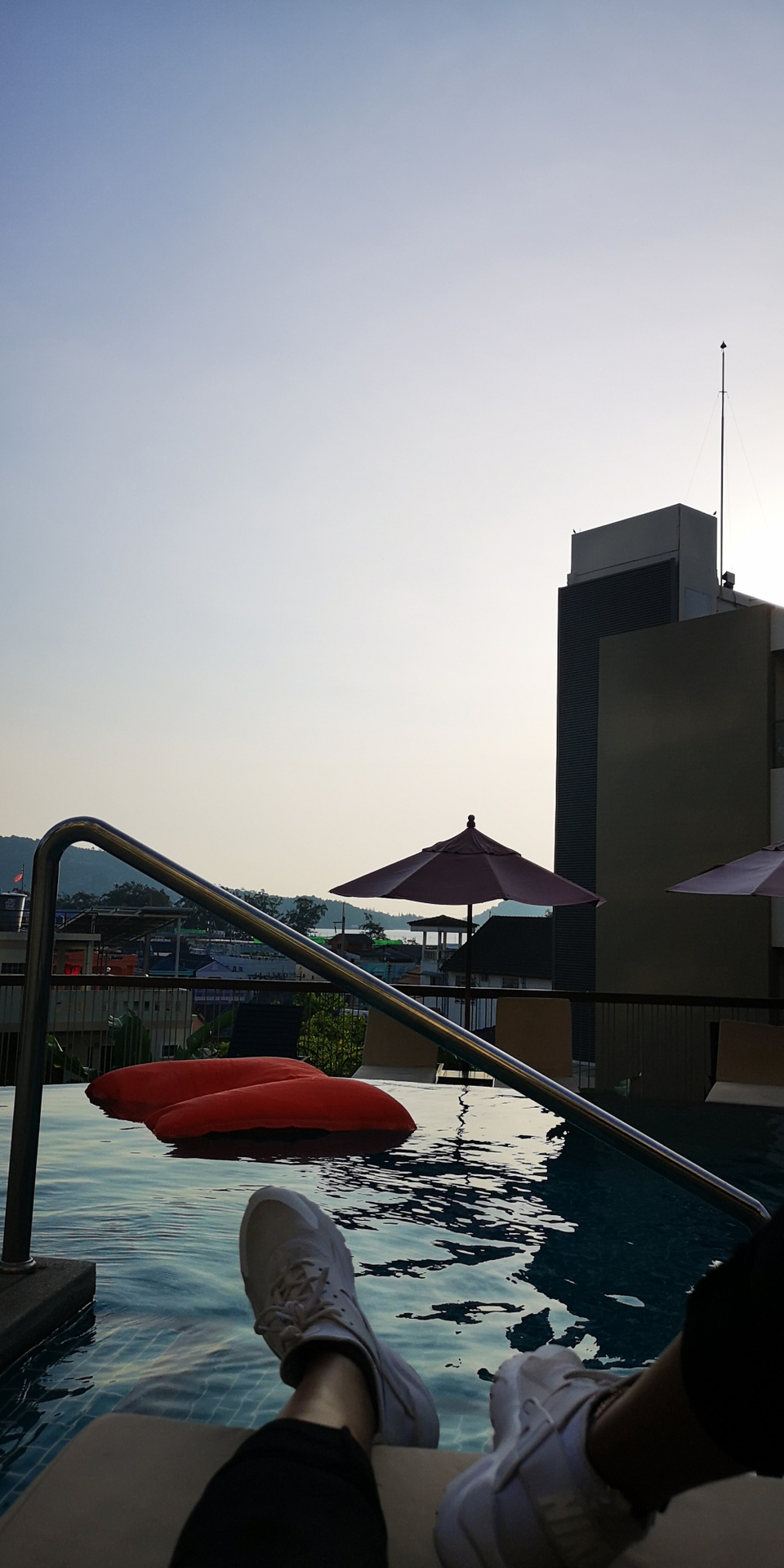 We didn't watch much of the TV, so I can't comment on the quality of the options one is given. The mattresses *satisfied eye roll*, the MATTRESSES THOUGH. Honestly felt like it was being changed every day- instead of the bed-sheets. Its much softer than the Dubai bedding, and super easy to just knock out when you get in. My friend is a testament to this- I'm not sure if she was just tired or liked the bed, but every chance she got she was napping. And she doesn't do this normally. It didn't feel like anyone had ever slept on the bed, which felt amazing.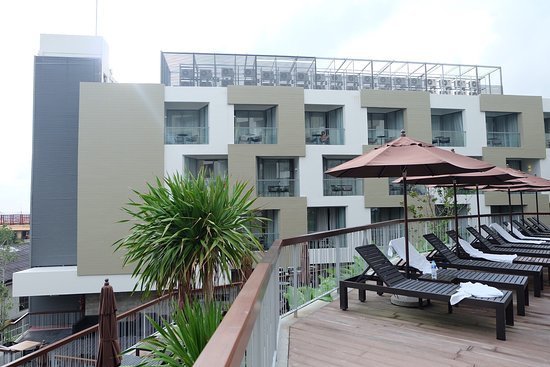 The pool downstairs is just as it appears in the photos on the website. It's a fibreglass pool, with plenty of deck chairs. I am disappointed however, that it doesn't come much with a view. Unless you are sitting in a particular deck chair, your only view is minimised to other people's balconies on all four corners. It would've been perfect if the block of buildings just below the pool weren't towering over you, but lucky the buildings height didn't come close to our room floor. Your better off just waddling down to the beach but even then, locals charge 100 baht (£2.50) for an hour on the deck chairs.
Unless you're staying with a loved one or a good good good friend, the bathroom might be a problem. The room we stayed in seems to not have a door for the bathroom. Although quite good in size, the shower is glass without any means of discretion, and there is no door. Advice- don't do a dump if the other persons in the room. They'll smell it. The room also has no means of a wardrobe, just a wall-mounted clothes rail to hang some clothes on with- I kid you not- just 10 hangers. You'll quickly realise this isn't enough for two people.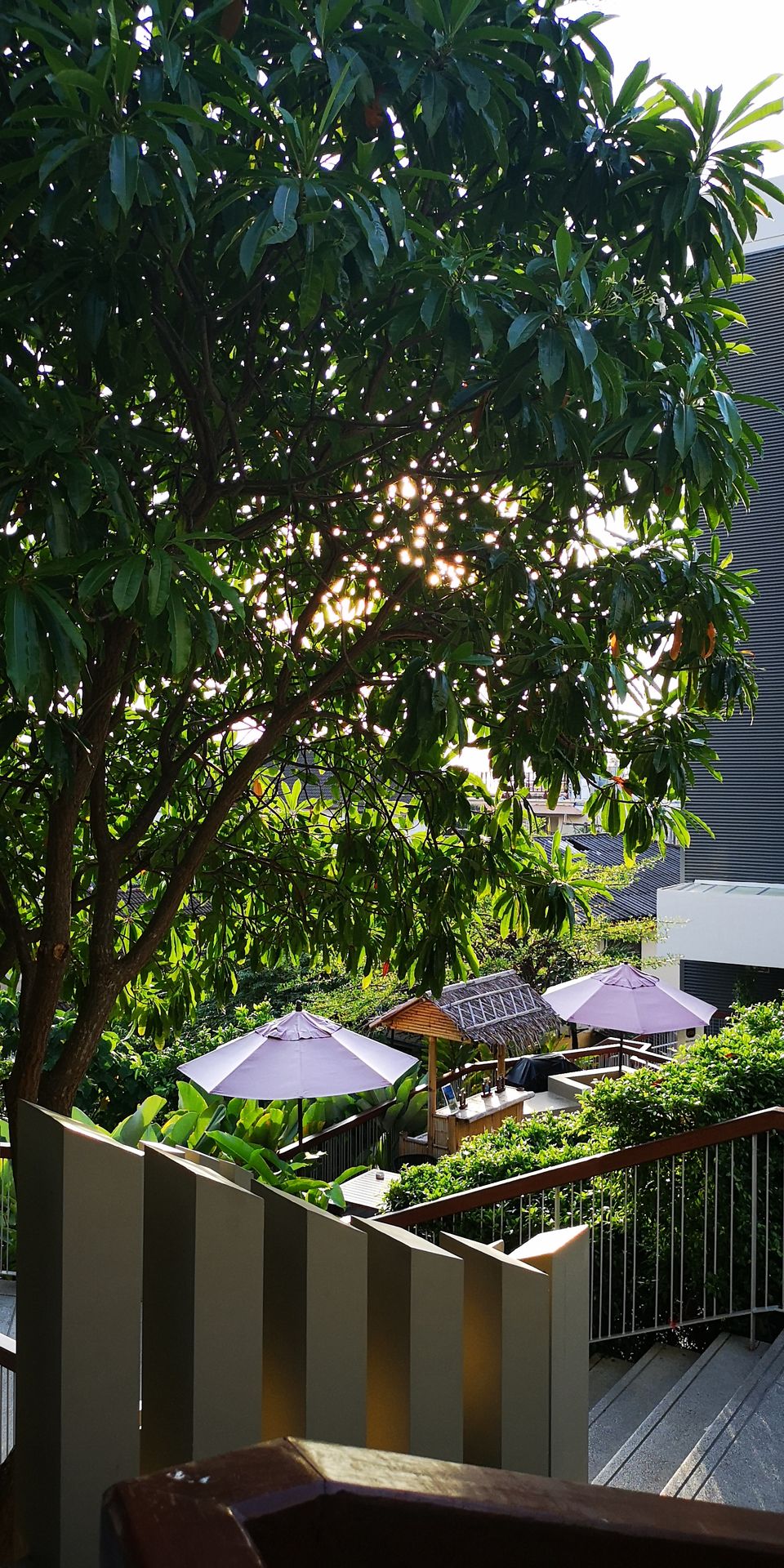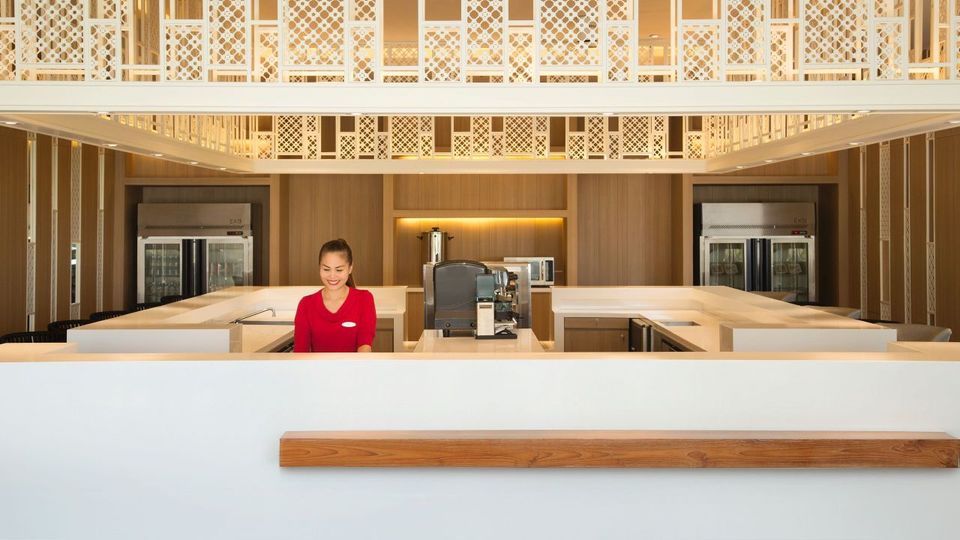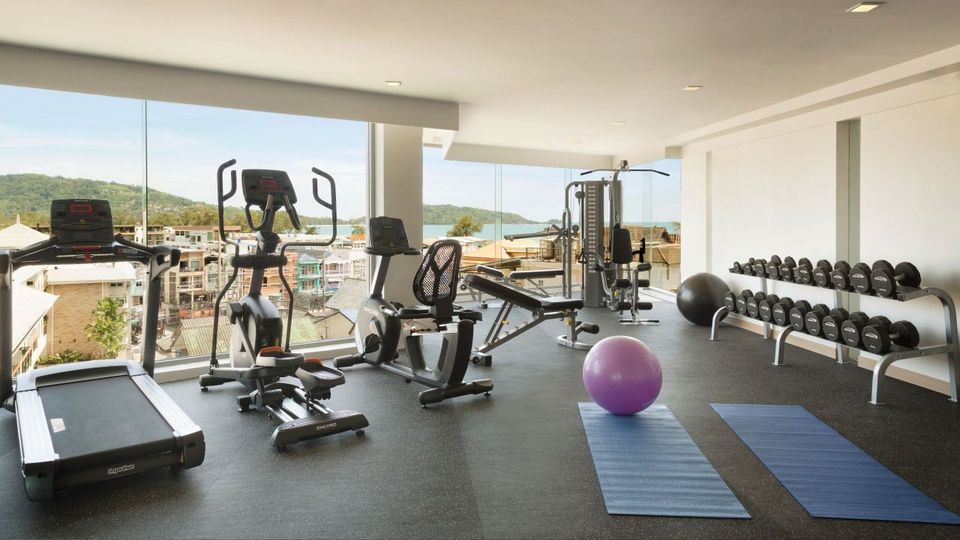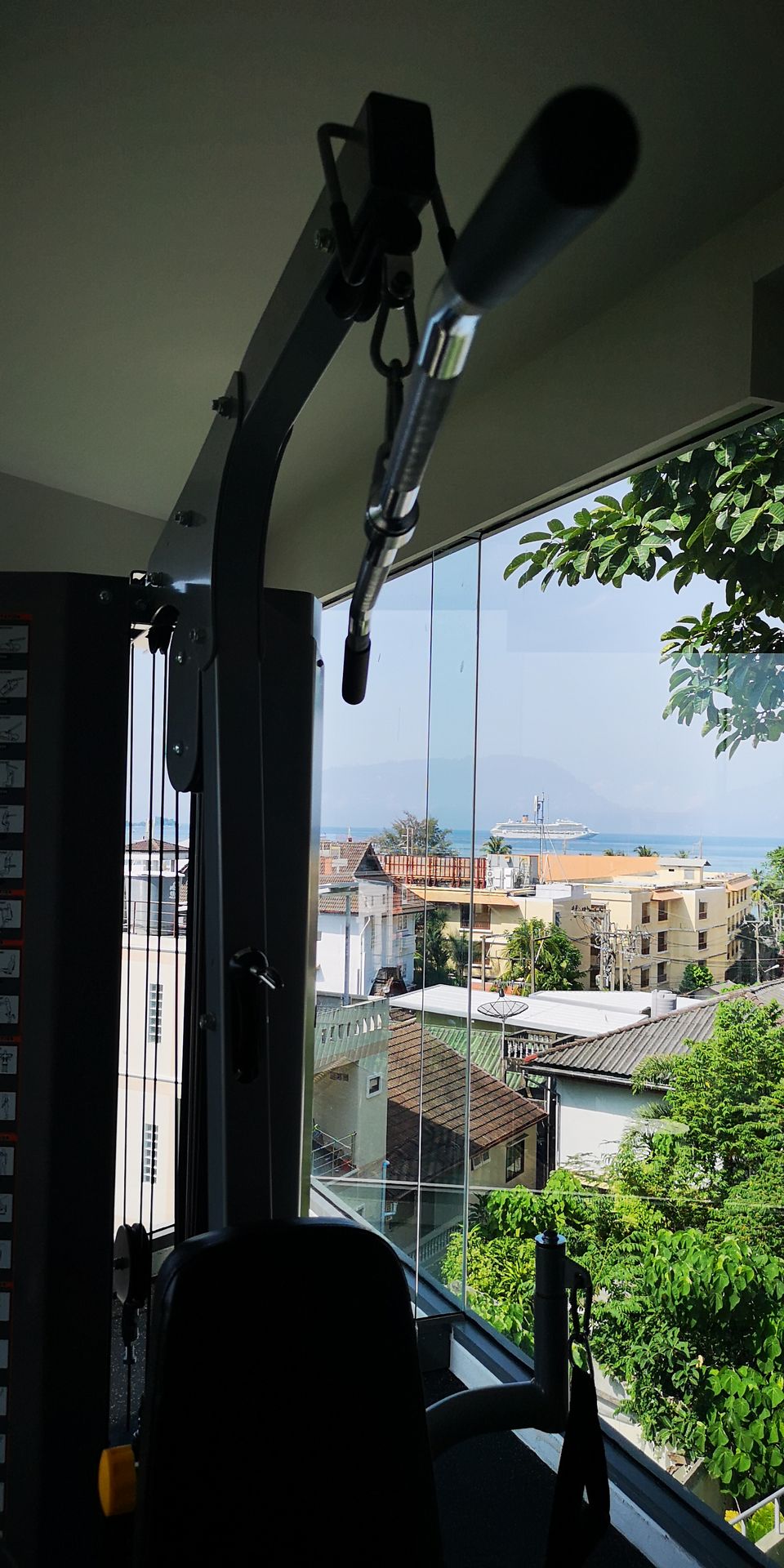 Even though the shampoo and conditioners weren't great, and the swimming pool didn't have much of a view, the overall standard of the hotel and exceptional service of the staff was second to none and nothing short of amazing from the moment we arrived till the moment we left. Leaving was truly the hardest part. The hotel is beautiful, rooms are great, and service is outstanding. I will certainly be staying here again- if not for Bank and Simon alone. Very highly recommended!
Check out the time-lapses I managed to capture on my phone, from our enviable balcony window on the original post here.