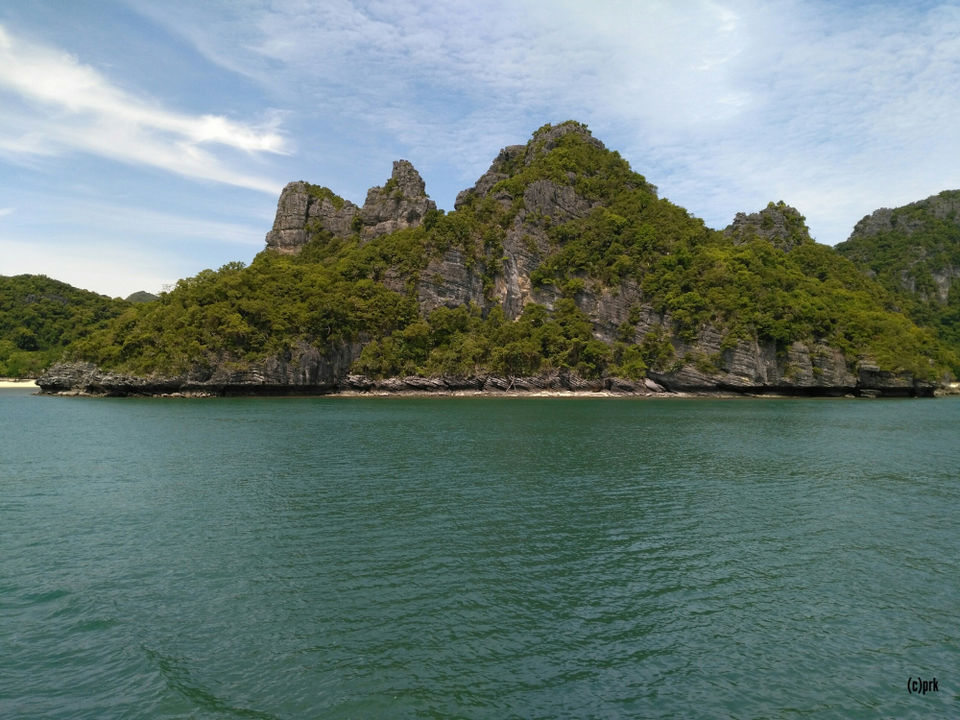 Ko Samui is the second largest island of Thailand in the west of Gulf of Thialand. Along with Ko Tao and Ko Phagnam this forms a part of the Chumphon Archipelago. July is actually the tourist season here however it does rain and the sea does get rough.
Getting here : Direct ferries are available from Surat Thani however if you are coming from Chumpon then it will be via Ko Tao. Lomprayah catamarans are the best for travelling here too. You will be able to get combined bus and ferry ticket from most places of booking. Ko Samui has an airport, so flying in directly from Bangkok is an option.
You can easily spend anywhere from 2-4 days at Ko Samui. Activities that you can do here: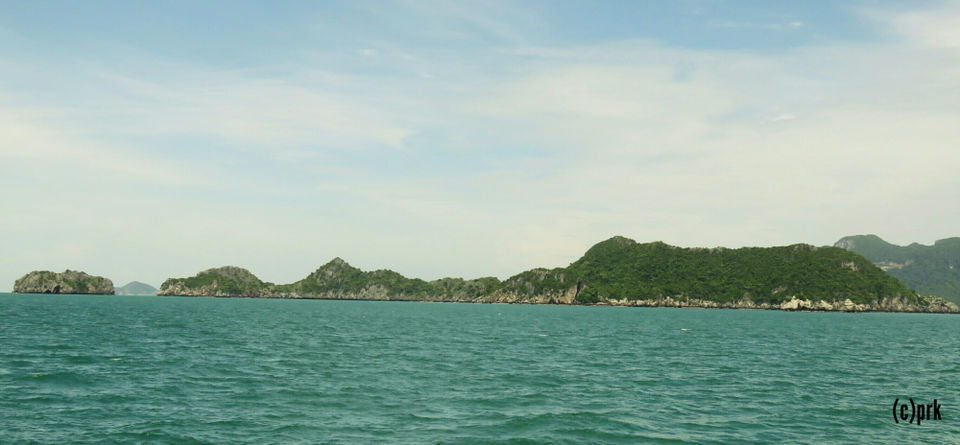 1. Beach hopping , hiring a motorcycle would be the best way to do this. There is one single main highway circling the island with smaller roads branching out to the actual destinations. Hence very easy to travel on the motorcycles. We did not really visit any beaches here as we just had one day and on that evening it rained too.
2. Days visit to Ang Thong National Marine Park, a cluster of around 42 islands most of them inhabited. You can either book a ferry tour which costed us 1500tbh and takes round two hrs to reach the islands. Or there are speed boats which are priced higher but takes lesser time to tour the islands. The Lomprayah tickets for speedboat was marked at 2200tbh. There is a 300tbh additional entrance fee for the park that you usually pay separately at the island.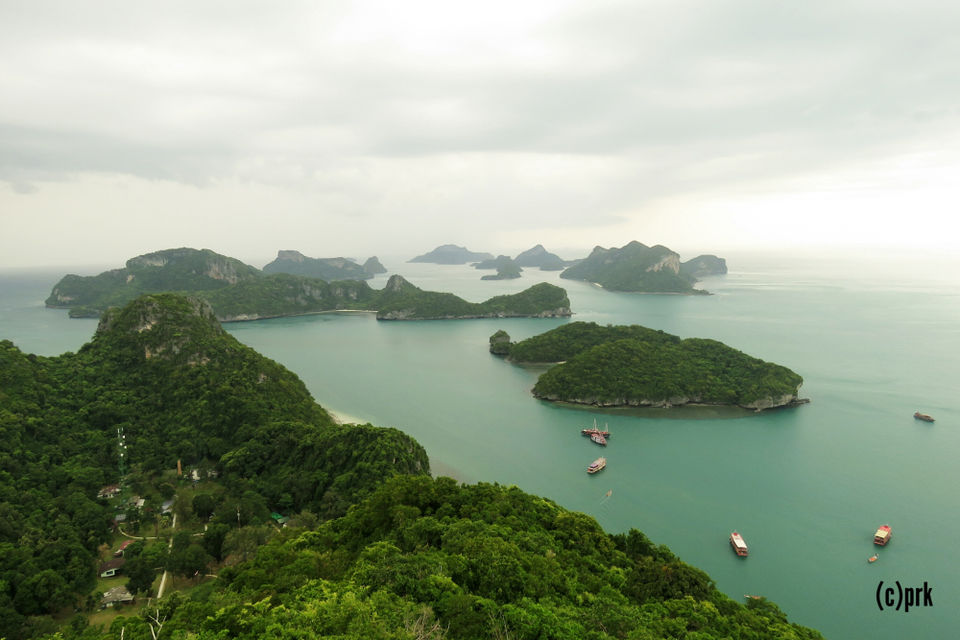 The boats stop at two islands. Koh Mae which has a small beach and an inland saltwater lagoon called the Emerald lake. You climb up a well maintained stairway to the viewpoint to view this Emerald lake. If you have also opted for the kayaking around the island then kayaks are provided here.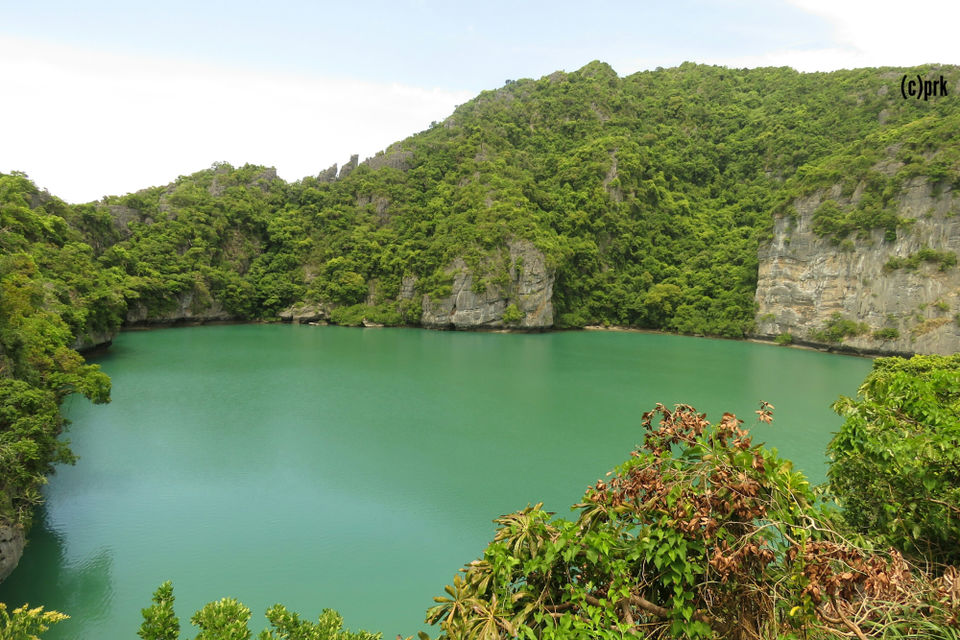 The second island is Ko Wua Talap which is the park headquarters and also has some stay options. This island has a bigger beach where you can rest , go swimming , snorkeling or hike up to the viewpoint. This hike was pretty strenuous although it said it was only 500mts high. There are decks at 200mts, 350mts and 450mts where you can view out and then head back if you are too tired. The steps are in good condition but very steep and it took all my energy to get up to the viewpoint, but really what a view, it was well worth the effort. I had to quickly climb down as I had taken way too long to get up the viewpoint and also a small storm was coming in. As soon as I stared my descend the skies opened up although i did not feel the brunt of it as the forest was pretty dense.Beautiful view of the two islands which have the beaches where the boats dock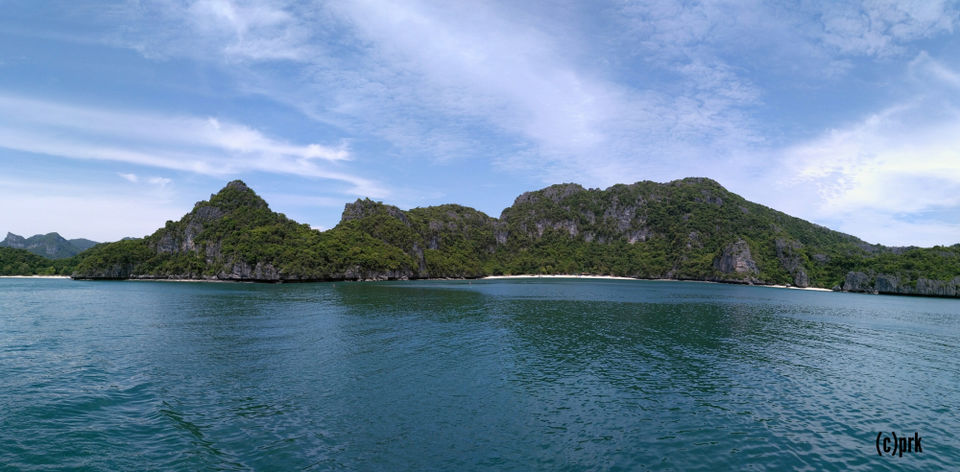 3. Dolphin watching tours. Pink dolphins and Irrawady dolphins can be viewed on these trips. These tours are not very famous and hence run only 3 days a week, so check for this as you plan. This website has good info of the currently available trips http://www.samuipedia.com/trips-tours/dolphins/pink-dolphins-discovery-tour/. We missed out on this as the tour was not available the day we were at Ko Samui.

4. Fishermans Village in Bophut is a nice way to spend an evening. Its completely touristy with many souvenir shops with prices being at a higher range, but very colorful and a delight to window shop. Great restaurants, slightly higher priced but a nice way to treat yourself once in a while.
5. You can base yourself at Ko Samui and do day trips to Ko Tao and Ko Pahgnam islands. Lomprayah catamarans are the best for these ferry rides.
Ko Pha Ngan is another island in this cluster where you can either stay overnight or do a day trip to. Famous for its fullmoon party, is usually very crowded during those days but other days really beautiful is what we were told, though we did not have the time to visit this island.