I recently returned from my annual family vacation, and this time we had taken a trip to one of (if not THE) most beautiful Island cities of Thailand; Ko Samui. Having been to Bangkok, Pattaya and Phuket earlier, it was a nice surprise to find Ko Samui much more laid back and lazy, don't get me wrong here, I quite like Bangkok and Phuket (Pattaya not so much) as well but Ko Samui has now taken taken the title of the best Thai city/town for me.
I spent 3 short days at this beautiful island and one of the most exciting things that I did during my stay was to take the day trip to Ang Thong National Marine Park. 
The Leonardo Dicaprio starrer "The Beach" directed by the genius Danny Boyle was in fact based on the Alex Garland Novel by the same name which was inspired by the beautiful and awe inspiring Ang Thong National Marine Park. Due to certain restrictions, a major portion of the movie was shot at Maya Bay (Krabi), but the inspiration was still Ang Thong. 
To get a fair idea of how the Day trip looks like, I will give you a personal account of my own trip and hope it excites you to want to visit!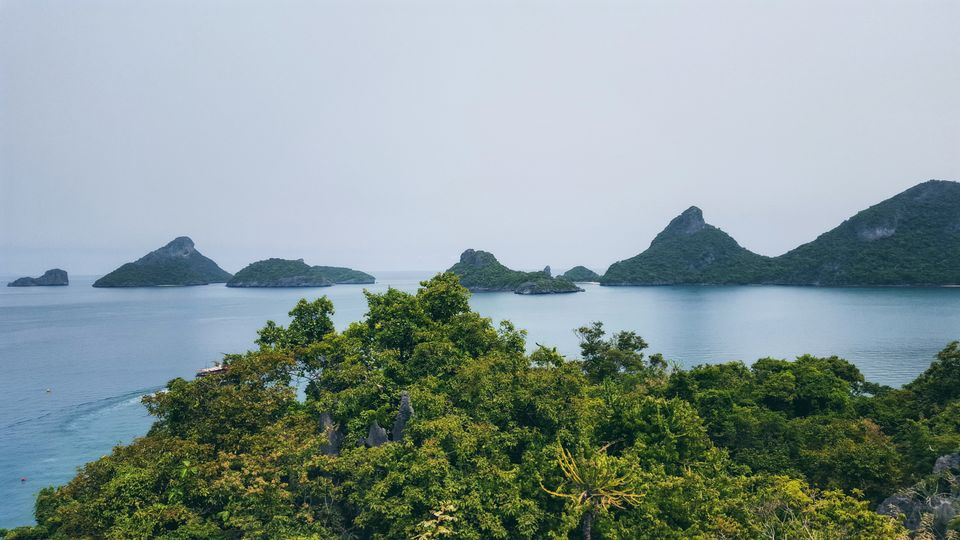 The Ang Thong National Marine Park is a beautiful archipelago of 42 islands of all shapes and sizes, and the speed boat cruise around here is a feast for the eyes. Covered with tropical forests and cliffs of limestone, all but one of these islands are uninhabited and therefore still pristine. While there are numerous speed boat and slow boat tours on the offer to explore these islands, I decided to go with the slightly expensive Samui Boat Charter as I wanted something more private, and had read good reviews about the tour operator online. At 4000 Thai Baht per person this was around Rs. 7500 per person inclusive of the Marine Park tickets, insurance, pick up and drop service from and to the hotel, freshly cooked lunch, guided kayaking and snorkeling tours, unlimited refreshments (fruits, soft drinks, water and 2 Singha Beers per person), a clean and spacious speed boat occupied by just 14 people including us. I was quite happy with the service and would highly recommend it if you are willing to spend a little more to avoid the crowd. If not, then there are plenty of cheaper options as well, but I would say to avoid the slow boats.
After a quick pick up in a minivan at 8.30 in the morning from our hotel in Chaweng,we were taken to our starting point at Bophut where we were given a quick briefing about the day's activities and schedule. Our ride for the day was Taurus; a smart 38 ft speedboat with a cruise speed of 28 knots and was equipped with a washroom, fresh water shower and and ice box that kept our drinks cool throughout the day!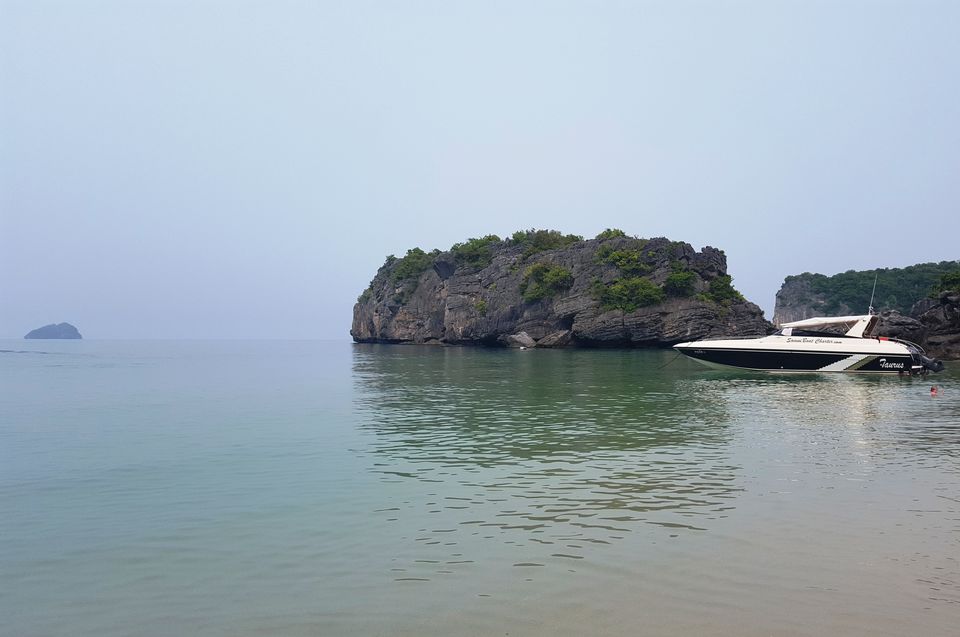 The tour started with a cruise and we came face to face with magnificent islands of all types of shapes and sizes, one such being the King Kong Island, because the rock formation apparently looks like King Kong beating his chest!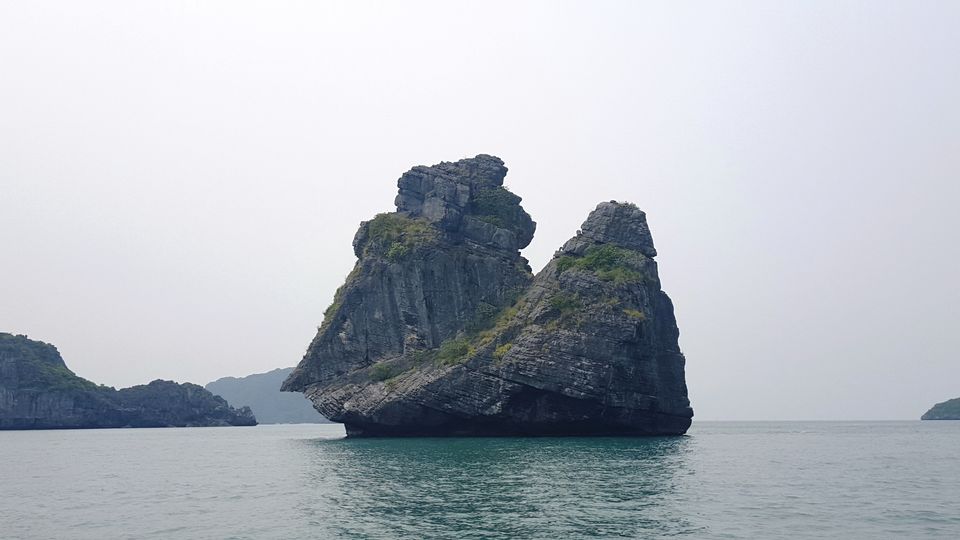 After a ride of around 45 minutes or so, we reached our first activity point Koh Wao for a bit of cave snorkeling. The water was so clear that you could see the fish below even from the boat. Life jackets, flippers and snorkel masks on, we were then taken for a guided tour at Koh Wao, where I came in contact with some gorgeous marine life and went snorkeling into a cave for the very first time! I wish I had taken a GoPro or an underwater camera so that I could have a video for keepsake. The guide was very helpful, always watching out for all of us, cleaning our snorkel masks if they got to foggy during the tour and also told us how just last month he had come face to face to a giant whaleshark in these very waters. Unfortunately on that particular day Mr. Whaleshark decided not to make an appearance, but I saw lots of other varieties of fish, sea urchins, sea anemones etc.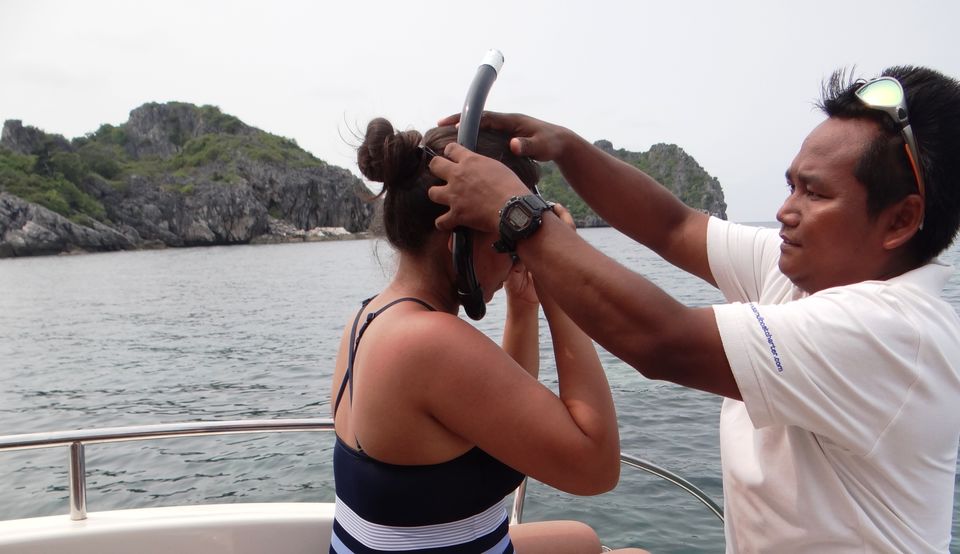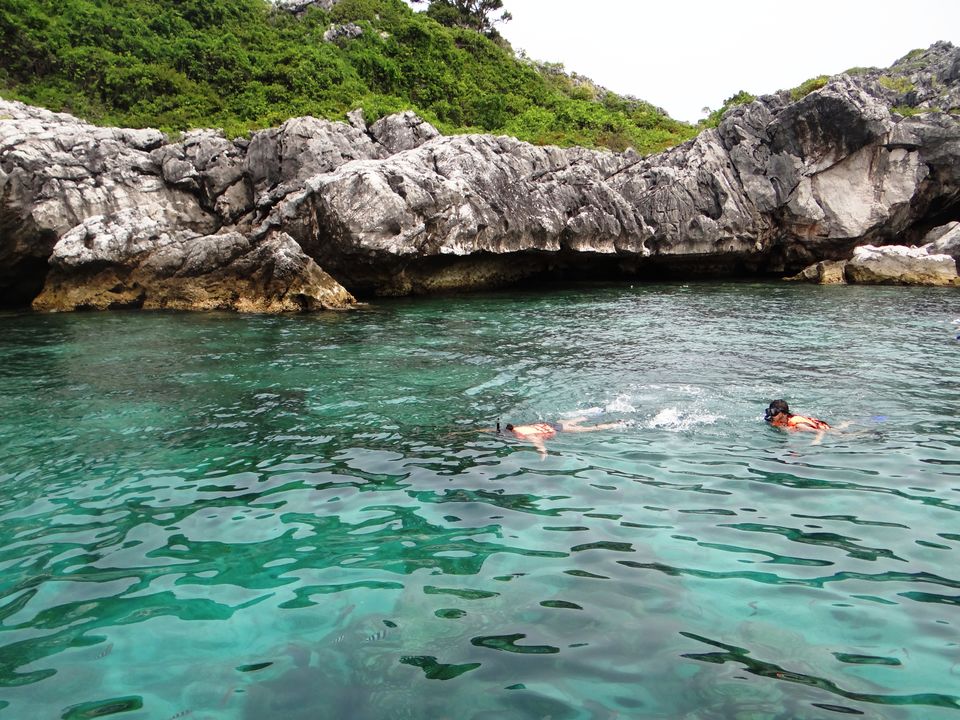 After half an hour of snorkeling, we cruised around the archipelago that forms Ang Thong National Marine Park, and saw some beauteous creations of nature! We were lucky enough to even spot a pink dolphin swimming around, which quickly went M.I.A. as soon as it spotted our boat and our excited squeals. We also cruised around what is known as the 'Mini James Bond Island', a smaller version of the original one which is located in Phang Nga Bay.
We then headed to Talay Nai where after a steep climb we reached the view point from where we could see the phenomenal Ang Thong Marine Park from a height, and also the Emerald Lake, which stands quite true to its name. The climb is quite steep, with the stairway at almost an 80 to 85 degree angle. If you cant manage with flip flops, you better carry a pair of walking shoes specially for this part of the trip.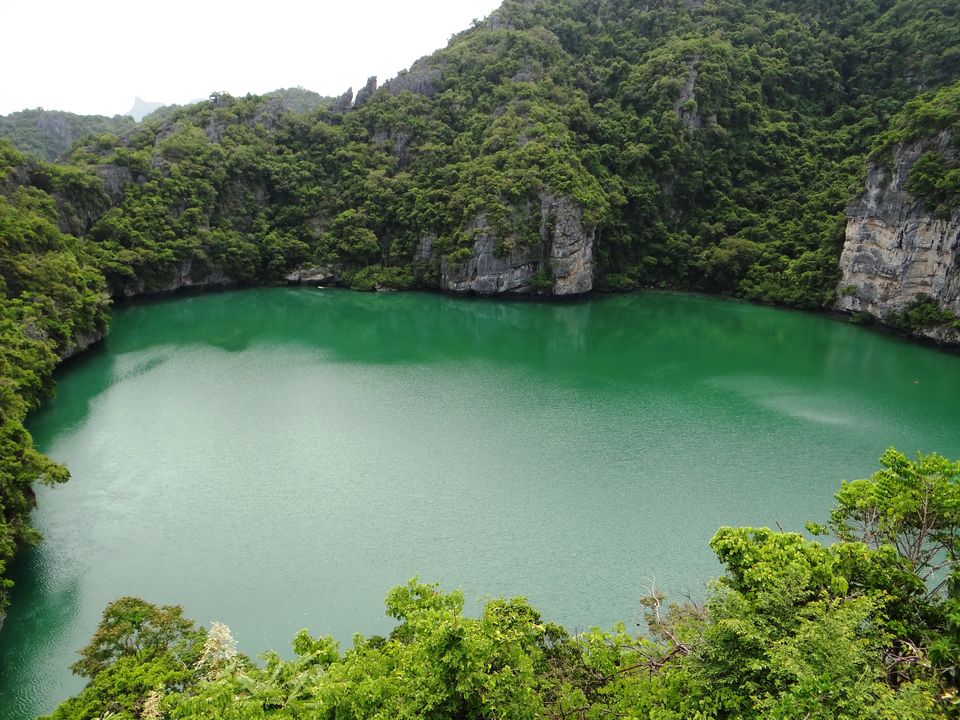 After a photo happy session we headed to a secluded spot for a bit of Kayaking. The experience was amazing, it felt pretty awesome to Kayak in the sea and with limestone caves and cliffs all around. After a bit of initial struggle, I got it right and managed the whole trip without capsizing! Got to admit that it does take quite a bit of muscle power to work the oars.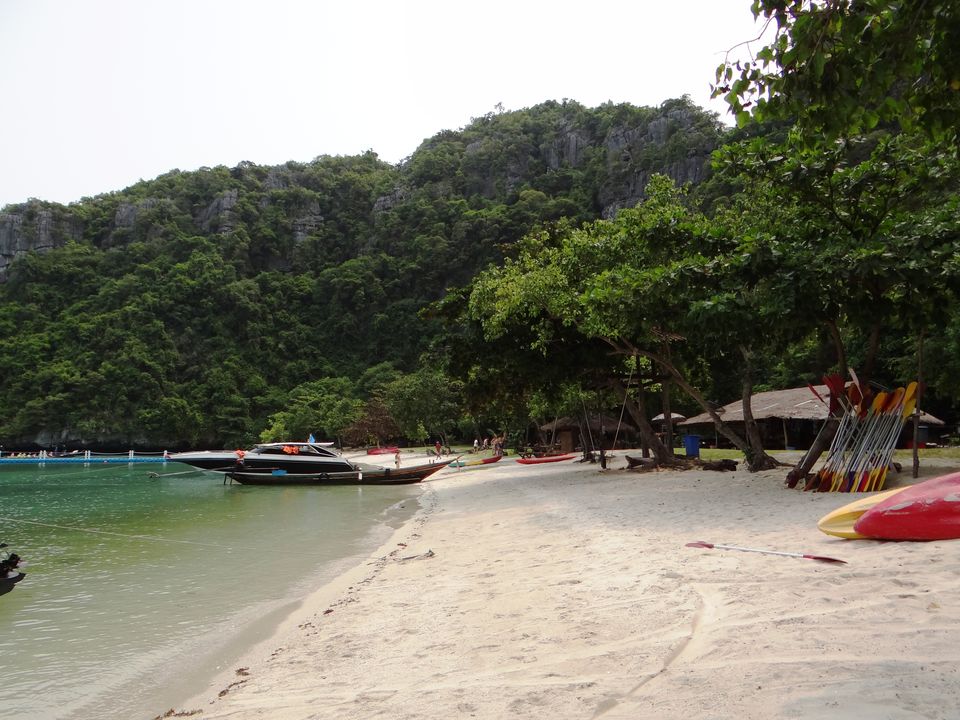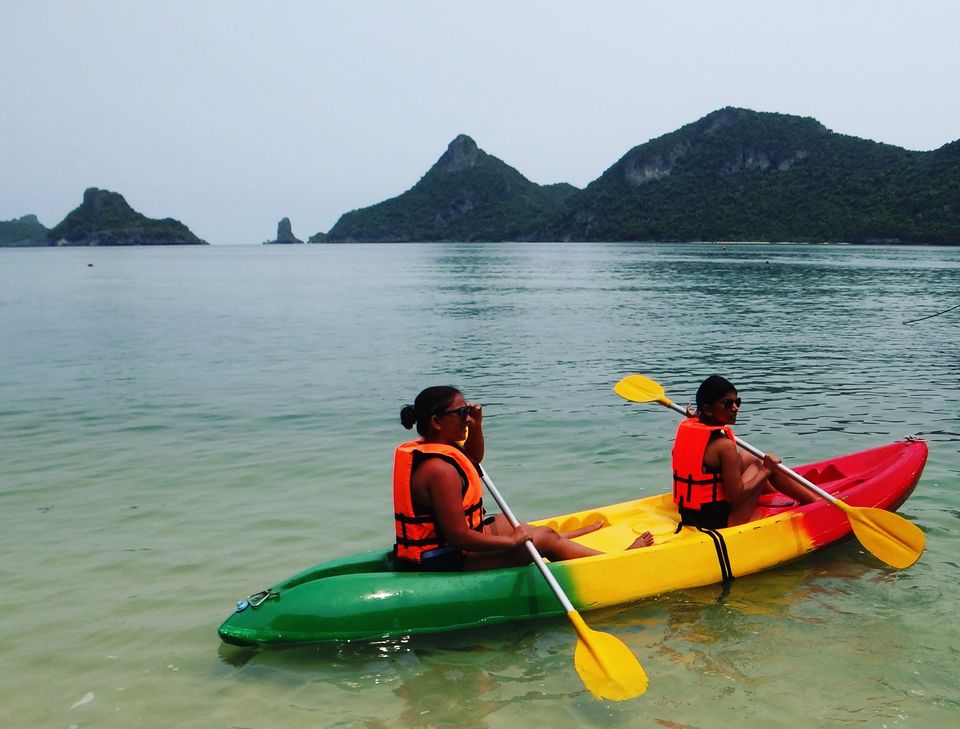 After half an hour of Kayaking and chilling on the beach, we headed to Koh Paluay, which happens to be the marine park's only inhabited island. Cut off completely from the mainland, this village of sea gypsies earn a living only through fishing and the occasional tourist visits during lunch hour. We had a fresh and tasty buffet of salads, chicken satay, fried chicken strips and prawns, fried rice, chicken and cashews, and soup. The food felt good as I was quite hungry after the Kayaking. The boat crew then served us some fresh watermelons and pineapples for dessert as we headed off to a secluded beach to spend an hour at before we headed back to Ko Samui.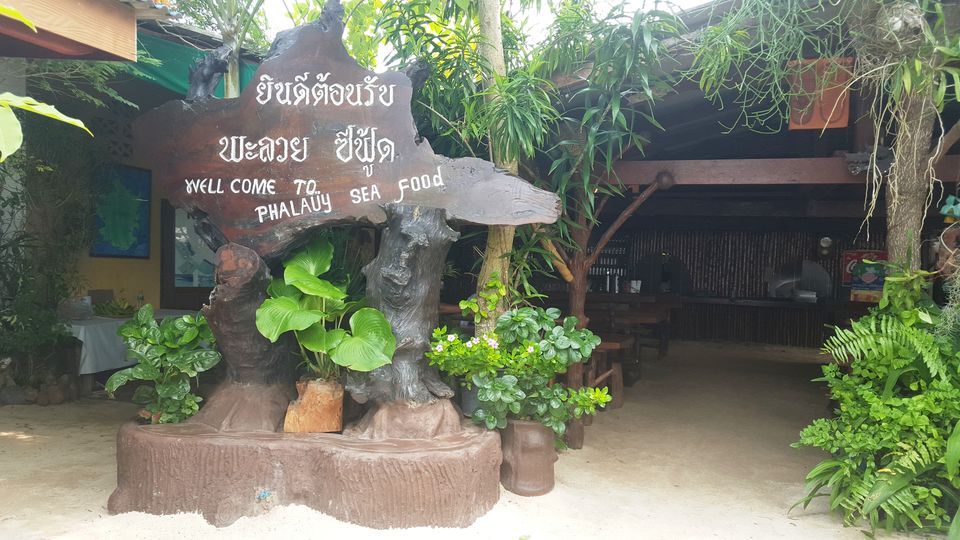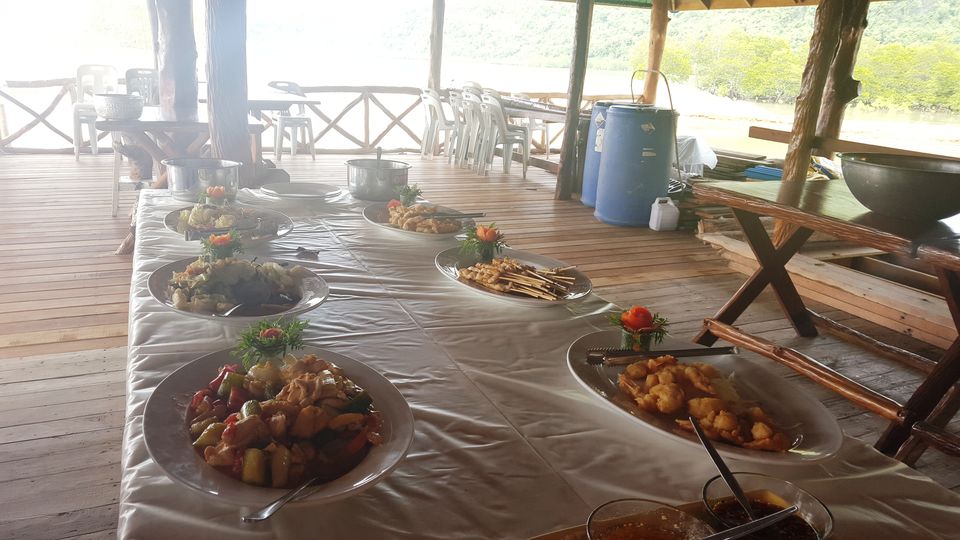 Post lunch we took off for Song Pee Nong beach, which seemed like a completely private beach for just us at that point of time. The one other boat which was there before we arrived took off as well 10 minutes after our arrival, so we had the beautiful beach all to ourselves for swimming, sunbathing and relaxing.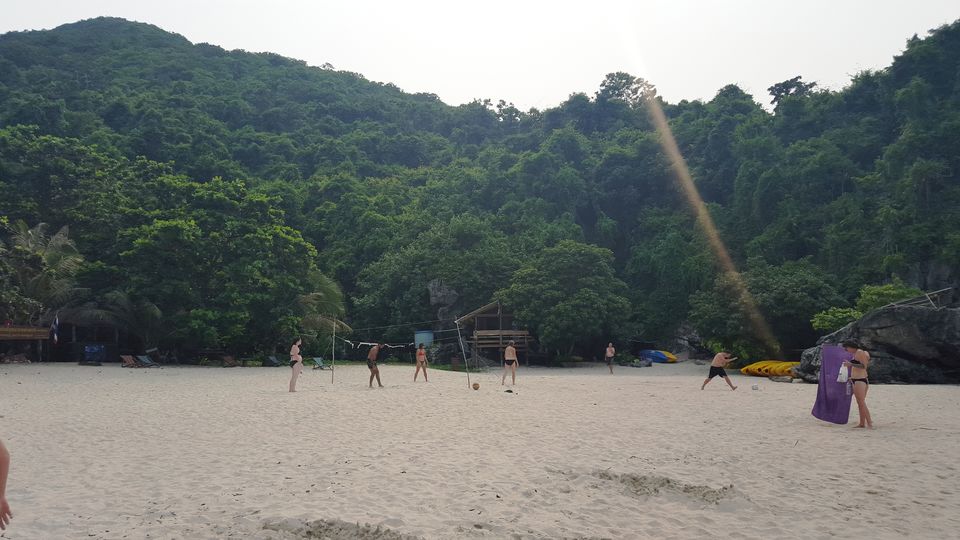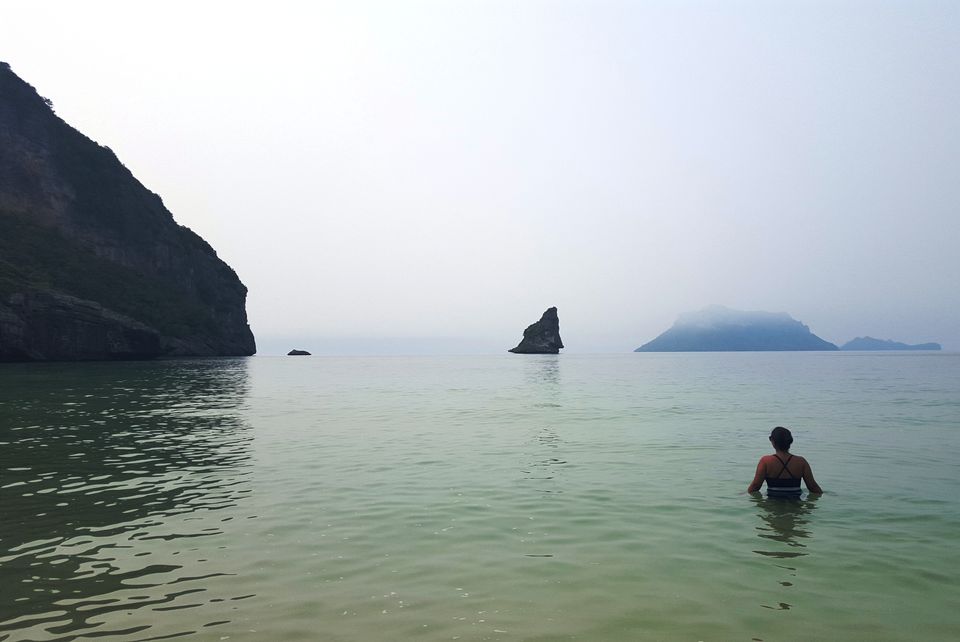 7 hours and a sunburn later, I finally got back to Ko Samui at 4.30 pm still reeling under the effect of the fabulous day that I had. So for all those who are looking to go to Ko Samui, do take out one day of your schedule for this memorable tour, you will definitely not regret it. It's a great experience with family as well as friends.