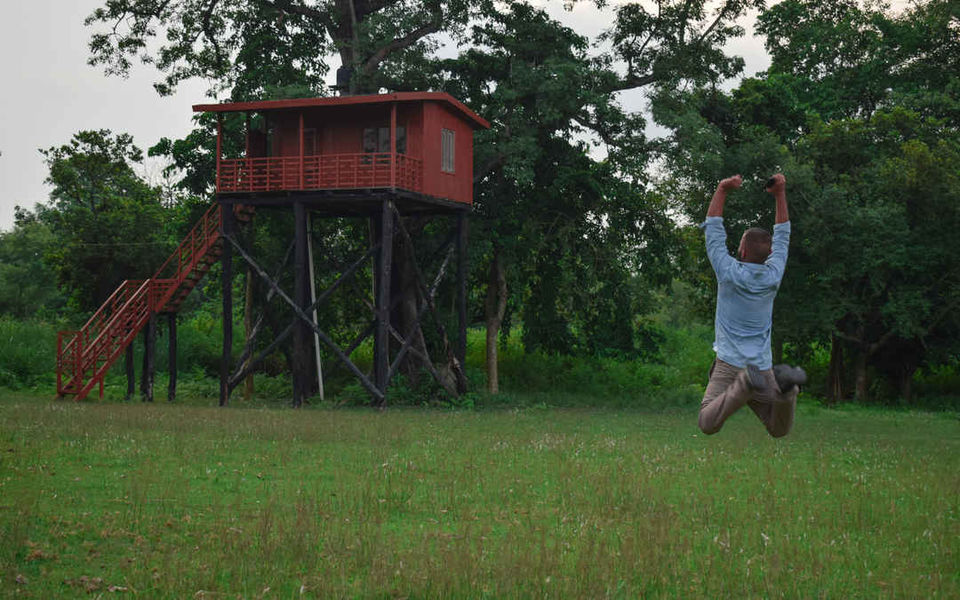 If you travel often you must have stayed in some of the most luxurious hotels, cosy homestays and cute hostels out there. However, if there's one kind of accommodation that stands apart from the others then it is living in a treehouse. This otherworldly experience is an extension of nature and helps you disconnect with the rest of the world and reconnect with the gorgeous, green world around.
Luckily, there are some very cosy and comfortable treetop accommodations in some Indian cities that have now become quite popular among travellers, especially the youth. So, if you also like the idea of staying in a wooden room atop a tree, you might want to check out the following list of best treehouse accommodations in the country that can be the X-factor in your next holiday.
1. Junglebook Mulberry Tree House
Your visit to Tirthan Valley in Himachal won't be complete unless you spend a night or two at the spectacular Junglebook Mulberry Treehouse. Apart from enjoying the panoramic views of the gorgeous landscape from the window of this cosy treetop accommodation, you will also get almost all hotel-like interiors and facilities.
Approximate cost per night per person: Rs 1,600 - 1,800
2. Vythiri Resort
If you wish to blend perfectly with the vibes of historical structures and abundant wildlife of Wayanad, there's no better place to check in than Vythiri Resort. Staying atop this exotic treehouse with cosy interiors in the middle of the lush green surroundings promises to be as refreshing and comfy as you can imagine.
Approximate cost per night per person: Rs 8,500
Love nature but can't dispense with luxury? Tree House Resort Jaipur is where you need to book a stay. Located in Syari Valley about 2km from national highway, this rustic property takes the concept of luxury tree houses to another level by perfectly fusing sumptuous luxury with the the charm of nature.
Approximate cost per night per person: ₹13,500 - ₹21,000
4.) Hornbill River Resort
Sitting quietly amidst forest close to the Kali River, this beautiful treehouse resort is perfect for those who keep switching between enjoying natural views and adventure activities. The treehouse offers great views, unbelievable comfort, and adventure activities like a boat ride to a nearby island, visit to a stargazing point, bird watching, nature walks, fishing, and more.
Approximate cost per night per person: ₹14,000
Waking up to the creeks of insects, chirping of birds, pleasantly warm sun rays is something none of us would want to miss. And that's exactly what Nature Zone Resorts in Munnar promise you. Built on living trees, right in the middle of the jungle, this treehouse has spacious rooms with attached restrooms and balconies that offer spectacular views of the forest.
Approximate cost per night: ₹12,600
If you're someone who knows no bounds when it comes to showering your better-half with love, then the treehouses by The Machan in Lonavala has to be your go-to choice. With unique tree houses 40 - 45 feet above the forest, you get stunning views of vast forest and best experience of being in the lap of Mother Nature. And guess what, you'll not have to compromise with luxury if you are at the Machan!
Approximate cost per night: ₹17,500 - ₹50,000
Set up amidst the dense Bandhavgarh National Park, Tree House Hideaway Resort is known for welcoming the guests with traditional local lifestyle and wooden that is bound to floor you.
The resort is home to five air-conditioned tree houses with attached bathrooms which have round-the-clock facility of hot and cold water. The cosy living area, a mini bar, and the balcony from where you might even spot wild animals who frequently visit the nearby waterholes. Well, what else would you demand from a treehouse!
Approximate cost per night: ₹14,000
The Hidden Burrow sits peacefully on the sunny side of a hill in the quaint hamlet of Jibhi. A river stream makes sure you are far away from the township, making this place even more paradisiacal than it can be described in words. The treehouse rooms are equipped with room heater, have electric kettle for tea/ coffee, a radio for music lovers, and spacious washrooms with almost all modern amenities. And the view from the room; that's incredible and can only be experienced once you're there.
Approximate cost per night: ₹5,000
9.) Rainforest Athirapally
Nestled among untouched woods very close to Athirapally Falls in Kerala, Rainforest Tree House Athirapally is one of the top properties property in the region that continues to charm the visitors with the surrounding virgin beauty and chic interiors. Treehouse rooms are all equipped with king- size beds, elegant furniture, and balconies that offer spectacular views of the gushing Athirapally Falls. Perhaps, you can leave that favourite beach resort of yours for the next vacation and try this awesome treetop accommodation.
Approximate cost per night: ₹16,000 - ₹20,000
We are already planning our next holiday! Are you? Let us know in the comments below and don't forget to share which of the above treehouses would you choose next.
Also, you can create your own travel blog and share it with travellers all over the world. Start writing now!
Subscribe to Tripoto on YouTube and watch exciting travel videos.
Get travel inspiration from us daily! Save our number and send a Whatsapp message on 9599147110 to begin!