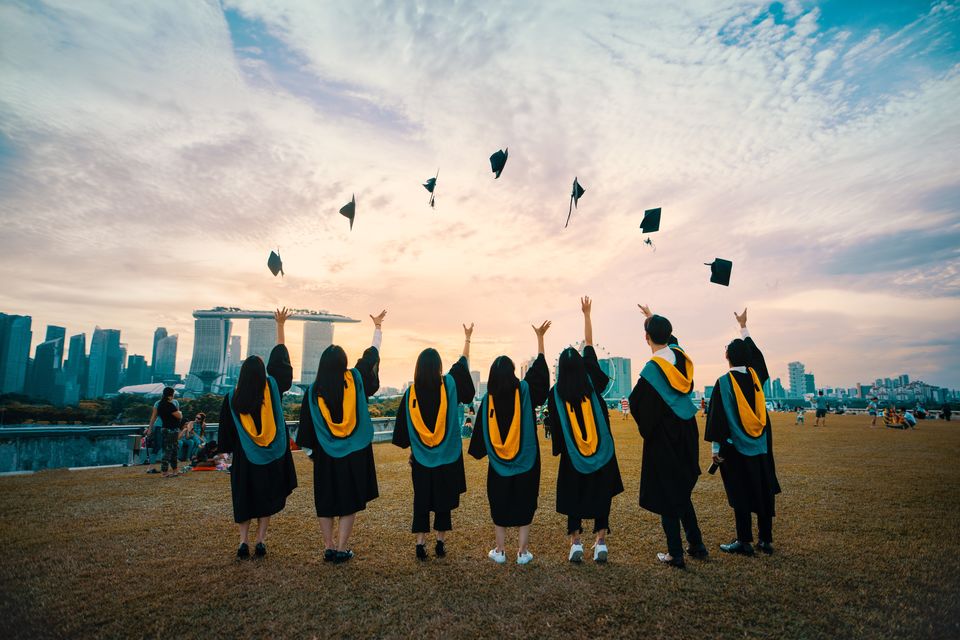 All you do during those years of college really accounts for who you become on the whole, both professionally and personally. However, college's not just about acquiring academic knowledge because hey, we are talking about four years of our dear college life! It's the period most of us go on to cherish most in our lives. After all, those are the years when majority of us find our friends forever, gain worldly experiences, and learn some important life lessons beyond the realm of our books.
More than anything, travelling during college days, when we are young and free, is one of those things that always make for many unforgettable memories. Solo or with friends, every journey you take is a bagful of life-changing experiences that turn you into a storyteller.
So, we have compiled a list of some inspiring and exhilarating travel experiences every college student must have, along with the scores for each of those experiences so you can see how well you fare when it comes to your travel scoresheet.
1.) An impromptu road trip with friends (more than 600km): 8 points
A road trip with college friends is an experience of enjoying the journey without bothering about reaching a destination, which just gets more enjoyable when it's not really planned. Even those small hassles and apprehensions that spring up during the journey seem more fun than ever! And if you did have one such experience, you have already made some great memories and some great friends.
Just you, your vehicle, your friends, and a quest to carry on; you know what we mean, don't you?
Brownie points- 2 (if you have done it on a bike)
2.) A solo trip: 10 points
Travelling with friends is so much fun, but so is the experience of travelling solo. Whether or not you are the kind of individual who enjoys the idea of exploring the world in your own company, solo travel is one thing every college student should try at least once before graduating. There might be apprehensions, doubts, a feeling of being alone during the trip; but all these things vanish away once you set out.
It's an experience like none other, for it is bound to change the way you plan your travels in future. The decisions will just be yours, even during the trips.
Brownie points- 1 (if you choose a homestay rather than a hotel)
3.) Overnight camping in wilderness under the open sky: 9 points
Life in college is mostly about being at ease and within your comfort zone, but isn't it the place where you learn new things? Well, what better way to experience novelty than travel! Camping during college days is fascinating, for it makes you leave the comfort of your bedroom, get closer to the nature, and embrace it as it is.
Whether it is a desert or a snow-clad mountain, overnight camping in the heart of wilderness is one experience that will bestow you with other-worldly joys, thrills, freedom, and wisdom; all in one night under the open sky. To know it, you have to try it.
Brownie points- 1 (If you camped in a place with no mobile network)
4.) Wildlife safari in a national park : 9 points
If you are a fan of nature and wildlife and have been intrigued by watching the wild animals and birds either on TV or at zoos, it's time to upgrade yourself. Give yourself an opportunity of spotting the wild beasts for real in their own natural habitat. You do that once and you will most likely be a wildlife enthusiast forever.
It's a completely different experience. Remember, it's no TV screen. You are in their territory, and it's all live!
Brownie points- 1 (if you actually spot a 'big cat')
5.) Trek to some place lesser known: 10 points
College days are the best for planning treks, for you have friends who are following the same schedule, you have more long weekends, even longer summer and winter breaks. Trekking to some lesser known place is always one of the most exciting must-have travel experiences for every college student.
The best thing about treks is no matter how treacherous the terrain is, you are always rewarded with awe-inspiring views that make you forget all the fatigue when you reach the top. Quite similar to our lives, isn't it?
Brownie points- 1 (because it's a must-do)
6.) International trip (of course not with family): 11 points
For all who think a foreign trip during college is too much to ask for from a student, it's definitely not. One, if you plan it well ahead of time, you can save up easily and fly out for an international trip. Two, not all international destinations need air travel. In fact, there many you can simply take a train to, or even a bus! So, don't restrict your scope when it comes to travel.
It's one thing to read a great deal about a destination that you dream to visit someday and entirely another thing to visit the place, even if it's on the other side of the ocean. Think about it.
Brownie points- 1 (if you successfully saved up enough to travel by air)
7.) Go high and have a meal with friends (9,000 feet): 9 points
It's the elevation that we are talking about, yes. Gather your adventure-loving friends and plan to have a meal at a mountain top thousands of feet above sea level. It's not just the everlasting memories that you create, but also some lifelong friendships.
And once you reach the pinnacle of your climb, remember that it's not the mountain you conquer but your own fears and apprehensions.
Brownie points- 2 (if you spent a night up there)
8.) Beach party with your gang: 8 points
Party during a beach holiday with best mates is on almost every college-goer's bucketlist. Well, there's every reason to do it while you still have some time left. The sheer joy of freedom at a lovely beach with your gang while taking in the views of the vast sea and musical sounds of tiny waves splashing the sandy beach is indescribable; people who have experienced it will understand what it's like.
Those of you who haven't experienced a beach party with friends, make it your next travel plan and you will thank us later.
Brownie points- 1 (if you cleaned up the area after the party)
9.) Spend a night at a famous haunted hotel: 8 points
Discussing late night ghost stories with friends inside your cosy college dormitory is so much fun. But how about doing the same when your are staying at some well-known haunted hotel at a secluded place? Well, it should be fun too, especially when the locals tell you those hair-raising eerie things that took place in that hotel.
10 years down line, you might just laugh at how each of you behaved that night in the hotel, but most of you would agree how desperately you waited for dawn that night. Anyway, it would be a night to remember.
And we have made it a lot easier for you. Just click here.
Brownie points- 3 (if you accepted the dare to sleep alone in a room)
10.) An adventure sports trip: 9 points
Adventure is one of those tempting experiences that are hard to come by. You may have some fears buried deep inside, but hey, don't you let them graduate with you; face them! And what better a time to indulge in adventure activities than college days.
Rafting, paragliding, kayaking, snorkelling, skiing, bungee jumping, rock climbing, or whatever you can think of; just do it when you still have time and your best pals with you.
Brownie points- 2 (if you have done all mentioned above)
So, travel as much as you can. Make the most of the best time of your life to learn lessons that cannot be taught inside any classroom. Remember, life's a ruthless teacher.
How many of these you have covered? Let us know in the comments below. If you think you have an awesome story to share with the world, write your own experience here. Subscribe to Tripoto on YouTube for awe-inspiring travel videos.