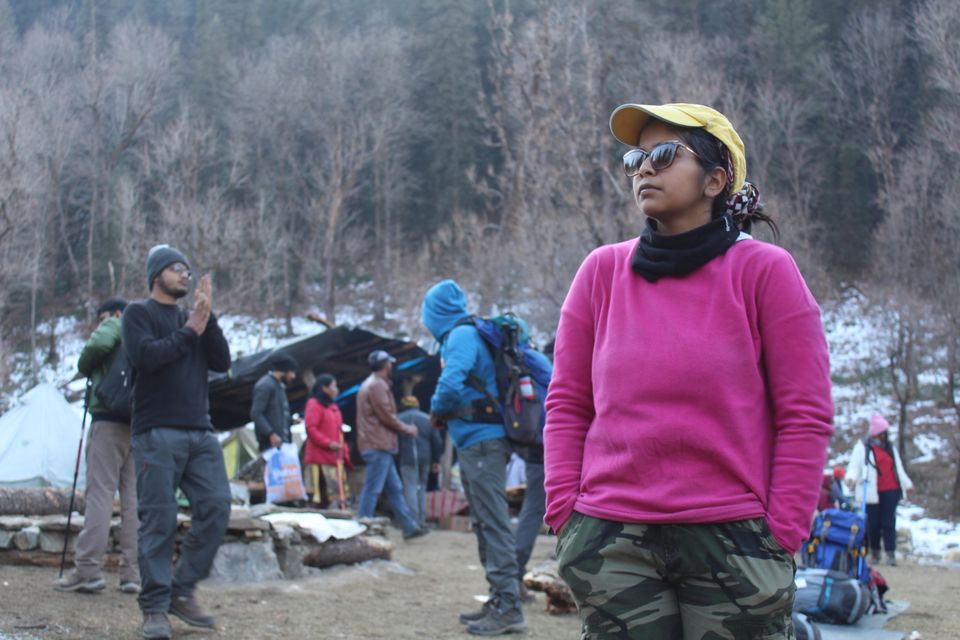 Traveling with the right accessories and clothing becomes most important because the number of things you carry will make a huge difference in the limited space your backpack possesses. I usually try to buy things that are multi-purpose so that I can save some space in my bag. And also try to buy things as small in size as possible as it should be portable too.
Hence I am going to be listing down a few items which I feel is value for money to carry while you're traveling whether it is for a short or a long trip.
1) Multi-purpose travel scarf - This is very very useful for women especially because we usually do carry a scarf with us always. And what better than a scarf with a zip to keep your small but important things like money or a phone! We usually suffer without enough pockets and this becomes handy at such times like trekking where you don't need to remove your backpack for frequently needed things. Buy it on Amazon here
2) Packing cubes - Another thing which has started trending nowadays is this. Basically, it comprises of a set of small rectangular bags in various sizes where you can organize your travel things in it conveniently. It saves a lot of space and avoids a lot of confusion and rummaging through your travel bag. Buy it here
3) Portable daypack - This little backpack here is a must for me on my every trip because we won't be traveling always carrying the huge bag with us. After dumping the bag at our stay we usually wander out for our activities. Hence this bag is very portable and handy to carry. It's kinda weightless so you won't have to crib about carrying a piece of extra luggage too! Buy it here
4) Water bottle - No need to mention this one but I have personally seen many people not carrying water bottle themselves and borrowing from others. That's fine but what finally happens that at one point in time they end up buying a plastic water bottle when they most need it. Needless to say, we all know the climatic situation we are in. So the least we can do is carry our own bottles and fill them at one of the many outlets available on the way or at our hotel where we stay before leaving. Buy normal one here
and a water filter bottle here. This water filter is very useful while trekking or traveling and for people who are conscious about the quality of water, they drink from unknown places. This bottle has a mechanism where it automatically filters the water you drink hence making it absolutely safe. I recommend everyone to buy this one since it is a one-time investment and shall help you keep your health avoiding water infections.
5) Universal adapter - This is in case you're traveling to an international destination. Those of you who have already gone might have experienced this that after reaching you may realize that you don't have the proper plug which fits their different plug point and you end up buying a new charger there. The thing is, each country has a different plug point so it's better to buy a universal adapter and keep it so that you're ready whichever destination you want to go! Buy it here
6) Multi-purpose charging cable - Nowadays everyone carries a lot of electronic accessories like a mobile phone, a digital camera, an action camera, a power bank, a fitness band, Bluetooth earphones, etc,. You may have one or many of those mentioned and all of these require consistent charging. There may not be many plug points available to charge all of these at once and in the case of hostels you get only one plug point. Carrying all the different cables which fit all of the devices can be a hassle. So this multi-purpose cable helps a lot as it helps you save space and it is possible to charge multiple devices at once. Buy it here
7) Rucksack - I always prefer a rucksack over suitcases because I feel the latter is very bulky to carry and also inconvenient to move around. Whereas a rucksack just fits perfectly on your back and most importantly keeps your hands free. A 45-50L bag is more than enough if you are a minimalist and Wildcraft bags are very reliable in this case and you can buy one here
8) Raincover - The main hack to visit certain international destinations is to travel during the rainy season since it will not be a tourist season and the rates will be quite low. Hence you need to be prepared with proper rain gear for this purpose. I always carry a rain cover even if it doesn't look like it's going to rain. This one here is very handy.
9) Poncho - Falls in the same category as the rain cover mentioned above. I prefer a poncho over raincoat because it's easy to wear and remove, you cannot waste time when it starts raining suddenly. Also, it has a lot of breathing space hence the material doesn't stick to your body like the raincoat. Buy it here
10) Swiss knife - Everyone would have heard about this but not many would know it's various uses. This actually forms a part of the survival kit and can be used for all kinds of purposes like cutting fruits, opening corkscrew, like tweezers, a toothpick, screwdriver, reamer and hole puncher, blades, can opener, etc,. This one here is the most famous and trustable swiss knife of the lot. There are a lot of artificial ones in the market hence it's better to buy the original one than a dupe because the last thing you want to know is that the knife doesn't work when you're stuck in a bad situation.
11) Mi Band 3 - Just added this fitness tracker as I personally use this and it also helps to monitor the amount of exercise and the calories being burnt daily. It also makes a person conscious and helps him to get fit. Buy it here
12) Power Bank - Needless to say, this one is a must if you are traveling continuously because whether it be your camera batteries or your mobile phone, both need charging from time to time. I always have my Mi Powerbank 10,000mAH with me for 3-4 years now and there have been absolutely no issues with it. It also charges very fast. You can buy one right here.
13) Hand sanitizer - While traveling or trekking it is known that we cross by various places and in the process, we can agree that by the end of the day our hands are not so hygienic. Especially during treks, there is very limited water and food so we cannot expect to wash our hands properly with handwash and stuff. So carry a portable small hand sanitizer so that you don't have to worry about your hygiene anymore. You can buy one here which is just for Rs.60!
14) Mosquito repellant - I don't know about many other people but mosquitoes seem to like me a lot. For some reason wherever I go and start sitting in the same place for a few minutes, mosquitos start attacking me. Hence I always make sure to carry a small tube of Odomos or also if you are too sensitive or scared to apply it on your skin then there's one Odomos roll-on available here which you can apply on your clothes. This actually keeps the mosquitos away.
15) Portable toiletries kit - We all have large bottles of shampoos, soaps, and facewashes at our home. But we cannot carry the same bulky ones while traveling. Hence I use this portable toiletries kit to fill my stuff in these small bottles and put it in one of the packing cubes so that my toiletries remain sorted. They also have labels on them which makes it very easy to identify the items. You can check it out here and try using it too.
16) Microfiber towel - A big problem with towels is that you cannot carry more than one and it takes a lot of time to dry. Hence if you are continuously traveling then there's no time for it to dry properly and if you pack it like that it starts to stink which makes it unusable unless washed. Finding these microfiber towels has really been a boon because they're full of advantages. They dry quickly(within almost an hour), very light in weight, if folded it comes at the size of a fist hence very portable too! The cost is a bit high compared to other towels but if you buy a good quality one like this here, it will last you for many years.
This is what I think are the basic essentials and useful ideas while going on any trip. If you liked it and are going to buy any of these, please try to buy it from the same links attached. (These are affiliate links and if any of you guys buy from it, it would help me a lot as I would get a teeny tiny commission with no extra charge to you whatsoever). I have attached the products which most of them I am personally using and not for any sort of promotion hence you can go for it!
If you do have something else which comes to your mind or you use regularly for your trips, please do let me know in the comments section below :)