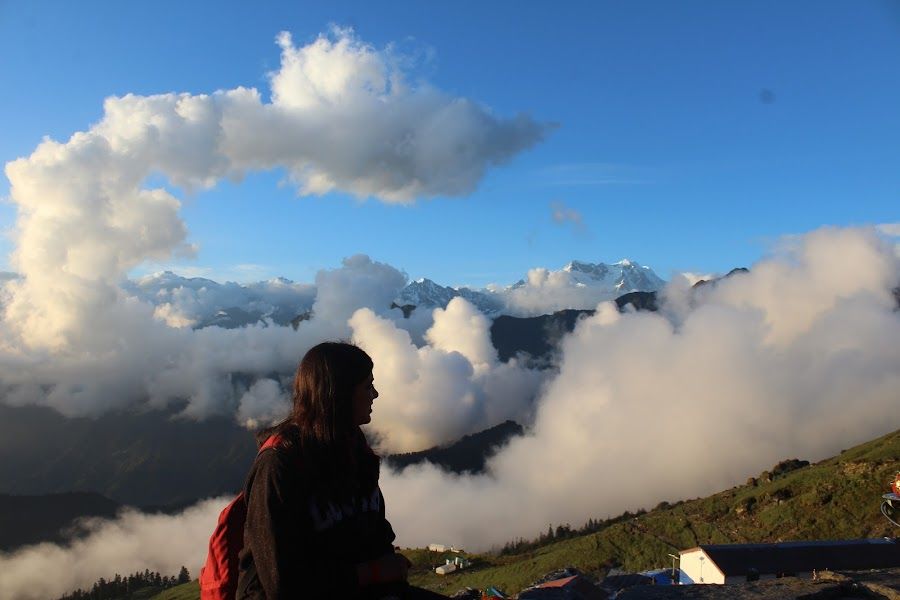 We were looking for some good trekking places which were lesser known and not much crowdy and we came across this beautiful location of Chopta and Tungnath in Uttarakhand.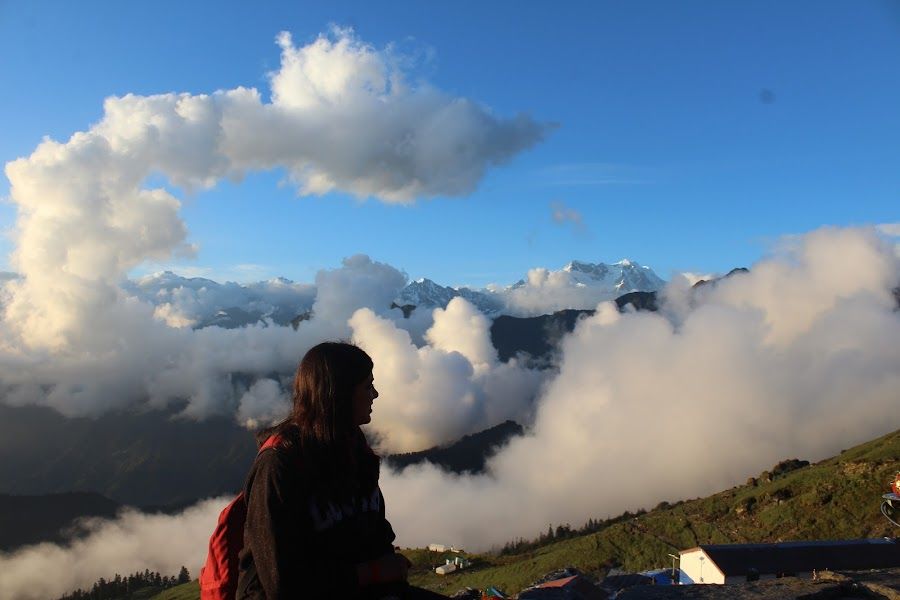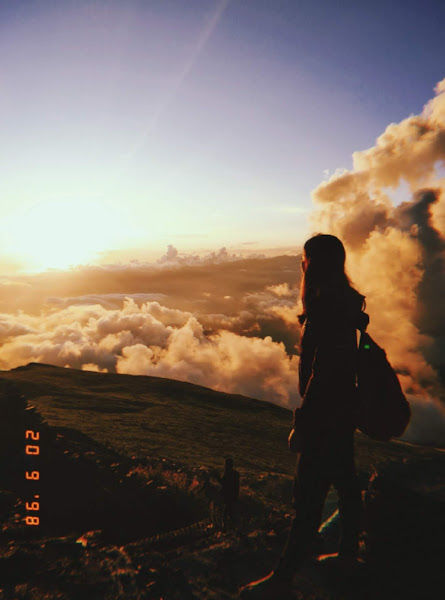 We took a train from Lucknow to Haridwar which was an overnight journey and reached Haridwar early in the morning. We had our breakfast and booked a traveller for 7 people with 1 guide and 1 driver. Starting our journey at around 11:00 AM in the morning, we were flattered by the beauty of Uttarakhand. The journey was so beautiful as we went across Rishikesh – Devprayag – Srinagar – Rudraprayag – Chopta. We reached a small village before Chopta at around 11:30 PM as the road conditions at some places were not so decent. We had already booked a local homestay there but very close to the base point of Tungnath Trek.
We had to start our trek at around 4:00 AM for the sunrise but we could not make it as we reached late last evening. So we decided to reach the top at sunset. We started from our stay to Chopta which took around half and hour to reach and finally started the trek at around 12 noon. The trek took my heart as we went in September and the landscape were full of clouds. The greenery, freshness and ambiance of that place left us exalted.
Next day, we decided were heading back and it took us full day to come down to Rishikesh so it was decided that we will spend a day in Rishikesh and take a train back from Haridwar to Lucknow which was again an overnight journey. We booked a local hostel with bunk beds and after having dinner decided to go for a walk at the Lakshman Jhula and Ghats late night. The cold breeze, silence and the holy water of River Ganga - all of it was so pure.
Moving on, after clicking a lot of pictures, enjoying the view and inhaling all the freshness we were about to reach the top at around 5:00 PM and we were lucky to have the Dwar of the Temple open. I was so tired during the trek but coming to the point from where the temple was visible, i suddenly got enough courage to move ahead without stopping. My friends were talking about how they wanted to visit this place again during winters when there will be snowfall. Keeping that thought in mind we moved ahead and suddenly rain started with hailstorm. I was just so surprised to see the miracle happening.
We reached the Tungnath peak and as we removed our shoes for Darshan, all our tiredness vanished like fumes. The floor was so cold and relaxing that I could feel my body calming and alleviating. We did our prayers, the temple was old but beautiful. The elevation of Tungnath is 3,470 m which makes the Tungnath temple the Highest Shiva Temple in the world.
( Please Note: There are not many places to eat during the trek but at the top near the temple you can find many joints. It is advisable to carry enough water along with you.)
We were so lucky to the sunset from there. We were literally above the clouds and Badrinath mountains were also visible. After spending a lot of time there we started our journey back to our stay. We could not go to Chandrashila Peak as it was raining and we were already late. We went downhill in the dark as there were no light on the trek and it was already 7:30 PM ( Do carry extra torches in case of emergency.)
Next morning, we rented scooties at Rs 400 each and decided to explore the streets of Rishikesh. I studied in Dehradun so I am quite familiar with the streets of Rishikesh. We went to Beatles Ashram, spent a lot of time there, took pictures and also had our lunch at the famous Chotiwala and did a little street shopping. At around 4:00 PM we left for Haridwar from where our train was.
Our train was at around 8:00 PM so we decided to go to Har-ki-Pauri for sometime. We were late for Aarti but we sat there for quite some time and enjoyed our last few hours of trip.
This was the most beautiful trip I have ever visited and the ambiance of the temple was so soothing. I am not a religious kind of person but this is worth experiencing. Please avoid going in monsoon months.