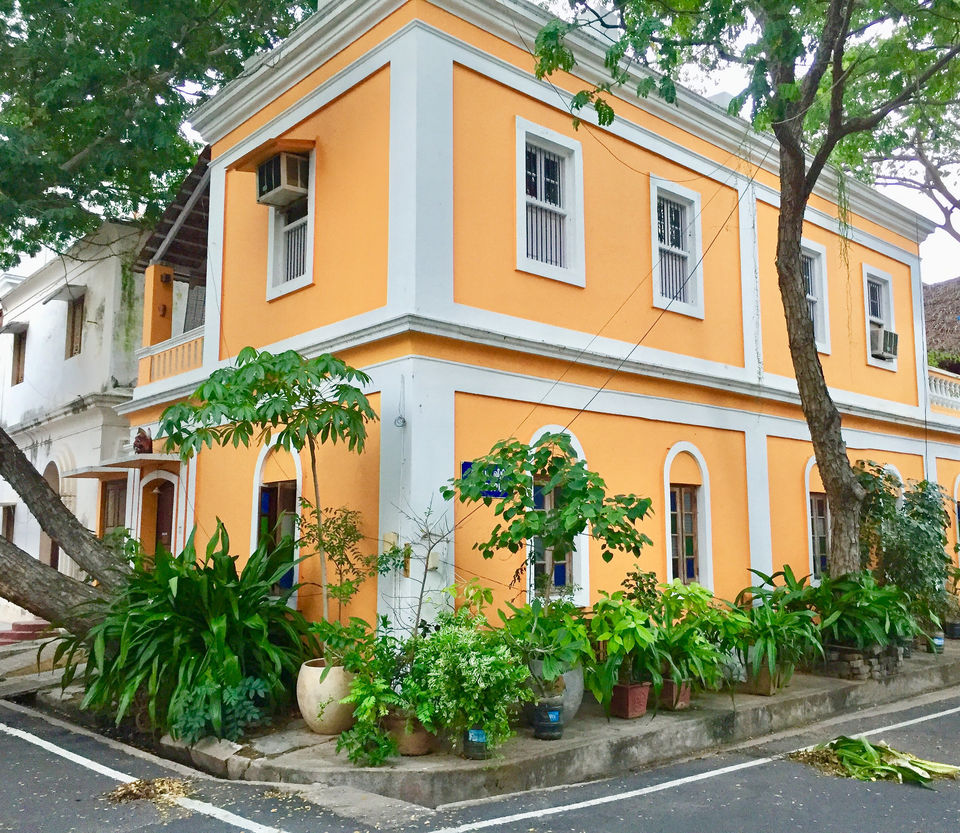 The French ruled small enclaves of India until the mid-20th century, and when they departed they left behind a footprint; a small town in South India called Pondicherry. An unusual melange of southern Indian and French cultures only found here; Pondicherry is a dainty place where alleys skirted with French-colonial architecture meet the Bay of Bengal. It's not unusual to forget that you're still in a union territory of India, but the characteristic hospitality of the people here reminds you of the same. Pondicherry is perfect town for a day-trip due to its relaxed pace and quaint atmosphere.

Getting in and around
Pondicherry is 3 hours by road from Chennai, the capital of the adjacent state of Tamil Nadu. A taxi from Chennai International Airport should cost you about Rs. 3000. You can also take a bus from the Tiruvanmiyur bus stand in Bangalore to Pondicherry's main bus terminal, tickets being roughly Rs. 100. The daily train from Chennai Egmore station takes approximately 4½ hours to Pondicherry station. Bangalore is also an overnight train journey away. The Pondicherry Airport currently only has 2 SpiceJet flights connecting the town to Hyderabad and Bangalore, while Air Odisha also connects to Chennai and Salem.
Pondicherry is best covered on foot, and getting from one place to another can take anywhere between 5-20 minutes of walking. Alternatively, you could also rent a bicycle for Rs. 40 per day from the Pondicherry Tourism Information Centre. Auto-rickshaws do ply in some areas, with a minimum charge of Rs. 30 for 6km.
Accommodation
Budget: Le Mirage, Hotel Coramandal Heritage, Treebo Red Lotus
Mid-range: Le Dupleix, Dune de l'Orient
Luxury: La Villa, Palais de Mahe, Villa Shanti, Maison Perumal
Take a pre-breakfast stroll down Promenade Beach to see the sun rise over the Bay of Bengal. The sight, and sound of the waves crashing against the rocks, will put you into a mood like no other. A great way to connect with yourself, or the people you are travelling with. You can't miss the Gandhi Statue, located right off the beach, or the lighthouse that fits perfectly into this seaside setting.
Walk about 10 minutes southwards, down the beach, and then turn in towards the town; and you should be at the charming entrance of Artika Cafe Gallery. As if an ode to the town itself, Artika is laid back café with various types of seating spread inside and outside this artsy villa filled with attractive greenery all around. A "Mini me" breakfast for Rs. 220 includes croissants, juice and coffee; and the "Kombo Breakfast" for Rs. 320 will have an egg, baguette, butter & jam, toast, fruit salad, juice, smoothie, and coffee/tea. And, their crepes are to die for! Artika Cafe Gallery is open from 8:30 am to 7:00 pm every day but Wednesday.
A 12-minute walk from Artika will lead you to a tall structure of burgundy and white. This is the Basilica of the Sacred Heart of Jesus. More than 110 years old, the interior of this basilica is adorned with stunning stained-glass artwork that depicts the life of Jesus Christ. A peaceful place to spend some moments in reflection, the church is open to visitors from 6:00 am to 10:30 pm.
If you are on foot, it will take you about 15-20 minutes to get to this cathedral, while a bicycle ride would be about 10. A place for a quick visit, this 200-year-old cathedral looks regal from the outside glowing in white with gold accents. In fact, Mother Theresa visited this cathedral during her visit to Pondicherry.
The Sri Aurobindo Ashram in Pondicherry is a 10-minute walk away from the cathedral. It is the ashram that Sri Aurobindo established after retiring to Pondicherry. A tranquil place to meditate, it also houses a bookshop with some very interesting reads on the life and journey of Sri Aurobindo. While you may not attain a major spiritual realisation or nirvana, some much needed peace of mind is something you'll take back for sure. The ashram remains open for visits from 8:00 am to 12:00 pm and 2:00 pm to 4:30 pm, every day. Children under 3 years are not allowed to enter.
A 10-minute walk through the beautiful Bharathi Park and you should reach La Villa, located in the courtyard of a hotel of the same name, in a 19th century French house. Serving some exquisite continental and French fusion cuisine in its chic décor, it's the perfect lunch location to get a taste of that French influence in Pondicherry. A meal for two here should cost about Rs. 2000, and the restaurant is open from 12:00 pm to 2:30 pm and 7:00 pm to 10:30 pm.
Located roughly 30 minutes from Pondicherry, a rickshaw should cost you about Rs. 250 to get here and a taxi should be about Rs. 400. Auroville is a township founded by "The Mother", a collaborator of Sri Aurobindo, that transcends politics, boundaries, currencies, religions, creeds, and allows all residents to live as one in harmony. Auroville is the home to people from various countries like France, Germany, Italy, Netherlands, and the USA, amongst others. As a visitor, it is fascinating to see the way people live their lives in the town; and one can also take up courses in various wellness and health fields, or just take an introductory tour of the town. Don't forget to take a look at the Matrimandir, the glorious symbol of Auroville and a spiritual structure.
Located in the Heritage Town area of Pondicherry, Surugu is a restaurant that serves up some authentic South Indian fare. A perfect way to end your day in Pondicherry, make sure to taste the ghee roast dosa, rasam vada, or even the thali meal. A meal here should not cost you more than Rs. 500 for two people, and Surguru is open every day from 6:30 am to 11:00 pm.
And that's what a true getaway looks like; a day trip with no stress, where you can wile away your time through this little piece of France right here in India!
Frequent searches leading to this page:-
book Pondicherry chennai tour packages, budget hotels in Pondicherry, best restaurants in Pondicherry, pondicherry 3 days travel guide