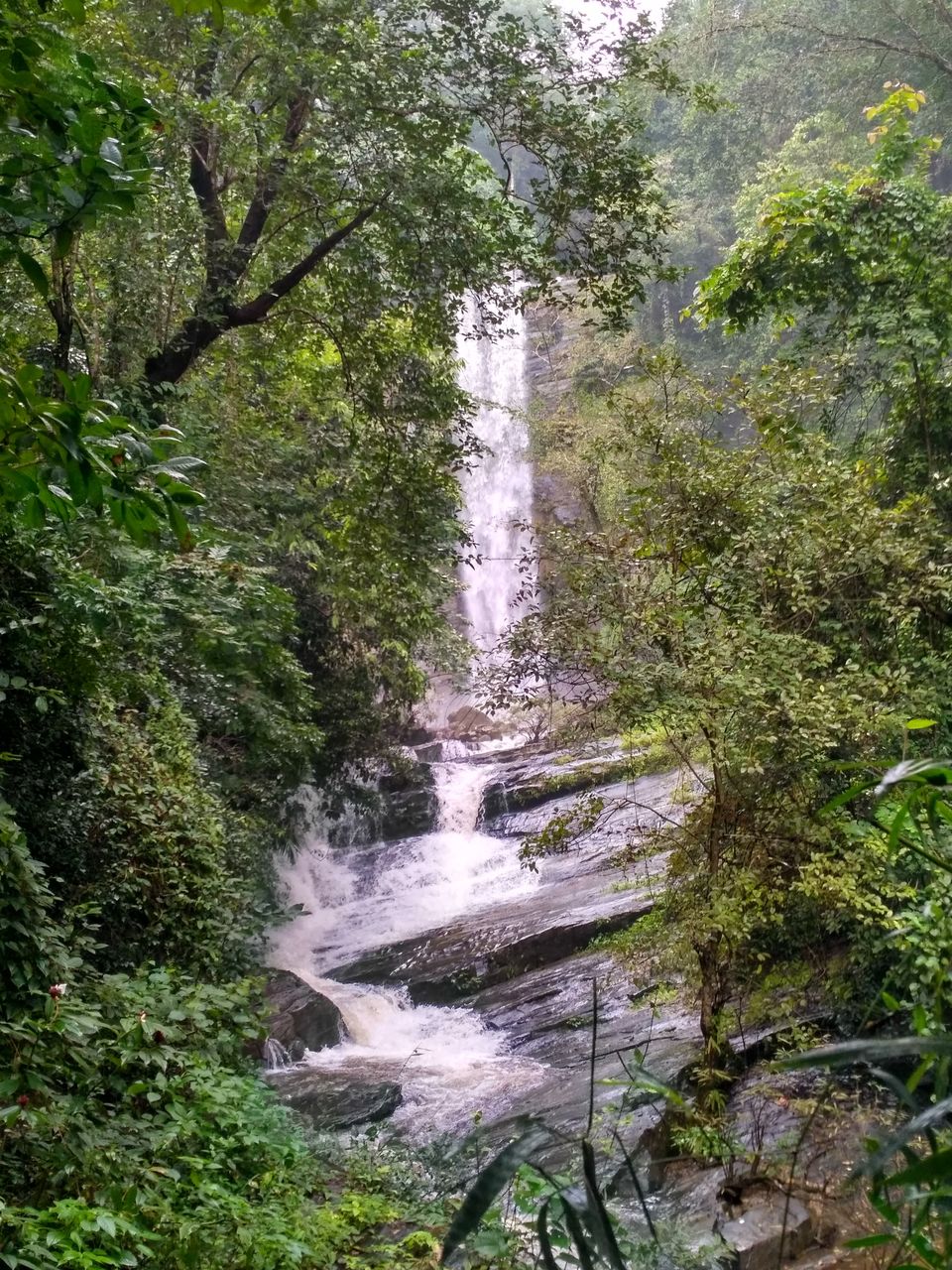 It is said you know someone best if you have travelled with them or stayed with them. We had this opportunity to stay and travel with our friends whose native is in the mountains.
Yes! that's right, the friend of ours has had a childhood in a beautiful house in the mountains surrounded with lush green trees, alongside a waterfall which starts from the mountain top.
We had been invited a couple of times by our friends to their home which they often referred to as nothing less than a tourist destination. We finally made it there only in October 2017.
Reaching Didupe –
Didupe is a small hamlet in Beltangadi Taluka in Dakshin Kannada (Karnataka State). It is located 72 kms from Mangalore and 282 km from the state capital, Bangalore.
Post lunch, our friends picked us from the hotel and there started our onwards journey to their home. This was how we had planned it because it was not an easily accessible location and we were not very familiar with the routes. Our friends' kid kept us entertained all through the way until we reached the foothills of the mountain. There was complete darkness except for the lights from the vehicle headlights.
Then came the trickiest part of the climb, we had to cross the flowing water to get to the other side and proceed further. Soon we realized, it was impossible to even stand still in the slippery rushing uneven waterbed. We removed our footwear and started moving ahead on our friend's guidance but seemed proceeding nowhere slipping off a couple of times. Anyways, with a great struggle and assistance from our friend we crossed the water.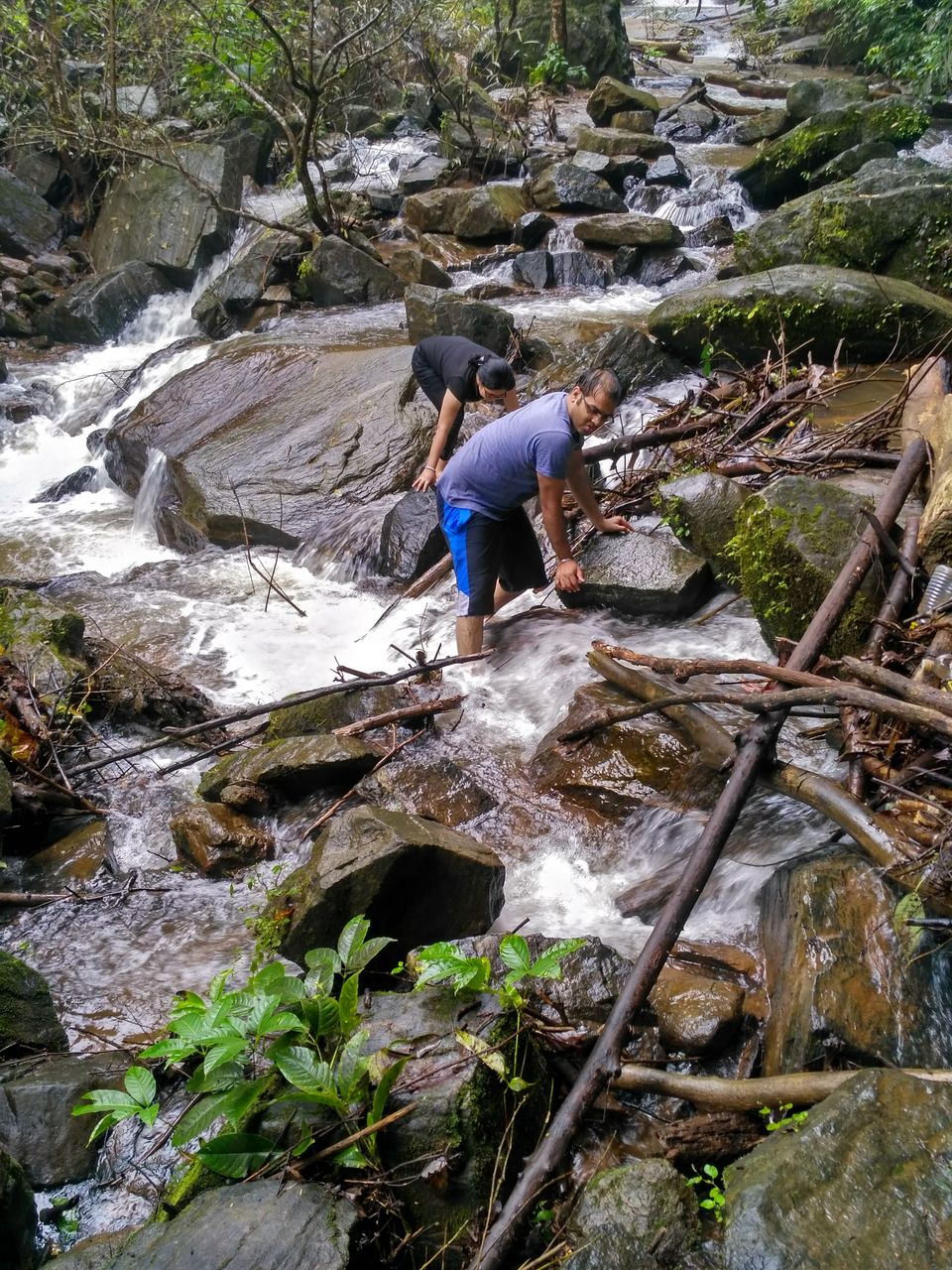 Then we again made our way through the bushes and trees and finally climbed up to the origin of those seven stepped falls. This place was as though we had reached a private pool meant for the angels. There was this huge waterfall descending from a great height of the mountain, no idea of what was beyond that height. Where the water was landing was a rock surrounded by a pool of chilling clear water. The speed at which the water was falling that it creates a misty surrounding which is enough to make you wet even without jumping into the water.
It was a heavenly and joyous experience playing in that distilled shower and waterbed. Deposits of sand on the waterbed made it easier to walk around and enjoy in the waterfall. My people even walked around behind the waterfall and enjoyed a chilling calm shower. I stayed away being the hydrophobic that I am. But definitely enjoyed watching the water for some more time.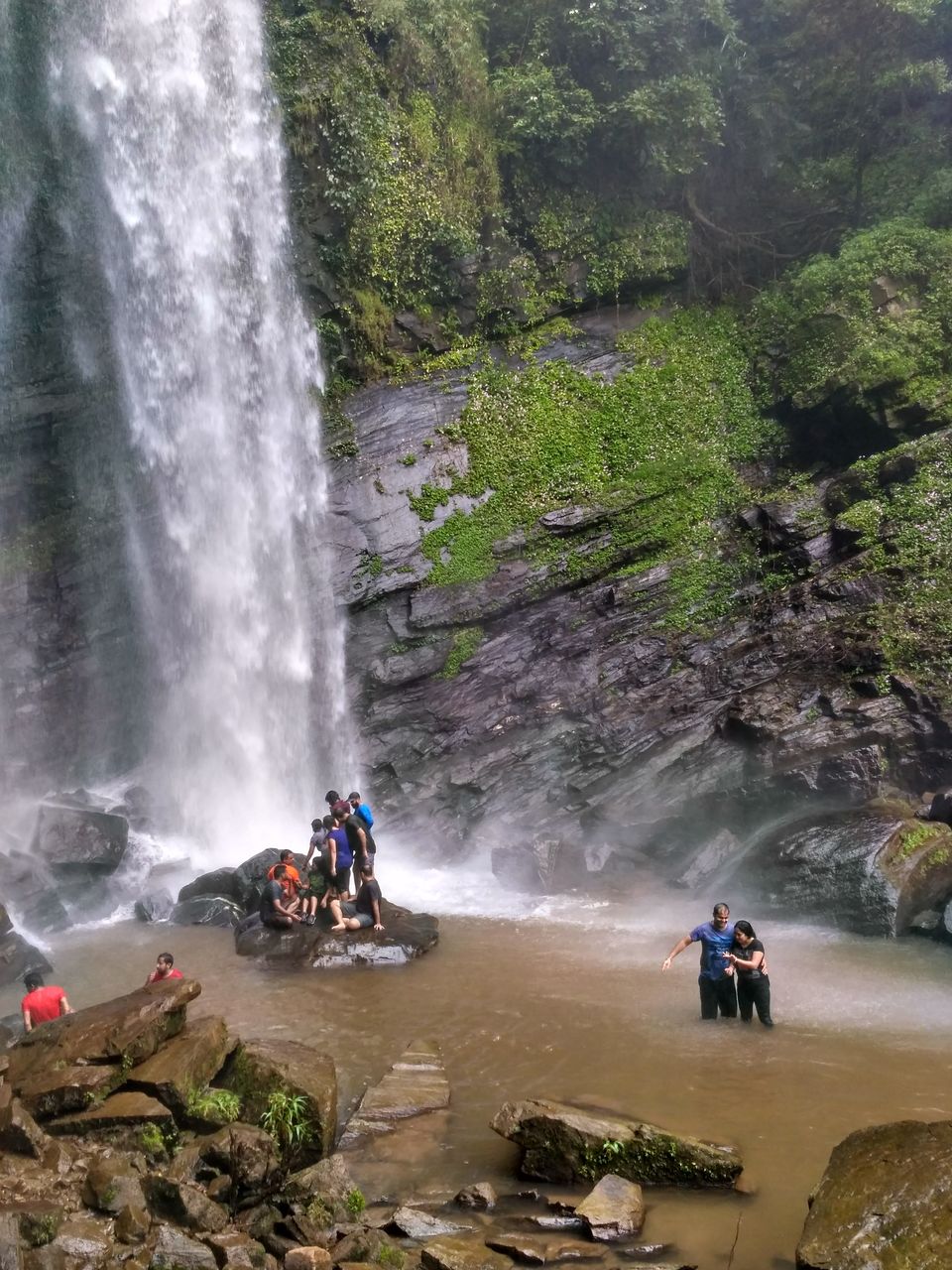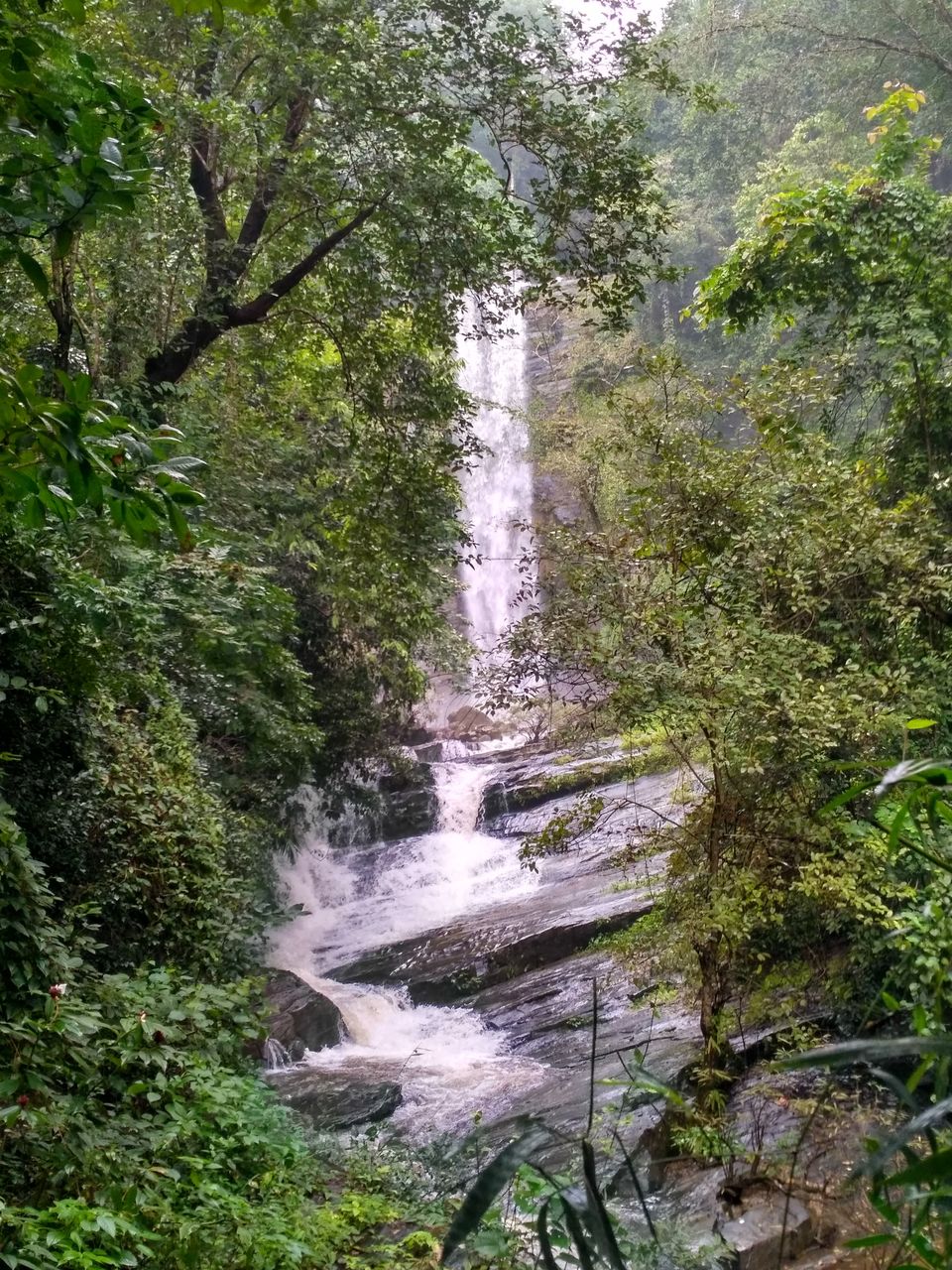 All drenched after the fun, we descended back through the bushes, trees, flowing water (not to mention the struggle for crossing it again). Overall it was an adventure trek for a perfectly beautiful experience. We did come back with a few leeches in our pants ;) The limestone powder was our rescue weapon. Our leader friend shaved them off his legs using a spade/knife which he carried along. We were marveled, he had made it through the water and the bushes so easily, obvious to the fact it was his homeland.
Soon back to the house, we had a warm water bath from the challah heated water and had some delicious lunch. Then our friends drove us to the nearby town Beltangadi where we shopped a bit and then drove around the place to see his school and college. It was overall a lovely experience seeing the old campuses and his nostalgia to show all of it to his friends and even his son. Soon it started raining heavily and we drove back to the village.
The evening was well spent with stories of Didupe and of how their families must have dwelled here, the recent developments here and ancestral tales, not to mention of some recent landslides which has cause some considerable loss. After dinner we called it the day as we had been too tired by our excursion.
It was a monsoon holiday weekend; we started from Bangalore and took an overnight bus to Mangalore. At the early morning hours, we reached the city and checked into a hotel there. After having freshened up, we planned to explore the coastal city of Mangalore for half a day. We explored some beaches there and spent some quality time before lunch.
Beyond that point, we all hopped into a Jeep which took us uphill. Jumping, bumping and holding tight to our seats we reached their home. Once here, we could only hear the hissing of the insects in the darkness surrounding us. Very soon we were all indoors; exploring our friends beautiful ancestral home. We were overjoyed to be there, as all of it reminded us of our childhood visits to our grandparent's places. We hardly find such homes anymore as most of our extended family has either moved to cities or modernized their homes as per changing necessities.
The best moment was the realization that, we were off our mobile networks and even internet connections. I love such destinations. Going to such places is in true sense a vacation, a place which most of all gives you a digital detox.
We wrapped up everything soon and went to bed pretty early. To be precise we didn't have much to do staying awake. So we were off to bed really early.
Next day we were up early and our friends were up even before us, I guess when it was still dark outside! Our little young friend was also awake and that day also happened to be his birthday. So all soon wished him, and with all amusement of our frequent 'Happy Birthday' wishes, the delighted three year old wished us back unaware of what was it so special about the day. We were served authentic homemade breakfast of a Konkani steamed rice coconut dumplings, tea and a sweet (Shira/rawa halwa) on the occasion of the toddler's birthday.
Soon we were seeing around the house and the property to have a better view in the daylight. While the indoors adored by heavy wooden doors and windows beautifully maintained, long corridors, one room opening into the other, ancestral mandir lit with oil lamps, kitchen with ancient setup and modern appliances, beautiful and well preserved metal utensils, a separate cleaning area and water storage, a custom made stove (chullah) with a huge pot on it to heat water for bathing and a backyard opening to the nature. Outdoors of the house meant areca palm trees reaching high into the sky, sound of gushing water from the waterfall, pretty little chirping birds and fog rising from the slope. We could hear the peacocks as well. We really admired the way how such an old property was maintained.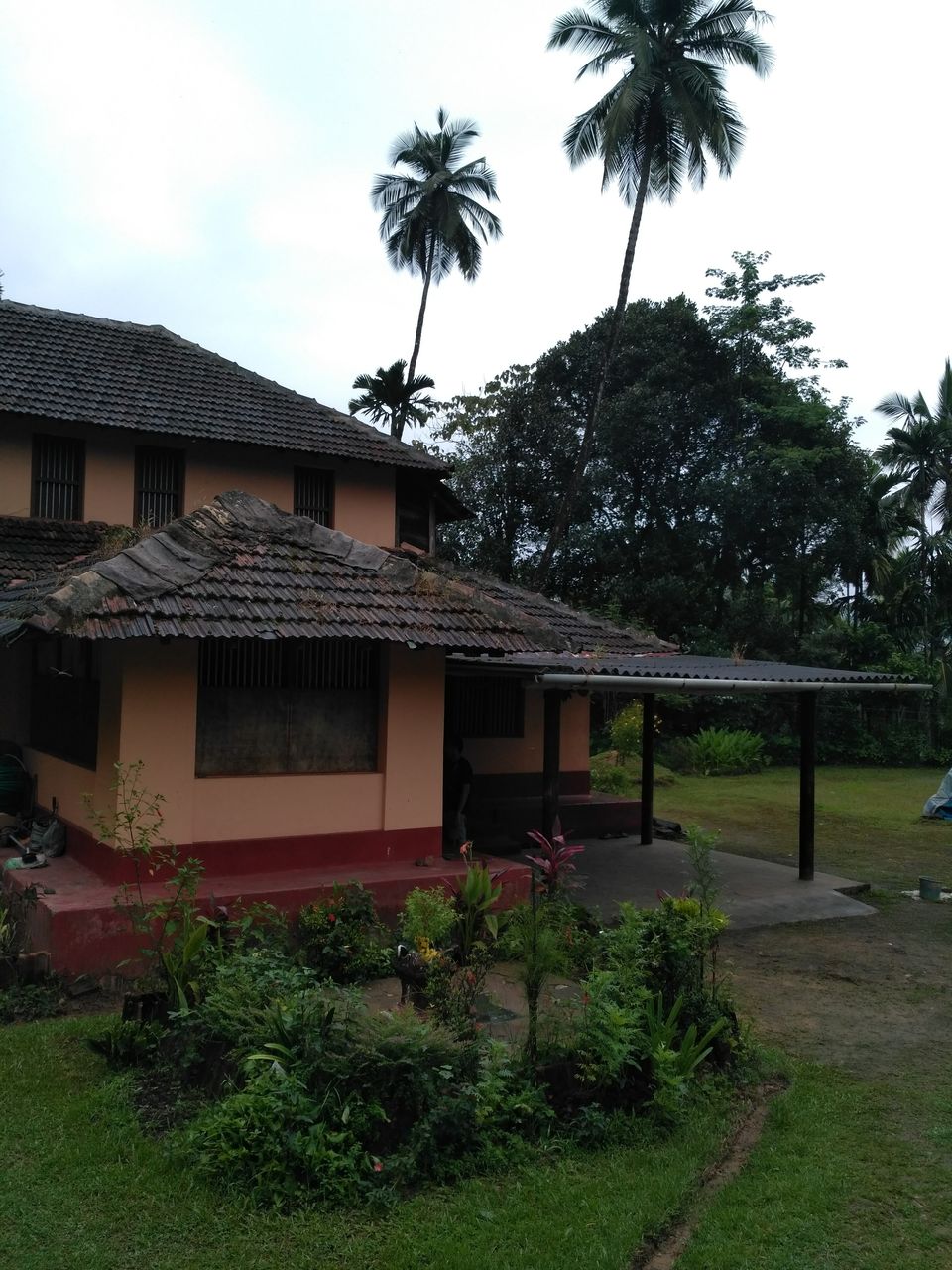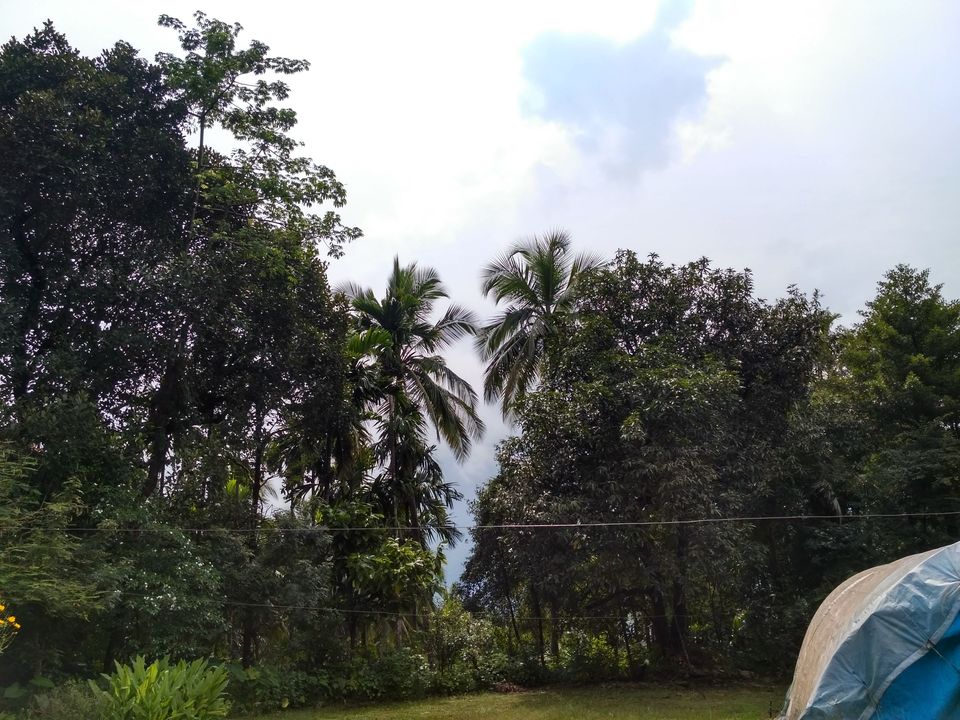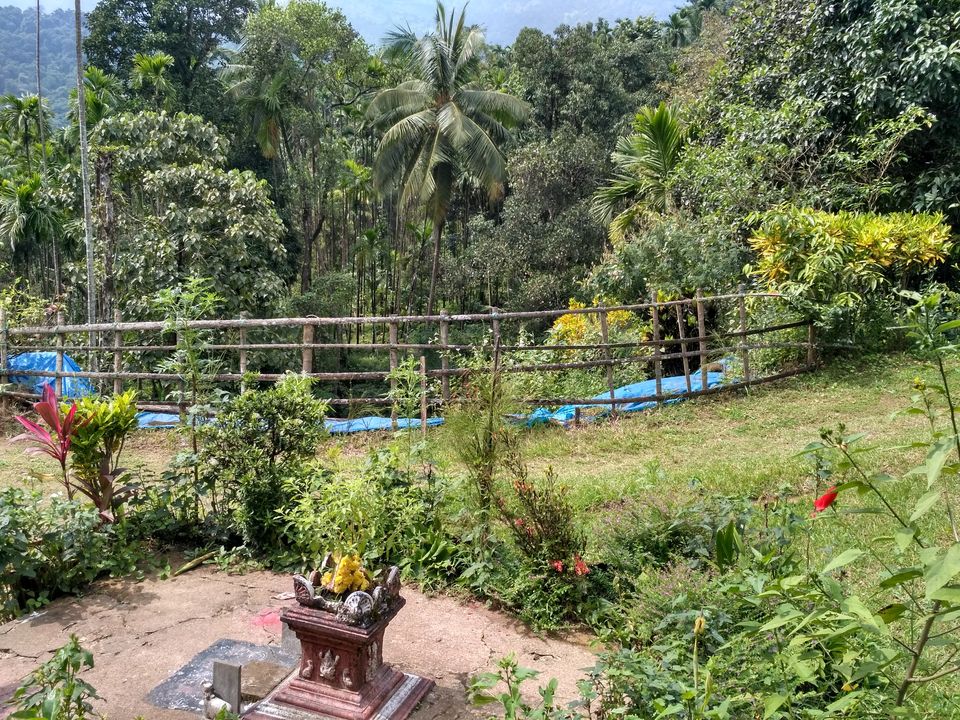 Our hike to the Didupe falls –
Soon we started with our trek to the waterfalls. We were warned of leeches and handed some limestone powder to get rid of them in case they climbed our feet. We had initially thought of it to be an easy hilly climb but were mistaken. We headed upwards after crossing a bit of the somewhat plain land which were also homes or private premises. Slowly as the way narrowed we caught the first clear view of the falls. The crystal clear white water was falling with a seven step descend formed by the mountain rocks.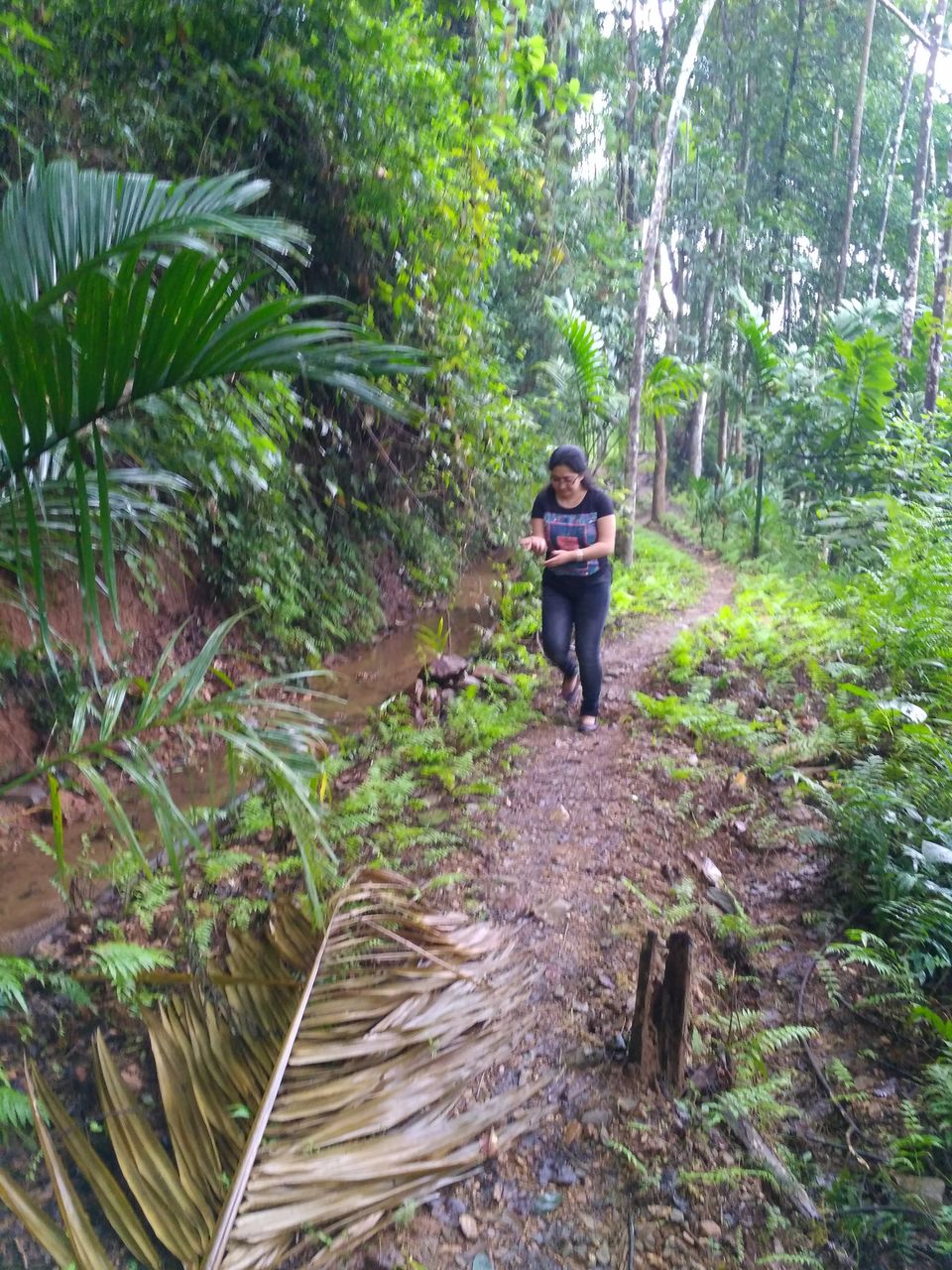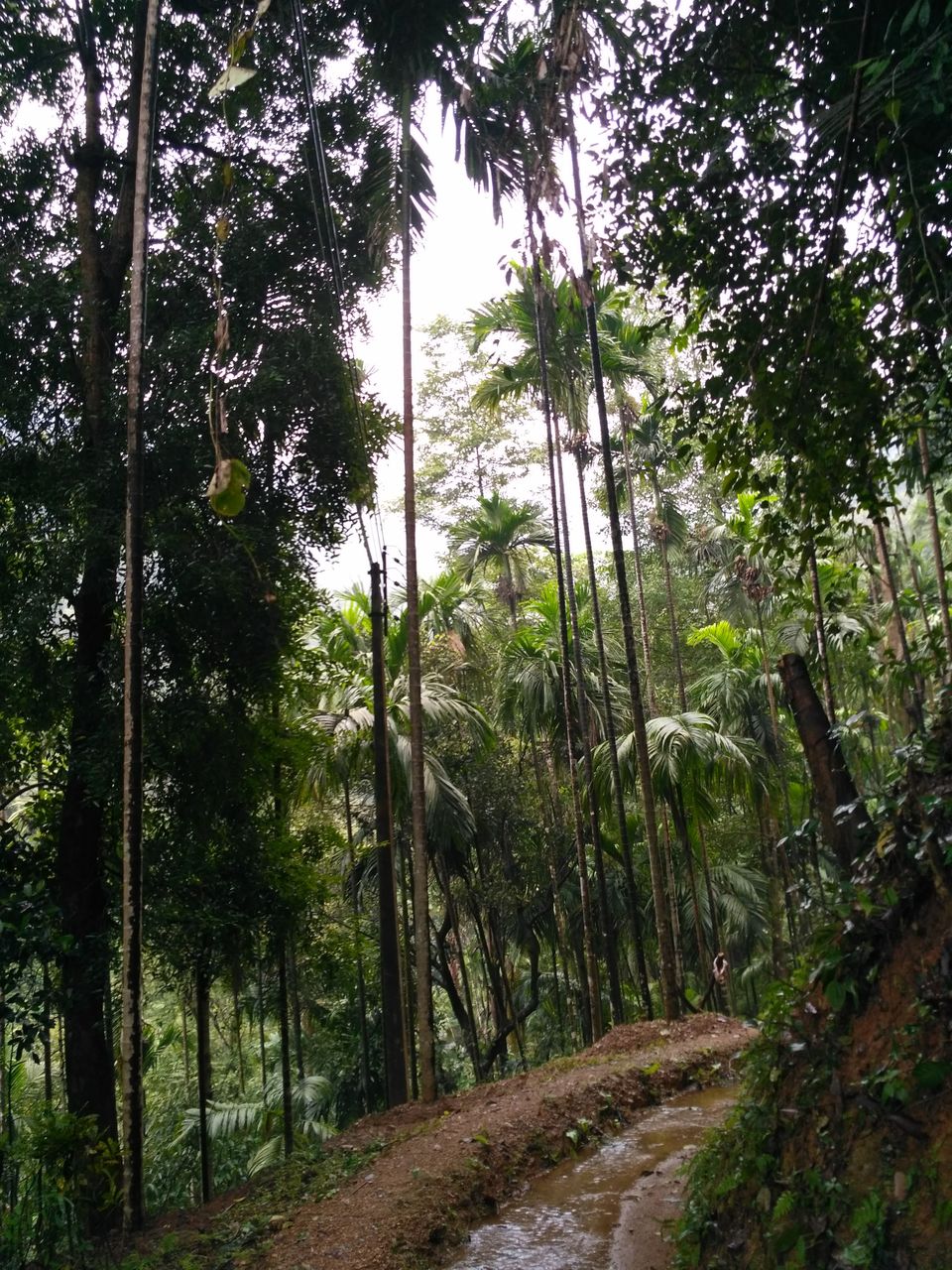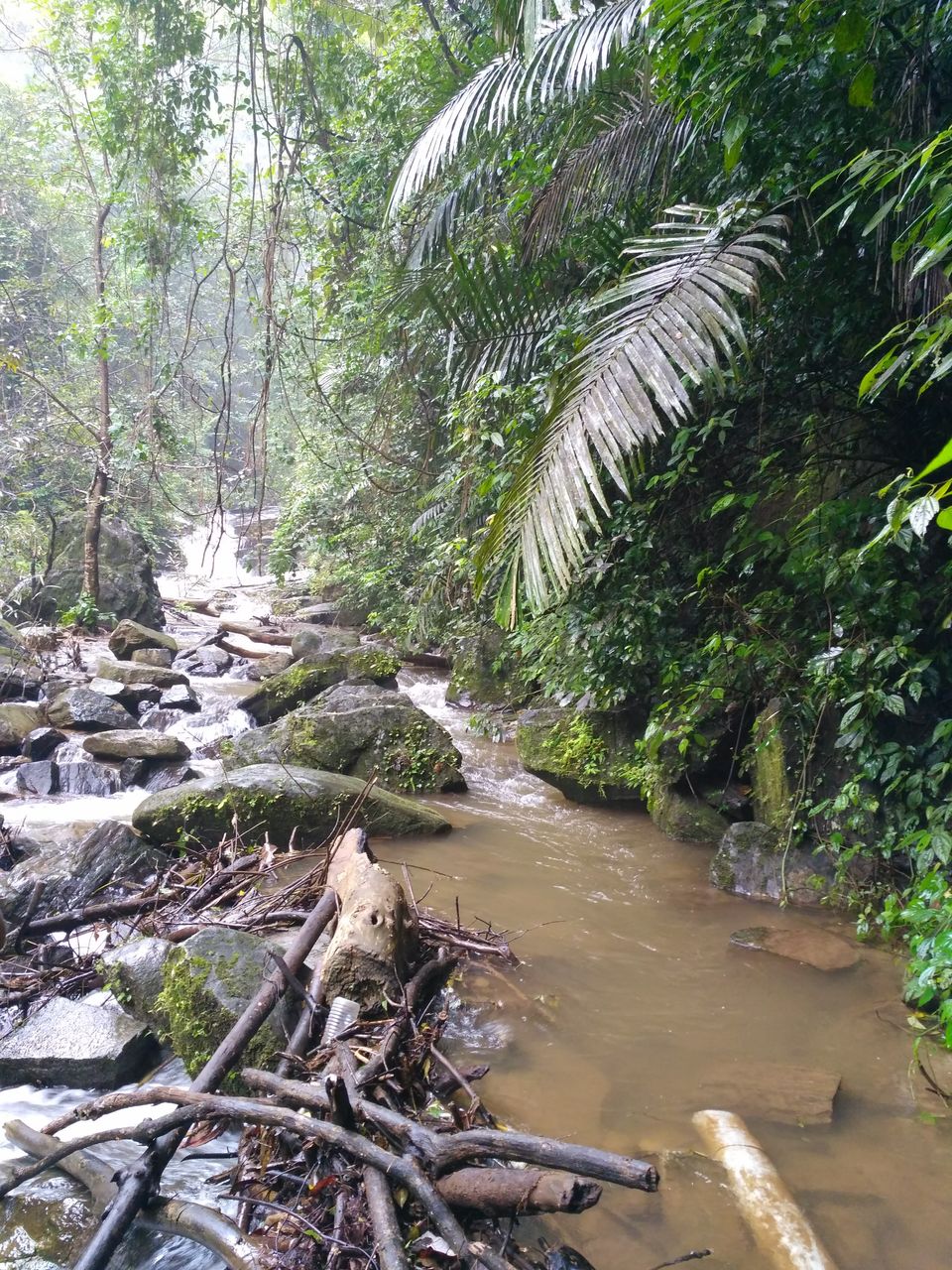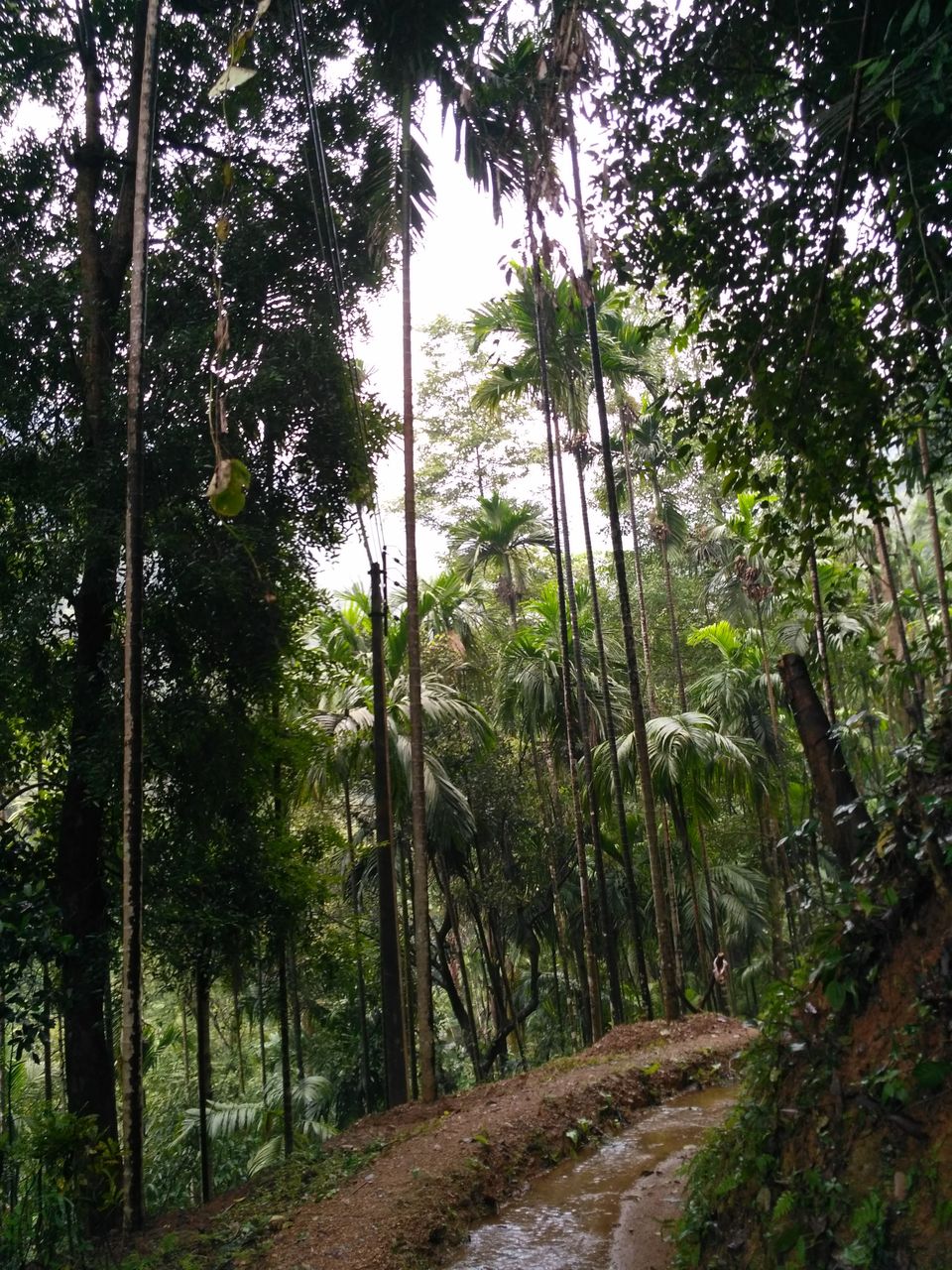 Next day we started for our way back to our current abode, the city of Bengaluru!
It was an experience of a lifetime for city dwellers like us. Till date we are so grateful to our friends and their family to have brought us to such a beautiful place and the joy of staying with them. I am not surprised now when they say, 'To enjoy a destination vacation we just need to go home'.
To experience a place to the fullest, one needs to stay with the locals, like the locals. Only then can one have the true essence of the place.
Note - Didupe can be easily reached if you are driving your own vehicle. Also these days there are many trekking packages to Didupe which can be availed.