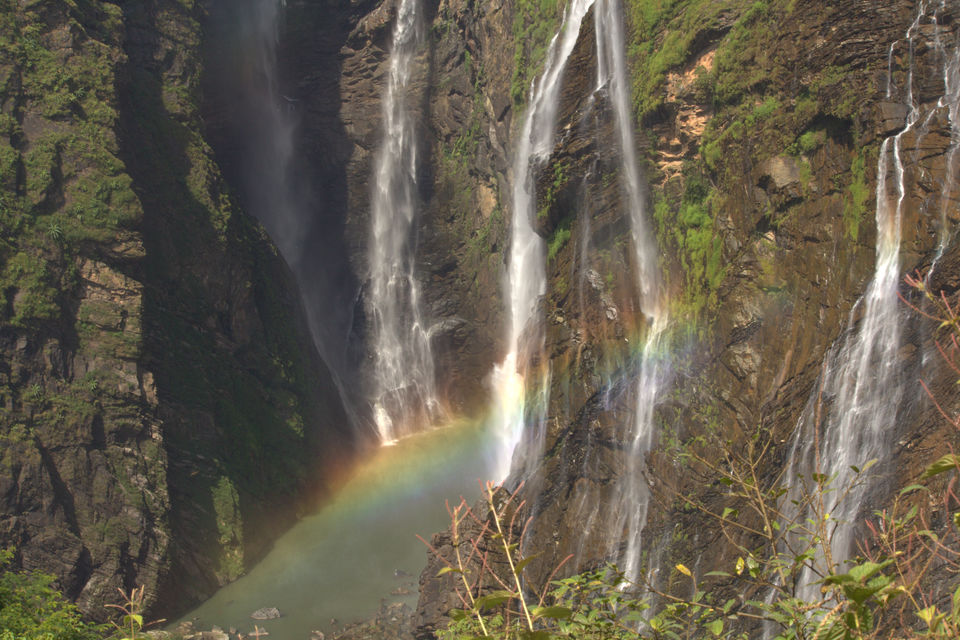 A Sunday trip was on plan throughout the week. Unsure of the (college) schedule for Saturday, we were unable to decide whether the trip should be one day or a two day trip on an October weekend.
We (Myself and Masroora who is my travel buddy in Manipal) were exploring options to go around, discussing every option on Whatsapp and the possible travel time. I had a strong will to go Jog falls which is the second highest waterfall in India. So we were certain of Jog falls for a two day plan but needed a contingency plan for one day to make sure we don't waste a Sunday at home dozing.
Till Friday afternoon we were not aware of the schedule for Saturday. Jog falls is around 200 kms from Manipal which means almost 4- 5 hours on my Black bull (Royal Enfield Classic 350 Black). We didn't know whether we could make to the waterfall if we start on Saturday evening. So an ambiguous plan but a strong will and as appropriately quoted 'Where there is a will, there is a way'.
Friday eve arrives with a good news. Our professor informed us that my batch (Masroo is from senior batch) was suppose to visit a school in Udupi on Saturday morning to take a workshop for physical education teachers from Udupi and Mangalore. A noble work indeed for which I was equally excited. With this plan, I was pretty sure Saturday afternoon would be free and we could leave for Jog falls, but Masroo was uncertain about her free time from department. (Masroo was working on her Masters Research project on tennis players - sounds interesting!) Although I knew we might have to leave in a hurry on Saturday afternoon, I was lazy enough not to pack my bags ;-)
Everyday 6:00 am (Mon-Sat) is strictly a time for sports, exercise and fitness (a much needed requisite for our profession as a Sports scientist). Whatever might be the excuse, you are late if you reach after 5:55 am. But this Saturday session was an official off (Oops- this is the rarest of incidence) since we had to leave for the school session at 8:45am.
The clock now showed 13:00 on Saturday and I was yet at the school. Now this left least chances to leave for the falls. Surprisingly, Masroo was already free and was waiting for updates from me. I finally arrived back to Manipal at 14:45- quite late according to the plan if we wanted to reach Jog falls before dark.
After a brief discussion with a friend of mine for the plan, we decided to stay at Bhatkal for the night and leave for Jog early Sunday morning. Bhatkal is around 90 kms from Manipal and Jog falls is further 97 kms from there.
Bhatkal
Finally ready to leave! Our bagpacks affixed by the octopus cords on the bull's pannier. A black bull with 2 bikernis, 2 helmets, 2 bag packs and a camera. Manipal- Udupi - Brahmavara- Kundapur- Maravanthe- Bhatkal via NH 66. Luckily, the road conditions are good to soar at speed of 90-100 km/hr. Passing by the streams, estuaries of river Suvarna, Sita, sky high coconut trees, we reached Maravanthe. At 17:00, we stopped to sip a cup of tea with some goli bhaji. The shopkeeper enquired whether we were from Maharashtra (as my bike passing is MH) and where were we heading towards. After mentioning him about the Jog falls, he started a conversation with his fellow friends in Kannada for some info. A customer (seemed to be a regular one) guided us reaffirming our plan to stay at Bhatkal and not heading Jog falls at this hour of the day.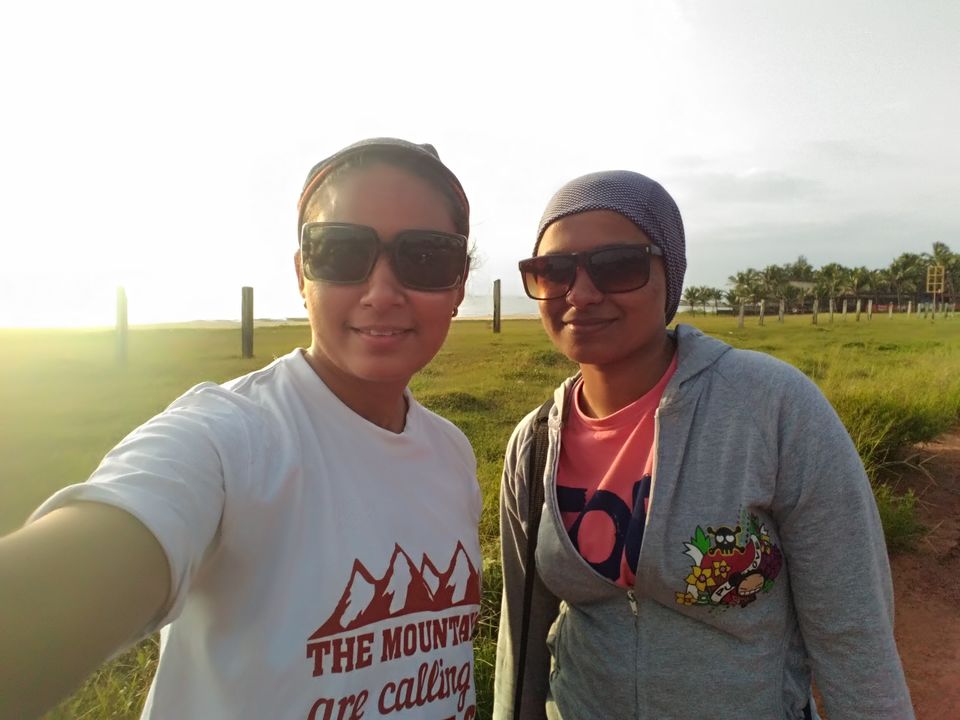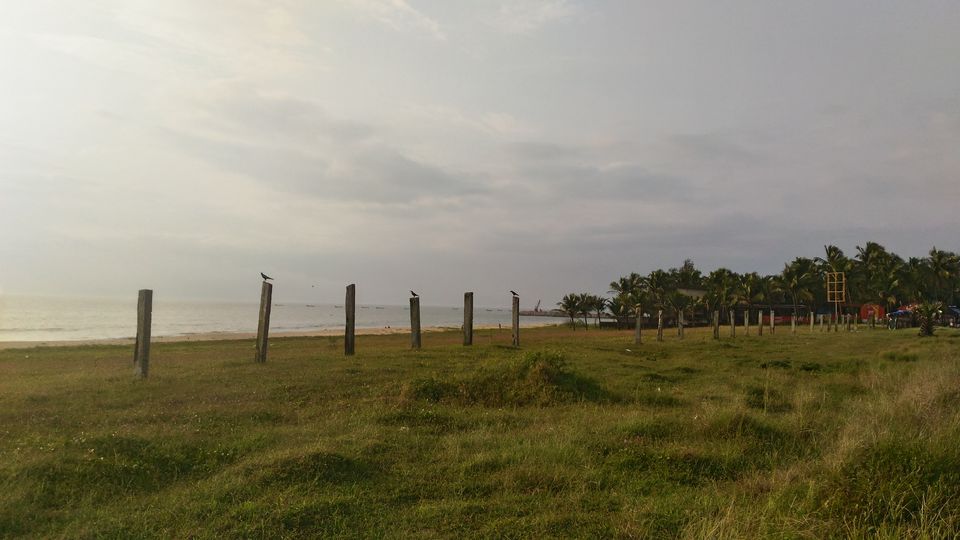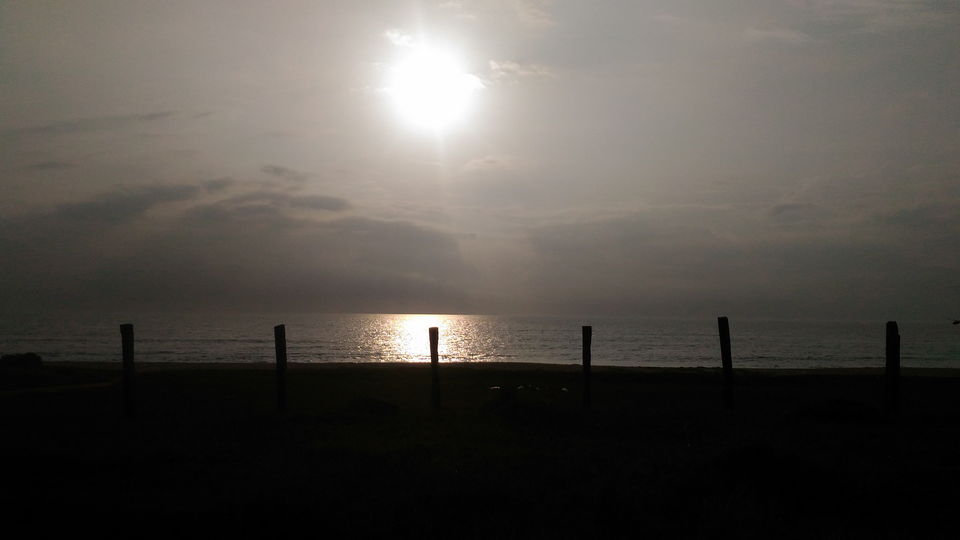 With a glimpse of the Arabian sea at Maravanthe, we headed further. Maravanthe has a beach by the road. One can easily have a look at the sea on a drive through the highway. Yet 40kms to go. We arrived Bhatkal at 18:15. We stopped at the city circle now trying to find a hotel for a night stay. I had done some basic search for the hotels before. Could find 3 hotels – One of them was a luxury and two within budget. We headed towards Hotel Kola Paradise. The building did not seem appealing with the interior looking as of 1940's. The rooms seemed too cozy and so we decided to look for another option. I remembered seeing an advertisement on our way about Hotel Nilawar - newly constructed - available for rent. So we decided to check it out. Hotel Nilawar is in a small lane hardly some shops ahead to Kola Paradise. The Hotel rooms and rent sounded good (Rs. 600/-) for a double non-AC room. Although the hotel was still ongoing some construction, we opted to stay here. The hotel guy offered us a room which was all set.
We checked in, dropped our baggages and went out again in the city. I had to fix my helmet visor. With some directions from the hotel guy, we left. We could not find any helmet store. But a guy at a small car accessory shop was kind enough and fixed the screw of the existing visor. Meantime I got my bike ready for the next day with air in my bike tubes. By now we were hungry for a good supper to go. We found a shared veg and non-veg restaurant as Masroo was looking forward for some chicken whereas I went for a yumm local meal. We directly headed towards our room post dinner. I parked my bike in the allotted so called parking place planning for a nice warm shower. The hotel provides hot water only in the morning, but they were generous to provide me some at that hour. After a refreshing shower, I tried finding some more details for the Jog falls in Karnataka traveller book which I owned as well as on internet. Although we decided to retire for the day early, the clatter of the never construction work didn't consent us to in addition to some itchy creatures. We hardly grabbed a nap to wake up at 6:00 am. Masroo was already awake for her namaz hours.
Jog Falls
All set to check out at 6:45am. Spotting a nearby restaurant, we had masala dosa, idli-vada and tea for breakfast. I gulped an extra cup of coffee too.Finally heading the way for Jog falls at 0745. It is a lush green wide road a two way initially narrowing to single lane later on. Hardly a few bikes were visible on the way. Sighting a dove, I stopped for a snap. With the thought of fetching some water in our bottles we stopped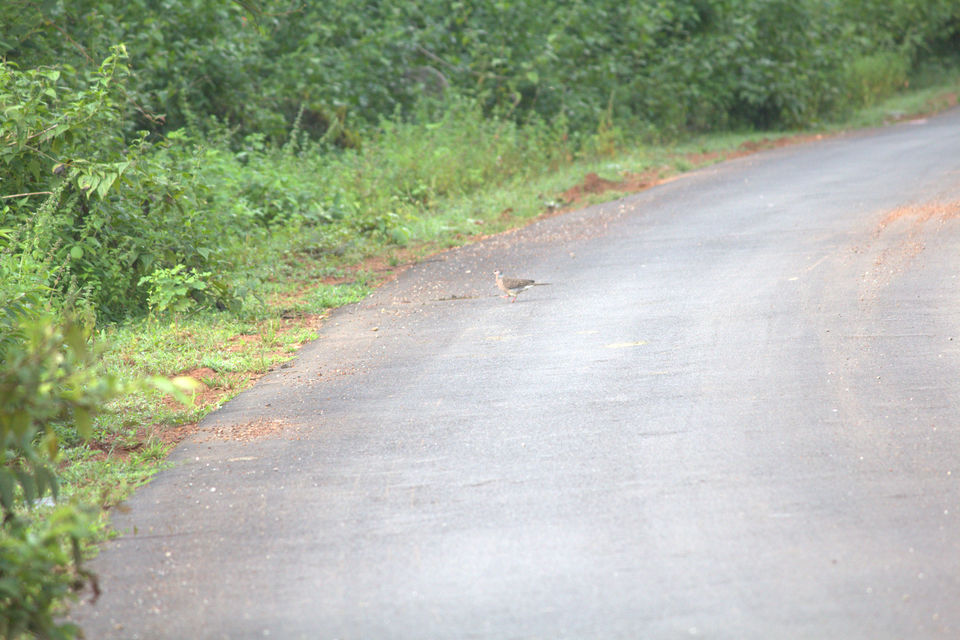 Two village guys were standing outside the house and so we requested them for some water. The house was surrounded by trees and bushes. In the meantime, I enquired about the wildlife spotted. One of the guy replied that, elephants are sighted here but no wild cats (sad ;-( no tigers or leopards). Those folks told us about a small waterfall ahead. After moving hardly a kilometre, I could listen the gushing water. Some people were posing for selfies and some in water. It was a small fall to the right of the road and was safe to enter the water. I took a picture of the stream flowing on other side of the waterfall and was eager to leave the crowd. There was another waterfall some metres ahead which was much pleasant and quiet. Took some long exposures with my DSLR and left delighted.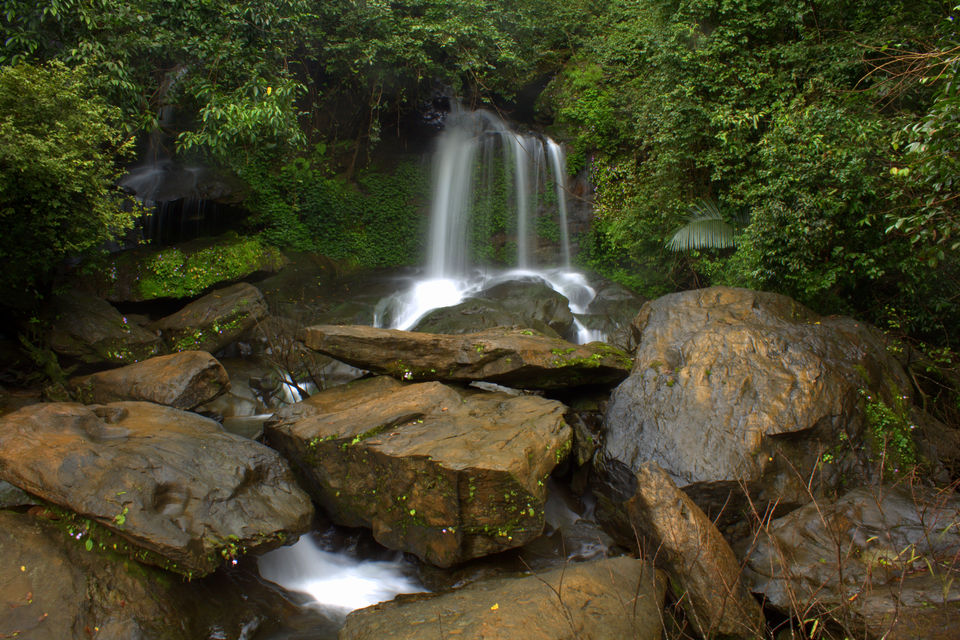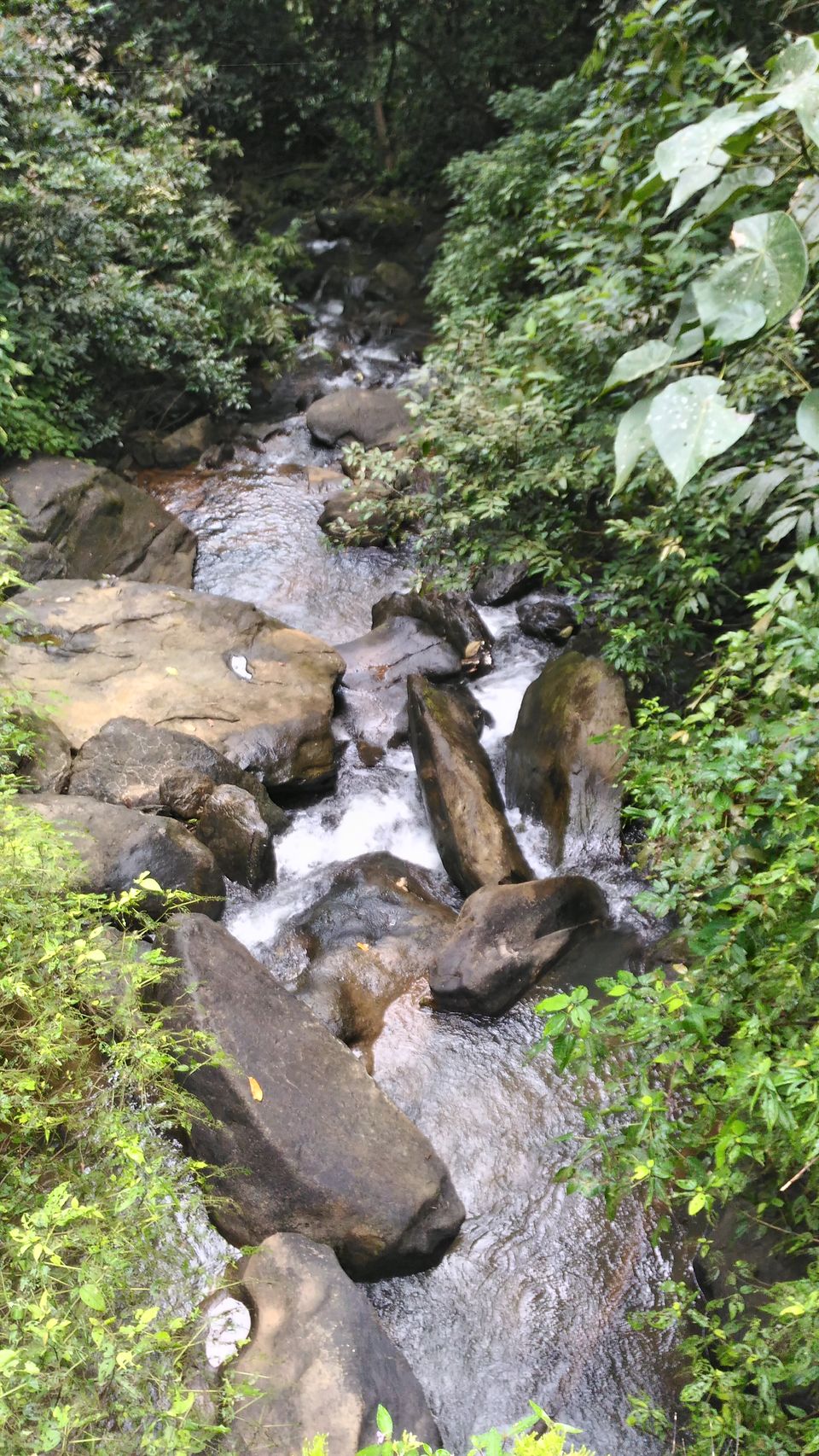 The path continued. I wondered whether the region gave any shelter for butterflies as I didn't see any fluttering. But in a while spotted black crow, Common mormons, Green jays, Crimson rose, Common grass butterflies. Around 20 kms ahead, I saw a big blue mormon and waited for some good snaps but lazy to change camera to a zoom lens.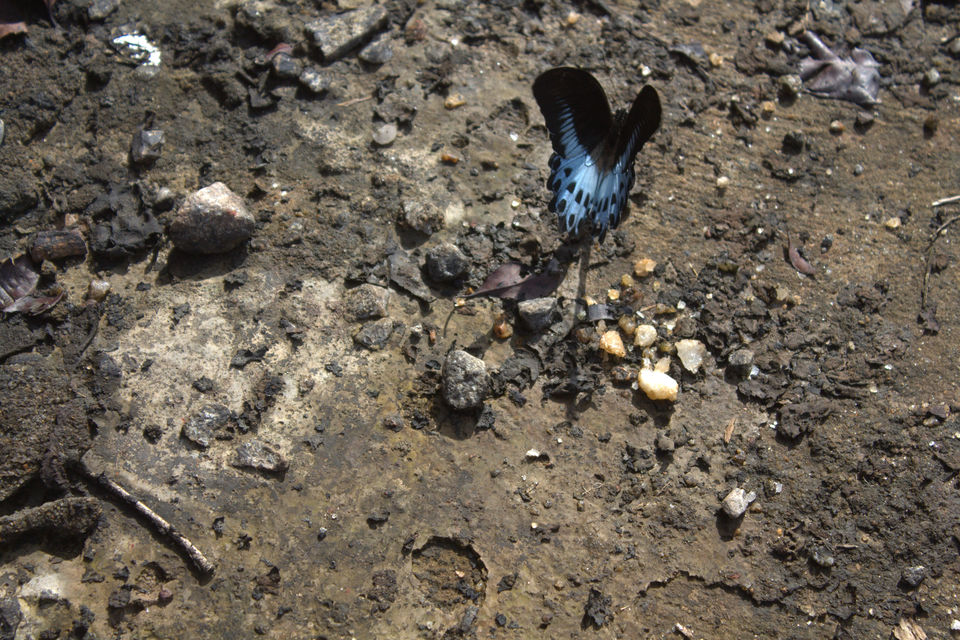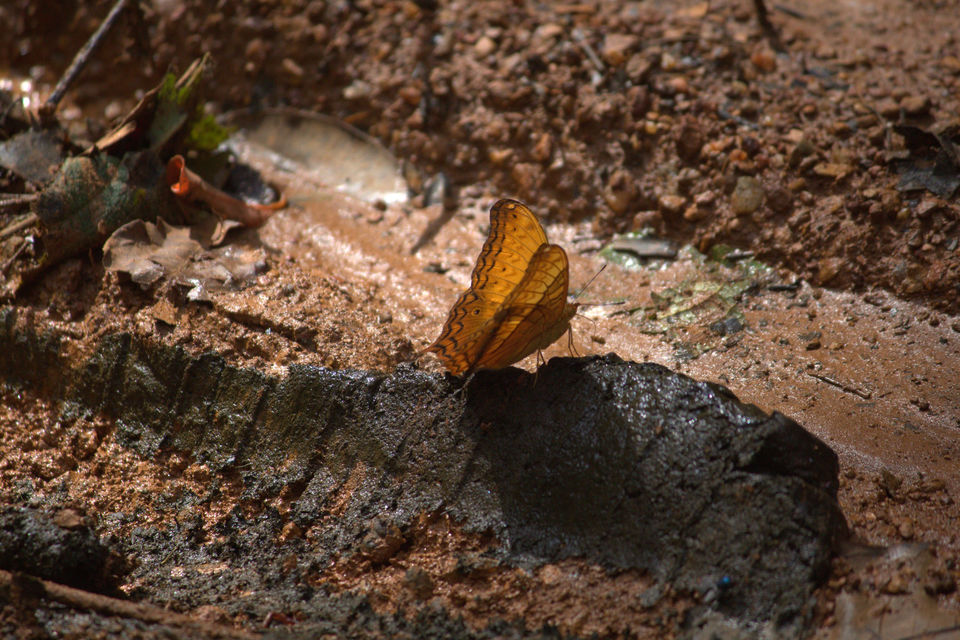 At 85kms, a left diversion lead to Dabbe falls. I was about to head straight for Jog, but Masroo insisted on making short visit to Dabbe falls. The direction board showed it was 7kms to the left. The road was rough, uneven with many diversions. We saw a school guy on the cycle and asked him for the way to the Dabbe falls. He spoke something in kannada which meant it was difficult to go. Masroo could understand kannada a bit so thankfully could interpret. We had made up our minds to go inspite of the difficulty. Although I was not confident to drive and walk as well since I had my running shoes on (how ignorant of me to put on running shoes, but had no option because my trekking shoes were lying in Pune).There was a muddy patch on our way for an extent of around 20m. Slippery clay I would say. Central road had knee deep clay but there was a small area which seemed plain and not deep at the extreme right. Masroo got down the bike to guide me. I crossed almost 3/4th of the patch but the tyres suddenly slipped. I could not balance my bull and my bike was on the shrubs but I was safe. Luckily the shrubs prevented my bike to go on the lower plains but it was really difficult to lift my bull from the bushes as could not go more right. We somehow managed to lift my bike and started again (Nothing could stop our will power). We hardly saw anyone on the whole way. The route was very confusing. Suddenly, we came across a villager and asked him the way. He asked us to take a left and find a house wherein we must register our details. As we moved further we only came across a big stream in the middle of road and a very steep, rocky path on left unlike the house anywhere. We left the bike near the stream in a confusion about the path. We walked up a steep cobble road. After 30 to 40 metres, we were lost to see a dead end and a rusted iron gate. I stopped with due fear of my slippery shoes but asked Masroo to search a house if any but in vain. This time we had no option but to head back ;-) with just an imaginary waterfall lingering our minds. Spotted a grey wagtail (bird) on way back. Had to pass through the same slippery patch. This time stuck against a rock in the ahead of my front wheel. Masroo moved the rock away but the clay took its toll skidding the front wheel. The bike was stuck. I had to get down. I put off the ignition and we both managed to push off the bike.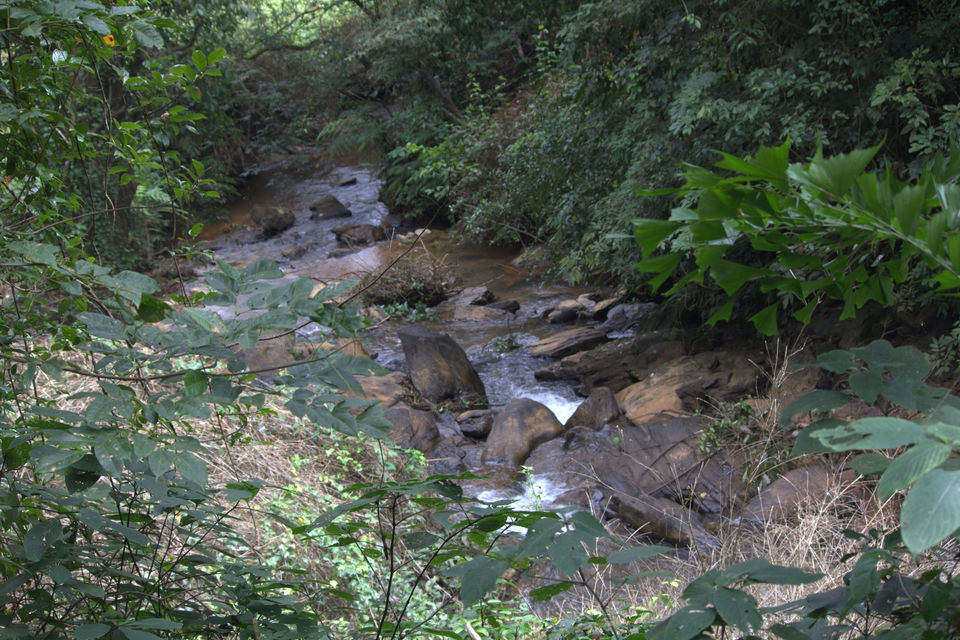 I was relieved only to find myself back on the main smooth road to Jog falls now only 10 - 12 kms more to go. On the way were diversions for Ligganmakki dam, a wildlife sanctuary and one more dam. This time no more diversions.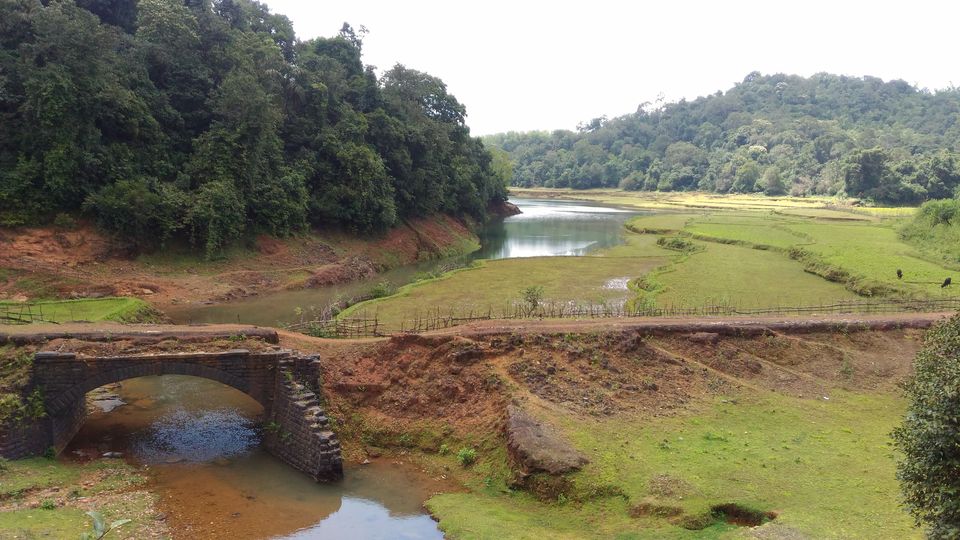 We reached Jog the almighty at 11:30am. Entry fee Rs.5 for bike and Rs.5 per person has to be paid near the main gate. Could not wait to park my bull and catch hold of the most awaited falls. The falls were visible right in front of us. The almighty – Jog is actually a total of 4 falls - Raja, roarer, rocket and rani. Although the water was too less then expected, but the waterfall looked marvellous.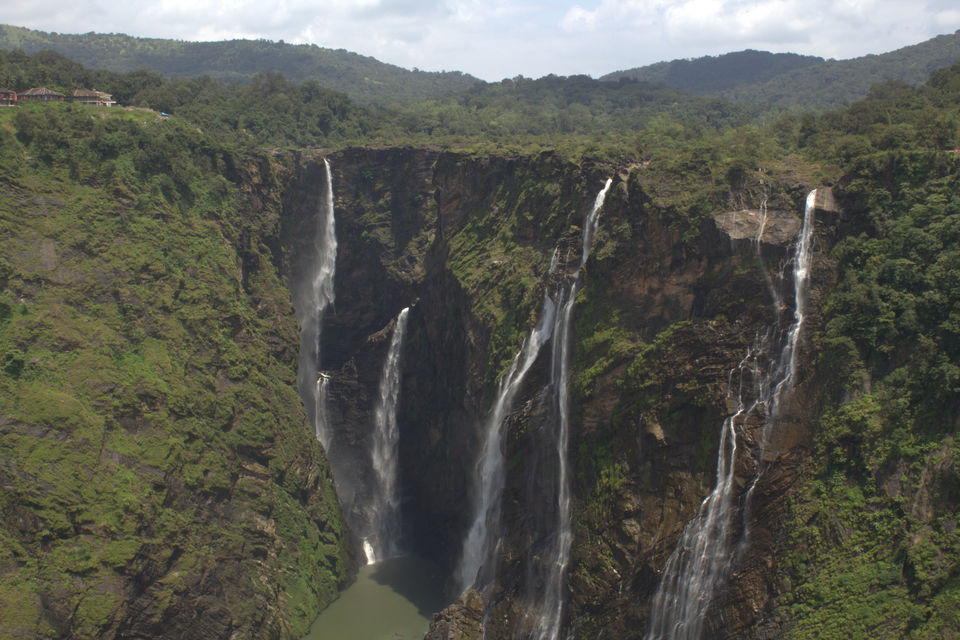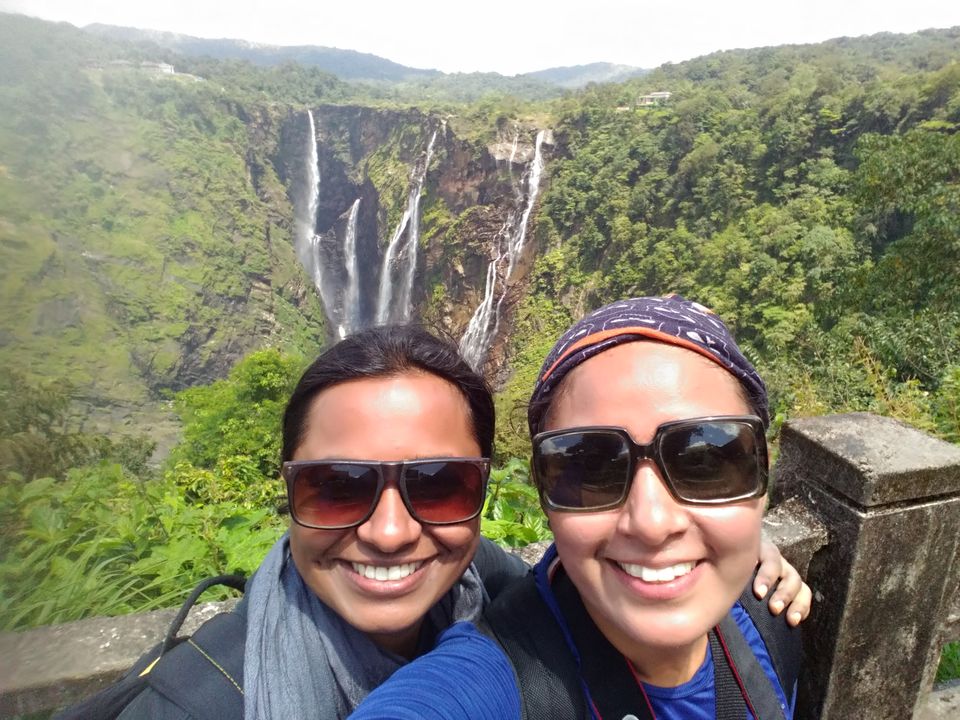 The sight of the water itself was soothing in the scorching sun. We snapped several pics of the almighty. (Some of ours as well - almighty bikernis ;-)). After this ritual of the trip , we had some snacks which we were carrying and decided to climb down till the base of the waterfall. There seemed no end for the steps. They went on and on although climbing down did need many breaks. Inspite of so much of a climb, we could see a huge mob already on the way. Adults, teenagers, old age as well as children were going down. The base of the waterfall was much far from the water. You cannot enter the water. There is a small platform from where you look up high at the almighty. Folks posed for selfies against the almighty. We found some rocks to sit on, looking and admiring the almighty. I raised my camera to take pictures of all four from every possible angle as if they were the celebrities. Although they are; known as the second highest waterfall of India! Flock of swifts (species of birds) flew from one fall to the other hovering above. I guess they might have settled (settlement like humans I mean) in the crevices of the rocks where the almighty plummeted down. In an effort to honour ourselves for reaching the waterfall, we shared an apple and gulped the last sips of water.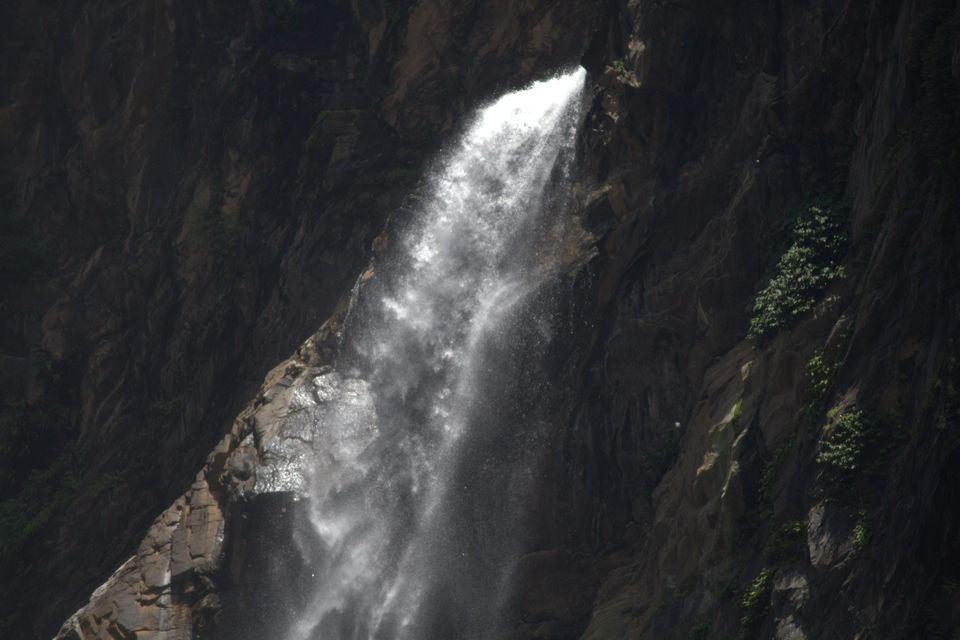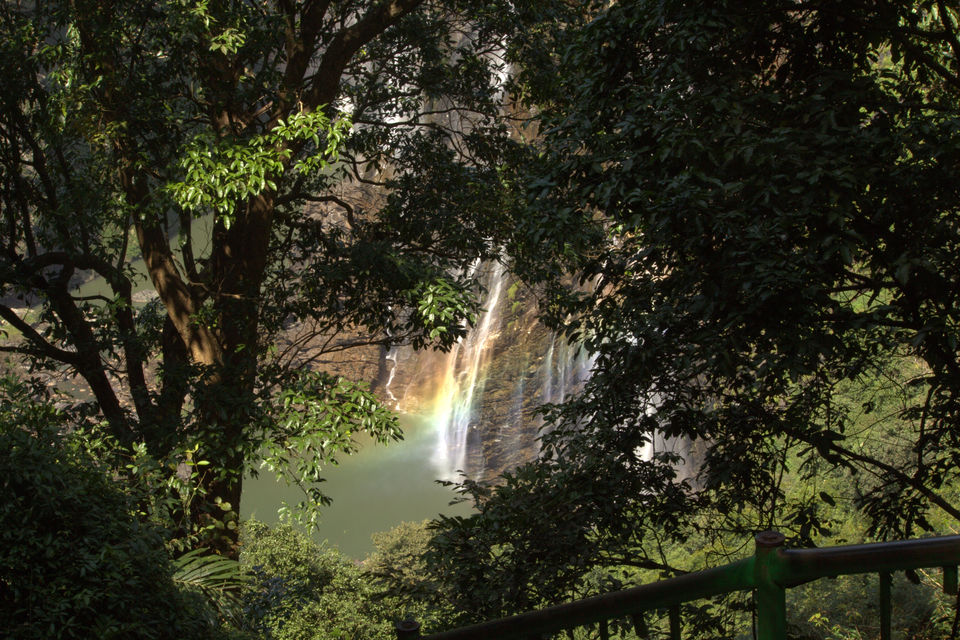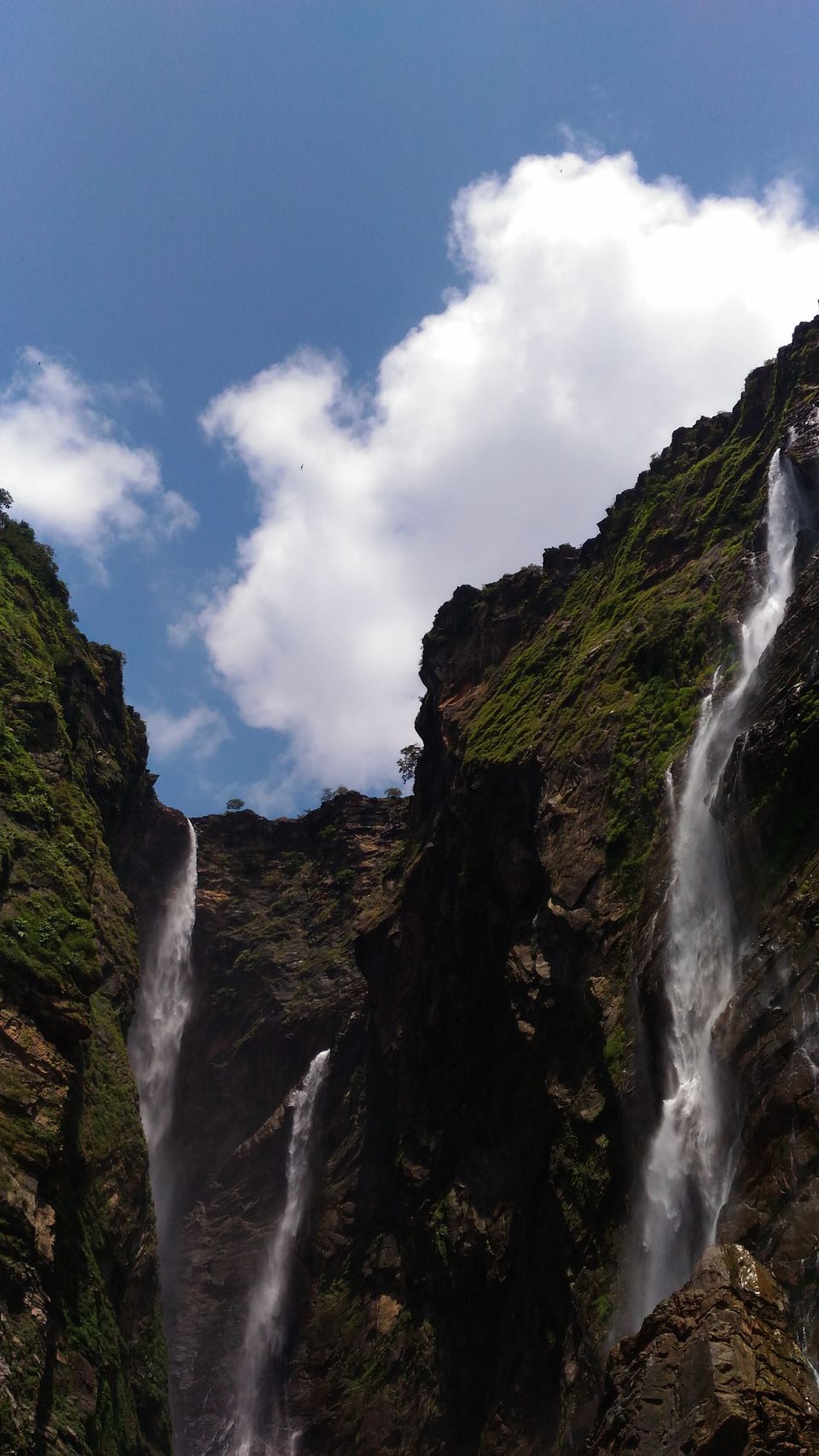 Comprehending that climbing up is going be a tough task, I thought of a distraction to count the number of steps all the way up. 10, 20, 50, 100, 200.. 500…1000…. 1500…..1750 steps. Masroora was tired much early as she was much not accustomed to physical activity now-a-days. Obviously anyone would be tired uphilling around 1700 steps and with an empty water bottle. Taking small breaks, admiring children going down and counting steps, we finally reached the top. Some porches were constructed for the tourists offering a great relief from the scorching sun. Some folks were even enjoying a nap. Now was the time for lunch. In the same premises we found a decent restaurant and settled in. We cooled down our sweat with water from a tank just outside the restaurant. We opted for a regular meal. The restaurant offered a good meal. After gratifying our tummies, my mind now lingered with the worry of returning back to Manipal which reminded me the bike was soon to come to reserve mode(which means it needs fuel soon). The petrol pump was only 100kms away if we take the same way back to Bhatkal. So after discussing with a friend we decided to take a route for Honnavar which was approximately about 60kms.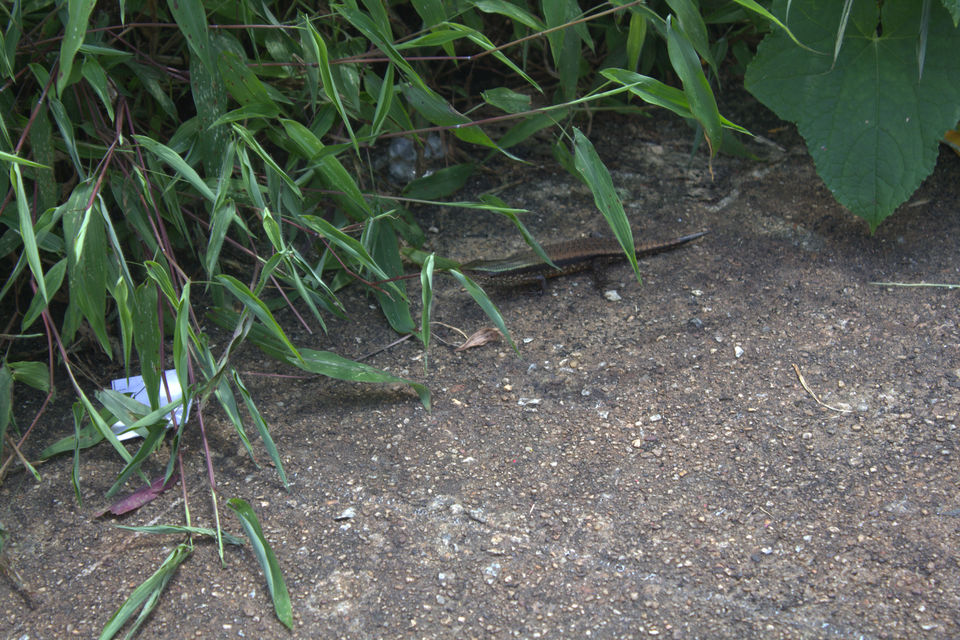 We started for Honnavar at about 2 pm and Manipal was around 200 kms (4 hrs). There is another route from Jog falls to Manipal via Sagar. But it takes longer then the highway (NH66) route since it involves ghats (curvy roads). Hence we started towards Honnavar and I drove 40kms without any breaks. We came across GersoppaForest cottages and Eco-park and decided to stop for some coffee. We left our bike across the road and grabbed some coffee. There were two visitors at the forest cottage restaurant which I realised were speaking in Marathi. So I easily started a conversation and found that one of them was from Uttara kannada and other from Maharashtra. They were very kind and asked if we had sufficient petrol to reach Honnavar.
By sunset we reached Honnavar and we headed towards Manipal via NH66.
The rejuvenation of the nature's hub lingered till the trip of next weekend.