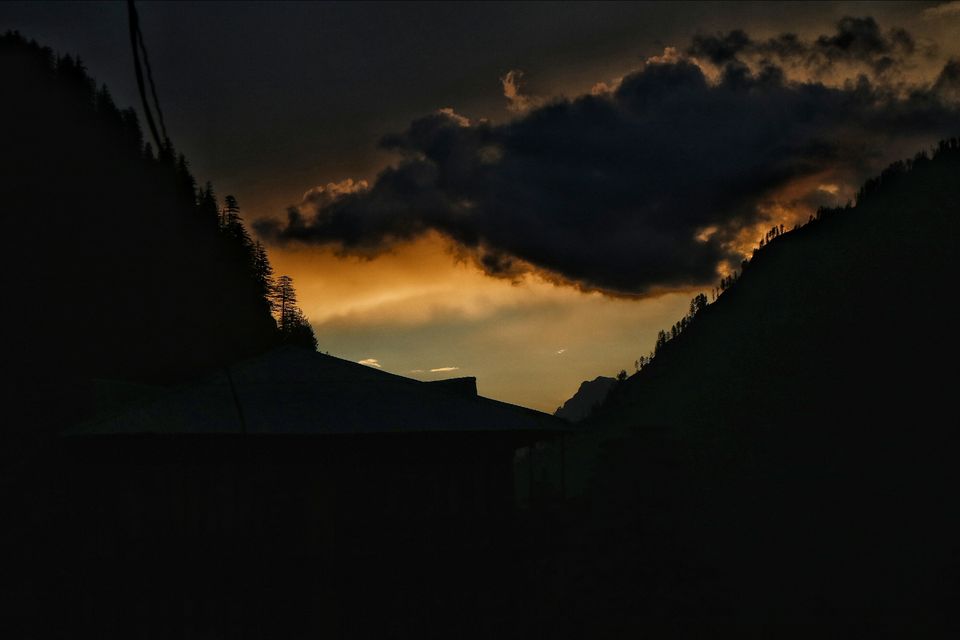 Pluga treats you like you walking into the place of God's the place where you can feel them living over there cause the people of the village are so beautiful and the air you breathe is so pure that even after trekking from Bharsani seems not so tiring and the place is serene and so clean
Pulga is a village situated in Himachal Pradesh and can be reached from Bharsani by a hour trek to the village which is situated next to Kalga again a beautiful village untouched and walking in Kalga feels like walking in movies so that's a different experience for me to tell in the next blog
Yeah so Kasol being overrated as it's being commercialized and crowdy also I thought of not staying above Kasol that is Manikaran so yes I thought of traveling to kheerganga I found a rainbow family member and he was like there is a Rainow gathering and join me and I was like where is it a day he was like at Pulga I was like okay I will join you and I just joined him to Pulga and we had to carry this 2 big pots for the family above so I just made him carry it all the way to the village and it was a really hard task but eventually we made it all the way up to the village and the first time I reached the village the vibes I got from the place were really scary cause it started raining heavily and it was night time and it was all foggy so we went to the place nee lest and that was the turning point of my life it is when I got to know the real vibes of the place and that night I got to know about the rainbow gathering and the best thing about Pulga is that you get the best pizzas in the whole Himachal over there that are wooden baked pizzas and are so tasty....
I am not an `organizer` nor representor of the Rainbow Family. There are none and there will never be. each and every one of us can participate as much as he wants!
*What is Rainbow?*
``...It is potentially the greatest manifestation of Freedom on the Earth. Of course, it's what everyone who goes to it makes it. There is never an entry fee. There are no mandatory costs. It is funded entirely by volunteer donations. This is one of its strengths. It is also run pretty much solely by volunteer energy. Theoretically, the only way something gets done is because people pitch in and offer their time, sweat and know how to make it happen. ``
The Gathering goes on for a full moon cycle, 30 days. its a temporary utopic social community in nature. place to heal, share, love and connect.
You do not have to be anything, know anything, or fit in any typecast of people in order to participate. Just be 100% yourself.
*So how does it work?
As said above, complete anarchy. everything that happens is happening because someone volunteered and put effort into doing it.
In the last rainbow gathering (north india, september) we had a consensus to have the next gathering on dec in the south. volunteers went on to scout the place. more volunteers will now set up the seed camp. and then even more volunteers (you and me!) will participate in the gathering and have lots of fun basically.
*KITCHEN*
The Rainbow kitchen will supply 2 nutritious and fully vegan delicious meals every day! for free! all you need to have is your own bowl and spoon and clean pair of hands and u are ready to be served [*Edit - to all my differently abled brothers and sisters, I deeply apologize. you do not even need a pair of hands. I've seen a brother with one hand setting up an entire family kitchen*]. The food is volunteerly bought, cooked and served by non others than you and me! anyone can cook !
But hey, how do we get the money for food?
*MAGIC HAT!*
The magic hat is our way to manifest and materialize money and food for the kitchen or anything else that family might need. it is passed after every meal and you can put in as much as u want and able.
*This is the only time that money is being exchanged at the gathering !*
Rainbow Gathering are none commercial events. our right to gather on public lands depend on this fact. Do not come with the intention to sell anything or make any profit. everything in the family is shared only with love!
*TECHNOLOGY*
It is old tradition and consensus in rainbow that we experiment different way of living. Trying to live simply and more connected with the earth we ask not to use: cameras, cellphones, electric/amplified music and speakers, artificial lights (flashlights are welcome but no discos and projectors etc) cars, motorbikes, generators etc. just leave them out.
*MAIN FIRE / CIRCLE & WORKSHOPS*
the main fire is the soul of the gathering. this is where we gather twice a day for food circles. We hold hands, sing songs and chant om together.
the fire is sacred for many of us. approach it with open heart and without shoes. feed it with good wood and nothing else!
After everyone are well and fed it is great time to make announcements and tell the family about the workshop that you wanna give, the shitpit that has to be dug, the purple-green little flashlight that u lost yesterday or anything else that family should know about !
Yes workshops / talks / initiatives of any kind are most welcome and are big part of what makes rainbow special. we come to share knowledge, ideas and skills so don`t be shy and show us what you`ve got!
*HYGIENE*
bros and sises let us not be a bunch of dirty little hippies in the forest.
if anything let us be a clean bunch!
seriously now.
many people living, eating, shitting outdoors for a month. if we don't keep ourselves clean we will get sick. few guidelines:
*Ashes from the fire are used to wash hands and dishes. they sterilize. keep your own bowl spoon and cup clean and to yourself. Always wash them and your hands.
*Working in the kitchen or serving food you must keep extra clean. ask a bro/sis to show u how to do it.
*Cover your shit! preferably shit in the shitpit. anyway cover your shit to break the shit-flies-food chain. and wash your hands!
I love my family so I wash my hands lalalala !
*CONSENSUS*
as said there are no organizers for Rainbow. every decision regarding family issues that is made in rainbow is made by a consensus. we sit in a circle, everyone is given a chance to talk, and agreement is made when everyone is satisfied with whatever is being decided. respect yo.
*SHANTI SENA*
Conflicts, aggression and miscommunications have been, are and will always have their place in our lives. The big difference is how we deal with them.
In Rainbow there is no authority, no police and no law enforcement. Nobody is qualified more than ourselves to keep the peace. If any issue occures and a bro/sis feels unsafe for some reason, he shouts Shanti Sena !
A conflict resolution circle will be made to solve any issue in a loving and respectful manner!
it's magic and it works. Our little family has already seen quite a few big dramas turn into hugs.
We are the peace keepers.
*WHAT TO BRING*
- yourself.
- your own bowl, spoon & cup. they are yours, keep them. we have no spares this time family!
- camping gear: tent, tarps, sleeping bag, blankets and longies. bring extras for the family! its chilly at night
- Music instruments (!!!)
- Smiles
- Fruits snacks and secret stash
- Water containers
- Tools (axes, shovels, knifes, ropes etc)
- Some biscuits for Snoopy Ji (optional)
*Don't BRING*❎
- Alcohol
- Weapons
- Plastics. avoid as much as possible. all trash we make will most probably burn. have mercy on pachamama.
- Violence of any kind.
????*LEAVE NO TRACE*
We commit to respect and heal the land. When the gathering ends we will not leave the land until it is even cleaner than before. The cleanup starts when you arrive. collect your trash. if you brought something in, anything, make sure u take it out.
RAP 107
Gathering Consciousness Please protect this Beautiful Land.
Walk softly. Harm no living thing. Harmonize - Blend in. Use only down, dead wood. Cut no living trees. Preserve the Meadows...camp in the Woods. We are caretakers of this land.
Everyone sharing makes a strong Human Tribe!
Please Protect the Water Sources by staying out of DELICATE spring areas. Avoid camping, peeing, washing above spring areas. Keep ALL soap out of streams, springs or the creek! Use a bucket to take your bath 60 feet away from the water source. To be certain of drinking water: boil it!
Use the slit trenches or covered latrines - cover your paper & waste with ashes or lime, wash hands. Break the fly/illness connection: shit-fly-food-you! Dig no shitters near water areas or kitchens.
Protect our Health!
Use your own cup, bowl & spoon! Wash them after eating and rinse in bleach-water. Visit C.A.L.M./M.A.S.H. if you feel ill - especially if you have a contagious disease - or are injured.
Camp Together - Establish neighborhoods. Community Fires only! ~ Each with 5 gallon water bucket and shovel for Fire Protection. If you are the last to leave a fire PUT IT OUT! Watch your gear: Be Responsible ~ "Tempt Not Lest Ye Be Lifted From."
Pets are discouraged but if you must bring them keep them fed, on a leash and out of the kitchens, springs & fights. Clean up their poop. Love them.
PACK IT IN - PACK IT OUT !!!
Cleanup begins when you arrive. Bring in only what is necessary. There is no janitor here...you are the cleanup crew. Separate Garbage for recycling. Don't litter - Find collection point. Compost in pits only.
You are the Gathering! Participate in Shanti Sena, the peace keepers council, and all activities, councils, work crews, workshops. Volunteer wherever needed: kitchens, welcome home, firewatch, parking lot, shitter digging, supply, front gate, etc. R-E-S-P-E-C-T your Sisters & Brothers energies.
Keep the Balance: Earth, Sky, Trees, Water & People!
Alcohol is Discouraged, Guns are Inappropriate, Violence is contrary to the Spirit. Please take no photographs or videos of people without permission. Discourage Drug Abuse.
Buying and selling endangers our legal right to be here. The Magic Hat is our Bank, donate early to fund our Needs. The Magic Hat goes around at mealtime circles and with the Magic Hat Band.
Our power together is many times our power separated.
Enjoy the Rainbow with an open heart and you Will see the Vision.
How many hippies can you fit in 2 magic trucks?
everyone and 3 dogs !
I have shown some pictures of Pulga and check out more on my Instagram which is mahir_008