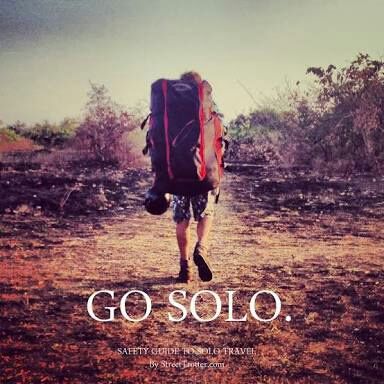 Solo travel.... Its a common thing you hear nowadays. But how many of us try solo traveling.

At first the concept of solotrip might be something weird to hear off.. But it really helps you in a lot of way...

If you want to feel the beauty of travelling you need to go solo at least once. Travelling solo can relax your nerves in a way that you could never imagine.

Travelling solo means you are finding yourself. First of all find a destination and free your calendar. Just pack the necessary stuff and start your trip without second thoughts.

Try travelling in minimum budget, go for public transport have Street foods make friends with local, share your cigarette with an unknown person ask for route and have lift from some stranger. Go beyond all those conventional stuffs do something that you haven't done before. Instead of taking a taxi go for a bicycle and roam around the unknown part of the city.

Make friendship with your opposite sex make them want your number and keep in touch even after the trip..

Forget all about the tensions and work pressures. See how others lead their life, try to hear their story and do something to change their life even if it is just a word of motivation. Talk freely with a homeless, have a light moment withthem share a smile with them, cause their is no one to withhold you from doing it.

Atleast once live your life in your own terms, atleast once live your life from all those luxurious lies. Lies that you have been hearing from your childhood.

Realize that life is not about getting a high salary job in a MNC, its not about marrying a beautiful girl and having a kid and feeding all those lies you have been fed with.

You might have partied throughout the life but the real happiness, real never-ending experience would be found in the scrap, in the street.

After such a trip you would never say i am bored with my life cause its only a start, its only a trailer the real picture is on its way.....

Go solo go beyond boundaries find yourself find what you have been missing all your life....