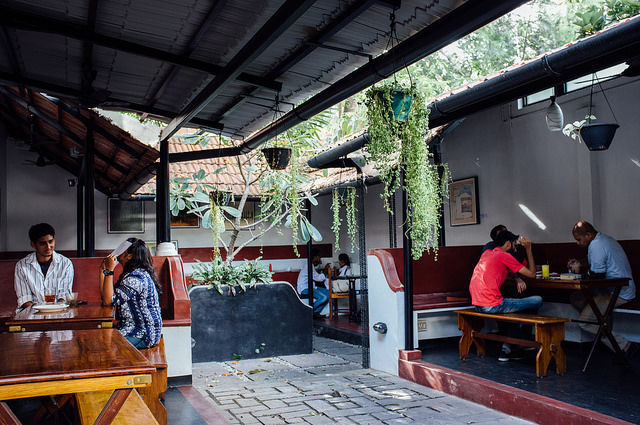 A recent report ranked Bangalore as one of the cheapest cities in the world. But those of us who live here know that it can be quite a challenge to find a place to dine out on a Saturday while still fitting into our end-of-the-month-budget, especially if you are a student.
I recently shifted to Bangalore to do my Masters, and as planned, one of the first things I did here was explore the city. The good thing about the city is that you will always find a place to fit your mood and taste. The bad thing is, more often than not, it leaves you broke. But if explored wisely, Bengaluru can take you by surprise and ask very little in return. Here are some ideas on how to explore the city without completely emptying your wallet.
Where to Eat:
There is no escaping from Tibetan food in this city. And if you're going to try it, you might as well have the best version. Tibetan Mother's Kitchen, a quiet, yet surprisingly full restaurant is a treat for those who like the cuisine. Hidden in a corner of Kormangala between some of the most lavish restaurants, TMK won't let you feel that you're missing out. Needless to say, Thukpa and Momos shouldn't be left out.
Price: Thukpa starts from Rs 75 and Momos start from Rs 70. All in all, a good full meal shouldn't cross Rs 200.
TT Salads and Grills, Koramangala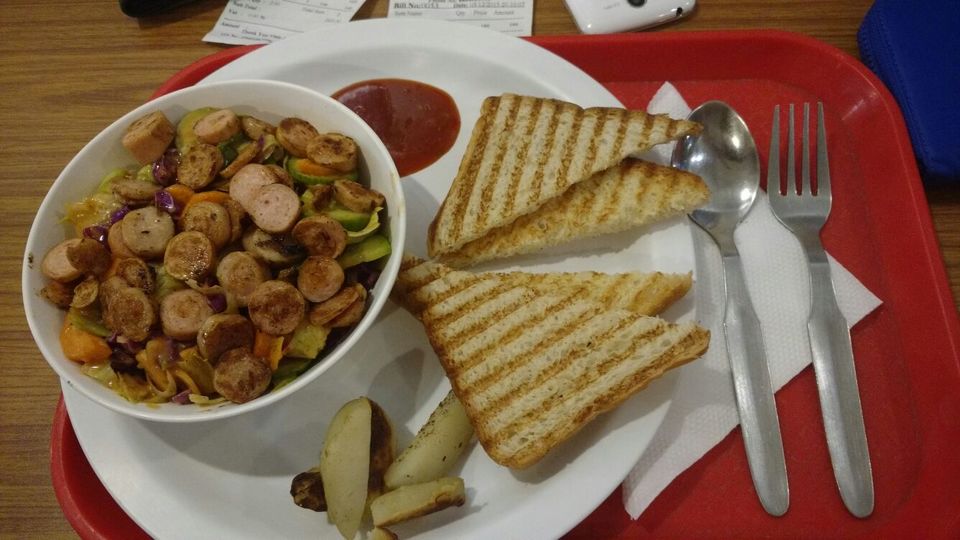 Who said healthy food should be expensive? Hop into TT Salads and Grills for a salad or sandwich during lunch. If you are feeling adventurous, try one of their sumptuous burgers. The Classic Texan Burger is a favourite here, coupled with a refreshing fruit juice or Iced Tea all within a budget of Rs 200! If you think all of this still isn't enough reason to go, they have a breakfast menu that will brighten up your morning!
Price: A full meal should cost you between Rs 100 – Rs 180
With its cozy sitting area and the sheer variety of food, Refresh will definitely become a hangout spot if you visit it once. You can enjoy a full classic Indian breakfast for just Rs 100! And that is the most expensive thing on the menu! You will find everything from a Biryani to Pav Bhaji in just under Rs. 100. Try their innovative Oat Meal Dosa to begin with!
Price: Under Rs 100
If you are hungry for delicious non-vegetarian food, this is the place to be. Khan Saheb provides some of the best kathi rolls in the city. Spread across five locations, you cannot miss this no matter which part of the city you are in. Their special Beda rolls and Tava rolls will entice the meat-lover in you. And all of these specialities are under Rs 150!
Price: Between Rs 100 - 150
Adiga's is easy to spot anywhere. The place has over 20 joints across the city. Its claim to fame is the amazing local cuisine and filter coffee it has on offer. Though its dosas are recommendable, a smarter option would be to try out some local Bisi Bele Bath or Herekai Purch Kuttu! If you want taste of Karnataka within budget, don't look anywhere else.
Price: Under Rs 150
A perfect blend of good environment and good food, Chaipatty is as good with its beverages as it is with its breakfast options. To make things interesting, they serve chai and coffee in desi kulhads. You can eat to your heart's content here without worrying about the bill.
Price: Rs 100 for a complete meal
If you want a quiet place to just sit down and talk, DYU is where you should be. It is one of the city's most loved places and you will find almost everyone from musicians and artists to students flocking here. This small bungalow-tuned-café serves great beverages and sandwiches for a quick bite. The desserts on the menu are a real treat too. The Chicken Melt Sandwich and Banofee Pie are classics!
Price: Rs 100 – 200
What to do:
See the sunrise at Ulsoor lake
Ulsoor is debatably one of the biggest and most beautiful lakes in the city. It is almost always crowded with people during the day, which is why the sunrise is the best time to enjoy the beauty of the lake and the cold morning breeze. A morning walk around the lake is a great way to start your Bangalore day!
Muse over at The National Gallery of Modern Art
The NGMA in many ways is the hub of the art scene in the city. Its collection boasts of many prominent Bengali and South Indian painters and artists. You can also attend interesting photography exhibitions and art installations here on a regular basis. This could be a fitting introduction to art in Bangalore. You may lose touch with time here and might end up coming out after several hours! Entry is free but there's an interesting shop you could buy souvenirs from.
Peek into History at the Palaces
There are two notable Palaces in the city. Tipu Sultan's Summer Palace –known for its beautifully carved pillars and lovely gardens – is the perfect way to start the city's exploration. Entry for Indians costs Rs 5 while for foreigners it is Rs 100 per person. 
The second palace –Bangalore Palace – is much bigger in terms of size and grandeur and looks like a castle out of a fairy tale. The Palace grounds are spread over acres and the exterior gothic architecture is as impressive as the intricate designs that make up its interiors. A few antiques and paintings belonging to various royals are displayed inside. Entry ticket for Indians costs Rs 200 and for foreigners Rs 500.
Take an evening stroll at Cubbon Park
Bengaluru is also known as the city of gardens. Fashioned to the liking of the British, Cubbon park was often used for evening strolls by the officers stationed here. It isn't hard to guess why. Covered with acres of trees, it's hard to find this kind of peace anywhere else in the city. The State Central library is also situated inside the park for those who might be interested. The park is huge and most often is not very crowded so bear in mind your safety before you visit. The entry is free.
What are your favourite budget places in Bangalore? Share your experience with the Tripoto community.