No matter what kind of ingenious gadgets seem to displace the hard copy books, no matter how hard kindle tries, a true-blue book lovers always prefer that magical smell of the books to odourless, slim trim kindle or iPad. Bengaluru further spoils the bibliophiles with pleasant weather and numerous quaint book cafes. These days the Bangalore weather is deadly with occasional rain and mystical cool breeze all around.
If you are a Bangalorean, planning an escape from a monotonous grilling mechanical life or if you have an impending Bangalore trip coming up shortly, check out for these exciting book cafes to rekindle the long lost book worm in you.
Dyu Art Café in Koramangala
One of my favorites, Dyu art cafe boasts of brilliant decor filled with artistic and highly refreshing ambiance. You could possibly forget to keep tap of the time lazing around in this quaint place with your favorite books and numerous cups of coffees to give you company. Do try the waffles while you are there.
Cafe Terra, Indiranagar and Koramangala

This cafe is blessed with eternal beauty, perfect ambiance as well as delectable food. What else do you need to indulge in that favorite sin of yours?
Art Blend Café, HSR Layout
Being near to my house, I am one of the frequent visitors of this well decorated cafe. Art blend cafe is filled with creative handmade arts, inspiring the creative side of you. The open space in the terrace is the highly recommended place.
Courtyard Cafe, Shanti Nagar
Courtyard cafe is popular for its delicious food and wide range of drinks along with exclusive coffee. You can carry your own book to this place and have all the heavenly pleasure on Earth.
Atta Galatta, Koramangala
Specialty of Atta Galatta is its huge collection of books. Apart from books, coffee and foods, occasionally this place also organises plethora of interesting literary events.
Flamenco, Jayanagar
With a quiet and serene ambience, varied collection of books and decent food, Flamenco is one of the best book cafes in Bangalore perfect for peace lovers.
Urban Solace, Ulsoor
Perfectly crafted to fit people from various backgrounds like professionals, students etc, Urban Solace in literal sense is a solace to the book worms as well as to those tired people with grumpy face and hungry belly.
Chavadi, Bannerghatta Road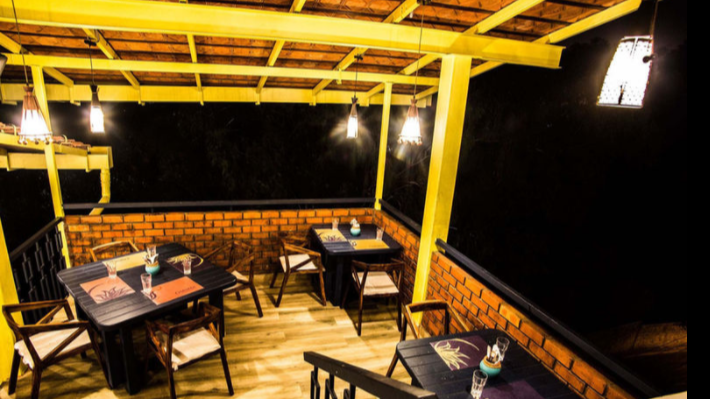 The main attraction of this rooftop book cafe is the beautiful ambiance with attractive lighting. Specialty is the empty canvas on the wall of the cafe waiting for eager artists to fill them. They also entertain the visitors with decent collection of books and delicious food.
Coffee on Canvas, Koramangala
The bean bags, the charming set up with huge pile of books in the book shelves gives a homely and comfortable feeling in this cafe. You might end up having a temporary memory loss and forget to go back home while seated there traversing through the climax of a mind boggling fiction of your favorite writer.
Matteo Coffea, Church street and Indiranagar
Fresh coffee, delicious food and a perfect coffee tables for books lovers, this cafe is simple yet perfect for bibliophiles.
Comment if I have missed adding your favorite book cafe and I shall be obliged to create a sequel of this travel story with another list of interesting cafes :)