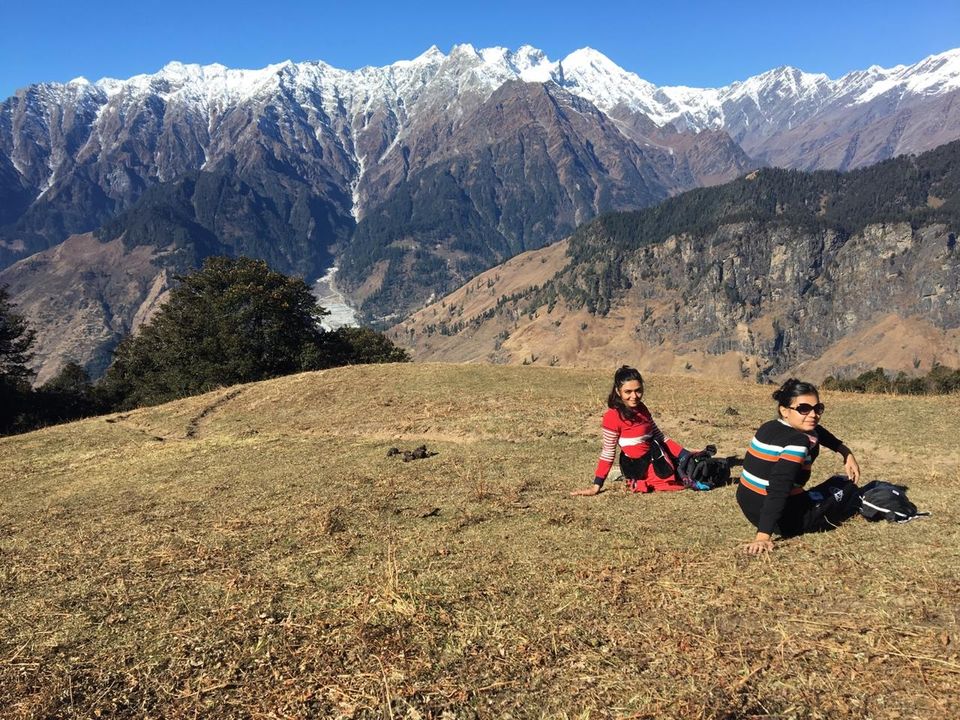 And the next day we started up for very much awaited trek of "Brigu" , 14000 feet higher from the Gulaba hills and a lot more..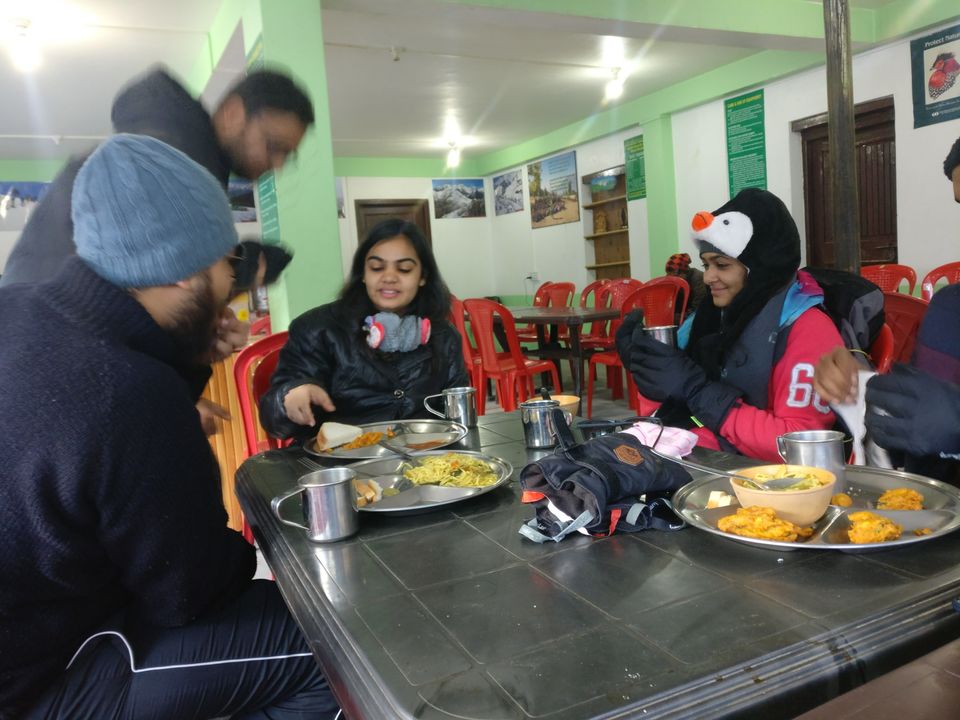 Everyone was excited, happy and so much with emotions about The Bhrigu Trek.. as we started walking the mountains it felt like if we belonged to this serenity. We had light breakfast and got food packets to eat in the middle of the trek with a mango fruity tetrapack too, which all went in vain coz I handed over my bag to The Poser, and went a lot ahead of him while he gave up to walk more in the middle! So yea, I starved! Here are the few pictures that we took in the middle just to keep a few Bhrigu Memories, since everyone almost kept their phones aside to cross up the mountains and reach Bhrigu before 1pm.
Our guide dint allow us after that time coz he said after 1pm, the winds at Bhrigu got Wilder and bad enough for long survivals, so we had to reach anyhow before that!
A here I was the poser wanted to be in the group photo!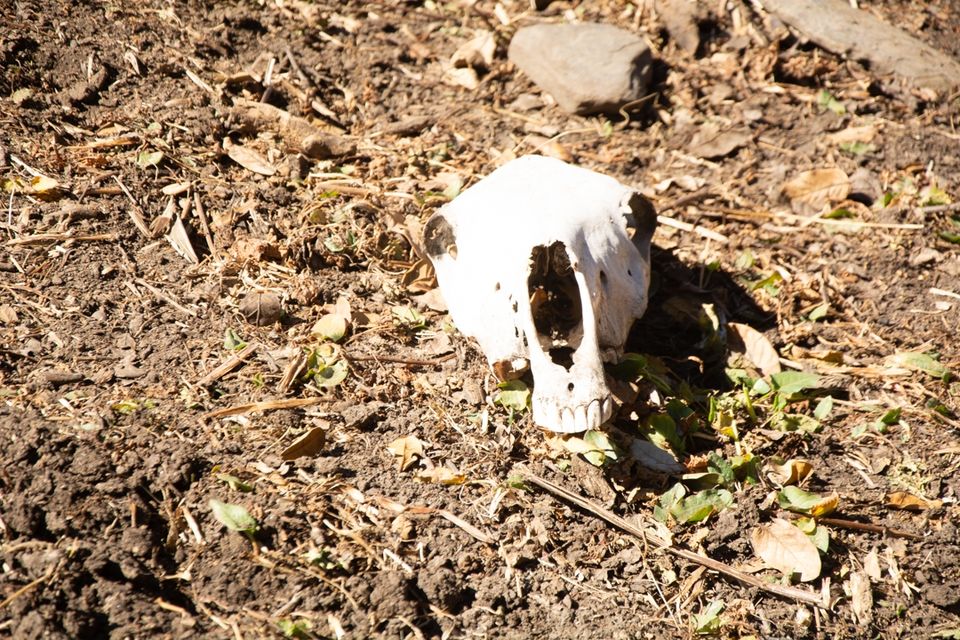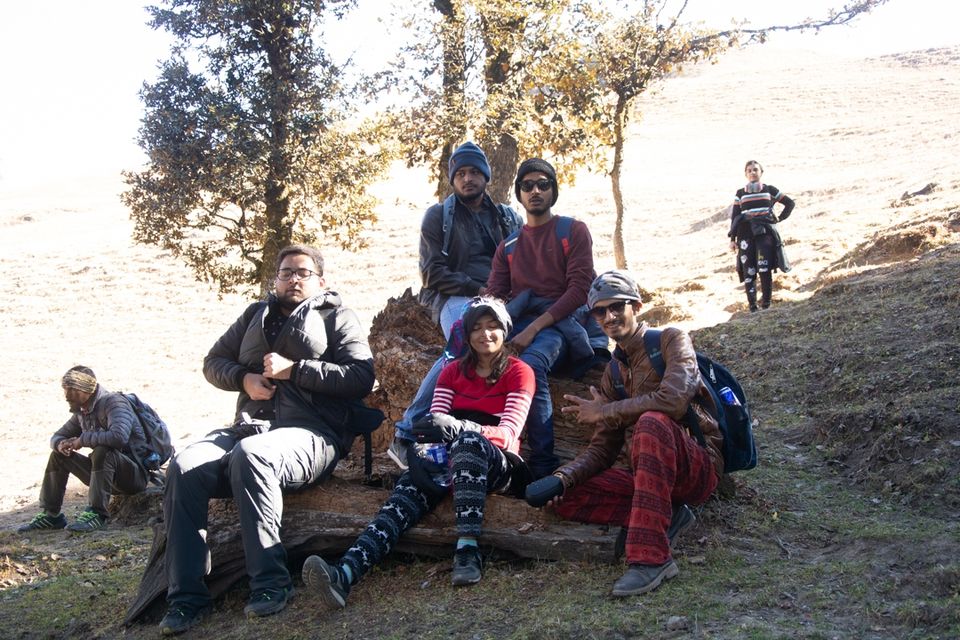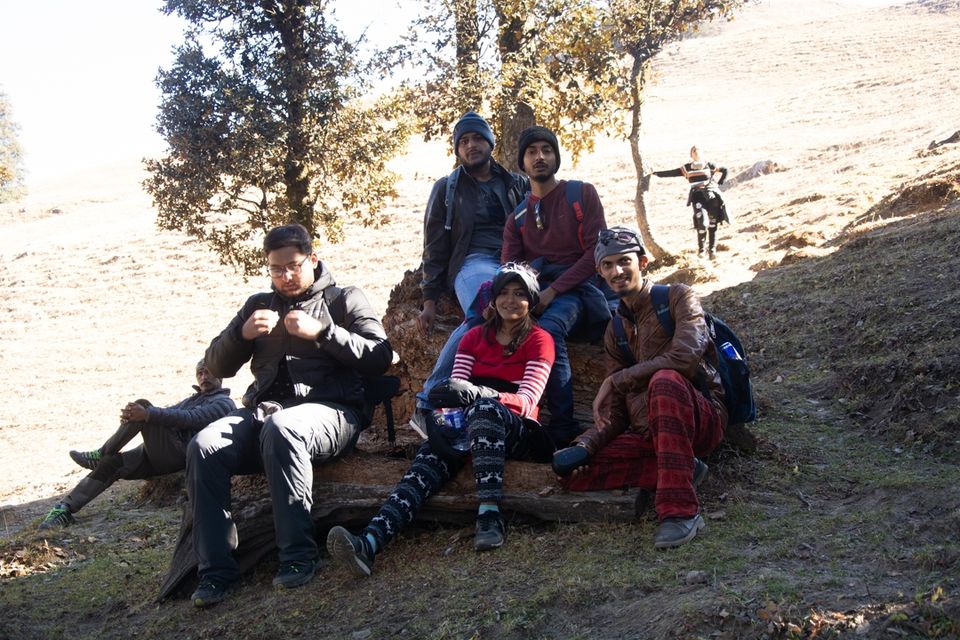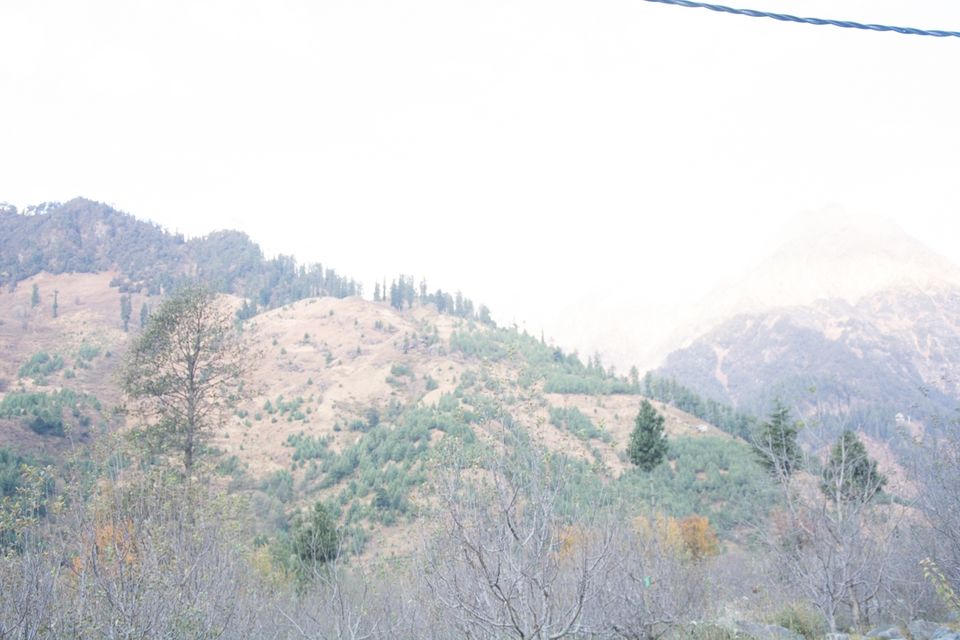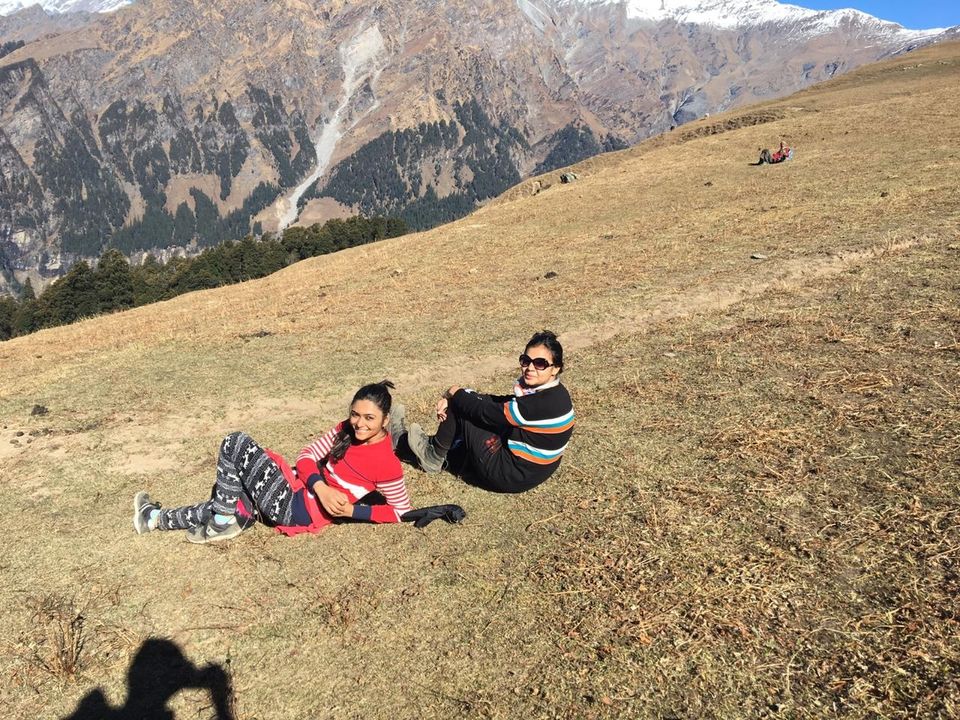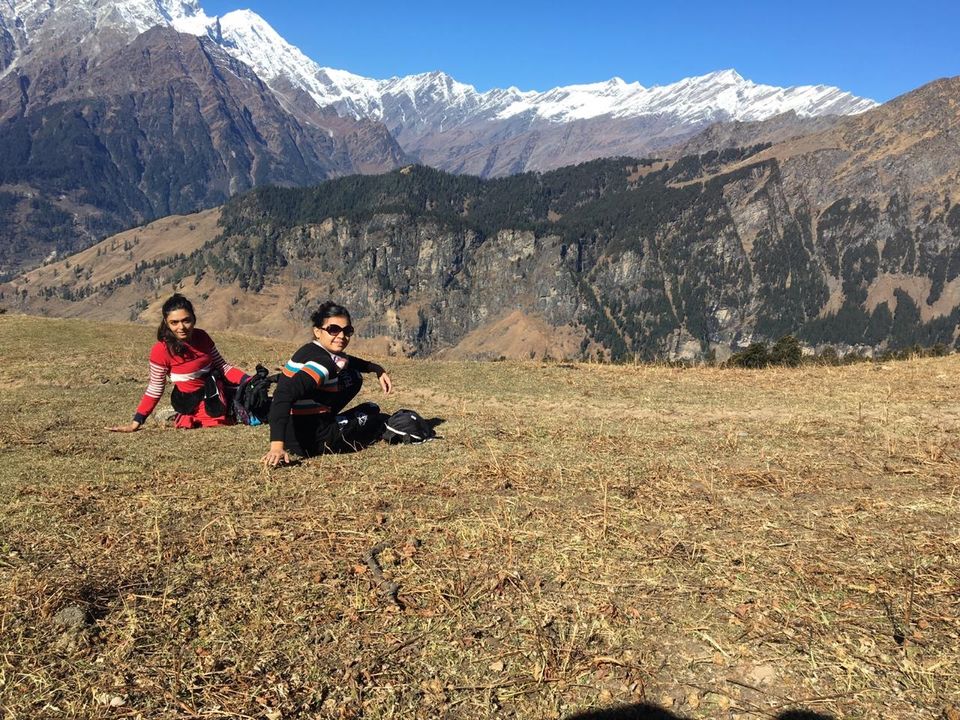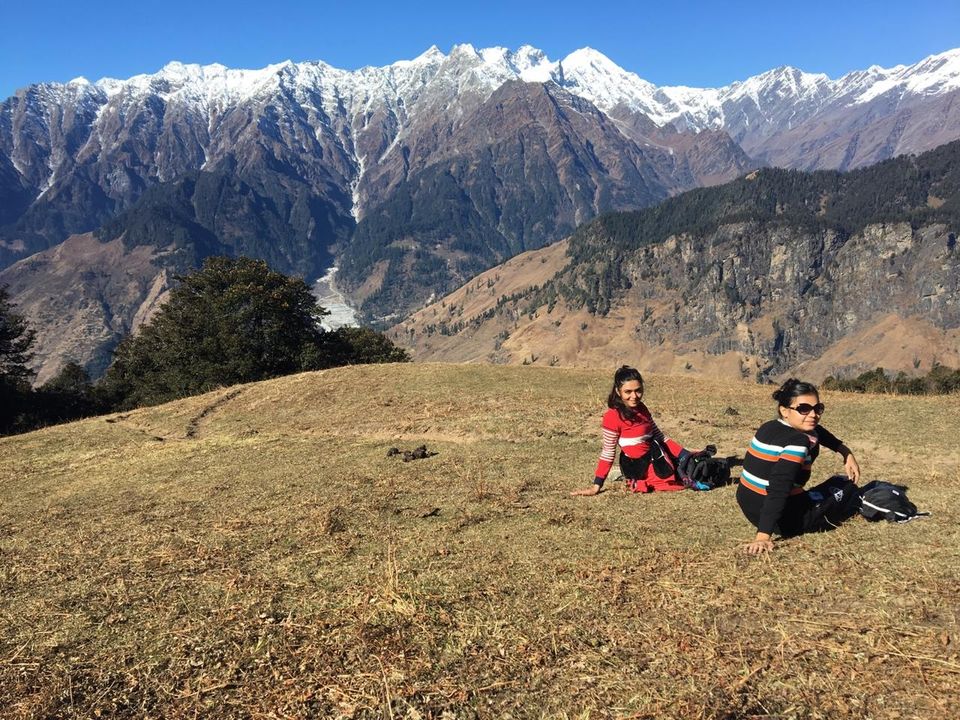 ... we walked, talked and went on! I and Mansi who were all ahead after a certain time from the whole group started experiencing happiness, the actuality we want from our lives, the more realism, the less of fakeness, the more of humanity, the more of friendship and the more of us as an individual! The mountains were more talking and touching to our souls.. We were hungry, out of water and a little starved but we were more attracted to reach that 14000 high peak where the Bhrigu lake existed... And a mountain soul was returning back saying, "My Bhrigu Trek is still pending this year, it's been my second year but I couldn't in a day!"
And to my surprise I looked at Mansi and we were like, we started by 6.30am and we are already at 10,000 feet by 11.30pm, so we wee not that bad! That mountain angel gave us two giant nutty diary milks to eat and a glucose water! And we are like if had asked anything to the universe, it would have come true!
So we ate, bite and bites, reaching 12000 feet by 1pm which was terrible sadness we were covered since our guide dint allow us go towards the 14th thousand feet! Mansi went off ahead, quarrelling to the winds saying I dint come here to fail to reach the Bhrigu, and I behind her started off again! While she almost climbed the another difficult mountain after crossing a valley, I had reached the quarter! Couldnt walk, or climb or crawl ahead. I took a halt and just sat for a while. Meanwhile, a voice came back from the last mountain from where I started to cross the valley, saying, "Tu, hena wahi, cannot see you! " I said, "Yes."
And again the voice said, "Han, jaa aage, apna dhyan rakhna!" And he was my little brother and for a moment I felt, why I am chasing this?
Have I come here to reach that lake, No! I came all along to experience; Peace, love and People I love and who loves me back! And I started walking down, crossed the valley and reached the mountain where my brother sat experiencing breeze. He said, " Hogaya Tera? Khaya tune?Chips khale!" so yeah, Chips it wasy lunch after 12000 feet of highness! I was almost near the sky♥️
And you know what did I do next? I phone called those whom I love from the bottom of my heart and told I'm almost near the Sky and I Miss them. Thank you for being. And yea I clicked this
So damn cold it was!! Until we realized we need to walk 12000 feet down again!! That was tiring though. The winds had changed a lot, became cooler as hell. We asked for lift to the trucks, and one of them gave us till Gulaba where our Traveller stood awaiting us! And all I wanted to go to my room and sleep down as I was tired as hell! I just dint feel like eating but still had 3 bowls of mushroom soup, daal rice, roti and sabji, almost starved all day though.. and all had raised affection for each other.. we we were relaxed that night got and full sleep having happy faces, seeking for a positive day ahead.. ..We dint reach our destination, but we did reach contentment..