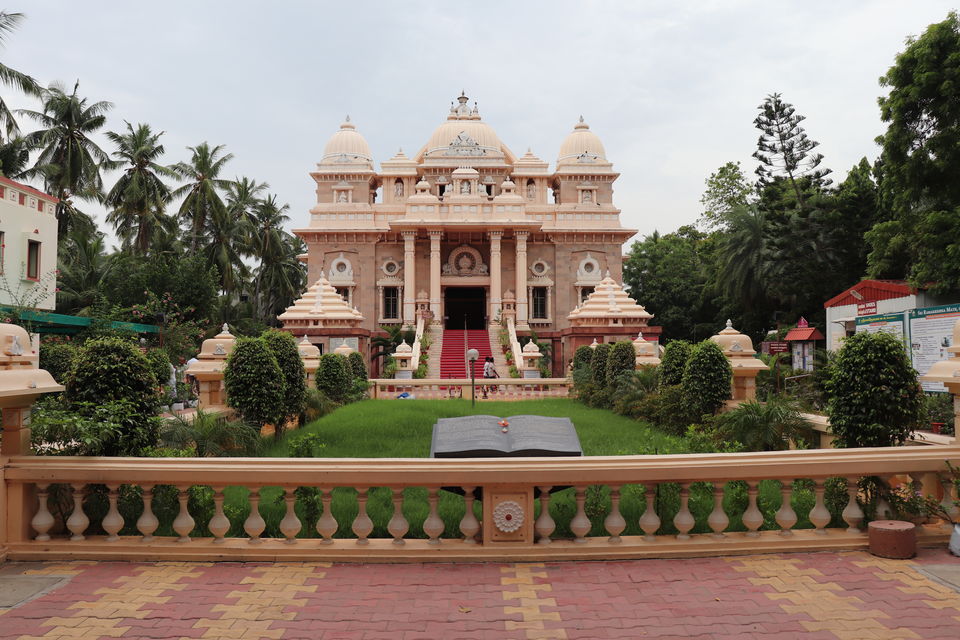 I live in Bangalore. Though in 2018, I traveled a lot during weekends, but this year, I didn't even think of making any plans. Reason : summers in India. Yes, it was very hot till June, even in Bangalore. From few days, the weather is very pleasant. So I thought why not try only metropolitan city I have never been, out of Four, when the weather is also good in monsoon. Chennai was on my bucket list for a very long time. I hate summers and I hate the sun,even for 5–10 minutes, still I managed to prepare myself.
I always prefer cities or towns which has some historic importance, good communication facilities and a lot to offer. For this moment, I am little bored of mountains and beaches. So, Chennai it was, for this weekend.
We (me and my husband) planned the accommodation and transport to and fro from Bangalore by bus. We did not check at all what all places to explore. Since our stay was nearly 1.5 days, so we didn't have much time, but wanted to make most out of it.
We got down at Koyambedu Metro station which was a little before the last stop (Koyambedu Bus stop) at 7am. There was ticket Kiosk from which we took our tickets to Chennai Central Metro from where our hotel was 500m. ( Ticket Price : 40 INR each). We reached in 20 mins to Central Metro and to our hotel by 8 a.m.
As the weather was less hot in morning, we decided to roam around a little before it gets hot. We freshened up and went for breakfast to the nearby local restaurant. We had one Dosa and one Vada each and tea. I saved filter coffee for next meal. The Dosa was little different from what we get in Karnataka. It was a thinner. The waiters were very polite, though we didn't understand what he said. There was no GST involved in the bill and you can actually think of paying a tip for such a nice behavior. (Dosa for 70, Vada 20, Tea 20 All in INR)
Then we took an auto(INR 60) to Vivekananda House(Ticket: 20 INR) which in on Marina Beach road. We stayed there for around 45 minutes to 1 hour. It was about Vivekananda's life and Indian History from Ram, Krishna , Buddha , Modern Indian history as well. There was a 10 minutes 3D movie on him as well. We were sitting there and planning our day. We booked an Activa from the website https://www.wheelstreet.com/, INR 400 for one day (11 am to 11 am) from the Triplicane station. So it was very easy to roam around the nearby places.
There was very less traffic in Chennai and roads were too good. Beautiful government buildings all over the city center making the view quite beautiful.
We went back to room and rested in the daytime. In the evening,4 pm we started again to few nearby places like Valluwar Kottam and Vadapallani Murugan Temple which was around 7 kms and 9 kms respectively from Central.
There were many handicraft shops which will lure you to buy stuffs even you don't need it.
We came back to our hotel and rested for a while. Again around 8 pm, we thought of taking a walk around the Marina beach. There were few souvenir and food stalls and all the lighting were making the beach look more beautiful. Since it looked little dangerous, no one was bathing in the sea. In around 2 hours we came back and had dinner at hotel, slept early thinking to capture sunrise the next day.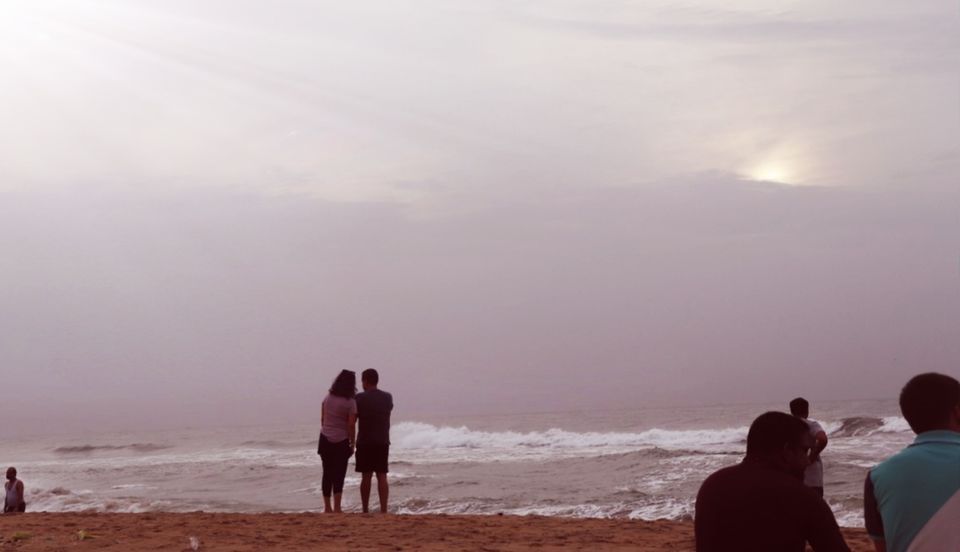 The next day we got early and left for beach around 5.30 am. The view on beach road was spectacular making the morning so vibrant. We crossed the Marina beach and reached Elliot's Beach which was another 8-9 kms from Marina beach.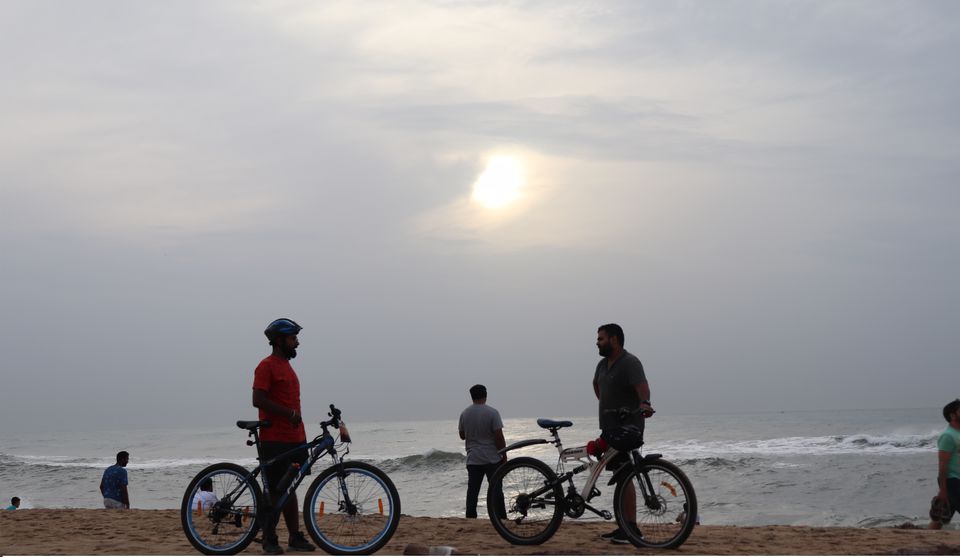 It was surprising that so many people were out for their morning walk and jog, which can never be boring. People are health conscious. Many people had just come to see sunrise, sitting on beach. There were people cycling, groups doing yoga,children were playing volleyball, flying disc, badminton and surprisingly even Cricket. People are fun here. Making best of their Sunday.There was place where we saw a bunch of photographers shooting a model on the beach street.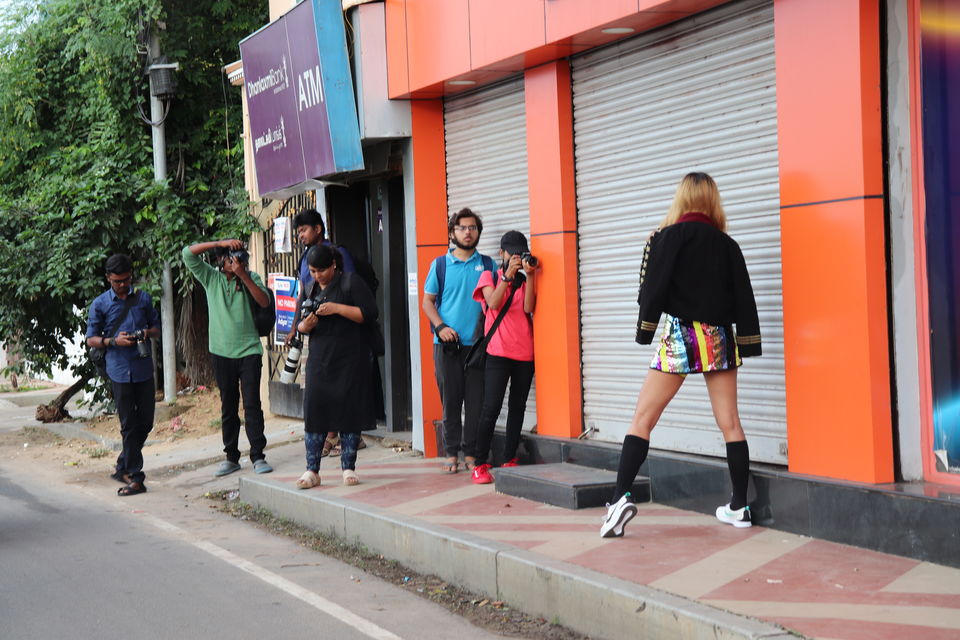 After spending more than an hour, when sun was up, we thought of exploring around that place and went to few famous temples and church that include Ashtalakshmi temple, Kapaleeshwarar temple,San Thome church, Sri Ramakrishna Math and headed back to room for breakfast. We covered all these places in around 3 hours as in the morning as there was very less queue in temples and since it was Sunday, the church was full of people praying. The ambiance was beautiful. There was no entry fees for any places and no check for phone or cameras. Everyone was busy and lost in praying. The Kapaleeshwarar temple is a very beautiful and is a must for people coming here for one day.
We checkout our hotel at 11am and headed to Triplicane. On our way we took a round of M.A. Chidambaram Stadium Cricket ground and then went to Parthsarthy temple (500m from Stadium). Its a beautiful Vishnu temple. Please reach before 12.30, it closes after that. We just managed our Darshan. We returned the bike the same place.
One heads up : We saw a lot of water crisis in Chennai and there were many water tankers from which locals were collecting water in the thin lanes. So try avoiding those lanes if you are on 2 wheeler. It might make them a little angry. But mostly people will help and let you know the other routes to go.
We decided to spend our next few hours in the mall which will save us from the sun. So we went to VR Mall which is the biggest mall in Chennai.(Triplicane ->; Egmore Metro) By Bus (Egmore -> Thirumanaglam ) By Metro
Please take Uber/Ola if available, we were not able to book, so we had to go by this way which took a lot of time. While returning back to hotel, we got Uber which saved our time. We got our bus at 4 p.m. and not to miss, booked first time Bharathi Travels, AC Sleeper. (www.bharathitravels.com/) The experience was beyond expectation, better than SRS,Airavat or in any other I have traveled in past. By 11.30pm, we reached back Bangalore.
There are many pubs and restaurants as well, you can check out. There are places like Zoological park, Dizzee world, Queensland Amusement park and other places.
There are places of shopping which many of my friends told me to go like T Nagar, Sowkar pet, Pondy Bazar, Burma Bazar, George Town. We had very limited time, so couldn't go any of those, but will surely try if I go again. People coming here for shopping must buy a kanjeevaram saree if they are saree lover.
I missed few places which I surely wanted to go like Dakshin Chitra Museum and Iskon temple. These were quite far away places from City. There are other museums like Government museums and Rail museum you can go if you are a history person, they are very near to city center.
I loved the city, minus the heat part.
Chennai, thanks for hosting me!