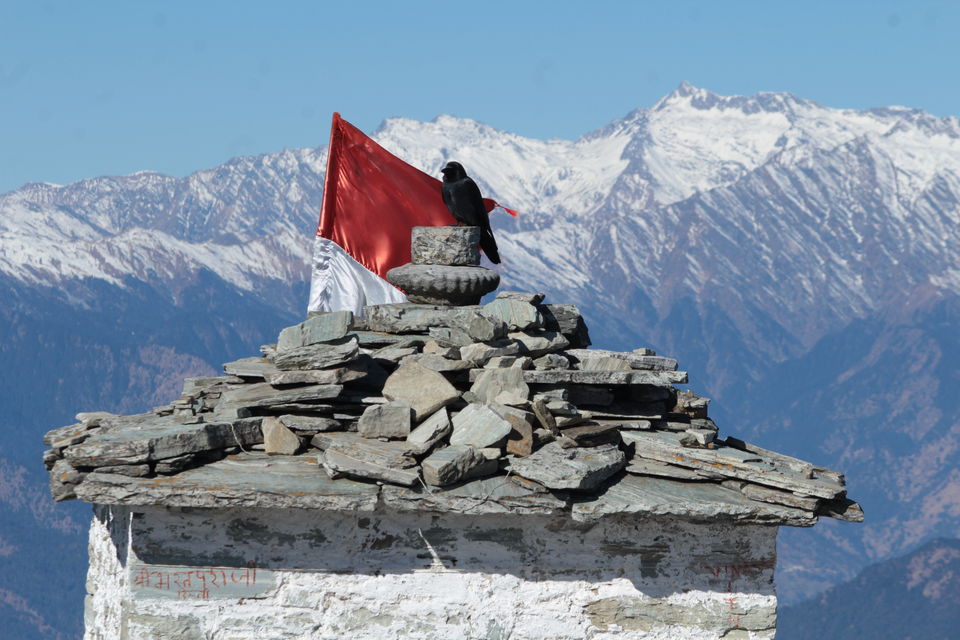 So basically, this is our 2nd trek together before we head towards our lifetime achievement (getting hitched) and planned a trek to Tungnath – Chandrashila Summit and moreover I too had a surgery planned on 26th Dec 2017.
It was 21st Dec 2017 and we were waiting for our train which was scheduled in midnight at 11.50 pm with Nanda Devi Express. As the ticket was booked on tatkal for 2 people it costed us Rs. 1200 (without tatkal its Rs. 540/person) which was OK for us and we had a good sleep in the train because we were travelling after completing our office hours and had an upcoming tiring day the next day. As the clock strike 3.30 am in the morning on 22nd Dec I was awake with all the chaos in some station and just after half an hour we reached Haridwar Station. The reason we selected Haridwar is that from there we have lot of options for Chopta. Yes, you won't get direct ride to Chopta from Haridwar or Dehradun or Rishikesh. You will have to interchange your ride. So before planning to do this trek I researched a lot in google off course and spoke to many local people out there in chopta over phone (contact numbers where googled). My fiancé Hrishikesh Baruah just joined me and didn't help me out in doing the research, you know (busy corporate bug).
The moment we got down in Haridwar Station, we had no idea from where do we take the bus as it was dark, foggy and cold early morning. We started moving towards Haridwar bus stop but failed to find the bus and all the buses were scheduled late morning around 7 am. On asking about the private vehicles we saw the buses moving towards Uttarkashi and it was leaving right at 5 am. We ran and caught the bus and threw our back sack like we had nothing inside our bag. Holy cow!! in that rush I also threw my water bottle along with it. Can you see the excitement I had (heheh)? Here, we start our journey towards Kund. The bus fare was Rs. 300/person till Kund. And yes, you forget about luxury ride and get ready to fly in the air of Uttarakhand bus. Though you won't find any safety belts who will save you from flying down from the seat, so the ride is on your risk. I really mean it when you see the name "Pilot" written on every local bus next to the driver's seat. He will make you fly without wings. After few hours we felt asleep but woke up with a hard bang on my head and yes that's Hrishi who banged me with his head, but he was still asleep. Wondering how you could sleep on that road and on that bus. For that you need talent and yes, he had it (hehe). At 10.30 am we stopped at Rudraprayag for breakfast and soon started moving after 20 min. Now, it's time we go higher and higher and get lost in the mountains. And slowly after crossing Rudraprayag, roads get better a bit and you start seeing the mountains and the river Alaknanda flowing on the other side. Around 12 pm we reached Kund. Waited there for around 25 min for a shared jeep and then from Kund we headed till Ukhimath which costed Rs. 50/person. On reaching Ukhimath we negotiated with the jeep driver to drop us till Chopta and after long discussion we were successful to close it on Rs. 800 that too without any other passenger in the jeep. In short, the whole jeep was hired by us.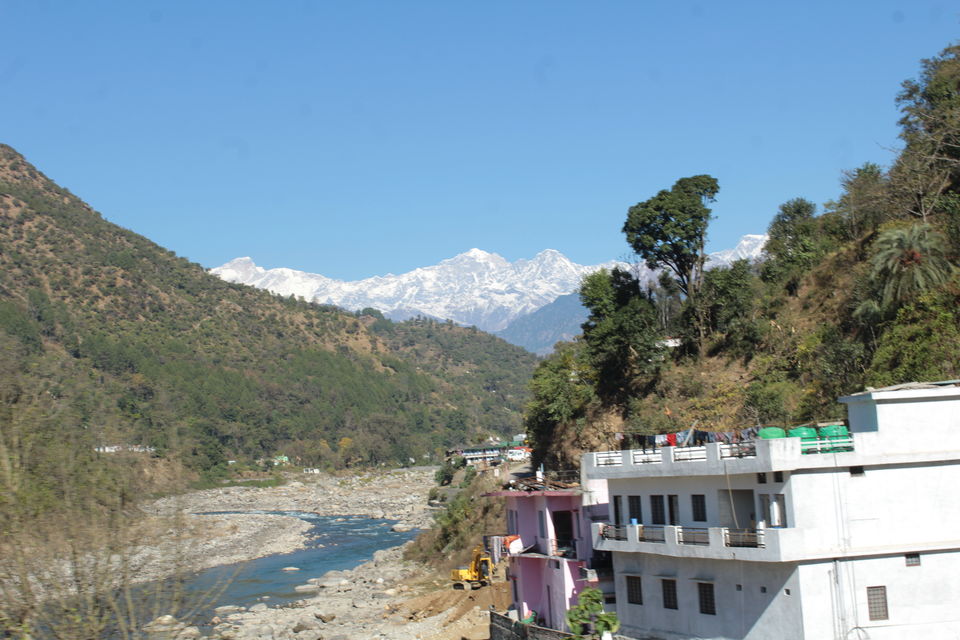 It was 3.30 pm in the afternoon and we reached Chopta after travelling for the whole day. I already spoke with the owner of the Café Moksh and pre-booked a room for us before 2 weeks and as it was freezing and I didn't opt for camp. The room costed us Rs. 1000 for 2 including breakfast and dinner. After refreshing myself with the freezing water I could hardly feel my hands and face and Hrishi didn't have any idea how cold the water is, so I could hear him shouting in the bathroom while I was taking a stroll just outside the room.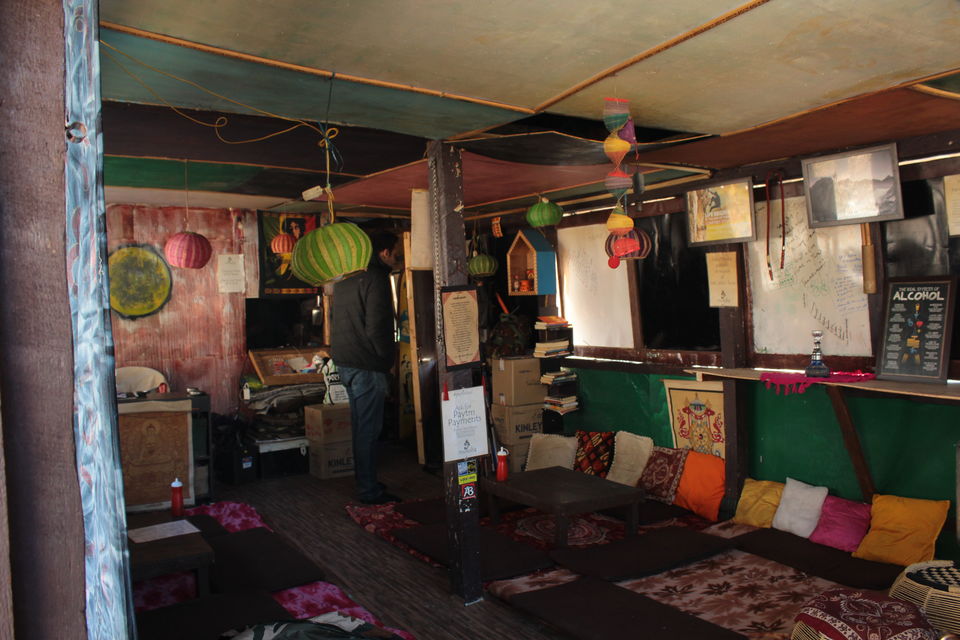 To put an end to our craving of having some hot food we ordered some hot soup and Maggi to fill our little tummy after which we both were charged up and took some winsome pictures from the café itself.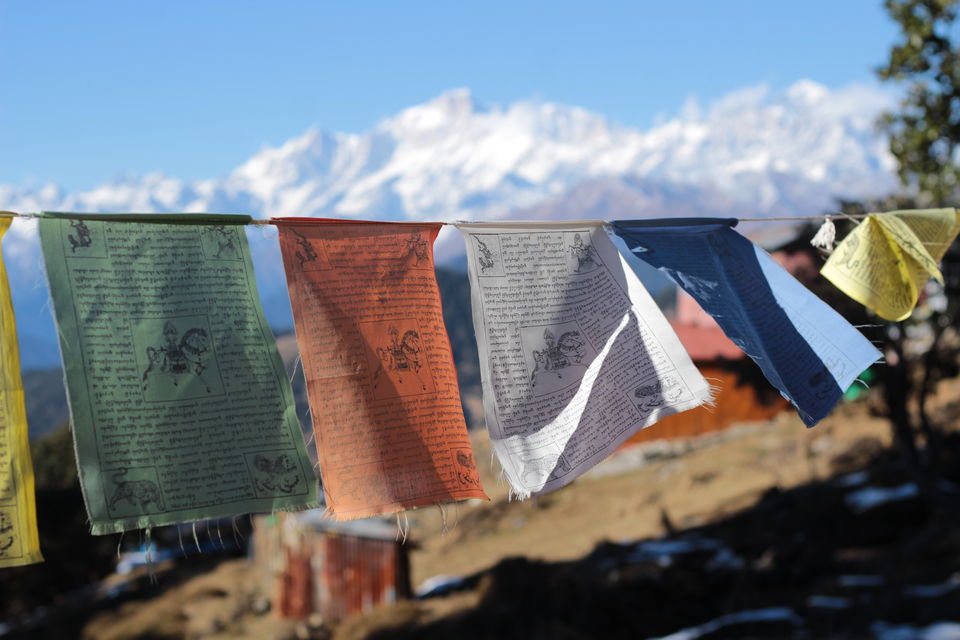 We didn't want to sit and waste the beautiful evening in Chopta so both of us went hopping to take the delight of the period at the end of the day with all the gadgets we had. And trust me never ever ever saw such a breathtaking evening in my entire life.Night was freezing, and the temperature has dropped to -4 degrees. Still we had such craze that the only body part could be seen is our eyes and we were out for night photography.
Around 8.30 pm we had our dinner and went for a good sleep as we had to wake up early morning at 2.30 am and get ready with the nature's call and other stuffs.
By 3 am we both were ready to move filling all our water bottles last night and left around 3.15 am. It was pit dark, only moonlight was the natural light and both shivering. The moment we were about to enter the temple gate we heard a voice asking to stop for few minutes. And it was a tea stall vendor in the middle of nowhere who asked us not to start trekking as there might be wild animals returning home and there was high probability of us becoming their breakfast. We asked if he could serve us some hot tea and he happily made some. While gulping some tea, we found few more trekkers coming and we all got together. And now we were 5 of us and good to go and started moving by 4 am. So basically, you need to be at least a group of 4 people if you plan to trek in winters through dense forest and snow. Moving ahead like warriors on the slippery ice, some fell again and again and me watching everyone slipping and to wonder I didn't trip even once being a first timer trekking on the slippery snow so kudos to me (Yay Yay). You always need to follow the footprints of the earlier trekkers who passed the same trail and moreover you need to keep a good grip before stepping your other leg. It's all about coordinating and concentrating.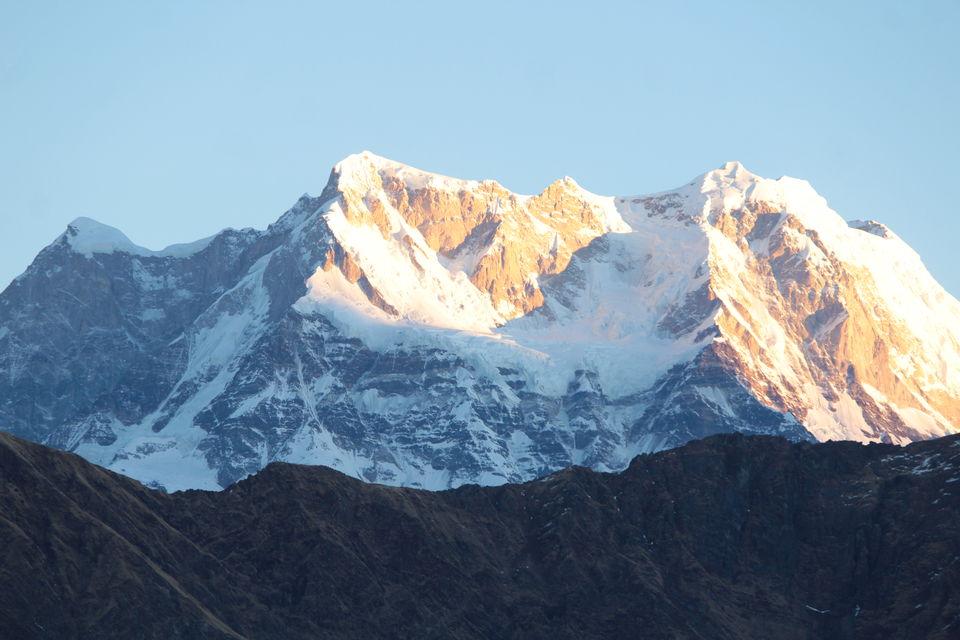 Slowly and steadily taking pictures of the dawn around 7 am we reached the Tungnath Temple. The four people that we met on the start of the trek moved ahead as we kept our pace slow and had been clicking pictures all the way. It might be strange for everyone but me and my fiancé were clicking pictures inside the temple area though the temple was closed and suddenly I hear a voice of moaning. And was so angry on Hrishi and asked him to stop doing those air passing (fart) because you are in a Temple. To my wonder he said why would I do that Suju. So, after that we both looked at each other and ran from there thinking there might be animals hiding in the dense snow. Yes, it was funny but for a moment my heart literary skipped a beat.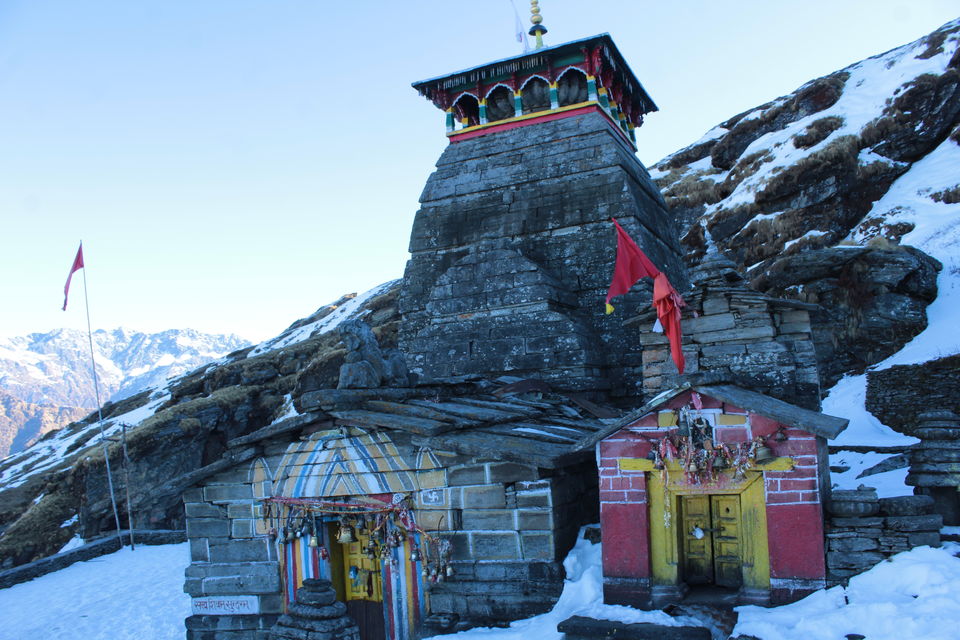 So, after the temple it was the summit "Chandrashila" which was 13,000 ft above sea level which provides the views of the Himalayas, including Nandadevi, Trisul, Kedar Peak, Bandarpunch and Chaukhamba peaks. We just started climbing and saw most of the trekkers coming back. The 4 guys who accompanied us returned saying its very slippery and no space to place your feet and on the other side is a deep mountain ditch. I was scared and thought of dropping the plan. And then Hrishi asked me if you find it difficult just drop the plan, do not do it just because of me. So now it's the tough steep slippery walk from Tungnath towards Chandrashila and its just 3 kms away. I read it somewhere that before hitching just do 2 or 3 treks with your partner you will discover how both of you will react on the ups and downs in the journey of the trek or in your personal life. And off course you never say no before even trying it. So, I told him the moment I feel scared and think I can't do it I will abort the trek. With that note by kissing and wishing luck to both of us we moved ahead. After few climb it was really slippery and tricky. But we kept on going slowly keeping our grip on the snowy ground. Yes, you won't see green ground it was all snow covered till thighs, the road was steep, and the snow was too white to make us blind so we both wore our glasses and kept the swag look on. And finally, we reached our summit around 9 am with some bewildering views surrounding us. We sat there for more than an hour took lot of pictures as no one climbed the summit, so it was like I owned the entire mountain without humans (hehe).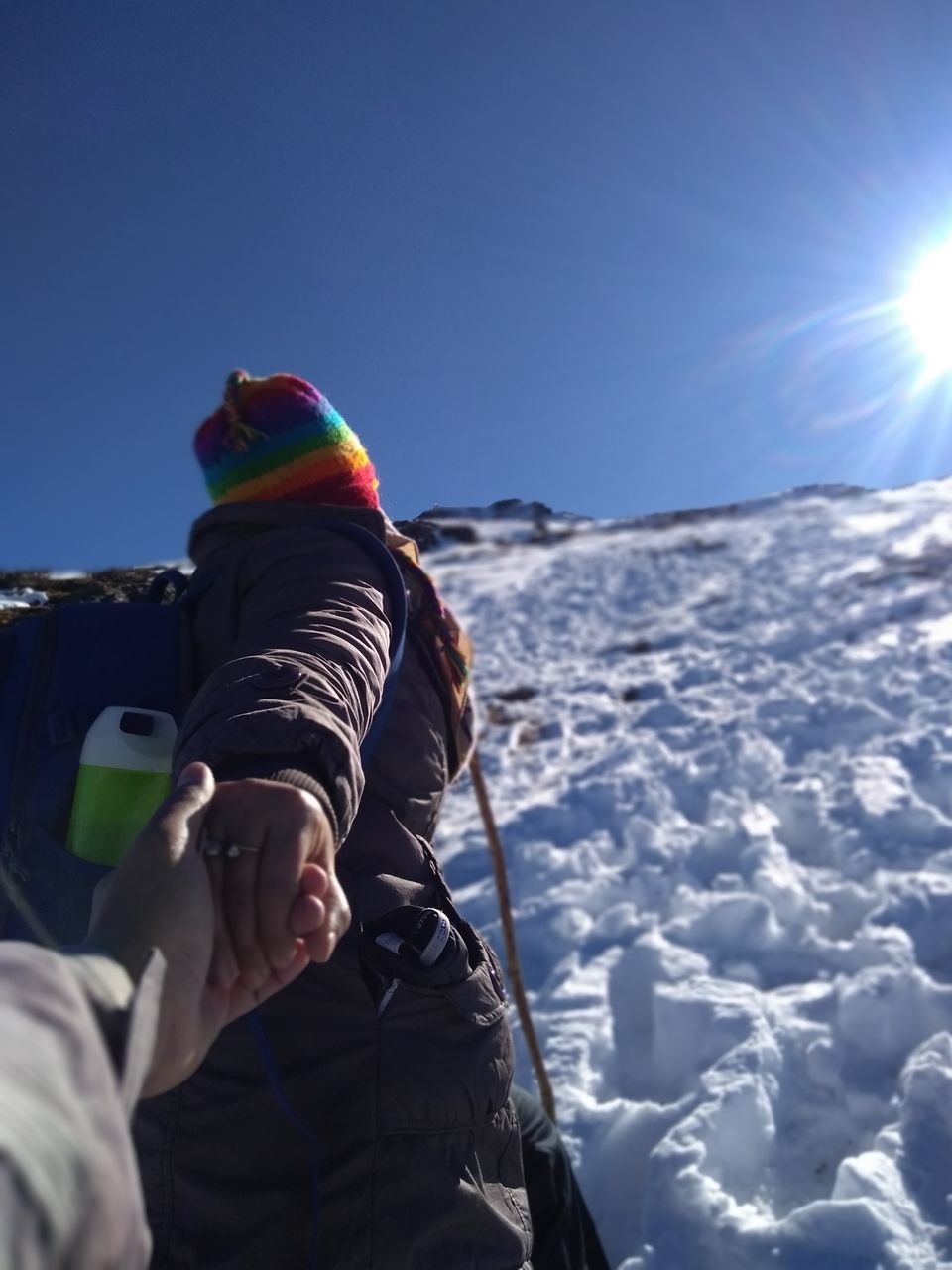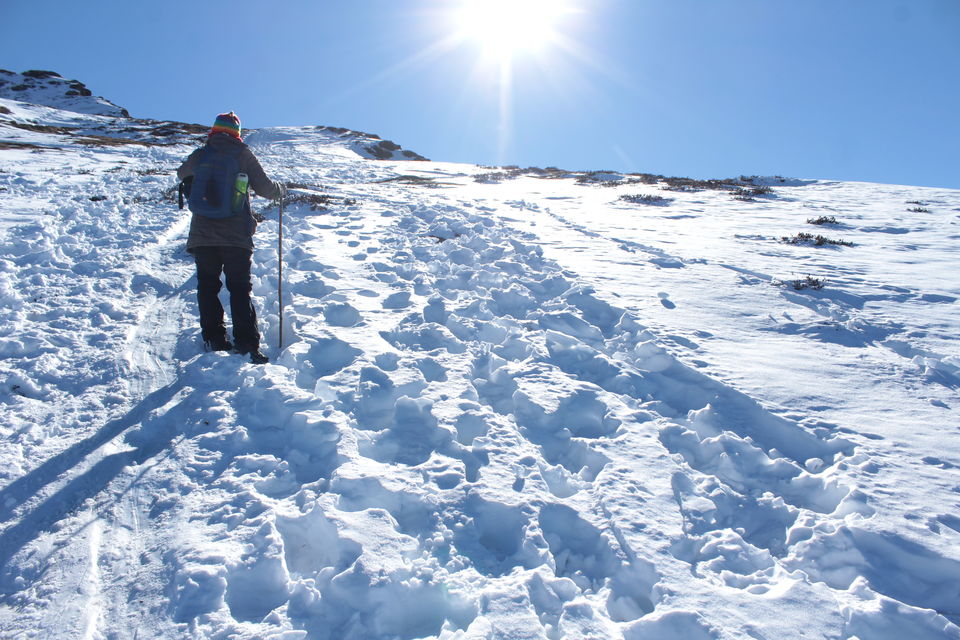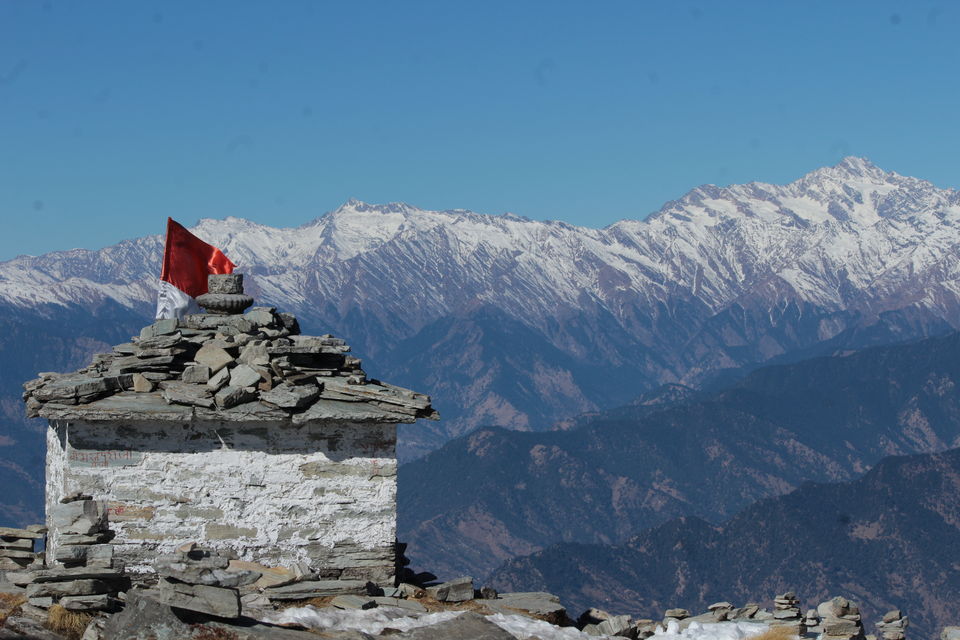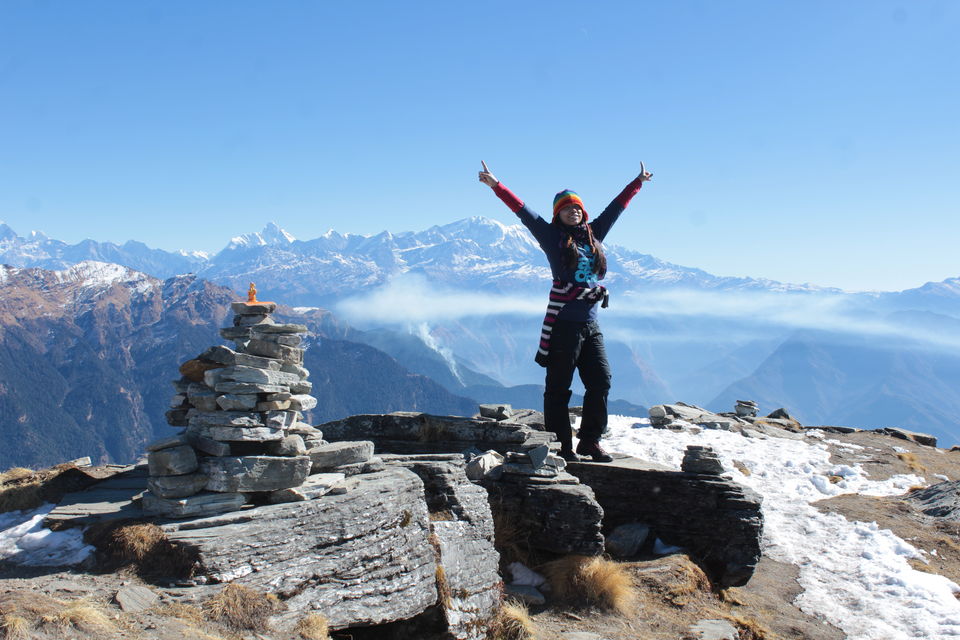 It was 11 am and we started descending because we had some other trek plan to Deoriatal if we had enough time and energy on reaching Chopta. While descending that was the moment I went inside the snow bed thinking to be a way to keep my feet. And wallah I opened my 1st fall on this trek. And it was so much fun jumping on those snow bed that we both started to jump purposely. No humans I could see except us laughing and giggling on PJ's. I wish I could stay there for longer hours and halt for a night, but we didn't have that provision and had to return taking back memories in our eyes, mind and camera. On reaching Chopta I was tired so dropped the plan to trek to Deoriatal. And now the problem was we had booked only for 1 night in Moksh café as we planned for Dayara Bugyal. But then Tarun the owner of Moksh was too sweet to provide us camp and we rested for that night.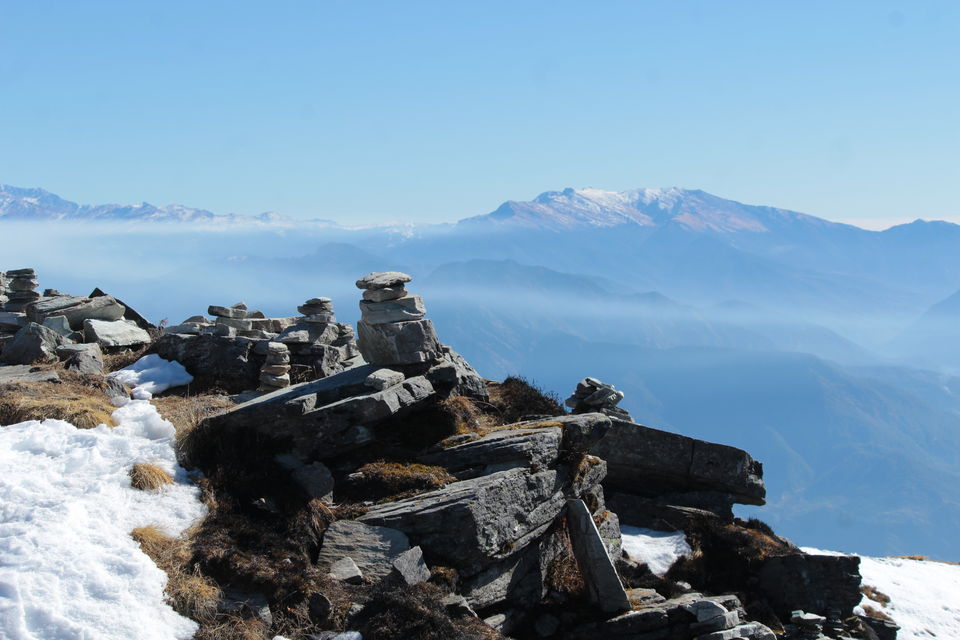 The next morning, we started early for Dehradun, we took direct jeep from Chopta to Ukhimath costing Rs. 800 and from Ukhimath we took bus to Rishikesh which costed Rs. 700 for 2 people and then from Rishikesh to Dehradun it costed Rs.120 for 2 people. We reached around 7.30 pm in the evening.
As I said I had a surgery planned on 26th Dec I left from Dehradun on 25th Dec by early morning train Janshatabdi which costed only Rs. 160. The entire trip for 2 people costed Rs. 8000 without any guide.
So, the trek with my partner went so well that we are planning to do more treks together. And will advise every couple to trek together before hitching it will make your bond stronger and you will be able to read the persons biography in the entire journey. Though Hrishikesh Baruah is a trekker and keeps on trekking every now and then so he has a trekking partner now who is good in researching and planning (smiling). Nonetheless enjoyed the splendid trek to Tungnath – Chandrashila, it will not let you down instead it will fill you with the happiest feeling for visiting such a heavenly place.
Do's and Dont's
Do's :-
Drink plenty of water. Stay hyderated.
Keep yourself layered even if you feel hot.
Carry medicine box - Avomine, Dcold, Combiflam, Norflox, Eno, Bandaid, Move spray, Hot crap bandage etc.
Do listen to your trek partner to avoid mishappening
Dont's:-
Do not smoke or take alchohol
Do not play loud music in the hills, respect the peaceful surrounding
Respect the culture
Happy reading and keep trekking.