When it comes to inculcating good travel habits, budgeting should come at the top of the list. Good budgeting isn't just about hacks and tricks. Knowing how to squeeze toothpaste into plastic straws might save you a few pennies, but real savings are in the fundamentals of trip planning – when to go, where to go and how to get there.
Let's get straight to business. Here's how to develop smart travel habits to get the most out of your travel budget.
1. Pick your destination wisely
The perfect destination is ultimately a function of time and money – so if you keep your options wide open, you can save. Your biggest fixed expense will be your flight tickets, so it makes sense to pick a place accordingly. Skyscanner is brilliant for this because it is easy to see everywhere in the world that your money can take you, without doing multiple searches on multiple websites. Here's the map view of a recent Skyscanner search I did for my trip this summer.
I set the budget for my flight to Rs. 30,000 and voila! All the flight routes within my budget popped up for me to select from.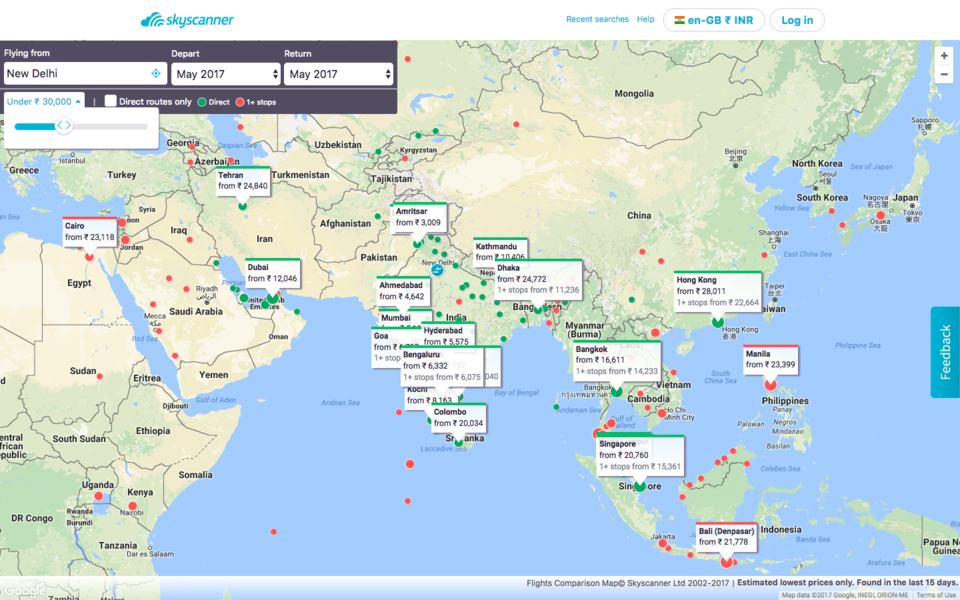 2. Follow budget travel bloggers
Once you have decided on a place, your best resource for scoring the best tips are other travellers who've been there. Even if you are not planning a budget trip, travel bloggers offer invaluable insights to help you wade through tourist traps and unearth the best that a destination has to offer. Search for any destination on Tripoto to find out what bloggers are saying, their insider tips and travel guides.
3. Take advantage of the off-season prices
Peak season trips are bad for two reasons – tourists and high prices. Off season prices can often be 70% cheaper – hotels slash their prices, tours are cheaper and less cramped. To find the cheapest months to travel, use Skyscanner's Cheapest Month search feature to find the best time to fly to a place. Prices for accommodation will normally align with the flight prices.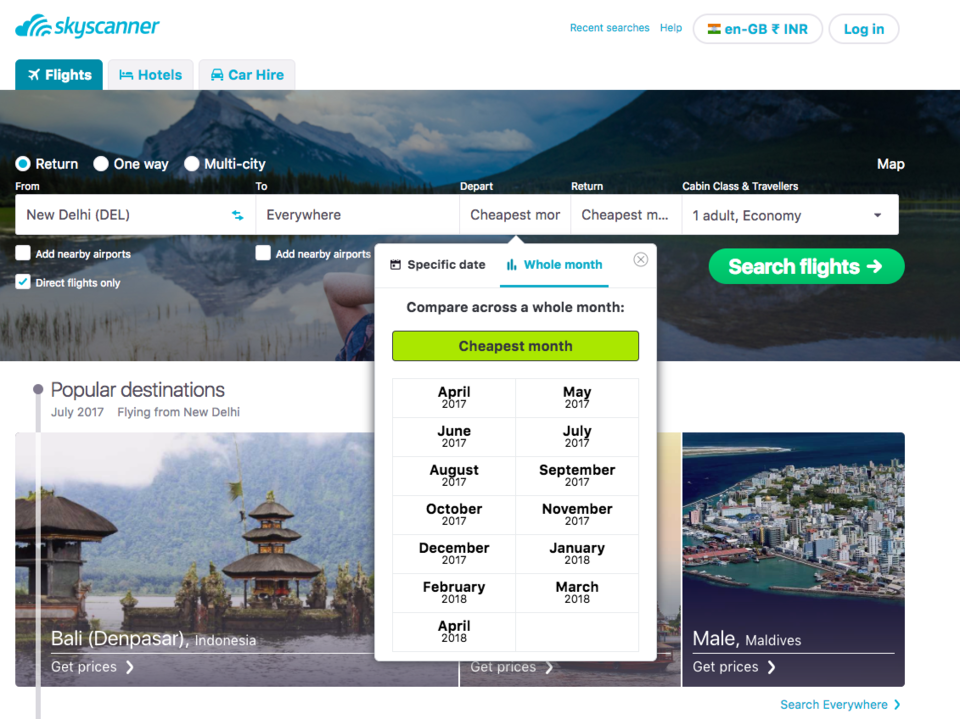 4. Know which bookings to make in advance
Flights are usually at their cheapest 4 to 6 weeks in advance, but set price alerts to make sure you don't miss out on good deals. For hotels, online prices can sometimes be higher, so check travel forums and blogs to benchmark your hotel expenditure. Booking in advance can be convenient, or even required for visa purposes, but do your research if you are looking to cut costs.
5. Use meta-search engines
Comparing prices online is key. Plenty of flight search applications and hotel booking sites add unnecessary fees and commissions on top of the actual rate. Use meta search engines such as Skyscanner (for flights) and Tripoto (for hotels) for a fair comparison of the cheapest deals.
Skyscanner lets you search on flexible parameters – you don't have to pick your dates, destinations or even your point of departure.

You can include all the airports in your country in your search query and see flight prices for 'Everywhere' in the world, sorted by price. Yes, really!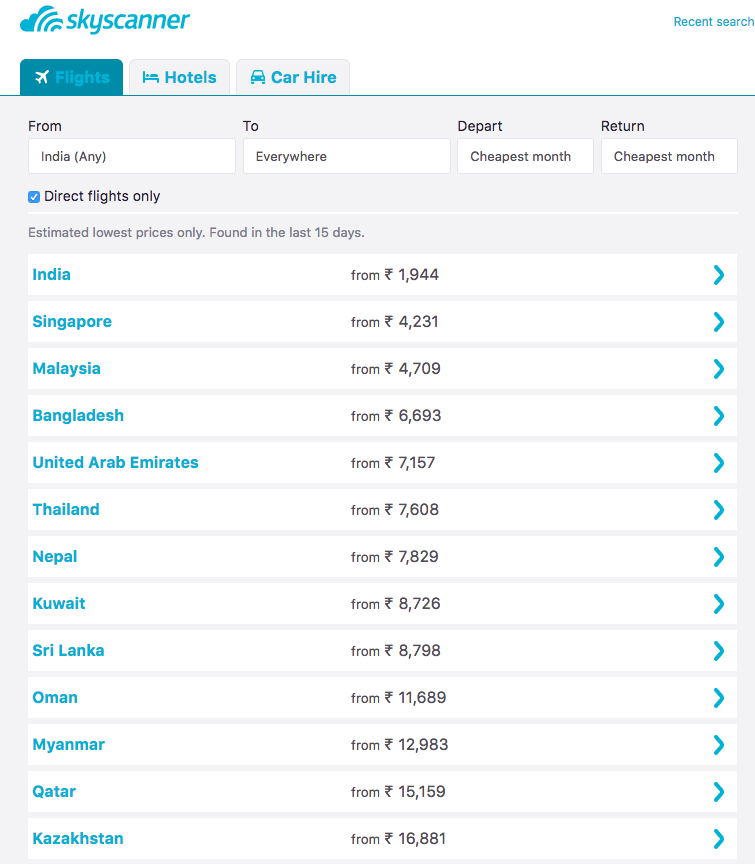 6. Alternative accommodation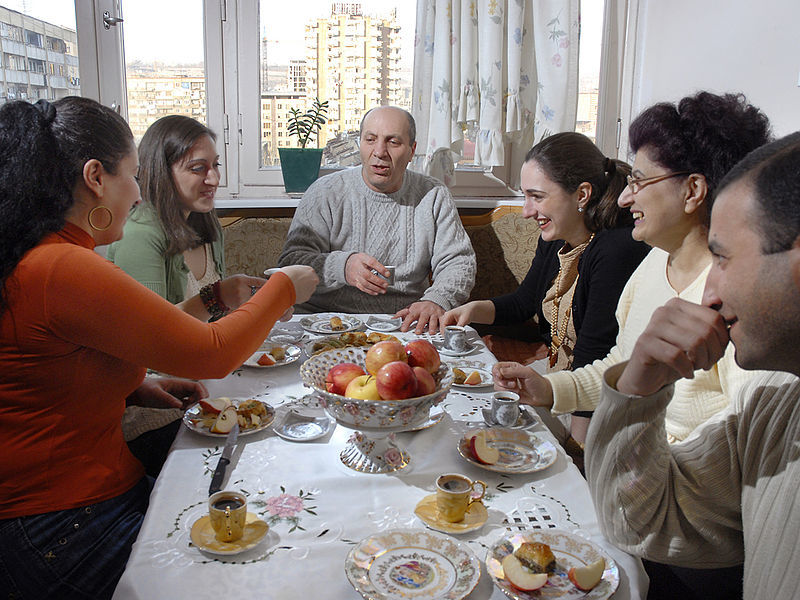 Hostels, guesthouses and homestays will almost always be less than half the price of an average hotel. There's no need to limit yourself to mainstream accommodation, especially when so much more is available online. Back in the day, travellers had to hunt for cheap, alternative accommodation, but with sites such as Airbnb, booking an amazing homestay is no more challenging than booking a hotel. On Tripoto, you can actually compare prices between hotels, homestays and hostels, all on the same platform.
7. Consider volunteering for a period of time
Nothing will add more to your journey, than volunteering on the trip. Especially during longer vacations, take a week or longer to cut your daily expenses down to zero, all the while experiencing the local way of life and giving back to society. Check out Pritha's guide to volunteering abroad, especially written with the Indian traveller in mind.
8. Supermarkets and self-catering kitchens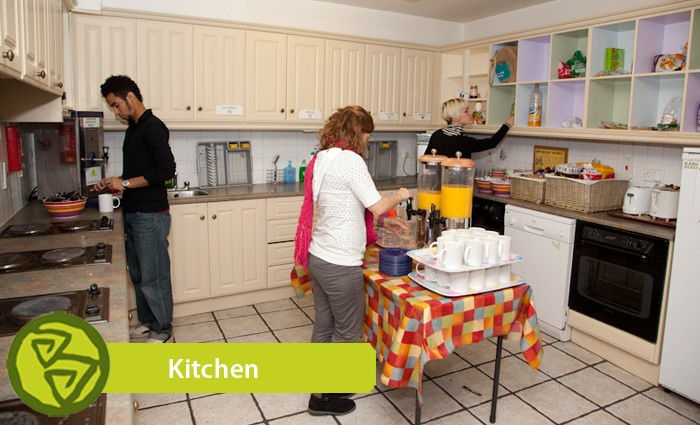 Avoid paying markups on daily use items sold in hotel shops and touristy markets. Instead, find out where the locals shop for food and other necessities. If you are staying at an Airbnb or a hostel with a self-catering kitchen (most hostels have one), whip up some of your meals yourself with local ingredients instead of eating out every night. This could potentially reduce your food budget in half.
9. Use language apps
I can't tell you how much this will help. Download at least one language app on your phone before any international trip. Apps such as Google translate can not only help you navigate the city much better, they can help you bargain, communicate about public facilities and find out local secrets that are almost impossible to find online.
10. Spend on what's important – to you
It's all about priorities. Your budgeting determines how you engage with a place and what you ultimately take back from your trip. Allocate as much as possible to the things that you love, and tighten your spending allowance on everything else. It's easy to get caught up in tourist traps, which may not be what you came there for, so don't leave too much room for them. If you are there for the food, don't end up spending most of your budget on sightseeing tours or nightlife. Take cooking lessons instead or stay with a local family for home-cooked meals. Once you set your priorities, they will lead you to the right spots and you will get so much value for your money.
Do you have any tricks up your sleeve that help you save real money on international trips? Share your ideas with me in the comments' section below, or write your own guide on Tripoto.
Sponsored content for Skyscanner.