It was a Sunday and we planned to go for a quick day out as the weather in Bangalore was pretty pleasant. Googled to find a place which we didnt explore yet and Belur and Halebidu was a clear win considering its history and architecture.
Started at early 5 am, it took us almost 6 hours to reach the Hassan district, thanks for the massive well maintained toll roads.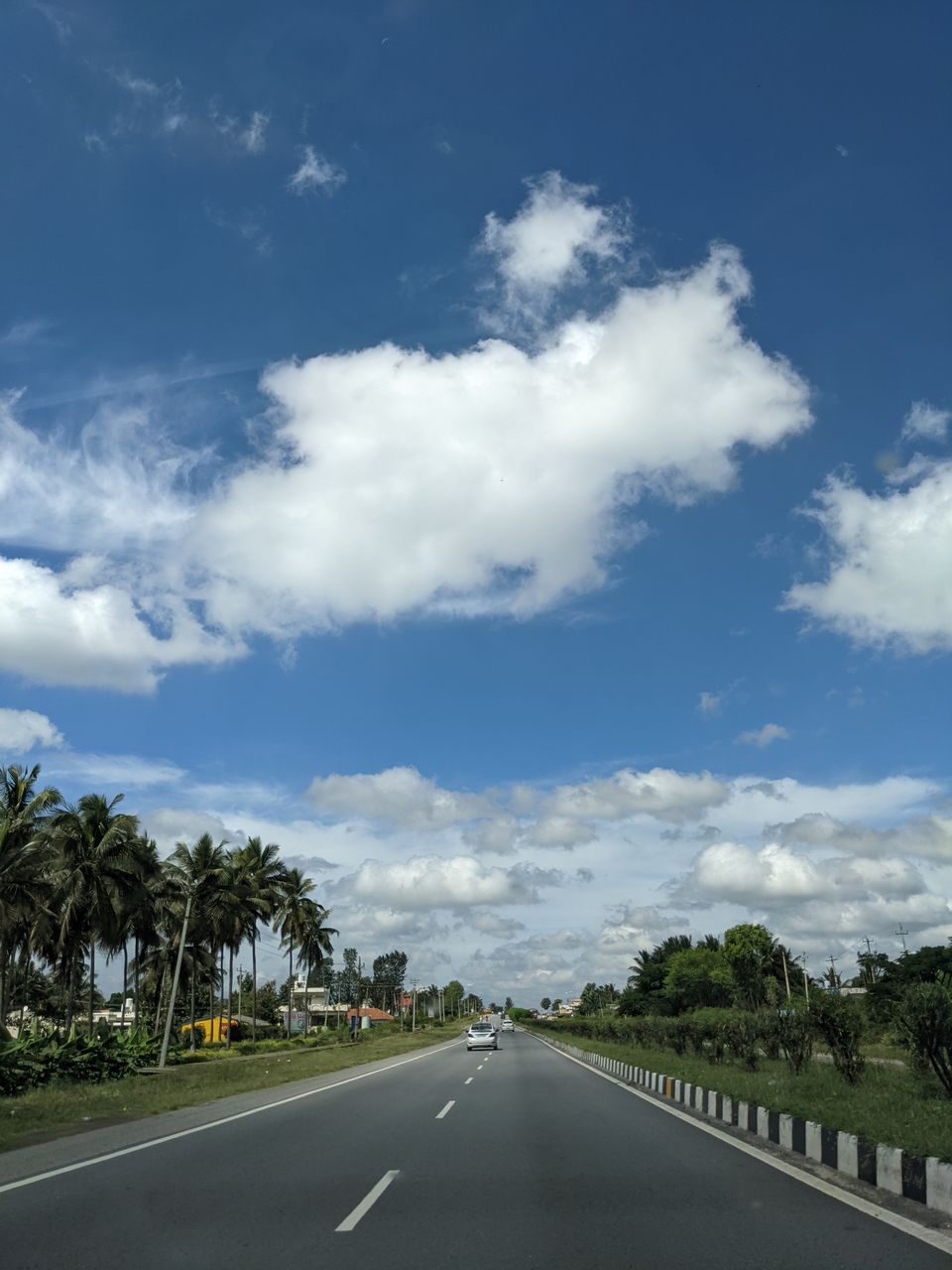 The road to the entrance of Chennakeshava temple in Belur was pretty narrow. Being an extended weekend loads of people were out that day. Never the less, I was excited to witness the magnificent work of the Hoysala dynasty.
The temple sculptures depict scenes of life in the 12th century, dancers and musicians, as well as a pictorial narration of Hindu texts such as the Ramayana, the Mahabharata and the Puranas. The pillars of the temple exhibit some of the best details and finishing of sculpture and art work in the entire complex. The Narasimha pillar is one of the most popular of these temple pillars. There are a total of 48 pillars, all uniquely carved and decorated. The four central pillars were hand chiselled by artisans and feature madanikas or celestial damsels. The madanikas are in different poses and some of the popular ones which gain the attraction of tourists and art enthusiasts include the lady with a parrot and the huntress.
A careful observation would reveal subtle pieces of eroticism hidden amidst the detailed depictions. Animals that commonly feature in the wall sculptures include horses, elephants and lions.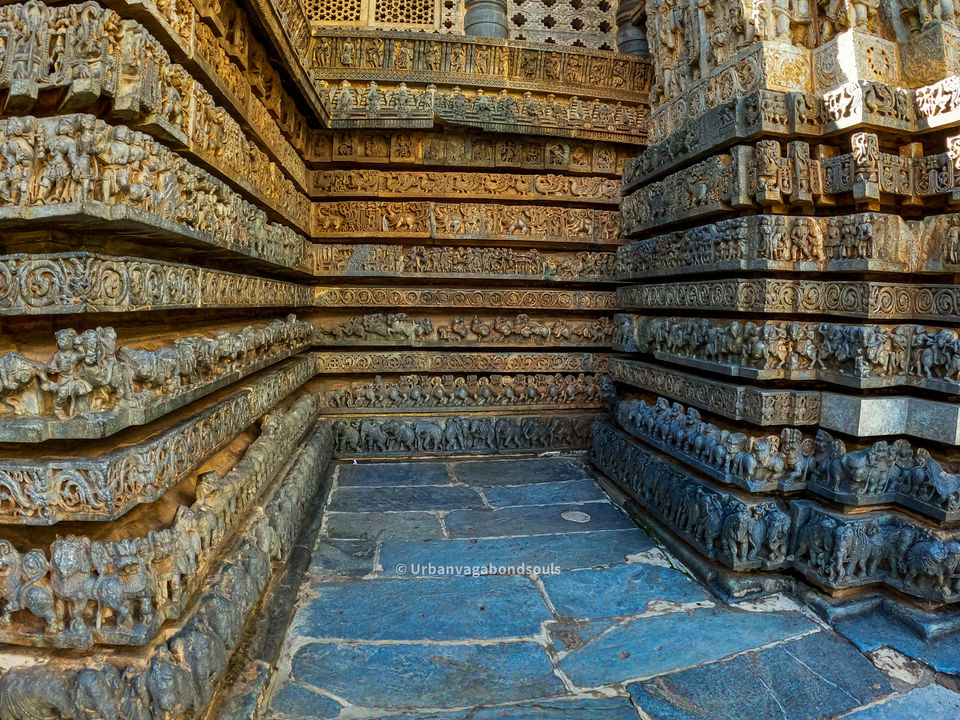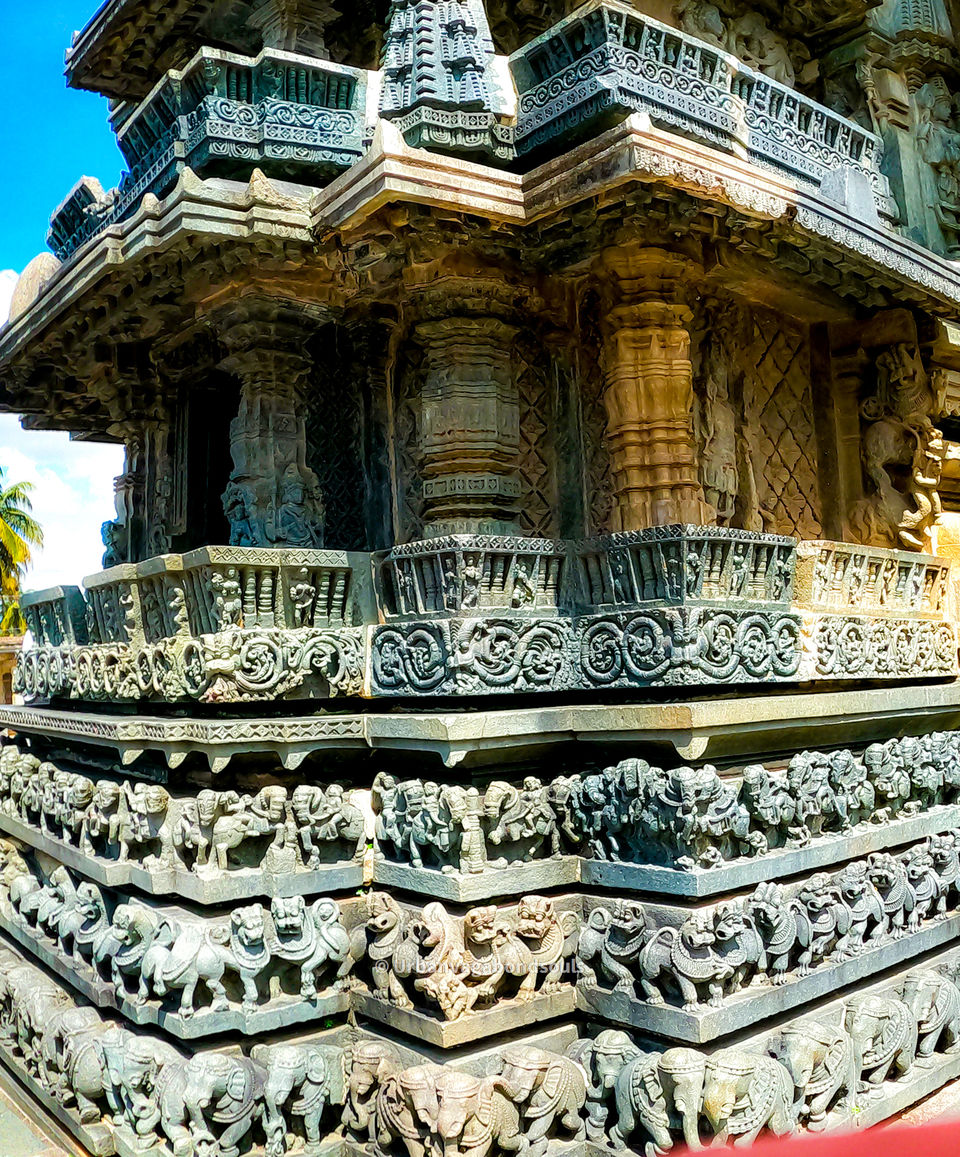 The doorways of the temple's mantapa features a Hoysala king slaying what historians believe is either a tiger or lion. It is also believed that this could be a symbolic representation of the defeat of the Cholas, whose royal emblem is a tiger. There are many more important sculptures in the sprawling complex of the Temple. Some of them are the Gajasurasamhara (sculpture of Lord Shiva), a sculpture of Ravana, Durga killing Mahishasura and many others. Another curious feature of these many sculptures is the signatures left by the artists of the period, giving us more insight into the lives and culture during the Hoysala period.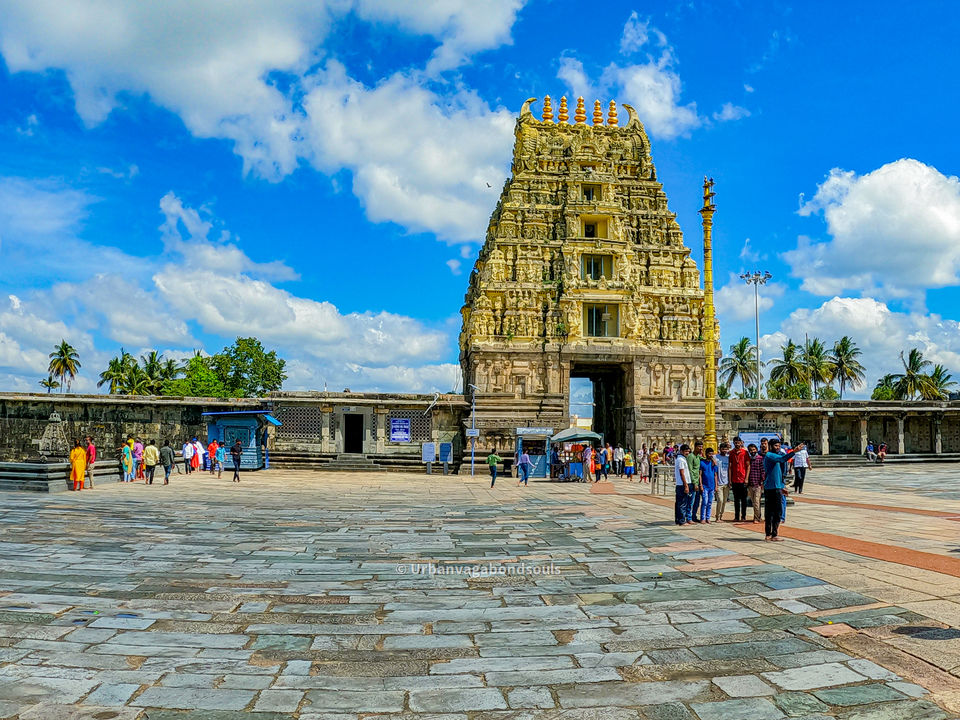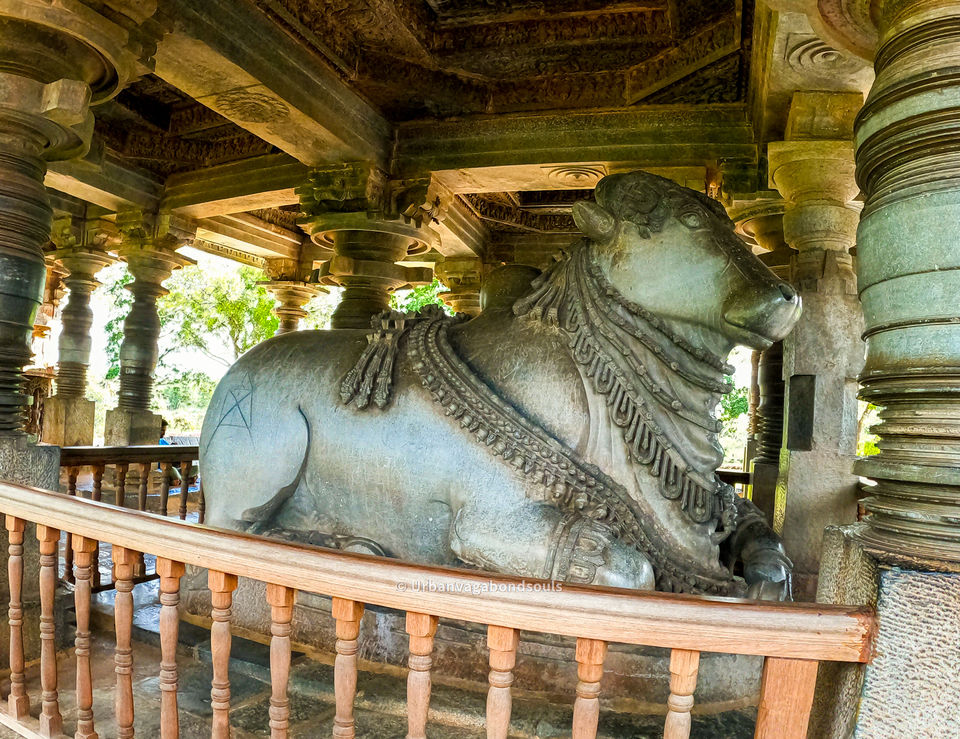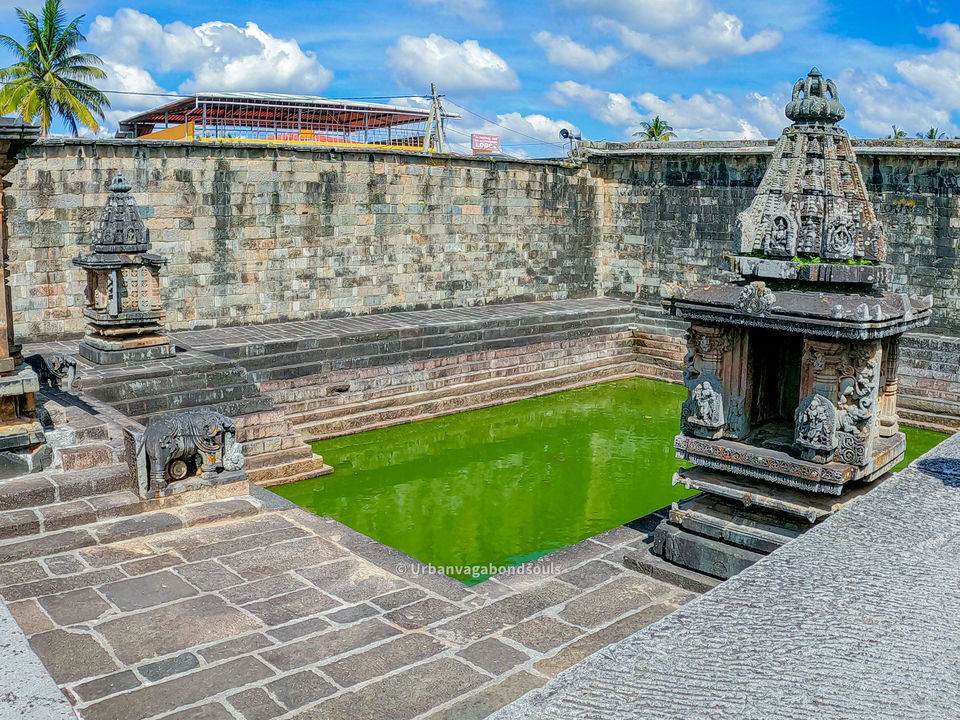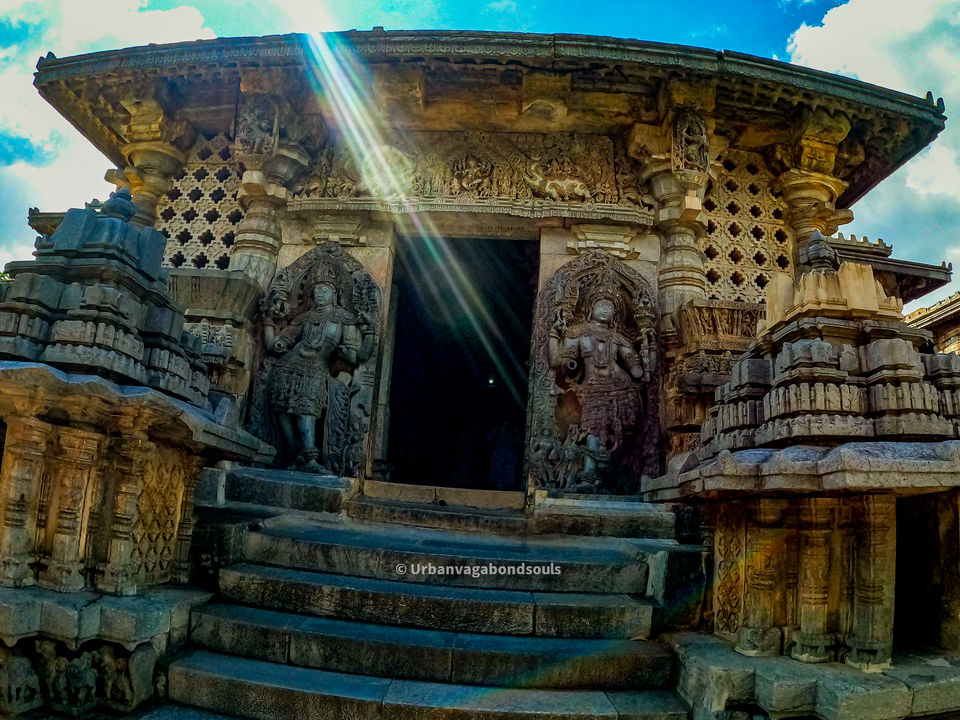 Thanks,
Poulamee (urbanvagabondsoul)