Start of the journey:
We all were done with our final placements, sounding the end of MBA life, and that starts the time for enjoying last few months in college. So started looking for places to visit, but we were sure that it should be a road trip and not car but by bike. There started our planning and finalized on Tawang. We were all getting ready for the ride with all sorts of biker gears – gloves, knee cap, elbow cap n stuff and not to forget thermals and jackets. We had talked with two vendors giving bikes for rent from Guwahati and went ahead with Destination Motors.
PS: I have tried to cover this journey through words n photos
Took a pit stop for breakfast at around 9am and few stops in between which we couldn't resist, spell bound by the beauty of nature. Reached Tezpur by 2pm noon and had our lunch. The way to Tezpur from Balakpong has a sexy stretch of road covered by trees on both sides and Brahmaputra River flowing elegantly on one side. I just fell in love with these roads (Do stop and breathe in freshness)

Reached Bhalukpong check post by around 4.30 pm, all our ID's, bike papers and ILP were checked for entry. The security personal himself helped us with a contact for stay and checked 'just in time' before rain started pouring down heavily. The rates were decent and was able to bargain as it was off season.
We reached Dirang by around 5.15pm, almost completely dark we found the perfect place to stay - Snow Lion. It had sufficient open space in front for parking, neat rooms and very good service.
There is an army café setup there, we had hot coffee, biscuits and it was freezing like shit..! The lake near Sela pass was completely frozen, which otherwise seen in google images with water.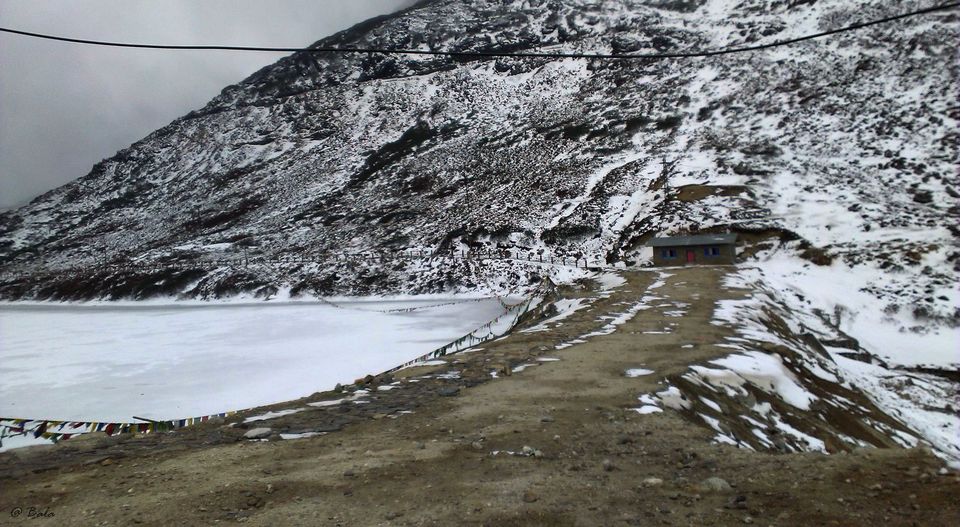 The picture above shows the milestone and our car was stopped to check the papers and ID cards.
Our passes and ID's were checked at this point and from here, the snow get thickened and temperature drops even lower. Driver tied ropes and chains on the tyres to get some grip on the "ice roads". Definitely need to be an experienced driver to go through these roads. Reached Bumla by around 8.45am, we were greeted by Soldiers explaining the significance of the Rock of peace in the Indo-China border, camps on the Indian side and Chinese side etc, We were allowed us to take photos but no videos and asked to clear the border fast.
 But, I should say we were fortunate to meet the Command in Chief(My God, one should see his commanding power, well built, clean shave and Ray ban glasses, a complete soldier) who asked what inspired us to come here and where we from. Hearing that we were IIT students, he was more than happy and took us back to the border area and briefed us in formal style in front of a bunch of other soldiers. Asked his junior to set up a telescope showing the Chinese observation station and also explained us the strategies, important dates when people from two countries meet and have celebrations together. I should say that we were extremely fortunate to have been briefed by such a highly posted Commander in Chief.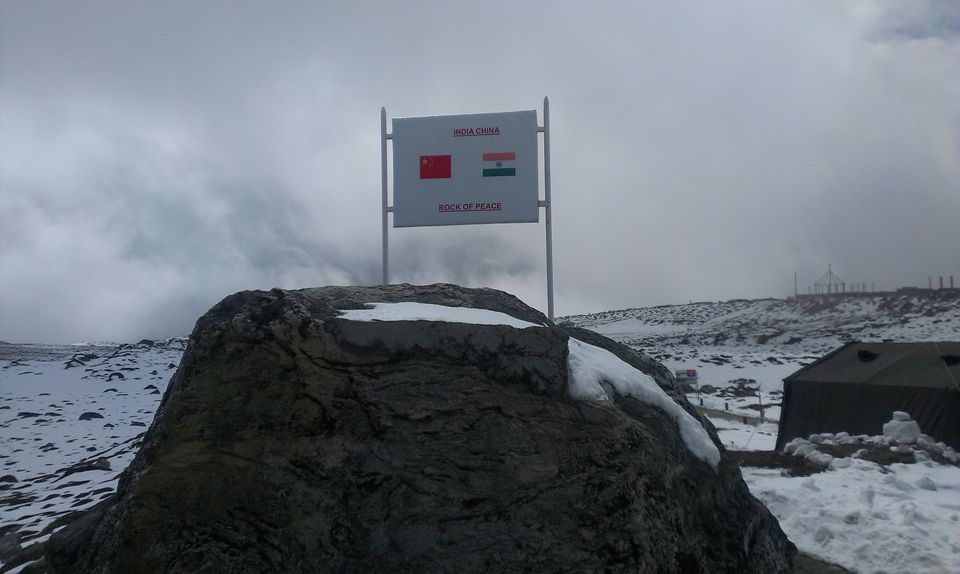 It was extreme temperatures there at -10 degree Celsius at that time, we all started feeling a bit uneasy. One of the camp officer offered us hot water and gave away his full packet of biscuit kept in his bag, when I asked if there is anything that we could buy to eat as I was having slight headache.
On our way back, we were asked to stop at the army camp hospital. The Doctor himself had asked for us to meet him..!! (After knowing that IIT were students and one of us from his own native, guessing that information might have passed on to him when we had submitted our ID proofs). He welcomed us and offered us hot water and there was a Malayali doctor too to my surprise  He enquired about our health conditions and even gave us medicines to take it back if were to face any situations. Actually that indeed came to our help, as our way back almost all of us had this vomiting sensations, took haults in between and we had to skip Madhuri lake.
Extremely tired all of us went directly to bed, by evening we checked our bikes for brakes, air pressure.
Started our journey back from next day morning after a memorable trip and we covered the same route in 2.5 days ( Tawang to Bomdila in one day, Bomdila to Tezpur and Tezpur to Gauwhati on the 3rd). Apart from one minor injury to one of us, nothing else happened and entire journey went smooth like a wing and was indeed a journey to remember for life.
According to me the best moments from this journey, would be awesome feeling of riding this bikes across the North eastern streets, (we riding in one line, always been a dream for me, when I see Harley Davidson bikers riding along together). People, kids all looking at you with awe..! The joy filled faces of kids, waving hands at you; The feeling oneness when you see fellow riders from other groups - all these are a feeling which I think can't be expressed in words but only to be experienced.
Not to forget the warm welcome we received throughout the journey when we came across any army personal, still finding cheer in their faces standing tall, even in these extreme temperatures, far away from their families protecting our families. Big Salute!!!
None of us were professional bikers, and to say the truth just one out of 5 of us had driven bullet before this trip and for myself, took a test drive two days before the journey and went ahead. You just need the passion to achieve your dream..!
Word of caution for the riders: You will feel what is known as "Silence" and get mesmerized the beauty of the nature, that we are certain times forget that we are riding a bike and "tend to sleep with open eyes" Sing along, look a bit on sides, (but never on the valley side) or even honk ur bike to keep yourselves awake.
Our rides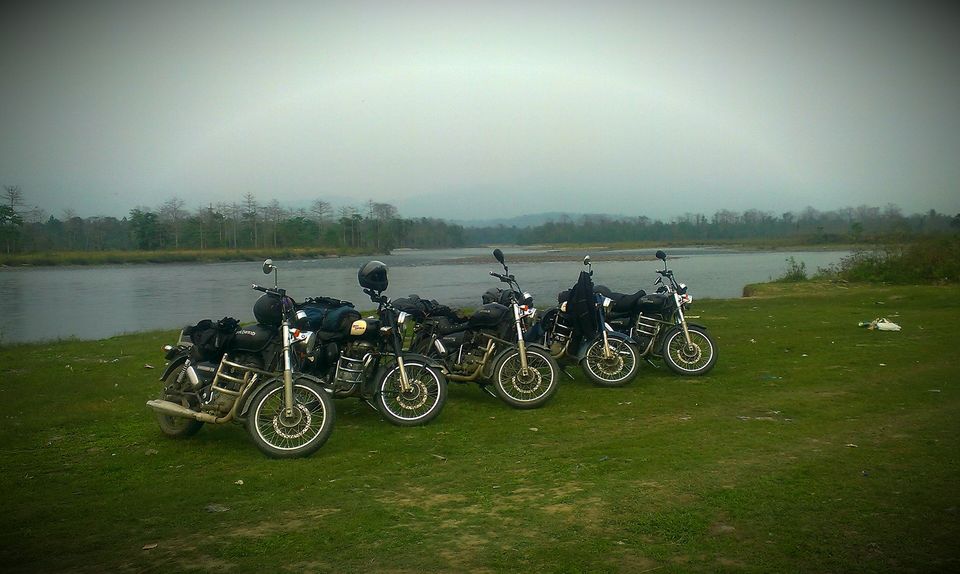 Riders: From Left - Anup, Chaitanya, Arjun, Manoj and I (with the cam)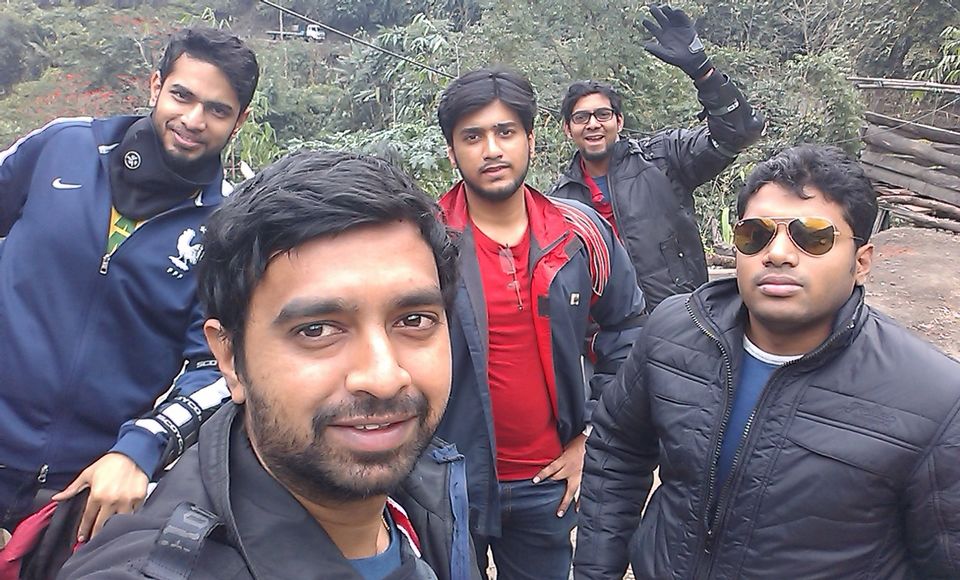 PS: All photos put up were taken on my mobile HTC Desire 500.. :D
Day 1: April 30th 2016 Mumbai to Guwahati
All set and ready to go. Flight journey begins – Mumbai to Delhi and Delhi to Guwahati.
From airport directly went to meet our vendor - Destination Motors, checked up the bikes for service, papers etc. Our rides were ready – 3 Thunderbirds and 2 Classic 350cc. and later checked into a nearby hotel.
Day 2: March 1st Guwahati to Bhalukpong (200km)
We were all damn excited, got up early as per our plan and ready by 7.30 am, all set to begin our dream ride.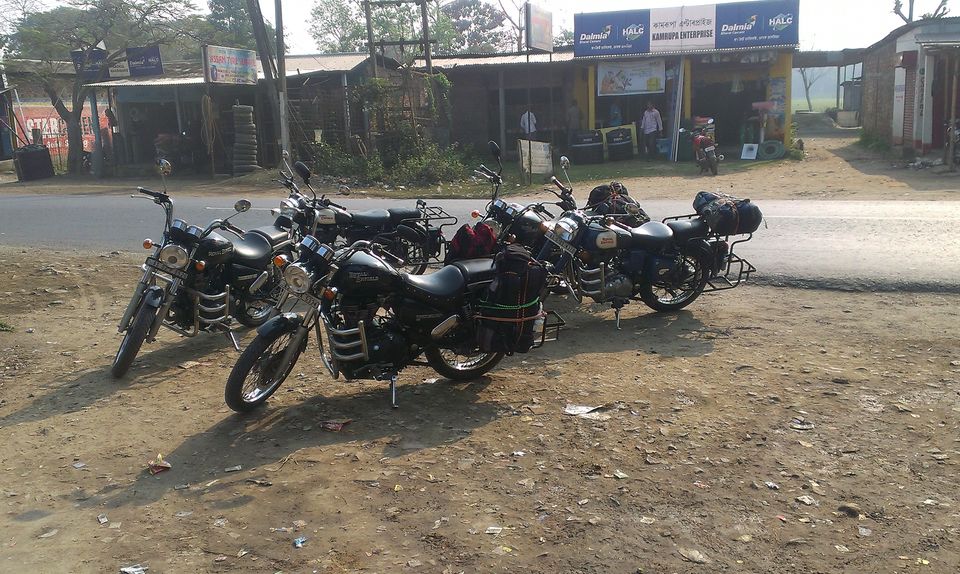 Day 3: March 2nd Balakpong to Dirang (180 km)
We were ready for our second day ride, (time to start wearing our thermals) and started our engines by 7am. Stopped at a small hotel atop the mountain on the way and had everyone's fav – Maggi !! and a cup of hot tea..It was awesome..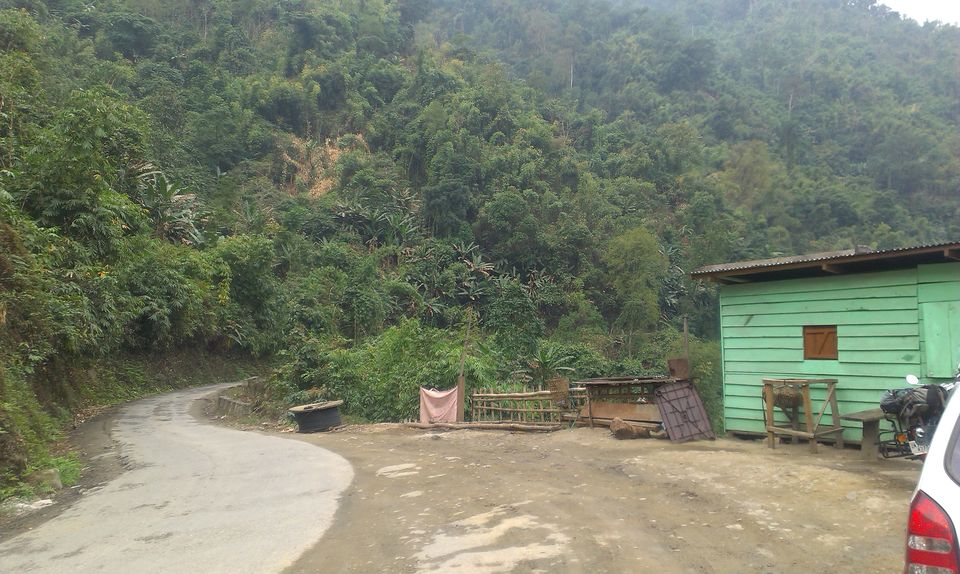 Day 4: March 3rd (The D day) Dirang to Tawang - 150km
Our ride started pretty late around 8am, due to brake issues with one of our bikes and took very good amount of time to kick start the engine after the bike getting frozen throughout the night. We had to cross the Sela pass at any cost before 12, as we were all bit shaken by experiences from two of the bikers who rode through there a day before. 
They had a horrifying experience of near death situation and falling down on the road atleast 8 times due to very bad vision on road, snow fall and also bike getting broke. They had to wait for almost 2 hours to get some help from someone and luckily army van came for their aid. After which their bikes were carried and they being taken to a camp by late night. I recollect one of the guy saying this "We lived on bun and a rug given to us, and just wanted to be alive and get the hell out from there!"
Day 5: March 4th Tawang to Bumla Pass
Started our journey to Bumla by around 7.30 am in Tata Sumo, which we got it arranged on the previous day. It was freezing out there and on top of it started drizzling a bit and a very cloudy atmosphere it was. The driver kept telling us we have to leave and be on time as rain is catching up fast. The path through we went made it very clear to us that it's no way possible to ride bikes in here. Snow Mountains on both sides, frozen lakes in between, few construction workers in this chilling conditions are the all scenes you will see.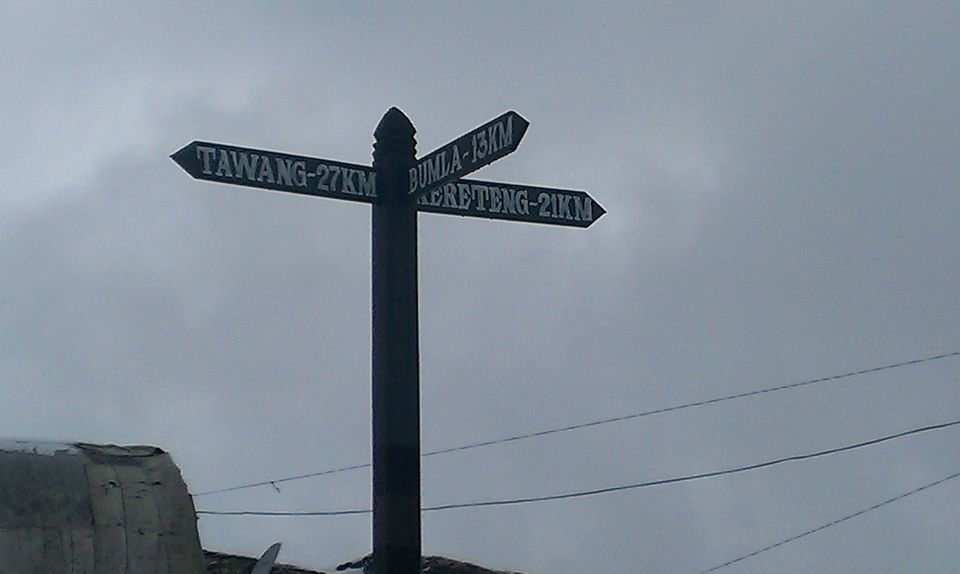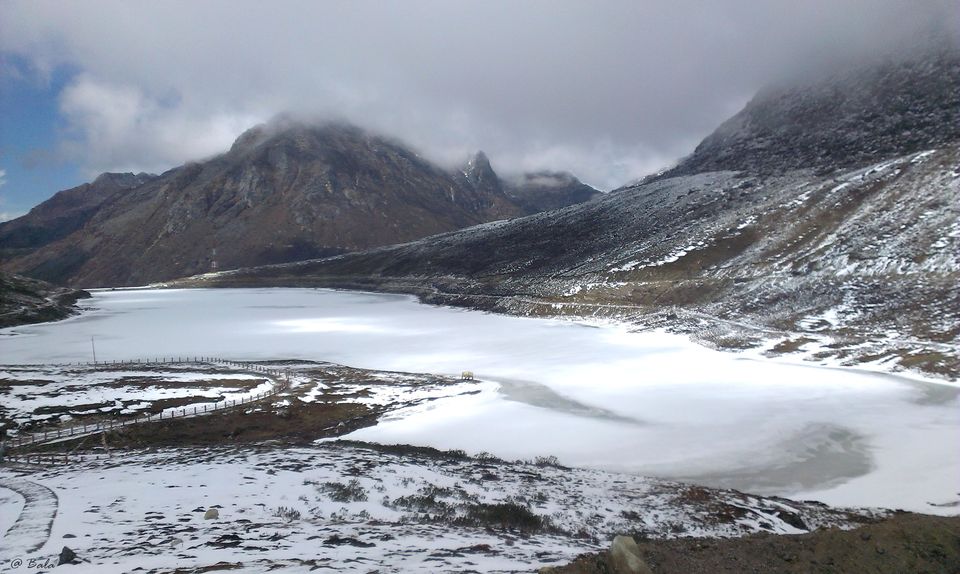 As per the suggestion by the hotel guys from previous day stay, Silipaung Monastery was a must visit place. We had to take a detour away from the actual route and travel around 15 to 18km up the hill to reach the monastery, which made us to skip the lunch counting on the time reach to Dirang. It was indeed worth the visit. Abode the mountain and looks almost touching the clouds, I would say one of the most beautiful Monasteries one could ever see.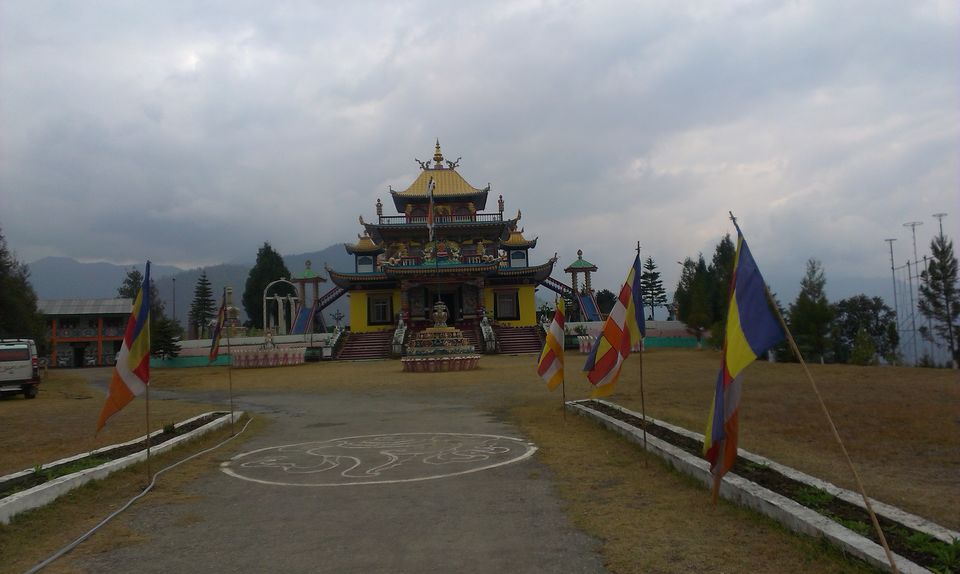 We started from Sela pass to Tawang by around 12.30 pm and endured snow fall for sometime, rain for some time and also through wet & really muddy roads. The temperature had dropped really down and we started feeling the frost pains on hands and legs. We stopped at Jaswant Singh memorial, greeted by the army personal with great cheer, had hot tea, biscuits, some friendly chit chats with them, and enquired about the road condition ahead.
 We were told that there had been heavy snow fall for last few days and take extreme care while driving. From there on, for some part of the road from it was one of beautiful stretches of double road and then very very bad roads (can be said as just paths not roads). Finally reached Tawang by around 4.30pm and checked in at Hotel Tawang Regency (I wouldn't recommend this place and there was frequent power cuts throughout), arranged the passes for next day visit to Bumla pass through one of the guys there.
But there was one thing, that calmed our nerves, or atleast thought that we could be rest assured was that, they were crossing Sela Pass by 3.30pm. We made sure that we cross Sela pass at any cost by max 12.30pm to avoid situations like what they faced. There was a stretch almost 5 to 6km towards Sela, with just 5 to 7m visibility, with heavy snow mountains on one side and big valley drop on the other with narrow road. This part of our journey was the most risky. We finally reached the great Sela Pass by around 11.15 am, well before our target! The feeling was out of the world, a feeling that we had achieved something very big, screaming loud with joy…!!!