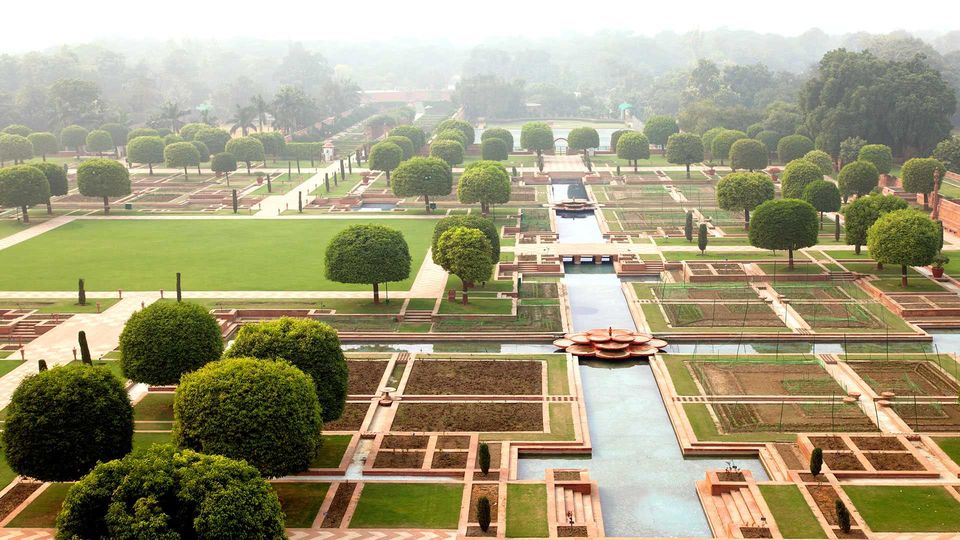 Surveying about the gardens in India, one will always end up digging about the gift given to this country by Mughal emperors during their reign with respect to gardens in their style and astonishing architecture acting as a cherry on the cake. The Mughal kings had unique interest in building mosques, tombs and gardens all over India. Their fascinating way of architecture and style, blending the nature with architecture and intricate style of using canals in the middle of the rectangular park area can simply be unmatchable. The Islamic and Persian style of Charbagh structure is a masterpiece in its own way and can be found in many of these beautiful gardens in India. The pools and the garden all around with water fountains are the characteristics of these Mughal gardens. This Charbagh structure was introduced by the Mughal emperor, Babur during his reign. I have curated a comprehensive list of Mughal gardens in India that you should consider visiting.
Soul of Presidential palace:-
Inspired by the Mughal gardens of Jammu and Kashmir and also from the Mughal garden of Taj Mahal this garden was planned by Sir Edwin Lutyens for Lady Harding. This luxurious Mughal garden in Delhi is divided into three sections namely Pearl Garden, Butterfly garden, and Circular Garden. The entire garden space consists of rare to rarest species of flowers and the greenery is do lush that one cannot take off his eyes inside the complex. Photography can only be done with a special permission in the premises. Lady Harding has said that the Mughal gardens were like a paradise in her period in Presidential palace. Rose being the prime flower here, totally there are 159 variants of rose like Adora, Mrinalini, Taj Mahal, Eiffel Tower, Modern Art, Scentimental, Oklahoma, Belami, Black Lady, Paradise, Blue Moon and Lady X. The rose variants here are also named after many international celebrities like Mother Teresa, Raja Ram Mohan Roy, Mr. Lincoln, John F. Kennedy, Jawahar, Queen Elizabeth, Christian Dior and many others.
Year Built: - 1928 – 1929.
Entry Fee: - Free
Mughal gardens Timings of visit: - Usually between August to March. 9.30 to 4.00 p.m. when open for public. The Rashtrapathi Bhavna website to be checked for confirmation.
Location: - Rashtrapathi Bhavan complex. Nearer to New Delhi Railway Station.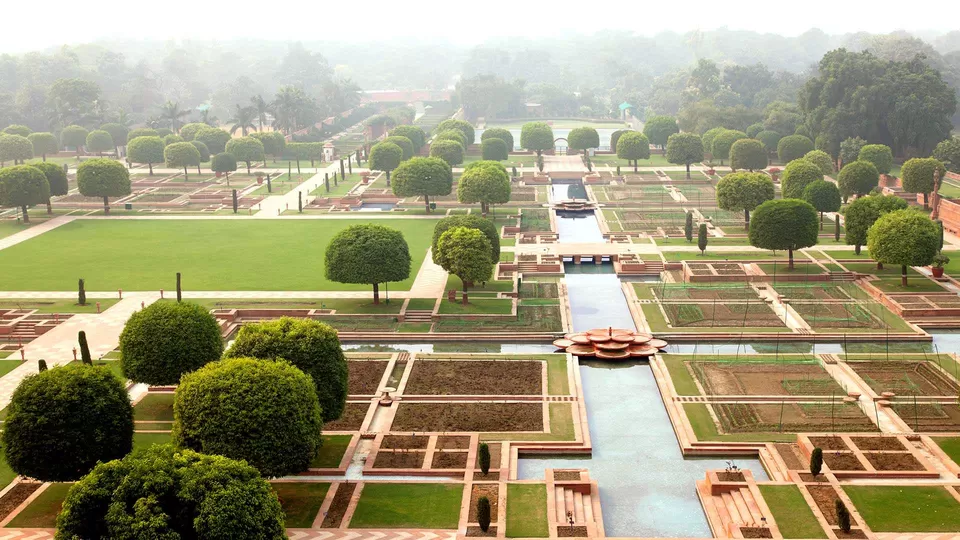 The Garden that beautifies Taj Mahal has a complex of 300-metre square and it uses the raised pathways that divides the each of the four quarter garden into 16 sunken flowerbeds. The garden that starts from the end of the main gateway and ends near the squared base of the mausoleum is an integral part of the Taj Mahal structure. It is said that this Mughal garden was also designed by Ali Mardan who is the architect of Shalimar gardens in Kashmir. The style followed here in this garden is Persian Timurid style of gardens. At the centre of the garden, between the Taj and its gateway, is a raised marble lotus-tank with a cusped border, which reflects the Taj in its waters. The whole Mughal garden has been organized and laid out in such a way that the mausoleum can be seen unhindered from any spot in the garden. The symmetrically planted trees in the garden are of Cyprus (signifying death) or of the fruit bearing type (signifying life).
Year Built: - 1653 and later managed by British in late 19th century.
Entry Fee: - Rs 40 for Indians and 1000 for foreigners.
Mughal garden Timings of Visit: - 8.00 a.m. to 5.00 p.m.
Location: -Agra.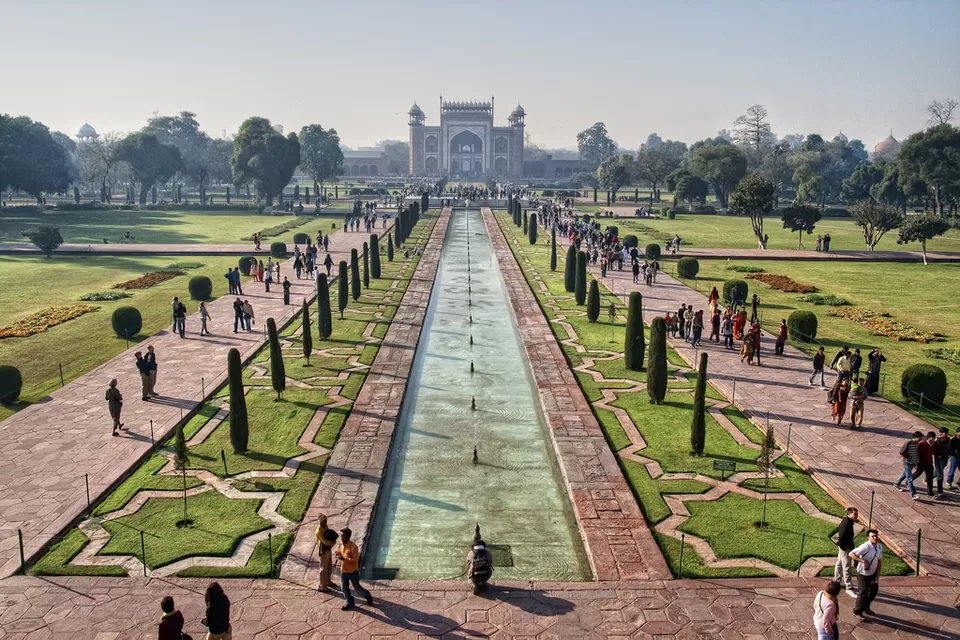 The Source of River Jhelum:-
This fascinating Mughal garden is located approximately 70 kms south of Srinagar with Banihal mountain ranges in the vicinity. The Mughal garden, Srinagar has a total area of 5.30 hectares with a beautifully manicured lawns and huge chinar trees with a gushing mountain spring of Verinag, a major source of river Jhelum right into the garden. This garden was built by Jahangir and Shah Jahan in two parts during their time. The Mughal Jehangir had come to Verinag and spell bound by the spring he had built a pool, a pavilion, and a garden around it and later his son Shah Jahan enlarged the garden and added baradaris and hammams and increased the class of the Mughal garden here in Verinag. The garden takes its inspiration from the Quranic description of heaven as having four rivers, of wine, honey, milk, and water. This Mughal garden is also rectangular in shape with two bisects with Jhelum spring on the upper column and the garden with spring flowing on the lower column.
Year Built: - 1619-1620 by Jehangir and 1626-1627 by Shah Jahan.
Entry Fee: - 10 rs per person.
Mughal garden Timings to Visit: - 9.30 a.m. to 5.30 p.m.
Location: - 26 kms from Anantnag headquarters and a 2hrs drive from Srinagar.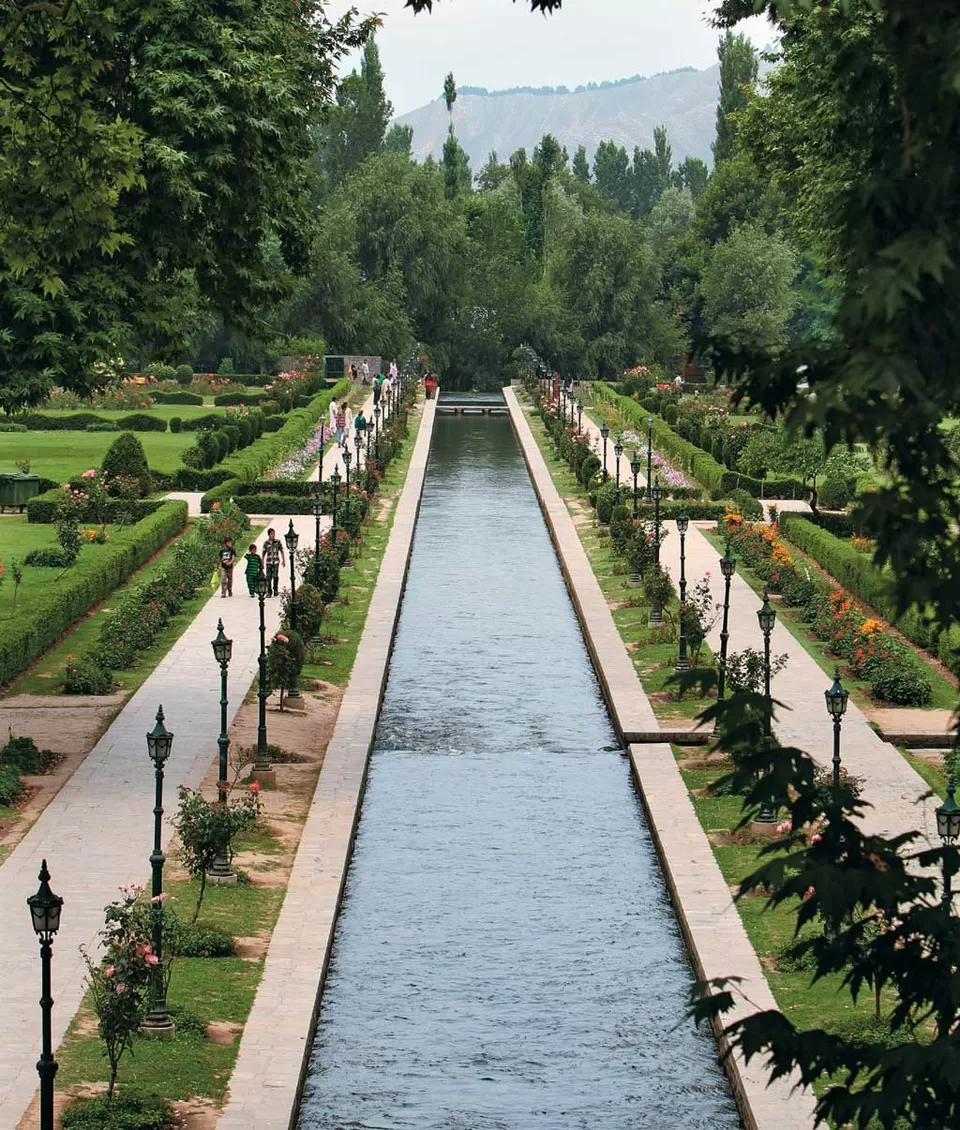 This first Mughal garden-tomb in the Indian sub-continent was built by empress Bega Begum with a design by a Persian architect Miyak Mirza Ghiyas. The entire Charbagh here is a massive 30 acre garden with quadrilateral layout and is the first of its kind in the South Asia region. This huge paradise Mughal garden is bisected two water channels, reflecting the four rivers that flow in the Jannat, the Islamic concept of Paradise. Later, the garden is also divided into four squares with the help of Khiyabans (the walk pathways). This Mughal garden differs from the gardens of Babur in Kashmir as the building is placed in the centre of the park and the garden symbolises the palace of emperor in paradise. Humayun's mausoleum stands amass in red sandstone and white marble at the centre point of the grid. The central water channel here disappears and reappears on the others side of the tomd structure depicting the 'Quranic Verse' which talks about rivers flowing beneath the "Garden of Paradise" and hence the name given.
Year Built: - 1569-1570.
Entry Fee: - Rs 30 for Indians and 500 for foreigners.
Mughal garden Timings of Visit: - Sunrise to Sunset every day.
Location: - Nearest metro station is Jor Bagh Metro Station in Delhi, from there you can take a bus to the tomb.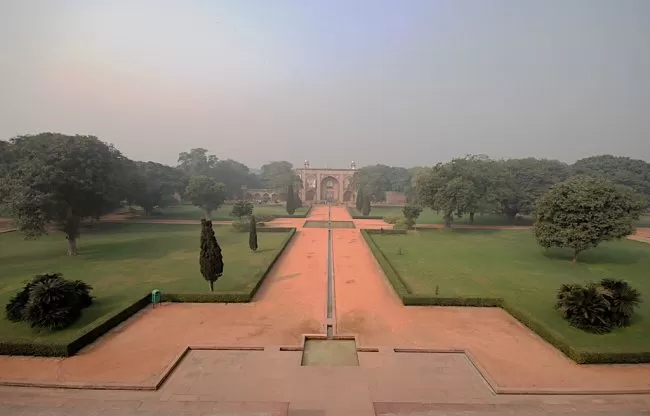 The last flicker in the lamp of Mughal architecture at Delhi:-
This smaller version of the Humayun's tomb garden is surrounded by a wall of 280 metres long on each side. The Charbagh layout here has the large garden, with tanks and fountains along the central pathway with gate and the pavilions enclosing the garden. The tomb is exactly in the centre of the Mughal garden. It is built on an elevated podium and is 50 metres in height. The towers of the tomb are octagonal in shape and a mosque and a courtyard also share their space within the garden complex. This Mughal Charbagh style here consists of large four squares with widen footpaths and they are again further divided into smaller squares. The entrance gate to this Mughal garden is so impressive and exuberant.
Year Built: - 1754.
Entry Fee: - Rs 15 for Indians and 200 for foreigners.
Mughal garden Timings of Visit: - Sunrise to Sunset.
Location: - Nearest metro station is Jor Bagh Metro Station in Delhi.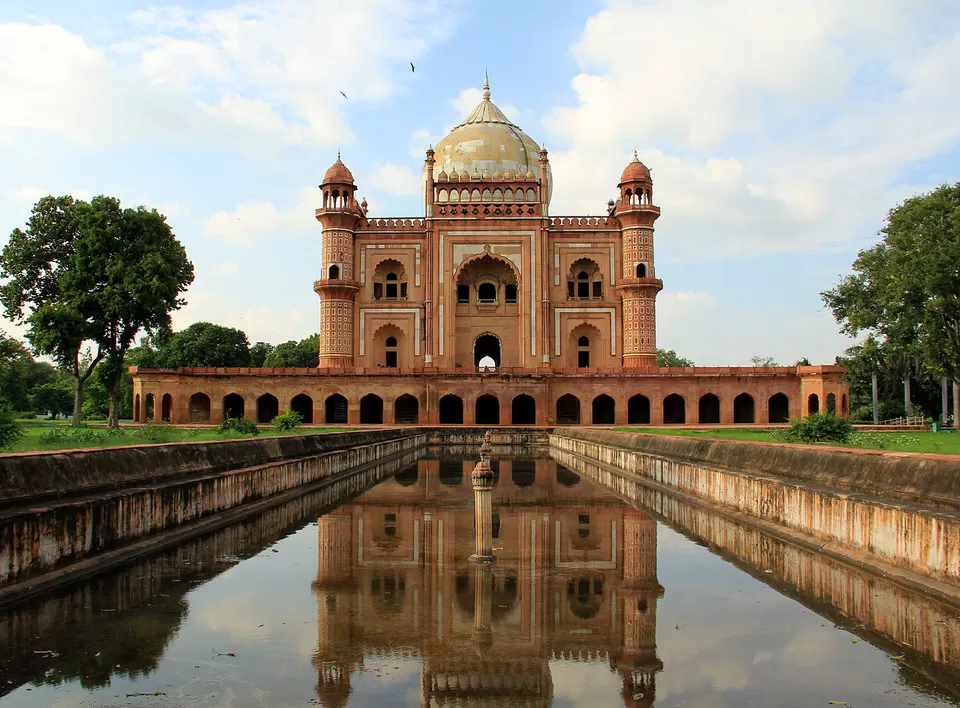 This historic 17th century Mughal garden is located in Panchkula district of Haryana. Designed by Nawab Fidai Khan, this Charbagh structured garden has central water way and both side of the waterway were covered by patches of green bordered with flower and shades of trees. This garden was earlier called as Pinjore garden was renamed as "Yadavindra Garden" in the memory of Maharaja Yadavindra Singh former of the princely state if Patiala. This Mughal garden has Sheesh Mahal (Palace of glass) in the first terrace, the Rang Mahal (painted palace) in the second terrace, and the cube like Jal Mahal (palace of water) in the third terrace with fountains which also has a place for relaxation. The complex also has a temple and an open air museum which are well illuminated and connected with proper pathways. Heritage train within the complex is an innovative idea which moves through entire garden and the monuments within the complex. Musical fountains are also arranged after dark here.
Year Built: - No accurate year known, but restored by Yadavindra Maharaj (1914-1974).
Entry Fee: - Rs 20 per person.
Mughal garden Timings of Visit: - 7.00 a.m. to 10.30 p.m.
Location: -22 kms from Chandigarh.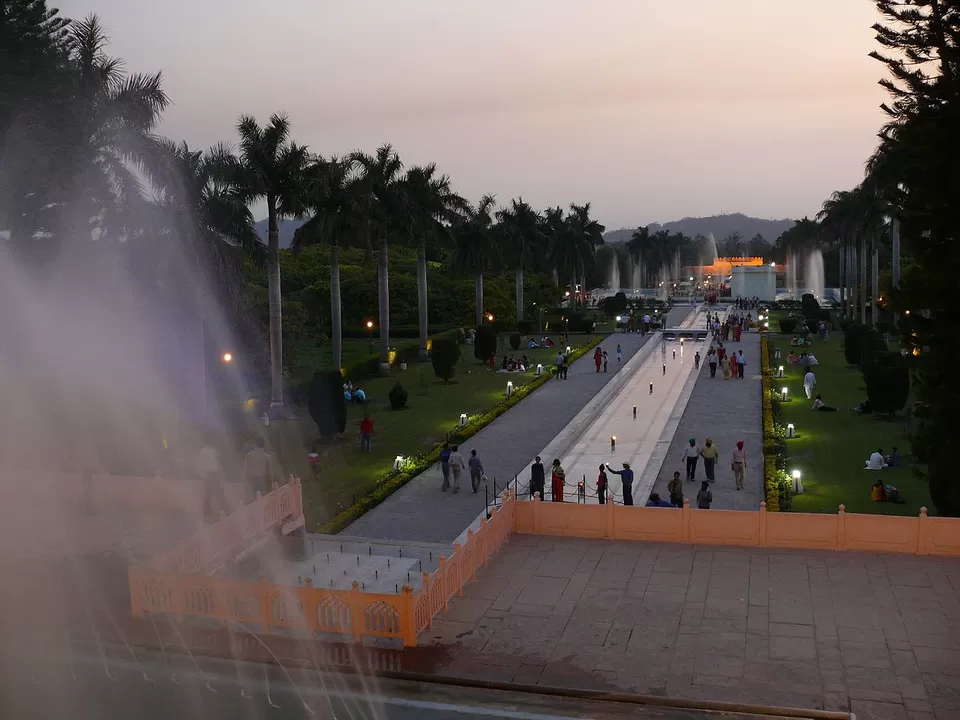 This large walled burial complex of three sandstone mausoleums namely Tomb of Khusro, Tomb of Shah Begum, and Tomb of Nithar is located in Allahabad, Uttar Pradesh. The three tombs has beautiful Islamic inscriptions, cenotaph, gorgeous panels and arch motifs. The roofs of tombs are decorated with intricate paintings. The Mughal garden has mango and guauva trees to adorn also. Even though the tombs are locked for one to enter, you can still stroll around the structures and capture the essence of the tombs in your cameras.
Year Built: - 1622 – 1625.
Entry Fee: - Free
Mughal garden Timings of visit: - Sunrise to Sunset.
Location: - Nearer to Allahabad railway station.
Roshanara Bagh: -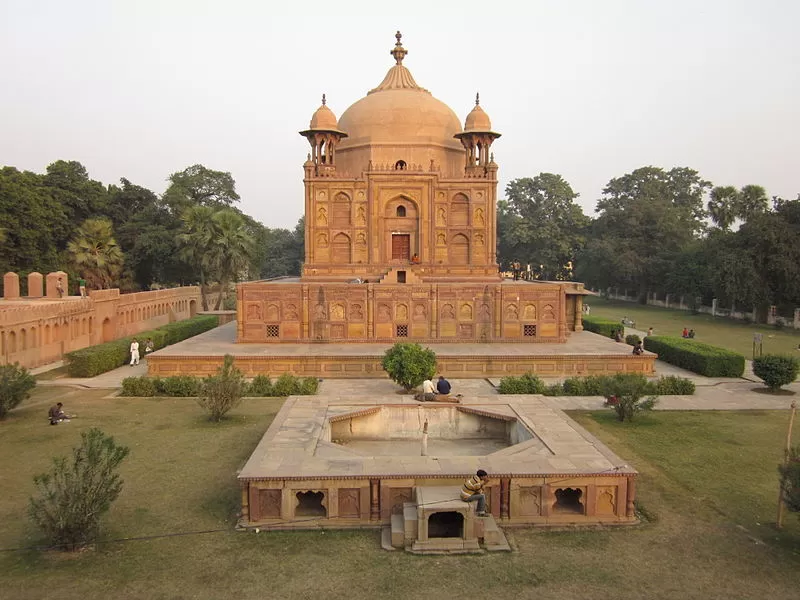 This is the second largest Mughal garden in Srinagar and has an awesome backdrop of Zabarwan mountain range behind this and also Pir Panjal range in the far distance. Nishat Bagh in Urdu means Garden of Delight, Garden of Joy, and Garden of Delight. This Mughal garden is much more delightful and vivid than Shalimar with 12 terraces representing 12 zodiac signs with a long water canal of 4 metres wide having Chinar and Cypress trees on both the sides. But the garden doesn't have that royal touch as it is in Shalimar as it is not an imperial garden. Presently only 9 terraces can be seen due to the construction of roads along the Mughal garden. The top most terrace of the Nishat garden has Zenana garden with two storey porch surrounded by beautiful saplings.
Year Built: - 1633.
Entry Fee: - 10 rs per person.
Mughal garden Timings to Visit: - 9.30 a.m. to 5.30 p.m. (Closed on Fridays).
Location: - 11 kms from the city centre.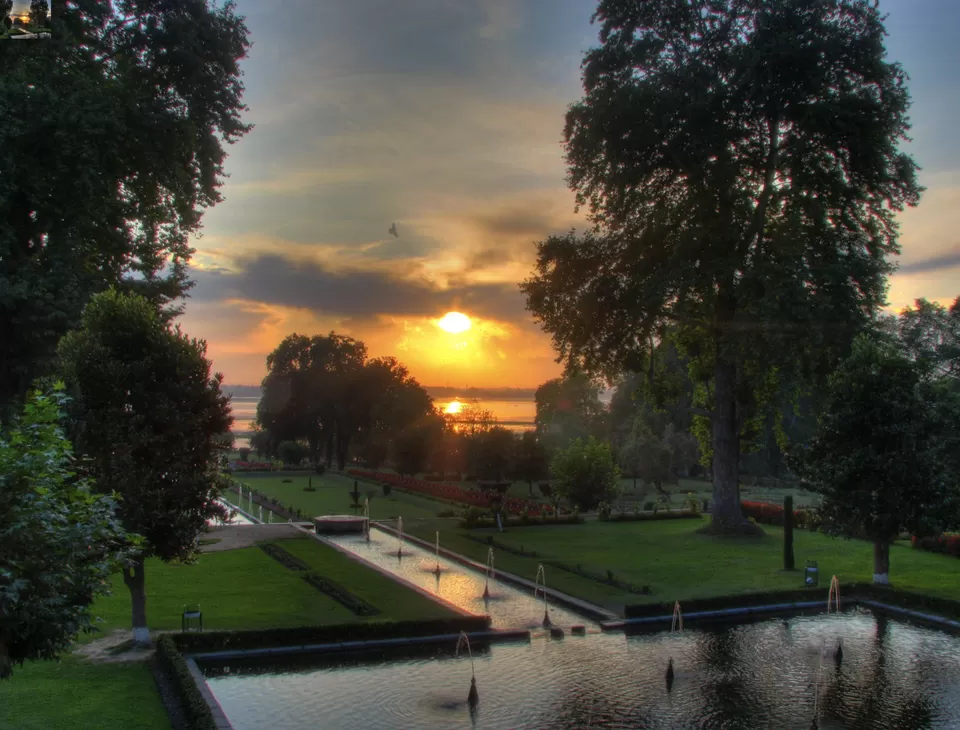 The Royal Spring Garden is located near to Raj Bhawan overlooking the Dal Lake in Srinagar. This was built by Ali Mardan Khan, the then Mughal governor for his eldest son Darah Sikoh. The spring in here was discovered by Rupa Bhawani, the royal clan of Sahib from the Kashmiri Pandit family from whom the name is derived. The water gushing out of the spring is said to have medicinal properties and tourists visiting this place are often seen filling the water from the spring. This garden is an exemplary blend of Mughal architecture and Persian style of gardens with three terraces built keeping the spring in the middle as a centre of attraction. After originating below two storey Kashmiri style hut, the spring flows through an aqueduct in first terrace, and as a waterfall in the second and at last it flows as fountains. The entire Mughal garden covers an acre of plot and is the smallest of all three Mughal style gardens in Kashmir.
Year Built: - 1632.
Entry Fee: - 10 rs per person.
Mughal garden Timings to Visit: - 9.00 a.m. to 6.00 p.m.
Location: - 14 kms from Srinagar airport.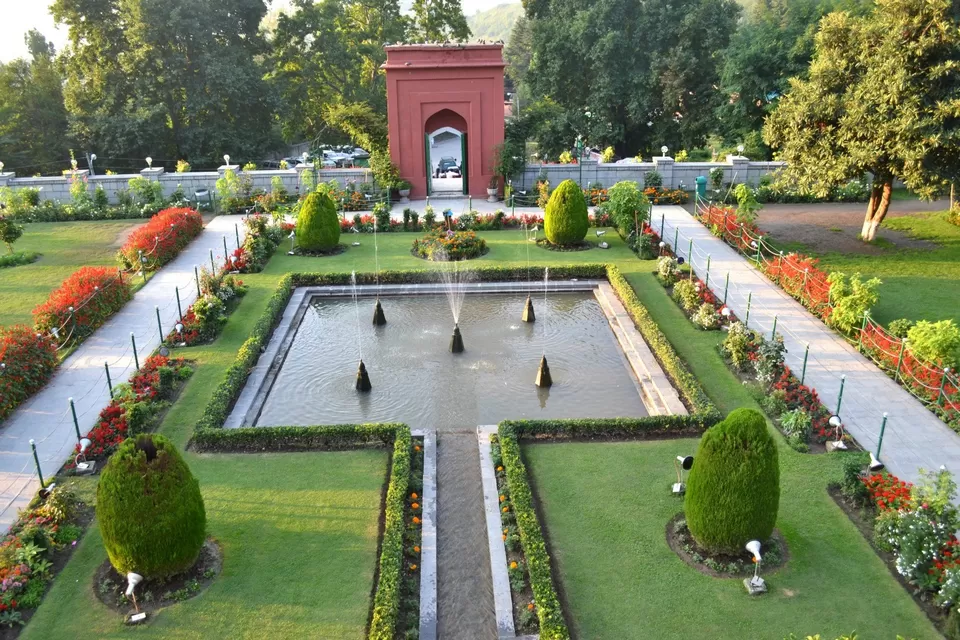 This is the biggest Mughal garden in Srinagar with 12.4 hectares in size and three terraced in style is also called as Shalimar garden, Farah baksh, and Faiz Baksh and is one of the most visited places in Kashmir every year. Shalimar in Sanskrit means "The abode or hall of love". This garden was built by Jahangir for his beloved wife Noor Jahan and they also used to visit this heaven on earth in summer with their entire court entourage for 13 times during his reign. This three terraced garden has a black pavilion on the top terrace with an inscription by Persian poet Amir Khusrow stating "Agar Firdaus bar rōy-e zamin ast, hamin ast-o hamin ast-o hamin ast", meaning "If there is a paradise on earth, it is this, it is this, it is this", and the quote is so true that one who visits the Mughal garden and stands somewhere in the middle terrace and have a look around you can see all the marvels of nature in one go, The Zabarwan mountain range, The humongous Dal lake, The magnificent water canal in the middle of the bagh, The Chinar trees all of these pleases your eyes and give you the feeling that you are in a heaven.
Year Built: - 1619.
Entry Fee: - 10 rs per person.
Mughal garden Timings to Visit: - 10 a.m. to 06 p.m. (Closed on Fridays).
Location: - 15 kms from the city centre.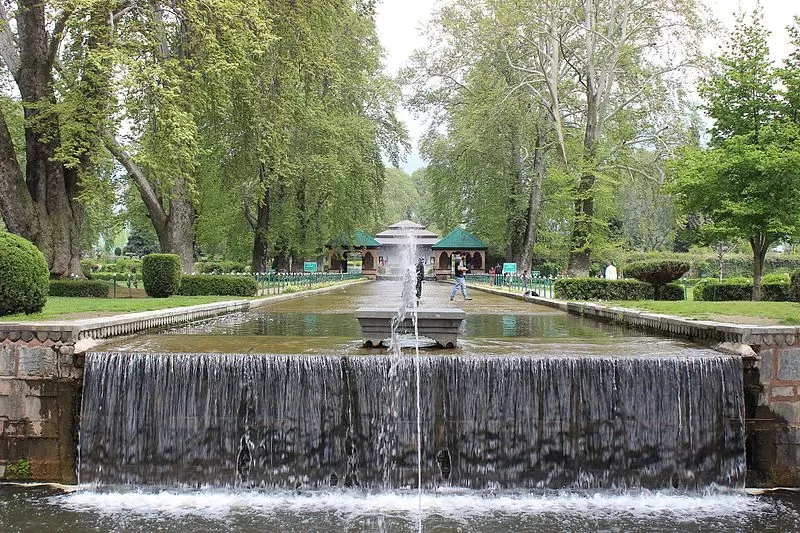 Also called as Baradari, Rosahnara Bagh, is situated in Shakti Nagar near Kamla Nagar clock tower in Delhi. This Mughal style garden was built by Roshanara Begum, the second daughter of Shah Jahan. The ruins of her palace and tomb can be found in one corner of the garden, where as the other parts are green with trees and plants. The park has larger open spaces, orchards, giant ancient trees, and also a pond which attracts few migratory birds during seasons. This lush green Mughal garden is also a photographer's paradise with variant flowers and squirrels roaming around.
Year Built: - 1650.
Entry Fee: - Free
Mughal garden Timings of Visit: - Sunrise to Sunset.
Location: - Nearest metro station is Pul Bangash Metro Station which is two stop from Kashmere Gate. Distance from IGI airport s 19 kms.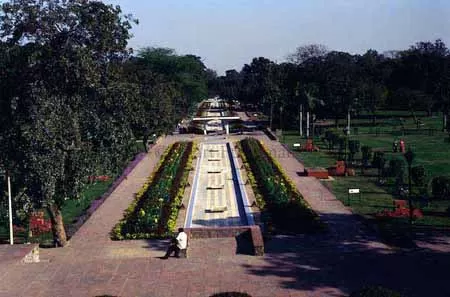 Have you been to any of the places mentioned in this list of Mughal gardens in India? Share your experience in the comments below.
Happy Travelling!!!
Frequent searches leading to this page:-
mughal garden in india, mughal gardens in india, where is mughal garden, where is mughal garden located, weekend getaways from delhi, mughal gardens new delhi