"I was traveling solo but never felt that I was alone......"
The weather was damn cold, I had put on my jacket and even ordered a hot chocolate to keep myself warm. The view from the top of the cafe was mesmerizing, surrounded only by mountains. I was clicking some pictures and in the background A R Rahman's composition were playing. That's when the clouds cleared and my eyes fell upon this mountain.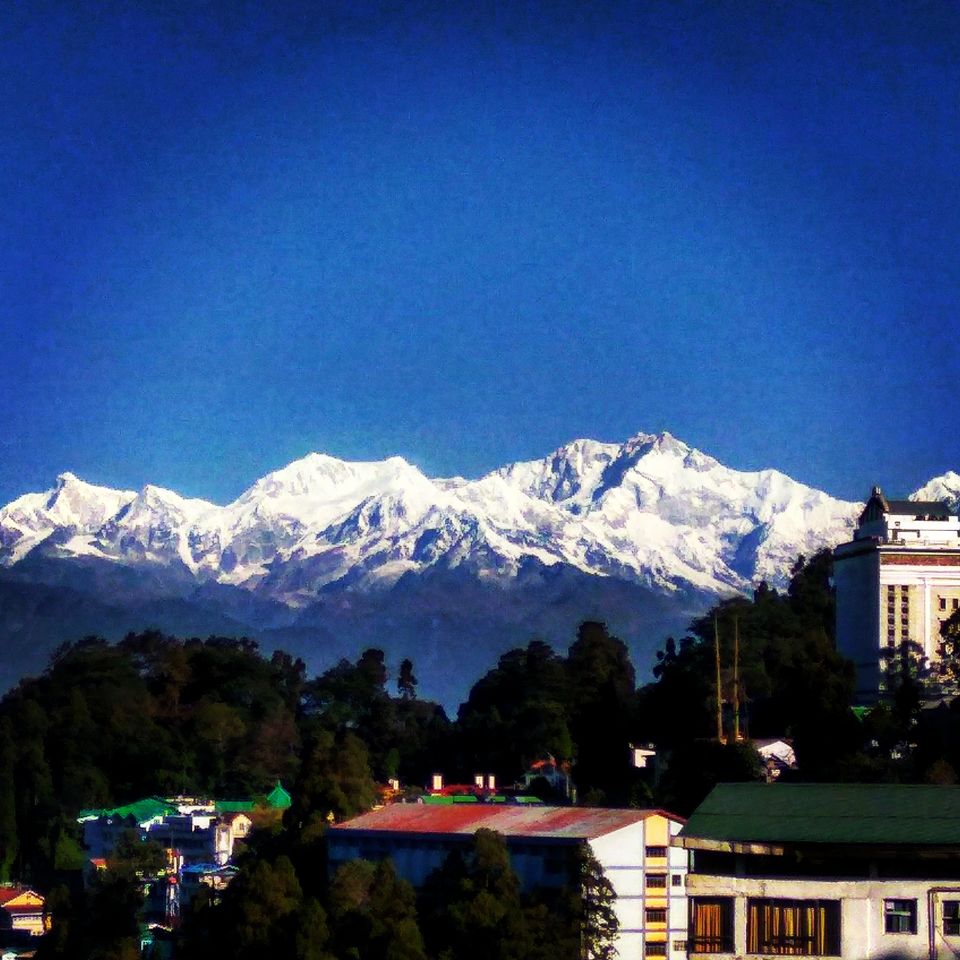 Kanchenjunga showing up. Those pointed edges, the snow cap on the top, which was looking like a crown, and the sunlight falling on it to make it shine elegantly, was so breathtaking that I just kept looking at it. I tried to frame it up, took a picture of it but wasn't satisfied. I tried different angles, zoom in, zoom out, change in light but nothing worked out. That was the time, I realized that the beauty is best captured by the eyes rather than the camera. I kept just looking at it for 30-40 min continuously, I smiled from heart, probably my each and every nerve was filled with happiness and peace that I shed tears. I did realize that I found peace when left alone in an unknown place in between unknown people. But wait how did I ended up here?
My thirst of visiting Darjeeling and Sikkim was ended when a 'no' turned into an unexpected 'yes' from my father. The bags were packed, tickets were booked, I was going to visit my planned destinations in an unplanned way.
On the day of the travel, I was lost in some thoughts, waiting for my train. Then suddenly I heard a noise, which completely eliminated off my thoughts. I turned towards the direction of the sound and saw the train rushing up towards me and it stopped. There was a chaos, people pushing each other to board and alight the train and I was just standing on the platform looking at my compartment blankly. It was a dream for me, an unreal situation and then a man came and pushed me by saying " Hey bro!! You don't wanna go?" I was back to the reality, thanks to that kick though.
A 30 hours of journey from Hyderabad to Kolkata was a memorable one as I was crossing 4 states to reach my destination. Every 100 km the language kept changing, the culture kept changing, the people kept changing, the view also kept changing from rice fields, to rivers, to sea and then to small small villages. After a couple of hours the train slow downed, I could see red bricks houses, people using rickshaw as a mode of transport, women wearing the white and red sari, I did realized that Kolkata wasn't far. The train kept changing its tracks and at the end it gave a backward jerk. The coolie started coming up, people started getting down and the same person, who pushed me in the start, came up again to me and said "Hey bro!! You don't wanna get down? Howrah station is here...." I felt weird for a moment, because this man only appeared to tell me to board and alight the train and then vanished. Weird.........
There was a feeling of astray, the moment I got down, coolies came near me and kept asking questions in Bengali. Howrah station is huge, I kept looking at every nook and corner for the exit to board a bus. But where was the exit? How can I know from where to board a bus? Every person I asked, he kept telling me to go straight...but till when? The moment I step out of the station, I saw the beautiful Howrah Bridge on my left side, I didn't care about anything and kept walking towards it to get a full view. The moment I reached closer to it, I was at the bus stand.
I could get a glimpse of Kolkata when I was on my way to met a friend.It looked beautiful in night. When I reached back to Howrah to board a train to New Jalpaiguri (a town nearest to Darjeeling) the demonetization news was spread. I went to each and every shop at the Howrah station to buy something in order to exchange the notes. After a successful two attempts, my train left to New Jalpaiguri.....
My first destination was just a 4 hrs journey from New Jalpaiguri (NJP), all I needed was to take a shared taxi from the station.
When a smooth ride was turning into a bumpy one and when songs weren't enough to entertain you, then I decided to struck up a conversation with this person named Pradeep.
Pradeep:- "Well in Darjeeling you will hear some various voices.....just keep your heart open."
The shared taxi which I took from NJP to Darjeeling dropped me at a point and I took a walk towards my hotel. After reaching my hotel, I did observe that the room didn't have any fan, when I inquired about it in the reception they said "You are at an altitude of 6000ft, you don't need fan all you need is a warm blanket and a geyser." Yes, all I needed was a geyser. After freshening up my wandering feet took me towards the mall road. A wide area where everything seemed like a chaos but never felt like it. Some people were sitting at the corner, some people were enjoying snacks with their family, some people were having some deep conversations with their loved ones whereas some people were just enjoying the view. Amidst all the voices, I heard a sound of a bell. As I walked in that direction the sound kept on increasing and that led me to the Mahakal temple. After reaching the temple, I asked the priest whether it was open or not, he replied "If you are being called and if you keep your heart open then the doors of the temple are never closed....just hear HIS voice"
Pradeep: "You don't like tea? Well okay......but try Darjeeling's tea"
After the spiritual experience, I kept walking in the streets of Darjeeling and I reached to a point where I could smell the aroma of a beverage. It was Golden tips, a very famous place in Darjeeling were one gets a taste of diverse varieties of tea. When I entered the shop, a lady welcomed me to a point, where from one end I could get an excellent view of the mountains and from the other end, there was a large end-to-end wall painting that added to the grandeur of the lounge. I wondered what made this place and the tea so special and so I ordered a Kashmiri Khawa. After having a cup of Kashmiri Khawa I do admit that I don't like tea but if the tea is from Darjeeling then I need to think about it.
Pradeep:- "Sometimes....the view itself fills the soul that you just keep gazing at it."
The morning felt to be different here, it was quiet, peaceful, cold and beautiful. I kept on rubbing my hands to make myself feel warm, but that was not enough, so to kill this feeling I ordered a hot chocolate. The waiter did take a lot of time to bring it and so I kept entertaining myself by clicking pictures, listening to some melodious tunes. Then the clouds cleared and my eyes fell upon this mighty mountain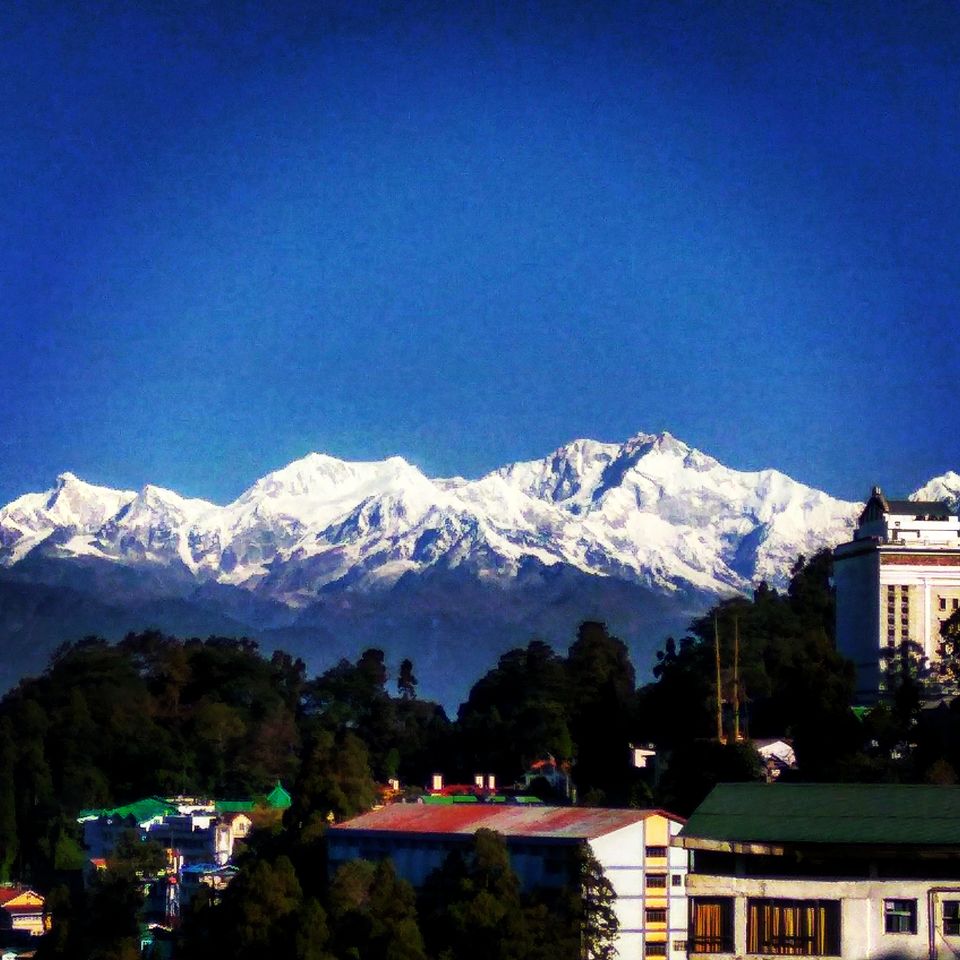 Now, I realized that this was not a dream but a reality. The tears that I shed, when I was gazing at Kanchenjunga was real, the breeze which was kissing my cheeks was real, the hot chocolate which I ordered was also real and this feeling of adrenaline rush of happiness and peace was also real. I just kept gazing at it.......and my soul was filled.
Pradeep:- "Be a traveler but not a tourist, do visit places but also do meet people, talk with them, listen to their stories, share your stories and then you will come back with some great experiences."
Yes, do meet people and talk with them. I always had this sense of excitement of taking a journey in toy train. So, I took this as an opportunity and booked a ticket from Darjeeling to Ghum. The train was scheduled to start at 4pm so I had plenty of time to explore and be mesmerized by the city. So, the first place that I narrowed down was the tea garden.
I chose to walk towards the tea garden rather than taking a shared taxi. There was a complete sense of freedom when I was walking, I could just stop at any point, talk to strangers and then continue the journey. Darjeeling's inner beauty lies in the eyes of the people, the innocence, the smile, the kindness and the empathy reflects in their eyes. I reached Happy valley Tea Estate. The tea estate is spread over 437 acres, at a height of 6,800 ft. (2,100 m).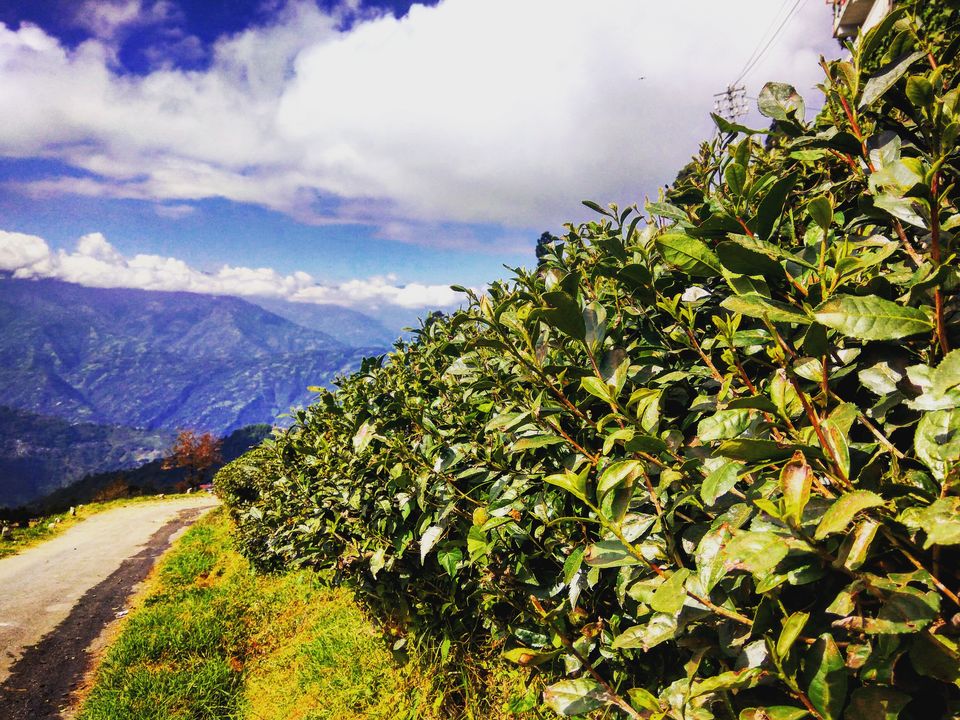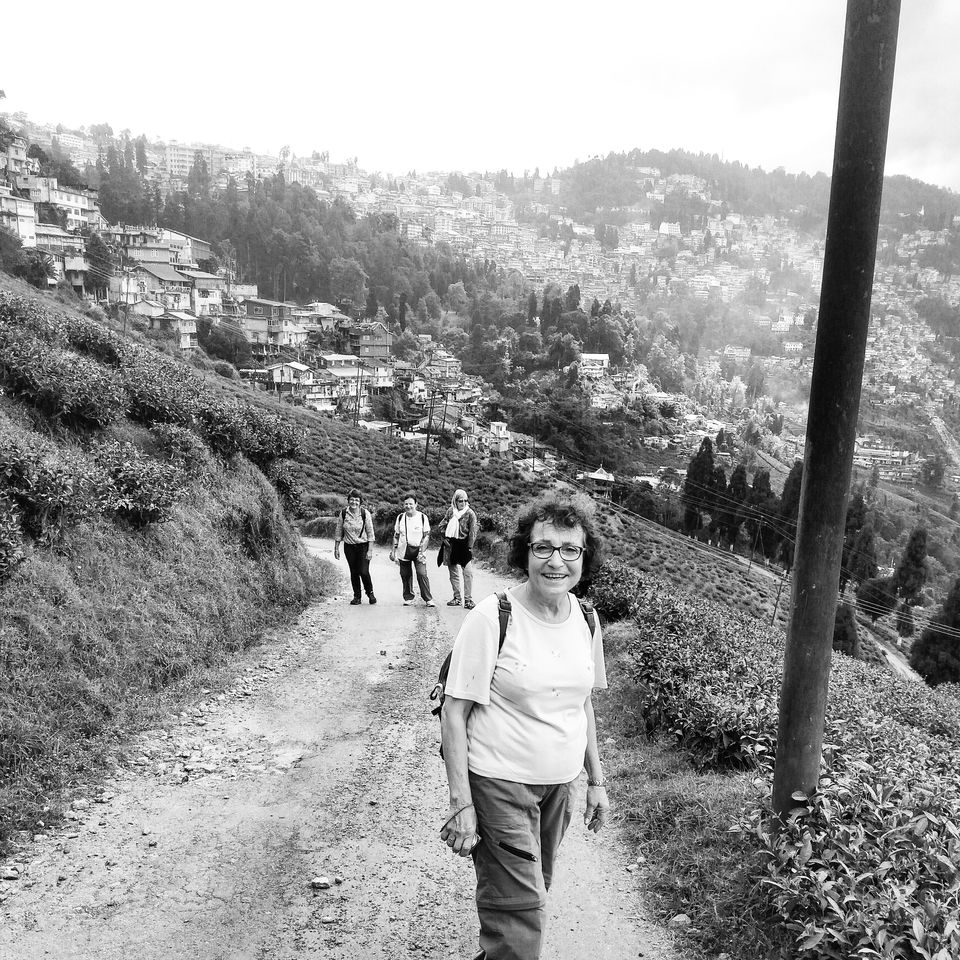 Happy Valley Tea Estate is considered to be the second oldest tea garden in Darjeeling and one of the largest tea factory in the world. The narrow winding downhill road took me to the factory. Spending almost an hour there did increase my knowledge on how the tea leaves are selected, how the processing is done and many more other stuff. After the enchanting visit to the tea garden, I thought of taking some rest for a while by having a local cuisine.
From the time I had decided to visit Darjeeling, there was some intuition indicating me to visit the Japanese Temple. I thought of spending 500 bucks by hiring a bike as the time was running out. But a suggestion from a local guy did change my decision, he told that "Japanese temple is the most peaceful place in Darjeeling and the walk to the temple is also a peaceful one....just let your feet talk."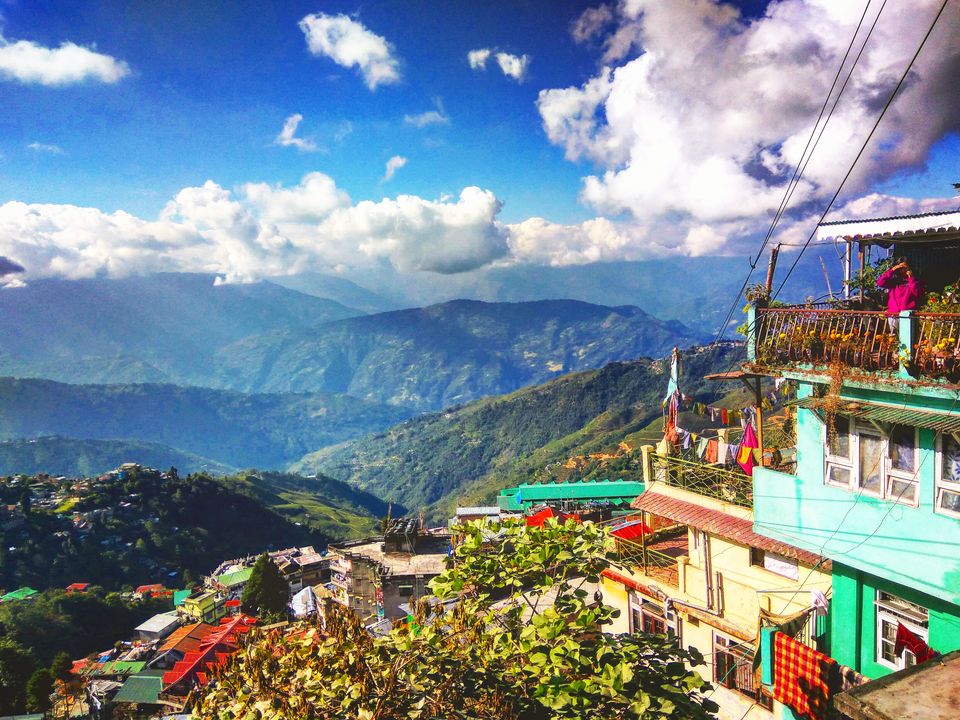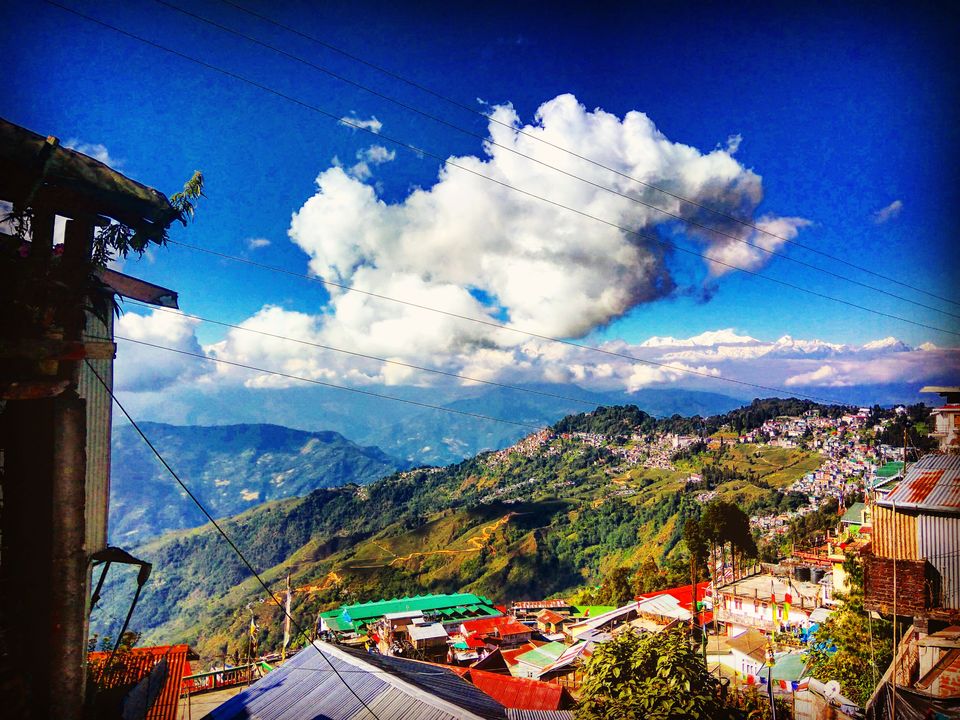 Who knew that this would be the most peaceful walk of my life. A walk through the foliage road, a road which kept on ascending and a view from where everything seemed to be minute. There was no sound of a vehicle or the sound of a chaos, there was no pain or negativity but there was just peace and silence. Just by hearing the sound of the silence I reached the temple.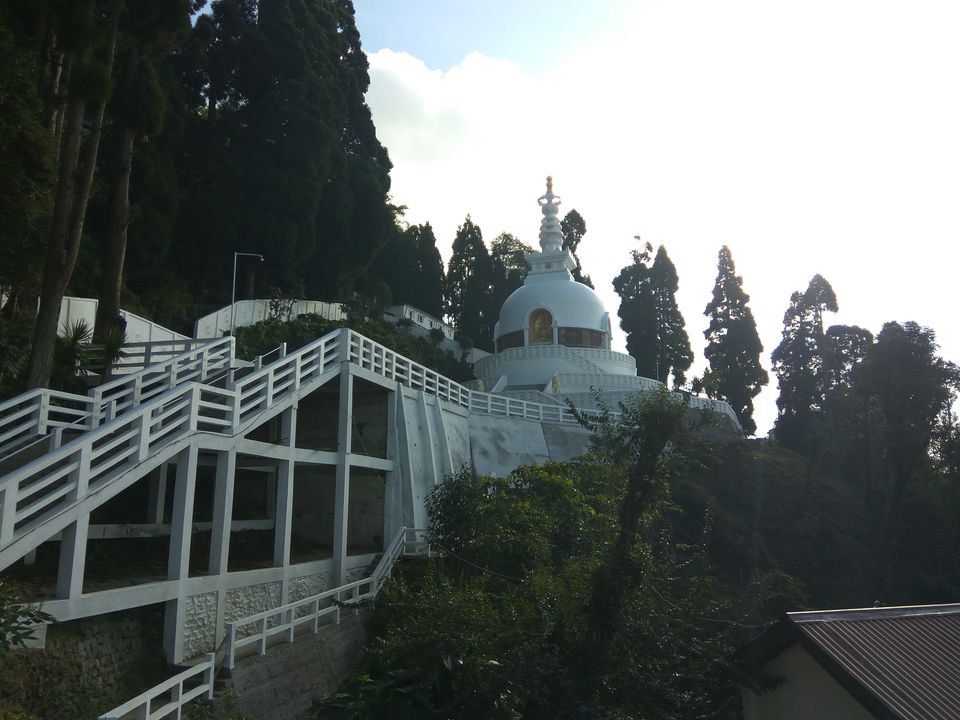 Calmly I entered the temple, a voice of a lady was reverberating. That voice was so vivid that it drew me towards it. I entered the hall where the lady was sitting at the corner and hitting a drum in a particular fashion. I positioned myself and started chanting the hymn
"Namu Myoho Renge Kyo"
Being a Hindu I got connected to Buddhism. After the spiritual experience, I finally went to the railway station.
Riding the Toy Train of Darjeeling Himalayan Railways (DHR) has remained a coveted experience to me. After all this Toy Train has been accorded the UNESCO World Heritage status.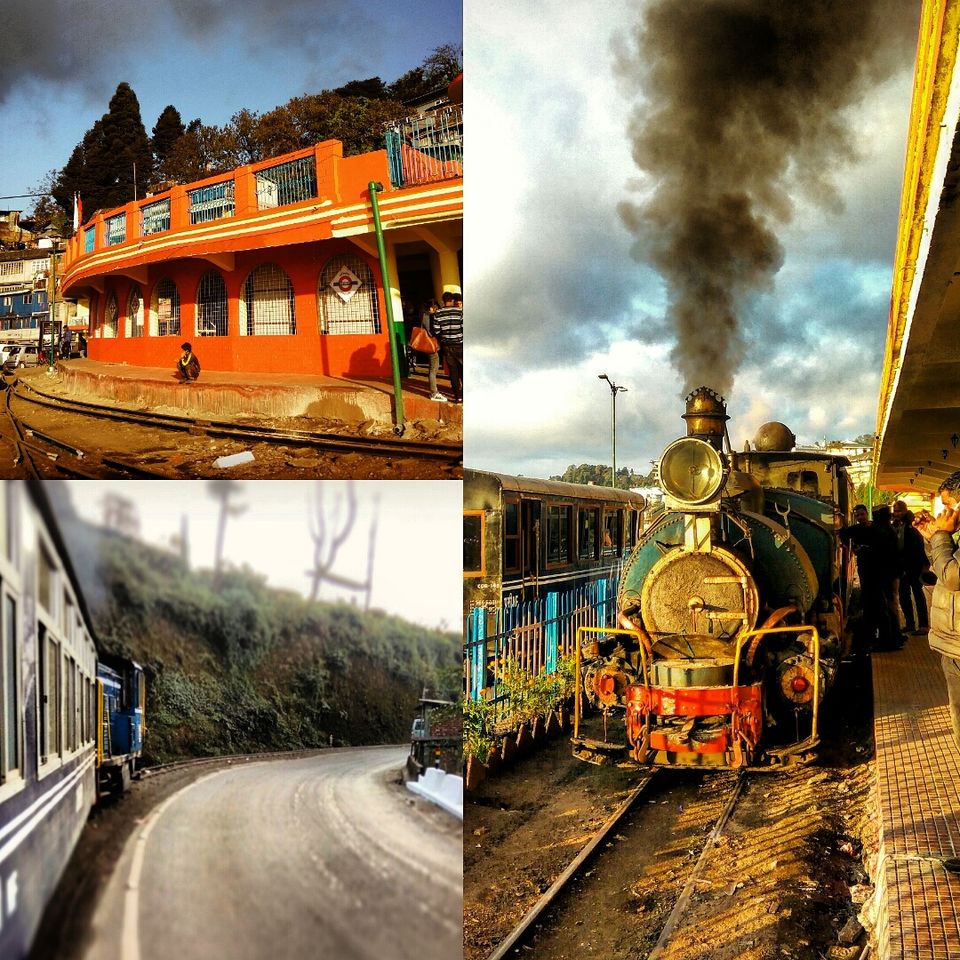 The sound of the engine, the elation of the child, the window seat, the steep curves and the mesmerizing view is still fresh in my mind. The train took me to the highest railway station in India- Ghum. I spent some quality time in Ghum monastery and then was off to Darjeeling. After dinner, I immediately rushed down to take a nap as I had to wake up early to witness the sunrise. Who would knew that what was on the plate for me next morning......
Pradeep:- "Oh Please!! Tiger hill is the most overrated and crowded place in Darjeeling....why don't you find your own place to witness the sunrise."
Early morning, around some 4:30 am, when I was having a very peaceful sleep my alarm rang. I woke up and was in 'To go or not to go' stage to witness the sunrise. I pushed myself and walked down in this cold weather which was about 11-12°©. After walking some distance, I stopped and turned back towards my hotel to take a nap, considering the fact that I love sleeping. But then suddenly I heard a sound of a bell....loud and clear.
Yea, this might be some indication, maybe the supreme source of energy was indicating me something. But what? I cancelled and walked down to witness the sunrise. I waited...waited...waited and then I saw this...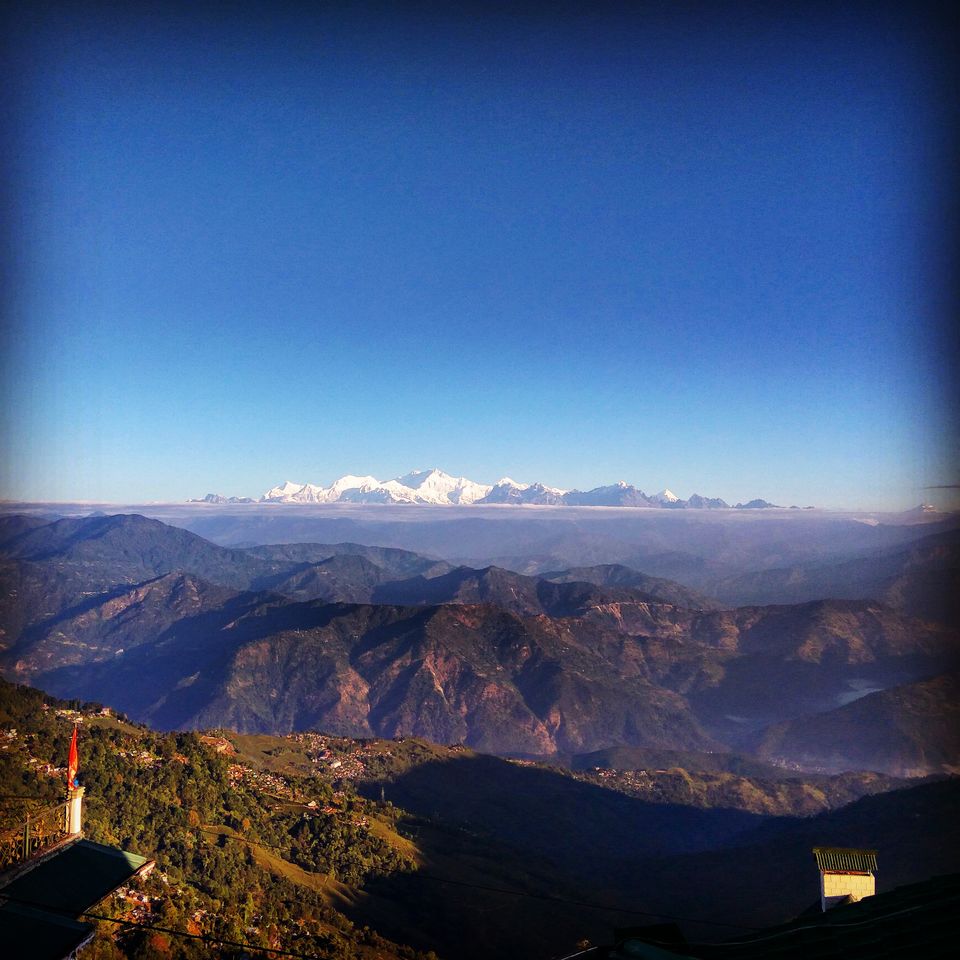 The mighty showing up. I was so lost in its beauty that I even didn't care to take a picture with Mr Pankaj Udhas( A famous singer, who was also there with his family) Where everyone chose to go to Tiger hill to see the sunrise, I found my own spot. I was admiring the nature, how the rays fell on the mountain, the change in color, how slowly slowly the clouds cleared and many more. After sometime, I heard the sound of the bell again, I understood that now it's the time to go and continue my further journey.....N I walked down.
The time had come to adieu Darjeeling and start a journey to Gangtok. Darjeeling was special to me....now I understood the reason behind the words of Pradeep. My heart wasn't ready to leave this place but there was an other city waiting for me, the experience waiting for me, the people waiting for me and I myself waiting for me. A journey to self- discovery.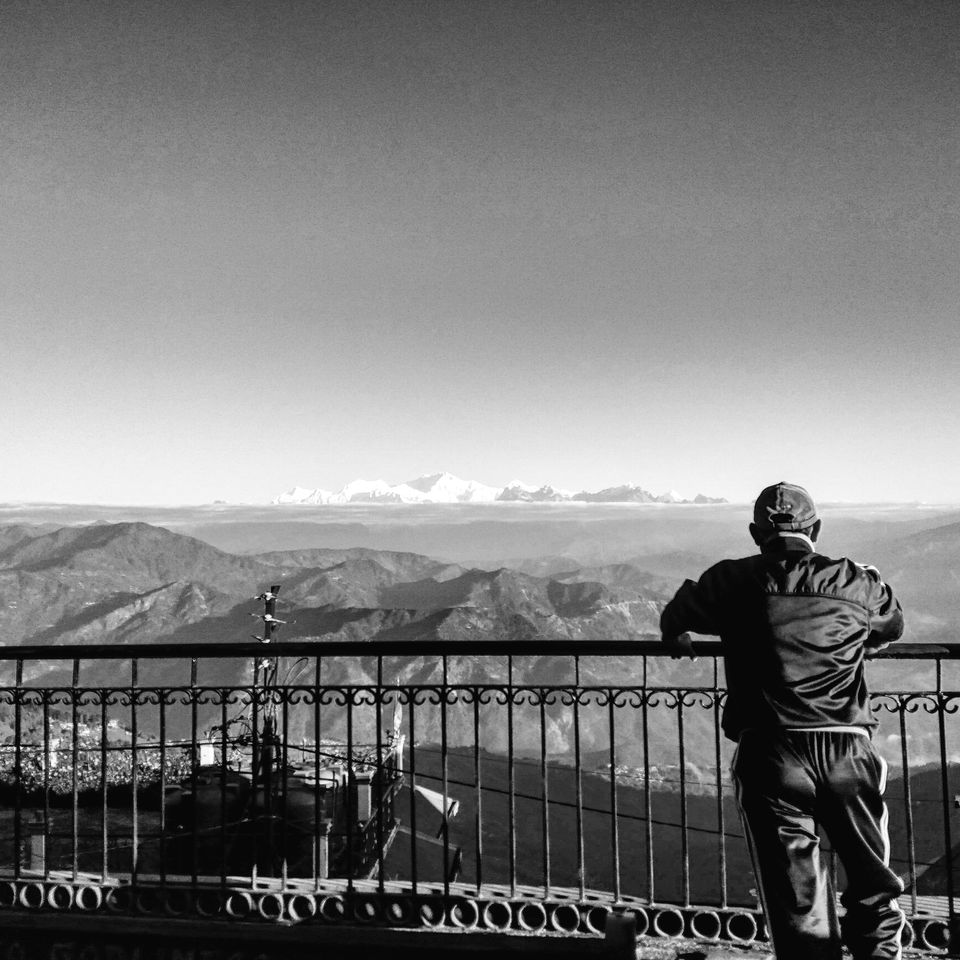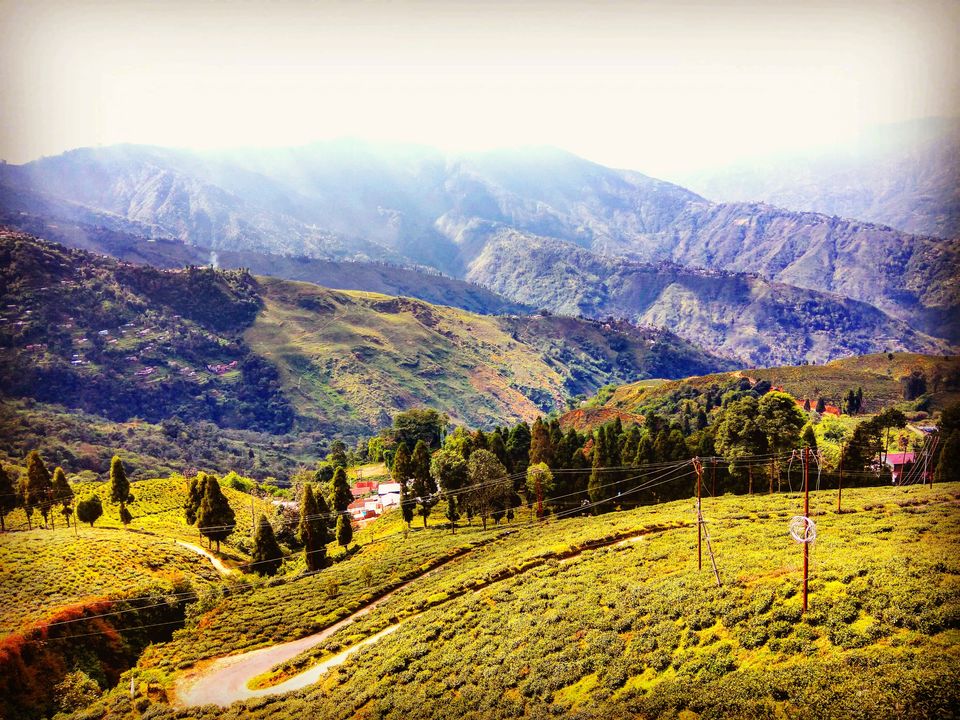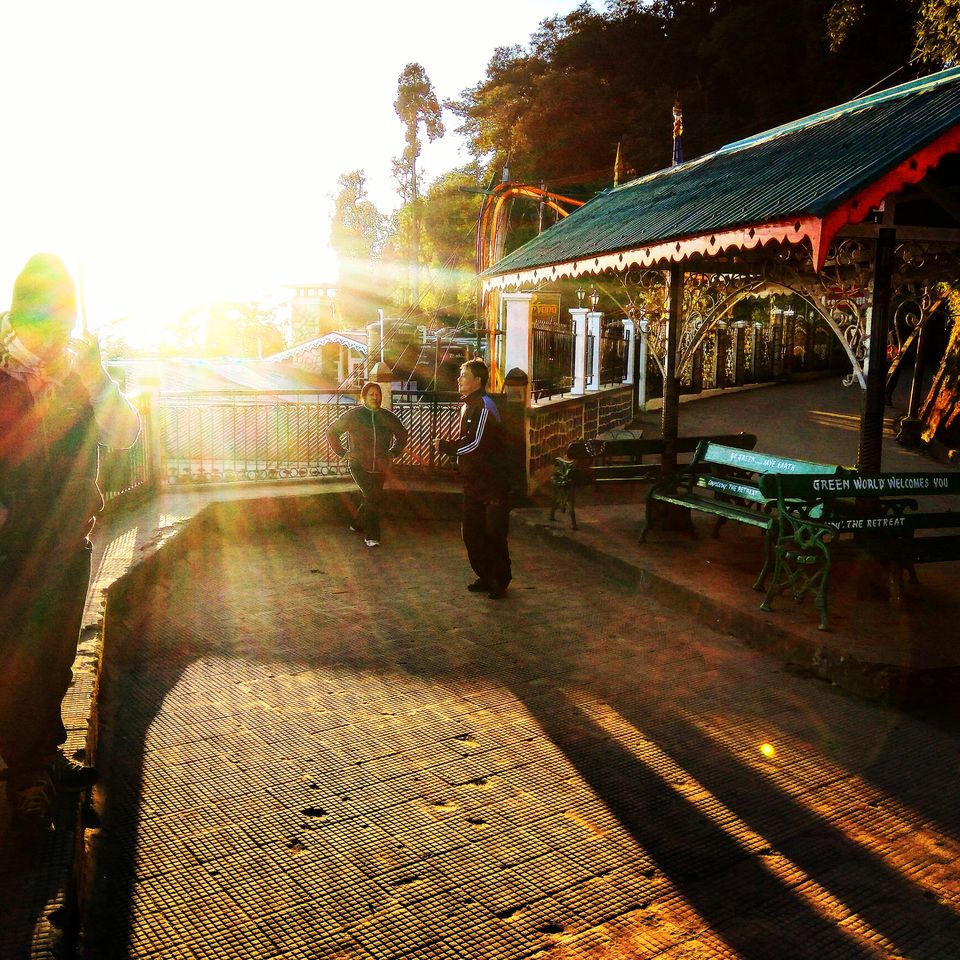 Gangtok Diaries
Chapter 1:- En route Gangtok
Gangtok can be easily reached from Darjeeling, all you have to do is just to take a shared taxi which will cost you 200 bucks. So, I reached the taxi stand and booked a seat for myself. A shared taxi could only start then, when all of it's seats are being booked and since I reached early, I had to wait for the other passengers. In mean time, I met a very interesting person, a guy who works in the fields had come to drop his wife and leave to Sikkim. While having a conversation with him, I realized that no matter how much ever developed we are the thinking mentality of smaller region people haven't changed. At the age of 18, he got married and he doesn't allow his wife to work. When I was having a conversation with him, I felt that I wasn't in the 21st century. After sometime, the taxi was ready to depart and that person had to leave to, it was a small meet but that meet left me with many unanswered questions and with those unanswered questions, I started my journey to Gangtok. It was a 4 hrs ride, the view now kept changing. At first, it was just the mountains, then we entered the forest and then we had finally encountered the beautiful Teesta river
It's a long river flowing through Sikkim and forms a border between the two states Sikkim and West Bengal. When I was young, my art teacher always told me to paint rivers or sea or any water-body blue. But in reality, I never saw any water-body that could match the color that I had painted. After getting a proper glimpse of this beautiful river, I must admit that my art teacher wasn't wrong. We were checked at the entry border of the state and by just crossing a bridge we moved from West Bengal to Sikkim.
Yes it was a stressful journey, by the time we reached Gangtok it had turned dark. But Gangtok looked amazing in the night, it felt as if the creator had decorated the mountains with some beautiful lights. I had to reach M G road, the taxi driver dropped me at a point and instructed me to climb the steep steps which will lead to M G road. The moment I reached the M G road, I could notice the drastic change in the view. It was posh, lights were on, there were cafes, restaurants, bars, benches were put in the middle for the people to sit and relax. Vehicles weren't allowed to pass on this road and so I had to take a walk towards my hotel.
Tiredness and hunger stopped my brain from thinking, I kept wandering to find a good place to eat. There were many options but amongst them I chose to go to this place.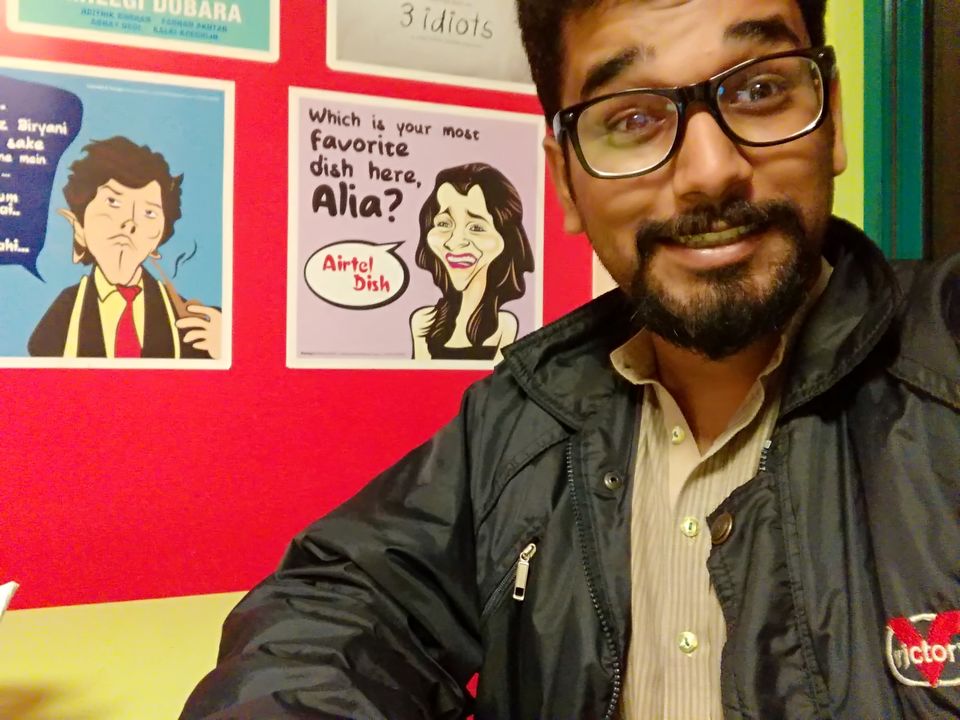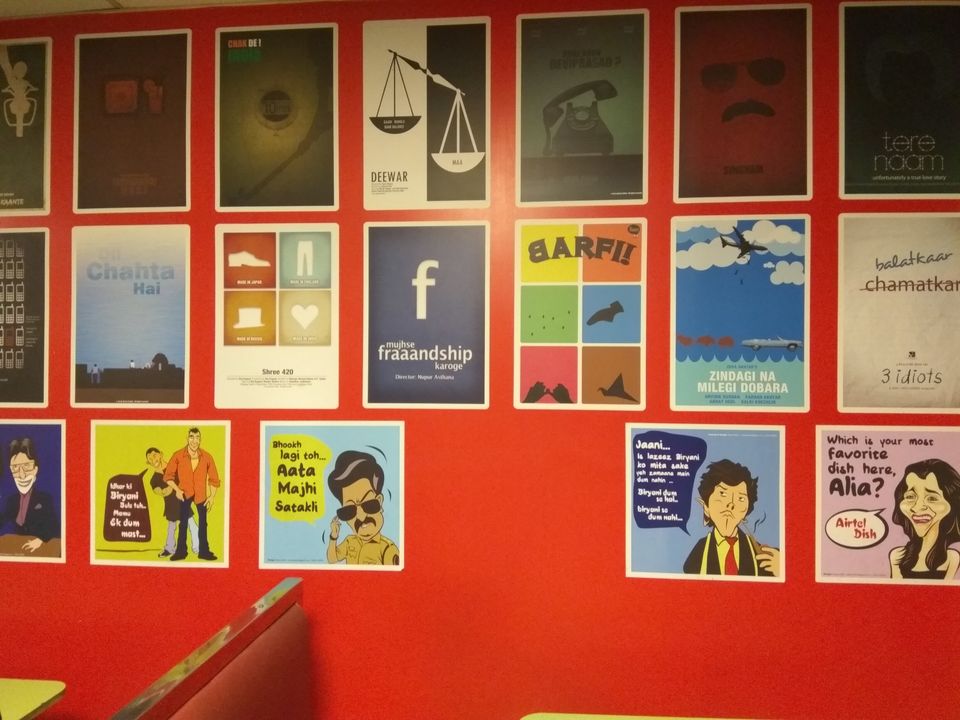 The ambience, the staff and the food was so awesome that it was enough to fill my nerves with complete energy. I felt that in this small city, there was a bunch of talent.
Chapter 2:- From 5410ft to 14000ft
I had scheduled my whole day in visiting these three places- Tsomgo Lake, Baba Mandir and Nathula Pass. It was 8:30 am and I was waiting at the taxi stand for the arrival of the vehicle. It was again a shared taxi which would take you to these three places. By the time, the taxi arrived and we made ourselves comfortable, I understood that I am the only non-Bengali person in the taxi.
People were left dazzled when they got to know that I was traveling alone. One of the person was so shocked that he just kept staring at me, I couldn't control and asked him what's the matter. He asked "Don't you get bored?" I smiled and replied "I get bored when I am with people.....just kidding. Nope I don't, I feel that solo traveling is very peaceful." and then the taxi started.
The taxi kept on ascending and ascending, as it climbed the mountains my nerves got filled with excitement. What was on the top? Am I approaching towards heaven? Can't we just keep traveling and traveling? Such questions were joggling up in my head. The jacket was put on, cold breeze was kissing my cheeks. At first, the view was clear, then slowly slowly the clouds showed up and covered us totally. For a moment, I thought that I was floating in mid air. The roads were so narrow that our taxi got saved plenty number of times from falling down.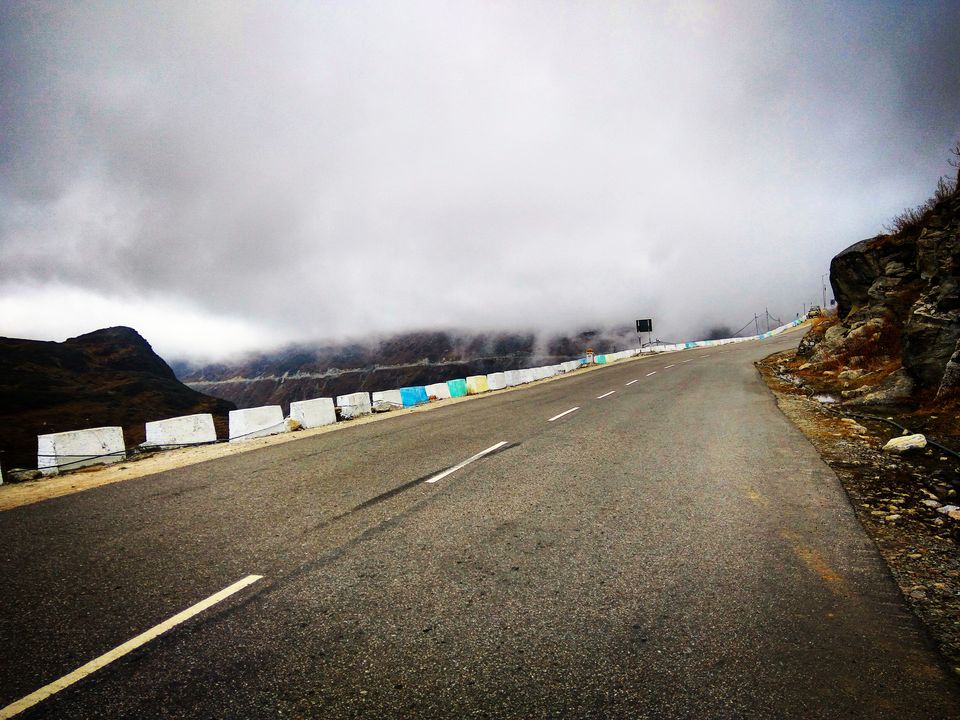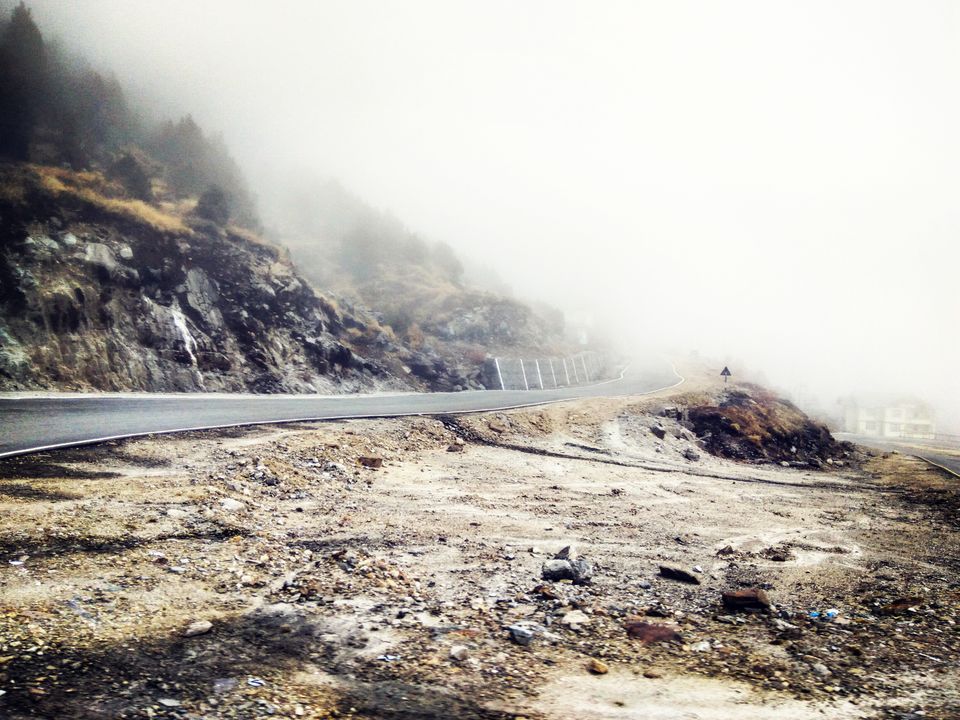 I was completely lost in the beauty of the view and then the taxi stopped, people got down and I was confused that where did I reach. My hands and lips got numb, my each and every part of the body was being tested by the coldness. All I had was that one jacket, which I was wearing, no gloves or caps. A person came up to me and said that "Son, be careful. Don't let the excitement kill you. It's -5, the oxygen level is also quite low. So be careful."
When my body was being tested that was the time I noticed these two soldiers standing tall, unmoved, unaffected and I realized that I have reached Nathula pass. I felt inspired, I felt motivated and proud. The slogans 'Jai Hind' and 'Bharat Maata ki jai' came right from the heart and was not forced. The soldiers guarding the border explained me how they have to survive in difficult conditions. How can I describe this feeling of pride of being an Indian, it is meant not to be told but rather to be felt.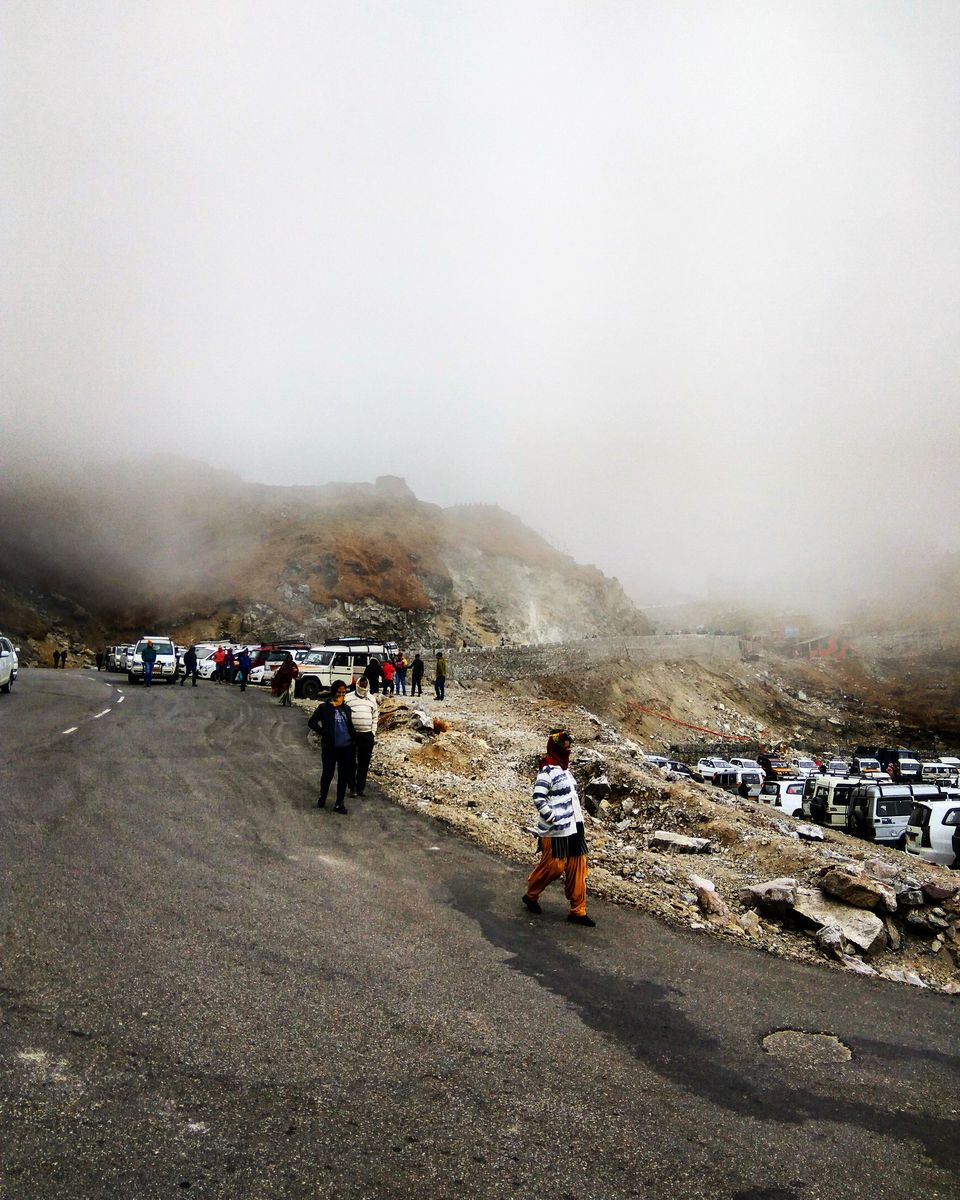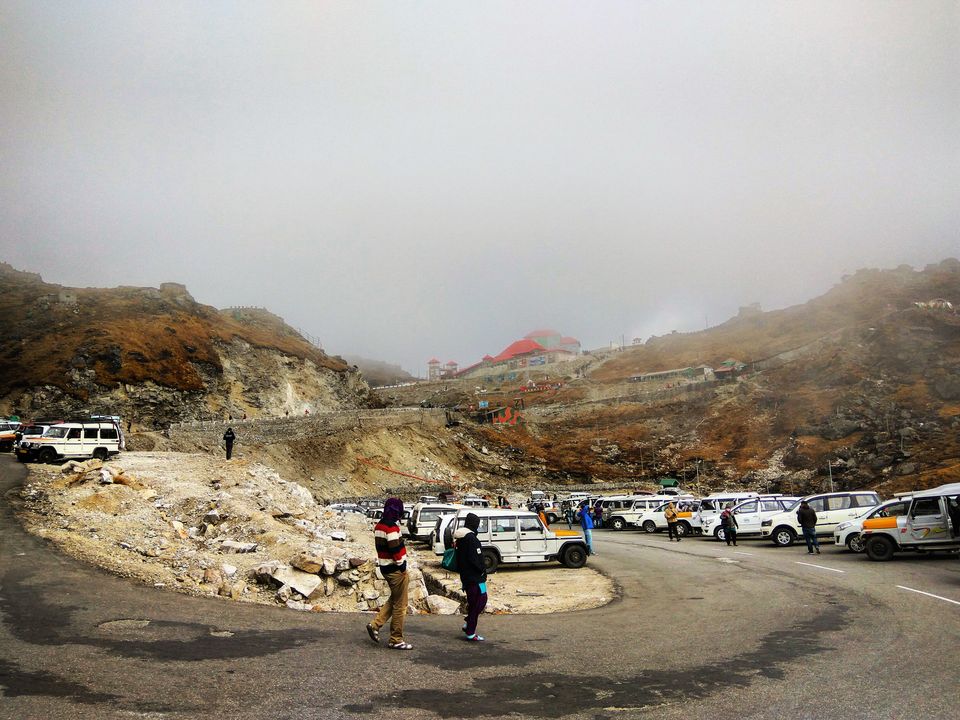 After Nathula Pass, I approached to Baba Mandir. Where everyone was busy going to cafeteria and buying some stuff and of course visiting the temple, I spent my time by just gazing our national flag. And I was just gazing.....just gazing. My purpose of visiting Sikkim was fulfilled when I saw this beautiful and silent lake which was surrounded by mountains. It was Tsomgo lake.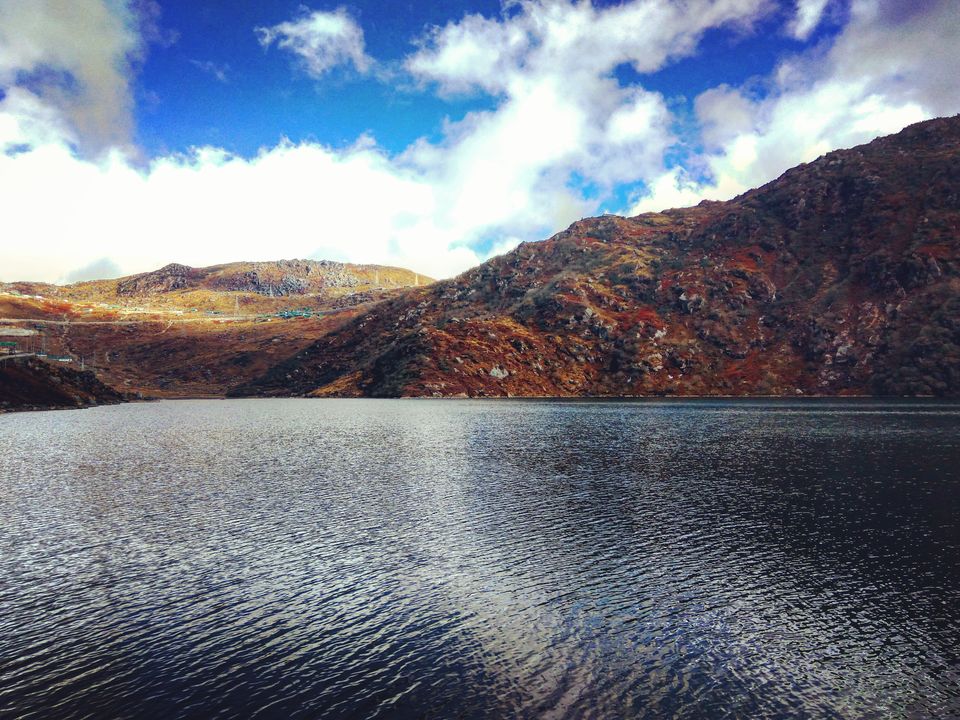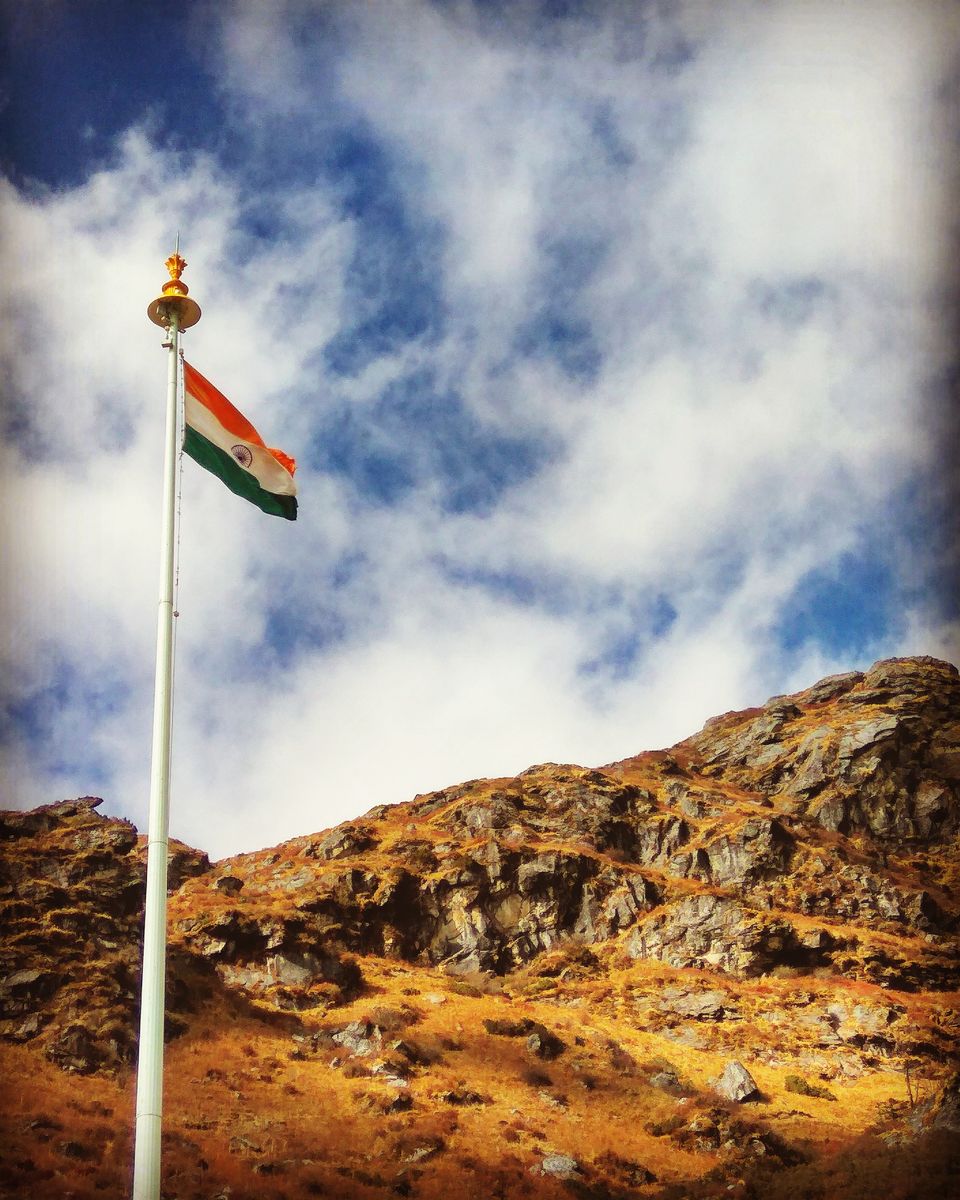 Calm, silent, peaceful and what more adjectives can I use to describe this feeling. The lake was so clear that I could spot the stones right from the top. I spent some quality of time here, conversing with the lake, with the nature, I was away from the people and enjoying my lone time. I smiled, I cried and then I went back to Gangtok.
Everything was going right till now, no hiccups or speed breakers. I was so enjoying my trip that for a moment, I forgot that the wave of demonetization was still hitting the shore. Now, I needed cash. I couldn't continue my further journey without cash and so I stood up in the line. Only two ATM were functioning and my luck wasn't good as after sometime the ATM went cashless. What to do? I needed money to continue my further journey and visit more places. So, I made a deal with a travel agent, who was ready to swipe the card. But my luck wasn't that good, the transaction failed but the money got debited. For a moment everything was blank, I was blank. I was standing in the middle of the road totally clueless. I was in an unknown city, in an unknown place with less cash. But I forgot that I wasn't alone.
Next morning, when I woke up I had decided that this is not the time to remorse. I had come so far not to be disappointed or sad, happiness is always in our hands. I stood up in the line again hoping for a positive result and finally I withdrew cash. The next thing that I did was to file a complaint in the bank about my amount being debited. For a moment, I thought that my time was being wasted by visiting these banks and ATM. I had come so far not to do this....But this was a learning for me, I did discovered that in difficult times how did I react, what decisions did I take. I was left all alone in this situation and made to fight it, I had to be victorious.
After doing all this work, I decided to do some local sightseeing. The first place I went to was Hanuman Tok.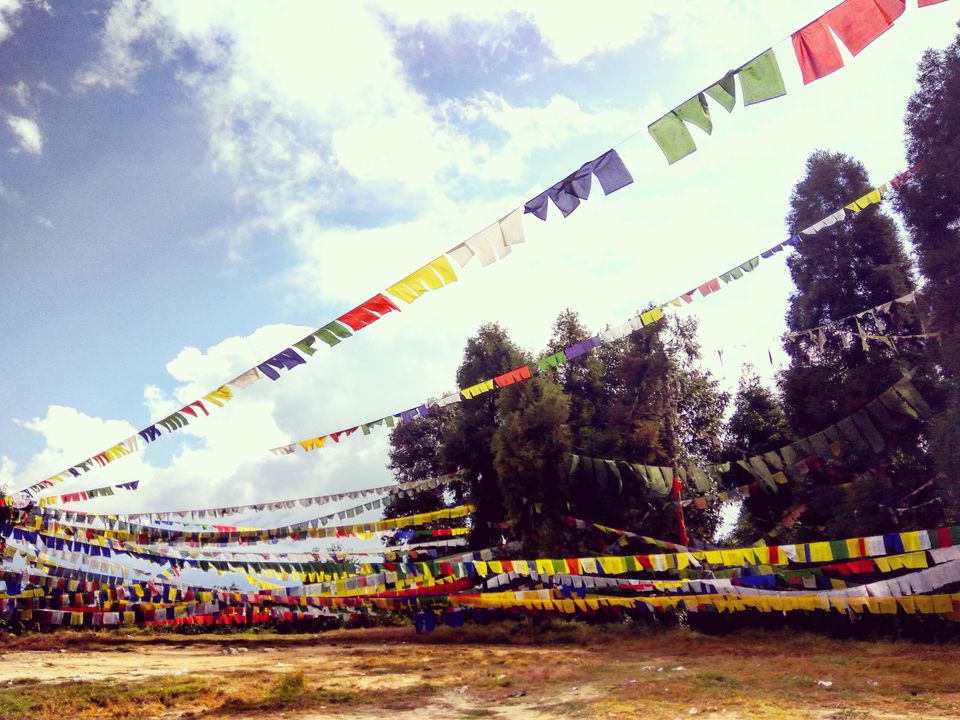 I hired a private taxi as the places that I wanted to visit were poles apart. My taxi driver was a Buddhist, he did tell me the importance of the Buddhist flags, what happens when a person dies, how that person is cremated and about the Kanchenjunga trek. That conversation with him was so special, he did tell me the importance of the city and how it is being neglected by the government of India. A moment came when I was more interested in talking with him rather than visiting the places. I again recollected the words of Pradeep that talk with the local people, get to know the history, their perspective. I knew that now I would be having a lot of memories to share.
After covering all my points, I chose to walk down on the streets of Gangtok to observe their day-to-day life. On a very interesting note, when I was wandering, from a distance I could hear some rock band sound. That sound was so catchy that I got carried away. I had an anxiety to know that where did this sound come from and so I approached it and reached to a bar. After reaching there, I noticed that it was not any band but the customers singing karaoke. I sat their for a while, sang and then left.
Chapter 3:- "All ends that ends well"
Now the time had come to adieu Gangtok and the trip too. The time had come where everything will be back to square one, the time had come where I had to just take back these memories with me. The time had come to leave. I took a shared taxi to Siliguri, from where I had to board a bus to Kolkata. The route was almost the same but the feeling wasn't. I am now more calm and silent rather than excited. The car which took me to these heavenly places now is taking me back to that place from where everything started.
I reached Siliguri quite early then expected. My bus was at 6:30 pm and it was expected to reach Kolkata at 6:00 am. I was quite tensed whether I could catch the train, the next day, or not. The conductor told me that the bus might reach on time or else not, sometimes it can delay for an hour or so. I sat in the bus hoping that now there shouldn't be any speed breakers. Thanks to the movie, which was screened in the bus, I could easily distract myself from that tension.
I reached Kolkata on time, I boarded the train on time. Now the journey to Hyderabad seemed to be normal and boring. But all in these days I noticed a very weird thing. I was traveling solo but never felt that I was alone. I always felt that there was some supreme source of energy with me, all the time, in some form or the other. The man who told me to board and alight the train in the start, the priest, the people who guided me. how can I forget Pradeep, the local people who welcomed and treated me with warm. The lady in the Japanese temple, the sound of the bell, the person at Nathula pass, the taxi driver, the film screened in the bus and even the hiccups that I faced. No matter wherever I went in Darjeeling and Gangtok, people were dazzled that I traveled alone. But was I really alone or not......only I knew. I was on trip where dreams turned into reality