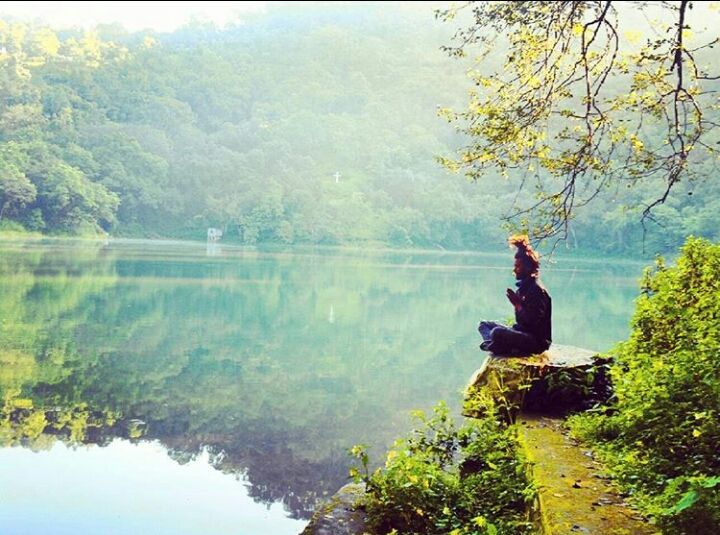 After getting a small break from college & studies, we don't wanna waste our precious time inside the rooms. As I'm very enthusiastic person, i like birding, hiking, traveling & i like to visit new places. I can do this everyday even without any break but somewhere in my every day's enthusiasm, i have to take little interest towards my studies & have to attend classes.
Well me & my friends (James,Nitish,Mrigank & Amit) planned to trek in nearby places. These places are near to Nainital, which people generally avoid but they are worthy indeed. We packed our bags, sleeping bags and of course our tents. We started our journey with our gears. Firstly, we took a ride in #UK_transport bus from Nainital to Bhimtal. As we had to complete this trip in a low budget, we preferred the local transport to save our money. This isn't mean that the cheap & local transports are bad.
After walking 10km through the Bhimtal village, we reached in our destination point, where we pitched our tents near the Garurtal Lake also called Haunted Lake by the local peoples. But there was nothing horrible in that Haunted Lake.
Well for our dinner we had eggs, pouches of soups, bread butter & jam, corns and the most important energetic thing for Indians and which is known as "Chai"(tea). The word "chai" was enough to make us stress free. There was chill outside but the magnificent view of lake where you unable to stop yourself to go out. It was like the old school poem in books where competition is going on between water & moon and both are trying to look beautiful to win this, but i wasn't there to judge them if i supposed to, even though i couldn't judge them and that was the nature's beauty. For me both were the winners because the moon, surrounded by the twinkling stars was showing its glow in the dark sky while the water in lake showing to moon its reflection that how beautiful it looks in the sky, how bright it is.
Well the trip was awesome. Everyone should come this place, atleast once in a life.